Gem4me messenger is a platform that is rapidly gaining popularity among users. According to the data got in October 2021, Gem4me app was installed on more than 21 million mobile devices.
Gem4me messenger has all the necessary standard functions: sending text and voice messages, stickers and emoji, creating channels and private chats with an unlimited number of members.
One of the key features of Gem4me app is a built-in market space (trading platform) which means that the messenger comprises all the features of a classic marketplace. The Chinese WeChat service is probably the only analog of such a service, but it isn't available in other countries, while the capabilities of the Gem4me MarkerSpace can be enjoyed by users from more than 160 countries!
The uniqueness of Gem4me is that the platform allows companies and clients from all over the world to interact without leaving the messenger since all processes are organized inside the app! Here sellers and buyers can communicate, make deals, issue invoices and make payments. What is more, in Gem4me app you can create your own store and work through it.
---
Gem4me market space features for sellers
In the messenger, store owners can sell all types of goods – informational, physical and digital. It doesn't matter how many items you sell – one or hundreds.
Messenger Gem4me also allows its users to:
offer potential clients various types of services from building to tutoring because there are no limits;
advertise goods and services for sale on behalf of third parties;
advertise their products, including setting up push notifications about new products, discounts, promotions, etc .;
make deals with buyers from different countries.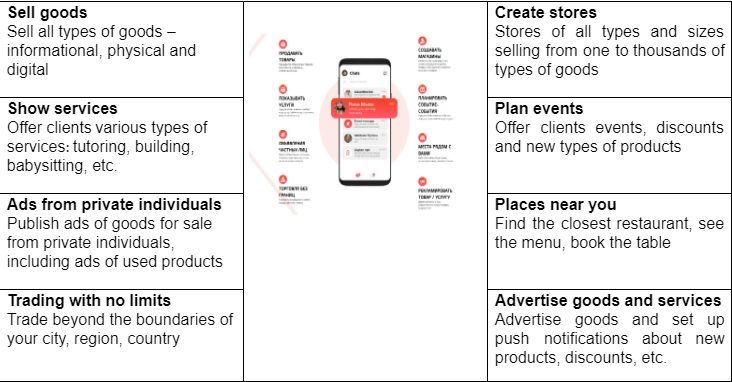 ---
Gem4me market space: everything is for buyers!
The marketplace of the messenger has convenient navigation, therefore, a smart search system makes it easy to find whatever you are looking for. You can sort products by categories (Transport, Real Estate, House and Garden, Work, etc.), choose the best-selling or the most popular items.
For the convenience of users, on the main page of Gem4me market space there is provided an option to immediately select the country of delivery which will let you later see the total cost of your purchase.
In case of necessity, you can clarify the characteristics of the goods in the chat with the seller, and a link to the item you are interested in will be automatically added to the dialogue.
The developers also plan to introduce a system of ratings and the ability to leave comments and read from other customers' reviews which will help users choose the best vendor.
As a result, Gem4me can be undoubtedly called a universal trading platform where the interests of both sellers and buyers are taken into account. Thanks to the integration of the marketplace into the messenger, users get the most convenient way of communication and interaction!