Emails brought about a tectonic shift in the way people communicate. Previously it was all about sending hard copy letters and correspondences which took time to get delivered to the right recipient. As human beings, we are all vulnerable to making errors and once you made an error in a physical copy of mail, we had to retype the entire thing or strike through the mistakes making the final result look messy and unprofessional.
Since its advent, emails brought about a complete change in the traditional means of communication by digitizing the entire platform. But there were still certain problems as emails were dependent on internet connection and users couldn't access the important documents in offline mode. This led to the popularity of email clients which can help users navigate easily through their inbox for managing and organizing its contents so that you can exercise maximum productivity at work.
The USP of email clients lies in the fact that they can be accessed without the internet allowing users to view, compose and reply to emails for being sent easily once you get your internet connectivity.
There is 'n' number of options when it comes to finding the perfect email client making the end call difficult for users. Keeping such things in mind, we have done all the background research and have come up with EssentialPIM, as probably the best email tool for catering to both your personal and work emails under one roof.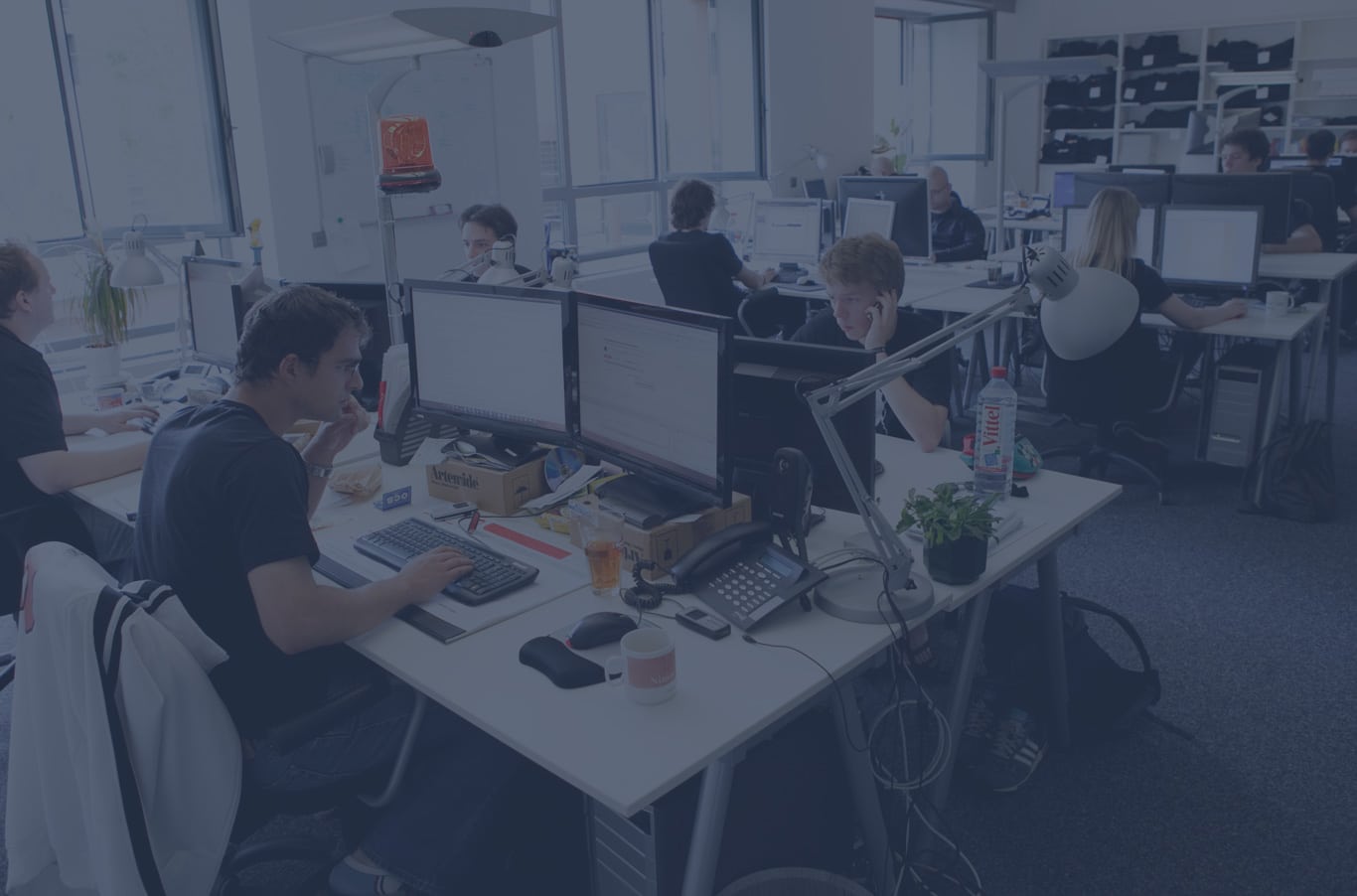 The full-scale Mail module of EPIM allows adding multiple mail accounts so that you can keep a tab over everything from one place. For adding the first mail account users can follow any of the two methods:
File – New – Mail Account, or
Tools – Account Settings – Add, in the Mail module.
Users are guided with a prompting wizard in both cases. While setting up the email account, you will have to fill in details regarding the name and email address fields that shall be viewed by recipients of incoming mail in the From field. Users can access and alter the mail account settings whenever required from Tools- Account Settings – Edit. The 'All Inboxes' folder appearing at the top of the mail account list offers a birds-eye view of messages from all inboxes.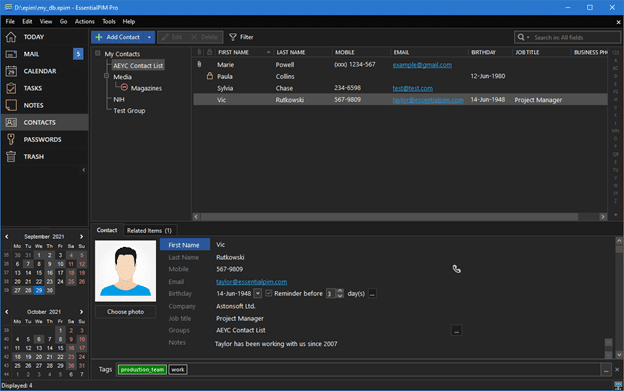 By default, EssentialPIM checks for new mail automatically. If you wish to work offline or do not have an Internet connection currently, then you can click on the Offline mode icon positioned at the program window's bottom-right corner. Some email account shortcuts for using EssentialPIM are:
Ctrl+Shift+V – To send and receive all mail
Ctrl+Shift+E – To receive all mail
Ctrl+Shift+D – To send all mail
Emails are sent either in plain text or HTML (rich text format) and users can toggle between both formats by clicking on the Format menu. While composing an email, the sender's address is displayed in the From field. Associated signature in the message gets changed automatically when the name of the sender is altered.
The Select Recipients dialogue box opens when you click on the To, Cc, and Bcc buttons. All the contacts saved in the EPIM database are listed at the left part of the window which can be added in the mail's different fields by clicking on the arrows appearing at the middle of the dialogue box.
We usually have multiple contacts, be it in our phone book or business register which makes it difficult to readily select the one we require for sending an email to. In such cases, you can filter by contact groups from the Address book drop-down list or type the name of the contact in the 'Find' field.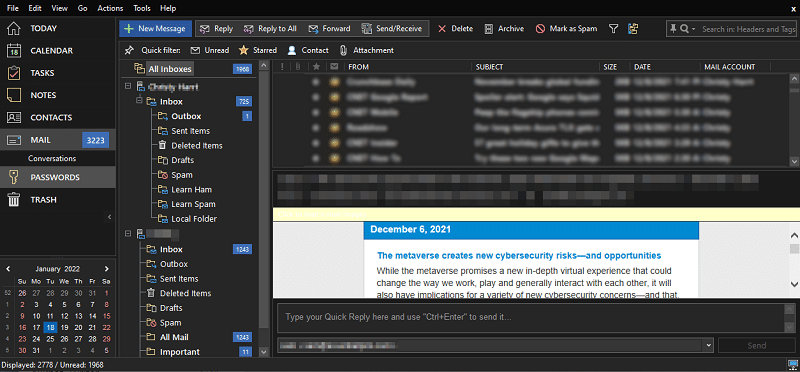 EssentialPIM saves the ten latest email subjects in its database for being used readily later on. These previously saved subjects can be selected by clicking on the Subject drop-down list. There is also a Manage Subject option in the drop-down list from where users can either edit or pin the saved subjects.
Here you can check the 'Do not auto-save Subjects' option for preventing EssentialPIM from automatically saving the entered subjects. Templates and Canned Responses are other unique attributes of EssentialPIM which can save your time. These features can especially help businessmen who tend to receive similar emails from various stakeholders to which the replies are also more or less similar.
Users can expect maximum flexibility using the mail module of this email client whose settings can be altered as per requirement. Let us now take a look a some of the email settings under the Tools – Options – Mail menu that deserves special mention:
Checking the 'Send messages immediately' box ensures that the mail is sent once you click the 'Send' button. The messages go to the Outbox awaiting manual remittance if you disable this option.
If you wish to send all Outbox messages on closing EPIM, then you can check the 'Send Unsent Messages on exit' option.
You can check whether EssentialPIM is the default email client in your system by clicking on the 'Check to see if EPIM is the default email program at startup' option.
Often users complain that they are not notified of new emails and EssentialPIM resolves to solve this problem by allowing users to choose between a default sound or a customized one so that they get notified instantly whenever new emails enter the system. However, if you are working in a sound-sensitive environment, where the smallest of noises can cause distraction, then you will simply have to uncheck the 'Play sound when new messages arrive' option.
We often forget to add attachments to our emails and you can circumvent this problem by clicking on the 'Check for missing attachments' option that sends a reminder whenever you hit the 'Send' button without adding an attachment.
Additional options can be availed from the Display & Compose option and that can tune up your workflow to a great extent. Let's take a look at some of these options which can add greater inertia to your daily work:
Users can select the default mail composing format, between Rich Text (HTML) or plain text and also determine the default font size & style by clicking the 'Settings' button.
Emails often carry external images which are infamous for carrying viruses. You can keep yourself buffered from such threats by checking the 'Don't show external images in messages' option. EPIM offers a sub-option where you can choose to have the images displayed if the email is sent from someone in Collected Address or My Contacts.
Messages are saved in the Draft box if you face some connectivity errors while working online. EPIM users can select the auto-saving interval in terms of minutes. There is also an option for auto-numbering replies so that it becomes easy to keep a tab over email correspondence.
Users can select among different views of the email module as per their preference. This change can be made by clicking on View followed by the layout menu. Businessmen often send and receive correspondence from a particular address. With EPIM, all messages belonging to a single conversation can be grouped for being accessed easily when required.
The Pro version of EPIM also allows customization of columns set alongside their display order in the main view. Right-clicking a column helps to either hide or display a particular column. The column's order can be rearranged by holding the left mouse button and dragging the column.
Categorization of messages becomes easy with the filter options of EssentialPIM that can be grouped into different groups like Personal, Business, Important, Needs Preparation, etc. There is also an option of sorting emails according to different fields like To, From, Subject, Body, Tags, Cc/Bcc, etc.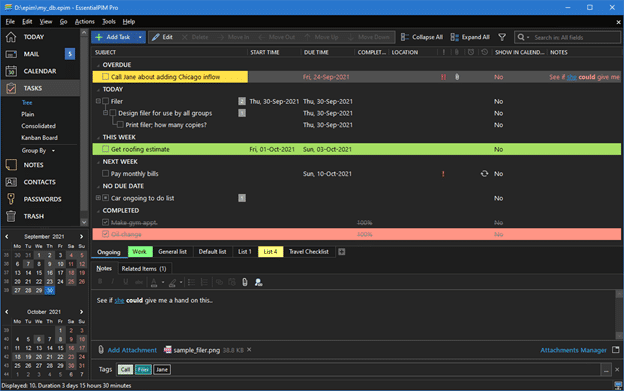 Users often worry about the level of security while sending sensitive emails using EssentialPIM. However, this cross-platform tool guarantees complete peace of mind with its PGP encryption that signs and encrypts all correspondence.
Under the latest update of EPIM, users can unclutter their email folders by selecting auto-archive messages which are older than a certain number of days. Doing this helps in methodizing email management by systematically organizing messages.