Can't open your HEIC photos on some devices? You can try converting HEIC files into a more compatible format, like JPG.
With the release of iOS 11, you might find that photos taken with iPhone or iPad are saved as HEIC file format. HEIC images are encoded with the HVEC (H.265) video format and take up less storage space while keeping quality.
But when you wish to share images with your friends, or upload them to your website, it's not hard to notice that the HEIC files have some viewing issues. That's why most people want to convert HEIC photos to JPG format that is the most universal-used graphic file type. In this article, we will show you how to convert HEIC images to JPG format on your Mac and iOS devices without losing the quality of the image.
---
Convert HEIC to JPG on the Web
If you prefer to use a browser-based tool, there are various free HEIC to JPG on the web to choose from. FVC Free HEIC to JPG Converter is a free online tool that lets you convert HEIC images to JPG without losing image quality. Moreover, you can convert multiple HEIC files at the same time. It's very easy to use, and it's free without signup and ads. Here's how to do it.
Step 1. To get started with this tool, head over to the website.
Step 2. Click on the Add HEIC/HEIF File(s) button, select your HEIC files from your computer, then click Open to upload them to this tool.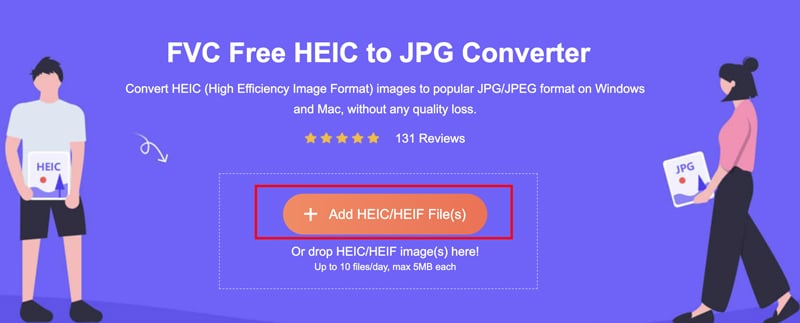 Step 3. Then, it will convert the images automatically, and click on Download button to save them to your computer.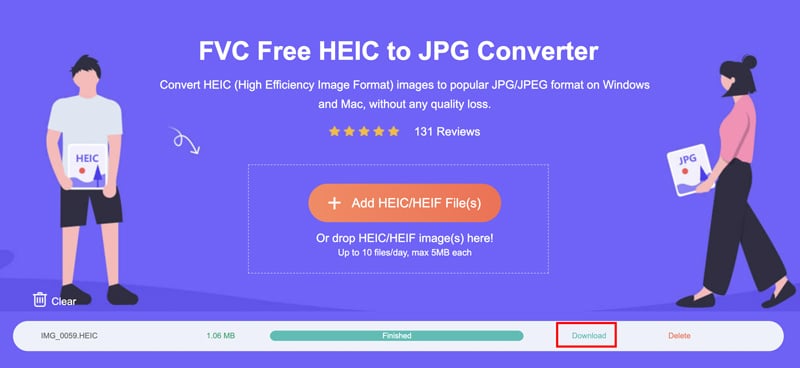 ---
Convert HEIC to JPG on Your Mac
There are many ways to convert your photos from HEIC to JPG on your Mac, and one of the easiest ways is to use the default application, such as Preview, Photos, and Automator.
They are the default image viewers on your Mac, which can be used as an image converter tool. You can follow the steps below to switch your HEIC photos to JPG.
Using Preview
Step 1. Find the HEIC file you wish to convert and open it with Preview.
Step 2. When the image is open, click on File from the top toolbar.
Step 3. Scroll down and hit on Duplicate. Then, the new duplicate image will open. Now, you can click on File from the top toolbar and choose Export… to open a new pop-up window where you can change the file format.
Step 4. Click on the drop-down list of Format and you will see a list of all the formats you can change the HEIC file to. To convert your images from HEIC to JPG, you should choose JPEG and click Save. Now you can get your new JPG photo.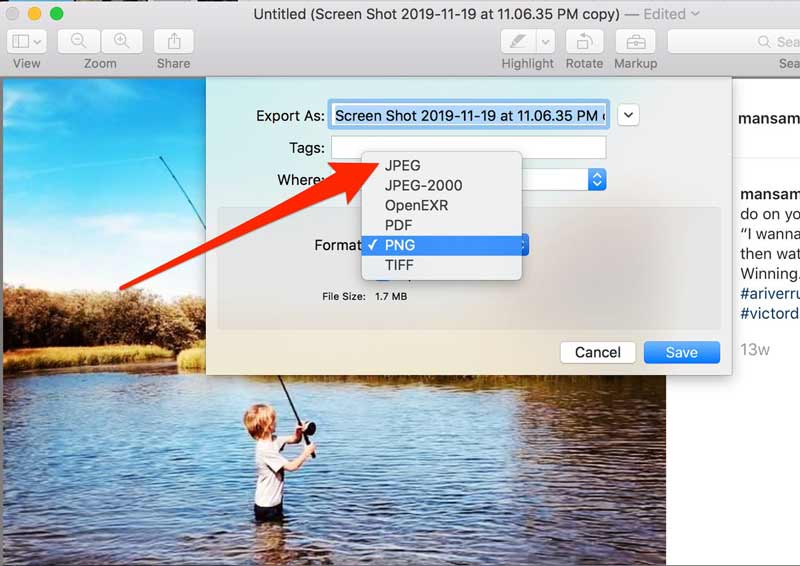 Using Photos
Step 1. Launch the Photos app and find the HEIC file you wish to change.
Step 2. Click File, select Export and then hit on Export Photo.
Step 3. Go to the drop-down menu of Photo Kind and choose JPEG. After that, you can decide the location and then click Export.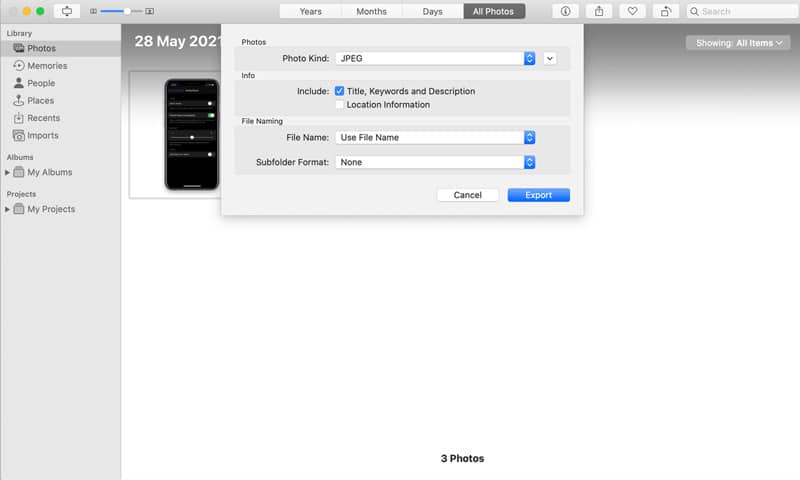 Using Automator
Step 1. Open Automator and hit on New Document.
Step 2. Select Quick Action, and then click Choose.
Step 3. Find Copy Finder Items and select the folder to save the converted HEIC photos.
Step 4. Go to Change Type of Images, and choose JPEG from the To Type menu.
Step 5. Click File from the top menu bar and click Save and name your Quick Action.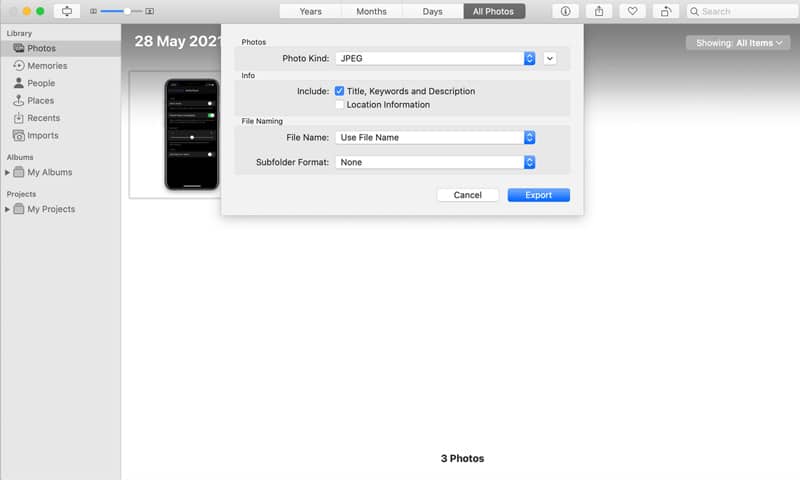 That's it! You have successfully converted your images from HEIC to JPG format on your Mac.
---
Convert HEIC to JPG on iPhone/iPad
To change your HEIC photos to JPG on your iOS devices, you can rely on the Files app. It can easily convert your HEIC to JPG. Here are detailed steps you can follow:
Step 1. Copy HEIC images from the Photos app by tapping the share icon and choosing Copy photo.
Step 2. Then, open the Files app and create a new folder. Then, long press and tap Paste to paste them into the Files app. And the HEIC images will be converted JPG automatically.
Tips: if you don't want to save the photos in HEIC format after taking photos on iPhone, you can go to the Settings app to directly change HEIC to JPG on iPhone. After opening Settings, tap the Camera option and choose the Format option. Then, select the Most Compatible option to change HEIC to JPEG on iPhone.
---
Wrapping Up
When it comes to image format conversion, we should consider the utility, compatibility, and other issues. Especially when you need to upload HEIC images for the web use or sharing, the HEIC might bring you some issues. Instead, the JPG format might be a preferred format. Now that you know how to convert HEIC to JPG on your browser, computer or iOS devices, you can easily make the image conversion and ensure the quality of your images.
Consider taking the above steps to convert HEIC to a JPG, you can also convert your HEIC files to PNG or change JPG to PNG or vice versa to solve these image conversion problems if you need. Hope this tutorial will be helpful for you to convert HEIC images to JPG without losing quality. And if you've got any questions regarding image conversion, feel free to leave your comment below.