When talking about a movie streaming service, almost everyone immediately thinks of Netflix.
The site's popularity is hard to beat but it is not for everyone. It costs us $8.99 – $17.99 for a month to subscribe to the site. And let's be honest, not all of us think Netflix is worth the monthly fee, especially when free anime sites can now offer as good content and streaming capabilities.
Netflix is most known for its ease of use, lack of commercials, and original content. The site has never had any ads or commercials and it is one of the main reasons it has such a huge fan base. Ads can pose a risk to our device and identity, not to mention that it affects our overall user experience negatively. Many movie enthusiasts opt for Netflix mostly to avoid ads.
So if you are introduced to an ad-free site that is completely free to use and offers high quality content as well as superb streaming capabilities, would you consider switching to it? If it sounds tempting but you are not 100% persuaded, keep reading, you might find some gems today.
---
Top Free Movies Streaming Websites without Ads
It might sound too good to be true as we all know including ads and popups on the site is the only way for free movie streaming sites to earn income. However, there are sites that let us watch movies online for free without having to put our device and identity at risk.
These completely ad-free sites also boast a huge collection of movies and TV shows, high video quality, fast loading speed, optimized UI and UX, etc. So why not take a look at these sites to see whether you should renew your next Netflix subscription?
SFlix.to
With a name similar to Netflix, Sflix seemingly does not try to hide the fact that it aims to be an alternative to the giant streaming service. They seem to know what they are doing as the site is actually great. Whatever you can find on Netflix, you can find it on Sflix. As a piracy site, Sflix also allows us to watch movies that are still fresh in theaters.
This free site has every reason to replace Netflix such as an extensive content library, fast loading speed, simple and intuitive UI, ad-free feature, seamless streaming experience, etc. Choosing Sflix to stream your favorite movies and TV shows will help you save at least $8.99 a month and lots of headaches revolving around Netflix's constant rising prices.
123moviesTV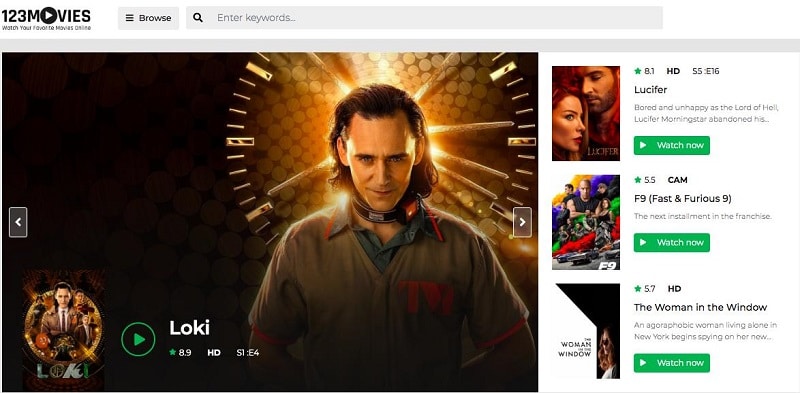 If you have been using free movie online streaming services for long, you must know 123movies. This site is arguably the most famous free movie streaming site as it had 98 million monthly users at peak. 123movies is in fact a group of sites with "123movies" in its domain, and 123moviesTV.me is the youngest to join the family.
One of the reasons 123movies can still thrive no matter how many times they have been shut down is that they keep updating new features to provide their users with the best service. Along with high quality content and superb features 123movies has been proud of for years, 123movies is now better than ever with their ad-free feature. No ads means no risk and a completely worry-free watching spree for us all.
Dopebox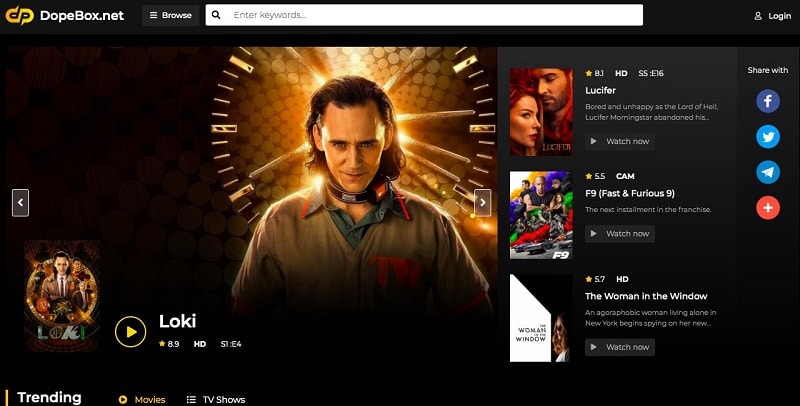 DopeBox is another name to add to your list of Netflix alternatives. This site has features that are very similar to those of 123moviesTV and SFlix. Therefore, if you are convinced with the other 2 sites, definitely bookmark DopeBox too.
Unfortunately, free streaming sites come and go, and as there are only a few sites that let us stream movies and TV shows with no ads, we should take notes of them all to use in case our favorite is taken down. We have seen complaints that users need to watch a trailer before starting a show or movie stream. However, at the time we checked the site, video started right away without any trailer being played.
---
Conclusion
SFlix, 123moviesTV, and Dopebox seem to be newly launched sites. However, with their ad-free feature, along with other excellent positives, we believe they soon will challenge Netflix and change the game. Their content library might not be as huge as that of Netflix at the moment but new titles are added constantly.
Should you not find the title of interest, you can simply send the staff a request and they will scour the Internet to update it for you. They can also provide you with titles that cannot be found on Netflix, including the latest releases. Their streaming capabilities are comparable to Netflix, and their UI and UX are optimized for ease of use.
The only thing they lack is legality but according to copyright attorneys, you are not subject to criminal and civil charges if you only watch movies and TV shows online. And you can get all those benefits without having to pay a dime. Cancel your subscription to Netflix, use the money to get a delicious crispy pizza, a can of Coke, relax, and start using one of these sites to binge-watch your favorite movies and TV shows.