The data warehouse was born in the early eighties from the hand of Bill Inmon who was the one who coined this concept. It arose in response to the need for a fluid and methodical data storage tool.
In short, the data warehouse is a large data warehouse that stores data through historical files .
It also has a very important quality: it is capable of analyzing and classifying information, highlighting that which is of substantial importance.
The most reputed, Snowflake Data Warehouse is one such platform where you can store all the data. Data warehouse also has applications within the world of marketing. It works as a warehouse capable of compiling all customer information , whether external or internal. This supports all the advertising activities to be developed.
In any case, this data warehouse is used by corporations to streamline their large volume of information and direct it to Business Intelligence (BI). In this way, it is possible to achieve a fluid strategy that helps in decision-making .
If you still have the question of what the data warehouse is for , the answer is very simple: to collect and classify the data by filtering those that have a certain corporate relevance.
Characteristics that define a data warehouse
If there is one characteristic for which the data warehouse stands out, it is because it is a repository of business data. That is its main quality and competitive advantage.
But beyond that, there are other characteristics of the data warehouse that are worth reviewing. We will mention them below:
It is oriented to a specific topic: it focuses a large collection of information about a central topic. Everything will revolve around that theme.
It forms an integrated system: all the information collected is treated in a complete and stable way, even though it comes from different sources.
It is not volatile: information is only presented when its usefulness to users is proven. In addition, it is displayed in read mode, so it is unalterable.
Historical: it conceives that all information will be requested at some point, so it maintains a faithful file of old data.
---
Types of data warehous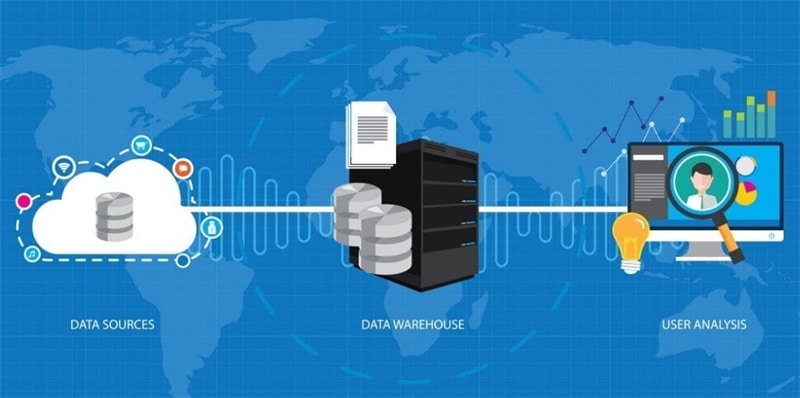 Another feature to take into account is that there are different types of data warehouse, so we go into detail about each of them below …
In real time: it is updated at all times to always have the latest version of the information. Every time new data is entered there will be a new collection.
Integrated: it acts collaboratively with other information systems. That way you can broaden your range of data sources.
Offline : this type of storage is updated every certain period of time according to its schedule. This can be daily or weekly and monthly.
Advantages and disadvantages of a data warehouse
It is time to talk about the advantages and disadvantages of the data warehouse because, despite being a very useful business tool, it must be used with care.
But let's start with the positive points of this tool:
It is a system that is easy to establish as long as the data is accurate.
Keep the information safely .
Convert information into knowledge .
Facilitates decision making .
It allows to know the current status of the company in terms of operations and risks.
It is easy for employees to understand .
Increase productivity .
However, it also presents what for some may be disadvantages, but they are not a big deal when compared to the aforementioned benefits:
Its implementation represents a high operating cost .
It can be complex to use , which is why certain inconsistencies often arise in the databases to be manipulated.
It requires constant maintenance to avoid irregularities in the data.
---
How is a data warehouse different from a data mart?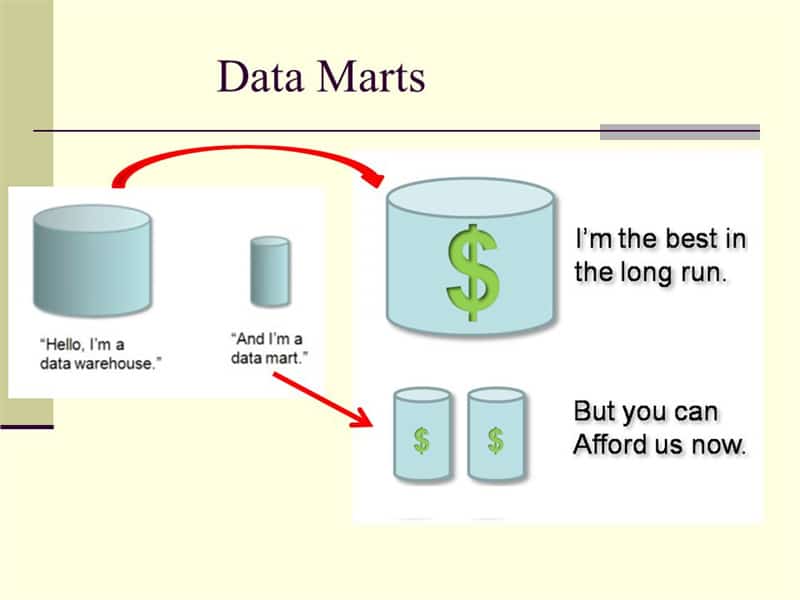 To understand this point, it is necessary to talk about the data mart to get into context. It is a branch or subsystem of the data warehouse whose function is to consult the information. It stores small amounts of information that are often of importance to a small group or a specific department within the corporation.
Once that is explained, it is time to comment on the differences. Undoubtedly the most important lies in the type of storage that each of them requires.
The data warehouse demands a storage size of at least 100 gigabytes up to 1 terabyte, while the data mart is limited to 100 gigabytes.
This is because the data warehouse collects large masses of data unlike the data mart that only contains data that was previously configured to be concrete.
The data warehouse uses information from the entire company while the data mart focuses on a small portion of it.