In this era of technology, where everyone uses their creativity to gain followers and make money, many people have joined the bandwagon. To stand out in the crowd, it needs creativity, original, entertaining content, and one needs to maintain consistency.
Editing movies is not always that easy for everybody, but it should not be that complex either. Many people want to create and edit videos, but they do not know how to go about it; therefore, using intuitive video editing software that does not require a lot of technicalities and special skills can help one come up with the most appealing compelling video creation.
Video editing can be much more complex than one can imagine, but also it can be simple, and this is what has made armatures to make professional-looking videos that stand out in the crowd. Therefore if one is looking to edit videos professionally, TunesKit AceMovi Video Editor is the right software to settle on since it has modern features that can filter, transition, titles, and other unique features that can make narration easier.
It also contains an inbuilt library that has plenty of videos, images, and audios that one can incorporate in their videos, making it look more appealing; hence one can edit videos without restrictions.
---
TunesKit AceMovi Features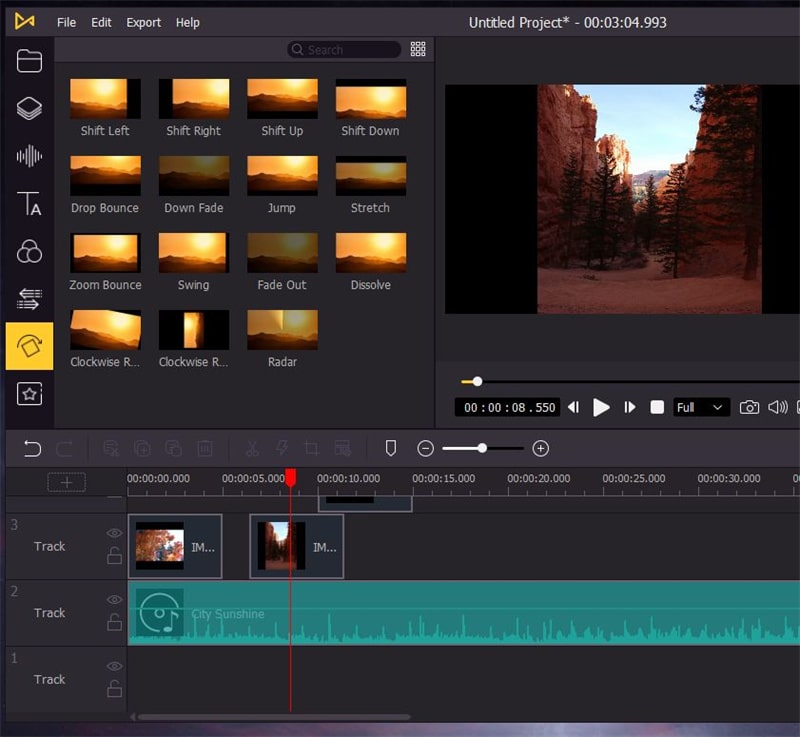 This software allows one to perform numerous activities; one can have both screen recording and perform editing functions. If one needs to edit their videos, you can import them from their storage devices or record them right from their screens. Depending on one's customization, which can be altered but on the default setting, a preview window can be on the top of the screen and a timeline at the bottom.
One can navigate their videos on the timeline with the preview on the window, making it swifter since audio tracks, transitions, and other effects can be done on the timeline. This saves the user much time making TunesKit AceMovi easy to use and reliable.
Also, after editing your video, they can be exported and shared across all the social media platforms like Facebook, Twitter, Vimeo, YouTube, and other similar sites. When editing your video, you don't need to worry about navigating through since it allows you to split your screen up to six times, and each screen has its control choices.
---
The software is easy to use
One does not need to be a professional video editor to use the software; even beginners can make compelling and appealing videos. One can easily navigate the core functions with only a mouse and keyboard. For better efficiency, the keyboard shortcuts come in handy, but you don't need to be worried since there is a manual that can guide you through how to use those shortcuts.
Still, if a keyboard shortcut is not your preference, a programmable controller is available in the market that can serve the same purpose depending on your demands and needs.
---
How to edit videos with AceMovi?

Download the AceMovi software from their official website then; after that, you should launch the TunesKit video editor to start making your first recording.
Add the timeline media, which is very simple, then use the drag and drop functionality to drag some effects used for editing.
After finishing the preview, it exports it to your PC or laptop.
It is a straightforward process, but kindly visit their official guide section for more details and guidelines. Alternatively, you can choose to watch TunesKit AceMovi available on YouTube.
---
Interface for video manipulation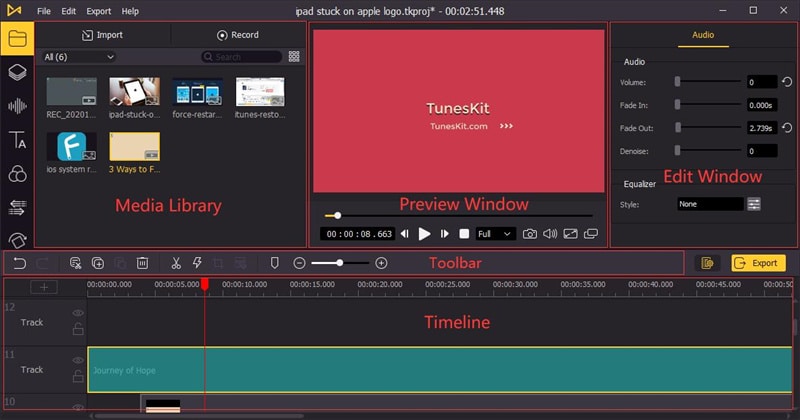 This software is very similar to many comparable tools available in the market since it allows one to edit any video in any format they want using the following options.
Import window – After setting things ready, this is the first step you will begin with. This is where one can add audio, video, and other graphics to their project. It is easy to use; pick on the file you want and select import. The prompt should not take long; the file should be imported within a few moments.
Built-in library – This is where plenty of files are stored; it has many background music, sound effects, and motions that can be added to your video depending on the occasion that you want it to address.
Editing toolbar – This is the section that allows one to modify, trim and edit their existing content
Editing timeline – This is where one can drag and drop animation, graphics, audio, and visual elements to their videos. The feature is compelling since it allows more than one timeline to be created, which can then be implemented as different video editing layers
Edit window – This is the place where files can be altered; one needs to pick a video from the editing timeline then perform the adjustments that they will wish to
Preview window – This section allows you to review your editing, allowing you to make any changes. If they are not your expectations, other adjustments can still be made to this window.
---
Free Trial&License
This software comes in both the free version and the paid version. One is not limited to the free version since it still does all the premium version's jobs, but it will always leave a watermark on the work created.
Beginners who want to try it can use the free version since it is the greatest way to taste the functionality and ease of using the software. With the premium version, they offer three packages, and hence the user can settle on the one that suits them better; there is a monthly package, one-time purchase, or yearly package.
---
Pros and Cons of AceMovi Video Editor
The following are some of the notable pros and cons in a nutshell
Pros
It has an intuitive interface; therefore, it is easy to use
It supports all the major video and audio formats
It has impressive options in the stock library, therefore, making them appealing to any user
It supports Windows and Mac operating systems which are widely used; therefore, users are not limited on the type of operating system they should use
It has a free version, but for maximum functionality, one needs to purchase the full version
Cons
There is no Unix version currently
Nomobile version is available for this software
---
Final Words
In conclusion, the AceMovi Video Editor is a fantastic tool with all video and audio formats supported, thus not limiting the user's output or sources. The software has many effects such as text overlays, animations, transitions that can be applied to videos to give them a professional look and feel.
The software is incredibly effective and flexible since one can create videos in unique and appealing formats. Therefore, the above features prove that this is a versatile video editor that anyone who wants to take their video editing career to the next level should give it a test.