The fourth industrial revolution is changing the world. Each industry has its drivers of growth—new circumstances and trends.
For example, the consumption sector will be affected by urbanization and the growth of the middle class, and the financial sector will change because the new generation will have a different attitude toward money. The energy sector did not stand aside either using the most innovative solutions provided by the energy software development company.
General positive drivers are the widespread use of big data analytics, AI, and cloud technologies. Manufacturing believes in cloud computing. Startups, small and medium-sized businesses were the first to believe in cloud technology. Large industrialists went to the technology a little longer. And yet, in the next two years, the entire industrial infrastructure of the world's largest corporations will move to the "cloud". Bring Intelvision on board for mission success!
Read on to learn about the main types of cloud migration, common benefits and challenges, how to migrate applications and data to the cloud, and the three main managed service models such as IaaS, SaaS, and PaaS.
---
Cloud Migration Definition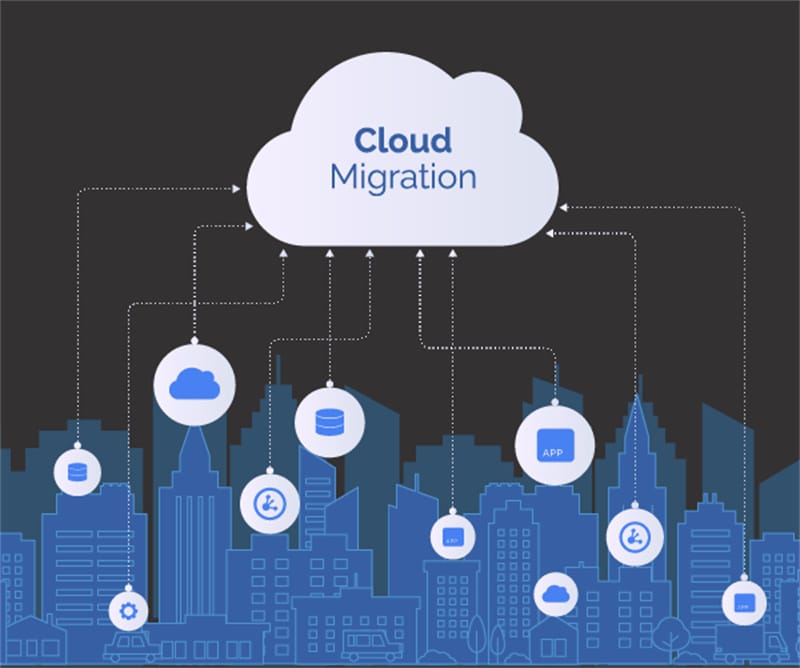 Cloud migration is the process of moving apps and data from a company's private on-site servers/on-premises servers to servers of public cloud service providers and between different clouds.
The main benefits of migrating to the cloud are reduced IT costs, increased productivity, high security, and convenience.
---
Cloud Service Models
As you read about cloud migration, you'll likely come across the terms IaaS, PaaS, and SaaS. These terms refer to the different levels of managed services that many technical and cloud service companies provide.
IaaS (Infrastructure as a Service) allows you to quickly scale up and down as needs change, so you only pay for the resources you use. This service helps you avoid the cost and hassle of acquiring and managing your physical servers and other data center infrastructure.
PaaS (Platform as a Service) also includes managed development tools, databases, business intelligence tools, and operating systems. It is a great choice for reducing development costs and speeding up development.
SaaS (Software as a Service) provides the benefits of IaaS and PaaS but includes the added convenience of hosting apps. This allows users to connect to cloud applications and use them over the Internet.
---
The Five Phases of Cloud Migration
There are different technical processes and guidelines for migrating different workloads and creating different cloud configurations. But any migration to the cloud consists of five main steps:
Strategy Formulation
Determine the business rationale for the migration, and expected results.
Plan
Align your cloud migration plan with the business outcomes you want to achieve.
Readiness
Prepare your on-premises and cloud environments for migration.
Migration
Move workloads and all the data to the cloud.
Control System
Test and implement security and cost management best practices for the cloud and workloads. Use proven best practices to continuously manage your cloud solution.
---
Benefits of Migrating to the Cloud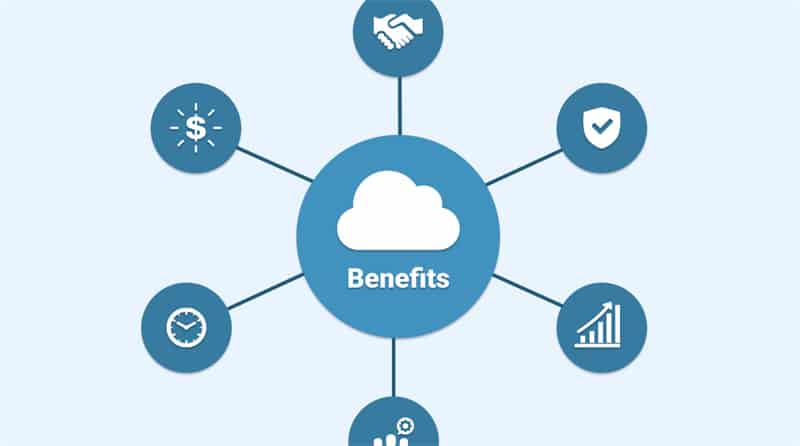 Here are some of the most common benefits of cloud migration:
Cost optimization. In addition to being able to optimize workloads to reduce costs, you can save significantly on equipment and maintenance.
Flexibility and scalability. Get the compute you need on demand, when you need it, and do not pay for hardware you don't use. With the global reach of some cloud platforms, you can run workloads closer to your customers to improve performance.
Advanced security features. Public clouds make it easy to protect data and applications by providing built-in platform-level security and a variety of specialized security tools. In many cases, security patching is done automatically by the cloud service provider.
Backup, recovery, and failover. Most cloud service providers offer built-in convenient backup and recovery options, including the ability to store backups in different geographic regions.
In addition, moving to the cloud guarantees simplified management and monitoring. If your cloud partner provides a centralized management tool, you can easily administer and monitor your data center and cloud resources from one location.
---
The Potentials of Cloud Computing for the Energy Industry
The energy sector is facing enormous challenges. According to Adesso's Great AI Study 2021, the topic of sustainability is at the top of the list, followed by the topics of 'price pressure' and 'new technologies'. A company can keep wind turbines running longer and more efficiently because drones with camera systems and AI algorithms detect damage early on.
Cloud computing is an interesting technology in this regard. It unites artificial intelligence (AI) with the use of cloud platforms and can unleash the enormous potential for utility companies. This is also confirmed by representatives from the energy sector. Those who invest in cloud solutions over the next 5–10 years will gain a competitive edge.