Do you often stream your favorite TV shows and movies on Hulu, and you're wondering how big the platform is? This article provides you with interesting Hulu statistics, as well as its demographics and revenue statistics.
The Walt Disney Company owns the on-demand American OTT video streaming platform, Hulu, which has a large selection of movies and TV shows from channels including CBS, ABC, and NBC, in addition to Hulu's productions. Shows from all three-time slots (primetime, midday, and late night) are included shortly after they are broadcast.
Hulu has been around since October 2007, and in that time, it has amassed 43.8 million subscribers and watchers. Although public opinion may place Hulu much behind Netflix regarding viewership, the service's numbers speak otherwise.
A growing number of viewers and increasing popularity have made the video streaming service a formidable rival to Disney+ Hotstar, Amazon Prime, Netflix, and others. Let's take a look at 2022's most noteworthy Hulu data.
---
Revenue and Market Share Statistics of Hulu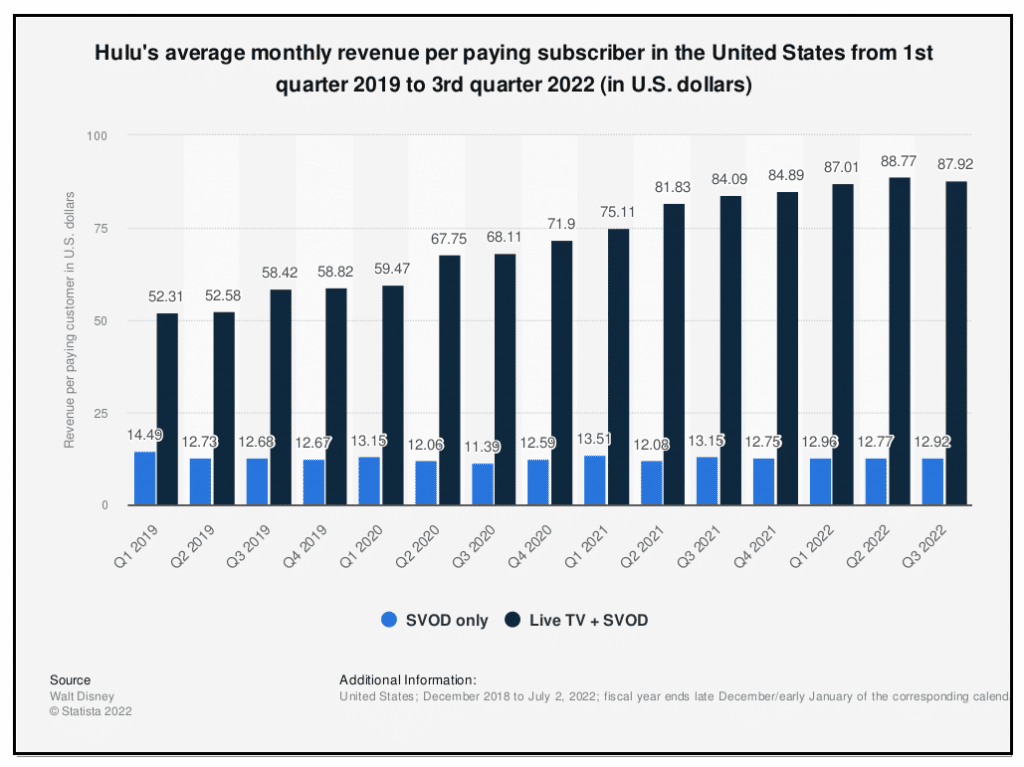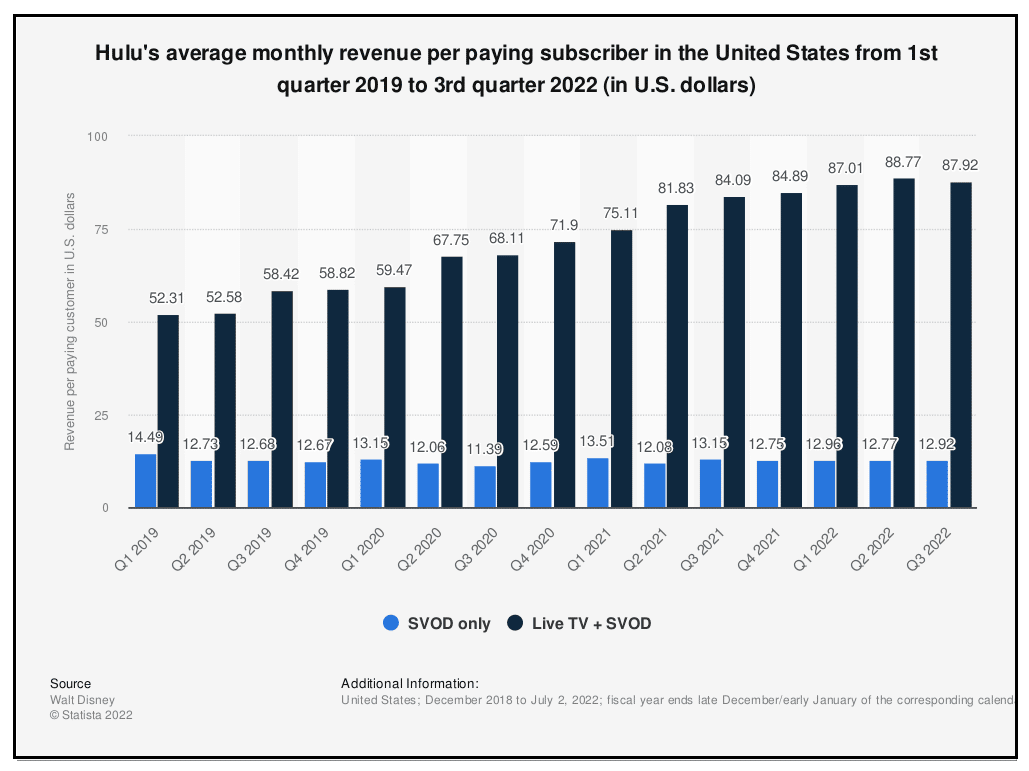 ---
1. In 2020, Hulu was expected to earn 1.96 billion USD from advertising supported by linked TVs.
In addition, the company anticipated that its CTV advertising income would amount to 3.10 billion USD by the year 2022. In 2020, Hulu accounted for over a quarter of all US cable television expenditures. Even by 2022, it is predicted to have a more significant net percentage of US CTV ad expenditure than Roku or YouTube. In 2020, YouTube generated 2.89 billion USD in gross income from CTV advertisements in the United States.
2. There was a monthly churn rate of 6.9 percent for Hulu + Live TV in 2020.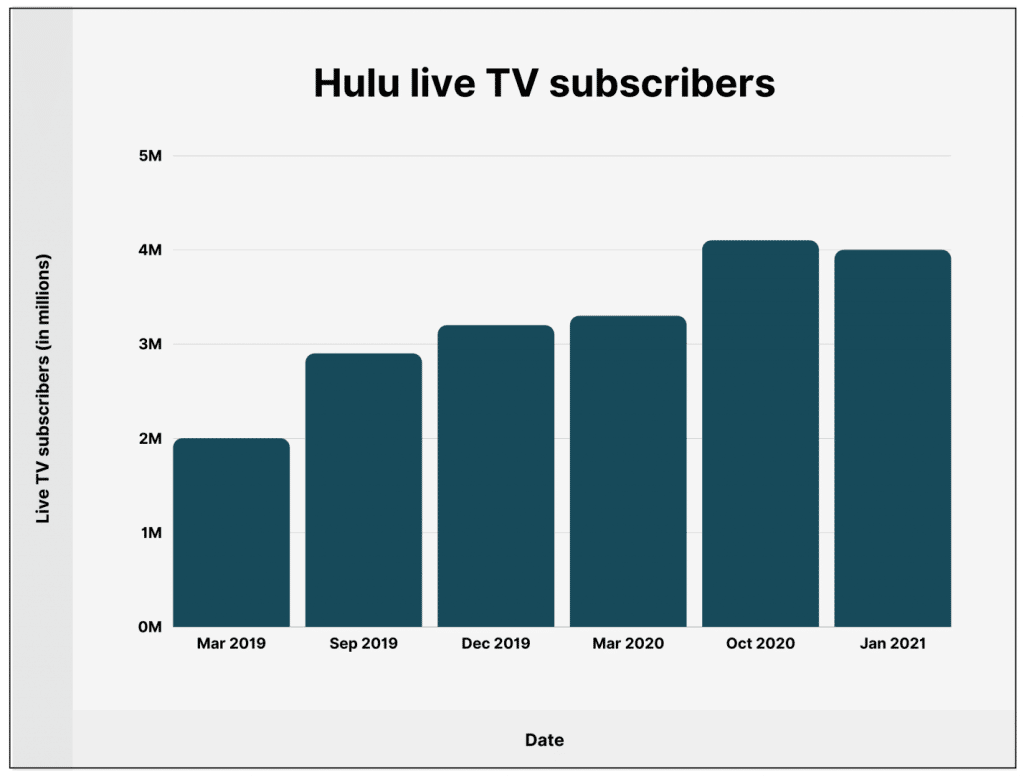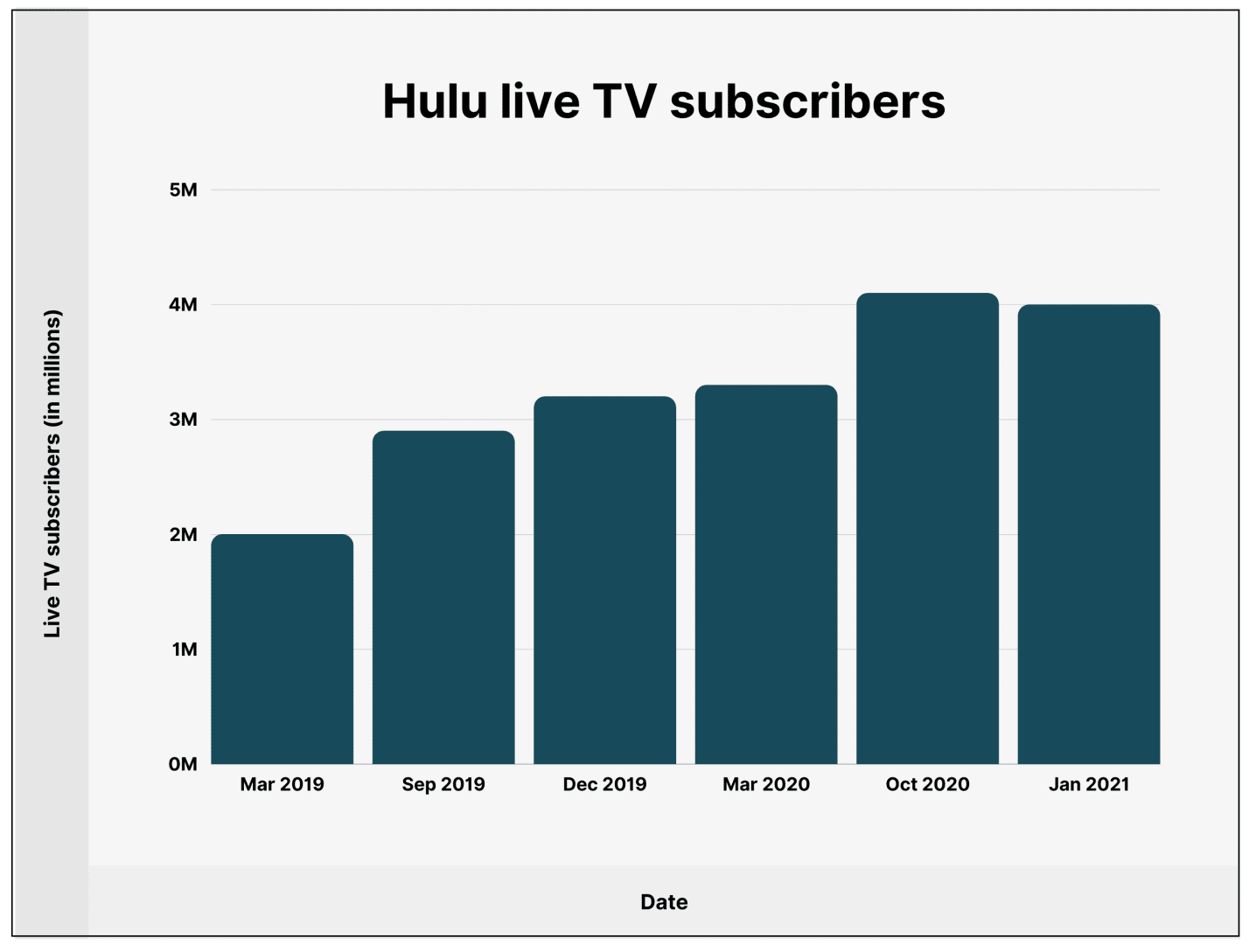 A comparison of Hulu's attrition rate to those of other streaming services reveals similarities. If you decide you no longer want to use an MVPD, canceling your monthly package is a breeze. While Netflix had the lowest average monthly churn rate (2.4 percent), Philo's had the highest (11.4 percent). In addition, Disney+ had an 8 percent monthly churn, while YouTube TV saw 4.3 percent.
3. In the 12 months leading up to September 2021, Hulu made 2.1 billion USD through advertising.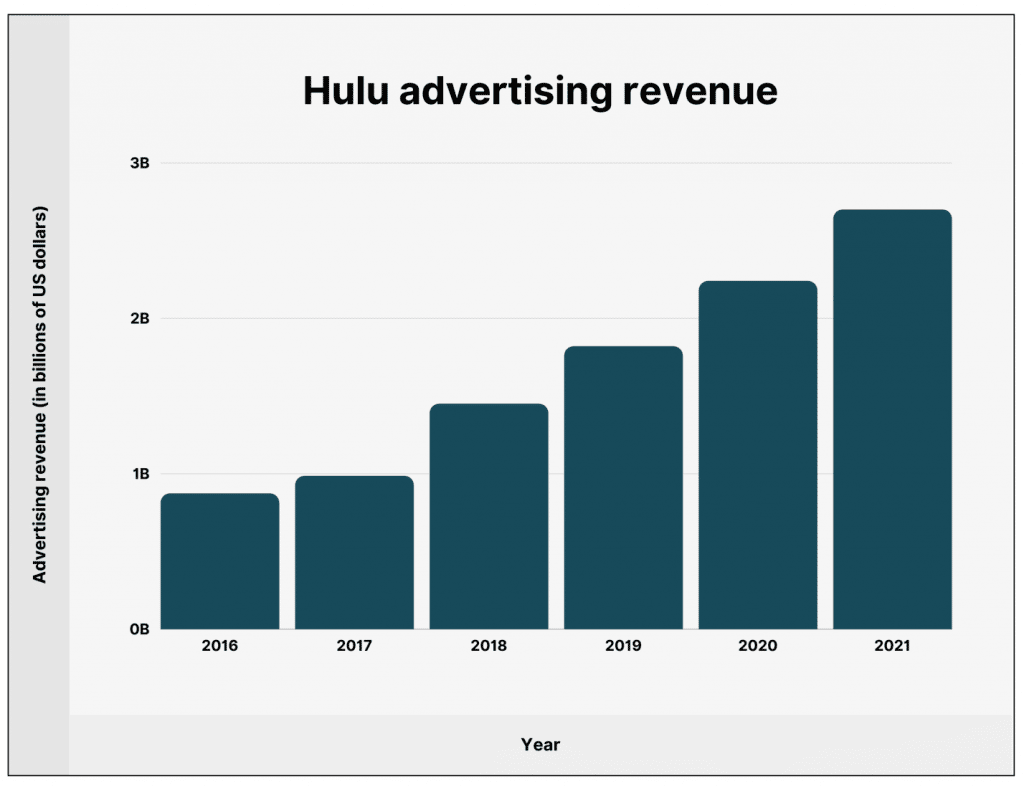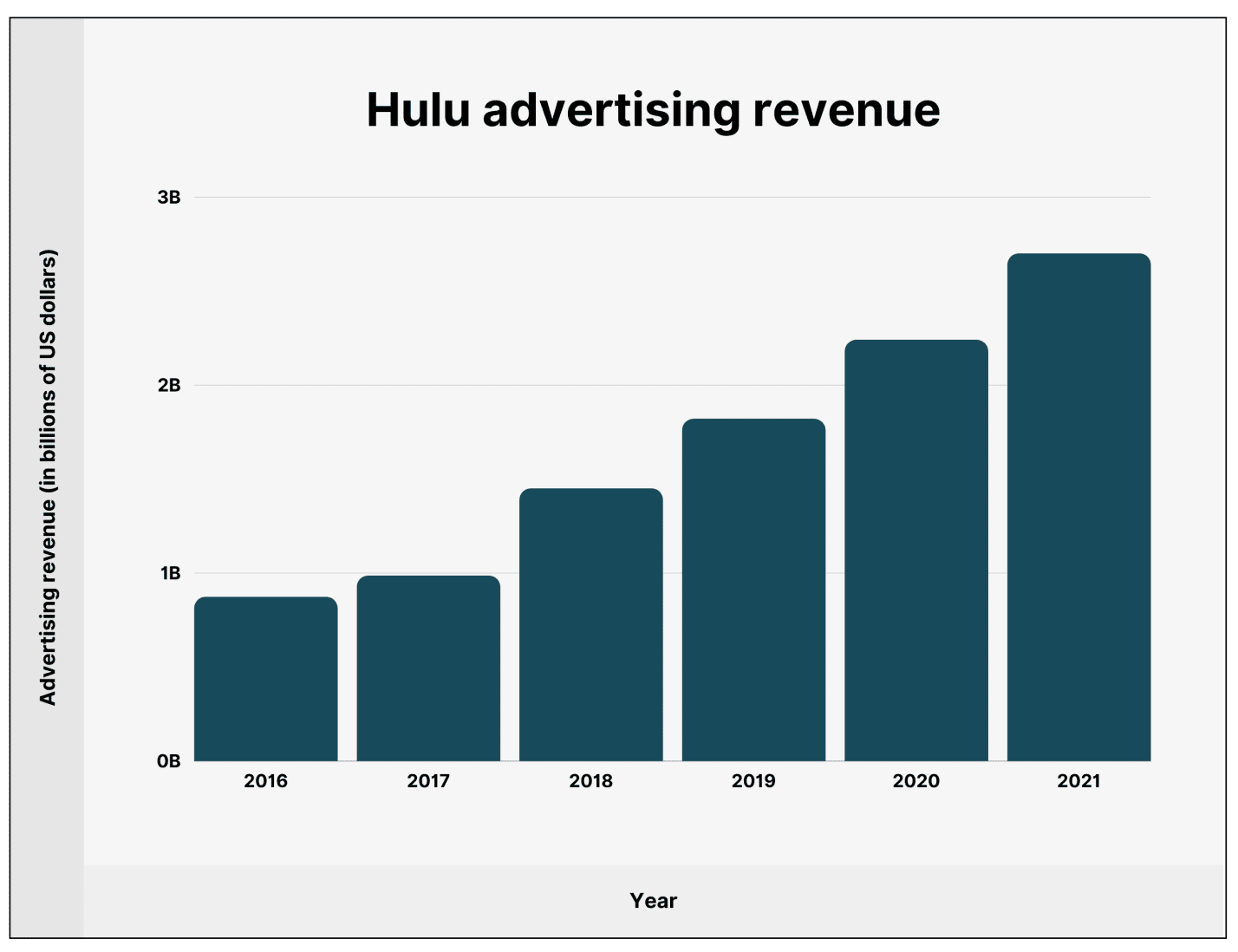 During the period in question, four of the most popular AVOD platforms in the US brought in a total of 3.5 billion USD through advertising. The largest amount of money was made by Hulu, which earned 2.1 billion USD in advertising income in the 12 months leading up to September 2021.
In terms of advertising income, it is eclipsed by its competitors, Tubi (250 million USD), Peacock (279 million USD), and Paramount+ (822 million USD).
4. For 2020, Hulu controlled 34 percent of all virtual MVPDs.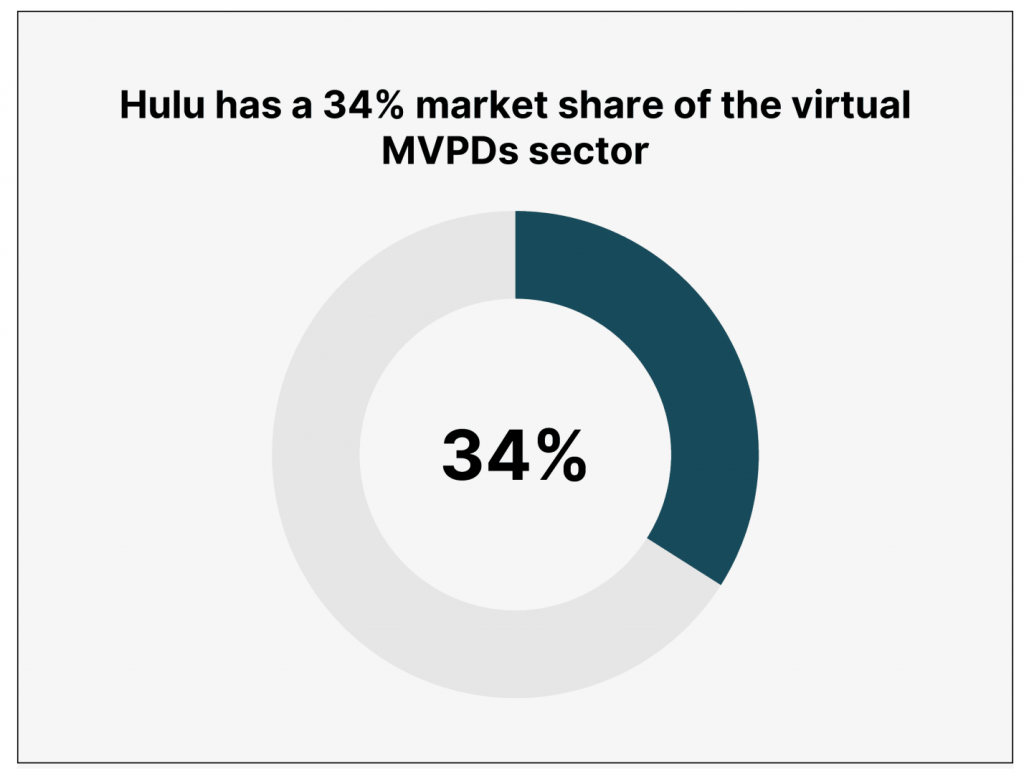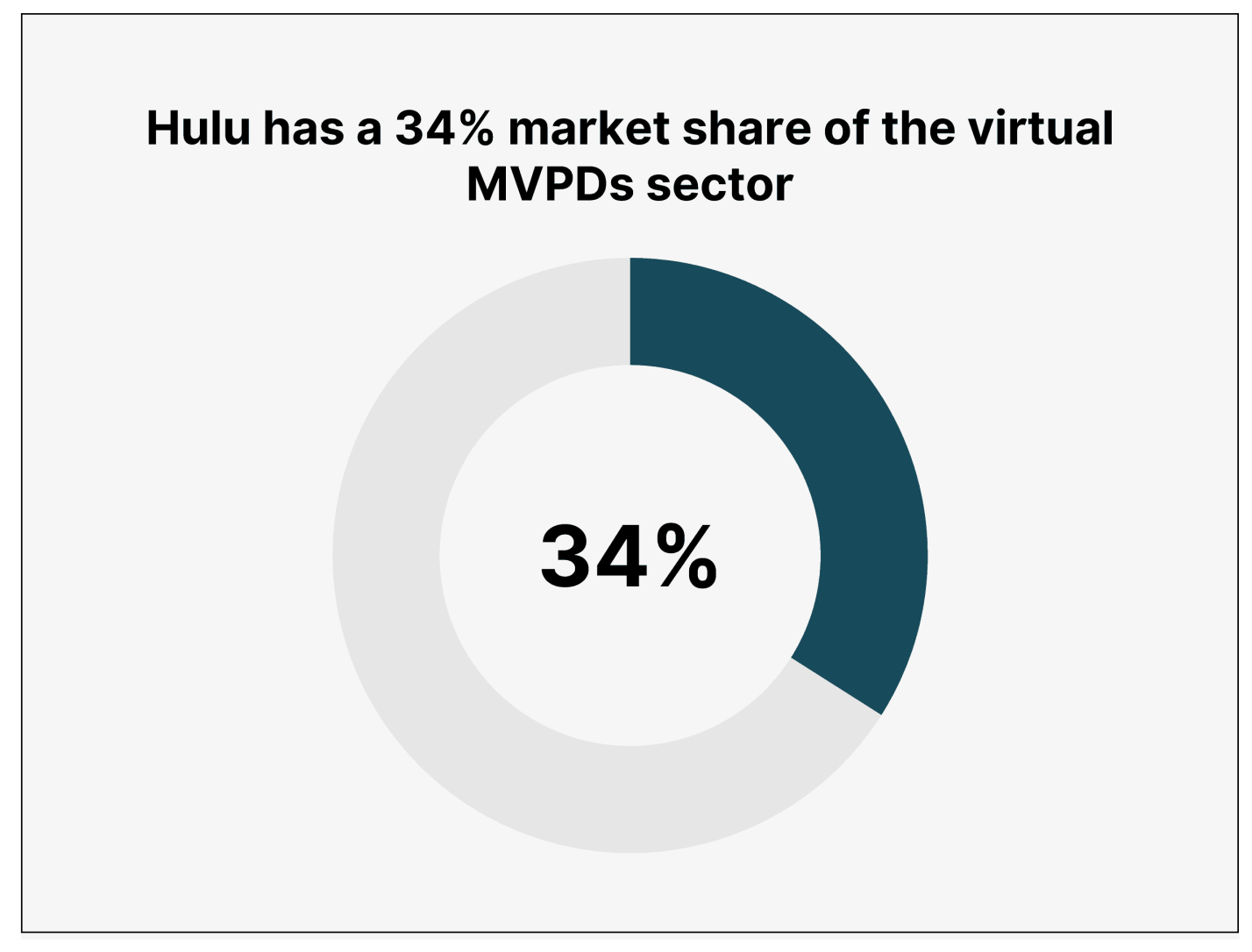 There has been a consistent growth in the number of people subscribing to a service that provides access to many television channels (multichannel video programming distributors; MVPDs), up 24 percent over the previous year. The percentage of people subscribing to Hulu rose by 31 percent this year.
While AT&T TV Now and Sling TV lost subscribers, YouTube TV had a rise of 5 percent. Hulu's expanding subscriber base is evidence that the platform's marketing efforts are paying off.
5. Around 45.6 million people pay to watch content on Hulu each month.
There has been a meteoric rise in the number of Hulu subscribers throughout the years, especially when comparing the service's growth from one year to the next. In 2020, there were 32,1 million users of the service. There are a number of different subscription tiers available to users, with the cheapest plan costing 6.99 USD/month and the most expensive plan costing 64.99 USD/month. Popular stations like CBS and NBC are included in the latter, along with ad-free viewing and live broadcasts.
6. In the first three months of 2022, Hulu's market share declined by one percent.
Recent data suggests that Hulu accounted for 11 percent of the worldwide market in 2017. The remaining 23percent of the market is split between Netflix and Prime Video, while 19 percent goes to HBO Max. At 13 percent, Disney+ is right on its heels. According to historical statistics, Hulu's SVOD market share dropped from 27percent to 20 percent between Q3 2019 and Q4 2020.
---
Demographics Statistics of Hulu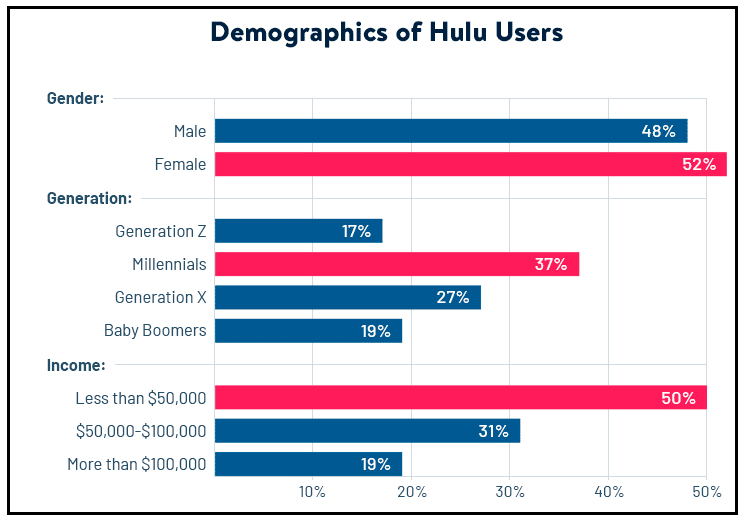 ---
7. In the United States, 38 percent of adults between the ages of 35 and 44 use Hulu on a weekly basis.
The most frequent Hulu users are between the ages of 35 and 44, with 38 percent of those polled indicating they do so on a weekly basis. In addition to the 10 percent who tune in once a week, another 39 percent of this demographic watches it daily. The elderly (those over 65) and the young (those under 34) are the least likely to use Hulu.
8. Almost half of Hulu's audience makes less than 50,000 USD a year, which makes this streaming service very affordable.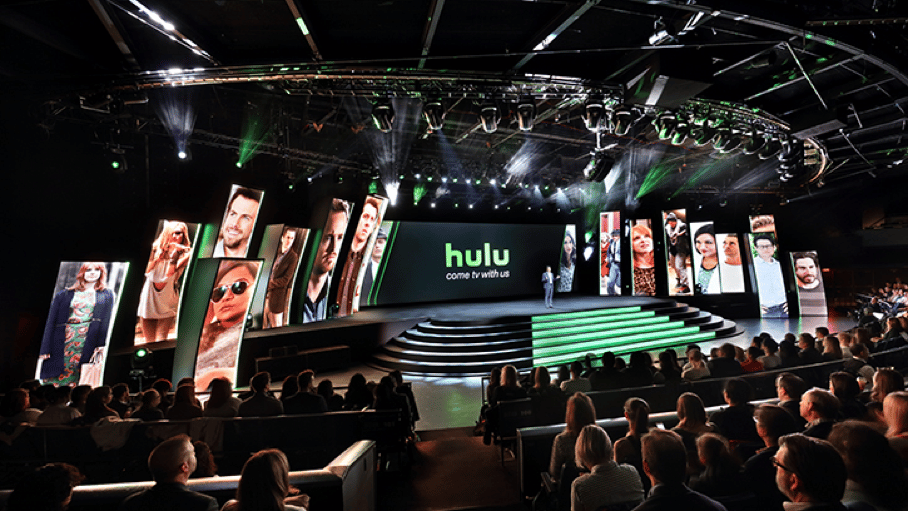 As a result, they now account for the bulk of Hulu's subscription base. The percentage of Hulu users who earn between 50,000 USD and 100,000 USD annually is 31 percent, while the percentage who earn more than 100,000 USD annually is 19 percent.
9. Roughly half of Hulu's subscribers are members of Generation Y or Z, making up around 54 percent of the service's total user base.
Looking at how many people use Hulu, the equation becomes clear. Young folks make up more than half of the service's subscriber base. 37 percent of Hulu's audience is made up of Millennials. In comparison, 17 percent is made up of members of Generation Z. In addition to Millennials; Generation X makes up a sizable portion of subscribers (37 percent). After that, the Baby Boomer generation accounts for 19 percent.
10. About half of Hulu's viewers are women.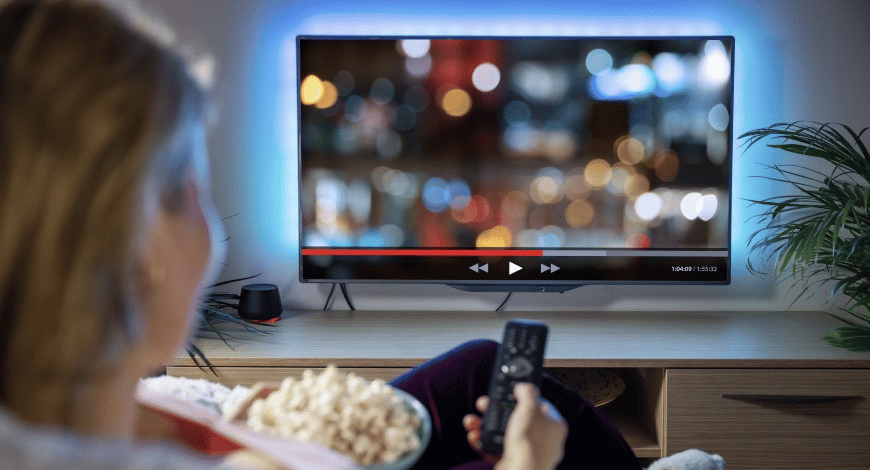 Hulu's subscription growth has been proportional across both sexes, with 48 percent male and 52 percent female users, only Netflix being able to equal this ratio. CBS All Access attracts a disproportionately significant number of male users (69 percent) compared to its rival services. A similar percentage of people subscribe to Discovery+ and HBO Max (62 percent and 61 percent, respectively).
11. In May 2021, 57 percent of all Americans between 18 and 34 have a Hulu membership.
In stark contrast, just 10 percent of those aged 65 and above have a Hulu membership, according to the service's subscriber data. Regardless of this discrepancy, almost the same percentage of respondents in each group reported being familiar with Hulu. A further 19 percent of the younger demographic has not renewed their memberships, and 8 percent have shared their passwords with others.
---
Key General Statistics of Hulu
---
12. Out of forty different VPNs tested, Hulu streaming performed the best with NordVPN.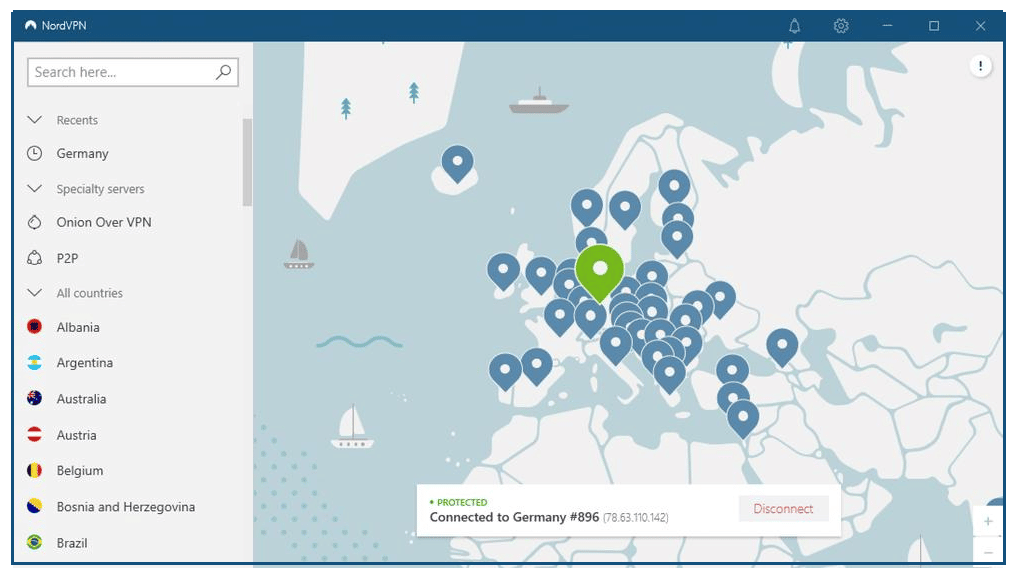 Technically, you can only watch Hulu in the United States or Japan. However, several VPN services now make it possible for viewers in any country to watch Hulu, with NordVPN as the best choice. For many other streaming services outside Hulu, such as Netflix, Amazon Video, and Disney+, NordVPN is also an excellent option.
13. 17 percent of US residents tuned in to The Handmaid's Tale on Hulu in 2019.
Contrary to Hulu's data, the program has been included on a number of "best of" lists that rank the best original TV series based on viewer demand. Some reports state that the storyline is to blame for the low ratings since it is quite particular and may not appeal to a wide audience. However, its bleak tone might pique readers' attention.
14. By the year 2020, 94.5 million people viewed Hulu.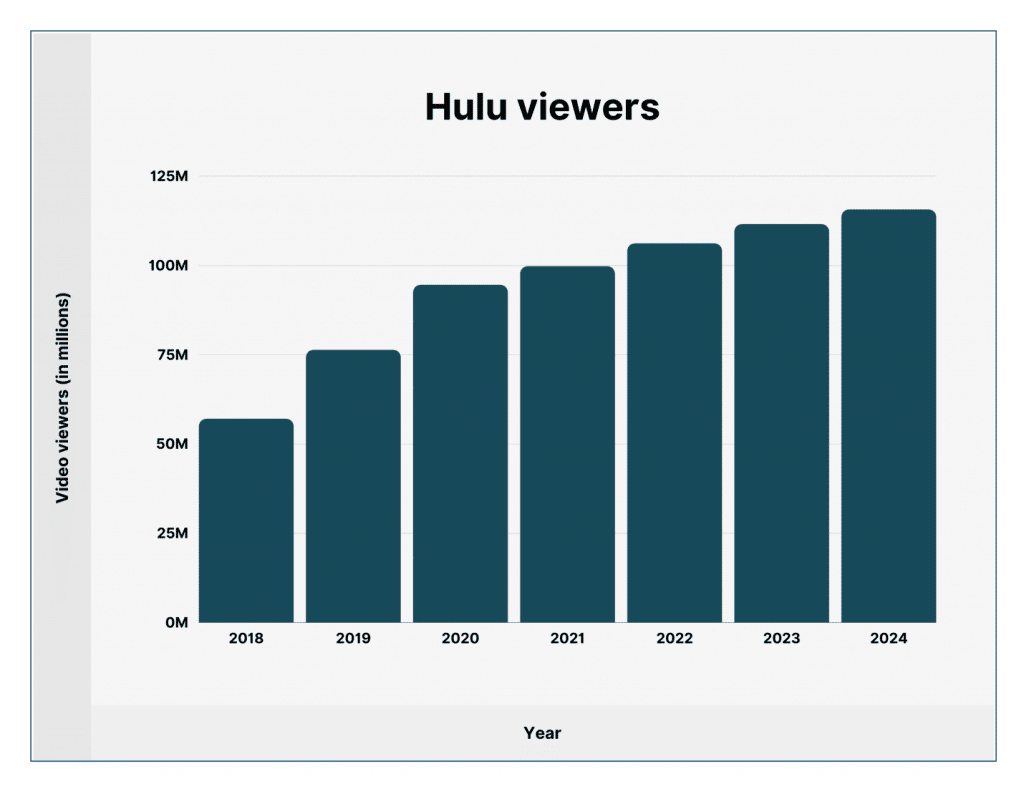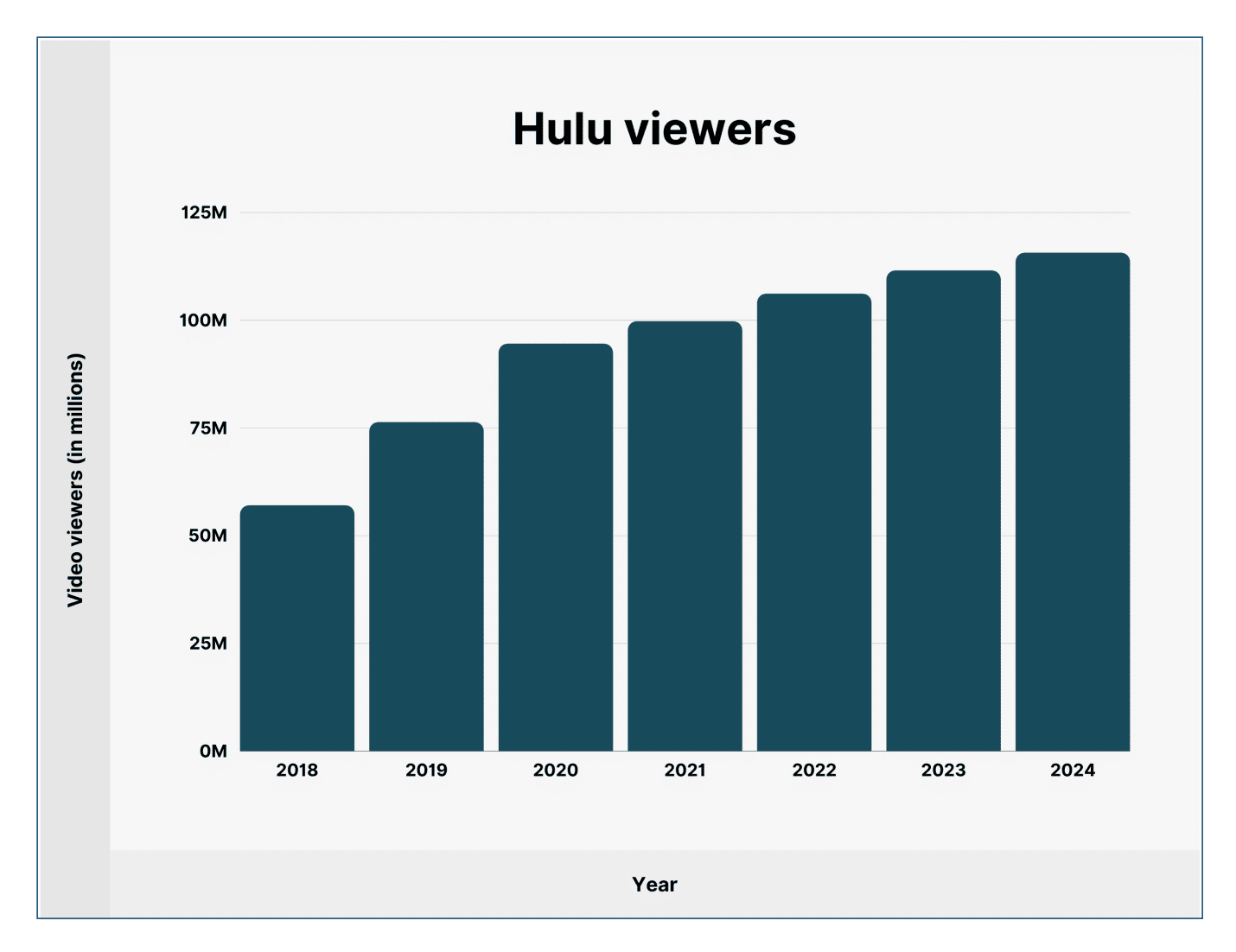 Statistics and forecasts for Hulu indicate that the service's user base will grow to 99.7 million by 2021. Because of this, Hulu is among the top three OTT providers in the United States. There were already 168.9 million users of Netflix in 2020, and that number is predicted to grow to 171.70 million by 2021. After that, Amazon Video came in second with 130,1 million users in 2020.
15. In 2019, Hulu's mobile audience reached third place among streaming services.
With a mobile audience of 88 percent, YouTube was one of the most widely used streaming platforms. The leader in paid streaming services, Netflix, was just second here with 25 percent of the vote, behind Hulu (14 percent) and Amazon Prime Video (11 percent). At just 8 percent, Vimeo ranked last.
16. In 2020, Hulu earned 4.4 billion USD in revenue.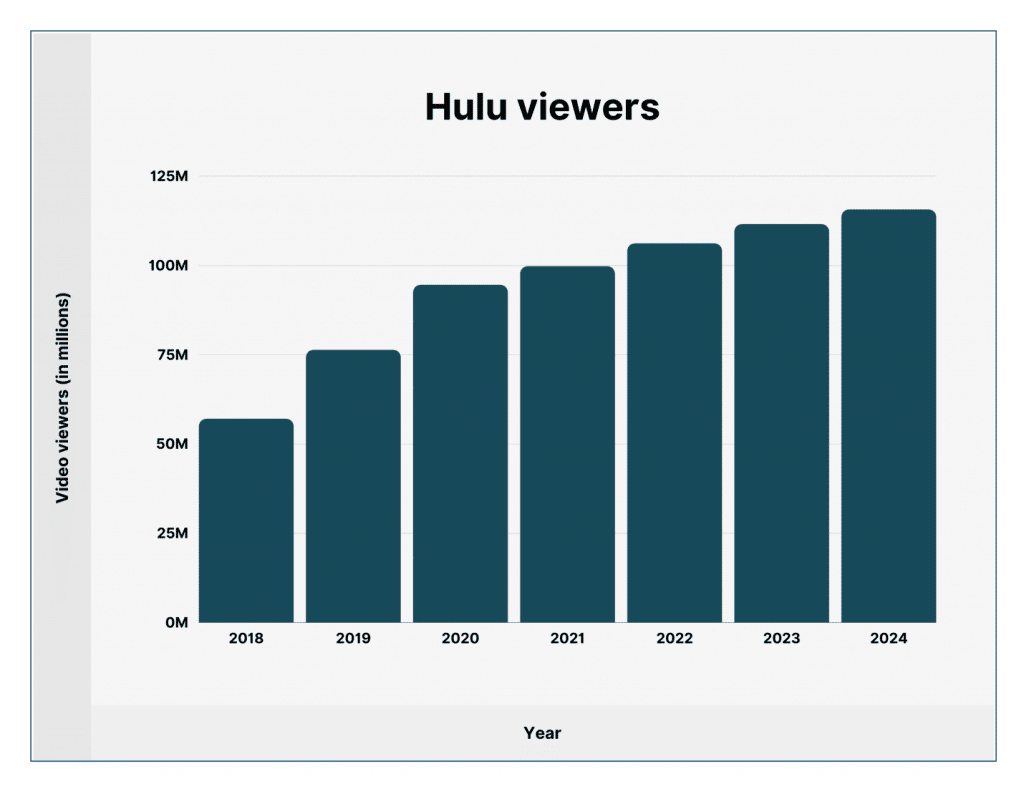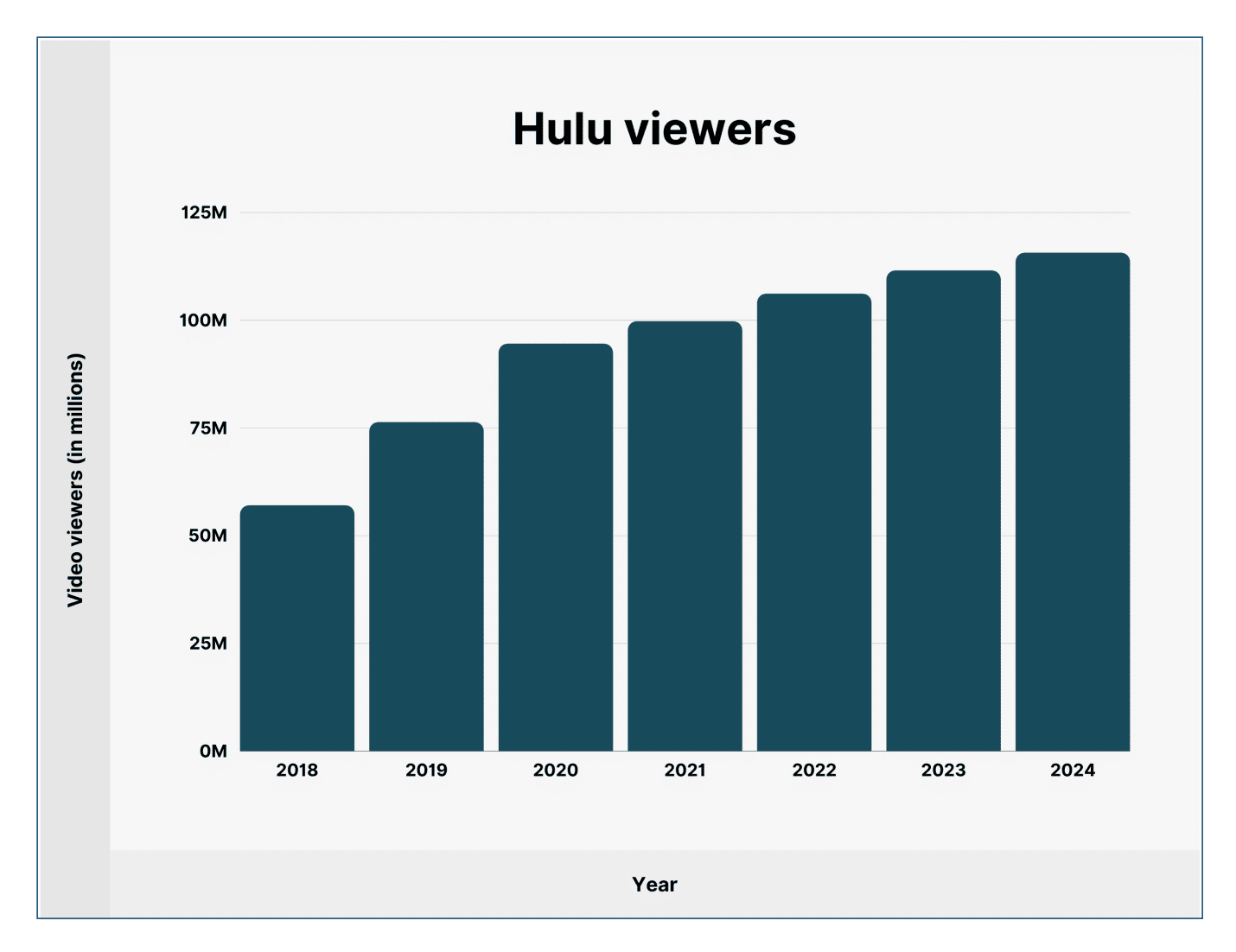 Over the last decade, the corporation has ramped up its efforts to enhance the platform's reputation. Hulu's income rose from0.2 a billion USD to 4.4 billion USD over the previous decade, largely thanks to their efforts.
17. As of March 2019, 70 percent of members were using ad-supported tiers.
Even though Hulu offers a package with no commercials, many users still choose the 6.99 USD plan because it's more convenient. The platform has limited the duration of advertisements to 90 seconds and includes a timer to alert users when the break is over.
18. Without the live TV package, the average revenue per subscriber in the second quarter of 2022 was 12.77 USD.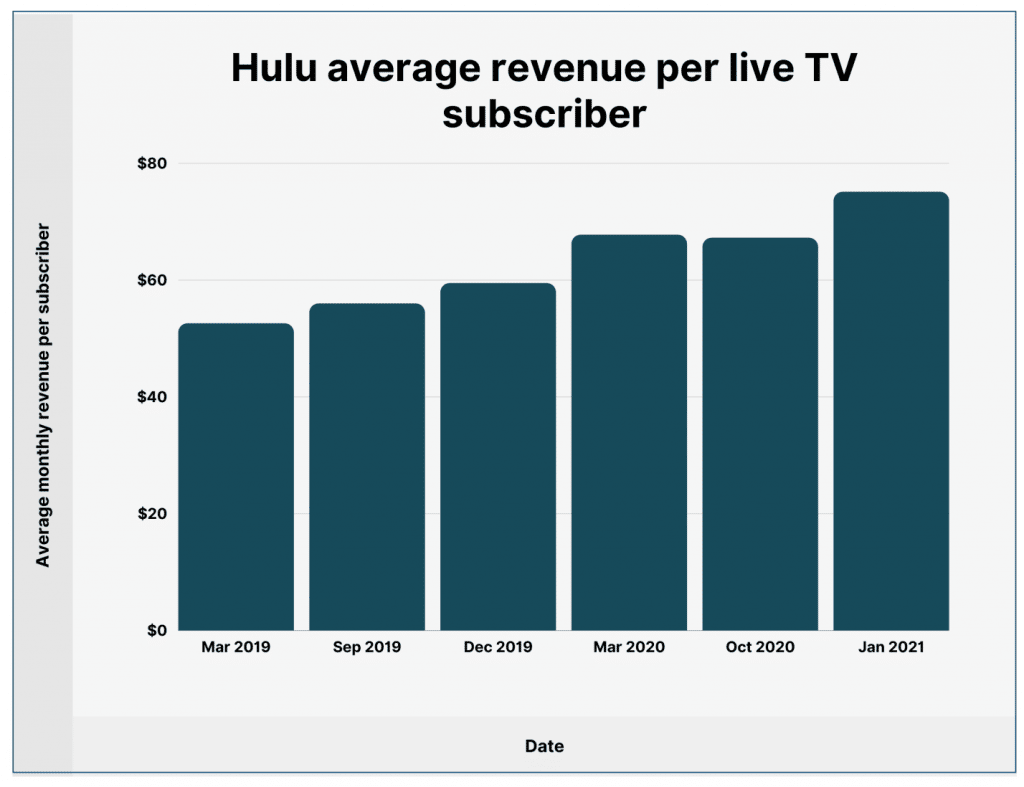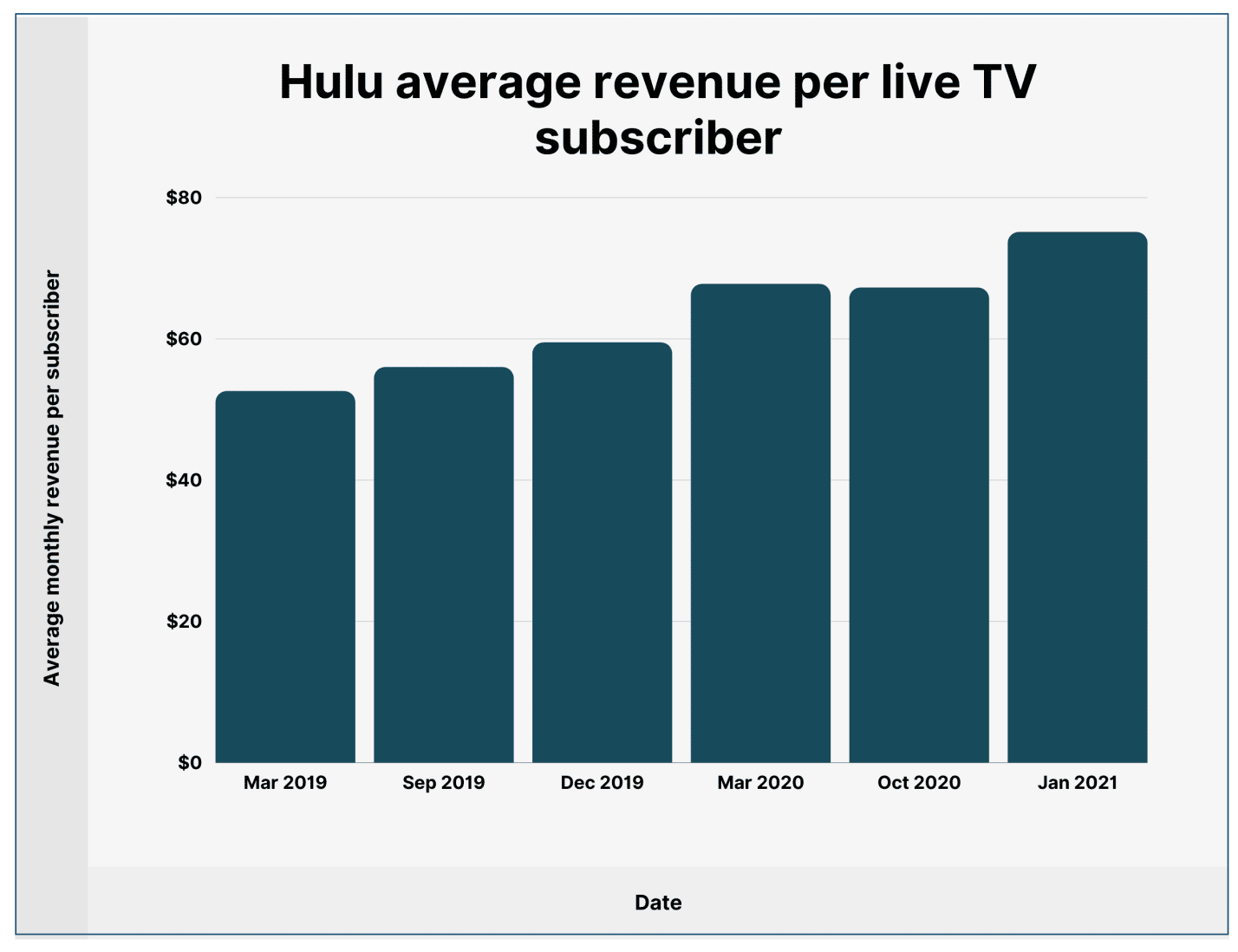 According to Hulu's subscriber data, the streaming service's average income per user fell to 12.84 USD in Q2 from 12.96 USD in Q1. Since 2019, the company's ARPU has ranged from a low of 11.39 USD in Q3 2020 to a high of 14.49 USD in Q1 2019.
19. It's been estimated that the revenue per live TV viewer is 6.95 times that of a streaming-only viewer.
The income per Live TV user has steadily increased since the beginning of 2019, according to Hulu's data, while revenue per streaming subscription has stayed relatively constant. Revenue per monthly Live TV viewer was 88.77 USD in Q2 2022, up from 52.58 USD in Q2 2019, while revenue per monthly streaming viewer was 12.73 USD, up from 12.77 USD the previous year.
20. Twenty percent of Hulu's monthly plan without commercials subscribers were still with the service six months later, in 2021.
In the streaming industry, the consumer retention rate is somewhat better for ad-free subscriptions. According to Hulu's subscriber retention data for 2021, the average six-month retention rate for Hulu's monthly plan without commercials was 65 percent, while the retention rate for Hulu's monthly plan with ads was 63 percent. Discovery+ and Peacock are no different in this regard.
21. About 2,350 people make up Hulu's staff.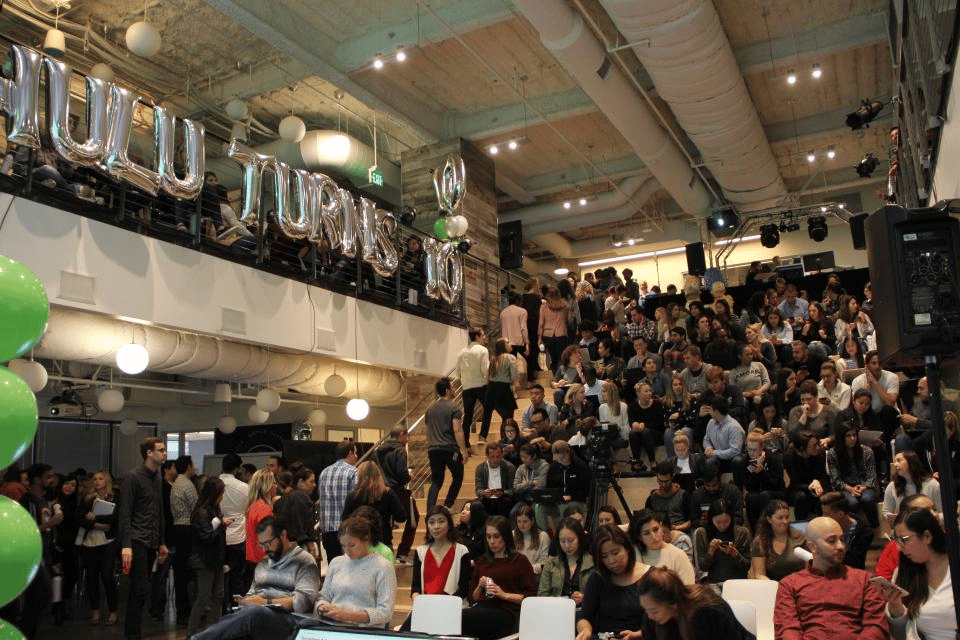 Employees at Hulu earn a median annual income of 101,593 USD (including base pay and bonuses) or 48 USD per hour. Salary estimates place the median at 89,632 USD. Salary ranges within the organization span from 240,000 USD for the principal engineer position to 48,784 USD for technical assistance.
---
FAQs
Q. How many users can stream Hulu at a go?
While the application can be installed on an unlimited number of devices, the maximum number of devices used to stream at once is determined by the subscription package. Both Hulu and Hulu+Live TV allow you to stream to two screens at once. Hulu+Live TV subscribers, however, may use the service on an infinite number of screens so long as they activate an add-on.
Q. Is Hulu on the same level as Netflix?
Netflix has a slight edge over Hulu. While Netflix has nearly 5,000 titles in its movie library, Hulu only has about 3,000.
Q. What is the total number of Hulu subscribers?
In the third quarter of 2021, Hulu had 42.8 million customers, an increase of 1.2 million over the previous quarter. Compared to its 30.4 million user base at the start of 2020, Hulu's 36.6 million users in the fourth quarter of that year represent a growth of 6.2 million users.
---
Conclusion
Hulu data shows that people are losing interest in broadcast television. Streaming services are becoming more popular because they save consumers time by enabling them to locate the content they need quickly.
The success of Hulu financially and in terms of new subscribers strongly suggests this. Additionally, despite its limited availability outside of the United States and Japan, it is today one of the industry's most prominent players.