Do you often stream your favorite TV shows and movies on Netflix, and you're wondering how big the platform is? This article provides you with interesting statistics about Netflix as well as its demographics and user statistics.
Since its inception in 1997, Netflix has come quite far. After seeing the potential in a subscription-based model, this platform evolved from a DVD rental business into one of the most formidable streaming powerhouses. According to Netflix's data, the service was ahead of its time when it introduced its foundational algorithm to learn consumers' choices.
Let's look at the numbers since they'll tell us more about Netflix's success than any word could.
---
Demographics and User Statistics of Netflix
---
1. According to Netflix data, the demographic with the highest percentage of subscribers is the 18–34-year-old group, with 75 percent of that demographic having the service.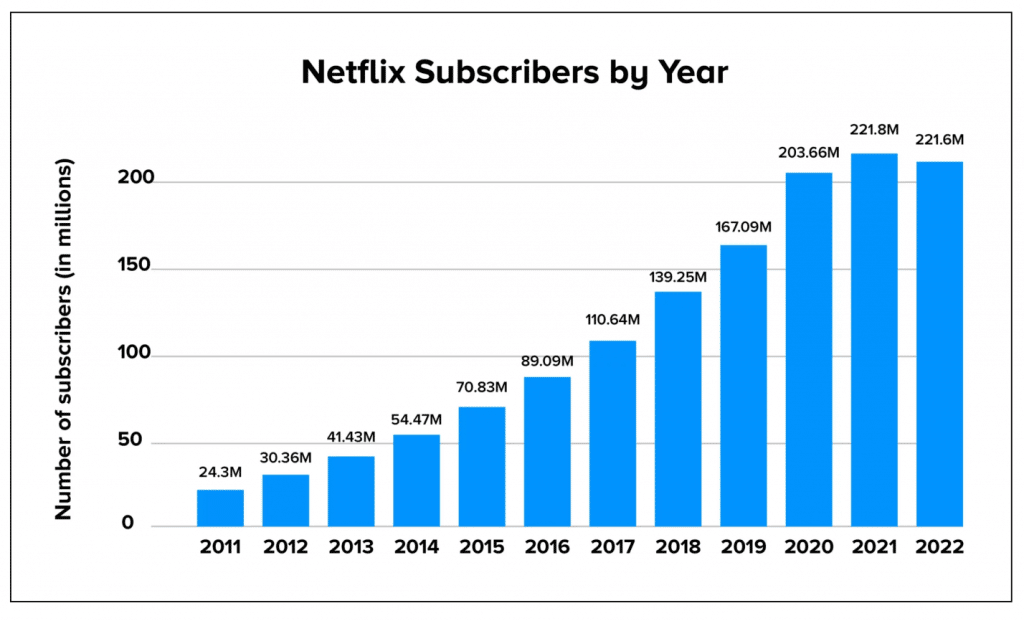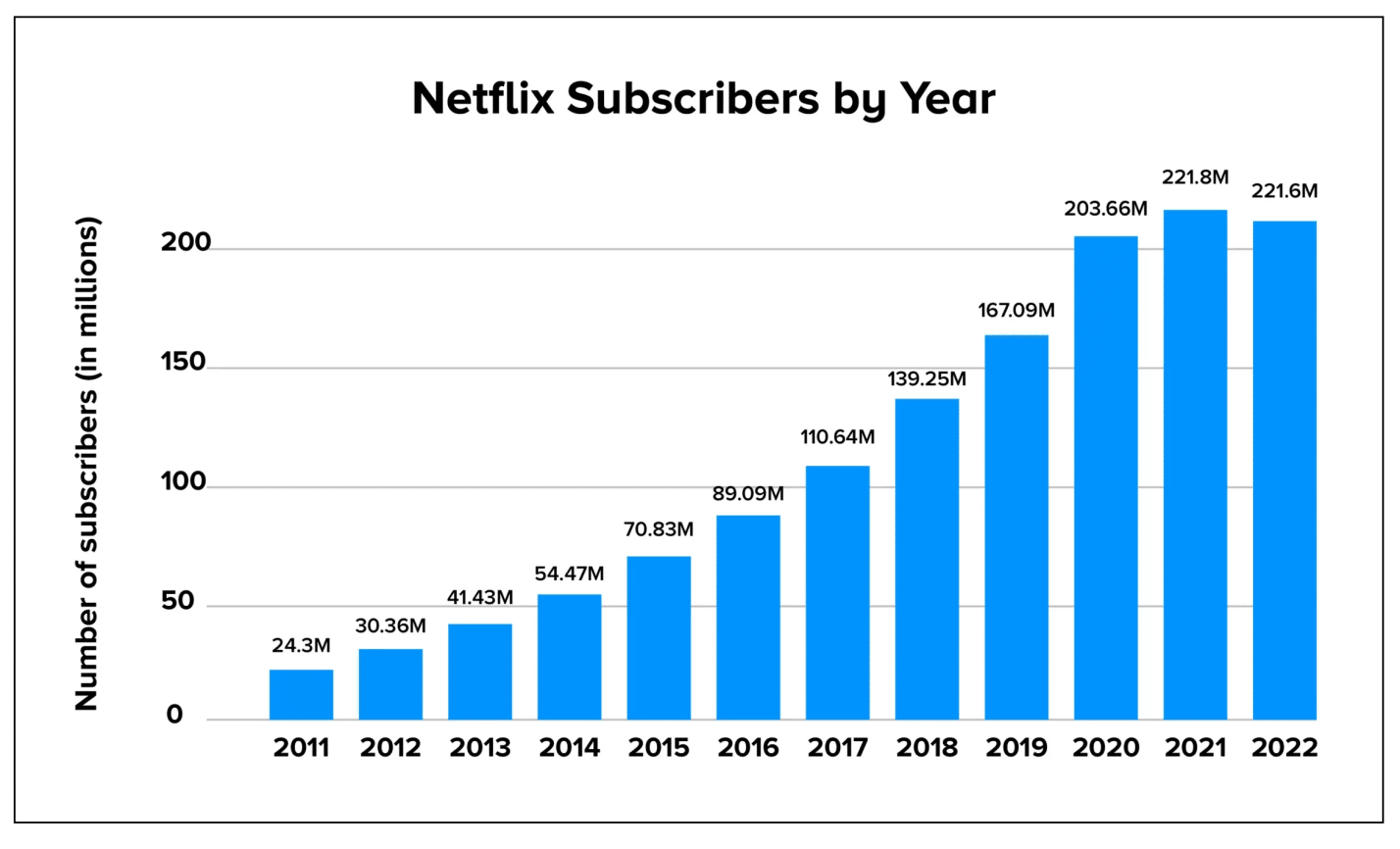 This demographic represents Netflix's most devoted subscribers, who see the service as a need. According to Statista, 17 percent of the same age group considers Amazon Prime or HBO a must-have. At 24 percent and 26 percent, ESPN and Hulu are somewhat more well-liked. In addition, the latest study from Statista shows that Netflix is the most well-liked streaming service overall, especially among young adults aged 18–34.
2. According to Netflix's audience demographics, women make up around 52 percent of the service's user base.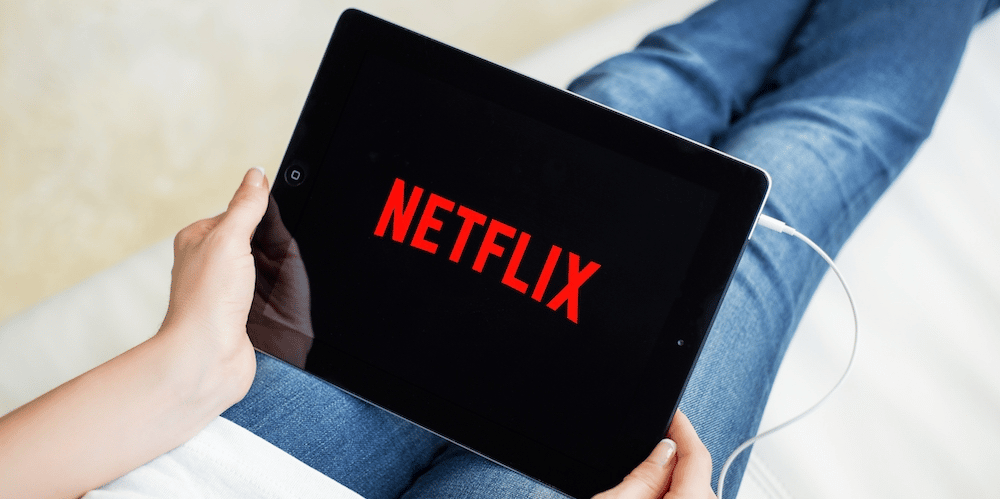 According to Hulu's user data, the gender split is roughly even, with females making up around 52 percent of the service's total users and males 48 percent. CBS All Access, on the other hand, has a significantly male-dominated subscriber base (62 percent vs. 35 percent). Discovery+ (62:38) and HBO Max (61:39) have skewed male user bases.
3. Netflix's core audience has a median age of 35–44.
The greatest demographic using the site in 2015 was young adults (18-34) from the United States. According to the data, today's primary Netflix watchers are members of Generations X and Y. There has been an expansion in the demographics spanning the ages of 34 and 65 and above since 2015.
4. The median yearly income of American Netflix subscribers is under 50,000 USD.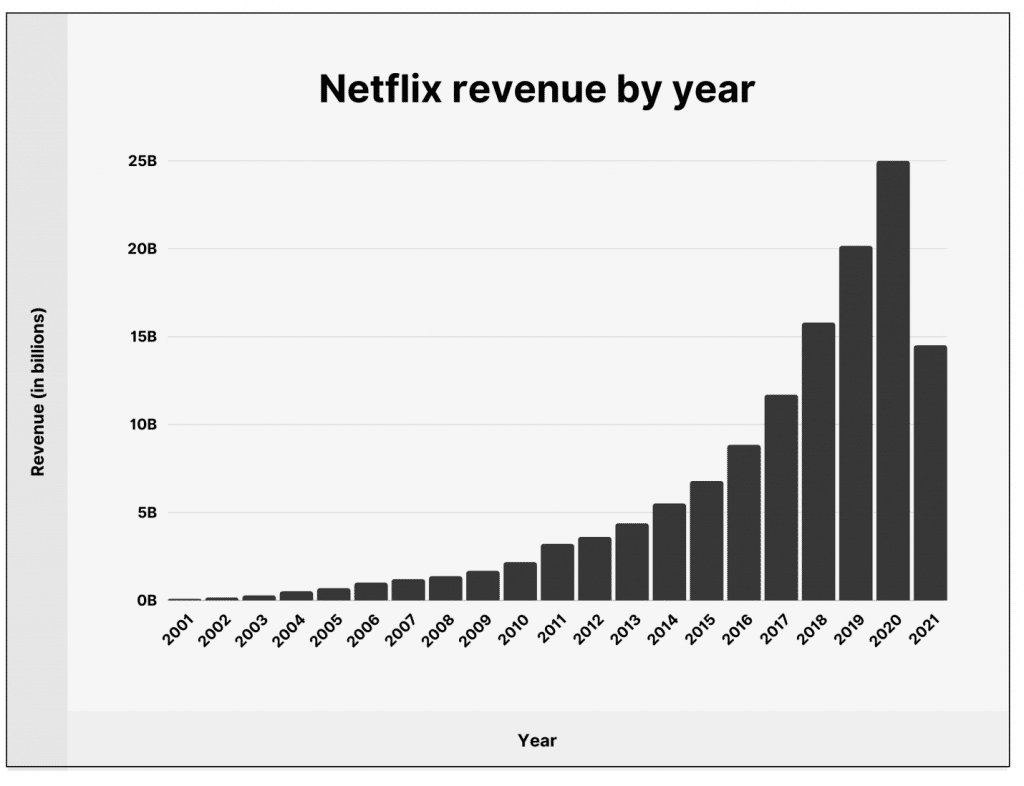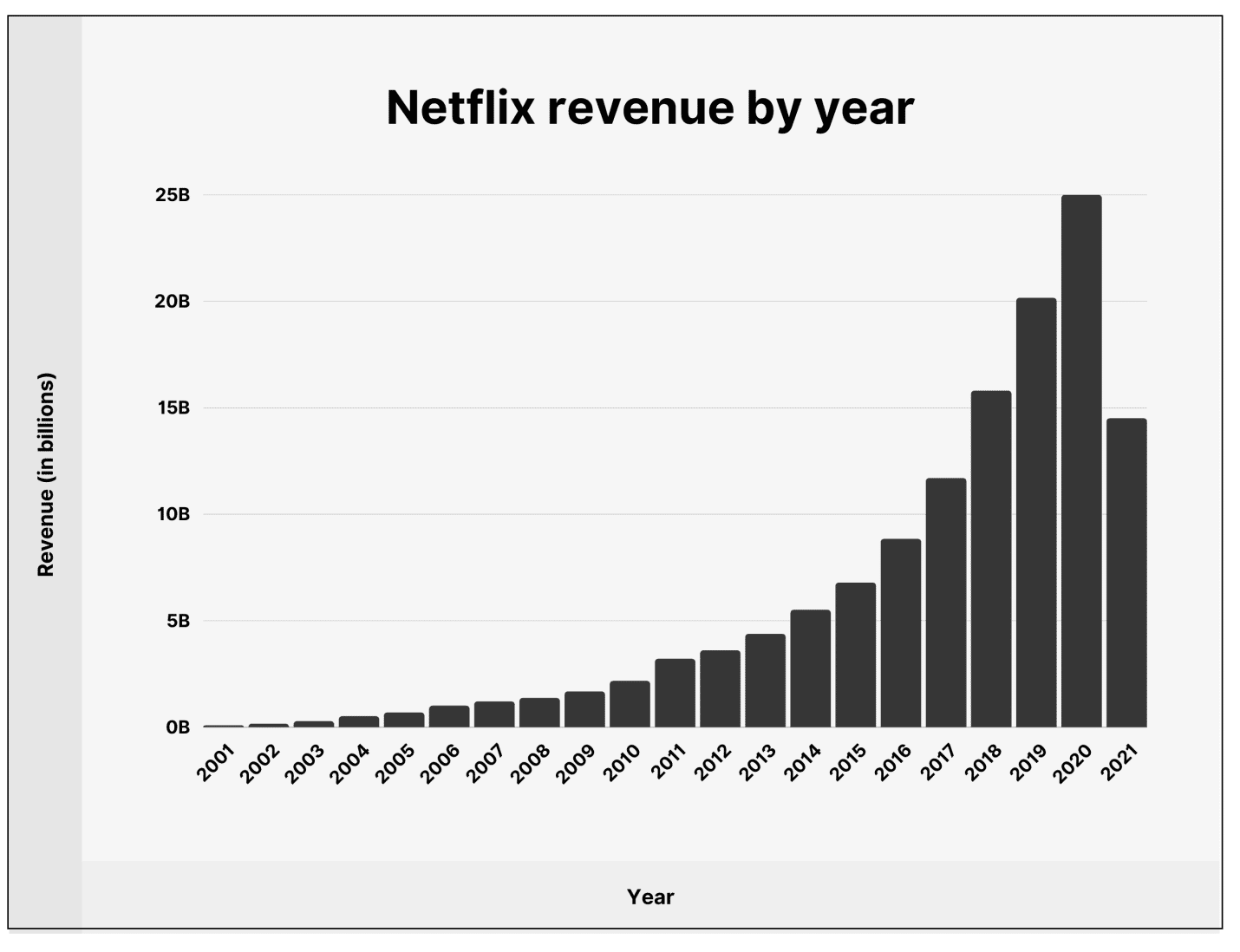 Income-based differences exist amongst Netflix populations. The typical Netflix viewer is a young suburban lady in her twenties who has attended college but may not have graduated. While 33 percent of Netflix subscribers have earned a bachelor's degree or more, 68 percent have some or no college experience.
Another interesting fact is that just 17 percent of members have annual incomes of 100,000 USD or more. Furthermore, women make up a larger proportion of the typical user population.
5. As of the first quarter of 2022, Netflix has around 221,64 million customers.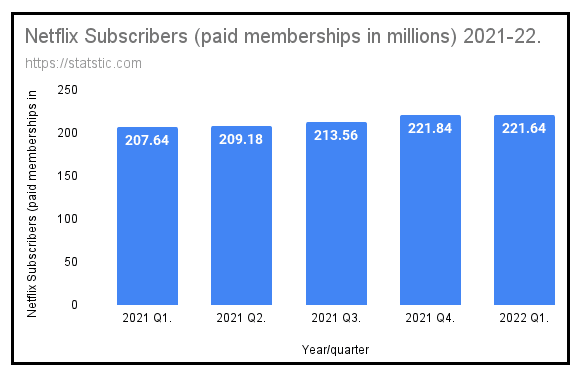 According to data gathered from how members used Netflix in Q1 of 2022, the service saw a drop of 200,000 users from Q4 of the previous year. Netflix has over 75 million customers in the United States and Canada. It's important to note that despite the widespread use of Netflix's streaming service, the popularity of its DVDs has fallen.
6. About 190 countries across the world can access Netflix.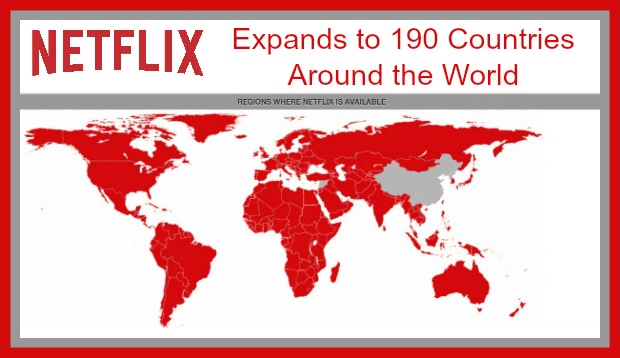 By analyzing Netflix's user base, we can observe that the service is available in almost every nation and territory. It started spreading to other countries in 2010, and within a decade, it reached Greenland. However, Netflix is not available in other countries, including North Korea, China, Syria, and the disputed peninsula of Crimea.
With the exception of China, US sanctions ban corporations from doing business in all of these other countries. Netflix's development in China is hampered by Beijing's censorship and harsh local competition regulations.
---
Revenue and Market Share Statistics of Netflix
---
7. Almost eighty-two percent of online streaming users in 2019 said they like it more than cable television.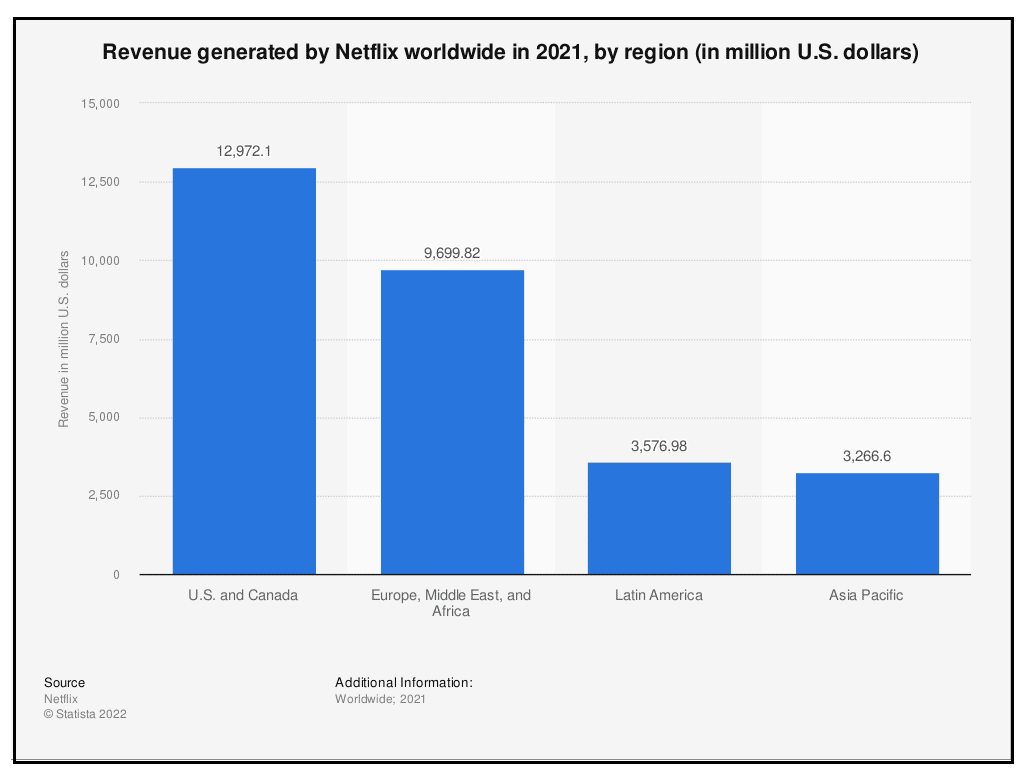 The 2019 survey had 1,277 participants, yielding these findings. Data comparing Netflix and cable show that streaming is preferred by users over cable television. However, just 18 percent of those same individuals choose cable. Some 65.6percent of cable TV viewers say that watching content online is more entertaining than watching TV through cable, while just 34.4percent feel the same way about cable.
8. The sum of seventeen billion dollars is what Netflix spent on content in 2021.
Statista's study on how much money each company spends on content leads us to the conclusion that Netflix spends a lot less money. Compared to Netflix's 17 billion, Disney's spending of 22 billion USD on content last year is staggering. Netflix's programming budget for this year is predicted to be flat with 2021's. Disney, on the other hand, plans to spend 33 billion USD on content in 2022.
9. Netflix created 129 original titles in Q3 2021.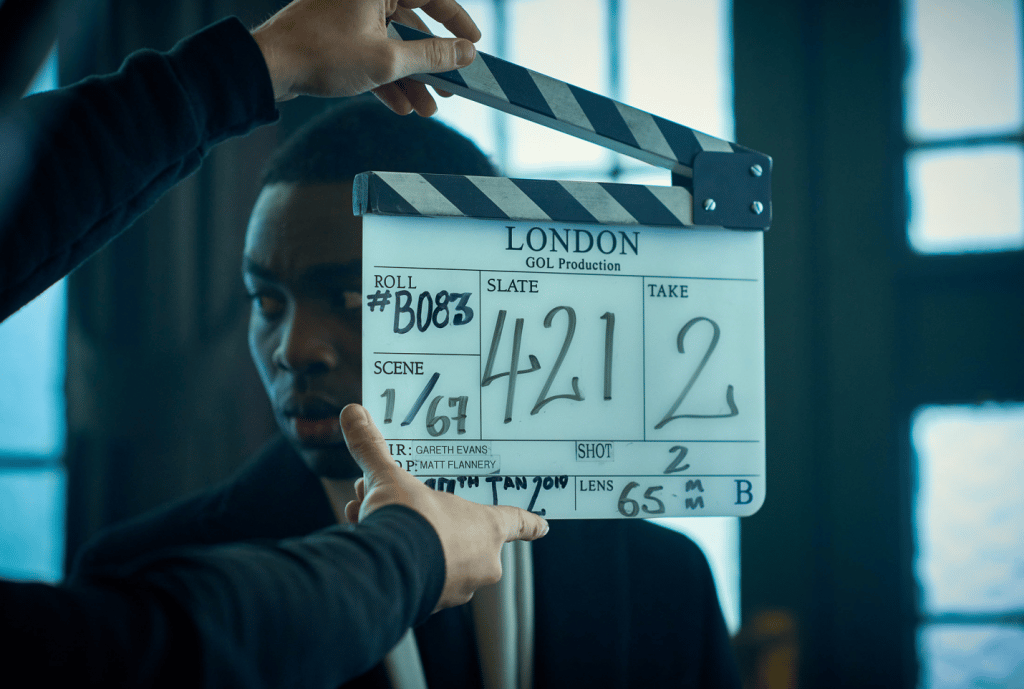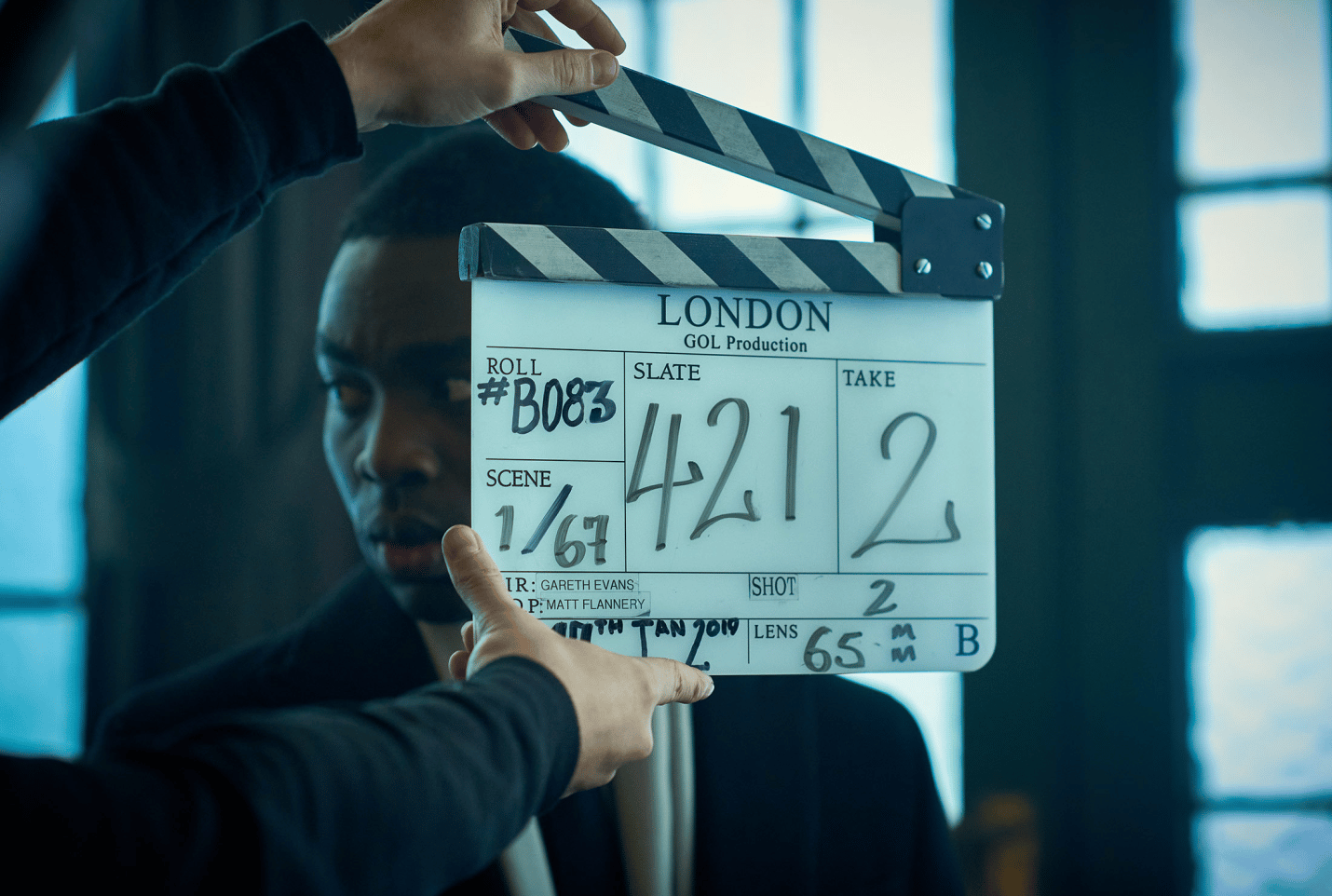 According to Netflix data, the streaming giant has created over 2,769 hours of original programming. Eighty-one percent of it is unique content compared to last year. To put things in perspective, between 2018 and 2019, there will be more material generated than was published between 2012 and 2017.
10. By 2025, it is expected that 62 percent of all households in North America will have Netflix.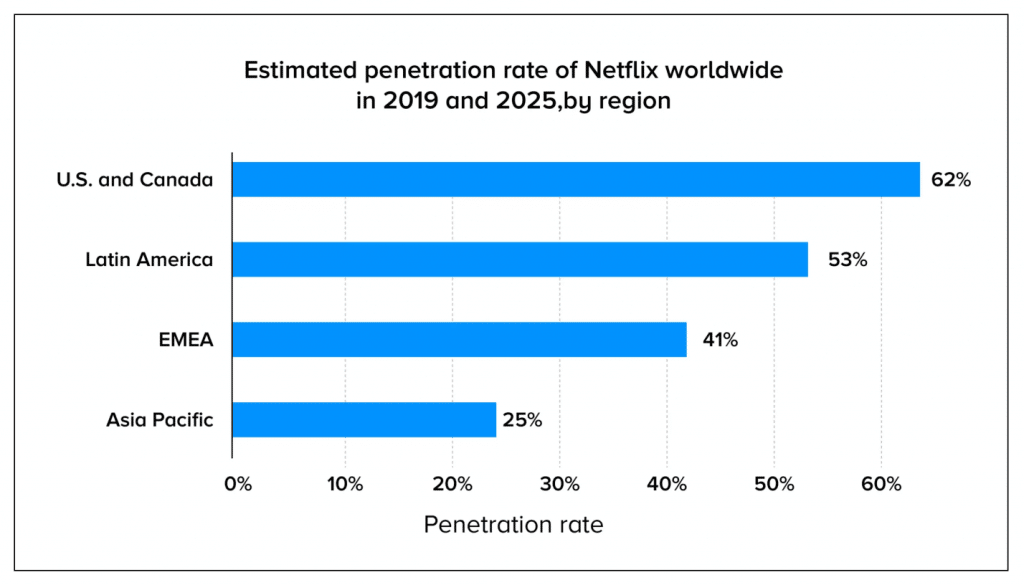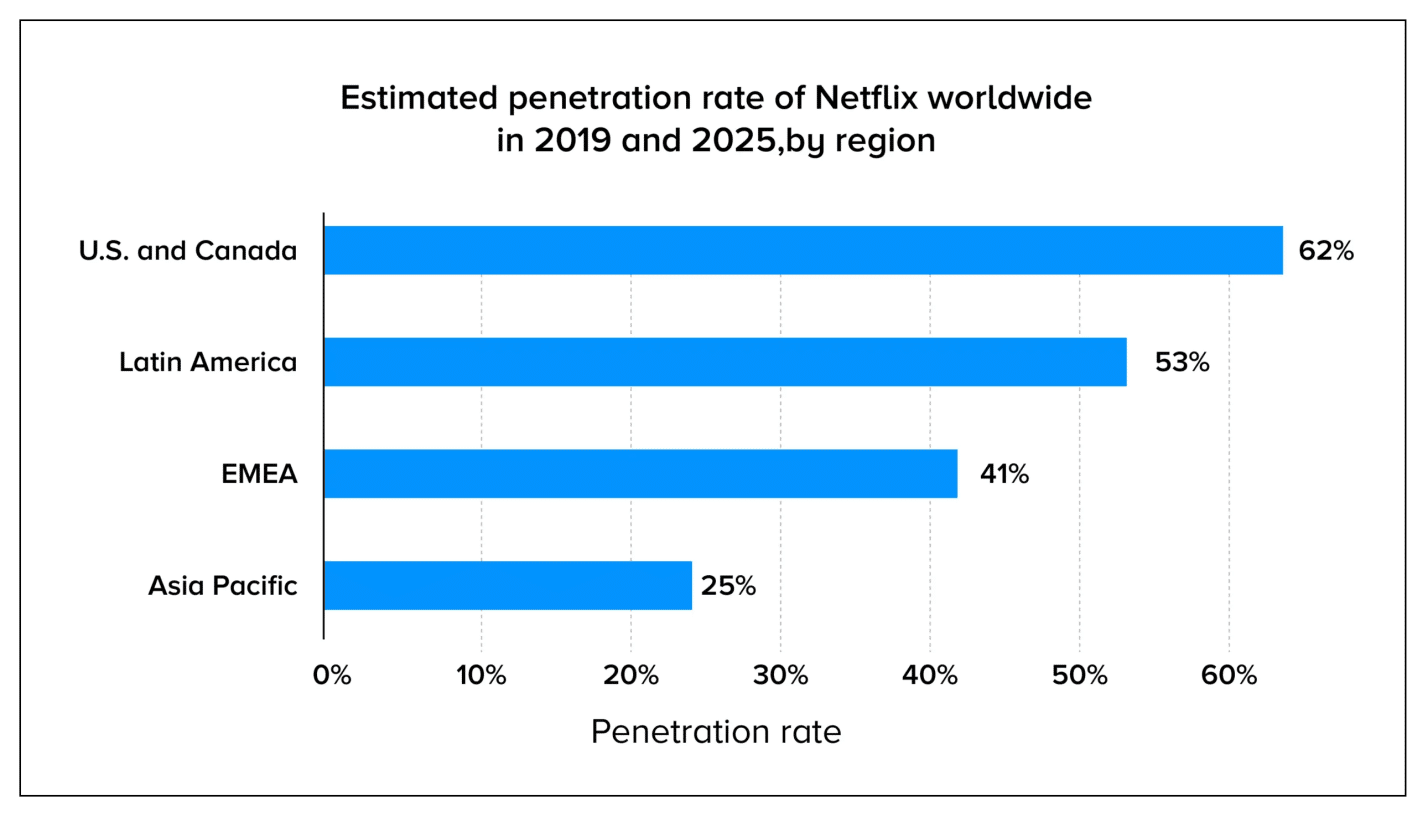 This is lower than Netflix's 2019 penetration rate of 55 percent. When compared to predictions for EMEA and Latin America, this is quite little. In 2020, the platform was projected to increase its market share in the first region to 41percent from 19percent in 2019, and in Latin America, it is projected to increase its market share from 39percent to 53 percent. Finally, the platform's penetration rate might increase to 25percent from 11 percent in the Asia-Pacific region in 2019.
11. The average revenue per user (ARPU) for Netflix in the United States and Canada was 14.91 USD in Q1 2022.
According to one of the most recent figures from Statista, the United States and Canada had the highest average monthly revenue per user (ARPU) for Netflix in Q1 of 2022. In addition, the Asia Pacific area had a lower ARPU of 9.21 USD compared to Europe, the Middle East, and Africa's 11.56 USD. The average monthly revenue per client in Latin America was 8.37 USD.
12. Between 2020 and 2021, Netflix's market share in the United States dropped by 31 percent.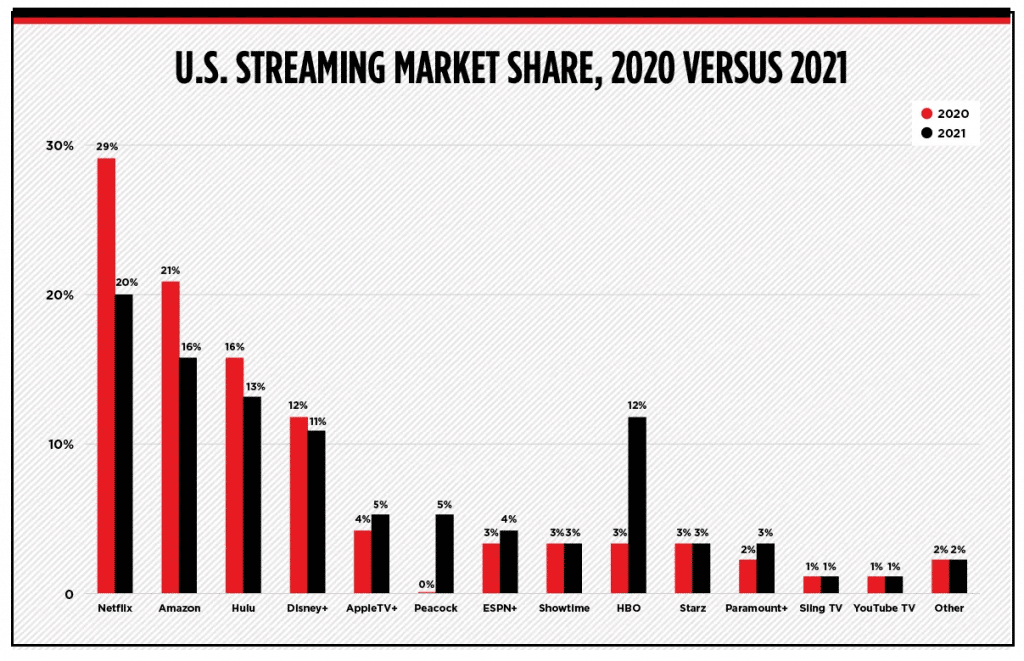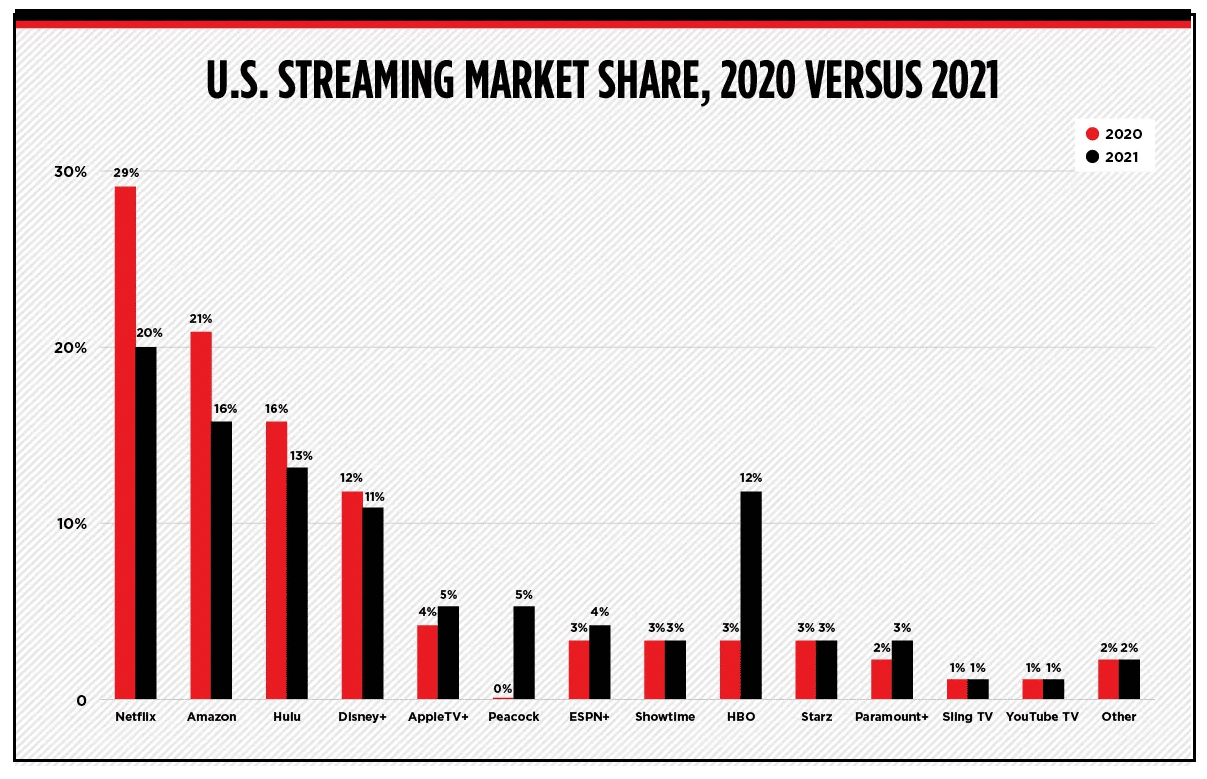 The latest subscription data from Netflix shows a decline to 20 percent from the same time in 2020 (29 percent). Netflix may have set a new high in subscribers, but the company's growth was slower than the market. A total of 36.58 million new customers signed up in 2020.
However, new entrants to the industry have surged in to take advantage of this expansion (HBO Max, Peacock). Shares fell not just for Netflix but also for Hulu, Amazon, and Disney+. As a result, Amazon went from 21 percent to 16 percent, Disney Plus from 12 percent to 11 percent, and Hulu from 16 percent to 13 percent.
13. In the first three months of 2022, sales to the United States and Canada totaled 3.3 million USD.
As far as geographic regions go, the United States and Canada were the most important to Netflix's bottom line in 2020. The EMEA area was also important, contributing 31.4 percent of the total yield to the company's overall portfolio. A 12.8 percent increase in revenue was seen in Latin America, while a 9.6 percent decrease was seen in Asia-Pacific.
14. By 2021, the platform had generated close to 30 billion USD in sales.
If you compare this number to its meager beginnings 20 years ago, you'll see a striking difference. In 2002, Netflix made slightly over 150 million USD in income, according to corporate statistics. A consistent rise in sales was seen going ahead, with 2009 sales of1.67 billion USD being a new high point. In 2020, Netflix earned 2.76 billion USD, which was more than quadruple its total revenue from a decade earlier.
---
Country Statistics of Netflix
---
15. As of 2020, Netflix has 12.4 million customers in the United Kingdom, making it the market leader.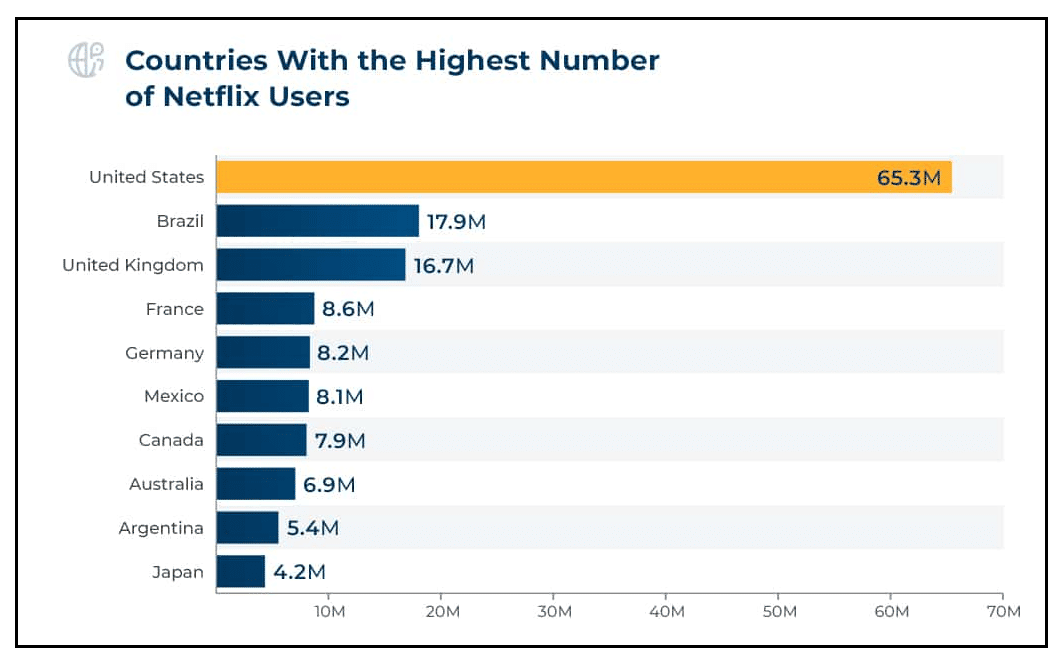 With just approximately 7 million users, Amazon Prime Video came in second. The platform's number of new customers more than quadrupled during the first quarantine stage of 2020, during Q1. Statistics for the United Kingdom show that, contrary to expectations, Netflix attracted 15.8 million subscribers. Over five million more British homes have signed up as paying subscribers to a streaming service in the wake of the shutdowns.
16. Netflix had a seven-day, consecutive growth of 195 percent in traffic in Malaysia during March.
The quarantines, which limited people's access to other forms of entertainment, drove a lot of this traffic toward video content. Statistics from Malaysia suggest that, in addition to Netflix, Tonton is up 232 percent, Viu by 140 percent, and dim sun by the same percentage. People flocked to the ott platforms not just because they were bored at home but also because there were no movie theaters or other entertainment options available.
17. As of March 2019 in Singapore, more than 35 percent of homes have Netflix accounts.
These Singaporean Netflix data show that although HDB homes accounted for 36 percent of all viewers, freehold houses and condos accounted for a larger percentage (40 percent). 37 percent of households had Netflix subscriptions, 15 percent had StarHub Go, 13 percent had SingTel TV GO, and 22 percent had subscriptions to other relevant providers. A survey conducted in Singapore found that 24 percent of respondents ranked Stranger Things as their favorite show to watch on the service.
18. By 2020, more than 3.45 million Australians over 14 had signed up for both Stan and Netflix.
Furthermore, 3.3 million Aussies have both a Netflix and Foxtel membership, according to Netflix data. Many Australians have just made a move to Disney+. While in Q1 of 2020, over 1.85 million Australians signed up for both Netflix and Disney+. It's a huge sum that dwarfs the total for any other possible Foxtel/Stan subscription combo.
19. The United States accounted for 65.3 percent of all Netflix members in 2020.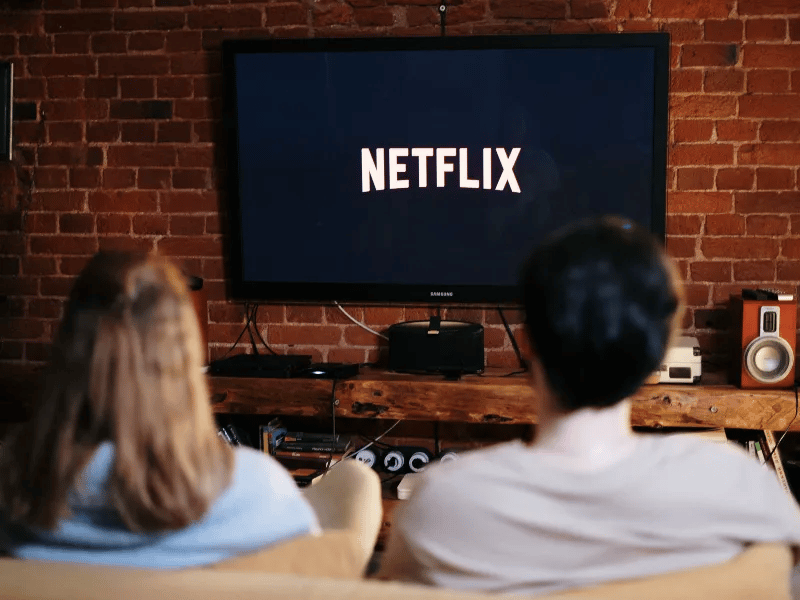 In this time span, the platform attracted more users than ever before. There are 17.9 million Brazilians and 16.7 million British residents with Netflix memberships, making them the following two largest markets. Germany with 8.2 million, Canada with 7.9 million, France with 8.6 million, and Mexico with 8.1 million are other very active Netflix markets.
---
General Usage Statistics of Netflix
---
20. About 20 percent of Netflix viewers access the service over a virtual private network.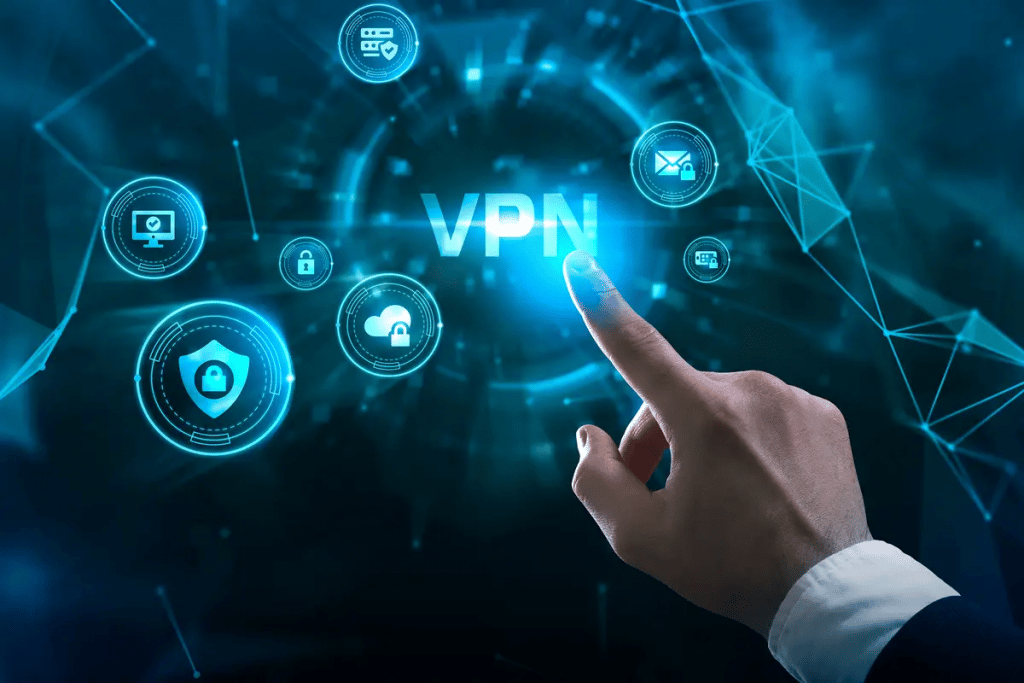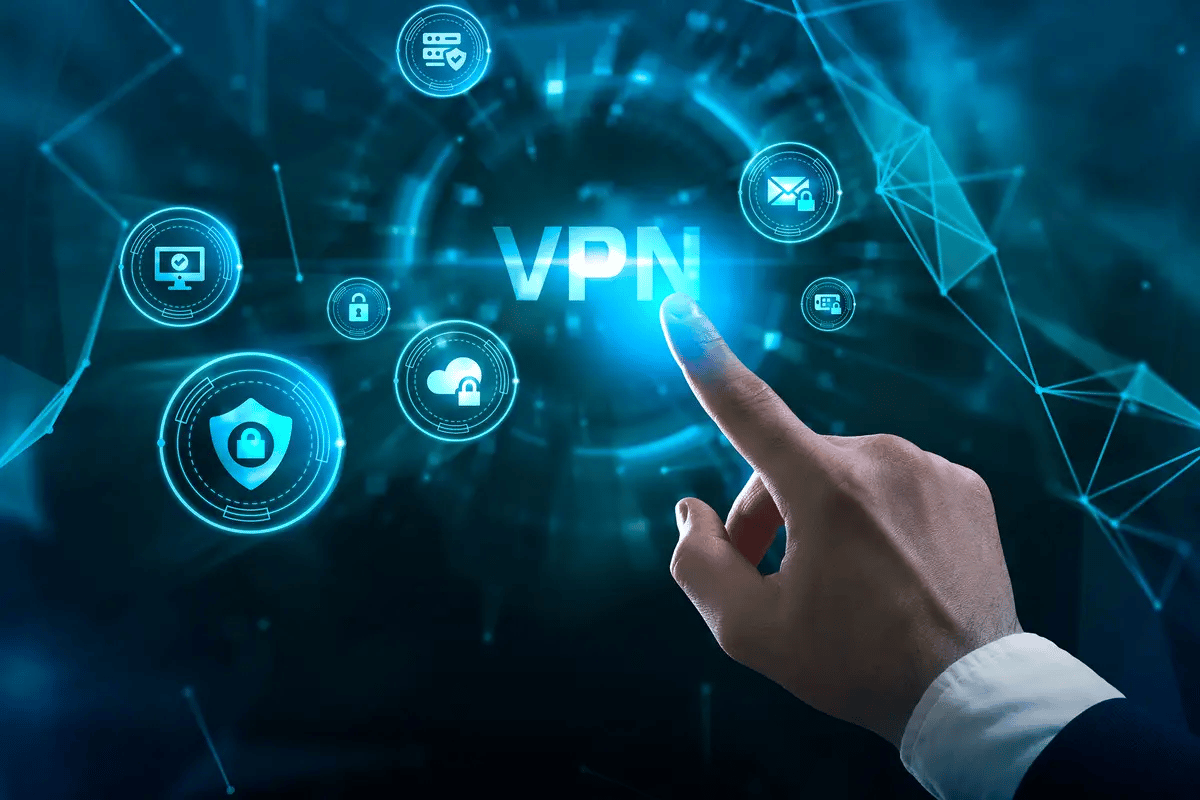 Netflix restricts certain content from some subscribers. Consequently, certain media, such as television series and films, are restricted to a specific demographic. Many Netflix viewers resort to VPNs to get around this restriction. Specifically, 40 percent of paying customers do this.
21. Around 70percent of all Netflix viewing occurs on television.
Also, according to Netflix data, smartphones account for 30 percent of subscriptions and computers for 40 percent. Most people saw Netflix on their television sets, while other viewers viewed it on laptops (15 percent), mobile phones (10 percent), and tablets (5 percent). The vast majority of Netflix subscribers watch the service on a television set, as seen by the service's usage statistics.
22. Around one-quarter of all Americans (25.6 percent) have a family member who also has a Netflix account.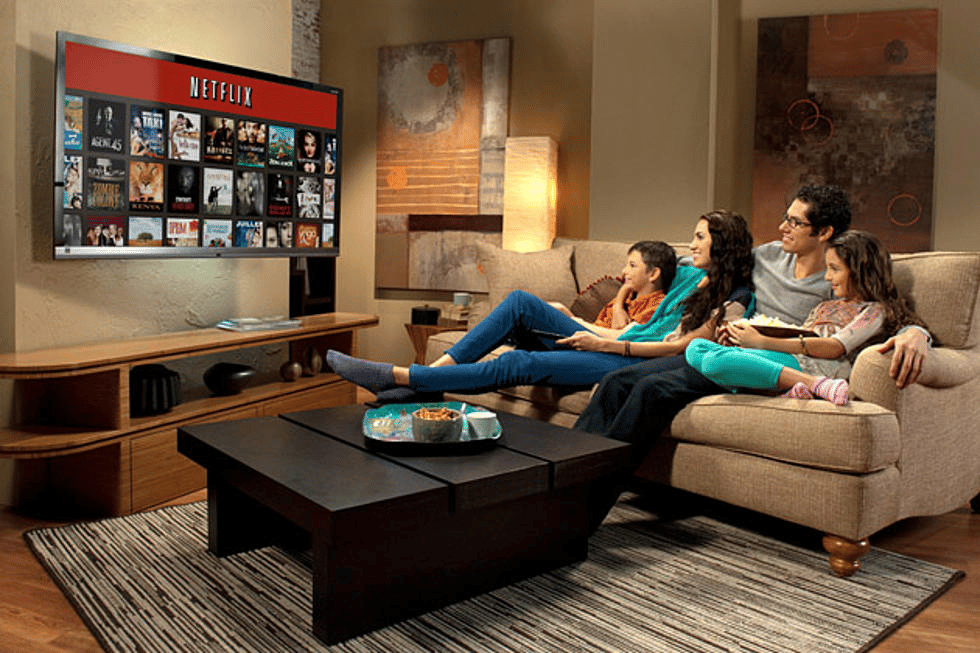 Another 17.7percent give it to their pals, and 9.2 percent give it to relatives who live elsewhere. The business had planned to do something about it in 2019, but that never happened. Even still, just 47.5 percent of people admit to ever having shared a password with a colleague. It is estimated by Netflix that around 100,000 users do not pay for service because they utilize a shared login.
23. With 23.2 minutes of daily watching time, Netflix has overtaken YouTube as the most popular streaming service in 2018.
On average, Netflix viewers in 2019 spent two hours each day on the service. There was a 61 percent rise in streaming the year after corona lockdowns were implemented. Statistics gathered from Netflix users reveal that throughout the quarantine, they watched for an average of 3.2 hours each day. If we include all users, this equates to a daily average of 203,840,000 viewed hours. Also, these numbers only account for American users.
24. Nine of the ten most-watched original programs on Netflix were created by the streaming service.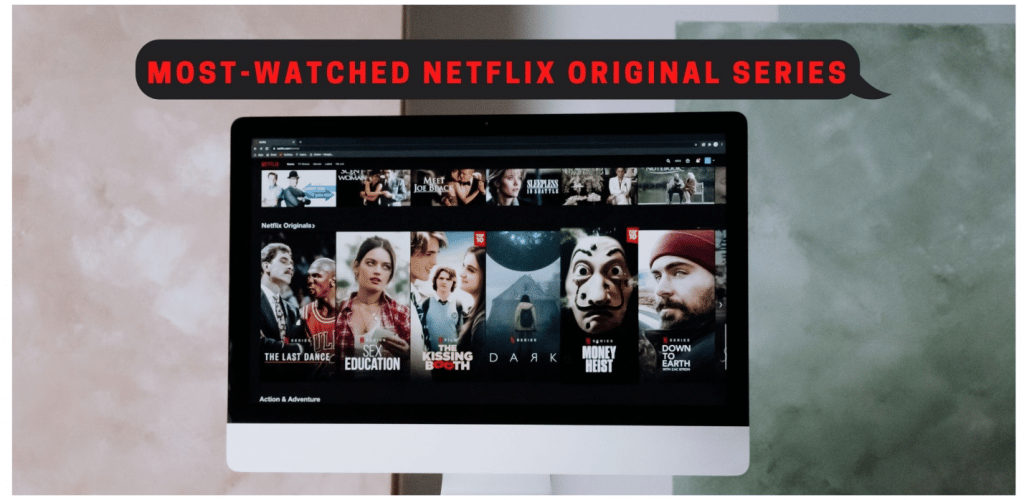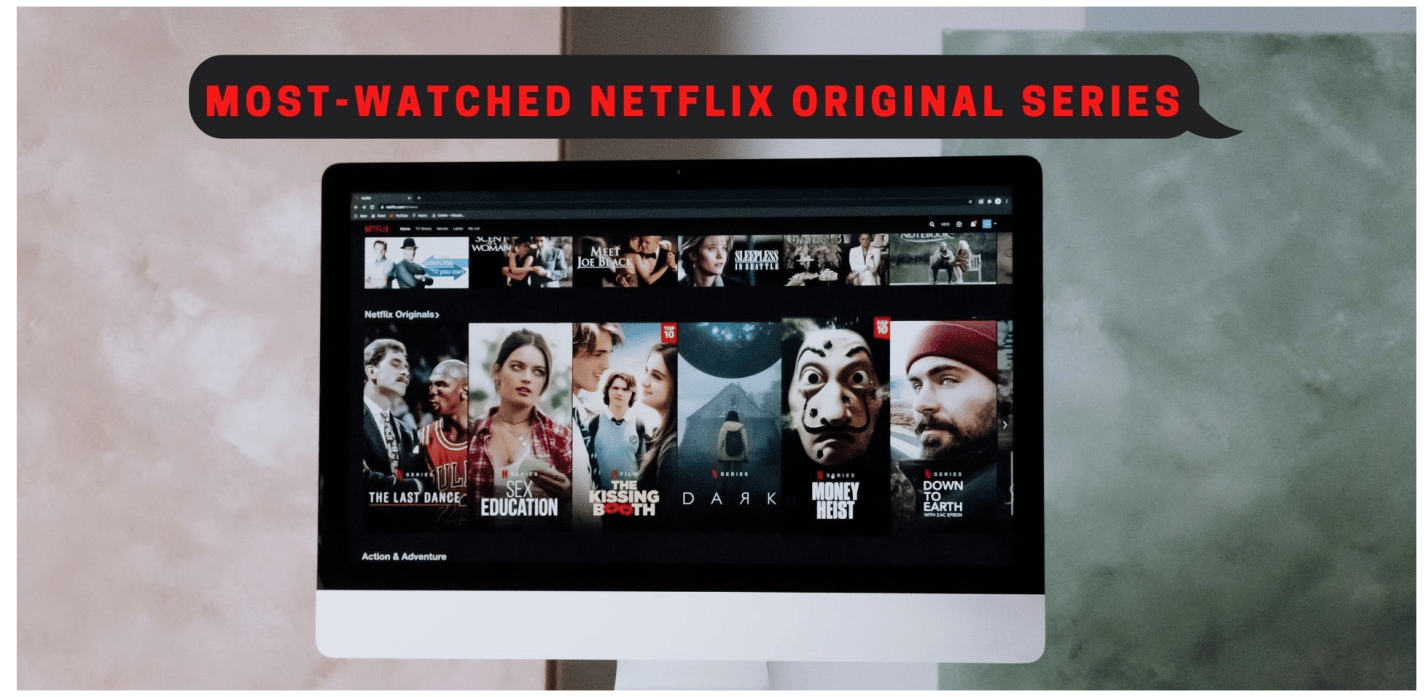 The only streaming service other than Netflix to have a show in the top 10 for original content was Disney+'s The Mandalorian. Ozark, a Netflix original, topped the list with 30.46 billion US streaming minutes.
According to Netflix's data, the streaming service has all of the top 10 acquired programs from other networks in viewership in 2020. Netflix has three of the top ten most watched movies.
25. Netflix lost 200,000 subscribers in 2022, down from the previous year.
In recent years, Netflix's membership count has increased. The streaming juggernaut added over 85 million subscribers between 2018 and 2020 alone.
According to Netflix's COVID numbers, 2020 was a banner year for the firm. In the first quarter of 2022, Netflix lost 200,000 customers, and much more are expected to leave the service in the coming months.
---
FAQs
Q. What is the total number of Netflix subscribers?
By the end of 2020, Netflix had over 200 million customers. In addition, information reveals that there were 213.56 million users on the site in the third quarter of 2021.
Q. How many TV shows does Netflix have?
As of this writing, the global Netflix library has over 17,070 titles. As a result of regional licensing restrictions, many users use virtual private networks (VPNs) to stream content from anywhere in the world.
Q. How much does Netflix make monthly?
Nearly 11 billion US dollars a year is generated by Netflix, with monthly earnings of close to 1 billion USD.
---
Conclusion
These Netflix numbers suggest that the streaming service has a lot more to offer. It's now the most popular VOD service, but rivals are quickly catching up to it.
One thing is certain, though: Netflix has revolutionized the way audiences think about and consume television and other forms of video content, making it unnecessary to adhere to the rigid schedules of traditional video channels or to wait impatiently by the TV set until the time that our favorite show airs.