Compared to their datacenter counterparts, rotating residential proxies for web scraping have lots of advantages. One obvious perk is that they are legit and hence less likely to be detected and blocked or blacklisted by sites.
There are a couple of other merits, but let's leave that for later discussion. That said, here are some of the best rotating residential proxies for web scraping. Be sure to compare each of the listings in order to the rotating residential proxy provider that fits your data mining needs.
---
Why Are Most IPs Not Enough for Web Scraping?
The main reason this is often the case is that most top sites have algorithms that detect suspicious IPs. Therefore, most IPs, especially those routed via datacenter proxies are easily detected and blacklisted.
That makes the web scraping a very cumbersome procedure when such IPs are used. On the other hand, rotating residential proxies have a pool of legit IPs. Chances of suspicion, blocking, or outright blacklisting during web scraping are rare because each server request is channeled via an alternative legit IP. Besides, the IPs are sourced from real devices hence less likely to be detected as proxies during web scraping.
---
Best Rotating Residential Proxies for Web Scraping
With that out of the way, let's dive straight into our list of rotating residential proxies for web scraping.
1. Bright Data – Best for All Types of Web Scraping
Proxy pool: 72+ million residential IPs
Price starts from $500 for 40 GB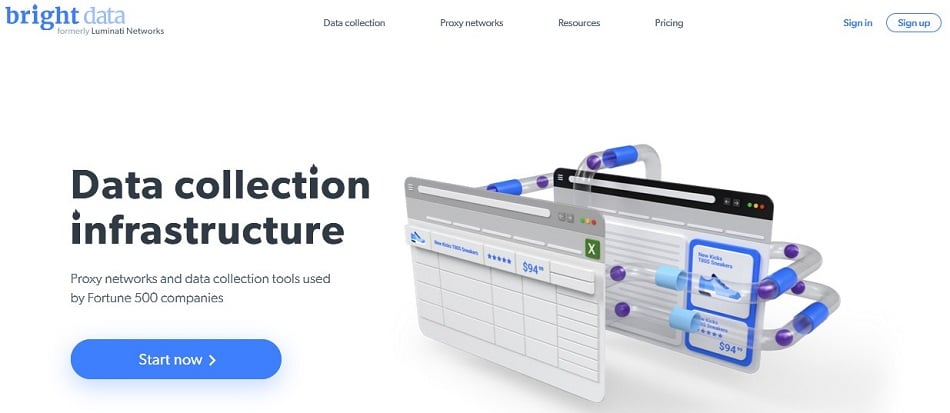 Luminati is by far the best platform for accessing advanced rotating residential proxies. The network boasts superior speeds and support for massive peer IP connectivity. With a proxy IP pool of 72M+ IPs, a 99.99% network uptime guarantee, and lightning-fast response time, there's no doubting their performance capabilities as far as web scraping is concerned.
Luminati has two types of residential proxies. These include shared IPs and exclusive IPs. Shared residential proxies are used by a number of subscribers concurrently. That means the network's performance is a factor of the number of users taping on the same proxy.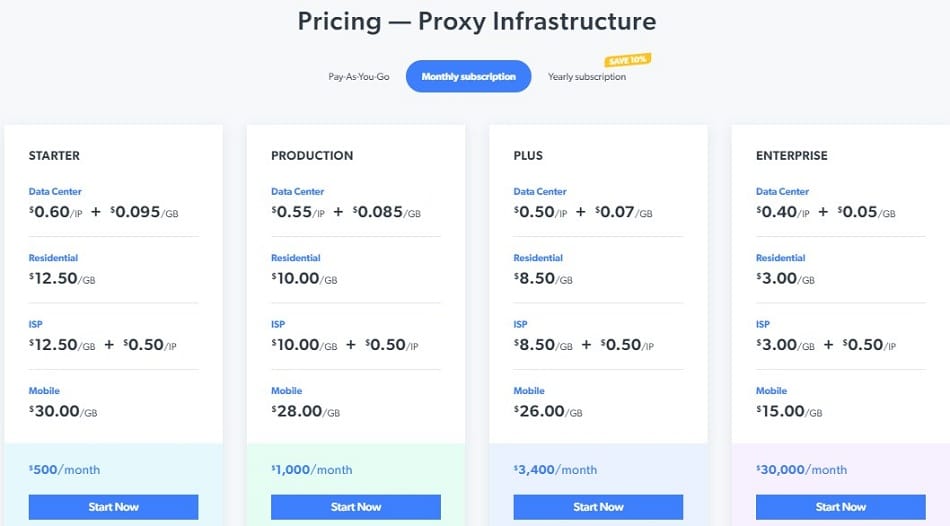 However, the sheer volume of proxies in their IP pool limits competition for proxies thus guaranteeing shared proxy users quality performance. Exclusive residential proxies on the other hand, are used by you. That means they provide the best speeds and low latency hence suitable for web scraping.
That aside, Luminati subscribers have access to a proxy manager, a feature that allows for easy optimization of proxies and monitoring of system stats.
Luminati also allows you to send unlimited concurrent requests. For expert developers looking for the best rotating residential proxies for all types of data scraping projects, Luminati is all you need.
---
2. Smartproxy – Best for Unlimited Threads for Scraper
Proxy pool: 40+ million residential IPs
Price starts from $75 for 5GB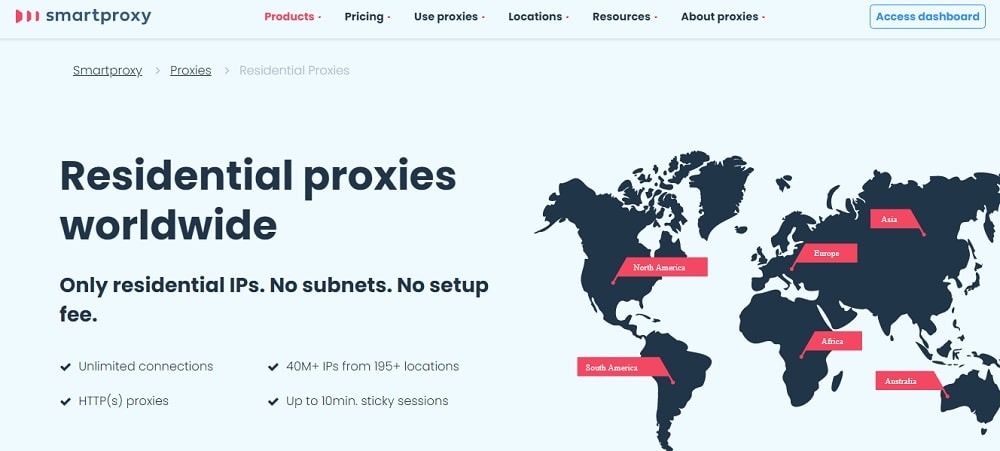 SmartProxy has a large pool of 40M+ residential proxies located in 195+ locations globally. Data mining with such a collection of legit proxies has never been easier. You can rest assured that your scraper won't be blocked or shut down. Needless to mention, the platform supports proxy geo-targeting thus allowing users to choose proxies based on locations.
Smartproxy encrypted all communication protocols using a proprietary algorithm. That ensures that you remain anonymous throughout your scraping adventure. Their pricing model is based on bandwidth usage. That implies that you can implement an unlimited number of connections and threads for more efficiency while browsing or scraping.
SmartProxy offers 3 premium packages including "Micro plan" which is billed at $75/ month, "Regular plan" which is billed at $400/ month, and "Starter Plan" which is billed at $200/ month. All the packages come with a 3-day money-back guarantee, recurring monthly payment, and 24/7 professional customer support.
Developers interested in residential proxies that provide users with unlimited threads for web scraping, find that and much more with Smartproxies.
---
3. NetNut – Best Recommend Scrap Proxy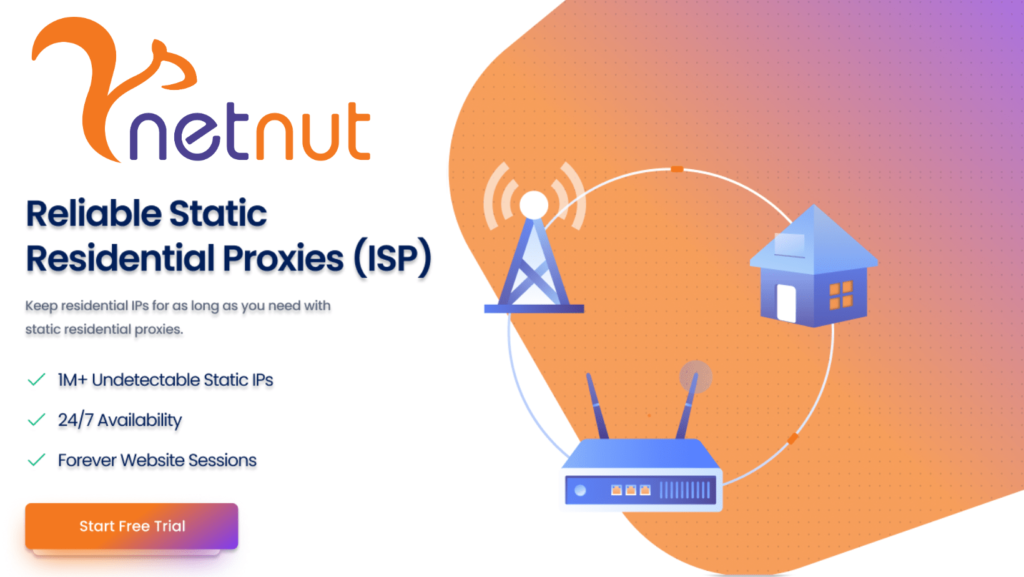 IP Group Size: 52M+ Residential IPs
Locations: Global Coverage
Permitted Concurrency: Unlimited
Allowed Bandwidth: Starting from 20 GB
Cost: Starting from $350/month
Over time, rotating proxies for web scraping have become increasingly popular compared to data center proxies. One of the significant advantages is that this type of proxy is legal, aiding its undetectability on the web.
Almost all websites have protocols that detect suspicious IPs. That's why IPs routed through data centers are easily detected and end on blacklists. In this sense, web scraping becomes a complicated process when using these types of IPs.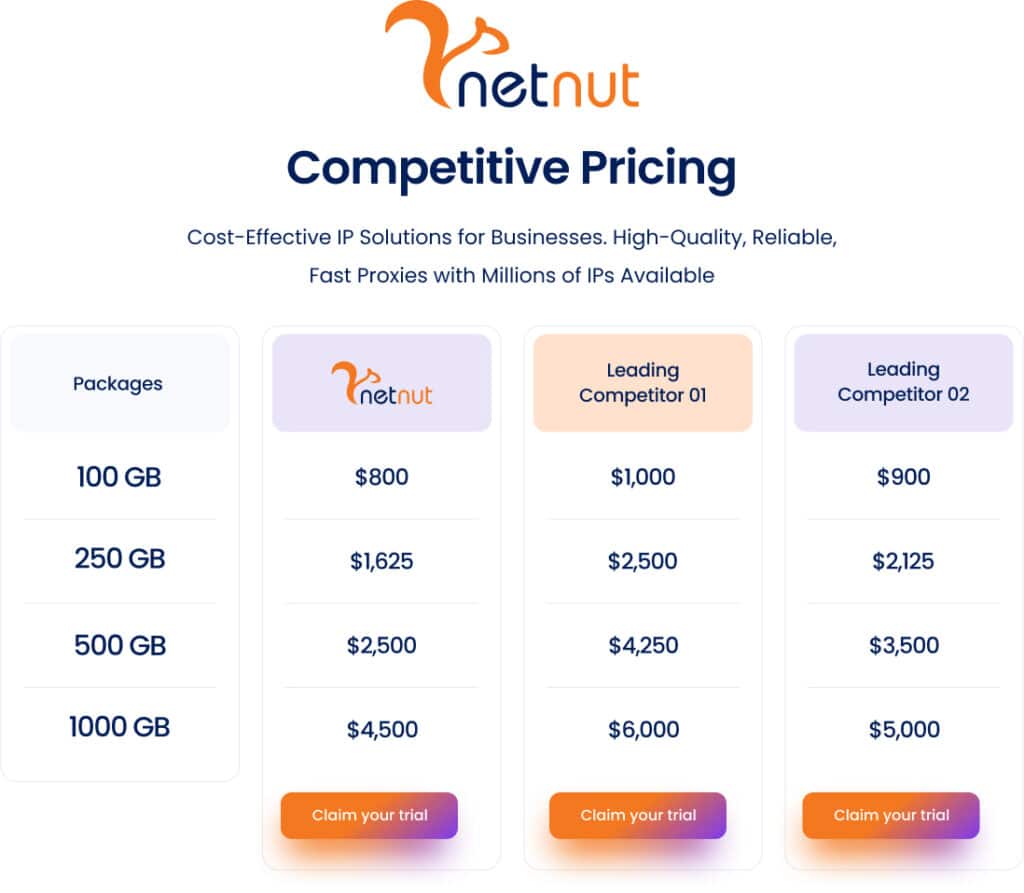 If you need to conduct web scraping securely and swiftly, NetNut's rotating residential proxy service is the best alternative. One of the provider's most important attributes is having over 52 million high-speed residential IPs worldwide with HTTP/HTTPS/SOCKS5 protocols.
Thanks to this vast array of IPs, you'll have unlimited access from any location. The combined networks of ISP and P2P proxies ensure high-quality proxy services. Another aspect worth highlighting is the anonymity during web data extraction.
Furthermore, this rotating proxy service for web scraping bypasses CAPTCHAs reCAPTCHAs, and eliminates the risk of IP blocks. NetNut's plans for this proxy type are affordable for different budgets and users. Plans can be chosen starting from $350 for 20GB of bandwidth.
---
4. Shifter – Best for Unlimited Bandwidth
Proxy pool: 31+ million residential Ips
Price starts from $124.99 for 10 ports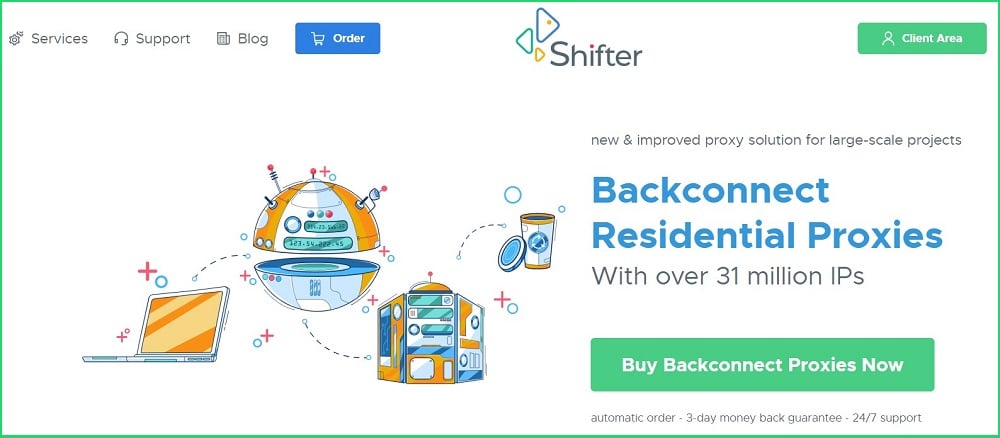 Shifter is a new arrival in the residential proxy business. The platform is loaded with very cool features, not to mention their affordable packages. Seems like it's closely related to Microleaves, another renowned proxy provider. Shifter has a massive network of virgin proxies spread in many countries worldwide.
Currently, they offer 3 premium packages, and all are very affordable. The packages include "Backconnect proxies @ $249.98", "Shared HTTP(s) proxies @ $30", and "Dedicated HTTP(s) proxies @ $25". Apart from that, all their packages come with a 3-day money-back guarantee. So you can buy proxies with peace of mind.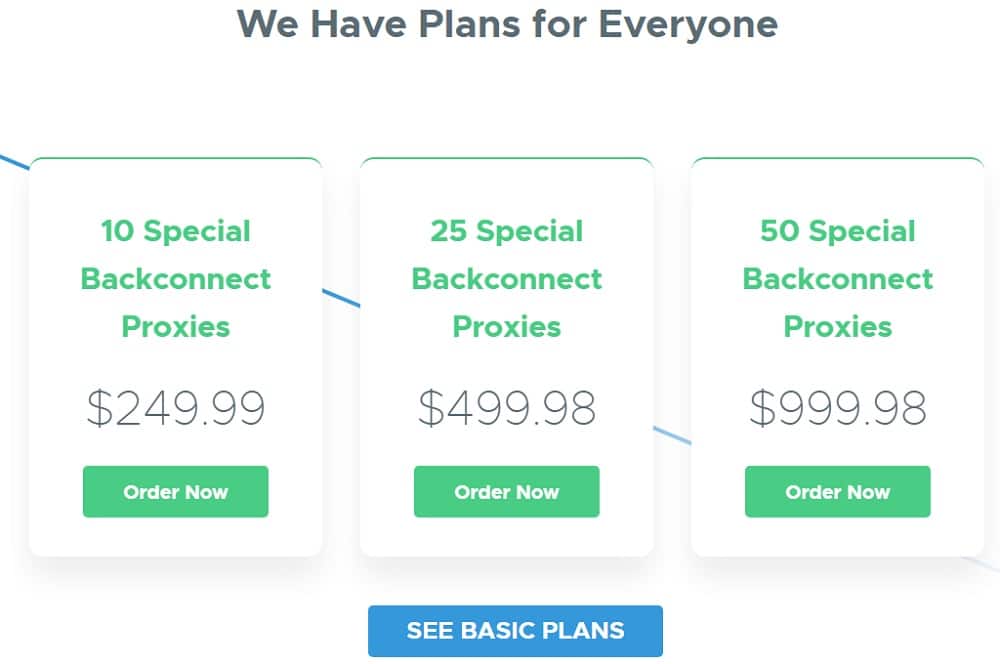 The network is very stable and cloaks tops speeds of up to 1Gbps with a 99.9% uptime guarantee. Also worth noting is the unmetered bandwidth that's available on all the premium packages. That means you can send unlimited server requests for as long as your subscription is valid.
Upon subscribing to one of their packages, you get access to their advanced control panel from where you can manage your proxies. The dashboard also allows users to easily track usage stats such as bandwidth and server requests.
If you don't want to worry about bandwidth capping when scraping the web, a proxy network with unlimited bandwidth on all the premium packages will do the trick. That's what you get with Shifter.
---
5. Soax – Best for the Freshest Residential IPs
Proxy pool: 8.5+ million residential Ips
Prices start from $75 for 5GB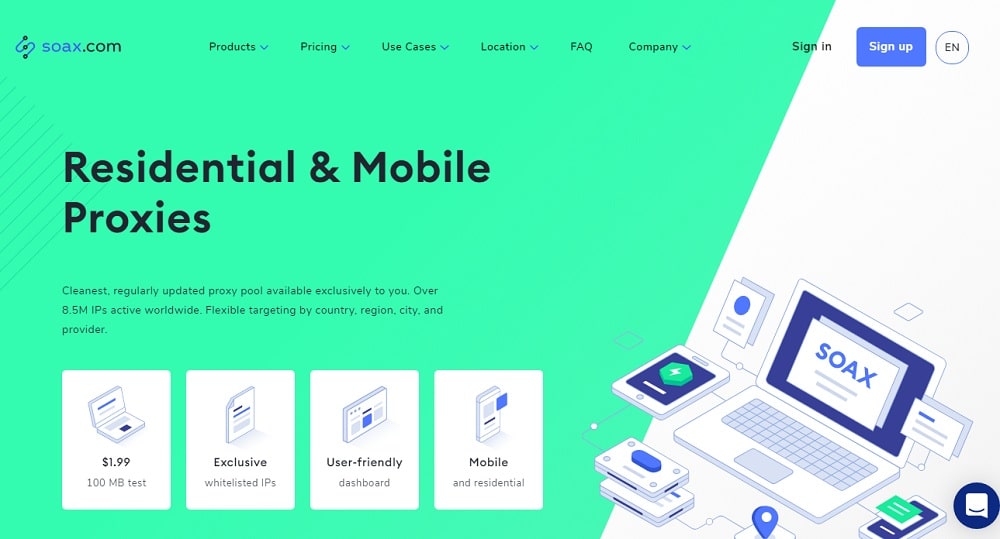 Whether you want to collect data for market research, search engine optimization, or for price monitoring, you need a reliable rotating residential proxy network with a high success rate. That's what you get with Soax residential proxies.
With a pool of 8.5M+ clean IPs and 99.9% network uptime, Soax is built for high-end data scraping. The platform supports geo-targeting. Meaning, users can choose proxies from particular counties and cities for a more targeted surfing experience. Besides that, users enjoy 100% anonymity, thanks to the large pool of residential IPs. You won't have to worry about detections or scraper blocks.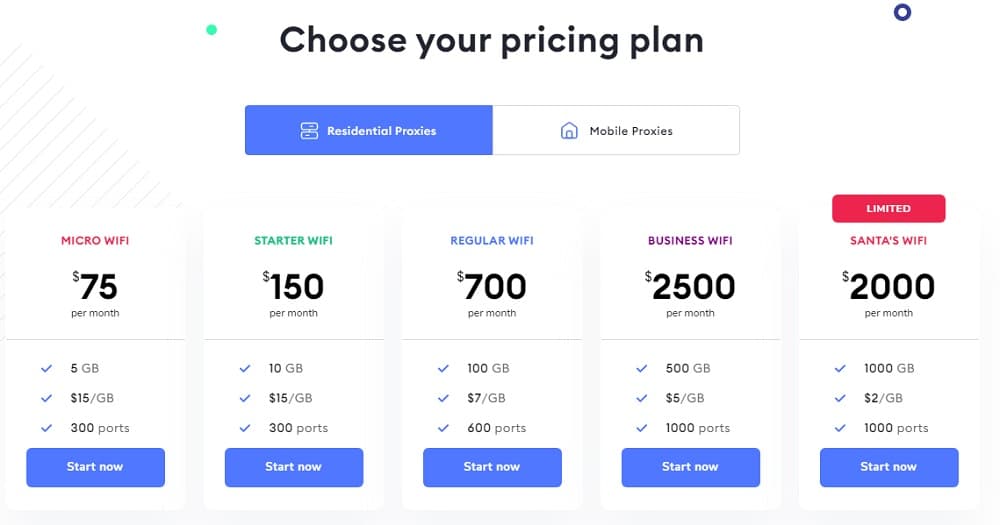 They offer three premium packages. These include "Micro Wi-Fi @ $75", "Starter Wi-Fi @ $150", and "Regular Wi-Fi @ $700". Apart from that, subscribers get instant access to the proxy pool in addition to sending an infinite number of concurrent server requests.
For users interested in legit clean residential proxies for web scraping, Soax is all you want.
---
6. ProxyEmpire – Affordable Rotating Residential Proxies
Proxy pool: 5.3 million rotating residential IPs
Price starts from $45/3GB per month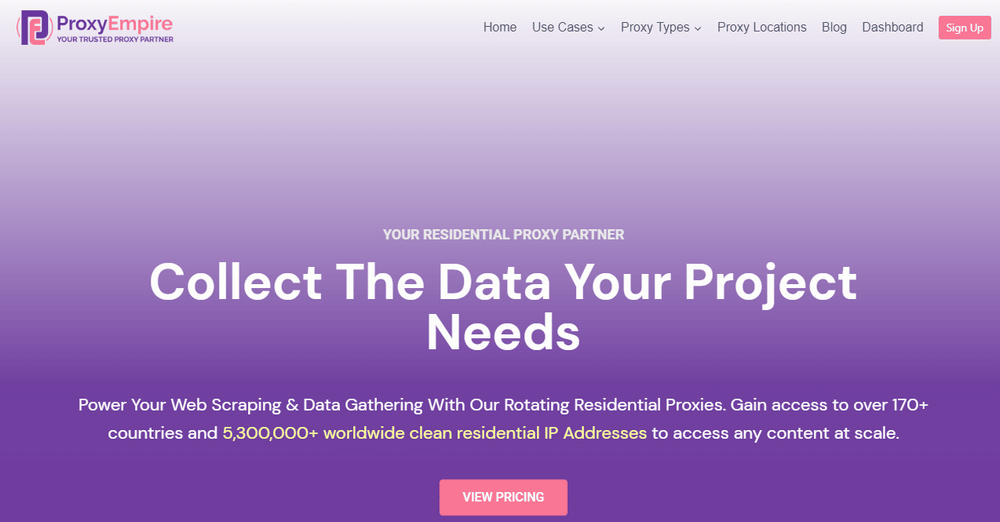 ProxyEmpire is another awesome proxy provider, offering rotating residential proxies in every major city. Their IP Pool is just over 5,300,000, quite lower than the bigger players, but ProxyEmpire offers rollover bandwidth for all of their proxy types, meaning the user can save his unused traffic. They offer sophisticated targeting, which allows the user to target a country, region, city, or carrier.
ProxyEmpire's rotating residential proxies work well with the most popular protocols (HTTP and SOCKS5) to ensure that they seamlessly integrate with any software stack. One of the benefits of working with ProxyEmpire is that they have one of the most affordable plans on the market; their rotating residential plans start at $45 for 3GB, making them accessible for smaller projects.
---
7. Proxy-Seller – Best Rotating Mobile Proxies with Flexible Plans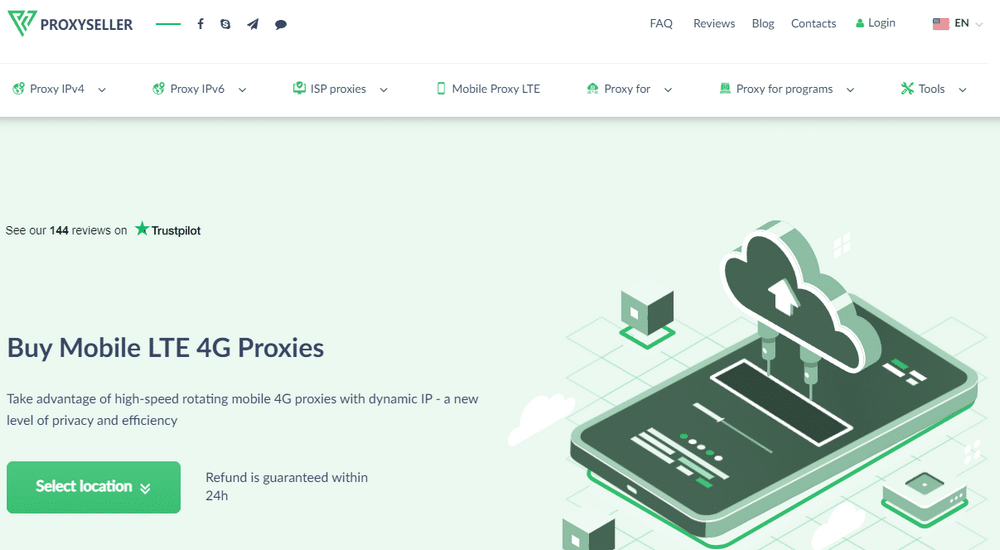 Proxy pool: unknown
Price Starts from $80 monthly per proxy
Proxy Seller is the all-time rival on the market to all the mobile proxy providers. When looking at rotating proxies, Proxy Seller offers effective rotating mobile proxies, ready-made packages, and unlimited traffic. Instead, they have unlimited bandwidth and concurrent connection; however, these proxies only consist of the IP address based in the US and two countries in Europe-Netherland and Poland.
They are still effective and guarantee efficiency, high anonymity, and compatibility with all the HTTP/HTTPS and socks5 protocols. Therefore, these mobile proxies are suitable for social media automation or management, SEO analysis, data scraping, and other typical online activities.
Speed is another thing for these rotating proxies. They have dynamic IP addresses, which gives you extra online security and 99% uptime. These IP addresses are usually sourced from significant carriers that use Verizon, Mint-Mobile, T-Mobile USA, and AT$ T Wireless.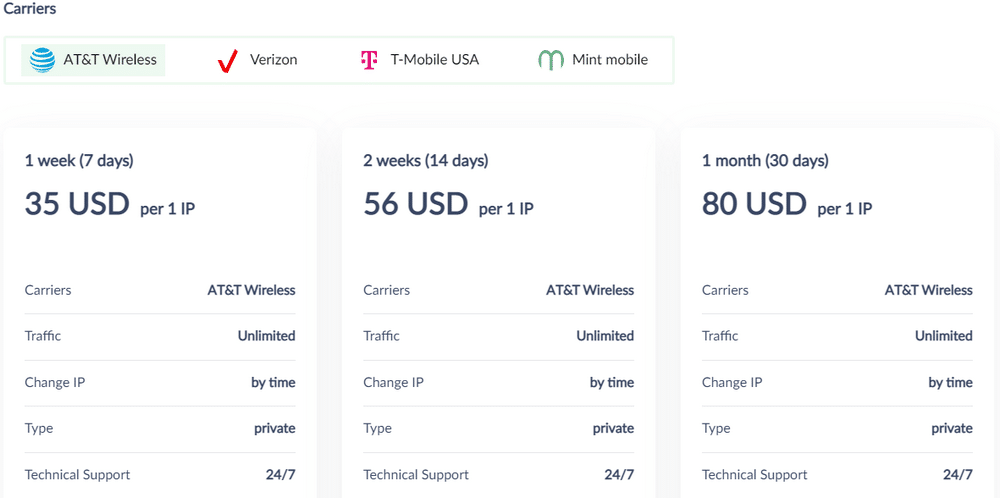 Though flexible, they are priced per IP address but remain dedicated to a single user with the option to change IP address with time. Need proxies for the network arbitrage of SEO optimization, SMM marketing, etc., Proxy Seller gives you excellent rotating mobile proxies at an affordable price.
---
8. Proxy Cheap – Best for Affordable IP Rotation Services
Proxy pool: 6+ million residential IPs
Price starts from $5 per GB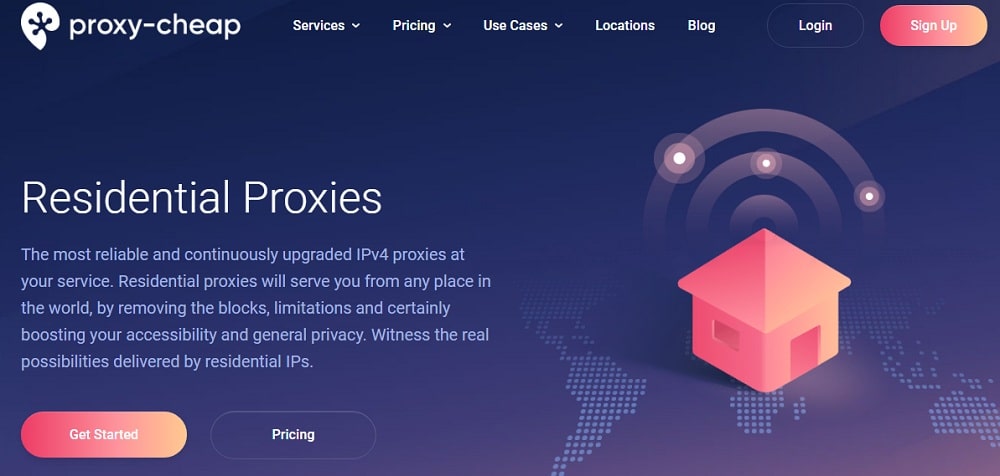 With a proxy pool of 6M+ IPs in 127+ countries worldwide, Proxy Cheap is another great residential proxy network you need to check out. The platform supports Http(s) proxy protocol and Username/ Password authentication.
As the name suggests, Proxy Cheap has 3 very affordable premium packages, all of which are billed by the bandwidth. That means that packages with higher bandwidth will most definitely have a higher price.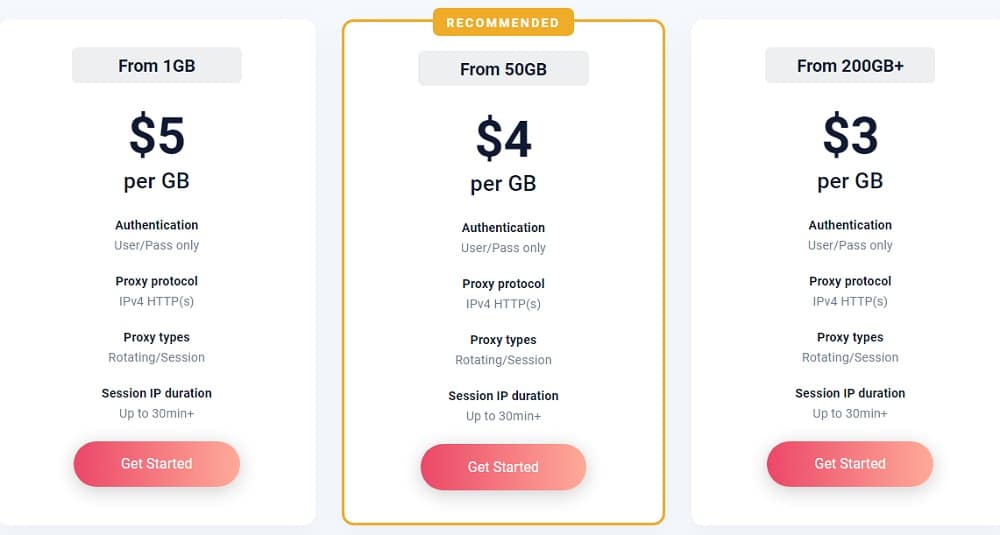 Because of automation, Proxy Cheap takes care of your everyday tasks like proxy rotation, JavaScript rendering for headerless browsers, and processing captchas. That way, you, the developer can concentrate on collecting data from sites to level up your business options.
Apart from that, users get access to a proxy dashboard for convenient monitoring of proxy usage stats upon subscribing.
For developers looking for affordable rotating residential proxies for web scraping, Proxy Cheap won't disappoint.
---
9. Stormproxies – Best for Small Web Scraping Projects
Proxy pool: 200K+ rotating residential proxies
Prices start at $50 for 5 ports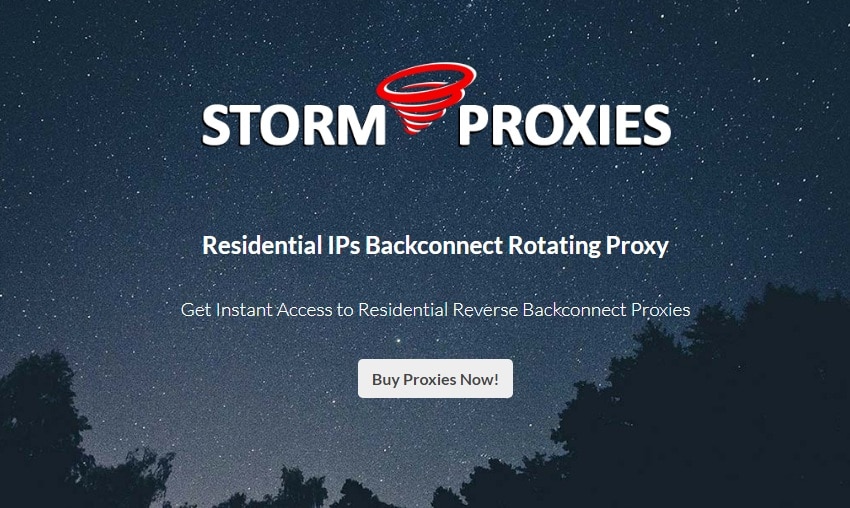 StormProxies uses a gigabyte optimized network for superior performance and support for multi-threaded tools. Apart from that, the platform has a pool of virgin IPs that users are given access to upon subscribing.
Unlike some other platforms which have long and complex proxy activation channels, StormProxies gives instant access to your package immediately after purchase. You can be sure to start web scraping immediately after purchasing your proxies.
Their pricing model is based on the number of successful server requests and not bandwidth. So you can send unlimited server requests without worrying about bandwidth capping. In fact, all their premium packages come with unmetered bandwidth.
StormProxies provide two types of rotating residential proxies including backconnect rotating proxies and private dedicated proxies. All packages are backed by 24-hour money-back guarantee.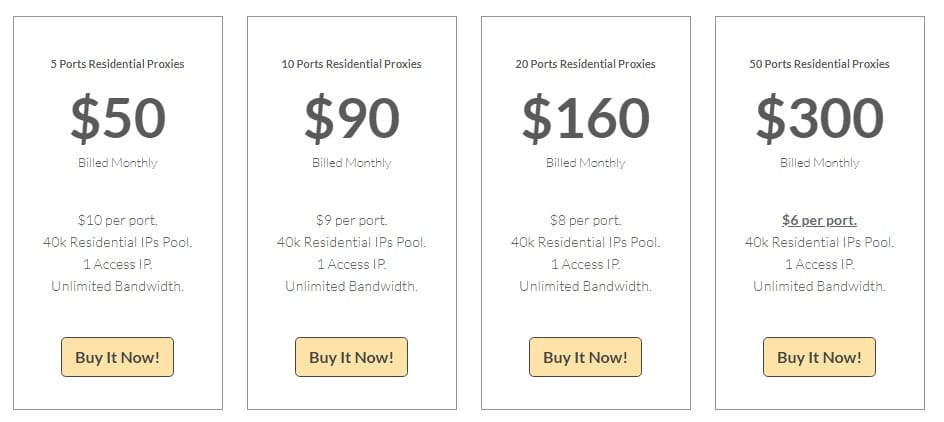 If you aren't impressed with your proxy package, StormProxies promises a hassle-free 100% refund before the end of the day. That aside, some additional perks for its subscribers include 100% guaranteed user anonymity and 24/7 premium support.
If you're a novice developer just starting out with web scraping, you want a proxy network that works best for small projects. That's what you get with StormProxies.
---
10. Crawlera – Best for Smart Rotating Proxy API
Proxy pool: 30+ million residential IPs
Price starts from $99 per month
Crawlera, also called Scrapinghub, is a highly scalable residential proxy platform that's built by developers for developers. The network boasts a proprietary algorithm for automatic healthy proxy selection and rotation. That not only saves you time but also effort making it easy to concentrate on data mining. The algorithm automatically evaluates online proxies and populates the database only with viable ones.
Crawlera is compatible with the universal HTTP proxy interface and promises a high success rate for all your service requests. That's attributed to their proprietary ban detection request throttling algorithm. In fact, the platform supports automatic retrials for all failed requests.
Their pricing is based on the number of successful server requests and not bandwidth. That implies that all their premium plans come with unlimited bandwidth. Plans start at $99 per month.
Besides the above mentioned, Crawera also supports header management and automatic header assignment.
If you love residential proxy networks with extensive automation, then you definitely don't want to look any further than Crawlera.
---
11. Geosurf – Most Stable Proxies for Scraping
Proxy pool: 2.0+ million residential Ips
Price starts from $450 for 38GB
When mentioning residential proxies, you can't forget to talk about Geosurf. The platform has a sizable pool of 2M+ clean residential proxies spread in 130+ locations worldwide. They combine proxy masking technology and residential IPs to guarantee users high-level anonymity while scraping.
An outstanding feature of Geosurf residential proxies is that they give users unlimited access to a range of countries and threads and connections. Besides that, users get access to a beautiful proxy dashboard complete with all the relevant usage stats. That makes for a more convenient data mining process.
Also, the dashboard allows for easy monitoring of usage stats such as bandwidth and the number of successful server requests.
Geosurf has 4 premium packages. The plans include "Starter plan @ $450/ month", "Professional plan @ $900/ month", "Plus plan @ $2000/ month", and "Enterprise plan (contact customers support for price details)". Their pricing is based on bandwidth and not the number of successful server requests. Packages with more bandwidth attract a higher price tag.
If you cherish network speed and stability over everything else when it comes to selecting your residential proxies for web scraping, then Geosurf is for you.
---
12. Scarperapi – Best Web Scraping API for Scraper
Proxy pool: 40M+ verified rotating residential proxies
Price starts from $29 for 10 Concurrent Requests
If you're looking for the best rotating residential proxies for handling captchas and browsers, you can bet your last dollar on Scraperapi. By rotating proxies with each server request, Scraperapi does not only guarantee high level anonymity but also executes automatic retrials for all failed requests.
Complex tasks such as IP rotation, processing captchas, and rendering java scripts for headless browsers are all automated. You can focus your energy on other more important aspects of data mining.
Scraperapi takes pride in its massive pool of 40M+ verified IPs located in 12+ countries globally. That grants the developer ample time to turn websites into actionable data. That said, Scraperapi is also very customizable.
Whether it's the request header, the request type, or proxy geo-location, Scraper API allows you to fully customize them as appropriate. Besides that, the platform also has fast and reliable network speeds of up to 100Mb/s suitable for fast web crawling. Furthermore, the network is very stable and has a 99.9% uptime guarantee. You won't have to worry about protracted downtime and other related connectivity issues.
Scraperapi premium packages come with unlimited bandwidth. Meaning billing is pegged on the number of successful requests. They've 4 premium plans e.g. Hobby @ $29/ month, Startup @ $99/ month, Business @ $249, and Enterprise (special).
If you're looking for the best rotating residential proxies with reliable APIs for scraping, you can never go wrong with Scraper API.
---
13. Proxyrack – Cheapest Residential IPs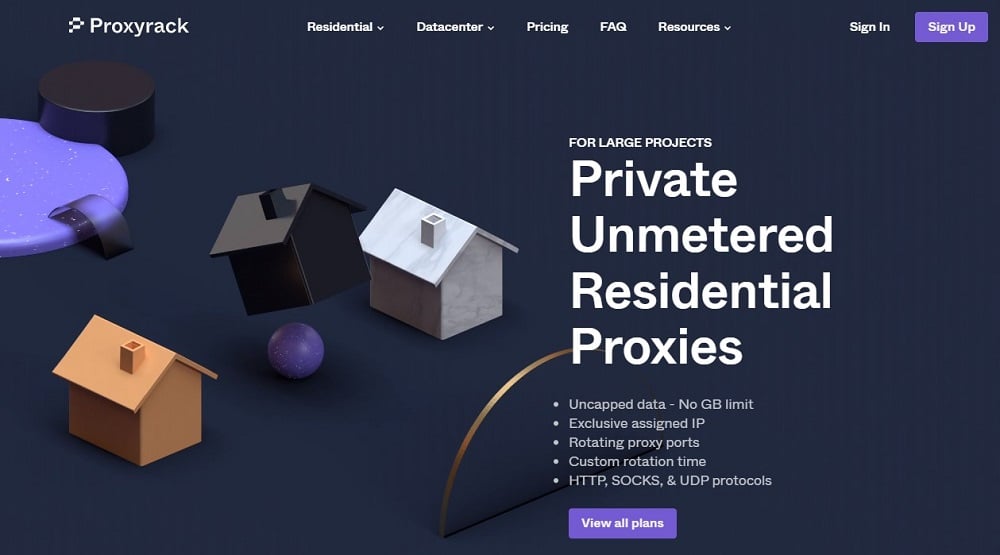 Proxy pool: 5+ million residential IPs
Price starts from $14.95 per GB
Proxyrack is another big player among residential proxy providers. It has an awesome pool of 5M+ real residential proxies from different countries worldwide. That's considerably lower when compared with Luminati's. That notwithstanding, Proxyrack has three affordable premium packages, a stark advantage over Luminati.
The plans include unmetered residential proxies, premium geo-residential proxies, and private residential proxies. All the packages come with unlimited monthly data, high success rate for web scraping, and a risk-free money-back guarantee.
If you want a high success rate during data mining, then you may want to choose either the "premium geo-residential proxies" plan or the "unmetered residential proxies" package. On the other hand, if you want speedy and uninterrupted connections while surfing, then the private residential proxies plan is for you.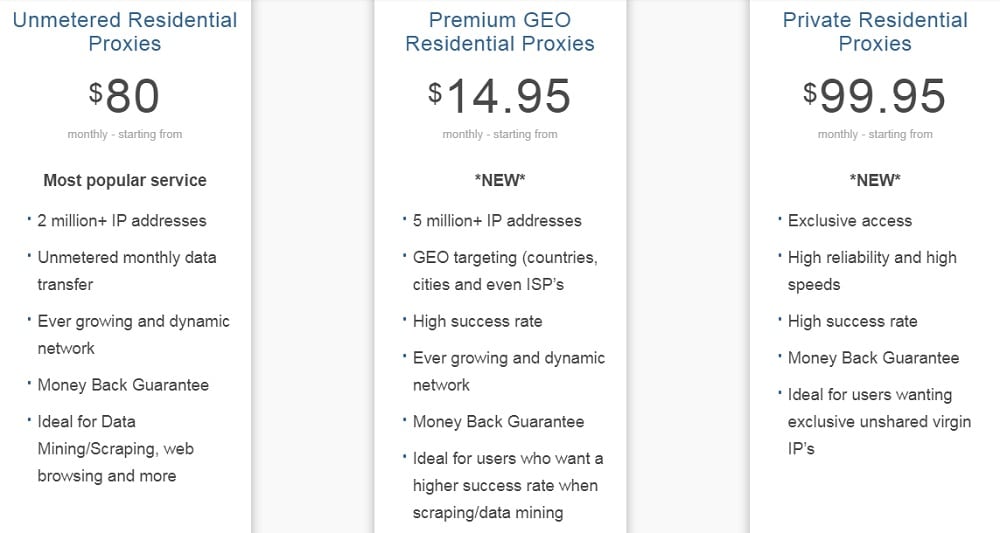 If you're looking for affordable residential proxies for web scraping, you will certainly love Proxyrack.
---
FAQs About Rotating Residential Proxies
1. What are rotating residential proxies?
These are residential proxies that give the user access to a pool of proxies. They are called rotating proxies because the proxies change with each server request. This rotation property of residential proxies ensures high-level anonymity while also minimizing instances of suspicious traffic that may lead to IP blocks. As such, rotating residential proxies are more legitimate.
2. What type of proxies do you need for web scraping?
The best type of proxies for web scraping is rotating residential proxies. One of the reasons for this is that rotating residential proxies are IPs sourced from real devices hence are less prone to blocks and blacklisting. Another reason is that these proxies route each server request using a different IP address from the proxy pool thus adding to their anonymity during data mining.
3. How does the rotating proxy pool work?
A proxy pool is a collection of proxies that are assigned to subscribers depending on their premium package proxy features. Depending on the type of proxy, whether rotating residential or shared datacenter, the reliability varies.
For rotating residential proxies, each subscriber is assigned a set of virgin proxies depending on their select package. When they send server requests, only IPs within their package will be used. The same also applies to datacenter proxies.
4. Free proxies vs Paid proxies for web scraping
Free proxies aren't suitable for web scraping. There are several reasons for this. The reason is that free proxies are shared by many users hence have higher latency and lag time, not to mention the low network uptime. Besides, free proxies are easily detected by website anti-proxy/ VPN algorithms hence blocked or blacklisted.
Paid or premium proxies are the best suited for web scraping. The seasons are as follows. First, they are not available to many users because they are paid for. Secondly, in the case of residential proxies, the proxies are real devices IPs. Meaning, they are less likely to be suspected or even blocked by sites.
Therefore, for web scraping, paid proxies are better than free proxies.