What if you had early access to some of your paycheck? That can make it easier for you to manage your bills. However, the conventional methods of getting your income early come with high expenses, making it challenging to advance.
Fortunately, Earnin allows you to withdraw some of your income ahead of time without taking out a high-interest payday loan.
---
What Is It Earnin?
The new fintech is upending the sector by giving underserved Americans the necessary resources to improve their financial situation.
You can get early access to some of your paycheck with Earnin. Depending on your wages, you may be eligible for a cash advance of up to $100. Whenever you receive your paycheck, you will reimburse Earnin. Being able to use a little advance may assist you in avoiding bank fees, which can significantly reduce your expenditures over time.
The most beneficial aspect is that Earnin gives these tools away without charge. You are not obligated to leave a tip for those who cannot afford to do so, even if it is an optional function.
Earnin is one of many choices if you're seeking a way to get access to a certain amount of your paycheck earnings. Here are some other choices to think about.
---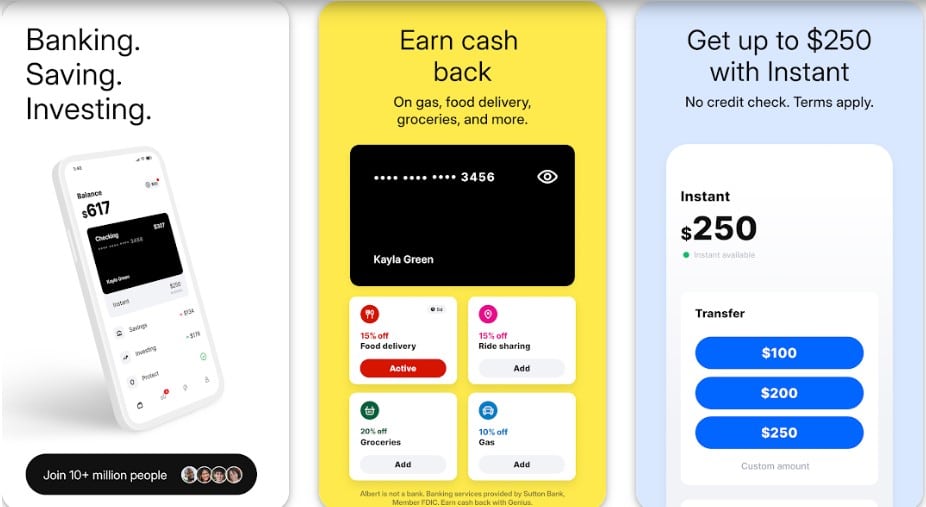 An all-in-one financial app is Albert. Although it offers a fee-free cash advance of up to $250, many other benefits exist. You can handle your money with Albert's integrated banking, saving, budgeting, and investment tools.
If you need an instant delivery, there is a modest fee, but using the Albert app is free, and there are no fees or interest charges on any cash advances.
Two more helpful tools are a Smart Savings tool that tracks your spending and puts money aside to help you meet your financial goals and Albert Cash account with early deposits and Cashback benefits. Investment accounts are SIPC insured, while Albert Savings and Albert Cash are FDIC insured.
Users can subscribe to Albert Genius, a premium service with access to 55,000+ fee-free ATMs, an investment account, and personalized financial guidance from real-life "geniuses." Genius operates on a "pay what's fair" basis, with a $8 monthly minimum.
---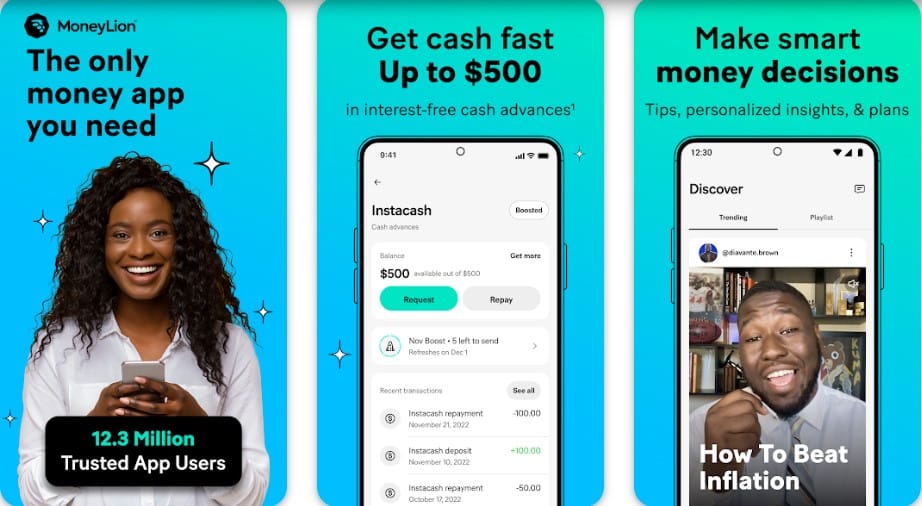 MoneyLion, a personal finance app like Albert, provides practical banking capabilities, including a RoarMoney account that gives users early access to direct deposit wages.
With a monthly cost of $19.99, it offers credit-builder loans up to $1,000 through its Credit Builder Plus program. To assist you in raising your credit score, MoneyLion will submit your payments to the main credit bureaus.
The Instacash service on MoneyLion offers 0% APR cash advances up to $500. Free standard delivery is available, and it can take anywhere from 24 hours to five business days to arrive (external accounts take longer). The cost of turbo delivery, which can provide quick cash in minutes to four hours, can range from $.99 to $8.99 (fees for external accounts are greater).
You must have an active linked checking account that has been open for at least two months, gets direct deposits, and displays a positive balance to be eligible.
---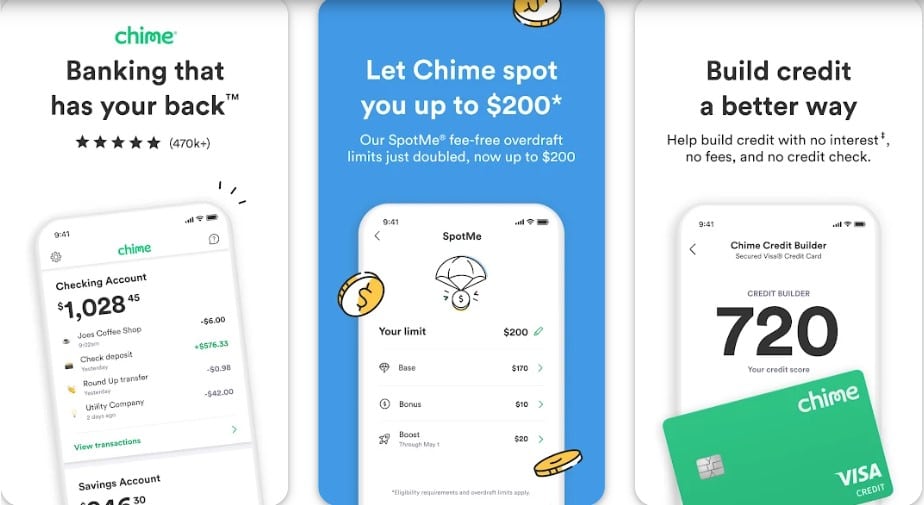 Chime is an online lender that offers banking services such as checking accounts and credit cards that help develop credit and high-yield savings accounts.
While Chime cannot provide cash advances, its SpotMe service does offer overdraft protection. You won't incur any overdraft penalties, and SpotMe will reimburse any overdrafts on your spending account up to $200.
For Chime account holders, SpotMe is free. Overdraft protection for new customers starts at $20; however, restrictions will rise to $200 after making on-time repayments. You need a qualifying direct deposit of at least $200 monthly in your account to qualify for SpotMe.
---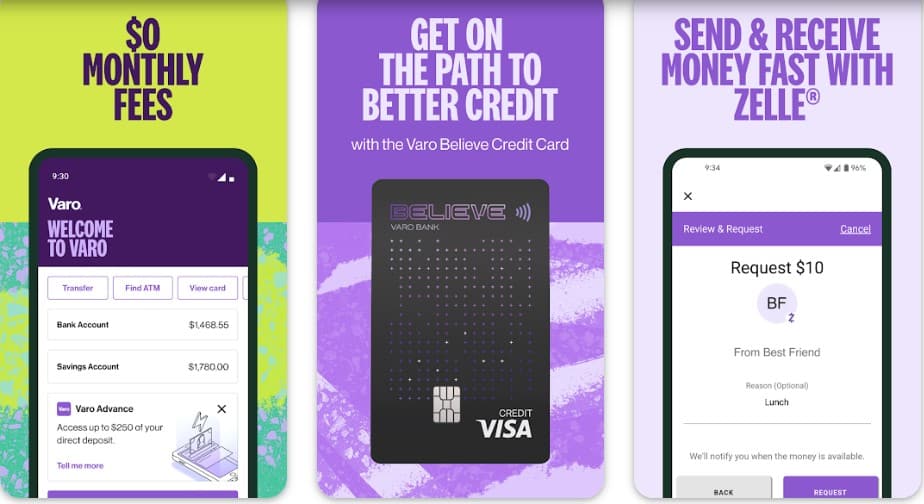 A debit card, a savings account with a high yield, a sizable ATM network, and cash advances are among the banking features that Varo's digital bank, comparable to Chime, offers.
Varo Advance allows you to get up to $100, but depending on how much you advance, there may be a cost of $3 to $5. Advances of $20 or less are free. To be eligible, your Varo account must be linked to an active Varo debit card and have received at least $1,000 in direct deposits in the previous month.
You'll get a $20 advance if you've met the requirements for Varo Advance. When you repay it on time, you'll start receiving bigger advances.
Varo is distinctive in that your advance doesn't automatically come from your next paycheck; instead, you have between 15 and 30 days to pay it back.
---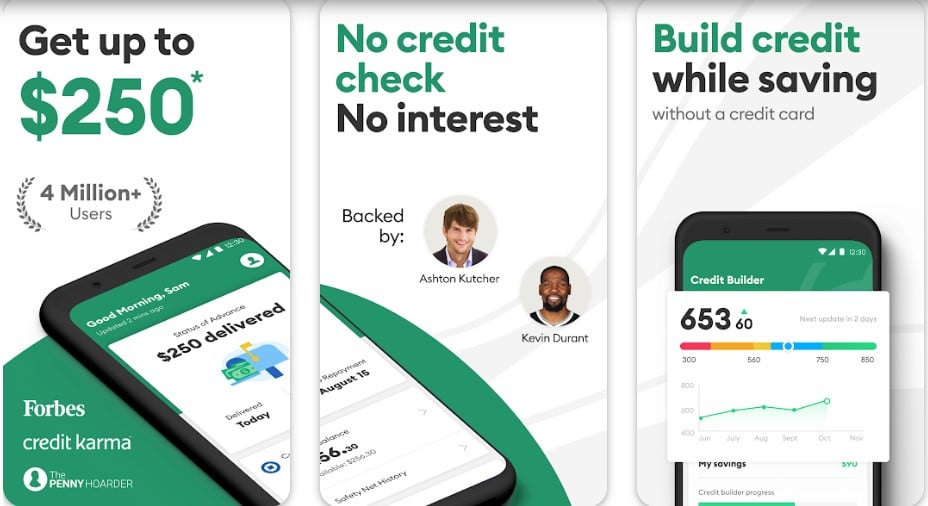 Brigit, which primarily serves as a tool for financial wellness, offers users budgeting advice, insights into their expenditures, and "Instant Cash" cash transfers of up to $250.
You can receive your advance from Brigit's Instant Cash for free within two to three business days, or you can pay a modest price for Express Delivery and have it right away. It does not demand a credit check, impose interest or late penalties, or ask for a tip. Brigit also offers overdraft protection by alerting you when your account balances are low and transferring up to $250 in advance so you can avoid paying expensive overdraft fees.
But remember that this feature is only accessible if you have the Plus subscription ($9.99 per month) activated. The Plus plan includes extra financial assistance services like a Credit Builder credit card, spending pattern tracking, and identity theft security.
Additionally, Brigit provides credit-builder loans with flexible repayment terms, ranging from $1 to $50 for a 12-month term or $1 to $25 for a 24-month term. To help you improve your credit, Brigit submits payments to the major credit bureaus.
---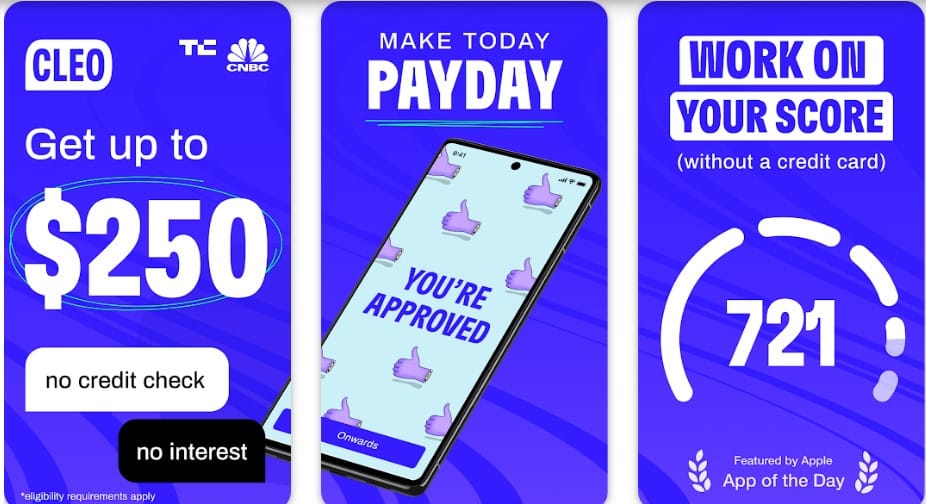 With Cleo, you get more than just a money management tool; you also get a wise companion who can help you organize your finances. Cleo helps you regulate your spending and savings with humorous one-liners and upbeat messaging. Cleo will praise you when you make wise financial decisions; when you don't, she will criticize you.
Among the many advantages Cleo offers are cash advances, which let customers borrow relatively small sums of money. The maximum cash advance for first-time customers is $20 to $70. However, your cap will rise to $100 if you repay loans on time.
With this function, you can set the repayment date (between three days and two weeks), and there are no interest charges or negative effects on your credit score. It is a drawback that you can only access it if you pay the $5.99/month Cleo Plus plan or the $14.99/month Cleo Builder plan.
---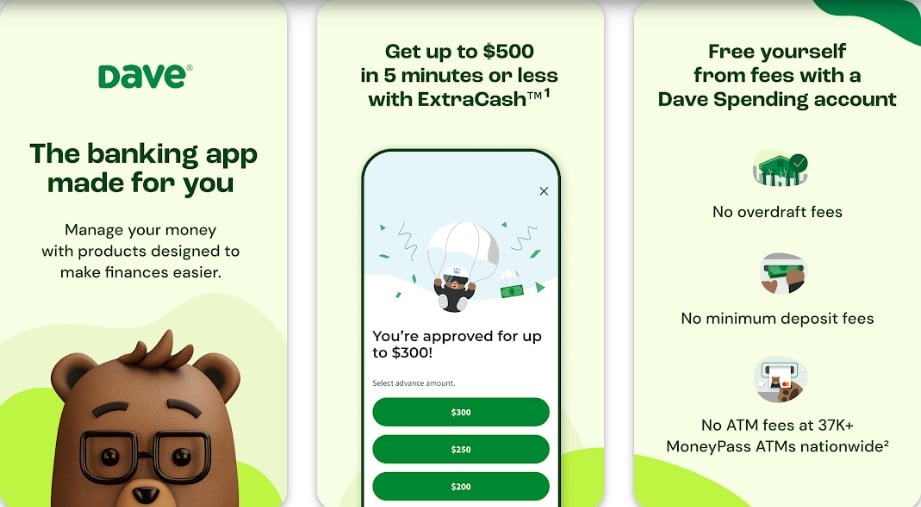 One of the most well-known cash advance applications, Dave, is another program that is comparable to Earnin. Up to $500 can be borrowed without interest or fees from Dave's ExtraCash. Dave won't look up your credit history, so you can still use this app even if your credit could be better.
You can choose between the express option with ExtraCash, which can take just a few minutes to a few hours, and the free standard transfer, which can take one to three working days. The express option has a $2.49 minimum fee.
Dave's advantage over Earnin is its association with LevelCredit, which submits your rent payments to the main credit bureaus and raises your credit score if you complete your payments on time.
Dave also provides notifications when your account balance is low, saving you from incurring overdraft costs.
In addition to giving you access to services like budgeting tools, low balance alerts, and savings goal setting, using Dave requires a $1 monthly membership charge.
---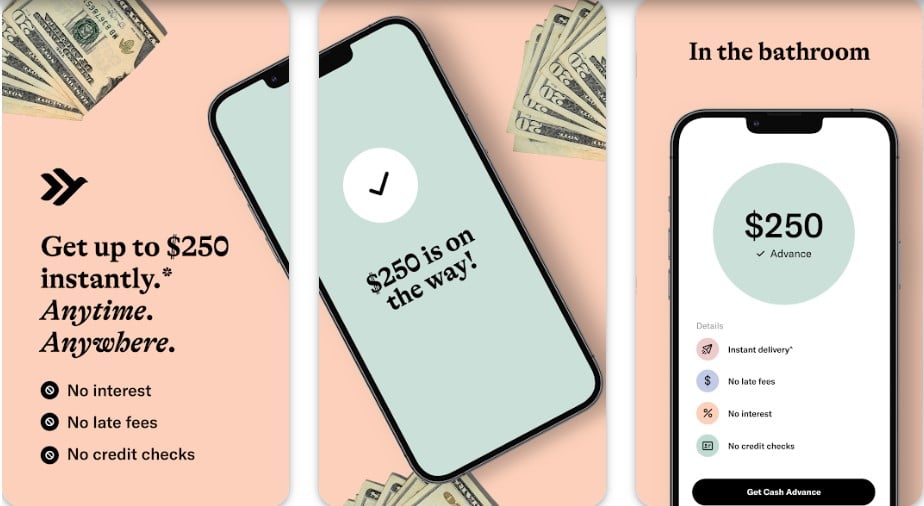 Empower is designed to assist individuals in enhancing their credit. You can get a cash advance from Empower with no late fees or credit checks for up to $250. If you repay the loan the following time you are paid, there are no interest fees, and your money will be provided immediately.
Users can open an Empower debit card account to deposit money or transfer it to another bank account. You can benefit from benefits like early paycheck access, overdraft charge protection, and Cashback of up to 10% on purchases if you choose the Empower debit card account.
You'll need a monthly membership to access Empower's money management capabilities, which include cash advances. After the initial 14 days, the subscription costs $8 per month.
---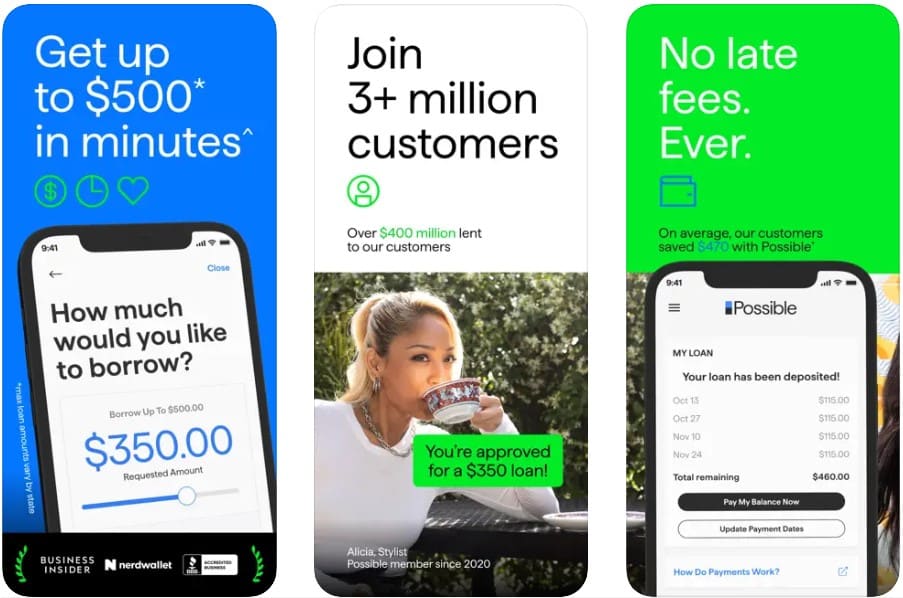 Through its smartphone app, the online lender Possible Finance provides modest loans with hefty interest rates. You can still be approved for a loan of up to $500 even if you have poor or no credit.
Possible Finance divides it into four installments spread over two months instead of Earnin, which demands payback from your subsequent salary. Possible Finance is a wonderful choice if you only need a one-time loan because it doesn't demand a subscription or monthly cost.
Possible Finance's high loan APRs, which can range from 150% to 249% depending on your state, are a significant drawback.
Please take note that Alabama, California, Delaware, Florida, Idaho, Indiana, Iowa, Kansas, Kentucky, Louisiana, Michigan, Mississippi, Missouri, Ohio, Oklahoma, Rhode Island, South Carolina, Tennessee, Texas, Utah, and Washington are the only states where Possible Finance is now offered.
Click to Download Possible Finance:


---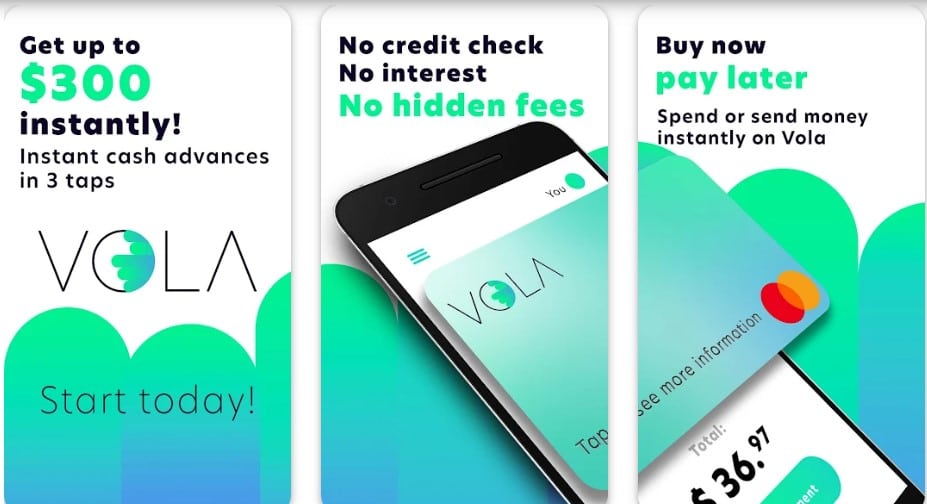 Vola offers cash advances up to $300, and you can often get your money in 5 hours. Unlike most other apps, you can qualify for a cash advance without having a regular direct deposit. You should be eligible if your account experiences regular activity and has an average balance of at least $150.
Vola appears to have one of the easiest cash advance procedures, but you need to sign up for a monthly plan starting at $4.99. Regrettably, Vola's website makes it difficult to find information on fees.
Your Vola Score ranges from 0 to 100 and is one of Vola's distinctive features. As your score rises, you'll be eligible for decreased subscription costs and bigger cash advances.
---
Frequently Asked Questions
Q. Why are prepaid loans preferable to cash advance applications like Earnin?
Payday loans and cash advance applications like Earnin let you quickly borrow money for the short term, typically without a credit check.
The interest rates are where they diverge. Payday loans can feature hefty interest rates, making it challenging for some borrowers to repay them fully. You can take out numerous payday loans and get caught in a vicious debt cycle. Cash advance applications provide low-interest rates and have borrowing limits, which make it simpler to repay and increase your long-term financial stability.
Q. How quickly will I receive my money using an Earnin-like cash advance app?
The speed at which you receive money through Earnin or another cash advance app differs amongst service providers. You must consider how long it takes to apply, get approved, and have your order delivered (usually one to two days). Frequently, cash advances go to your account in minutes or as late as five business days (in some situations). Express or rapid delivery is frequently possible; however, a modest price may be associated with it.
Q. What apps allow me to borrow money rapidly?
Money can be transferred directly to your bank account using apps like Earnin, MoneyLion, Dave, and Brigit. Although there is frequently a price associated with expedited delivery, the benefit is that it can occasionally reach you within minutes.
---
To sum up
Life is a mystery. Sometimes, you need help making ends meet or encountering an unanticipated emergency. A cash advance app or early access to your paycheck might be very relieving.
When you need rapid, extra money, the cash advance applications on our list can be a beneficial alternative to Earnin. Even though many apps function similarly, others can have different costs, turnaround times, or membership requirements.
Do your research and weigh your possibilities before choosing an app like Earnin. Read internet reviews and familiarize yourself with all associated costs. Long-term financial improvement will result from selecting the greatest alternative for you.