Is your Klover app down, and do you need an instant cash advance? Explore the top alternatives to Klover for instant cash advances, budgeting tools, and more.
Klover is a personal finance management app that helps users take control of their money. Klover offers features like expense tracking, budgeting tools, bill payment reminders, and insightful financial reports. Users can link their financial accounts to get a full view of their financial health.
Cash Advance apps like Klover are financial apps that allow users to borrow money from their paychecks before payday. These apps have made it easier by giving us tools to manage our cash, pay bills, and stick to budgets. However, each app has its unique features and benefits. For example, some apps allow users to borrow more money than others, and some apps offer additional features such as overdraft protection and financial budgeting tools.
If you are considering a cash app like Klover, it is essential to compare the features available and choose the one that best suits your needs. You should also be aware of the fees and restrictions associated with each app. This article will review some of the most popular apps, like Klover, and compare their features and benefits. We will also provide tips on choosing a cash advance app and using it responsibly.
---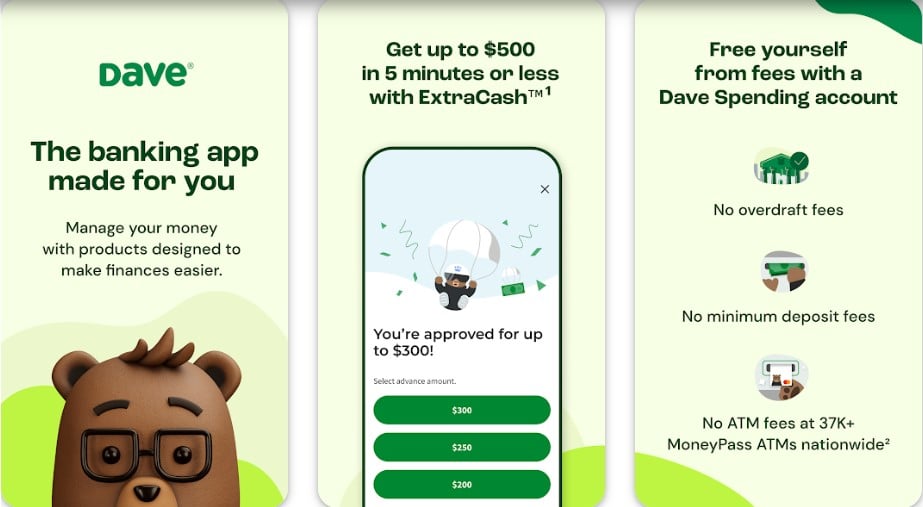 Dave is a comprehensive financial app that can help you with various financial needs. Dave is useful for people who need quick cash access or are trying to build their credit. Membership is $1 per month to access all of its features. The Dave app is ideal for individuals seeking short-term loans at more affordable rates than traditional payday tenders.
Features
Instant Cash Advances. Dave allows users to instantly access up to $500 with ExtraCash without interest, credit checks, or late fees.
Early Paychecks. Get paid up to two days when you set up direct deposit into your Dave Spending account.
Cashback Rewards. Earn cash back rewards with the Dave Debit Mastercard at major retailers.
Saving Goals. Put cash toward anything you save, whether a trip, emergency fund, student loans, or more.
Side Hustle. Find side jobs that fit your lifestyle.
Repayment Terms. Repayment terms range from 3 days to 3 weeks or upon the user's payday.
---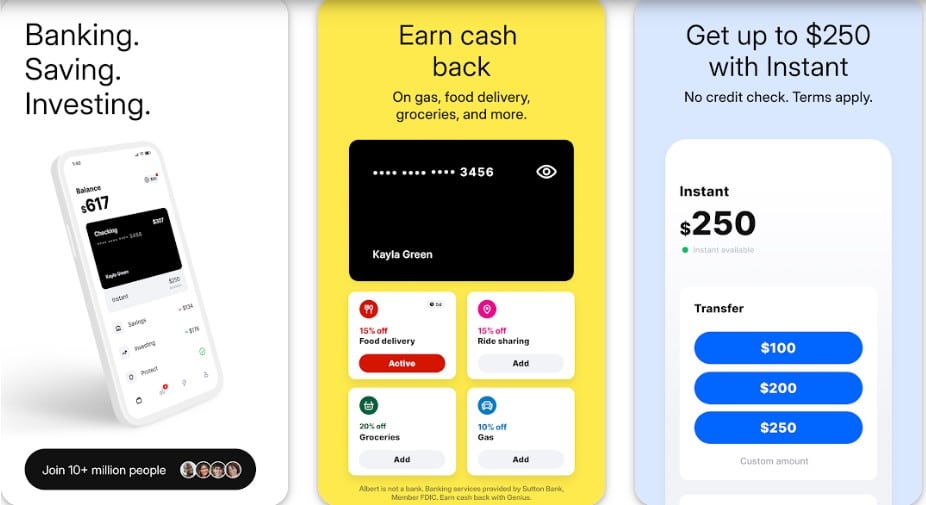 Albert banking app is a user-friendly and convenient tool for managing finances. It provides a friendly interface for tracking money, paying bills, transferring funds, and earning cashback rewards. Albert is free to download and use, making it an accessible choice for financial management. The app has a team of real human experts who can answer any financial questions.
Features
Instant Access. Albert offers up to $250 overdraft protection on Albert Cash accounts without a credit check or fees.
Automatic Savings. The app offers cashback rewards with the Albert debit card and encourages automatic savings.
Guided Investing. Albert helps their users invest their money in stocks and themed ETFs.
Albert features bonus and cashback programs, subject to specific terms and conditions.
---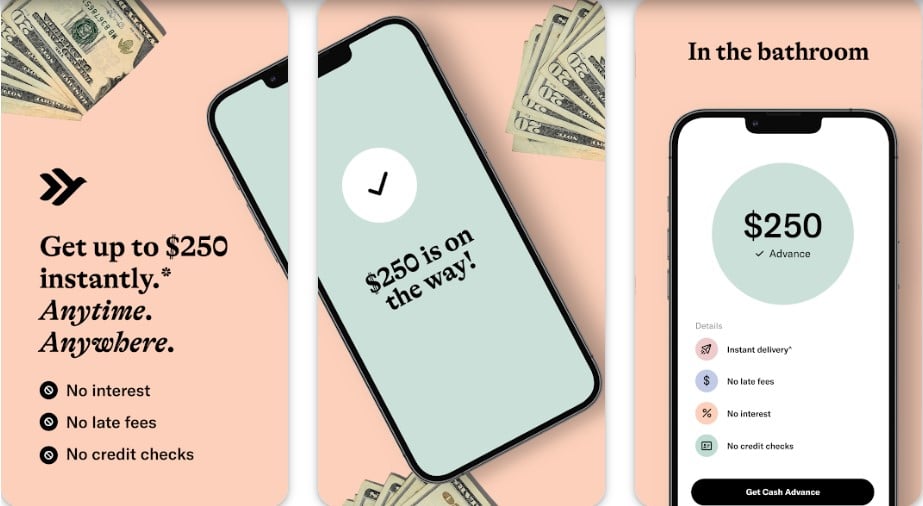 The Empower app is an affordable alternative to Klove, providing various financial services. It allows users to access credit, manage their finances effectively, and monitor their spending habits. Empower is a unique tool for those seeking affordable credit options and comprehensive financial management. The app charges an $8 monthly membership fee to allow users access to its financial services.
Features
Advance Fee. There is a $3 fee when users choose to have their cash deposited in an outside bank account.
Cash Advance. Empower users have access to cash advances of up to $250 through the Empower app.
Cashback Perks. Users who use the Empower debit card for transactions earn cashback rewards.
Credit Building. Empowers aids users to build their credit by encouraging on-time payments and maintaining low balances.
---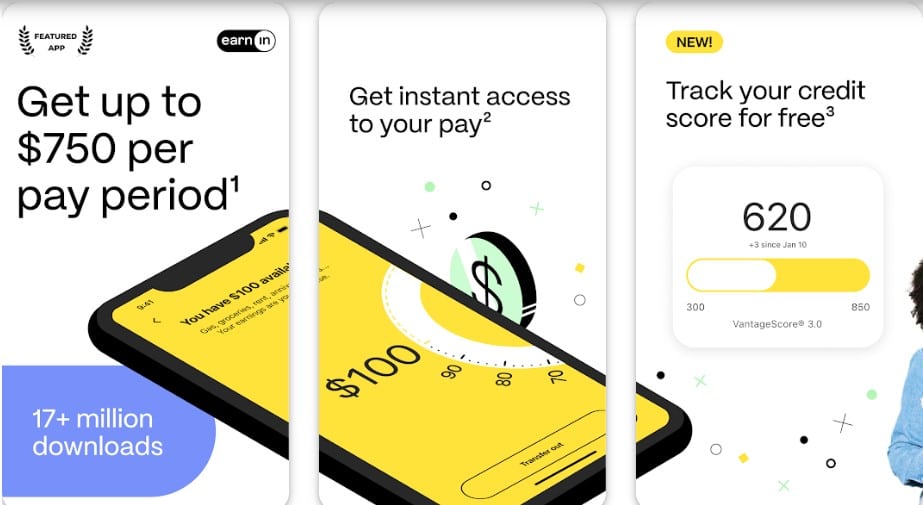 EarnIn is a financial app that allows its users to access their earnings before payday. It is not a payday or personal loan, and there is no interest or APR to transfer from your paycheck. Earnin does not require a maximum or minimum repayment time frame.
Features
Cash Advances. EarnIn allows users to transfer up to $100 of their daily earnings or up to $750 per paycheck.
Shield Alerts. The app sends users notifications whenever their bank balances run low.
Credit Monitoring. EarnIn alerts users when their credit file changes.
Speed Transfers. Access your earnings in minutes.
---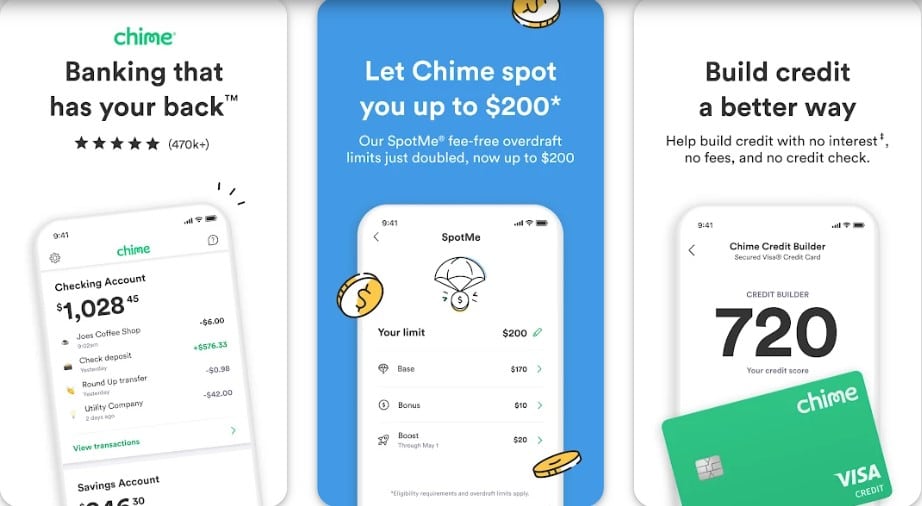 Chime is a mobile app designed for efficient money management. The app offers instant transactions and daily balance alerts, two-factor authentication, and the ability to block your card in a single tap. Chime allows you to send money to friends, family, or roommates without transfer fees.
Features
Eligible members can overdraft up to $200 on debit card purchases and ATM withdrawals fee-free.
No Monthly Fees. The app has no monthly maintenance fees, minimum balance fees, or foreign transcription fees.
Early Direct Deposit. Get your paycheck up to two days early with direct deposit.
Builder Card. Chime Credit Builder Card is a secured credit card that helps users build their credit history.
Pay Anyone. Chime customers can send money to anyone, even if they don't have a Chime account.
---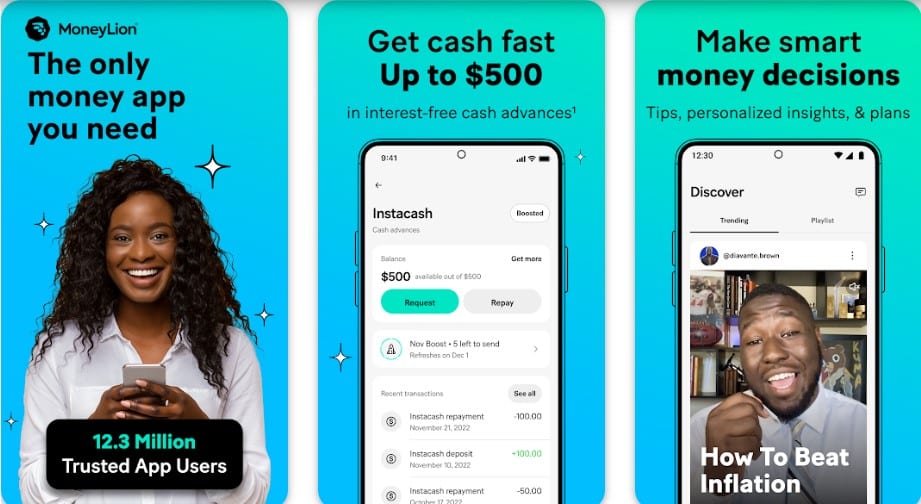 MoneyLion is an all-in-one finance app with mobile banking and personal finance resources. It offers various features like budgeting tools, savings account integration, and credit monitoring services. MoneyLion provides access to a supportive user community for advice and assistance.
Features
Mobile Banking. MoneyLion offers mobile banking services with direct deposit, fee-free ATMs, and rewards.
The platform offers Instacash, a 0% APR cash advance service up to $500.
Personal Loans. MoneyLion offers a marketplace of personal loans from partner lenders.
Credit Builder Plus. Credit Builder Plus is a membership program that offers a loan of up to $ 1,000 and other services to help build credit.
---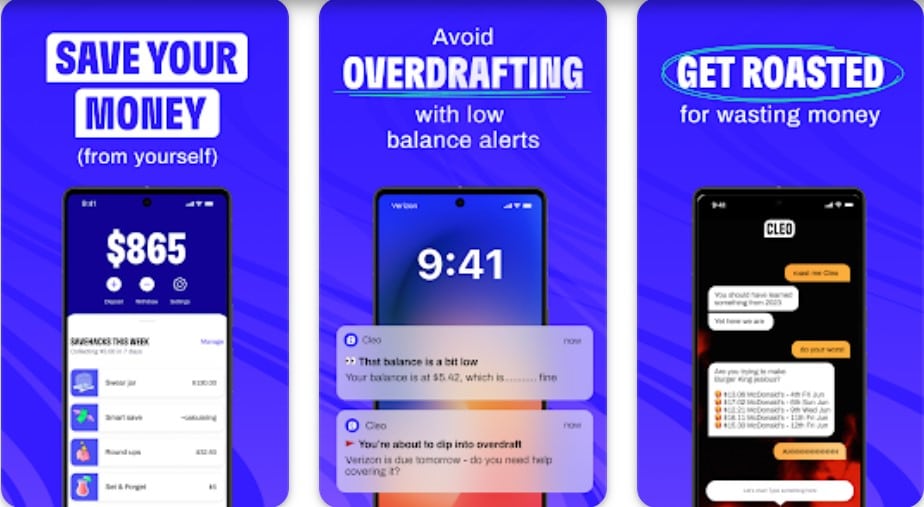 Cleo is a user-friendly money management app that simplifies financial tracking, goal setting, and savings management. It aids users with bill tracking and reminders, offers valuable financial literary resources, and provides a detailed spending breakdown by category to enhance financial awareness and control.
Features
Cash Advances. Cleo offers cash advances of up to $250 without interest, credit checks, late fees, or direct deposit requirements.
Saving Tools. It offers a variety of saving tools like autosave, round up, swear jar, and set & forget.
Cleo helps users create personalized budgets.
Credit Building. Cleo offers a credit-building product with a 0% APR credit card, cashback on every spend, cash advances, credit score coaching, and a $1 minimum deposit.
Early Paycheck. Cleo allows users to access their paycheck up to 2 days early with direct deposit.
---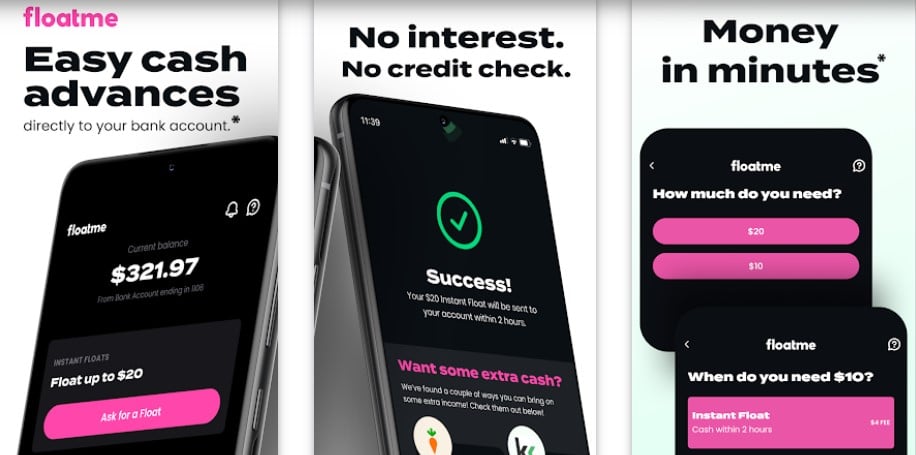 FloatMe is a financial app that offers cash advances of up to $50 to users who need extra cash between paydays. The app uses Plaid Portal to connect your bank accounts with 256-bit bank-level security securely.
Features
$1.99/month.
Instant Float Fee. $3 for a $10 instant float, $4 for a $20 instant float, and $5 for a $30+ instant float.
Cash advances. FloatMe offers easy cash advances directly to your bank account.
No Credit Checks. The app does not require credit checks.
No Interests. FloatMe does not charge interest on cash advances.
Spending Insights. FloatMe gives users spending category insights to help them understand their spending habits.
---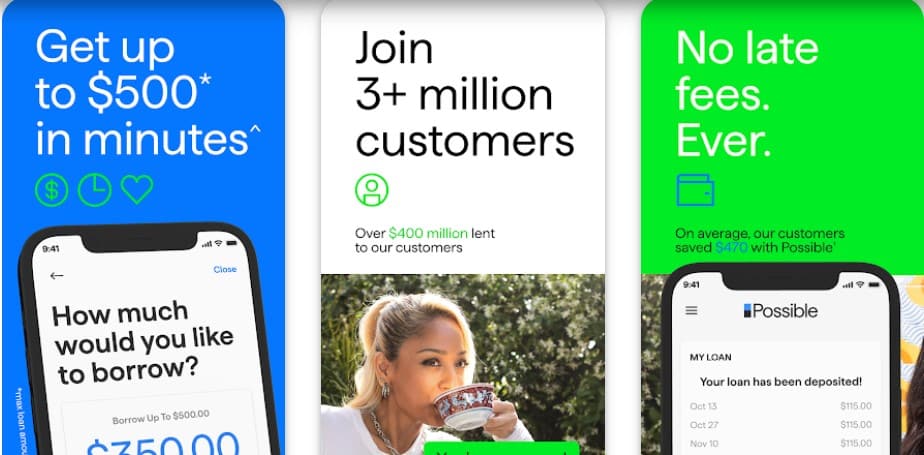 Possible Finance is a financial app that offers credit builder apps to people with bad or no credit. This finance app helps build your credit history by reporting your on-time payments to the credit bureaus.
Features
Cash Advances. Possible Finance allows you to borrow cash advances of up to $500. However, your on-time payments can improve your cash advance.
No Late or Penalty Fees. Possible Finance does not charge any late or penalty fees.
Pay Over Time. Possible Finance loans are repaid in four installments over a period of six weeks.
Link Your Bank Account. The app makes it easy and secure to link your bank account for Direct Deposit.
Get Fast Cash. Its loan can be disbursed instantly, so you can quickly get the cash you need.
Click to Download Possible Finance:


---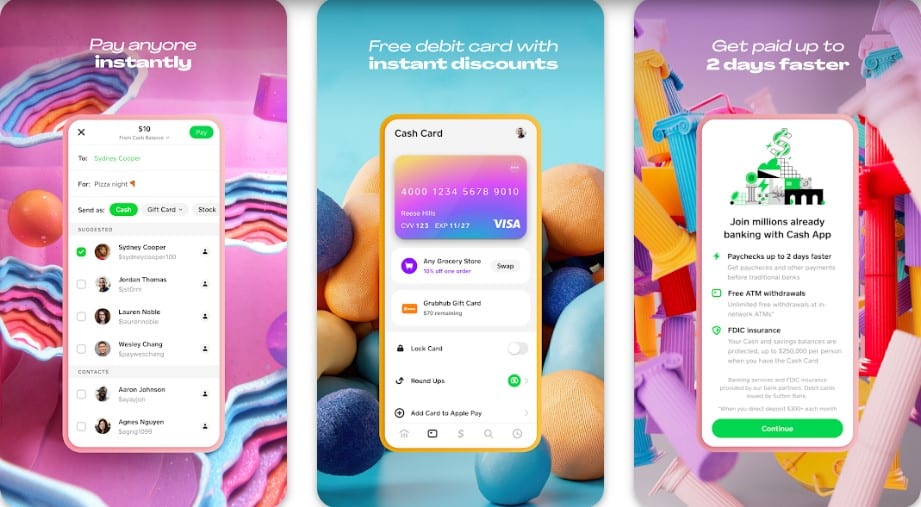 The Square Cash App is a financial service platform that allows you to send, spend, save, and invest your money. Everyone 13 and up can use the Cash App with approval from a parent or trusted adult. There are speculations that only the most active users can get a loan, and you likely need good credit to qualify.
Features
P2P Payments. Send and receive money.
Borrow up to $200 with a 5% interest rate.
Direct Deposit. Receive your paycheck up to two days early.
Invest in stocks and crypto commission-free.
Saving Goals. Easily set saving goals and track your progress.
---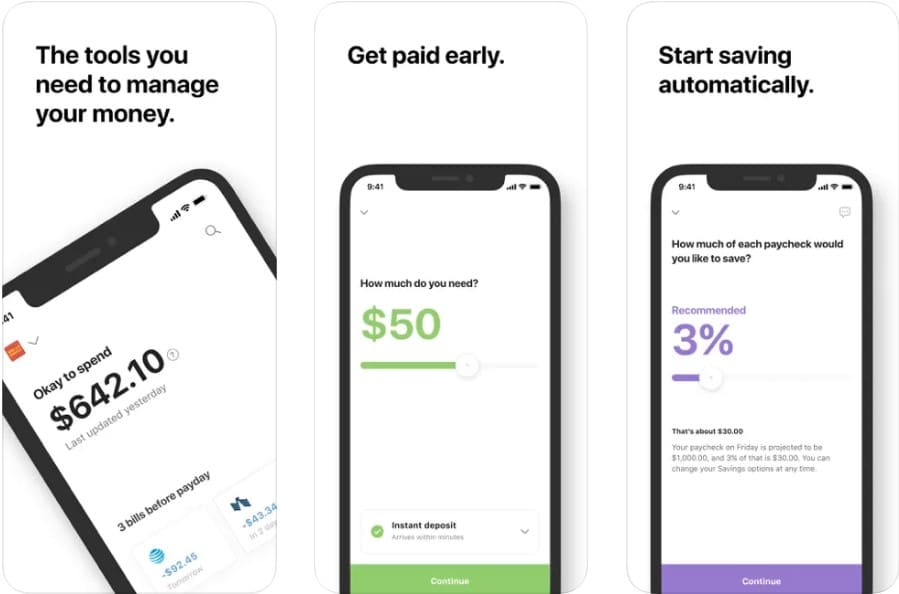 The Even app is a financial service platform that partners with leading employers to provide employees with the tools they need to manage their money. The app is available to employees of companies that have partnered with Even and offer this product as an employee benefit.
Features
Get Paid Early. Request an advance of up to 50% of your next paycheck early and receive funds in seconds.
Choose a percentage of each paycheck you want to save on Even to add to your savings account. Earn the interest at 2times the national rate.
Manage Your Budgets. Even detects your monthly expenses and gives you a daily, personalized snapshot of what's okay to spend.
Projects Your Earning. It even tracks your work schedule and makes automatic updates after each shift.
---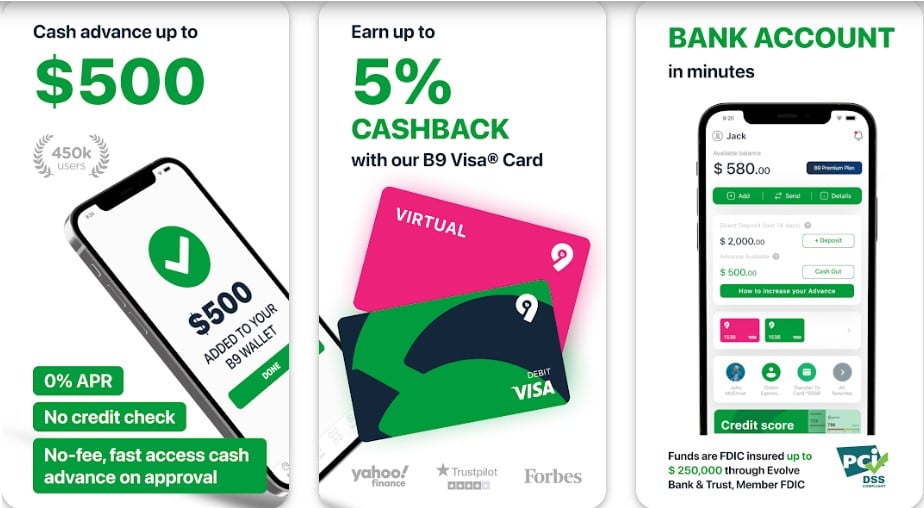 B9 Cash Advance is a convenient short-term loan designed to provide a quick cash injection to bridge the gap until your next payday.
Features
Instant Cash Advances. Get up to $500 of your earned but unpaid paycheck before payday.
No fees. The B9 Wallet Advance app offers 0% APR cash advances, meaning no interest, transfer, processing, or late payment fees.
Repayment Term. You can pay your cash advance at your own pace.
B9 Basic. Get up to 5% cashback on your B9 Visa debit card before payday. B9 offers up to $100, instant cash, and no-fee banking transfers to B9 members daily.
B9 Premium. Get before payday advances of up to $500 cash, no-impact credit reports, credit score checker, and credit simulator, plus even faster, premium customer support.
Click to Download B9 Cash Advance:


---
What Sets Klover Apart From Other Cash Advance Apps
Klover sets itself apart from other cash advance apps in a few key ways:
Klover offers a Points Program that allows users to earn points for taking surveys, watching ads, and scanning their receipts.
Klover does not require credit checks for approval.
Klover offers flexible repayment terms, with repayment due on the user's next payday.
Klover charges a small fee for cash advances, typically lower than those set by other cash advance apps.
---
What to Look For in a Cash Advance App
Here are some things to look for in a cash advance app:
Some cash advance apps do not require credit checks or charge interest, which can be a good option for people with bad or no credit.
Look for an app with flexible repayment terms to repay the loan on a schedule that works best for you.
Some cash advance apps charge high fees, so compare fees before choosing an app.
Choose an app with good customer support in case you have any problems.
Read reviews of different cash advance apps before choosing one.
Ensure the cash advance app you want uses secure data encryption and other security measures to protect your personal and financial information.
---
Conclusion
The apps we mentioned in our article are similar to Klover, offering valuable financial services like cash advances, budgeting tools, and convenient ways to access and manage funds. While each app has unique features and benefits, they all aim to assist users in achieving better financial stability and flexibility. Exploring these alternatives allows individuals to find the app that best suits their specific needs and preferences, empowering them to manage their finances more quickly and confidently. Whether it is for instant cash advances, budget tracking, or other financial tools, these apps provide valuable support in today's fast-paced economic landscape.