Are you looking forward to improving your shooting accuracy? Are you curious about the best Ballistics apps for precision shooting and hunting enthusiasts? We help you discover the best Ballistics apps that provide accurate ballistic calculations, trajectory predictions and wind adjustment to enhance and improve your shooting accuracy.
In precision shooting and long-range marksmanship, leveraging technology can make all the difference between a hit and a miss. Ballistics apps are essential for any shooter who wants to improve their accuracy. These apps help shooters calculate the trajectory of a projectile and provide accurate data and real-time calculations. This information helps estimate where a bullet will land and adjust for wind and other conditions. Whether you are a competitive shooter, hobbyist, or hunter aiming for the bullseye, these ballistic apps can help your shooting accuracy and improve your shooting experience.
Ballistic apps have become very popular as they offer advantages over traditional methods of calculating Ballistics. They are more accurate as they can consider a broader range of factors. Ballistic apps are also more convenient as they can be used on any device.
This article explores the fascinating features of the best ballistic apps, uncovering the most effective options that cater to shooters of diverse backgrounds and skill levels. We delve into the compatibility of these ballistic apps with a wide range of firearms, ensuring that regardless of your weapon choice, there is a solution that fits seamlessly. We will also discuss the different factors to consider when choosing a ballistic app and recommend some of the best apps on the market.
---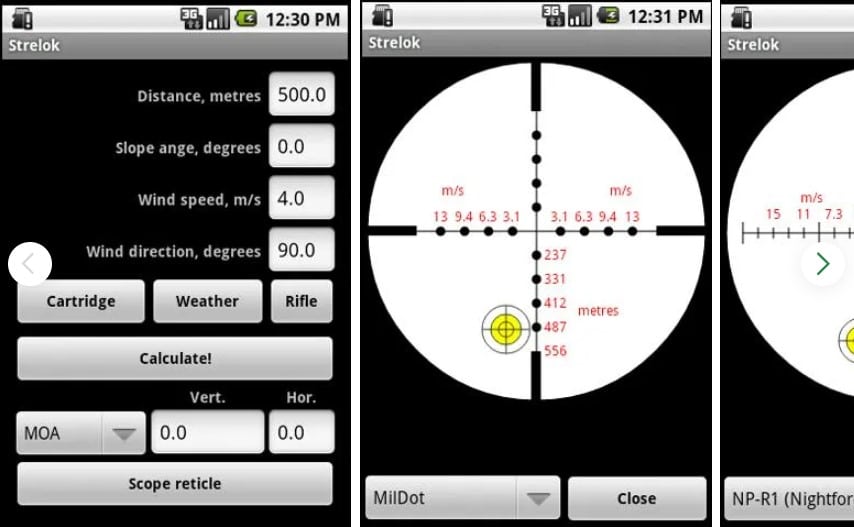 Strelok. Ballistic Calculator is a popular comprehensive tool shooters use to enhance accuracy in long-range shooting scenarios. It is easy for any shooter who wants to improve accuracy and has a user-friendly interface. Strelok is available on all devices, and its features include the following;
Strelok uses accurate ballistic data from different sources, including Litz, Sierra, and Hornady, to ensure accurate results, even at long ranges or in windy conditions.
Strelok calculates trajectories for various cartridges and conditions, including bullet weight, drag coefficients, and muzzle velocities. It also calculates orbits for different temperatures and attitudes.
Advanced ballistic solver. Strelok offers different ballistic solvers for users to choose from. These ballistic solvers include G1, G7, JBM and i7.
Environmental Inputs. To fine-tune trajectory predictions, Strelok considers weather conditions like altitude, humidity, temperature, and biometric pressure.
Strelok allows users to customize a series of settings like ballistic data they use, the reticle they use, and wind conditions to allow them to tailor the app to their specific needs.
---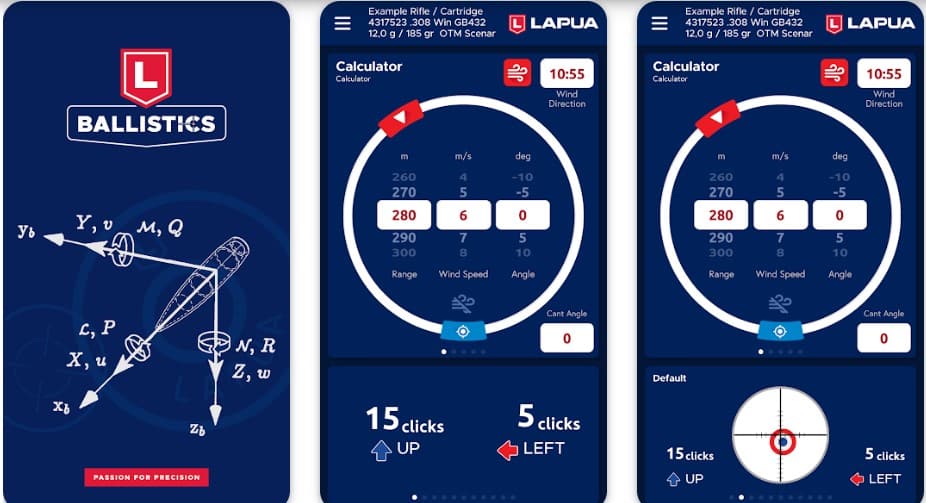 Lapua Ballistics is a mobile calculator app developed by Nammo Lapua, a Finnish ammunition manufacturer. The app is a valuable tool for precision shooters and helps shooters improve their accuracy and make informed decisions about their shots. Here are some of Lapua Ballistics features;
6DOF Calculation Model. Lapua Ballistics applies a 6DOF, Six Degrees of Freedom, calculation model. This calculation modnsiders factors like pitch, yaw, and roll of the bullet. This model provides a more accurate representation of the bullet's flight trajectory, making it a precise tool for long-range shooting calculations.
Latest Lapua Cartridge and Bullet Data. The app includes its most recent cartridge and bullet statistics like weight, shape, ballistic coefficients, and other vital details.
Quick and Easy Inputs. Lapua Ballistics makes inputting critical factors like shooting distance, shooting angle, and wind speed easy.
Various Result Outputs. The app provides different ways to view the calculation results based on your preference. It can be in a numerical, table, reticle, or graph way.
Custom Bullet Definition. Lapua Ballistics gives you the option to create unique bullet profiles manually.
Click to Download Lapua Ballistics:


---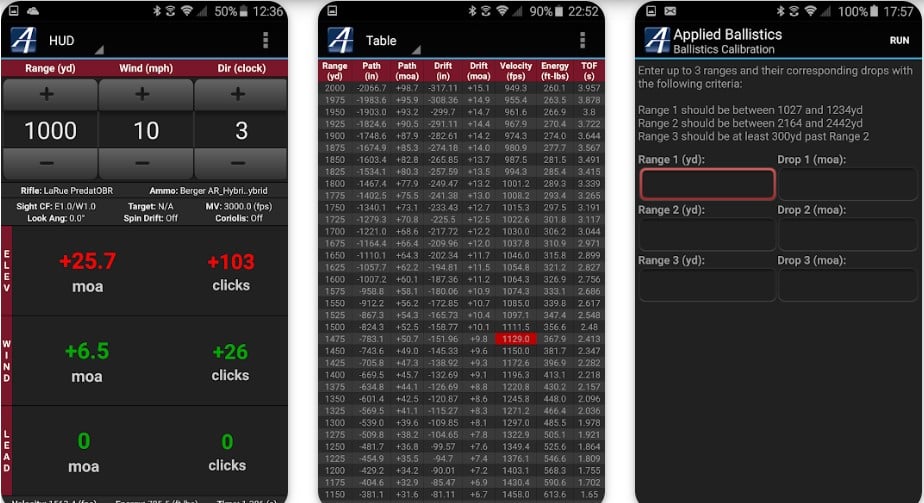 Applied Ballistics is a comprehensive mobile app tool that provides accurate and sophisticated fire control solutions for long-range shooters. The app combines advanced calculations, customization options, and real-world data to enable shooting precision at extended distances. Some of its features include;
Ballistic solver. Applied Ballistics uses advanced calculations like air resistance, wind, gravity, and more to predict the trajectory of a bullet fired from a rifle over long distances.
Trajectory Variables. Applied Ballistics considers major and minor factors like aerodynamic jump, spin drift, Coriolis effect, and inclination angle that affect bullet trajectory.
Custom Drag Curves. Unlike most ballistic apps that rely on standard drag models like G1 or G7, Applied Ballistics uses custom drag curves that have been measured and developed specifically for over 700 bullet types.
Atmospheric Data. Applied Ballistics incorporates atmospheric conditions like humidity, temperature, air pressure, and humidity.
Ballistic Calibration. The app offers advanced calibration to match observed impacts at long-range shooting, where the app is adjusted to align with real-world shooting results.
HUD Solution View. This view offers a quick and dynamic recalculation of solutions as shooting conditions change.
Click to Download Applied Ballistics:


---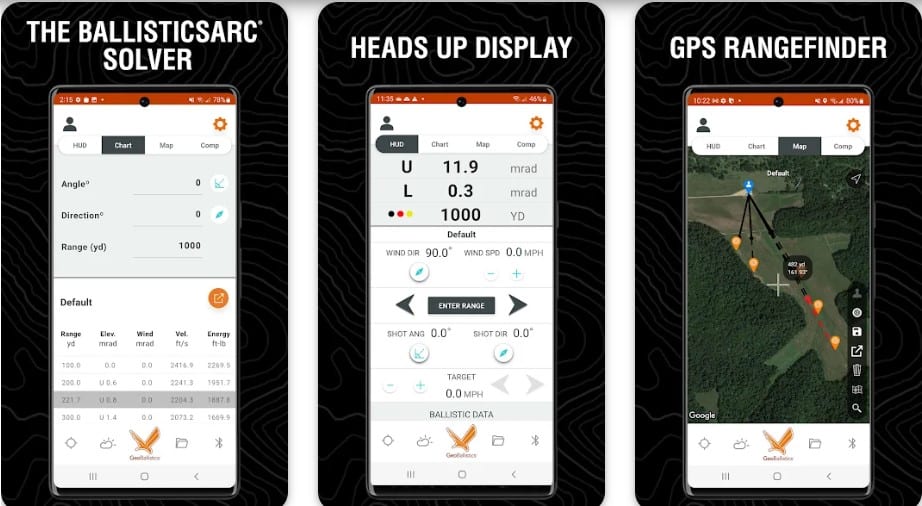 GeoBallistics is a mobile app with various advanced features designed to enhance shooting accuracy and provide comprehensive support for long-range shooters. Some of its most important features include;
Coriolis Effect Calculation. GeoBallistics automatically calculates the Coriolis effect based on the shooter's position and latitude.
HUD Mode. The app provides a heads-up display of all the information you need for a target, like range, wind speed and direction, atmospheric conditions, and bullet drop.
Chart Mode. GeoBallistics provides a traditional ballistics chart that shows the bullet's impact point for a range of distances and wind conditions.
Comp Mode. The app allows you to compare the Ballistics of different rifles and ammunition by entering the specifications, and it automatically calculates the bullet's trajectory for each combination.
Click to Download GeoBallistics:


---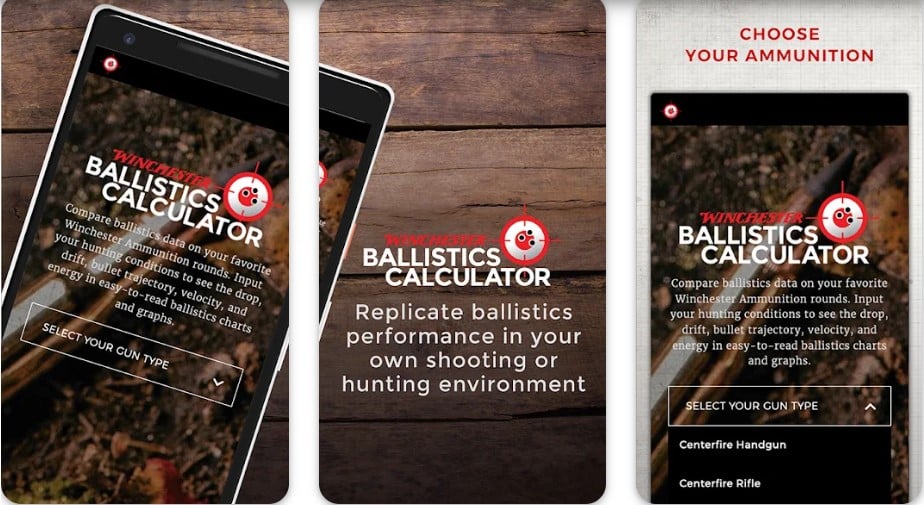 The Winchester Ballistics Calculator app is a highly advanced tool for hunting and sports enthusiasts. The app utilizes cutting-edge technology to provide shooters with detailed and accurate ballistic information. Its features include;
Ammunition Comparison. Users on the app can select their preferred type of Winchester ammunition and compare up to four different Winchester products.
Ammunition Categories. Winchester Ballistics offers multiple categories of ammunition catering to different shooting needs. These categories include centerfire handgun, centerfire rifle, handgun target or defense, handgun hunting, rimfire rifle, rimfire handgun, and shotgun slug.
Customizable Shooting Conditions. The app allows users to customize the ballistic calculator to replicate the shooting or hunting environment.
Adjustable Zero Marks. Winchester allows adjustment to zero marks for sighting in to ensure the calculated Ballistics match the actual performance of the firearm.
Ballistics Chart. The app displays an easy-to-read chart showcasing ballistic parameters such as bullet flight time, line-of-sight drop, velocity, wind drift, and energy.
Ballistics Graph. Winchester Ballistics provides an easy-to-read graph depicting the bullet drop over given distances.
Click to Download Winchester Ballistics:


---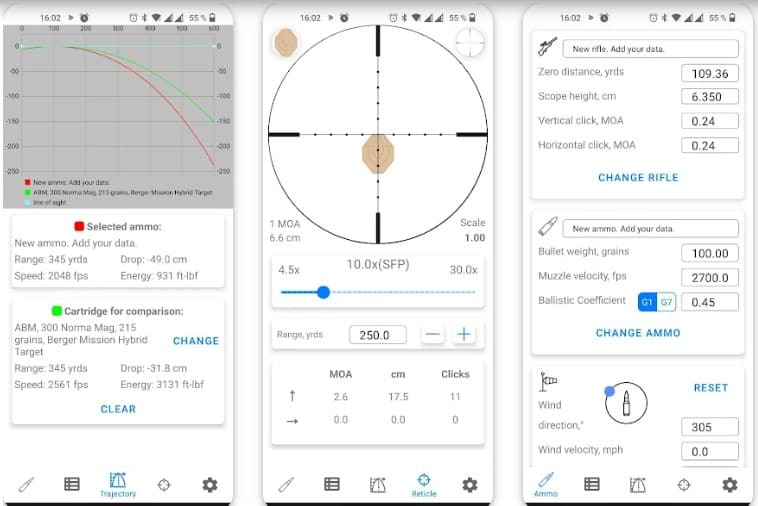 Ballistic Calculator 2023 is a mobile app designed to provide users with accurate trajectory calculations for shooting accuracy. Some of its features include;
Ammunition Database. The app offers a comprehensive database of 3,000 cartridges to allow users to choose the specific ammunition they use for calculations.
Reticle and Distance Visualization. The platform acts as a rifle scope calculator, offering an overview of reticles and distance correction. This feature aids in modifying the aiming point depending on the target distance.
Ballistic Coefficients. Ballistic Calculator 2023 supports different ballistic coefficients like G1 and G7, allowing users to choose the correct coefficient based on bullet characteristics.
Users on the app can create their rifle profiles and customize ammunition details for more accurate calculations tailored to specific firearm setups.
Atmospheric Condition. The app considers atmospheric conditions that significantly affect bullet trajectory.
Imperial and Metric Units. The app allows users to choose between imperial and metric units for measurements.
Click to Download Ballistic Calculator 2023: 

---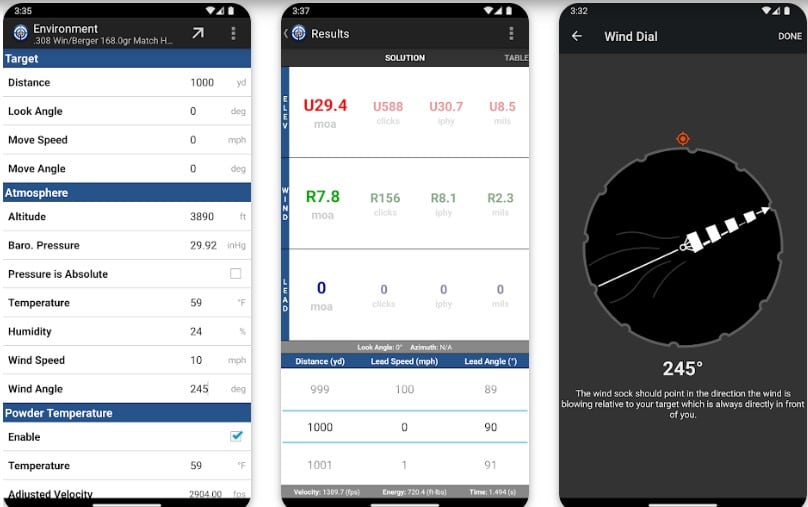 Shooter is an accurate ballistics calculator app and is said to be unique due to its clean, intuitive, and polished user interface. The app was created by Bryan Litz, Berger Bullet's chief ballistician and a champion shooter. Shooter has proven to be among the best ballistics apps with its effectiveness in competing shooting scenarios. Here are some of its features;
Accurate Ballistics Solver. Shooter is largely known for its precision and reliability.
Graphical Wind Dial. The app offers a graphical wind dial to help simplify the input of wind speed and angle when calculating shots.
Inbuild Bullet Library. Shooter has an integrated bullet library that makes it easier to upload your ammunition profiles. This helps simplify the procedure for setting up calculations for multiple bullet kinds.
Advanced Calculations. The app supports complex computations like the Coriolis Effect and Spin Drift. For the Coriolis Effect, you can utilize GPS to determine your latitude.
Atmospheric Input. Shooter can automatically input atmospheric conditions using your GPS location and the nearest weather station.
Zero-Atmospheric Support. This feature allows the app to adjust to your zero point when shooting in different atmospheric conditions.
Metric support. Shooter provides full-measured support for users who prefer working with metric measurements.
---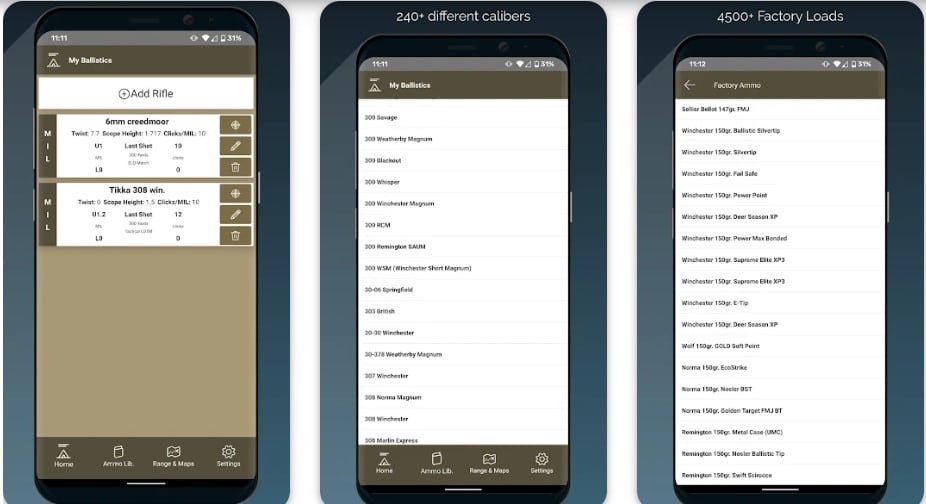 My Ballistic is a mobile app designed to help hunters and shooters calculate the trajectory of a bullet based on the rifle, range, ammunition, wind speed, and atmospheric conditions. Some of its key features include;
Ballistic Calculator. My Ballistics is designed to use an advanced 3 DOF solver to calculate the trajectory of a bullet for both short and long-range shooting scenarios.
Atmospheric Conditions. My Ballistics can retrieve current atmospheric conditions and effects of gravity, wind, spin drift, and Coriolis on bullet trajectory.
Rifle and Ammunition Library. The app supports over 240 different calibers and over 4900 factory loads. This feature helps users easily and quickly find the appropriate ammunition for their shooting needs.
Inbuilt GPS Rangefinder. My Ballistics includes a built-in range finder to help determine the distance between two points on a map, aiding in accurate estimation.
Imperial and Metric Unit Support. The platform supports imperial and metric units, aiding users who prefer different measurement systems.
Current Weather Data. The app provides current weather data, which is necessary for accurate calculations.
Click to Download My Ballistics: 

---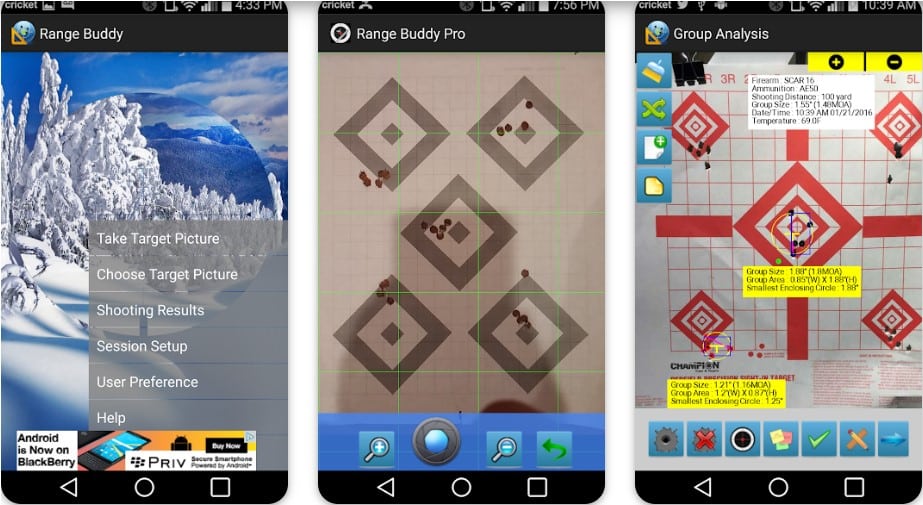 Range Buddy is a powerful mobile tool that helps shooters track their shooting data and improve their shooting accuracy. It has a variety of features, including;
Range Buddy offers a catalog of over 100 shooting drills. The drills are categorized and can be sorted based on target types or drill categories. They can be customized to fit a user's preference.
Shot analysis. This unique feature allows users to record and track their scores for each drill they complete. It also calculates group size, point of impact, and other shooting metrics.
Drill Breakdown. Range Buddy provides a step-by-step procedure for each drill. This step ensures that users understand the objectives and structure of the drills.
Target Recording. Range Buddy allows users to take photos of targets and record data for each shot, including target distance, wind speed and direction, and atmospheric conditions.
Click to Download Range Buddy: 

---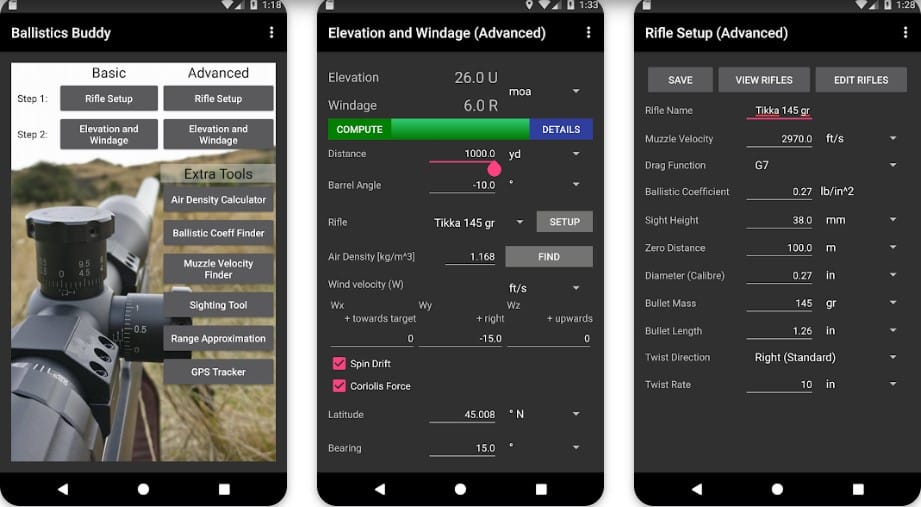 Ballistics Buddy is a mobile app designed to assist long-range shooters in making accurate scope adjustments by considering different factors that affect a bullet's trajectory. The app provides quick and easy access to precise adjustment recommendations and helps shooters improve their shooting skills. Some of its features include;
Ballistic Calculator. Ballistic Buddy is designed to determine the scope's elevation and windage settings for long-range shootings. These adjustments ensure that the intended target is hit perfectly despite the many factors that affect a bullet's trajectory.
Trajectory Calculations. Ballistic Buddy determines the trajectory of a bullet in relationship to the line of sight of the scope. These features include gyroscopic spin drift, the Coriolis force, rifle setup, gravity, wind, air density, and aerodynamic drag.
Ballistic Factors. The app captures significant factors like environmental and firearm-specific factors affecting the bullet's trajectory. This ensures that all its calculations are accurate and reliable.
Scope Adjustment. Ballistic Buddy suggests the necessary scope adjustments based on the estimated bullet trajectory and the input factors. This makes it easy for users to quickly and easily adjust their scope settings for various shooting conditions.
Long-Range Shooting. The app is designed for long-range shooting conditions where environmental factors become more apparent and require keen consideration.
Accuracy and Precision. Ballistic Buddy delivers accurate and exact scope adjustment recommendations by considering a wide range of factors, resulting in more accurate shots.
All-in-one Solution. The platform offers an all-in-one solution for shooters wanting to determine scope adjustments without laborious calculations.
Click to Download Ballistics Buddy:


---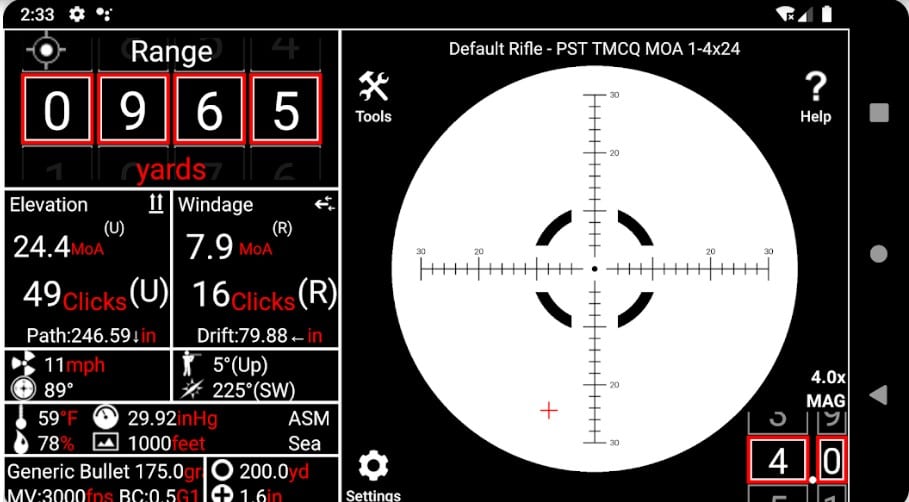 Ballistics Pro is a powerful mobile tool that helps hunters, shooters, and outdoor enthusiasts to make accurate long-range shots. It is an easy-to-use app with excellent features like;
Ballistic Methods. Ballistics Pro offers all three main modern ballistic methods: Point Mass, Siacci, and Pejsa. These three methods are accurately implemented to provide various approaches for calculating bullet trajectory.
Bullet Database. The app offers a bullet database with over 3,500 bullets sourced from the manufacturer's catalogs. This ensures accurate and reliable ballistic calculations, providing a wide range of ammunition options.
Custom Meters. Ballistic Pro includes custom virtual meters for input variables, which aid in accurately providing accurate input data.
Airgun Mode. The app includes an Airgun Mode, which accounts for changes in muzzle energy and velocity when various pellet weights are used, which is compulsory for airgun enthusiasts.
Adjustment Updates. This Ballistic app applies real-time adjustment updates in elevation and adjustment values when any input variable changes.
Stadiametric Reticle. Ballistic Pro provides an aim point on a stadiametric reticle, which helps in real-time target acquisition for improved accuracy.
Click to Download Ballistics Pro:


---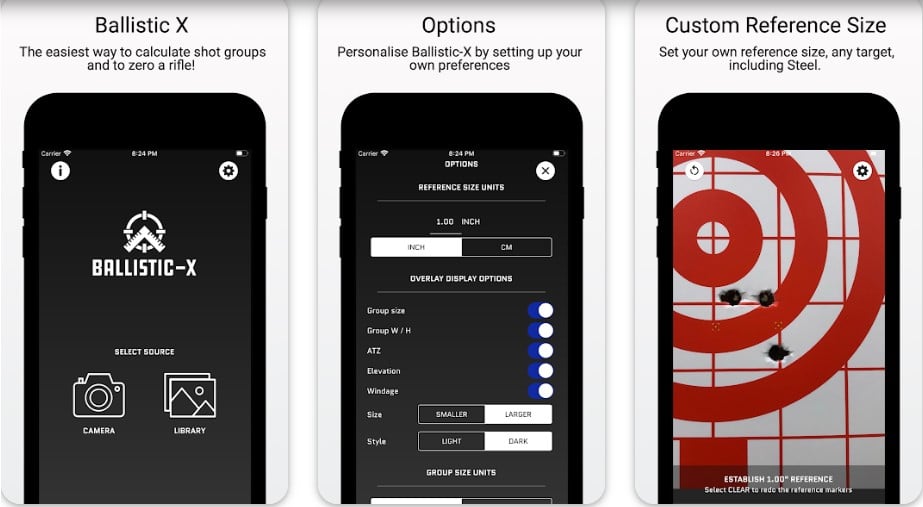 Ballistic X is a mobile app designed to simplify calculating shot groups, zeroing rifles, and helping shooters in load development. It has a user-friendly interface and is very easy to use. Some of its essential features are;
Calculate Shot Groups and Zero a Rifle. The app is designed to aid in simplifying the process of calculating shot groups and zeroing a rifle. This tool helps shooters set up their weapons easily and take accurate shots.
Zeroing Assistance. Ballistics X has a feature called Adjustment to Zero [ ATZ], which shows users how to adjust a riffle's turrets to achieve a perfect zero. ATZ ensures accuracy, works effectively at any range, and can be used with different turret options.
The app offers different customizable varieties through its option menu. This feature ensures that the app aligns with a shooter's preference or habits.
Target Compatibility. Ballistics X is created to work with all types of targets, including steel targets.
Load Development. The app provides valuable data and labeling options that assist in load development. This works by optimizing your ammunition and adjusting it to your specific rifle, enhancing accuracy.
Click to Download Ballistics X:


---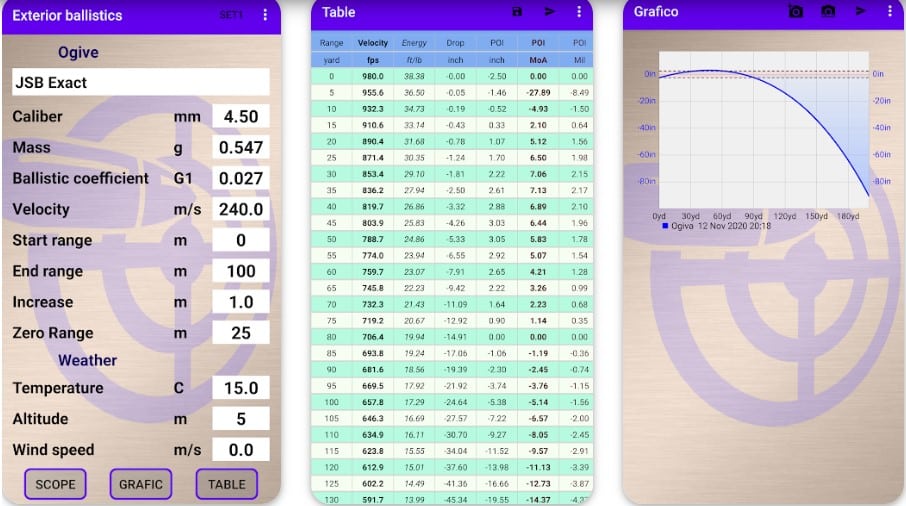 External Ballistics Calculator is a mobile ballistic tool that provides a user-friendly interface for bullet trajectory, wind drift, click adjustments, and more. Some of its top features include;
Configurable Presets. This feature is more useful for shooters who often use different rifles or ammunition, allowing users to switch between configurations easily.
The app calculates the bullet's fall and drifts in various shooting situations. The feature helps shooters determine how their shots are affected by external factors.
Wind and Clicks. This feature calculates wind drift and click adjustments for various wind angles, aiding shooters to account for the wind's impact on their bullet trajectory.
Ballistic Tables. The app uses G1 ballistic tables, a common standard for ballistic coefficient calculations, to ensure compatibility with various ammunition and bullet types.
Altitude Detection. The app calculates altitude using the GPS functionality of a shooter's device.
Units Compatibility. The calculator applies metric and imperial units, providing flexibility for users who prefer using different measurement systems.
Click to Download External Ballistics Calculator: 

---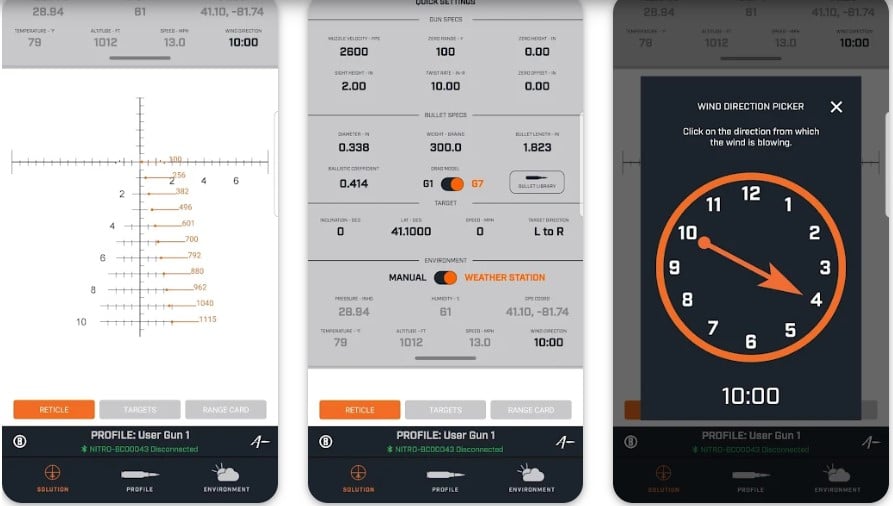 Bushnell Ballistics is a tool designed to provide accurate ballistic solutions for Bushnell rangefinders and riflescopes users. The app offers various features to enhance shooting and accuracy performance. Some of Bushnell Ballistics key features include;
Ballistic Solver. The app offers a full-featured ballistic solver, allowing users to calculate rifle firing solutions based on range, ammunition specifications, and atmospheric conditions.
Bushnell Ballistics is designed to work effortlessly with Bushnell rangefinders and riflescopes to ensure accurate and customized calculations based on the equipment used.
Atmospheric Corrections. The app considers the current atmospheric conditions to help compensate for the effects on bullet trajectory.
Target Creation. The app allows a user to create a custom target within the app to match the user's shooting scenario, helping visualize the firing solution and holdover required.
Reticle Subtension Holds. When a user inputs the reticle subtensions, the app displays the corresponding range for each subtension. This allows a shooter to quickly and easily determine holdover or windage adjustment for different distances.
Click to Download Bushnell Ballistics:


---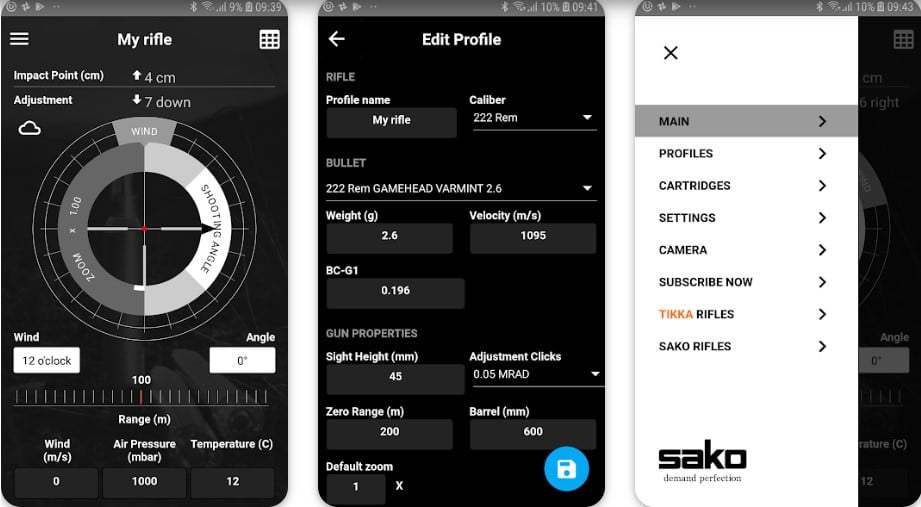 Sako Ballistics Calculator is designed to provide shooters with the necessary features to make accurate calculations and adjustments for various shooting scenarios. Its essential features include;
Adjust Wind Speed and Direction. Wind significantly impacts a bullet's trajectory, so users using the app are allowed to adjust the speed and direction of the wind. This feature helps shooters to make accurate windage adjustments.
Adjust Atmospherics. The app's users can adjust the outside air temperature and pressure. By inputting accurate values, it ensures precise ballistic calculations.
Adjust Sight Height. In Ballistics, sight height refers to the distance between the scope and bore centers. Accurate adjustment of sight height ensures that the bullet strikes the target at the aim point, even at long distances.
View Flight Data. The app provides info on flight data like bullet drop, wind drift, and velocity to help a shooter understand how different factors affect a bullet's path.
Adjust Target Range. Users can adjust the target range to allow the app to calculate the impact on the bullet point and trajectory adjustments for a given distance.
Click to Download Sako Ballistics Calculator:


---
Conclusion
The best ballistic app depends on your individual needs and preferences. You can consider factors like accuracy, precision, user interface, and price. You can also read reviews from other users to understand the app's strengths and weaknesses. You can try out the free version of different ballistic apps and later consider the premium ones.
The abovementioned ballistic apps showcase the highest accuracy, innovation, and user-friendly interface. Using these apps, shooters of all levels can look forward to enhanced accuracy and a better understanding of factors influencing bullet trajectory. Whether you are a beginner, short-range, or long-range shooter, these ballistics apps will provide all the necessary tools.