Do you know how to solve the "your computer is low on memory" issue? You can decide to close all open programs, increase the RAM, update your windows system, disable the boot starter programs, and add a memory stick.
Do you know what you can do when your computer is low on memory? In the previous article, we learned that memory is used as the disk and CPU interaction data station.
If there is too much installed software or the amount of data is too large in your computer, a memory error may appear.
In this article, I will provide solutions on how to solve the "your computer is low on memory issue".
---
Method 1: Close the Software
If you get the error, "Your computer is low on memory," on your screen, the first step is closing all the open software. Investigate the number of MBs of memory each program or application is using to know which one is consuming too much data.
Step 1: Open the task manager by clicking the shortcut Ctrl + Shift + Esc. Alternatively, use the shortcut Ctrl + Alt + Delete, and select Task Manager.
Step 2: In the Processes tab, you will see how many MBs of memory each program and application is using. Be attentive to check the program that is consuming too much memory. When the memory is low, your computer will ultimately be slower.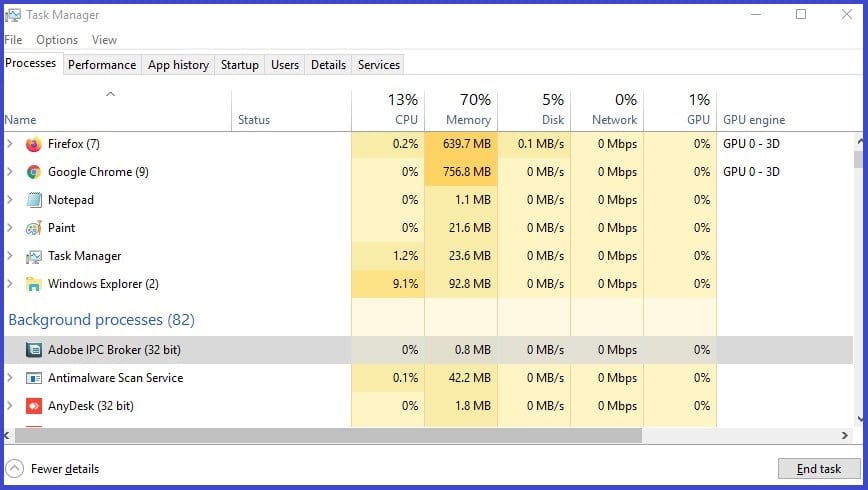 Step 3:Select the program and click "End the task" in the lower right corner. You can do this for multiple programs till you free some memory in your computer.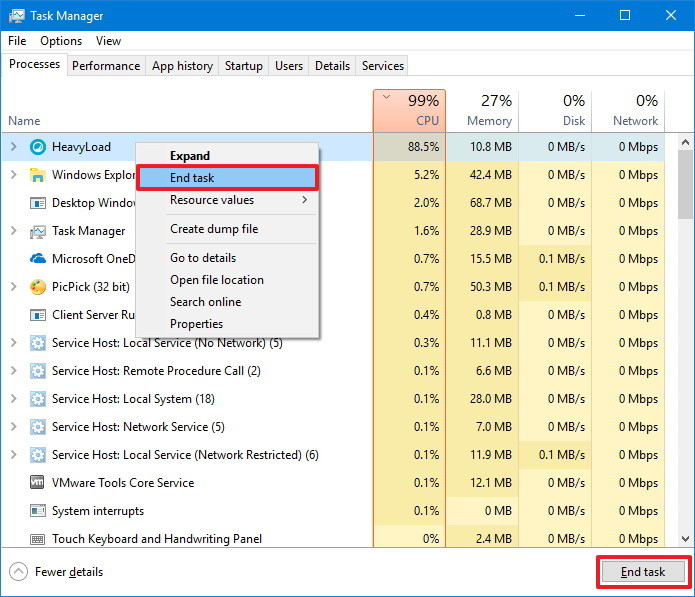 Step 4: The memory will be freed automatically.
---
Method 2: Disable the Boot Starter Program
Some programs start automatically when you boot your computer. This ideally takes up some memory space making your computer slower. You need to disable them to make your computer faster.
Step 1: First, open your task manager by clicking Ctrl + Shift + Esc or Ctrl + Alt + Delete and choose Task Manager.
Step 2: On the task manager dialog box, click startup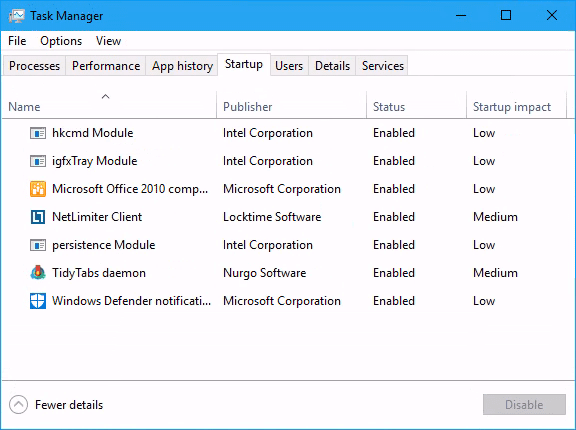 Step 3: All the programs are shown as enabled automatically start when you boot your computer. Disable them to reduce memory consumption.
Step 4: Click on any unwanted program and click disable at the bottom right corner. Do that to multiple of the programs to make them inactive when booting your computer. If you can't see the options, click on "More details" in the place that "Fewer details" are shown.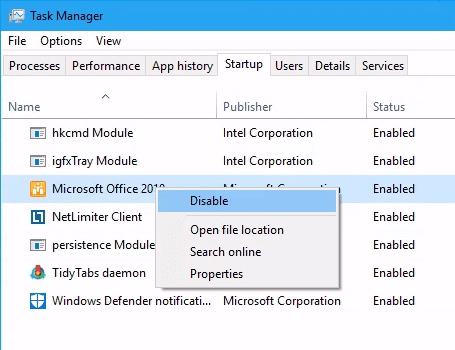 ---
Method 3: Increase Virtual Memory
Virtual memory is the place where a portion of your hard disk space is used as temporary data exchange, especially if your computer is on an SSD.
Step 1: Go to the Start menu by clicking the Windows button, search for the control panel.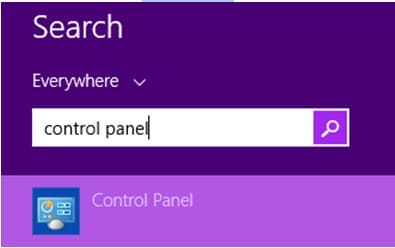 Step 2: On the control panel, click on System

Step 3: Select Advanced system settings to open the system properties.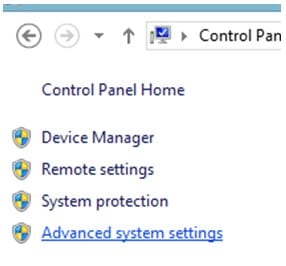 Step 4: A system's dialog box will appear; click on Advanced. Underperformance, click on settings.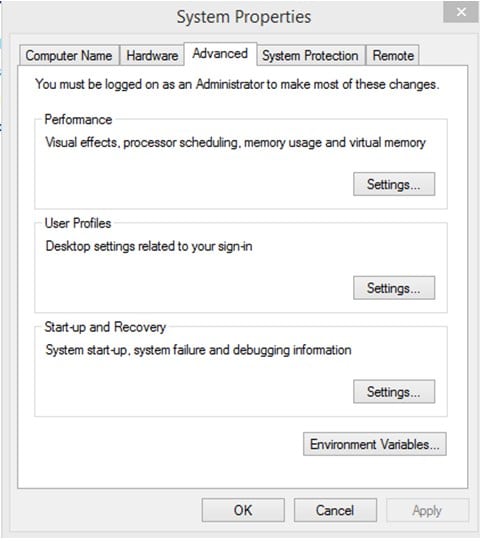 Step 5: On the next dialog box, click on Advanced, navigate to Virtual Memory and click change.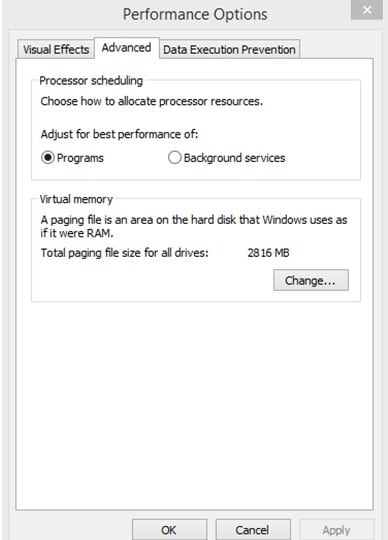 Step 6: The default option is "automatically manage paging file size for all drives". Uncheck this to enable the greyed-out section.

Step 7: Select custom size and input the maximum size you want for the paging file.  Follow the recommended size of your system. Make sure it is not more than three times the size of the installed RAM for more stability. Set the initial size to the currently allocated size.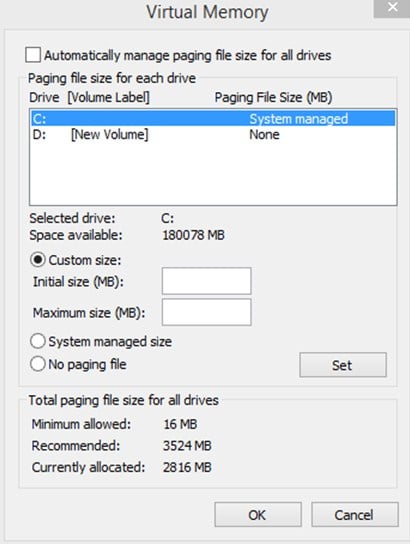 Step 8: Click Set, then OK. You will have successfully increased your system's virtual memory size.
If by doing this, your computer system is still slow. It is advisable to upgrade your RAM memory. This will help increase the amount of overall memory in your system.
---
Method 4: Add a Memory Stick
If you have extra memory slots on your computer, you can buy the same type of memory chip to add more memory space. You can read these two articles, "How to Install RAM in Your Desktop or Laptop" and "Enable Dual Channel RAM to Speed Up Your PC"
This will help to provide more space on your computer system to prevent it from being slow while using it. Not only can a memory stick be used to transfer data, but also be used as RAM.
Step 1: Go to my computer, right-click on the USB drive. On Properties, click on the Ready boost tab.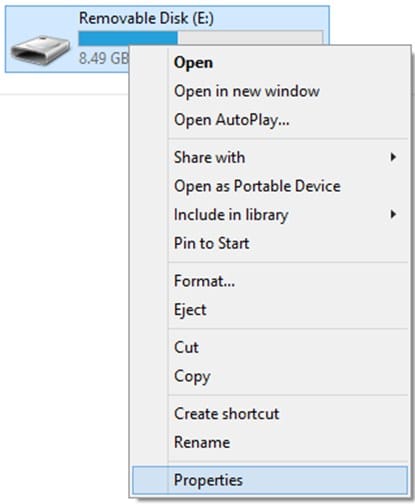 Step 2: Choose the option that says, "Use this device" under "space to reserve for system speed," select the amount of memory you wish to use in your USB flash drive. The amount of memory that windows recommend is the best and should not exceed.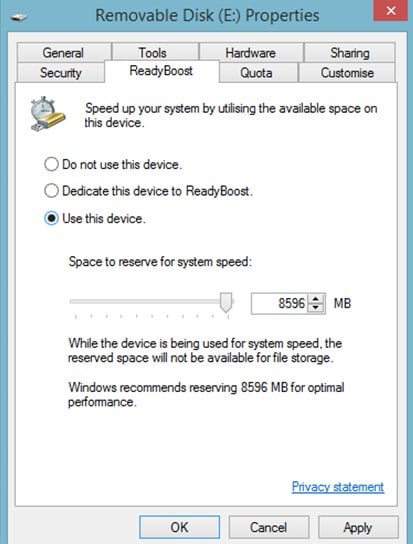 Step 3: Click on OK to save your settings. Restart your computer for it to take effect.
---
Method 5: Update the System
The running of the system takes up a lot of memory, but the developers of the system are constantly optimizing them so that they take up fewer resources when running. This is how you can update your system on Windows.
Step 1: Click the Windows button, search for Windows update. Alternatively, search for the control panel then choose Windows Update.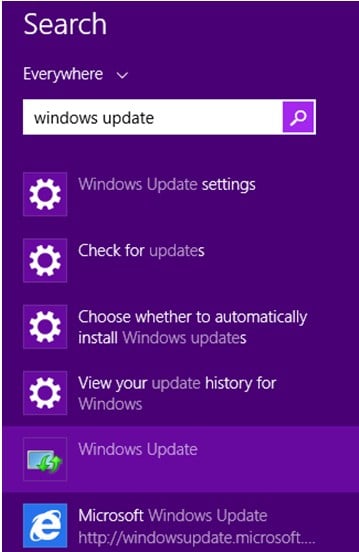 Step 2: When the new window opens, click on check for updates. Wait for the computer to find new updates. If a message tells you that important updates are available, click the message to view and select the updates.
Step 3: In the list, click the important updates for more information. Select all the checkboxes of updates you want to install. Click OK and install updates. If there is a new Windows version for your system, update it.

Make sure the computer doesn't go off during the updating process. It may harm your Operating system, which can only be fixed by reformatting the computer.
These methods are effective if you want to solve the "your computer is low on memory" issue. Try to check your computer for any other underlying issues that may be piling up. You need to take good care of your computer for proper functioning.
When not using the browser, close it to prevent using too much memory in any event. All of these six methods are effective in solving the issue and reduce memory warnings.  Another disadvantage of your computer being low on memory issues is that it can be vulnerable to easy cyber-attacks, which can be disastrous.