Are you failing to restore your deleted WhatsApp messages? No worries, as this article will provide an accurate way of restoring deleted WhatsApp messages with a trustworthy tool.
Many people want to recover their deleted WhatsApp chats for several reasons. WhatsApp chats may include confidential information needed as evidence for legal reasons. Moreover, WhatsApp conversations can also consist of essential contact numbers, addresses, or PDFs. Thus, it is necessary to recover deleted WhatsApp messages in such circumstances.
If you want to learn how to restore deleted WhatsApp messages without backup, you should consider this article. This guide will offer an easy way to restore deleted WhatsApp messages using an efficient tool. Hence, proceed to the below parts.
---
Part 1: Why People Don't Backup WhatsApp Conversations on Google Drive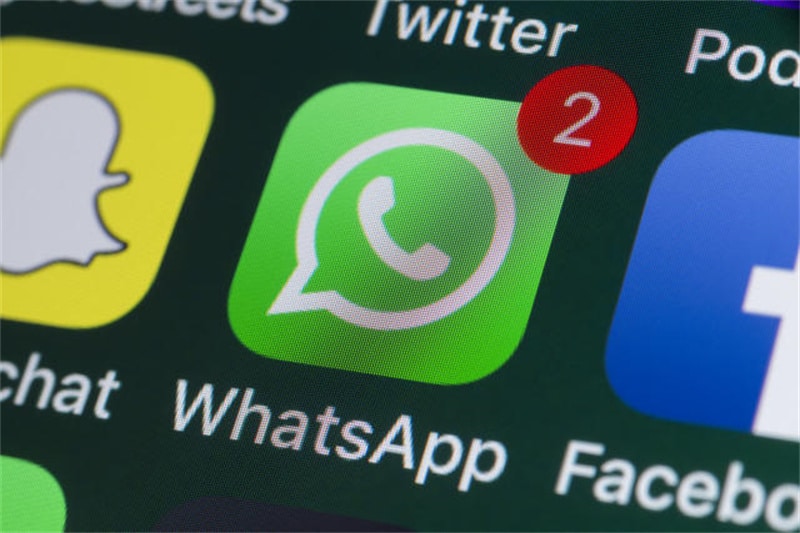 Do you want to learn how to see deleted WhatsApp messages? Before going into the details, let's learn why people don't back up their WhatsApp data on Google Drive. Several reasons let people do not back up their WhatsApp chats on Google Drive. To learn them, navigate to the following section:
1. Privacy and Security Concerns
Some users may have provided shared access to their Google Drive. This can be a huge privacy concern for some people as their WhatsApp data includes their personal chats and media files. Moreover, some people don't trust cloud storage platforms for security reasons. Therefore, they don't prefer to back up their WhatsApp data on Google Drive.
2. Storage Capacity
Google Drive offers free storage space of up to 15 GB. To access more storage space, you have to buy their paid plans. This can be expensive for some users; consequently, they don't back up their WhatsApp data.
3. Chances of Account Hacks
Google Drive uses security measures to protect its platform. However, if the respective Google account gets hacked, the unverified authority will access all your data on Google Drive. Many users don't back up their data to avoid the risks of losing data from account hacks.
4. Data Ownership
WhatsApp data can include personal chats and pictures that can be confidential. Many users want to own their private WhatsApp data to themselves. Therefore, they won't entrust the data to third-party platforms.
---
Part 2: What Factors to See in a WhatsApp Toolkit to Recover Deleted WhatsApp Data
Before choosing a tool for WhatsApp data recovery, you should know the necessary factors in a WhatsApp toolkit. Thus, let's dive into the details.
1. Support for Data Types
Your selected WhatsApp toolkit should support multiple data types. It should be able to recover WhatsApp messages, photos, videos, and other files. Moreover, it should also recover your voice messages and WhatsApp stickers.
2. Compatibility with Devices
The most major factor in any WhatsApp toolkit is its compatibility. You should ensure the tool functions on Windows, Mac, Android, and iOS platforms. Furthermore, it should support the latest updated versions of WhatsApp to avoid any glitches.
3. Data Security
Data privacy and security is another significant factor for WhatsApp toolkits. The preferred tool must use advanced security measures to protect your WhatsApp data during the recovery process. Thus, you will be able to restore your confidential WhatsApp chats with such a tool.
4. Selective Recovery
Many users want to recover selectively deleted files on WhatsApp. Thus, the tool should offer a feature allowing you to restore deleted WhatsApp messages selectively. Hence, it will let you recover selective WhatsApp data.
5. Preview Ability
The tool should also provide a preview feature before finalizing the restoration process. With a preview function, you can analyze and select important WhatsApp data for recovery. It will save you time and effort consequently.
---
Part 3: The Best WhatsApp Toolkit to Recover Deleted or Lost WhatsApp Messages on Android
Do you want to know about the best WhatsApp toolkit? The answer is Wondershare MobileTrans, as this software provides dozens of features for WhatsApp management. With its backup and restore function, you can recover all the deleted WhatsApp messages within a few minutes. Furthermore, it provides selective recovery that lets you choose preferred WhatsApp files for restoration.
Moreover, it offers a WhatsApp transfer feature that lets you shift your WhatsApp data from one device to another. It's a highly compatible tool that recognizes more than 6000 devices. Thus, you can manage your WhatsApp data on Android and iOS devices with MobileTrans.
Main Features
The platform allows you to transfer 5 types of data from your PC to your mobile phone instantly.
While shifting from iOS to Android, this tool can help you. You can quickly transfer iCloud data to an Android device instantly.
You can also transfer over 18 data typesfrom one phone to another. The supported data is text messages, videos, photos, documents, contacts, etc.
This tool lets you transfer your WhatsApp chats to your PC in HTML and PDF formats.
Step-by-Step Guide to  Recover Deleted WhatsApp Messages with MobileTrans
Are you ready to learn how to restore WhatsApp messages without backup? To do so, check the below instructions:
Step 1: Go to Backup and Restore Module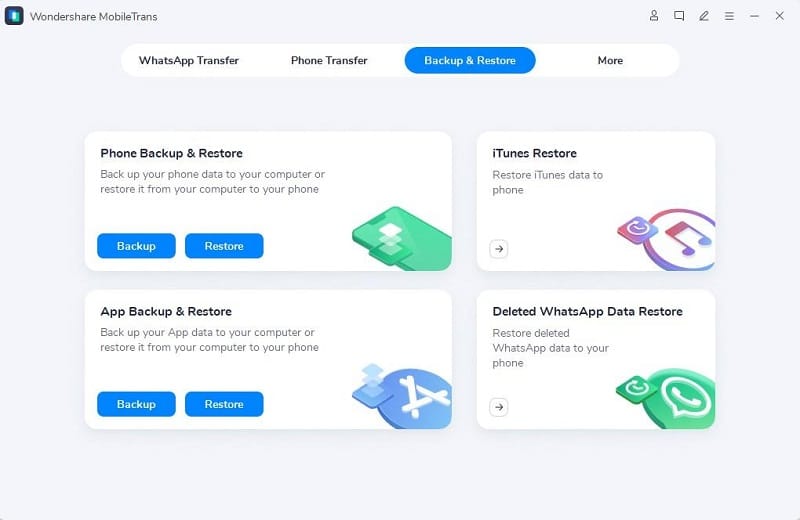 After downloading and installing Wondershare MobileTrans from the official website, open its main interface and select the "Backup and Restore" option. Afterward, tap on the "Deleted WhatsApp Data Restore" option.
Step 2: Navigate to Chat Backup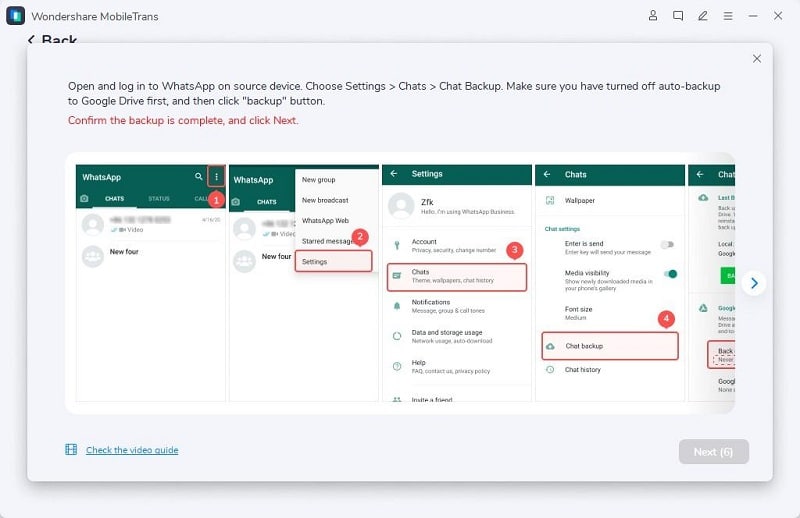 Attach your Android phone to your PC and navigate to your WhatsApp. Open its "Settings" and tap on "Chats." Then, select "Chat Backup" and turn off auto-backup to Google Drive. You can also follow the tool's on-screen instructions to alter your WhatsApp settings.
Step 3: Restore the Deleted WhatsApp Messages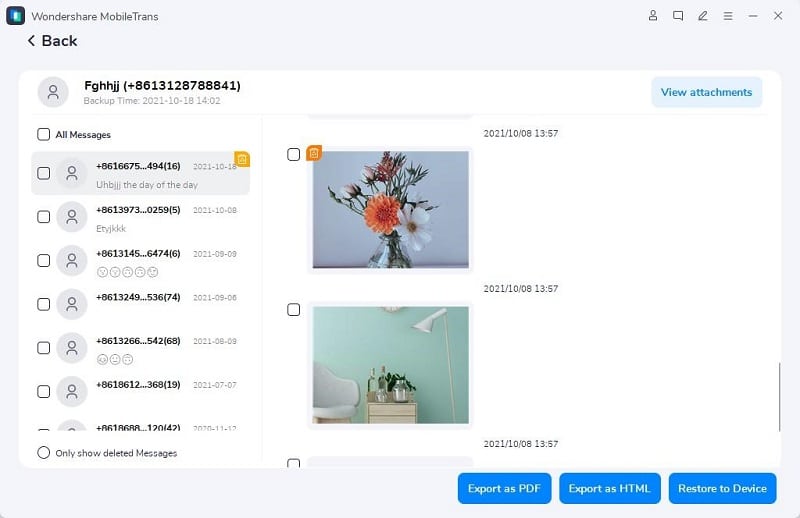 After changing the settings, uninstall and then reinstall your WhatsApp. Now, permit your WhatsApp to access media and other files. Enter your phone number and the required information. Now, WhatsApp will bring all the backup data from Google Drive. Hit the "Restore" button to recover all the deleted messages.
---
Part 4: Data Privacy and Security Considerations
Some people may get worried about the privacy issues related to WhatsApp data recovery tools. To highlight such concerns, you should read this section carefully.
1. Comprehending the Risks Involved in Data Recovery Process
A few recovery tools need to be integrated with advanced security measures. Some developers may use your private data to blackmail you afterward. Moreover, the servers of some recovery tools don't delete your restored WhatsApp data after 24 hours. Consequently, they can leak your confidential data to malicious websites.
2. Protecting the Personal WhatsApp Data During Recovery Procedure
To ensure the utmost privacy of your WhatsApp data during recovery, you should select a trustworthy tool. You can check the terms and policies of the recovery tool to understand its emphasis on data security. Moreover, you can see the users' reviews on their official web pages to analyze the authenticity. Hence, you should conduct thorough research before choosing a WhatsApp data recovery tool.
---
Conclusion
Deletion of WhatsApp messages is inevitable. Precautionary measures such as backing up WhatsApp data should be taken to avoid permanent loss. Professional recovery tools like Wondershare MobileTrans should be used to restore deleted WhatsApp chats.
Reading this guide taught you how to recover deleted WhatsApp messages through MobileTrans effortlessly.