Since the dawn of no. 1 streaming service Netflix, users have indulged in a lifestyle of binging. Not only that, but they also consistently come up with new ways to improve the Netflix experience. If you think about it, Netflix is also making changes to its interface, watchlist, features, etc.
In the past, we've seen Netflix's take on interactive visuals. We've also seen them slowly venture into the gaming world, with hopes of growing their wings. The features we share with you are not just of Netflix, but of enthusiastic users who developed useful tools to ease your streaming experience.
A feature like VPN comes to mind if you're looking to watch new shows. But in the process, selecting a VPN wisely for streaming Netflix is important. Instead of the generic features, you're already aware of, we will share with you the best tips to improve your Netflix streaming experience. You might need to bookmark this or have a laptop for most of these features. Let's get started:
---
Checking the ratings
Netflix's recommendation system is more about marketing their picks rather than showing the hidden ones. You'd have to dig deep to find your favorite movie or show to watch. To those of you who want to cut down on this search time, try using Enhancer for Netflix.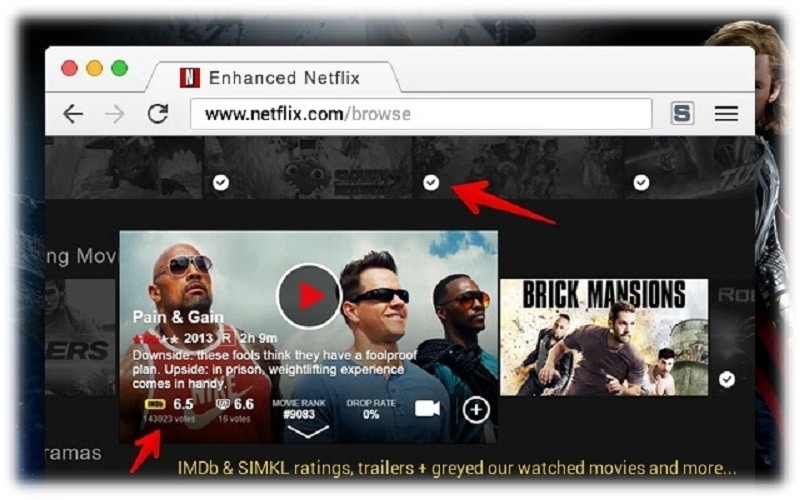 What it does is display 2 major scores to show the worth of the flick. Those 2 are Rotten Tomatoes and IMDb. Through this extension, you can instantly check the score, trailers, and ratings and can decide on what to watch.
For this extension to work, you would require a Simkl.com account. It is not just confined to Netflix, as it also works for Hulu, Crunchyroll, etc.
---
Filter based on codes
Another improvement to Netflix's recommendation system can be done through secret codes. They're not a secret anymore but their use is not widely endorsed. All you have to do is log in through the Netflix website, go to the search, and type the secret code.
Once you do so, you will find genres and different subgenres featured based on the secret code. There is a full list of the codes for various genres available online but some that we can list down are:
Adventure (7442)
Classic Action and Adventure (46576)
Comic book and superhero movies (10118)
Westerns (7700)
Just search the numbers and you'll find some great content within the genre and sub-genre.
---
Filter what you see
If you're hooked by the power of Enhancer for Netflix, you are bound to be excited about this next tool. This tool Flix Plus by Lifehacker adds over 18 tweaks to your streaming experience. One feature allows your recommendation system to fade out already watched shows.
It also removes major spoilers from the description or picture to make sure the plot is not ruined. It even gives you keyboard shortcuts to use for a faster experience.
It even goes so far as to inform you of the features in your watchlist that will be leaving Netflix soon (How awesome is that!). When it comes to Netflix's unofficial partner-in-crime, Flix Plus is the chosen one.
---
Filter based on Netflix Roulette
As said earlier, scrolling and choosing a feature can be mind-numbing. Even if you use Enhancer to see the ratings and reviews, you're still stuck on making the choice. This feature removes the burden of selection of your shoulder through some good old-fashioned roulette.
It makes a completely random suggestion based on rating, director, cast, or genre. It only asks whether you want to watch a TV show or movie (that's easy, right?)
---
Watch together 
In a world where the pandemic completely separated us from parties and gatherings, Netflix needed to reunite. It may have helped us get entertained in our isolation, but it was this next tool that bought us closer together. The Netflix Party now Teleparty tool allows you to watch the same show with a person in a completely different location. There's no reason your 'Netflix and Chill' time can't happen online.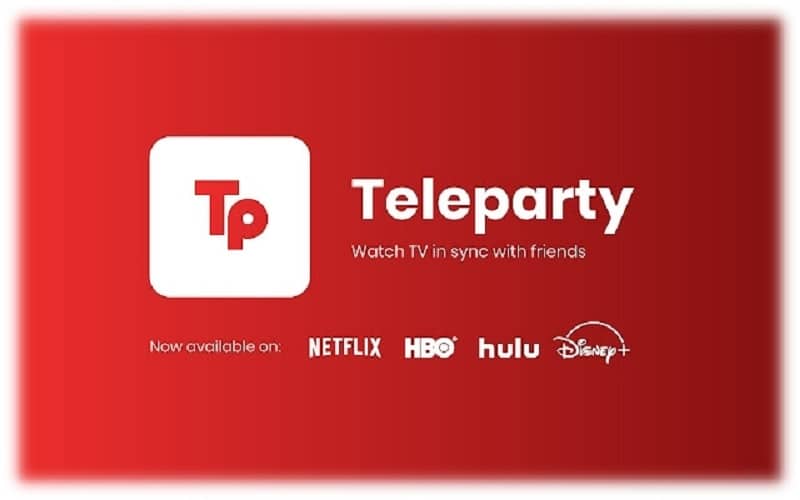 Just download the extension, pick a flick, and talk/chat with your friends all during the show. It'll be like a cinema experience without the usher shushing you.
---
Filter what's most recent
This next tool can get you in with the cool kids, provided the cool kids binge-watch recent releases. Most of our recommendations are of old makes that emerge as new on Netflix. But to make sure you don't miss out on new content and new release; the Instant Watcher tool is here.
It shows you movies and TV shows released in the past 24 hours and lists them for your ease. This list keeps updating and it also shows you ratings and reviews of the feature.
---
Conclusion
Some of these features hinder working since Netflix constantly brings updates to stop security threats and cyberattacks. This is why these tools also need to be stay updated.
There are also some useful tools like Findflix that shows you all the secret genre of Netflix in a tabular form. Instead of remembering secret codes, you can use this tool to get to your favorite flicks plus you can always use a VPN to change your location and unlock unlimited content.
Now you know the remarkable tips that accent your Netflix experience. So, what're you waiting for? Kick back this weekend with some improved Netflix streaming and enjoy!