For many people, transferring files over the internet is an expensive affair that limits their ability to do so. It doesn't work well for file sizes exceeding 500 MB in size, and it's often forbidden from use by employers. It's important to be able to transfer and store files on your computer, but with slow internet speeds, you can't do this without breaking the bank.
Sending large files like videos, projects, etc., at work or home to a friend or colleague might not be possible when using emails or cloud discs. To sort those issues, we have free online transfer tools that can assist in sending large files as listed.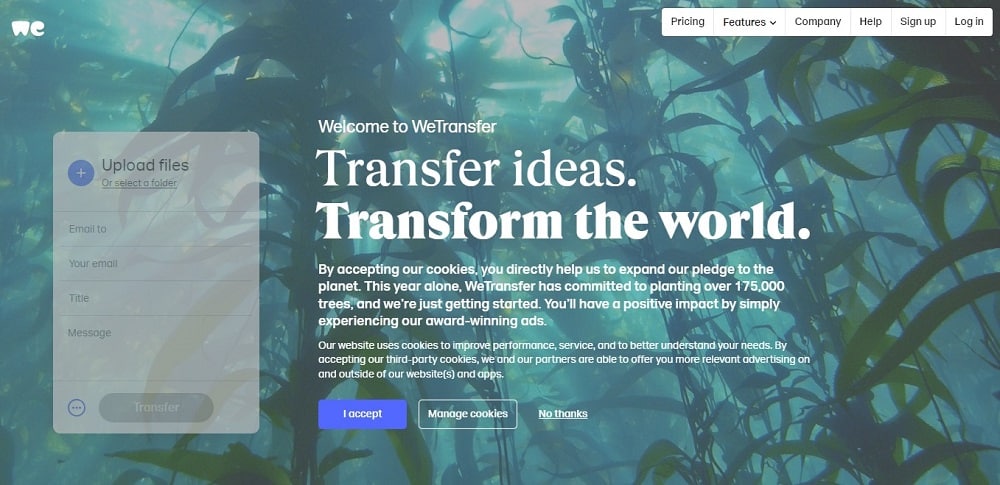 WeTransfer is a company that assists users worldwide to send big files at work or for fun in a simple way without worrying about the size of the file. It has spread to over 190 countries that are active monthly users. Sign up On their website, and you will receive their services.
Price:

Maximum file size:
For free users, the maximum size file they can send is 2GB, while for the pro users, 200 GB and premium users have no size limit.
Features:
Faster sharing of files.
Data security. Files shared are confidential; you can share with confidence.
Collaboration. Suitable for teams sharing all projects, files, and docs in one place for easy collaboration.
Branding. You can customize your files to be beautiful to make them stand out.
---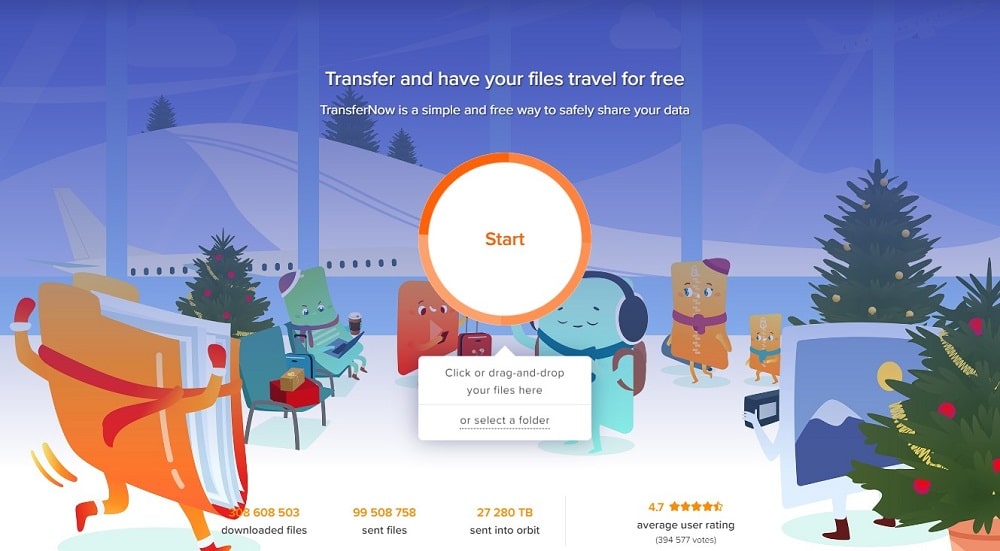 TransferNow is a platform where you can easily share and transfer your data safely and faster. You need to create an account with them and send big files via email or shared link for your recipient to access the file safely. It has various accounts varying from free to paid accounts.
Price: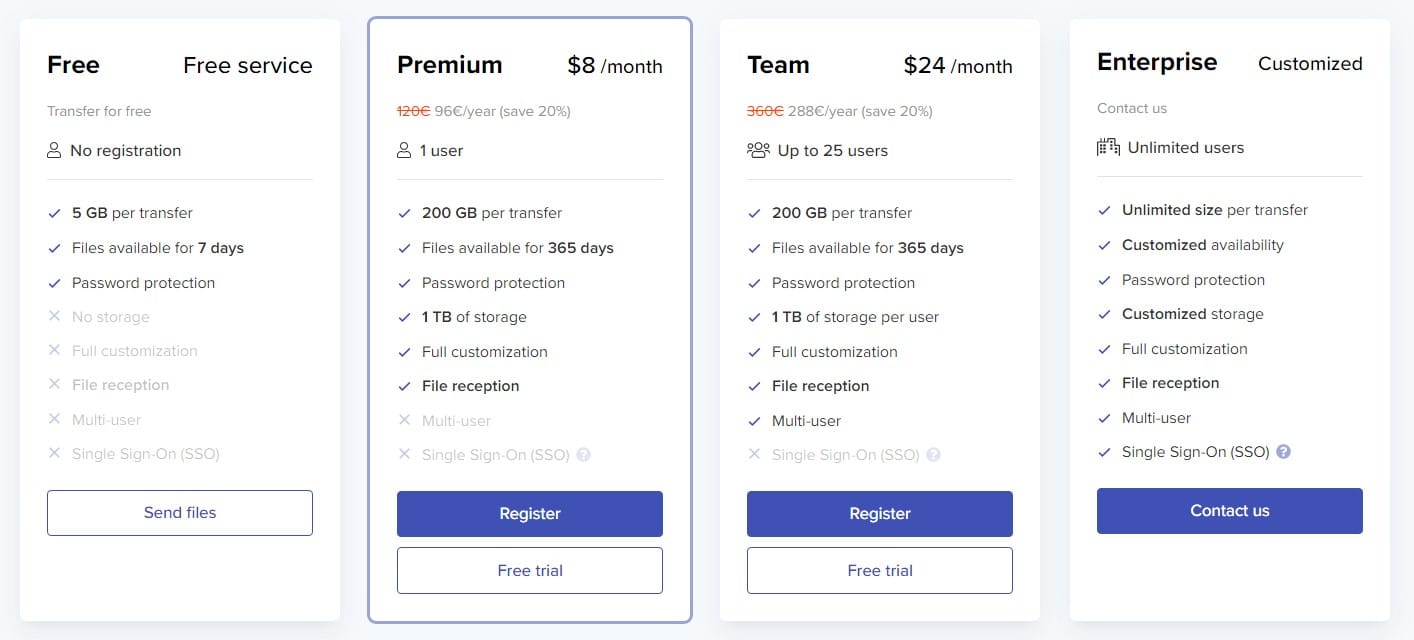 Maximum file size:
Free account users have a maximum file transfer of 5GB, premium users 200GB, team users 200GB, and Enterprise Customized have unlimited size.
Features:
The number of users. The accounts support a specified number of users per account.
Maximum storage and size transfer differs from each account you have subscribed to.
Follows up and tracks the sent data to the recipient depending on the type of account you are using.
---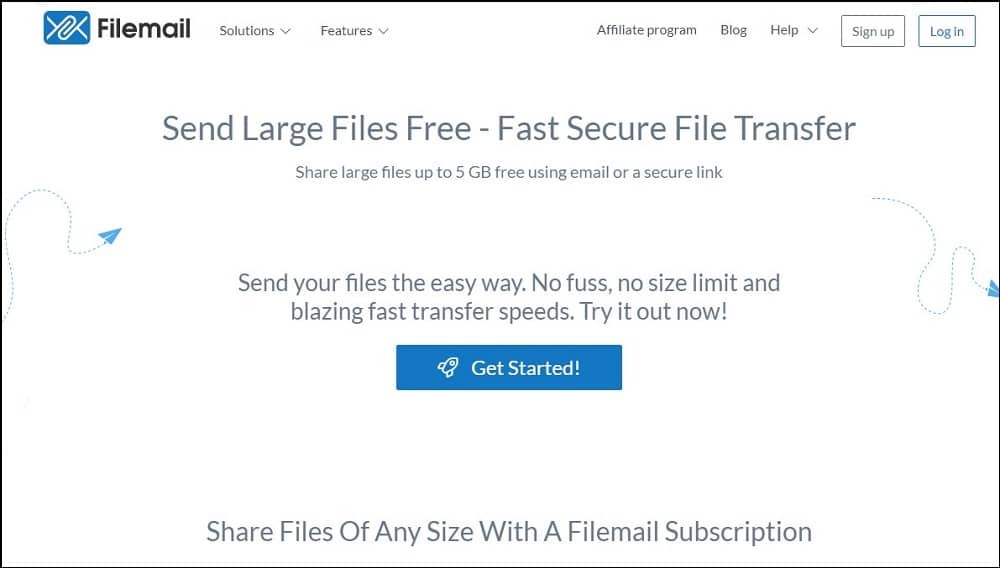 Filemail it's a fast and secure file transfer that can be accessed in web browsers or desktop and mobile applications that can send large files of up to 5 GB  for the free version and unlimited for a premium subscription. It has been proven secure, simple, faster, and reliable when sending data.
Price: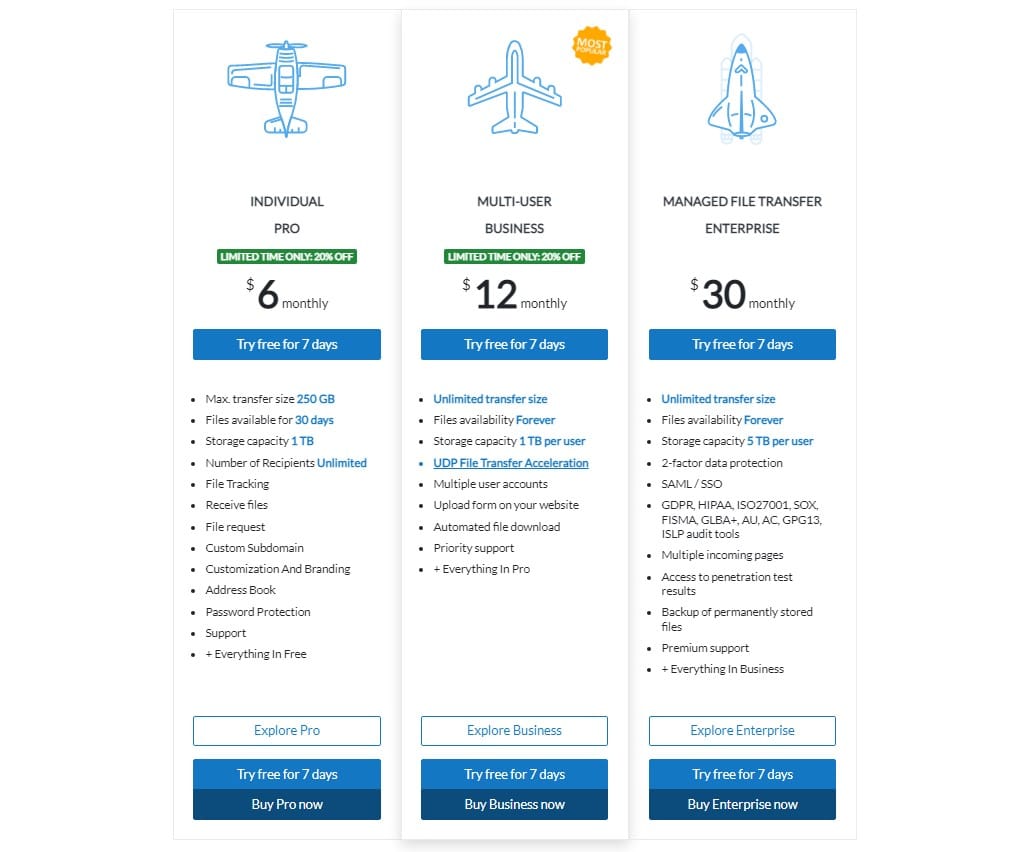 Maximum file size:
The maximum file transfer size ranges from your subscriptions level account; for a free account, 5GB is the maximum, while the top account (Managed file transfer enterprise) has an unlimited transfer size.
Features:
Security. Data transfer and storage are secured.
Sharing. Files can be uploaded, link sharing, UDP transfer Acceleration, and many more features.
MFT features. File-sharing services are HIPAA compliant.
---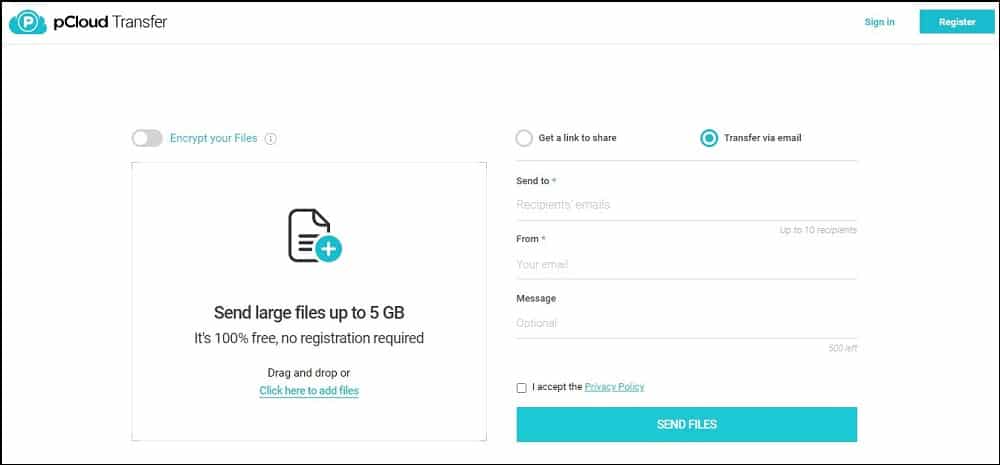 pCloud transfer is a free online file transfer site where registration is not required, and you can send large files. Drag and drop your file to prepare to send the file using the methods of sharing provided.
Price: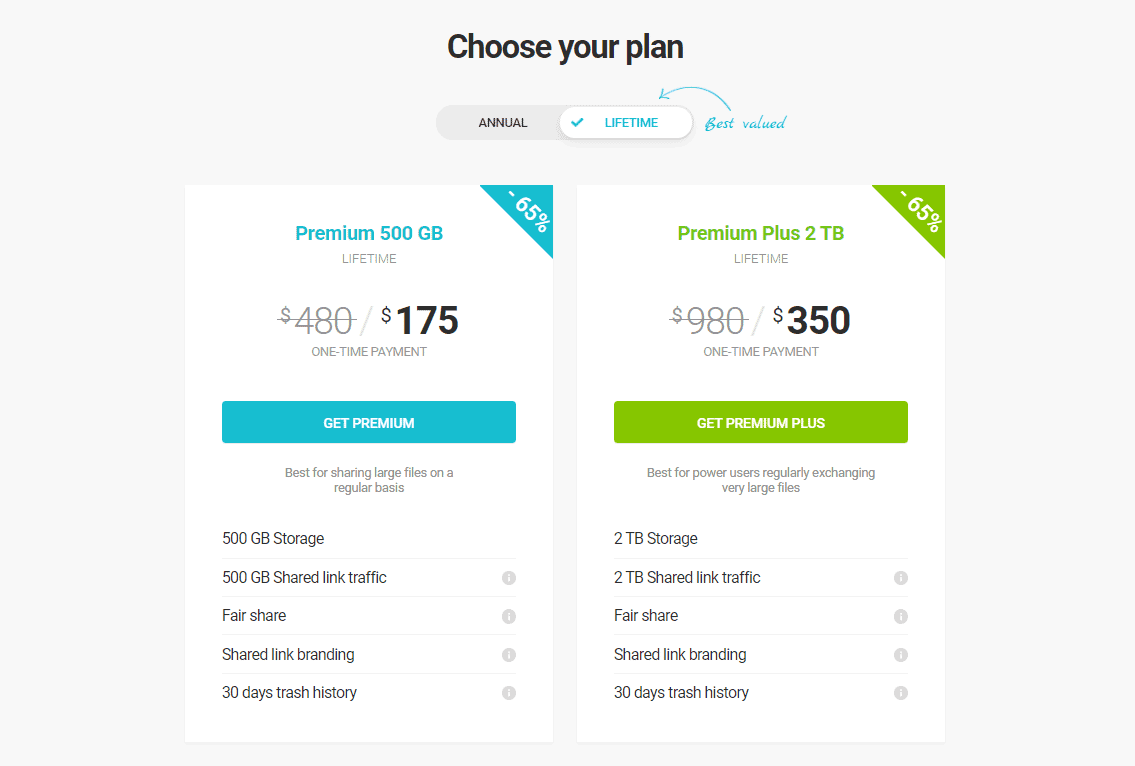 Free.
Maximum file size:
pCloud supports a maximum transfer data size of up to 5 GB in each transfer of files.
Features:
Sharing. The application provides two sharing methods using a link to share and transfer via email.
Security. It secures your data by providing an optional encrypting feature for your file data when sharing it with other recipients.
---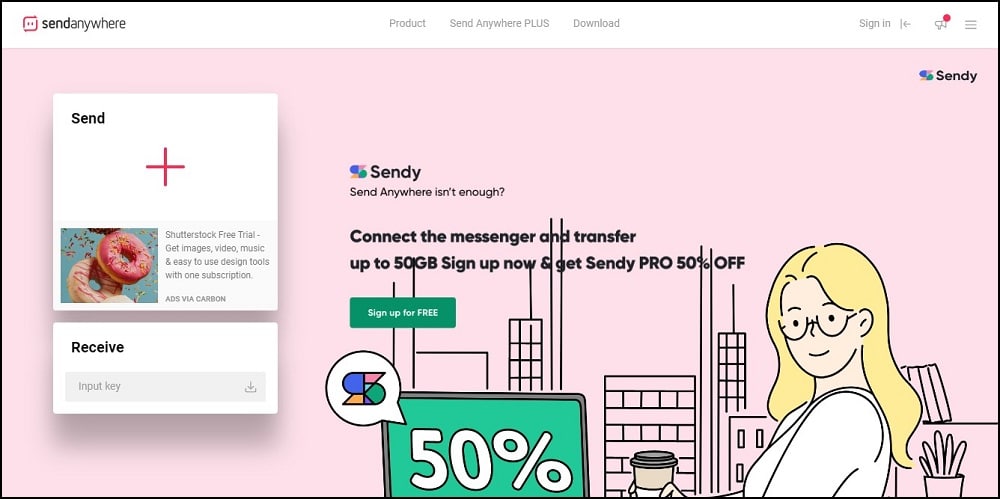 Send Anywhere is an online, effortless file-sharing application that can transfer files quickly in an unlimited file transfer approach. If you want to send quality content quickly to anyone worldwide, use this application to send it. It offers unlimited sharing and storage, but its speed will be low and usability not good enough.
Price: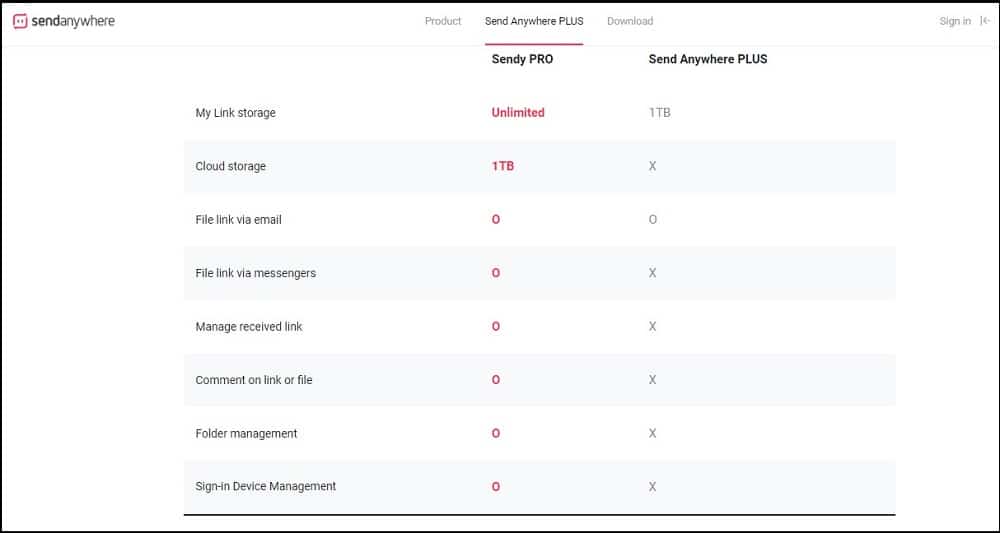 Maximum file size:
It supports a maximum file transfer of up to 50 GB.
Features:
Actual time file transfer. You are provided with six key digits for sharing files in real-time.
Share files with the link. If you cannot send it in real-time, a link can be used for sharing files with multiple people.
Device to device. Sharing of files can be done from one device to another quickly.
Large files can be attached during file transfer.
---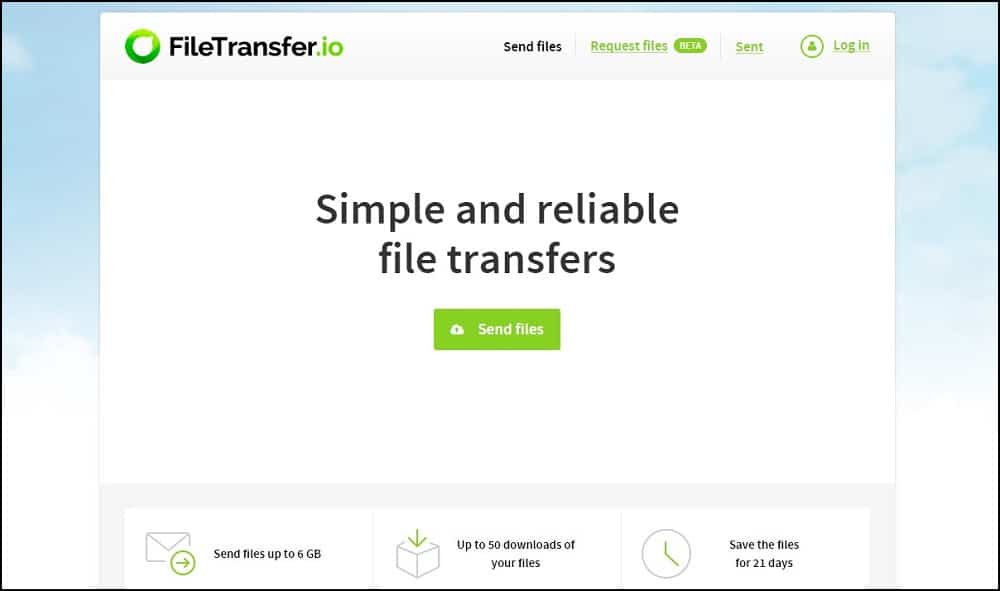 FileTransfer provides online services for sending and receiving data free of charge, depending on the maximum storage size required. If you have a bigger file size than needed, you can subscribe to a premium account which you are charged monthly.
Price: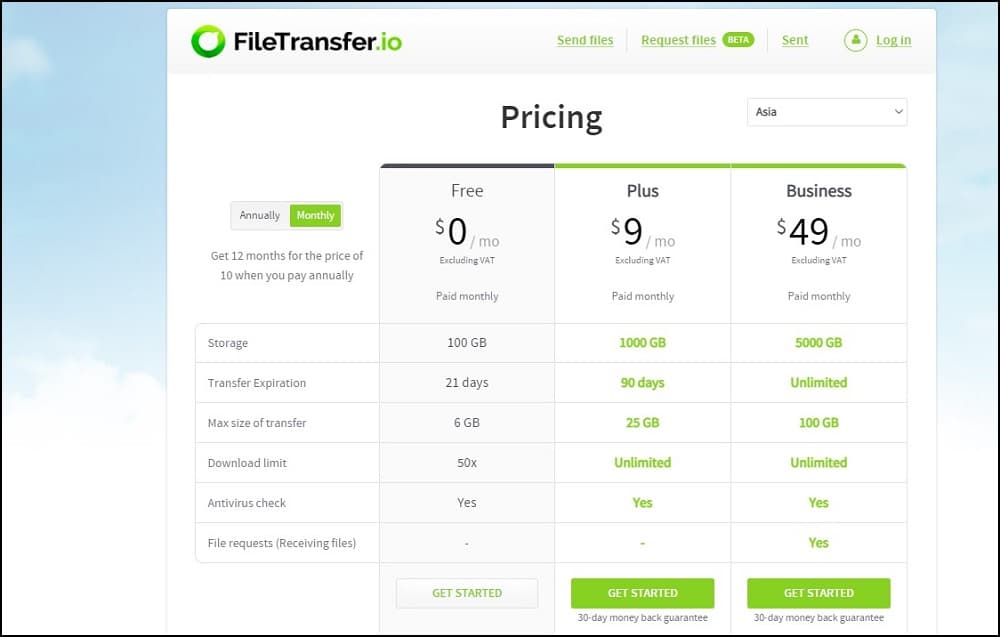 Maximum file size:
The application supports the transfer of files of up to 6GB for a free account, and premium account, you can send more than 6 GB.
Features:
Files are saved for 21 days after being sent to the recipient.
The download of files. It supports Up to 50 downloads of files.
---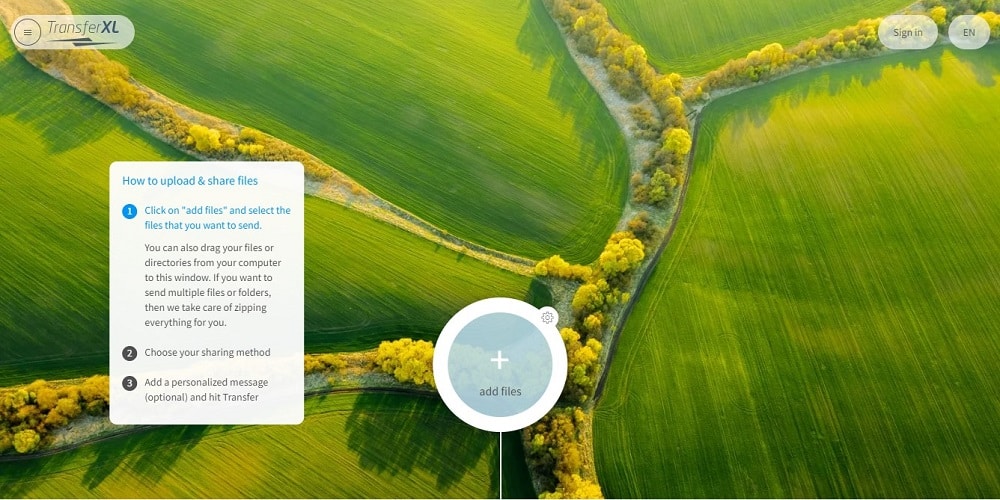 TransferXL is one of the popular free file transfer sites that transfer files in a secure and faster way. You can use this site for a perfect file transfer if you need to share confidential data.
Price: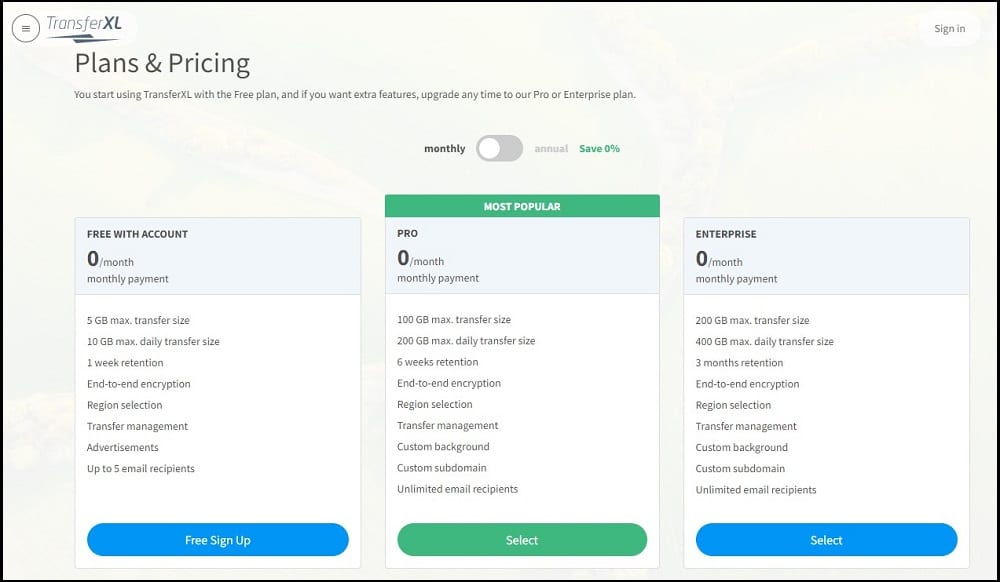 Maximum file size:
File transfer size for a free account is up to 5GB maximum, while the Enterprise account has a maximum of 200 GB transfer size.
Features:
Easy file transfer. Files are transferred easily by simply adding your files, entering your recipient, and sending.
Send files up to 200 GB. With this size, you can send big files to friends and family with no problems.
Transfer history. It keeps all transfer files history you have made before; currently, there is no need to track your own files.
---
SendGB is a free site that offers to transfer files of up to 5GB with no registration to their account. Any user can securely upload large attachment files of not more than 5 GB via email or short links, so sharing is easy. If you want to upload large files of more than 5GB, you can subscribe to SendGB extra.
Price:
Free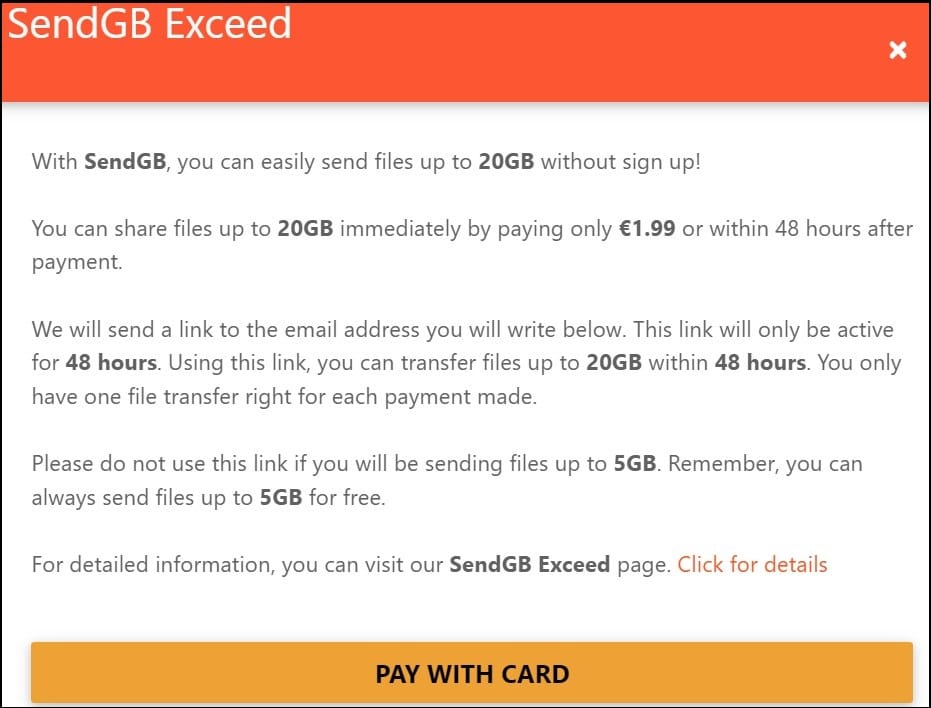 Maximum file size:
It supports the transfer of files per upload for up to 5 GB.
Features:
Encrypted files. You can send files to recipients with a secure password which will be used in downloading the files.
Compatibility with devices. The application is compatible with iOS, Android, and Windows devices.
High bandwidth servers and multiple threads help to transfer files at a fast rate.
---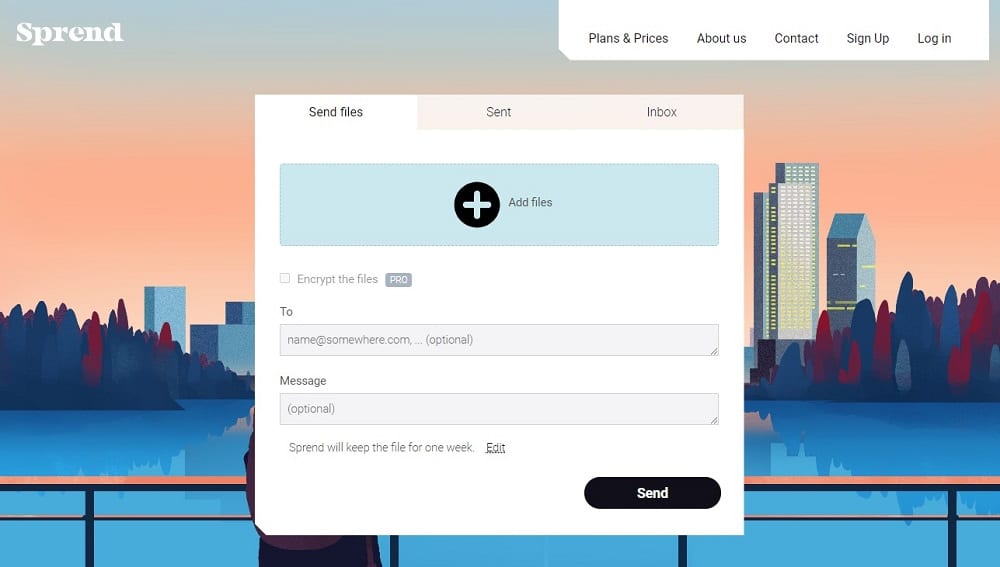 Sprend is a Swedish creation company that offers file transfer services. To send a file, you select 'sprend  a file .'It provides sending files and receiving files from free users. The transfer files can be stored for one week and are limited to ten monthly transfers for the free account. Only at this level, but if you need to send larger and receive files, you can subscribe to plans like Sprend Pro.
Price: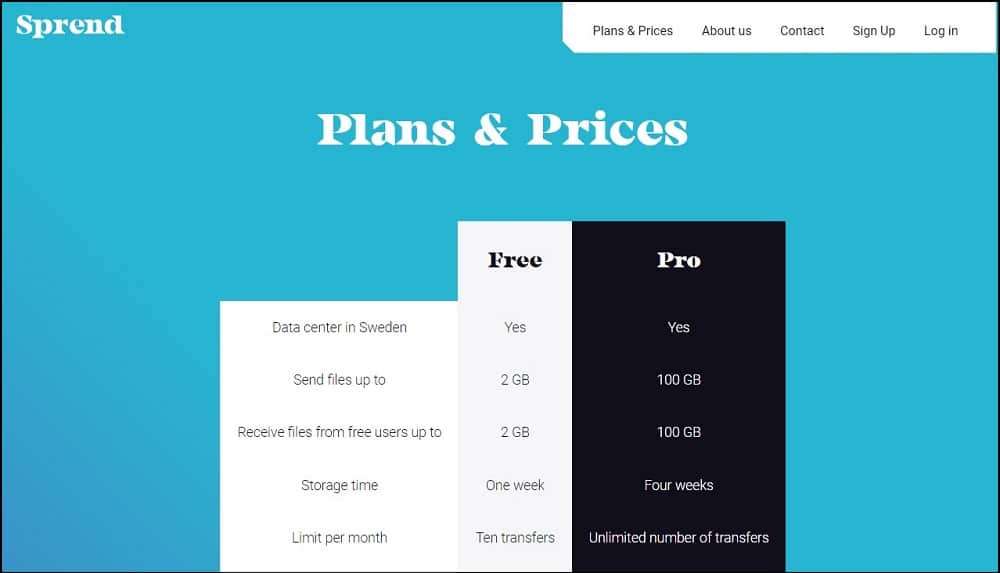 Maximum File Size:
Free account transfer files of up to 2GB, while pro accounts are 100 GB.
Features:
File storage. Sprend stores your files for one week, while the pro users go for four weeks.
Security. Files transferred in pro accounts are secured by encrypting the files.
Sent-files history is shown in the pro account only.
---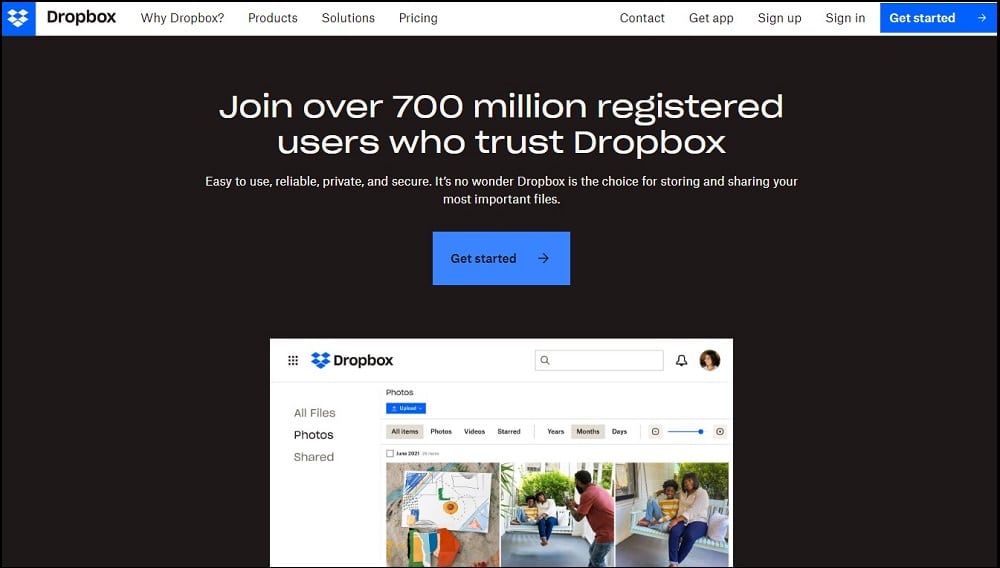 Dropbox is a popular online transfer application with over 700 million users. It has a basic free plan which is free to register and offers 2GB cloud storage for storage and file transfer, but if you want to send bigger files, there are other accounts with price subscriptions.
Price: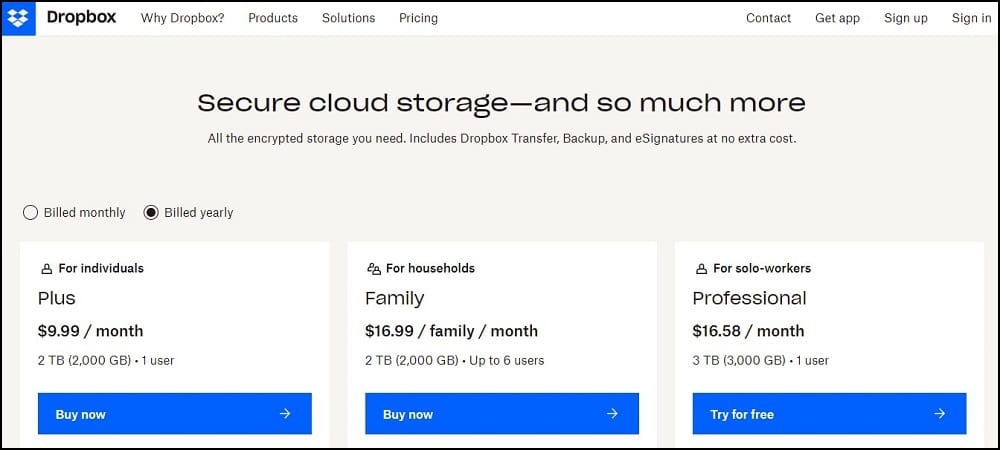 Maximum file size:
It offers cloud storage of  2GB maximum size for the free plan and paid plans that you can send up to 100GB per file.
Features:
Secure your files. Personal or business files transferred are secured using dropbox tools to keep safe the work shared.
File sharing is quick when sharing large folders or files with anyone.
Team management. It provides admin features where you can work as a team and offer data security in a team activity.
---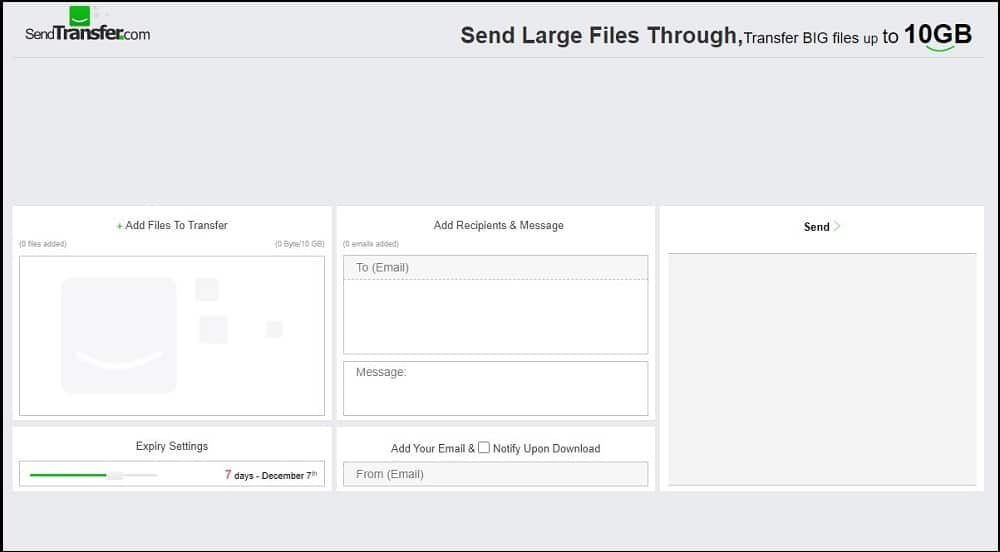 Sendtransfer is an online site that supports file transfer of large files of up to 10 GB; no registration is required. The site is user-friendly; you must add files, fill in the recipient's email address, provide yours, and finally send the file.
Price:
Free.
Maximum file size:
It supports sending a large file of up to 10GB.
Features:
Security. The data sent is secured and safe to reach the recipient.
Faster. Files are sent more quickly, and small files are shipped in a few seconds.
---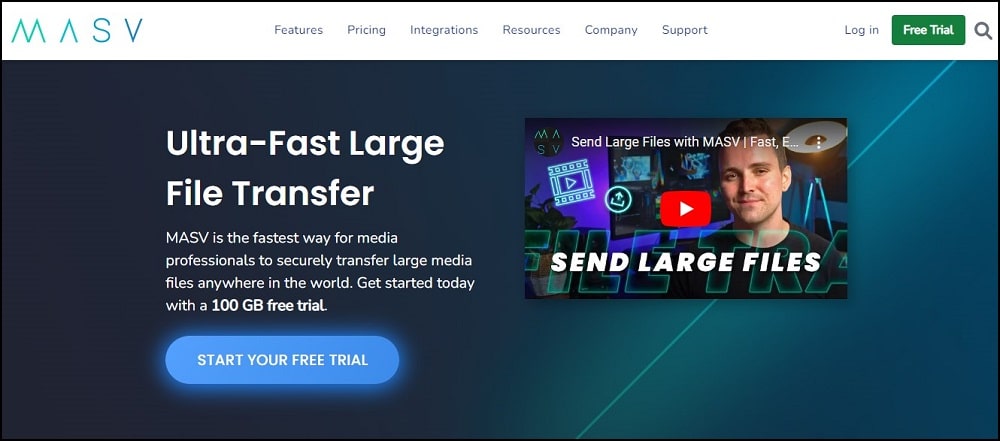 MASV is a file transfer application that sends large files quickly using MASV's accelerated file transfer solution. It offers different plans. You can sign up and get a free trial of 100GB size in seconds.
Price:
Maximum file size:
We have a pay-as-you-go plan that charge for a 1 GB transfer file, while the custom plan can support 10T and more data.
Features:
Send and receive large files.
Cloud storage. You can upload and store your files in the cloud and be secure.
Secure file transfer. MASV is TPN verified and ISO 27001 certified for file transfer services.
---
JUMBOmail is one of the best sites where you don't need to have an account to send and share extra large files of up to 250 GB easily and securely. Business guys who want to share and send transfers for unlimited sizes can make subscription plans.
Price: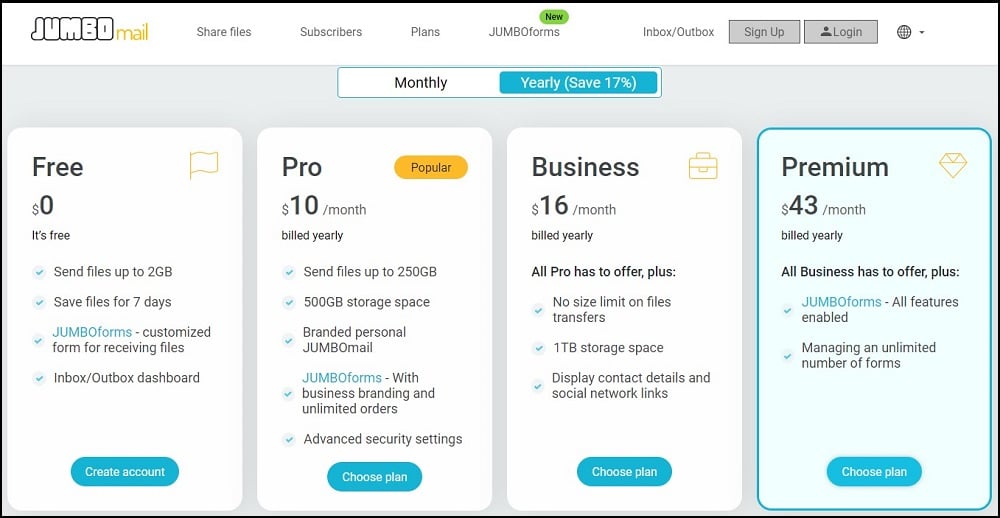 Maximum file size:
Send up file sizes ranging from 2GB(Beginner account) to 250 GB(Business account).
Features:
Big files Security. Sending your big files is well-secured and confidential.
Sending big files is easy, with up to 2GB for free and 20GB at once for subscribers.
User friendly. Its download page is user-friendly no need for a technical background to use it.
---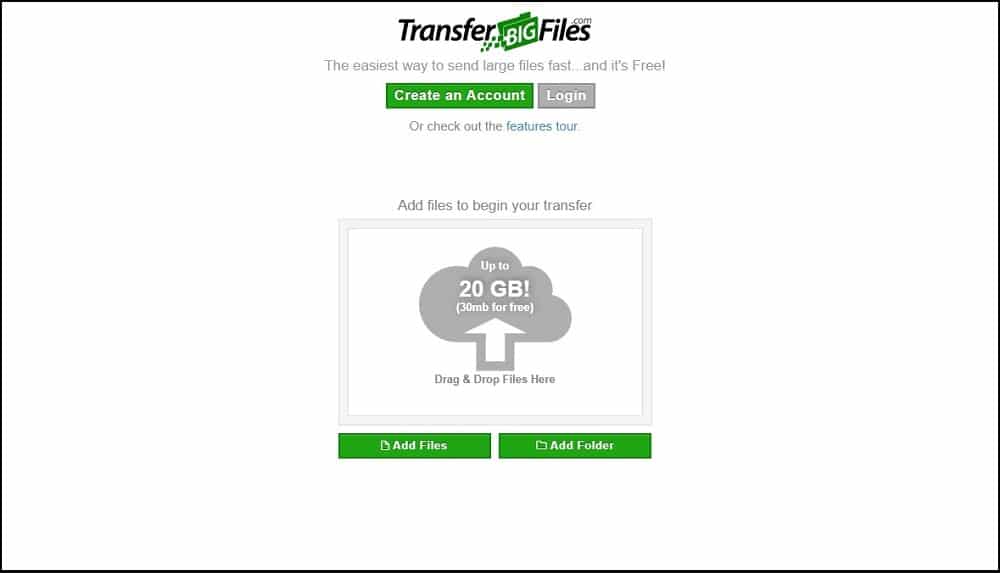 TransferBigfiles is the best choice for easy sending and receiving files. It has a simple interface where you can add files or folders of up to 20GB and send them.
Price: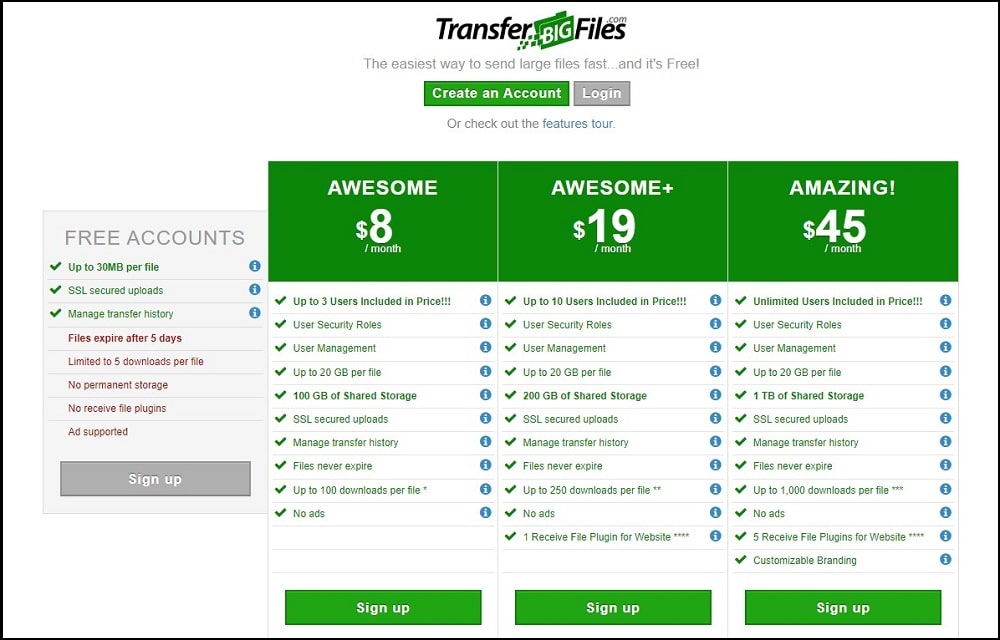 Maximum file transfer:
A free account supports 30MB, while a paid version supports 20GB per file transfer.
Features:
Send large files. It sends large files(maximum of 20GB) that email cant support it.
Custom Branding. The email template and download page can be customized to match the organization's image.
Upload widgets. The widgets assist in receiving files on your websites or blogs.
---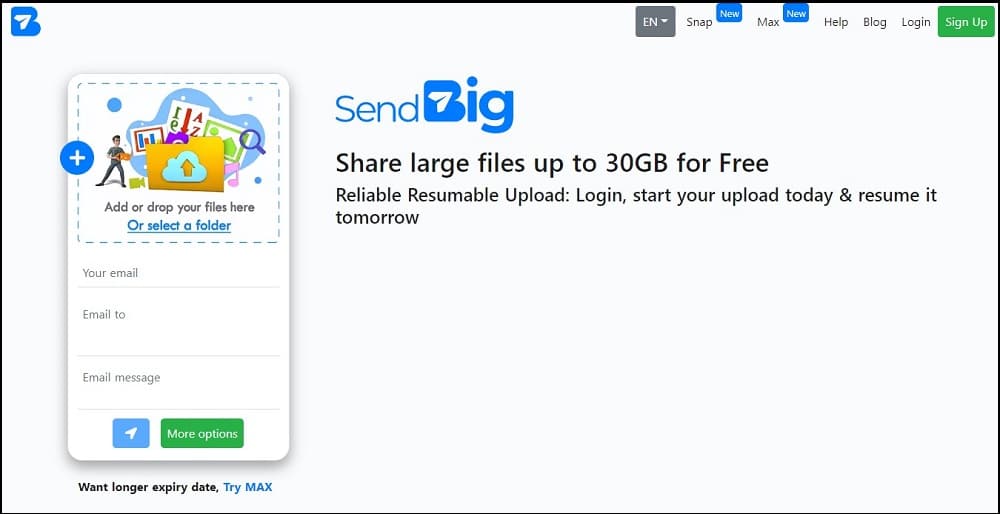 SendBig files is a better and more convenient file transfer application that can be reliable for sharing and sending large files. It uses the latest cloud technology and has a free and free pro version for transferring large files.
Price:
Free.
Maximum transfer file:
For standard version is 5GB available, and the free PRO version is 30GB.
Features:
End-to-end encryption. Files are protected by a password known to you.
Fast downloads of files and speed up of uploads.
Branding of email templates and download page with a banner.
---
Conclusion.
The free online file transfer tools discussed are helpful to individuals and organizations who share and send extensive data in day-to-day activities.
These apps have unique features that can secure your transmitted data, and transferring files is a high speed, saving a lot of time. Consider the above tools to ease your sharing process.