Discover iTop VPN, the best free VPN for Netflix, and unlock a world of limitless streaming. Enhance privacy & access global content with ease.
Have you ever experienced the "Not available in your region" issue when streaming your favorite show in Netflix? If you have faced this issue, you are not alone. Worry not, iTop VPN has got you covered.
With iTop VPN, say goodbye to the "Not available in your region" messages and say hello to a vast library of international movies, shows, and documentaries. In this article, we will discuss iTop VPN in detail.
---
What is iTop VPN?
iTop VPN caters to Windows users seeking unparalleled Netflix streaming. With top-notch encryption and a strict no-log policy, iTop VPN ensures your online activities remain private and secure. It offers thousands of servers all around the world to ensure Netflix content is available to everyone.
You can stream your favorite content with lightning-fast speeds and enhanced data protection through the split tunneling feature.
---
Why iTop VPN is the Ultimate Netflix Companion
Accessing the full range of Netflix content can be a challenge due to geographical restrictions. iTop VPN comes to the rescue with its extensive server network. It enables you to surpass these limitations and access a world of Netflix libraries from any location.
Enjoy diverse content and embrace a truly global Netflix streaming experience with iTop VPN by your side.
---
iTop VPN Features for Seamless Netflix Streaming
Now that you are well aware about iTop VPN, which is your companion for an ultimate Netflix streaming experience without any border restriction. iTop VPN offers remarkable features to enhance your Netflix streaming experience:
a. Global Server Network
With iTop VPN, you can watch Netflix shows from all around the world. Connect to servers in different countries and enjoy a wide range of international Netflix catalogs. No more annoying restrictions! Watch any show from any part of the world.
b. High-Grade Encryption & Privacy
iTop VPN uses strong encryption to protect your internet activities from prying eyes like ISPs, governments, and advertisers. Feel safe while streaming on Netflix, knowing your data is private and secure.
c. Lightning-Fast Speed
Don't let buffering ruin your Netflix fun. iTop VPN guarantees lightning-fast speeds. Enjoy your movie nights without any lags!
d. Split Tunneling for Data Protection
iTop VPN's split tunneling feature lets you use the VPN for Netflix while accessing other apps with your regular internet connection.
With iTop VPN, you'll have the best Netflix experience ever! Enjoy unlimited entertainment, security, and seamless streaming at the same time.
---
Step-by-Step Guide to Setting Up iTop VPN for Netflix
Ready to embark on a limitless Netflix journey with iTop VPN? Follow these three simple steps to get started:
Step 1: Download iTop VPN for Windows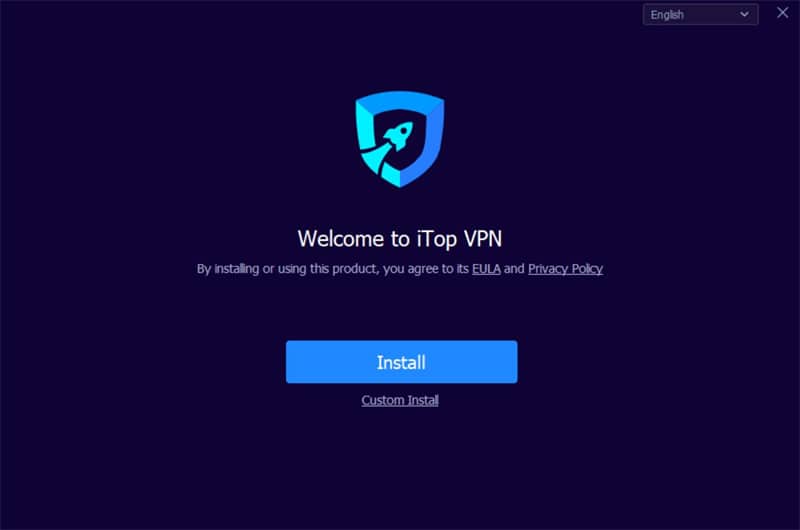 Head to the official iTop VPN website and download the application for your Windows PC.
Step 2: Install and Launch iTop VPN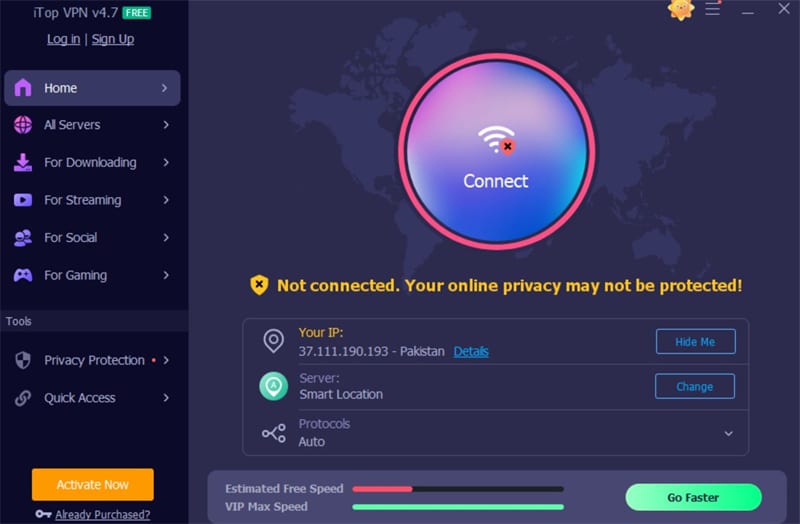 Once the download is complete, install iTop VPN on your Windows PC. After installation, launch the app to begin your Netflix streaming adventure.
Step 3: Connect to VPN and Unlock Netflix!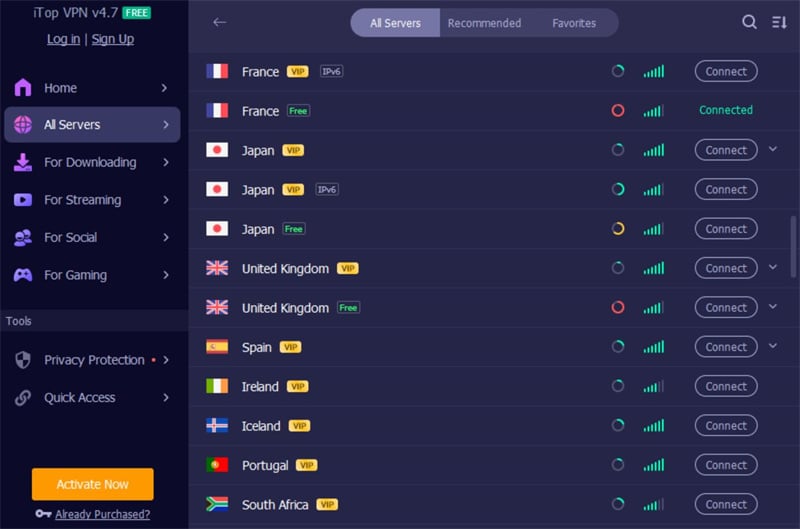 Now comes the exciting part! Connect to iTop VPN by choosing your preferred server location.
With just a simple click, you'll gain access to rich Netflix libraries from all around the world to enjoy your favorite show.
Take Advantage of the Free Version:
Here's the cherry on top – iTop VPN offers a free version! Yes, you that's right. Get started with the free plan and witness the magic of unrestricted Netflix streaming. Upgrade to premium for even more features, but don't miss out on the fantastic free version to elevate your Netflix experience!
Now, grab your popcorn, sink into your favorite spot, and let iTop VPN unlock a world of entertainment for you.
---
Expand Your Horizons: Accessing Global Content with iTop VPN
In addition to seamless Netflix streaming, iTop VPN can be used for many other purposes such as;
Access Blocked Websites and Social Media Platforms
Have you ever faced frustrating barriers while trying to visit certain websites or use social media? With iTop VPN, those barriers crumble away. Say goodbye to restrictions at school, work, or in your region.
iTop VPN provides you with a new IP address. In this way you actual IP address is hidden which allows you to access your favorite shows from anywhere. With iTop VPN, you can navigate the internet more freely and securely, bypassing restrictions and accessing content that may have been blocked in your location. Enjoy the benefits of anonymous and unrestricted browsing with iTop VPN at your service.
With iTop VPN, you can browse the internet more freely and securely, as it helps you bypass restrictions and access content that might otherwise be blocked in your location.
Improve Your Online Gaming Experience
For gaming enthusiasts, it can help reduce ping times and lags which can improve your gaming flow. With iTop VPN, you'll also gain access to geographically-restricted game servers, allowing you to play with friends from different parts of the world. Hence, iTop VPN ensures a seamless online gaming experience.
---
Conclusion
In conclusion, iTop VPN is a powerful and free VPN tool for Netflix users. With its dense network of servers all around the world, iTop VPN allows its user to stream their favorite Netflix shows without any interruption. Take the first step towards a safer and more connected digital world with iTop VPN today.