Looking for loan apps like Possible Finance? Explore convenient borrowing options with these user-friendly alternatives. Get quick access to funds and flexible repayment terms. In an era of rapid technological advancement, how we manage our finances is evolving astonishingly. Gone are the days when a trip to the local bank branch was the only means of handling our financial affairs. Today, a new generation of financial apps has emerged, offering many innovative solutions to cater to our diverse financial needs.
In this ever-connected world, where smartphones have become an extension of our hands, financial apps have revolutionized how we save, invest, budget, and access funds. These apps are redefining convenience and breaking down barriers, making financial services more accessible to a larger audience, including those who may have been underserved or excluded by traditional banking institutions.
One such category of financial apps is exemplified by services like Possible Finance, which addresses the pressing need for short-term financial assistance. Possible Finance, known for its commitment to providing small-dollar loans and financial guidance, has paved the way for similar apps aiming to empower individuals facing unexpected expenses or financial emergencies.
In this article, we embark on a journey through financial apps, exploring alternatives to Possible Finance and discovering the diverse range of financial services these apps offer. From quick cash advances to budgeting tools and savings solutions, we will delve into these apps' features, benefits, and considerations. Additionally, we will examine how they are reshaping the financial landscape and promoting financial well-being for users across the globe.
Join us as we step into the future of Finance, where the power to manage your financial life is just a tap away.
10 Apps like Possible Finance
Are you looking for financial assistance or alternatives to Possible Finance? This article explores ten innovative apps that offer similar financial services. These apps cater to various financial needs, from cash advances to budgeting tools, providing convenient solutions in an ever-evolving digital landscape.
---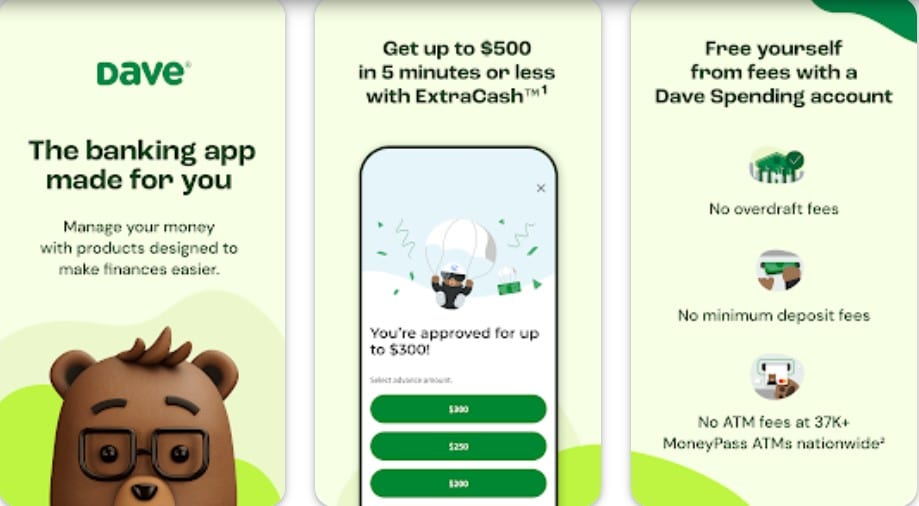 Discover Dave, your financial ally when you need it most. With Dave, you can instantly access up to $500 without interest, credit checks, or late fees. Dave's membership comes at just $1 per month, granting you access to a suite of account monitoring tools, notification services, and budgeting features while maintaining a secure connection to your external bank account.
Dave is here to help you navigate life's financial challenges and opportunities with simplicity, transparency, and a commitment to your financial well-being.
Key Features
Dave instantly lets you access up to $500, offering financial flexibility for everyday expenses or seizing unique opportunities.
Dave allows you to access your earnings up to two days early when you set up direct deposit into a Dave spending account, giving you greater control over your finances.
With your Dave Debit Mastercard, there is no need to wait or go through a lengthy process. You can spend your funds immediately, ensuring you always take advantage of a low balance.
Dave empowers you to save for your dreams, whether a vacation, emergency fund, student loans, or any other financial goal you are working towards.
Dave's Side Hustle feature makes it easy to discover and apply for side jobs that align with your lifestyle and skills.
---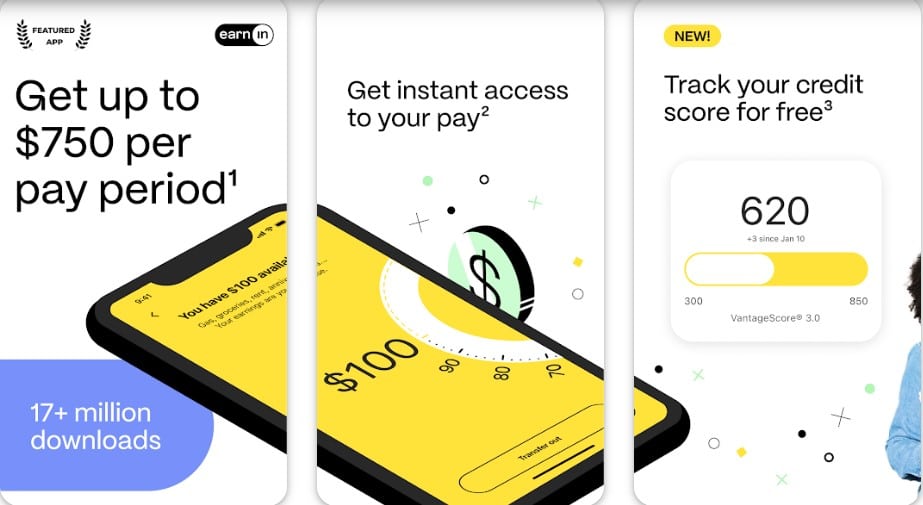 Welcome to EarnIn, the financial solution that empowers you to access your hard-earned money before payday, providing financial flexibility and peace of mind. EarnIn differs from your typical cash
advance or loan service; it is an intelligent way to make any day payday. EarnIn offers a simple and fair way to access your earnings, providing financial flexibility without the complexities and costs of traditional cash advances.
Key Features
EarnIn allows you to access up to $100 daily or up to $750 per paycheck from your already-earned income. This feature ensures you can cover unexpected expenses without interest or credit checks.
EarnIn is designed to be transparent and cost-free. There are no interest charges, credit checks, or surprises.
EarnIn works with major banks like Bank of America, TD Bank, Wells Fargo, Chase, and more to ensure your funds are quickly deposited into your account.
EarnIn helps you save money, manage your cash flow, and pay bills on time, making it a valuable financial tool for budget-conscious individuals.
You can receive notifications when your bank balance runs low, helping you avoid overdrafts and unexpected fees.
EarnIn's Live Chat team is always available 24/7 for questions or issues.
---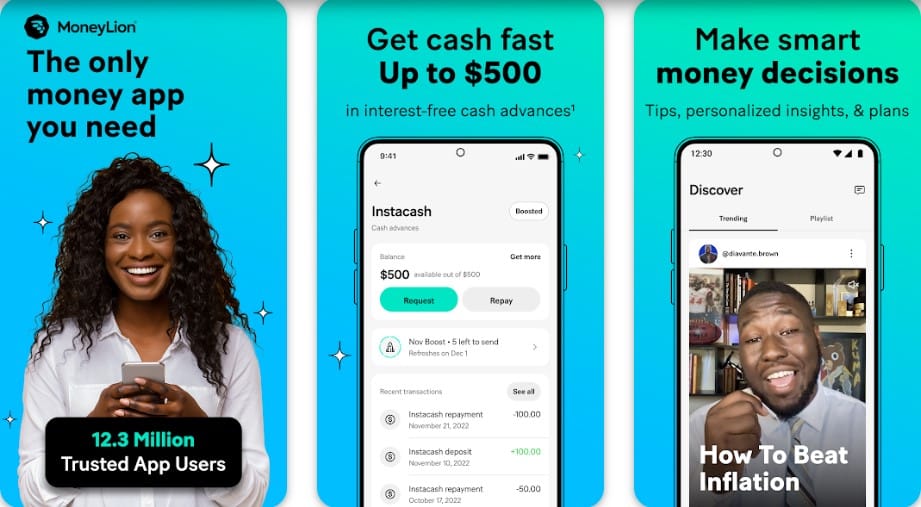 You are introducing MoneyLion, the comprehensive financial app that puts control of your finances right in your hands. MoneyLion offers powerful tools and resources, including mobile banking and personal finance assistance. With MoneyLion, you can access cash advances, compare personal loan offers, and even embark on your investment journey.
Key Features
Need some extra cash? MoneyLion allows you to get cash advances of up to $500, helping you cover unexpected expenses or seize opportunities.
Gain access to your earnings up to two days early with RoarMoney direct deposit, allowing you to control your finances more flexibly.
Access cash quickly with no fees at over 55,000 Allpoint ATMs, ensuring your money is always within reach.
Get quick cash advances in minutes, up to $500, with 0% APR and no credit checks or interest charges.
With recurring direct deposit into RoarMoney account, you can increase your Instacash limit to $1,000.
As a Credit Builder Plus member, for just $19.99 per month, you can access a Credit Builder loan of up to $1,000 and exclusive services to save, build credit history, and monitor your credit score.
---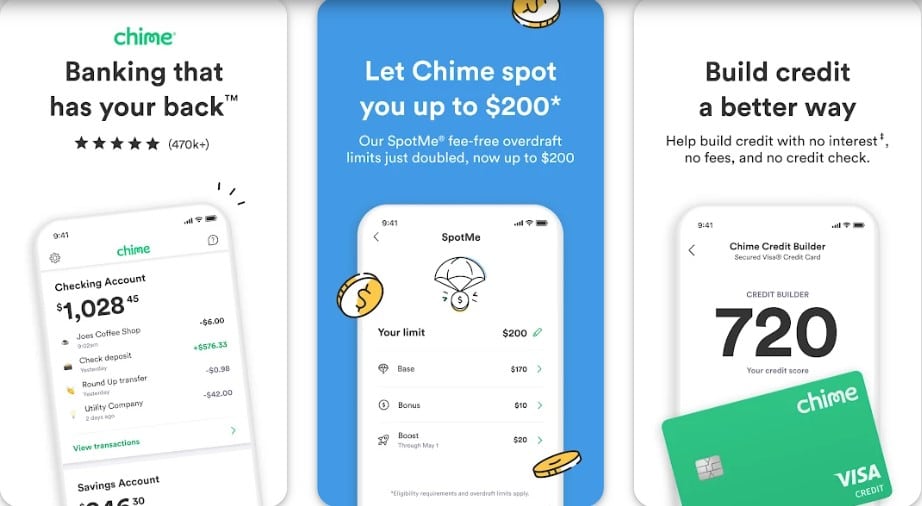 Meet Chime, the banking app designed to put your financial well-being first. With Chime, you are not just banking; you are securing your money with top-notch security features, enjoying fee-free overdrafts up to $200, and getting paid early with direct deposit. Best of all, Chime offers all these benefits without monthly fees, ensuring that your account works for you, not the other way around. Chime is trusted by millions of users who appreciate instant transactions and daily balance alerts. You can enhance your account security further with two-factor authentication and blocking your card with a single tap.
Key Features
Chime understands that overdraft fees can be a hassle. Qualified Chime members can overdraft up to $200 on debit card purchases and ATM withdrawals without incurring fees.
Your financial account should not be a source of expenses. Chime does not impose monthly maintenance fees, minimum balance fees, or foreign transaction fees.
Chime allows you to access over 60,000 fee-free ATMs at Walgreens, 7-Eleven, CVS, and more.
Get paid up to two days early with Chime's direct deposit feature, giving you quicker access to funds than some traditional banks.
Send money to friends, family, or roommates as quickly as sending a text, all with no transfer fees.
---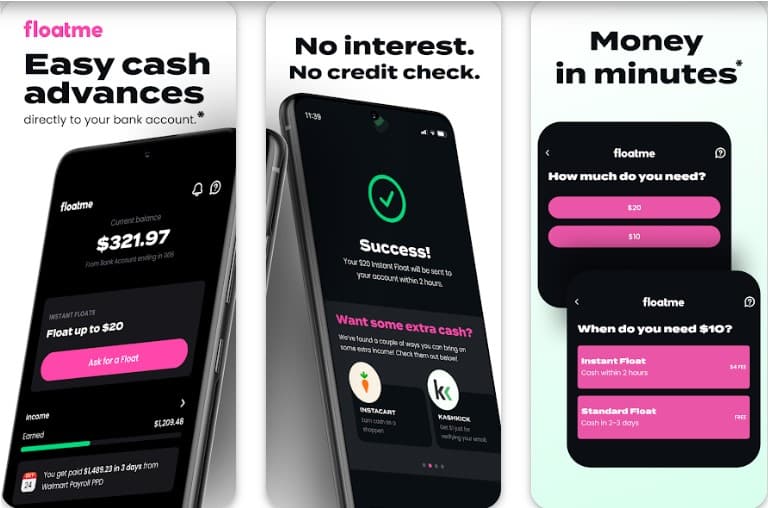 You are introducing FloatMe, your trusted financial companion, when you need extra cash between paydays. FloatMe is here to help with easy cash advances directly to your bank account, all for the low cost of just $1.99 monthly: no credit checks, interest charges, and no hassles.
Key Features
With FloatMe, you can request cash advances effortlessly. Once you are a member, you can request "Floats" at no additional cost. Funds are deposited into your bank account within three days.
FloatMe offers an Instant Float option that expedites your request for a small fee within minutes. Instant Floats fees vary: $10 Instant Floats have a $3.00 fee, $20 Instant Floats have a $4.00 fee, and $30+ Instant Floats have a $5 fee.
FloatMe provides low-balance alerts, helping you avoid costly overdraft fees.
FloatMe uses Plaid Portal, offering 256-bit bank-level security to connect your bank accounts securely.
Get to know your spending habits better with FloatMe's spending category insights. A handy chart provides a quick view of your transactions, allowing you to manage your money more effectively.
---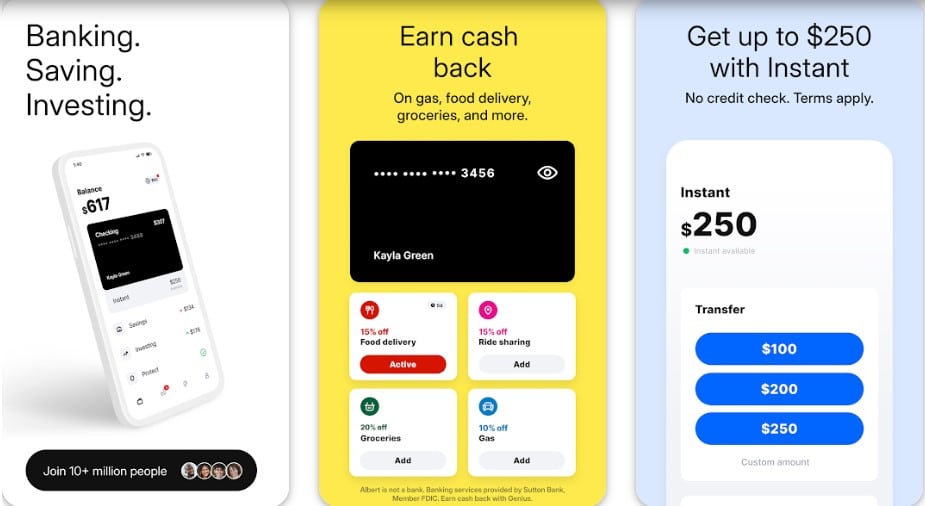 Experience the simplicity of banking, saving, investing, and budgeting all in one place with Albert. With a group of financial specialists, you can confidently manage your finances. Albert offers features like Instant overdraft protection, early direct deposit, cashback rewards, automated savings, and guided investing.
Key Features
Enjoy up to $250 in Instant overdraft protection for your Albert Cash account. It is fee-free and does not require a credit check. Transfer, ATM, or other applicable fees may apply.
Albert tracks your income and spending to identify opportunities for automatic savings. You can set aside money effortlessly; if you need it, you can withdraw it anytime.
Albert provides access to a team of real human experts ready to answer your financial questions and guide you through various aspects of your economic life, from budgeting to credit cards, student loans, and even homeownership.
Albert prioritizes the security of your sensitive information.
Albert Cash and Albert Savings accounts are FDIC-insured, providing coverage of up to $250,000 in case of a bank failure.
---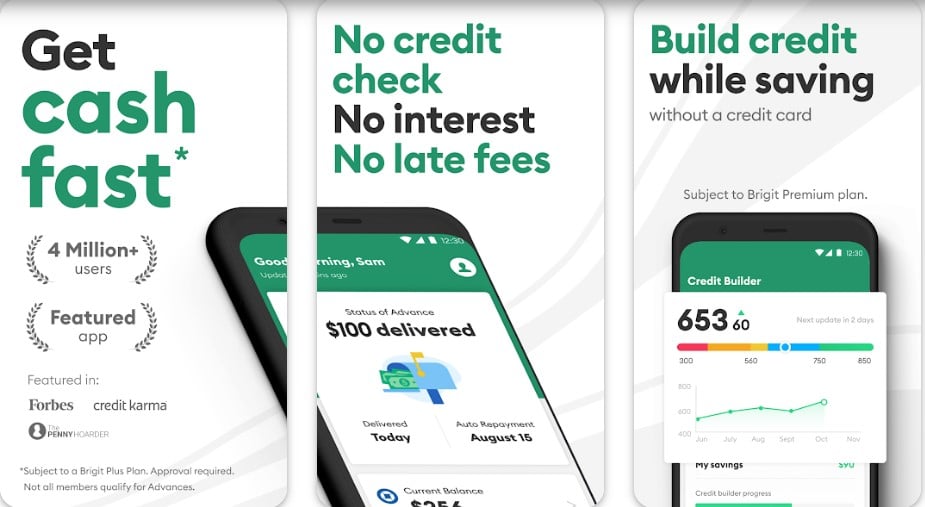 Join the over 4 million users who have taken control of their financial health with Brigit, the budget and financial health app designed to work for you. Brigit offers a range of features, including fast cash advances, credit building, budget insights, and money-saving tools, all in one convenient app.
Key Features
Access quick cash advances from $50 to $250 and enjoy hassle-free repayment options.
Brigit offers unlimited cash advances without late payment fees, tips, or mandatory repayment time frames. You can even opt for express (instant) transfers for a small fee.
Link your bank account to monitor your earnings and expenses, track your credit score, and stay on top of your bills.
Explore additional income options with Brigit, including surveys, partner offers, part-time, full-time, gig, and remote jobs.
Brigit offers free and paid plans, with monthly prices ranging from $9.99 to $14.99, providing cash advances, credit-building tools, budgeting assistance, and savings features.
Brigit is compatible with many banks, including Bank of America, Wells Fargo, TD Bank, Chase Bank, and many more.
Please note that some features are subject to a paid plan, and eligibility for certain features may vary. The impact on your credit score may also vary, and not all users' credit scores may improve, depending on various factors, including payment history and financial history.
---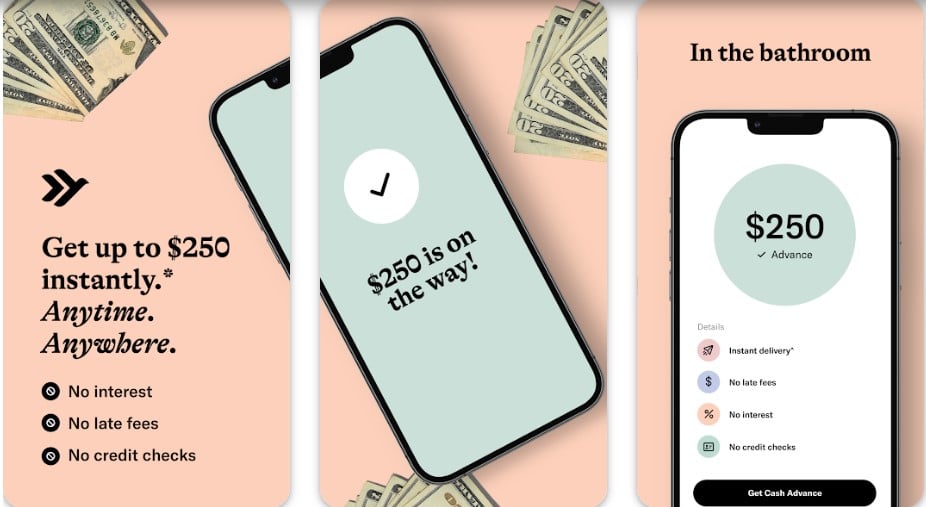 Empower is your financial solution when you require additional funds to cover your expenses until your next paycheck. With Empower, you can access instant cash advances of up to $250 without the hassle of overdraft fees or credit checks. It is a simple and flexible way to get the funds you need, and you can repay it on your terms. Empower applies an automatic monthly subscription fee of $8 after the 14-day free trial for first-time customers or immediately for returning customers.
Key Features
You can get up to $250 instantly; no interest charges, late fees, or credit checks are involved. Pay back the amount when you receive your next paycheck.
There is no minimum or maximum timeline for repaying the cash advance. You can choose when it is most convenient for you to repay.
Empower helps you save money for your bills by using AutoSave. You decide how much to save and when. When your bill is due, you can withdraw the funds from your AutoSave account to pay it on time.
With the Empower Card account, you can receive your pay up to two days earlier than most banks.
Empower has a dedicated support team to assist you via phone or live chat from Monday to Friday. If you prefer email, that option is available as well.
Empower offers up to 10% cashback on your purchases.
---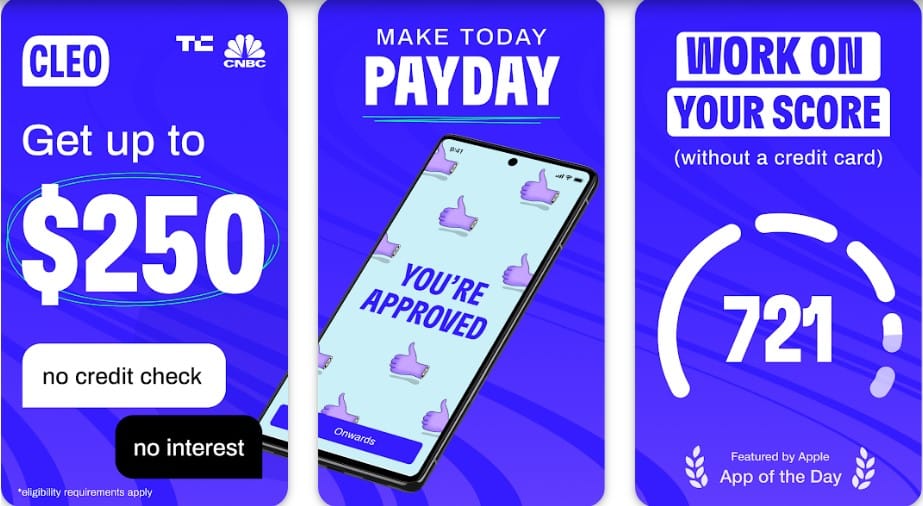 Cleo is your AI money coach, here to simplify your financial life and help you make the most of your money. With over 5 million users, Cleo offers a range of features to assist you with budgeting, saving, building credit, and providing cash advances when needed. It is like having a knowledgeable financial companion right at your fingertips.
Key Features
Cleo offers quick cash advances of up to $250 without charging interest, conducting credit checks, or imposing late fees.
Cleo provides various savings tools designed to help you save without stress. Features like auto-save, round-up, swear jar, and set & forget make saving effortless.
Cleo offers a Credit Builder Card, which helps you establish and improve your credit score. Benefits include a 0% APR, cashback on everyday spending, access to cash advances, credit score coaching, and a low $1 minimum deposit.
You can access your earnings before payday. Cleo allows you to set up direct deposits, giving you the option to unlock your paycheck up to two days early.
Cleo uses artificial intelligence to transform complex financial information into friendly chat conversations. You can ask Cleo questions about your finances, get insights, and learn more about your money without boredom.
---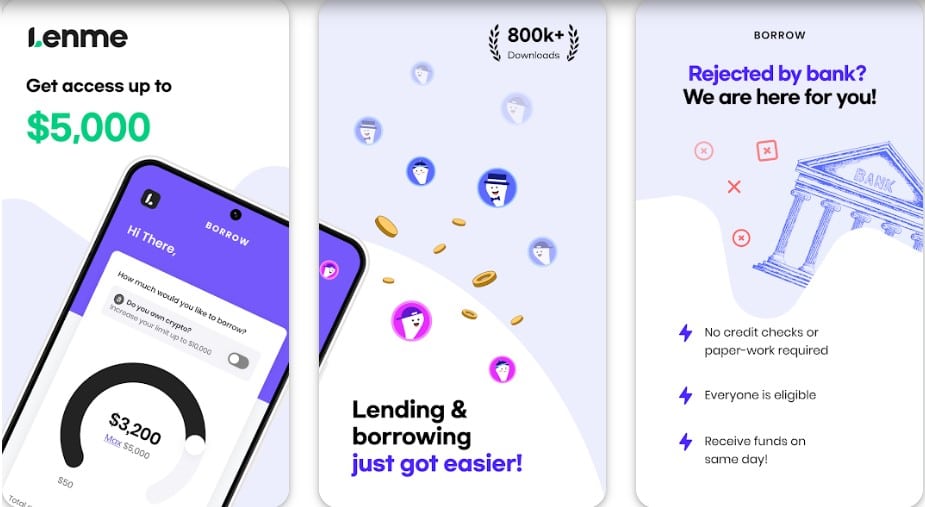 Lenme is a versatile financial app that serves as a bridge between borrowers and investors. Whether you need a loan or want to invest your funds, Lenme offers a platform that caters to both needs. Lenme offers a monthly or annual subscription through Google Play. These subscriptions will renew automatically unless canceled within 24 hours prior to the end of the subscription period.
Key Features
Borrowers can access loans quickly and easily through the app. The loan application process takes as little as 3 minutes.
As borrowers consistently repay their loans, Lenme allows them to increase their loan limit eligibility. You can potentially qualify for loans of up to $5,000.
Lenme's lending process relies on something other than traditional credit scores. This opens up borrowing opportunities for users without established credit histories.
Once approved, funds are quickly transferred to your bank account, sometimes on the same day.
---
Factors to Consider When Selecting a Loan App
Choosing the right loaning app, especially one like Possible Finance, requires careful consideration to ensure that it meets your financial needs and aligns with your preferences. Here are several important factors to consider when selecting a loan app:
1. Loan Terms and Conditions. Examine the loan terms, including the interest rate, repayment period, and associated fees. Check if the app offers flexible repayment options that suit your financial situation.
2. Loan Amounts. Determine the maximum and minimum loan amounts the app provides. Ensure they meet your borrowing requirements.
3. Credit Check. Consider whether the app performs a hard credit check. A soft credit check won't impact your credit score, but a hard inquiry might.
4. Fees. Review the app's fee structure, including origination fees, late payment fees, and other charges.
5. Loan Approval Time. Please find out how quickly the app approves and disburses its funds. Some apps offer instant approval and fast transfers.
6. Security and Privacy. Ensure the app employs robust security measures to protect your personal and financial information.
7. Reviews and Ratings. Read user reviews and app ratings to learn about the experiences of Other borrowers. Positive reviews often indicate reliability.
8. Customer Service. Verify if customer service is readily available and responsive. It is vital to have assistance if you encounter issues.
---
Conclusion
These apps offer quick access to funds, often with flexible repayment options. Users can easily apply for loans; some apps even cater to those with less-than-perfect credit scores. Additionally, many loan apps prioritize transparency, providing clear information about interest rates and fees.
When considering such apps, weighing your financial needs and circumstances is crucial. Look for an app that meets your borrowing requirements and offers reasonable loan terms. Ensure that the app complies with regulatory standards in your state and has a positive reputation among users. Reading reviews and ratings can provide insights into the experiences of other borrowers.
Ultimately, loan apps provide a convenient solution for accessing funds quickly, but responsible borrowing remains essential. Before using any loan app, carefully review the terms and conditions, understand the associated costs, and have a repayment plan to avoid potential financial pitfalls.