You can use bourbon apps to get whiskey ratings, add drinks to your wishlist, get personalized recommendations, join a community, share your favorite tastes with friends & family, or get drinks delivered to your home.
Bourbon apps are great if you love liquor, whiskey, wine, or spirits. Through the apps, you can get information on the latest drinks, get personalized recommendations about certain drinks, join communities of like-minded people, and even see ratings based on other user's tastes.
Additionally, you can order your favorite drink straight from home without having to go out. When browsing through the drinks, you can add them to your wishlist so that you can try them out some other time.
We have highlighted some of the best bourbon apps you will love using.
---
1. Abov Whiskey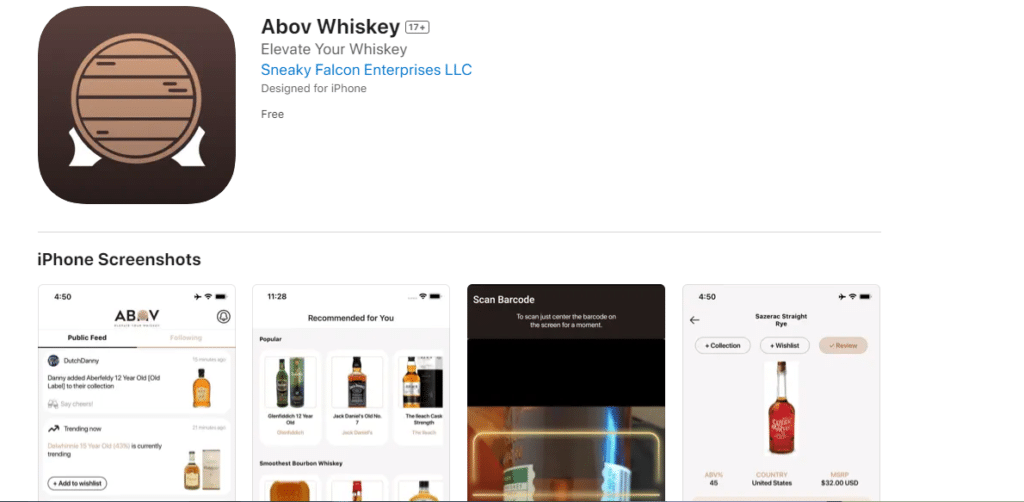 Abov Whisky is among the best bourbon apps in the world. It allows you to scan a whiskey bottle and see its reviews. You can also find out how it tastes so that you can decide whether to purchase it or not. If you like it, you can add it to your collection to purchase it.
It is one of the trusted apps that offers the most accurate information about certain whiskey flavors.  Additionally, it offers whiskey retailers near you, where you can purchase your favorite drink. Abov Whiskey has created one of the most detailed profiles for over 45,000 individual bottles.
Features
You can use it to track your personal whiskey collection
Rate, or review whiskeys you have taken and even see other people's recommendation
It allows you to have a wishlist of whiskeys you may want.
It has a barcode scanner to get more information about the various whiskeys.
You can follow other users to see their collections.
Click to Download Abov Whiskey:


---
2. Distiller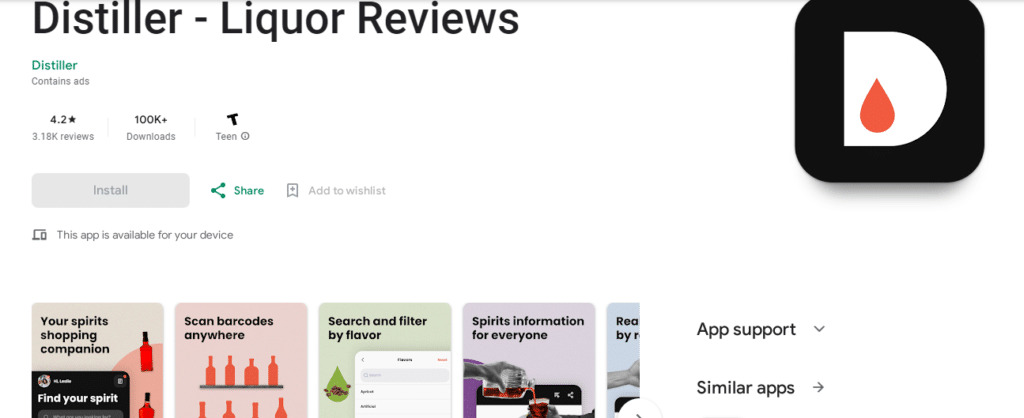 If you love knowing other people's views before you purchase a liquor, then the Distiller app is your perfect companion. It has some of the most accurate ratings and expert reviews of drinks. Just like other ideal apps, you can easily scan barcodes and get reviews of the drinks.
Additionally, you can search by flavor to find the perfect Whiskey for you. Also, if you have tried out various drinks, you are given a chance to write reviews. Therefore, share your taste to help others make a great decision when buying the next drink!
Features
It features reviews for Whiskey, bourbon, scotch, or other similar alcoholic drinks.
It provides recommendations on the drinks most preferred by people
You can create notes based on the drinks you have taken.
---
3. Cask And Still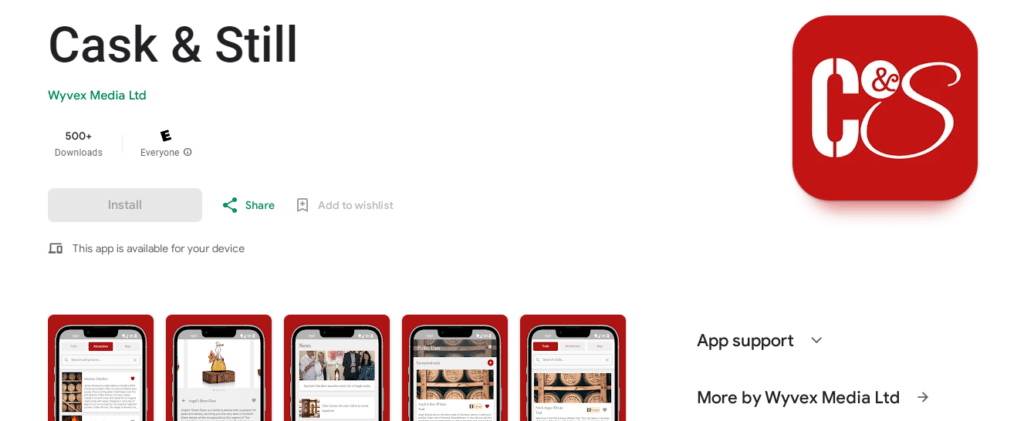 Cask and Still is another great bourbon app that you can use to get more insights on the best drinks to try out. It specializes in providing information on the best bars and the best drinks to take in any local area in Scotland.
You will have a wide knowledge base of the best Scottish whiskey & spirits around, top distillers, elite mixologists, and the best booze to try out.
Features
It provides useful information on the best Scottish drinks
Get recommendations based on people's personal experiences
Get a handful of tips on the app
Use the maps to get to a nearby joint to buy your drink.
Click to Download Cask And Still :


---
4. Whiskey Searcher App
With the Whiskey Searcher app, you can easily, find, compare and buy whiskey, brandy, and other types of spirits. You can purchase your favorite drink from the comfort of your device.
The app has over one million spirits, so you can't miss something amazing to take from the different merchants in the world. It even features a label recognition tool that you can use to scan any whiskey bottle to get more information about it.
Features
It provides information about whiskeys, their prices, origin, and reviews.
You can get access to some of the most trusted ratings based on many users.
It provides information about local stores near you where you can purchase the whiskeys.
It also provides information on new whiskeys and spirits in the market.
Click to Download Whiskey Searcher app :


---
5. Drizly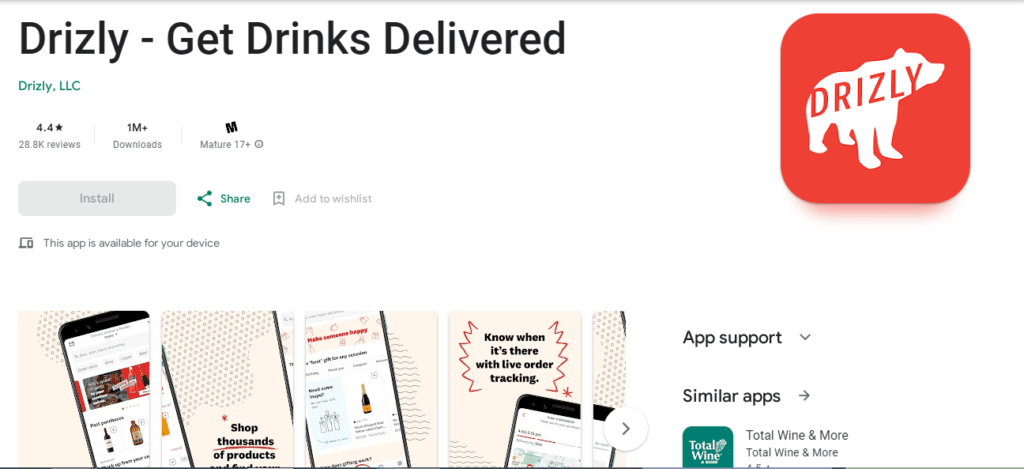 Another highly recommended bourbon app is Drizly. If you would like to get your drinks delivered straight to your house, then the Drizly app is perfect for you.  The platform features multiple liquor stores, so you can't miss one with your favorite beer, wine, or liquor.
The wide selection of drinks makes it a favorite among many. Not only can you buy the drinks you want, but you can browse through the database to find others you can add to your favorites list.
Features
Easily compare prices of the drinks in the local shops
Ask to deliver a drink as a gift to a friend or family
Easy price comparison of drinks
The payment system is easy and safe.
---
6. The Whiskey Companion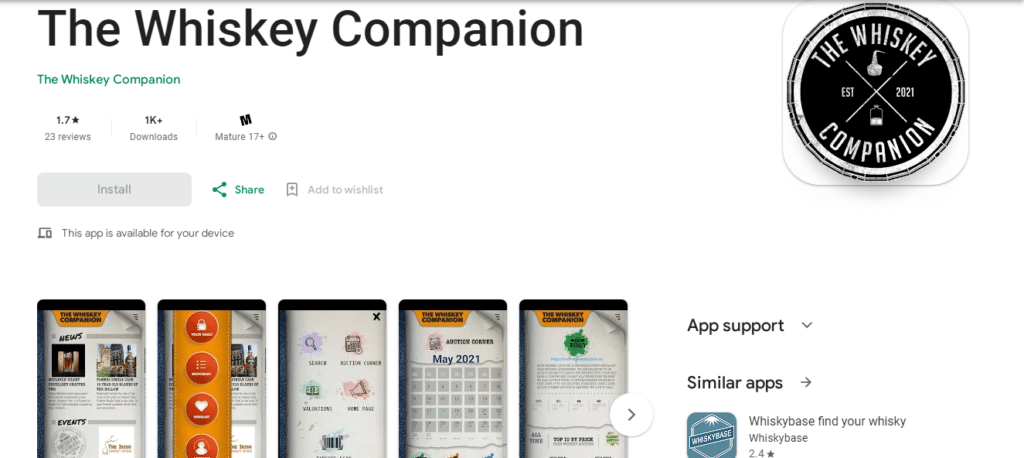 Whiskey Companion is a great app that you can use to meet all your whiskey needs. Regardless of your taste, you can't miss the perfect drink for you. From the homepage, you can get access to the latest whiskey news and upcoming events or important dates.
Additionally, it is possible to scan a barcode to get more information on the whiskey. Through the valuation feature, you can easily explore the price history of whiskey and even check the auction prices
Features
It is easy to search for your favorite whiskey and even get more information about it.
It features an easy-to-use calendar that features any upcoming auctions or deadlines.
The wishlist feature helps you keep track of the bottles you want to buy.
The watch list feature makes it easy to keep an eye on hard-to-find
Click to Download The Whiskey Companion :


---
7. Whizzky Whisky Scanner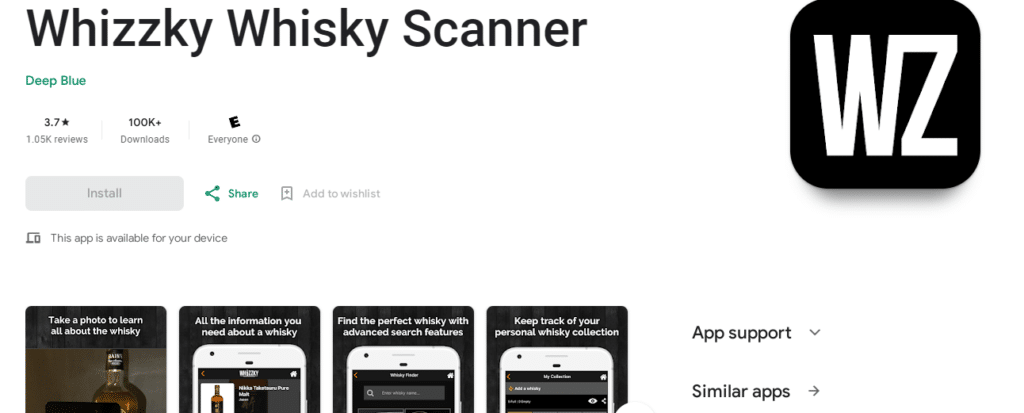 Whizzy Whisky Scanner is another bourbon app that you can use to get recommendations. Just like all other ideal apps, you can use your phone camera to scan whiskey bottle labels and get the information you need.
Additionally, you can save your favorite whiskey, rate them, and even share your ratings of whiskeys you have tried out.
Features
It allows users to create private or public notes.
You can even share information on social media through the app
Collectively share and rate whiskey with friends.
You can have a whiskey
Click to Download Whizzky Whisky Scanner :


---
8. Drammer Whisky App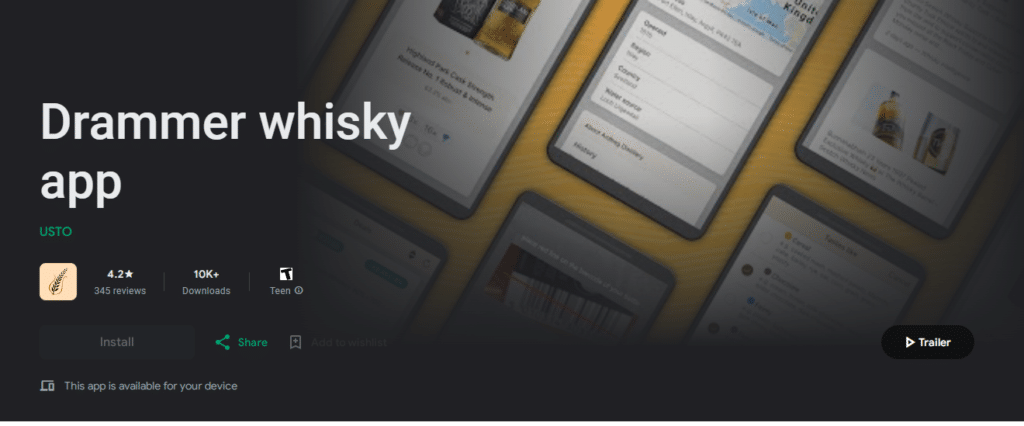 Another incredible bourbon app is the Drammer Whiskey app. Just like most recommended apps, you can use it to track and share your wishlist. If you feel like your taste in different types of drinks is great, then why not share it with others?
Additionally, while on the app, you can get the best deals, news, events, and even compare the various whiskey prices. How much better can it get?
Just like social media platforms, you can see your friend's whiskey experience on your timeline. It is not mandatory to create an account, but for a more personalized experience, an account would be great.
Features
It features a barcode scanner that you can use to scan drinks directly to get more information about them.
East to search for whiskey by their taste.
It is easy to manage & share your collection, wishlist, and reviews.
It is possible to get over 50 badges for your activities.
Whiskey prices are shown in different currencies.
Click to Download Drammer Whisky App:


---
9. Whiskey Journal – Flavordex

If you love tasting different types of drinks, Flavordex provides a way you can keep track of the information.  It is well-customized to be used on both phones and tablets.
It has different categories for beer, wine, whiskey, and coffee. Therefore, you have no excuse for not using the Bourbon app.
Features
It features a flavor chart that represents the flavor profile of different items.
Easily record details for later reference.
You can attach photos to your entries and sort them by title, date, or rating.
In as much as there are stipulated categories, you can also add your categories.
Easily export entries.
Click to Download Whiskey Journal – Flavordex : 

---
10. Irish Whiskey App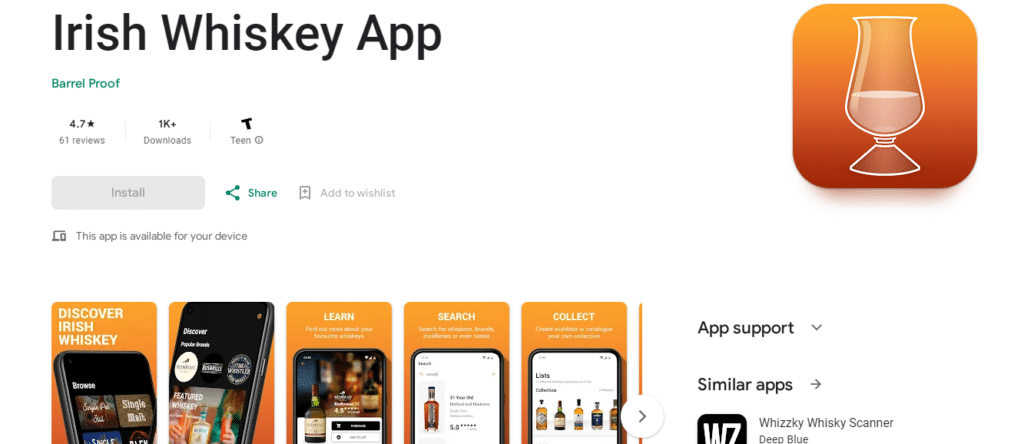 Through the Irish Whiskey app, you will be more informed on the best Ireland drinks. You will get to see experiences and stories of Irish whiskeys sold all over the world. Irish whiskeys are made in renowned distilleries and styles. You can't miss noticing it among the other types of drinks.
You will also get personalized recommendations based on what you like. Furthermore, you can also take part in the polls and see what others think.  You can also add your favorite whiskeys to your collection or wishlist.
Features
Through the app, you can read official tasting notes.
You can also add your tasting notes based on what you liked or disliked.
Get information on the history of your most loved whiskeys
It has a powerful search engine to make it easy to find what you are looking for.
Features a barcode scanner.
Click to Download Irish Whiskey App :


---
11. Whiskey Cast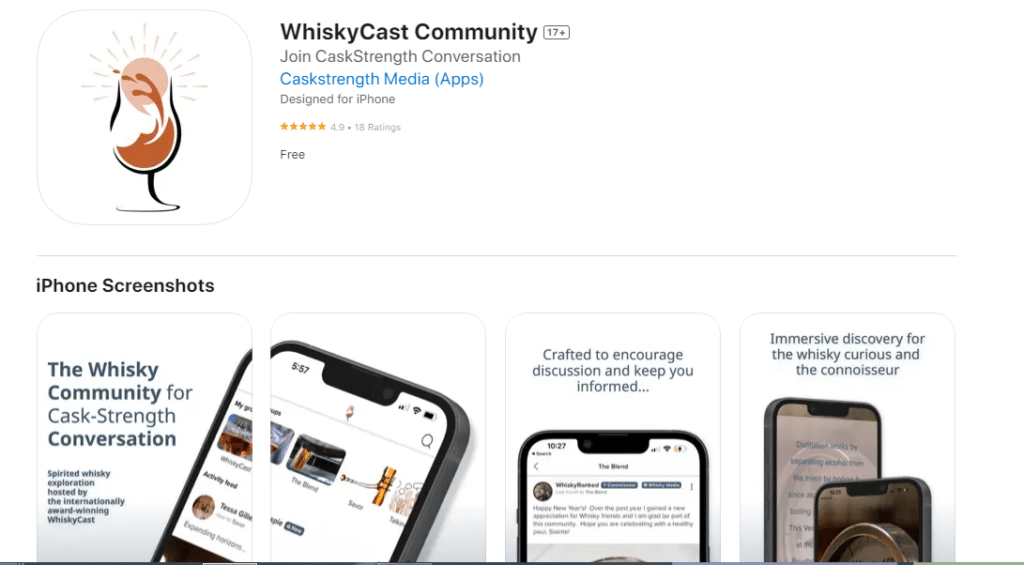 Have you always wanted to have a community where you could discuss your favorite drinks? Well, Whiskey Cast is here for you! Regardless of whether you love bourbon, Single Malt, Scotch, Irish Whiskey, Rye, or another cocktail, you can share your information in the app.
The app is specialized for such discussions, therefore you can't get any distractions like in other social media apps. It is the perfect app for whiskey enthusiasts.
Features
Get information on the latest whiskey news.
Sharing information will increase your knowledge of various drinks therefore you can try different things.
It also features a podcast and related videos.
It is well-trusted by many people.
Click to Download Whiskey Cast :

---
Experience Different Whiskey Tastes
These Bourbon apps will help you get out of your comfort zone. You won't just want to drink your normal liquor but also try other types based on the ratings and recommendations through the apps.
Most of the apps provide information on where you can get your preferred whiskey and even share with your friends what you like most. By adding to your collection, you can always know which drink to take next time.
You can also get access to personal recommendations based on what you have added to your collection. You will love all the different new tastes you will try.