Do you often trade cryptocurrency on Coinbase, and do you want to know how many users Coinbase has? This article provides you with some interesting statistics about Coinbase to up your knowledge about the platform.
According to the data collected by Coinbase since 2012, it has been one of the most popular bitcoin exchanges in the world. Within its first few years of operation, this platform attracted its first million users. Coinbase's popularity has skyrocketed since the epidemic's inception and shows no signs of abating. Coinbase now has over 98 million users and processes over 335 billion USD in quarterly trade activity.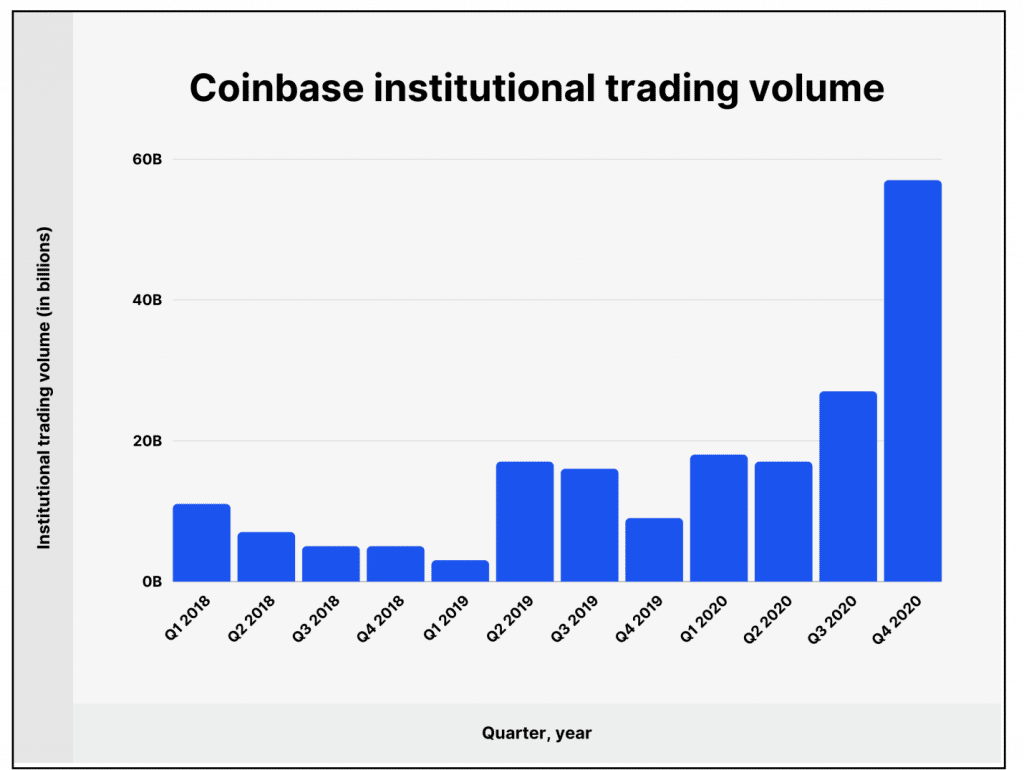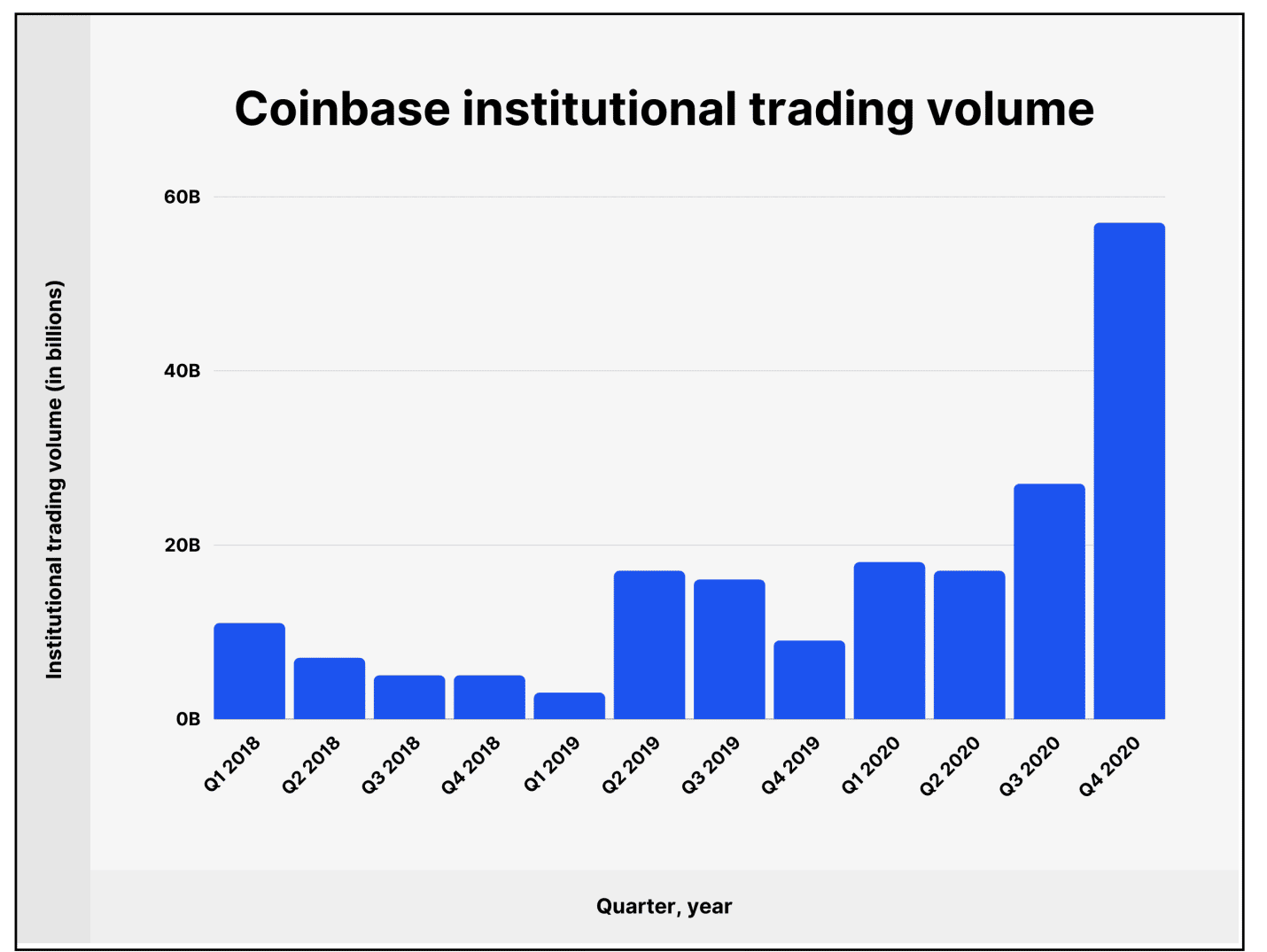 Revenue growth halted for only a few years, but the company has been on the upswing again in recent years. Coinbase is a major bitcoin trading platform. However, how does Coinbase make money? This statistics guide for Coinbase is where I'll address your question and many more like it.
---
1. How Many Users does Coinbase have?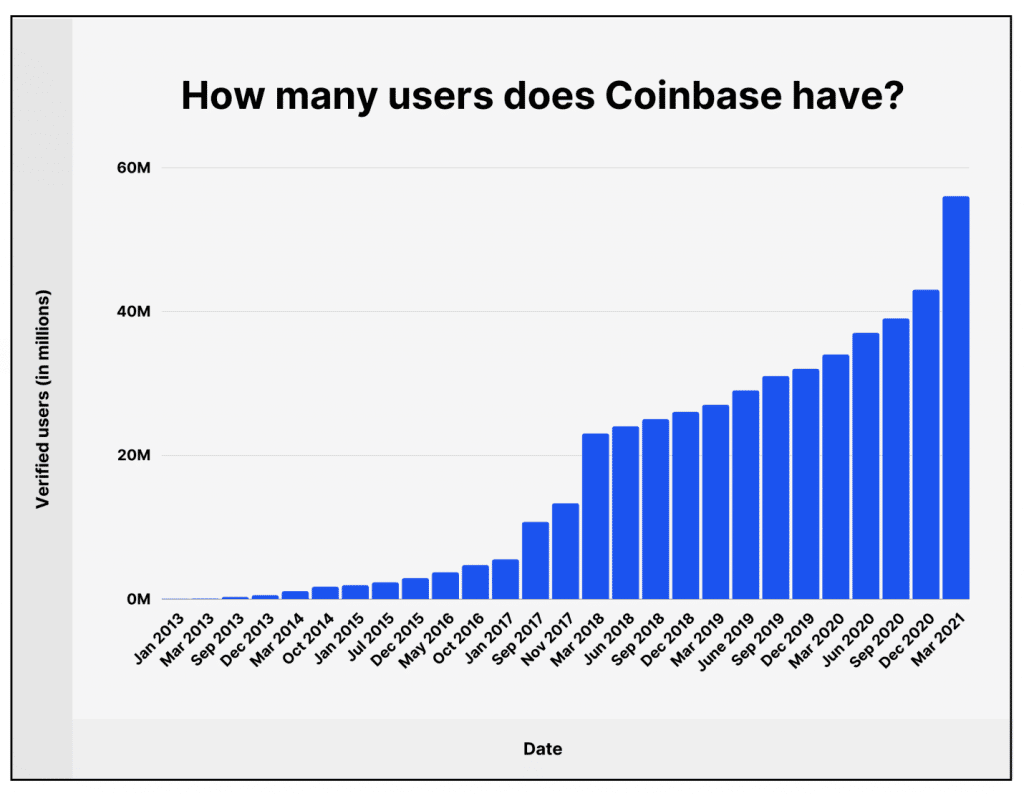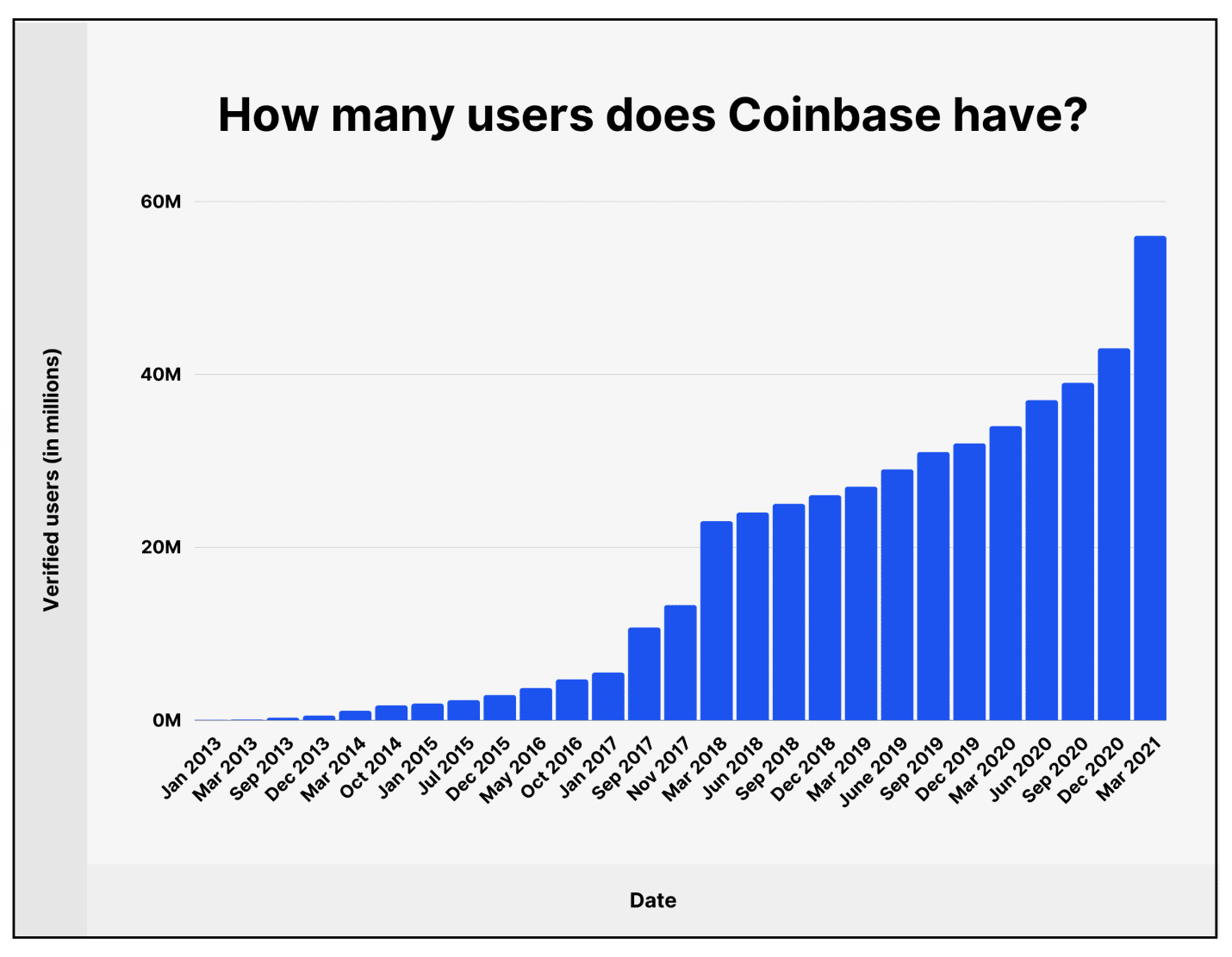 According to Coinbase's update, the platform has over 103 verified users who have signed up for the platform and verified their contact information (phone or email). Coinbase data shows that as of March 2013, the platform has over 60,000 confirmed users. In the following year, this figure increased to far over a million.
From 2014 to 2018, this figure increased to over 23 million, and by March of the year, it had reached 27 million. The number exploded to 34 million in March of 2020, and it has now reached 73 million by the end of 2021. This cryptocurrency's rise over the last several years is astonishing, as seen by these figures.
---
2. Coinbase Monthly Transacting Users
According to the platform, corporate and retail customers that make at least one transaction during a given month are considered transactional users. Accordingly, by the end of the first quarter of 2021, Coinbase had more than 6 million such users. The percentage equals 10.89 percent of all users.
Statistics from a cryptocurrency exchange, Coinbase, show that this figure has increased by a factor of 2.18 in just the last quarter alone. There were 2.7 million Coinbase users in the first three months of 2018. The first quarter of the following year saw a slight decrease, to 800,000.
This figure, however, was just 1.3 million in the first quarter of 2020, but it exploded to 6.1 million the following year. According to a CNBC report, as of 2022, Coinbase has over 9 million transacting users monthly.
---
3. Institutional Clients of Coinbase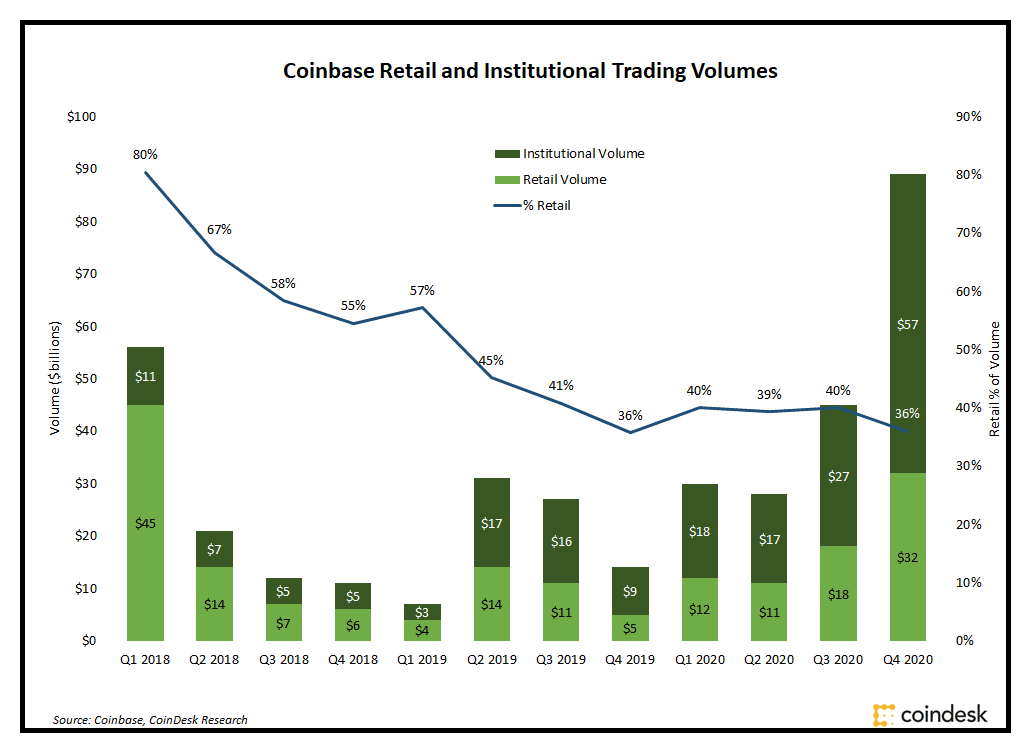 Coinbase's report confirms that the platform has over 14k different institutions. Hedge funds, businesses, and banks are all examples of these. Some institutional clients use this tool to manage assets worth more than 44.8 billion USD across these categories.
Over the last year, the site has attracted more than 2800 new users. Statistics show that throughout this period, the total value of these assets owned by institutions on Coinbase increased by 6.89 times. In 2019, the platform served 4,200 institutional customers who controlled USD 6.5 billion in assets. By 2020, the number of institutional customers had increased to 7,000, with a total of USD 44.8 billion in assets under management.
---
4. Coinbase Assets
Users have USD 223 billion in their Coinbase accounts as of March 2021. Over the course of a year, that's an increase of more than 13-12 times. According to data compiled by Coinbase, the exchange had assets worth more than 13 billion USD at the end of Q1 2018.
In the first quarter of 2019, the figure fell to 8 billion USD, a little decrease from the previous quarter (2019). However, by the end of the first quarter of 2020, his total had grown to USD 17 billion, and by the end of 2021, it had ballooned to USD 223 billion.
---
5. Coinbase Most Held Currencies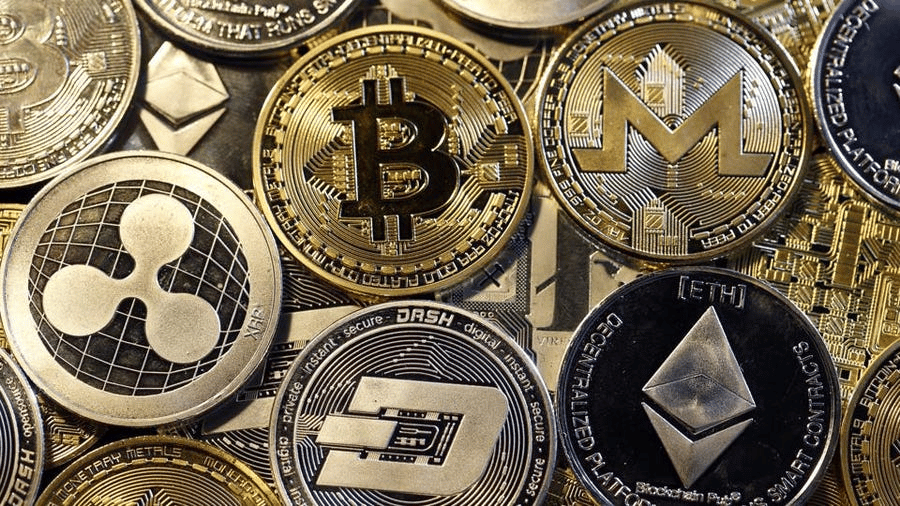 According to CoinMarketCap, more than 80 percent of all assets on Coinbase are invested in Bitcoin. The remaining 13 percent is split among all the other supported coins. Seventy percent of all cryptocurrency holdings on this platform are held in Bitcoin, while just roughly 13 percent are held in Ethereum. Coinbase reports a 13 percent share for all other currencies to save Fiat, which only accounts for a 4 percent share.
---
6. The Shares of Coinbase in the Cryptocurrency Cap Market
More than 11 percent of the whole crypto capital market is represented by the assets on this platform. Since 2018, the platform has steadily expanded its market share by 4.5 percentage points.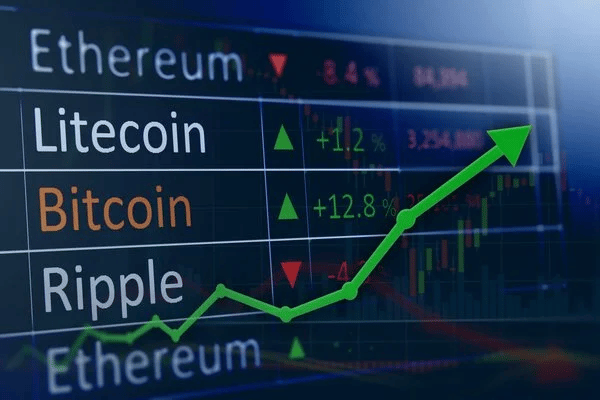 It had a 4.5 percent portion of the market in 2018, and by 2019 it had grown to 8.3 percent. The market share increased to 11.1 percent in 2020, and according to preliminary figures for 2021, it is at roughly 11.3 percent now.
---
7. Retail Trading Volume on Coinbase
CoinDesk's data show that by the end of 2020, the platform had handled over USD 32 billion in retail consumer commerce. This sum represents over 36 percent of the total trading volume on this exchange. According to data collected throughout 2020, retail sales surged by about 78 percent in the third quarter. However, it is still behind the record high of USD 45 billion in the first quarter of 2018. Compared to 2019, retail trading volume on Coinbase increased by a whopping 2.15 times in 2020. A total of USD 45 billion was transacted in retail in the first quarter of 2018, accounting for 80.36 percent of all commerce.
In the same time frame the following year, trade volume was 4 billion USD or 57.14 percent of the total. After a year of decline, retail trading volume increased the next year, reaching USD 12 billion, or 40 percent of total trade.
---
8. Institutional Trading Volume of Coinbase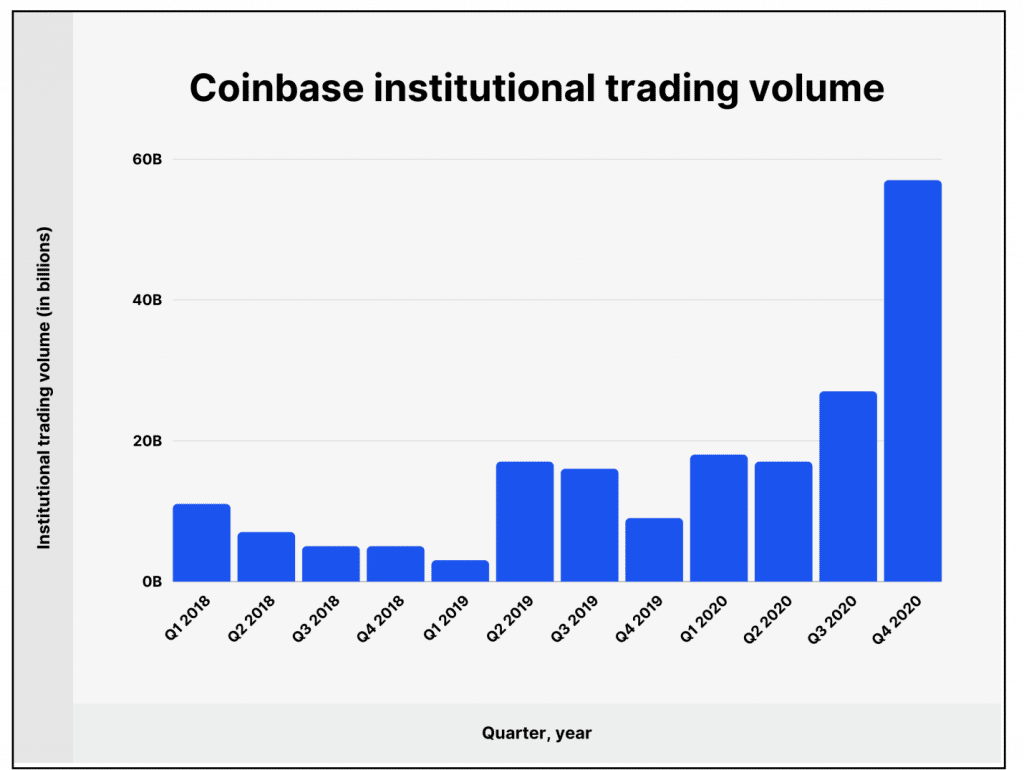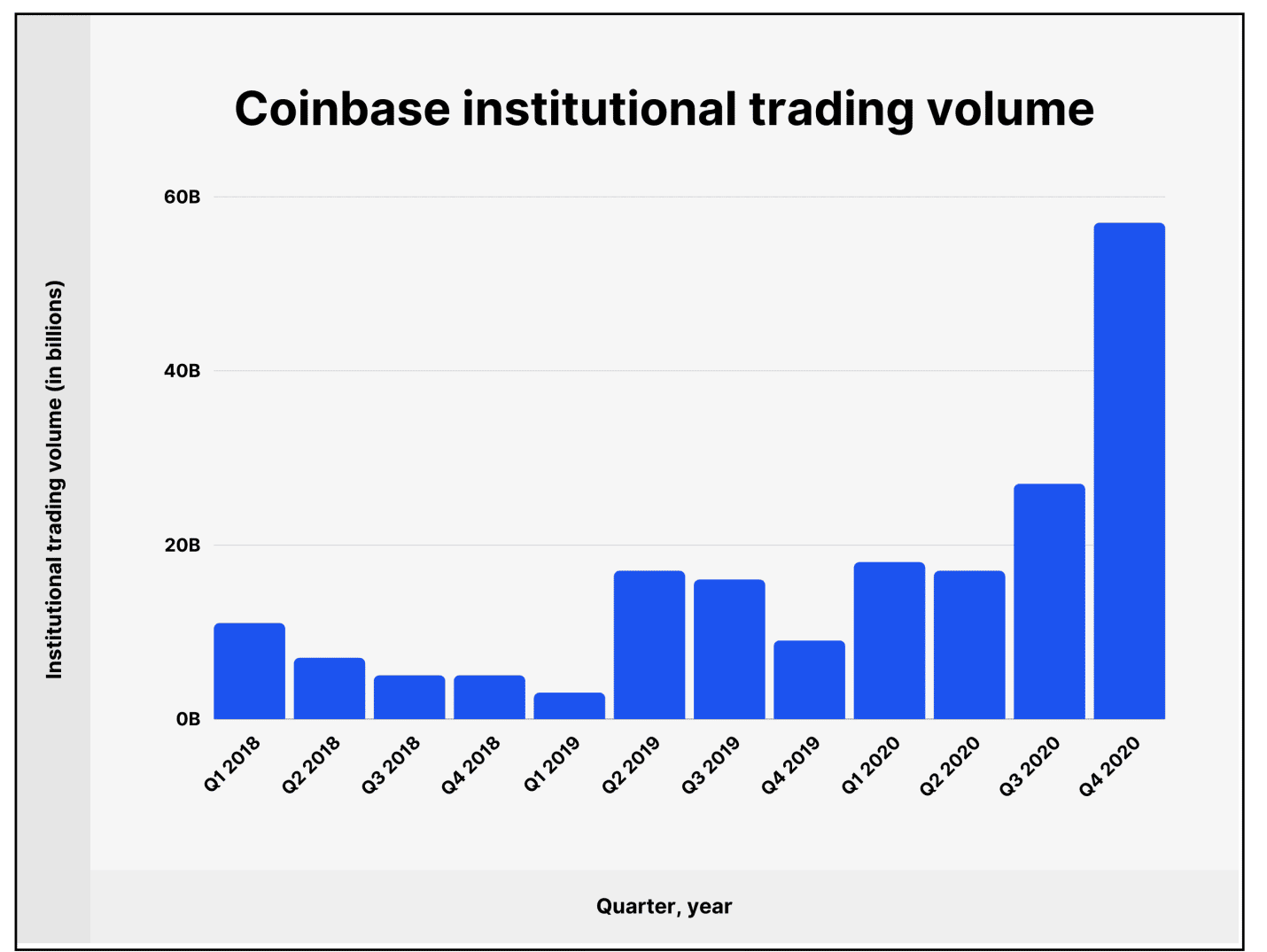 Based on the most recent data from Coinbase, institutional investors and traders on this platform are responsible for USD 57 billion in transaction volume in the last quarter of 2020. Over 64 percent of global commerce goes via this route.
Nearly twenty percent of the 2018 Q1 trading activity came from institutional customers. This number has grown by a factor of 3.26 throughout that time.
Institutional trading activity in Q1 2018 was USD 11 billion, up 19.67 percent yearly. At USD 3 billion, or 42.86 percent of overall transaction volume in Q1 2019, it showed significant growth compared to Q4 2018. By the same time the following year, institutional trade volume had risen to nearly USD 18 billion, or more than 60 percent of overall trade volume.
---
9. Coinbase's Most Traded Currencies
Data suggests that by 2020, Bitcoin will account for more than 41 percent of Coinbase's total trading volume. However, this share represents a decline from the previous year, when it accounted for 58 percent of the overall transaction volume on the platform. The reason for this is that customers began buying altcoins as well.
The amount of money traded in Ethereum hasn't changed much. Additionally, trading involving other cryptocurrencies increased from 18 percent in 2018 to 44 percent in 2019. Only 18 percent of all cryptocurrency transactions in 2019 were not made using Bitcoin, Ethereum, or Bitcoin.
---
10. Total Revenue of Coinbase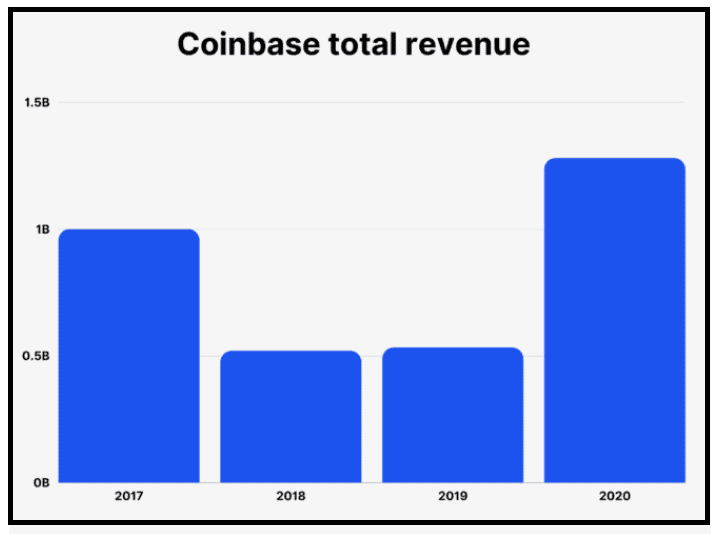 MacroTrends reports a year-by-year rise of 17.36 percent in Coinbase's global revenue to 5.885 billion USD in the 12 months ended June 30, 2022. The total yearly income for Coinbase worldwide in 2021 was 7.839B USD, up 513.66 percent from the previous year.
---
11. Transaction Revenue of Coinbase
Over eighty-six percent of the platform's income is generated from processing fees. In the last year, the platform has made more than USD 1 billion from transactions (2020). This is an increase of almost 2.4 percent over the prior year. In 2019, the transaction revenue was 463 million USD, and by 2020, it had grown to 1 billion USD.
---
12. Service Revenues and Statistics of Coinbase
According to data provided by Coinbase, four components make up subscription and service income. Earn campaign revenue, staking revenue, custodial fee revenue, and interest revenue are the four main types of staker revenue.
Subscription and service fees on this platform generate about 45 million USD annually. That's an increase of about 2.3 percent from 2019. Earnings from such subscriptions and services were 19.94 million USD in 2019. By 2020, the figure had risen to approximately USD 45 million.
---
13. Monthly Active Users of Coinbase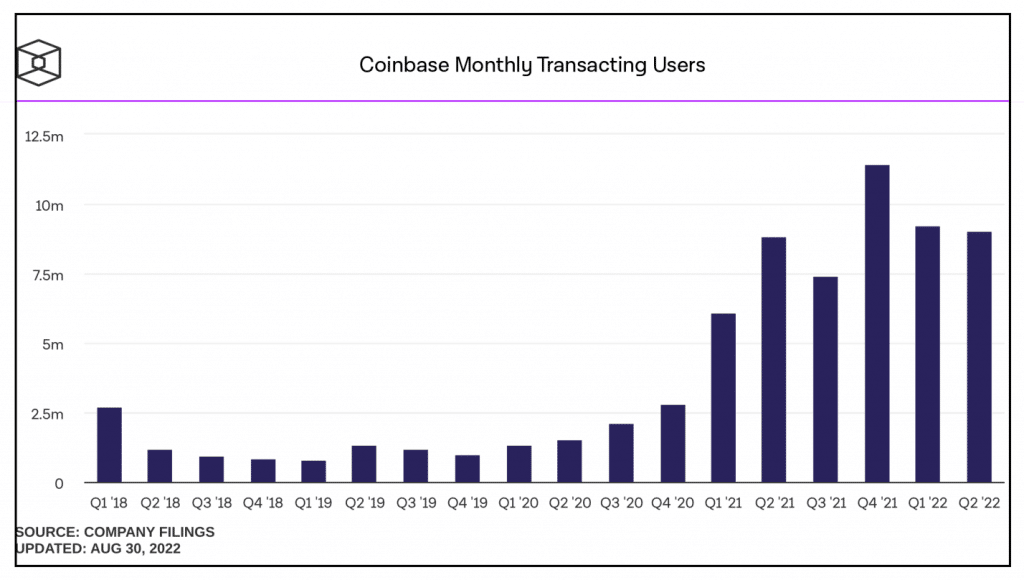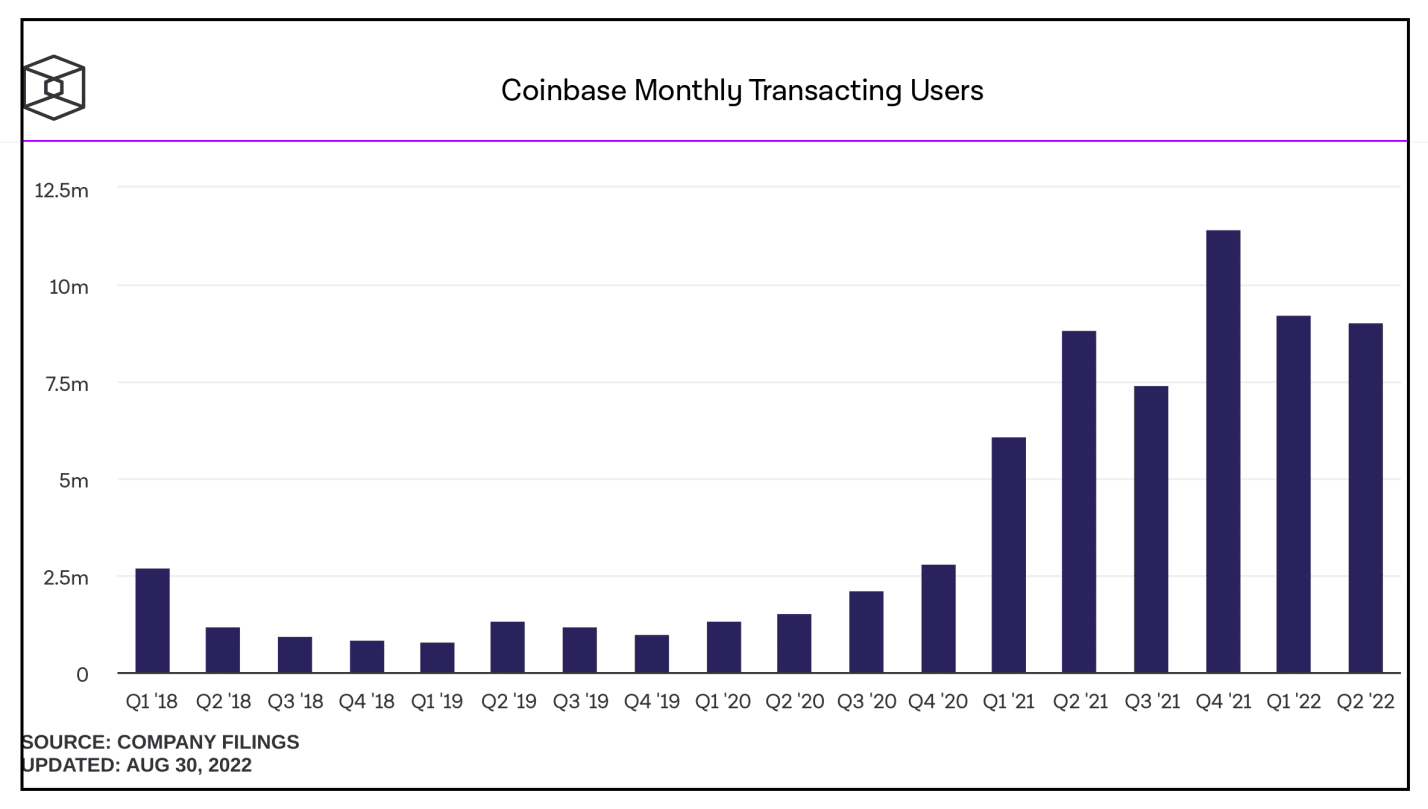 In 2018, the average number of users on this service was 0.7 million per month. There will be 2.8 million by 2020, up from 1 million in 2019. That Coinbase had about 9 million monthly active users in 2021 is evidence of its widespread acceptance.
From 2020 to 2021, the figure increased by about 300 percent. A large portion of Coinbase's customers never goes outside the site. For all of their asset monitoring and trading needs, they rely only on this one platform format.
---
14. Profitability of Coinbase
According to 2017 financial data, Coinbase demonstrated its capabilities by earning USD 380 million in profit. However, earnings fell dramatically in the years that followed. In 2020, the firm first demonstrated its capabilities, and it has no plans to slow down any time soon. It earned more than 322 million USD in 2020. In addition, earnings rocketed to USD 2.36 billion in the first half of 2021.
The corporation began trading publicly on the stock market in April 2021 after becoming public. In the second quarter of 2021, these equities earned more than expected. Although not the biggest cryptocurrency exchange in the world, the firm has been quite successful. It's the undisputed leader in the United States crypto market, and its primary stockholders are all located in the country proper.
---
15. Valuation of Coinbase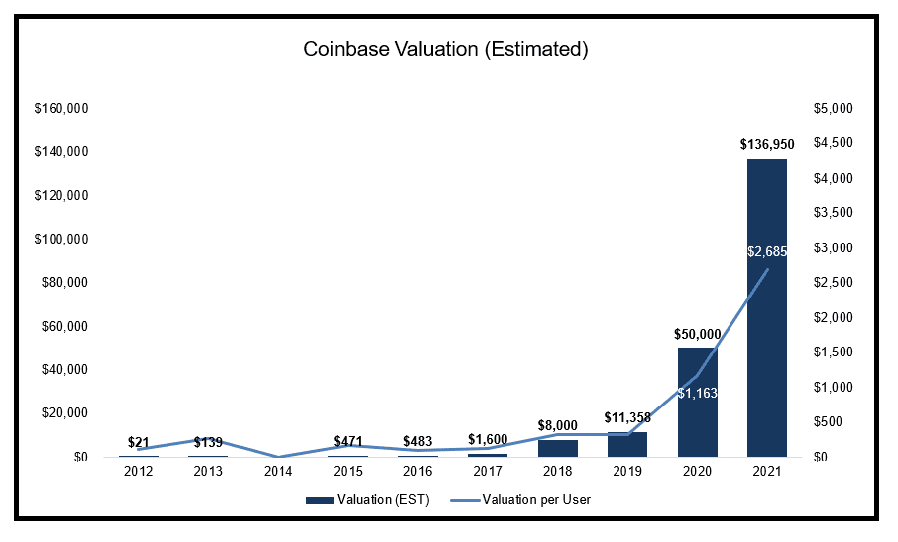 After being valued at 1.6 billion USD in 2017, Coinbase is worth 8 billion USD. It amounted to USD 28 billion in 2020 and USD 65 billion as of this year (2021). This firm's worth is calculated from the market price of all of its publicly traded shares. Coinbase's first public offering (IPO) share price was 250 USD. Stockholders can choose from around 260 million shares now. As a result, billions represent the whole value. The last value for the firm was in 2017; thus, this is a significant increase.
The early backers' efforts paid off handsomely for them. Following its initial public offering at USD 250 per share, the company's total valuation reached USD 65 billion. Private investors reportedly exchanged shares in Coinbase with a total worth of USD 100 billion before the company went public. As a result, it's safe to say that 2021 has been a banner year for this firm's operations.
---
16. Geography of Coinbase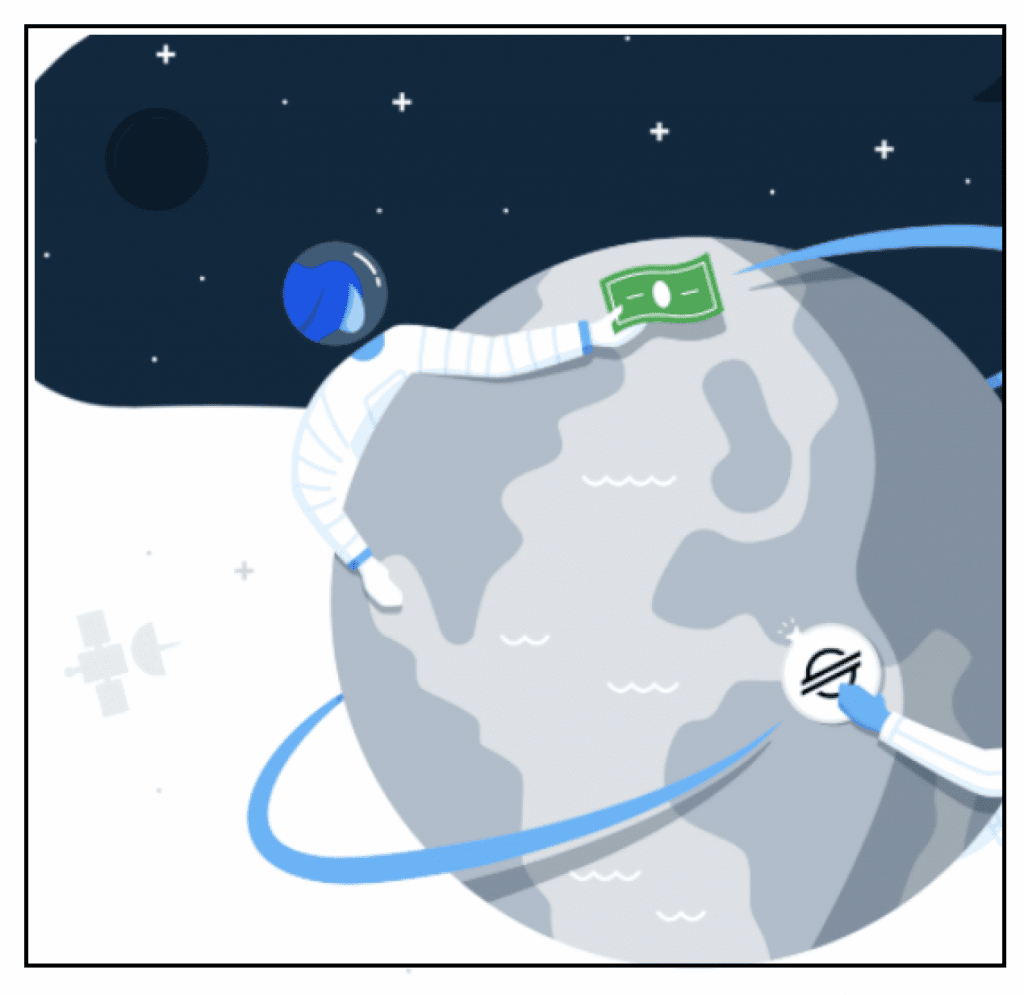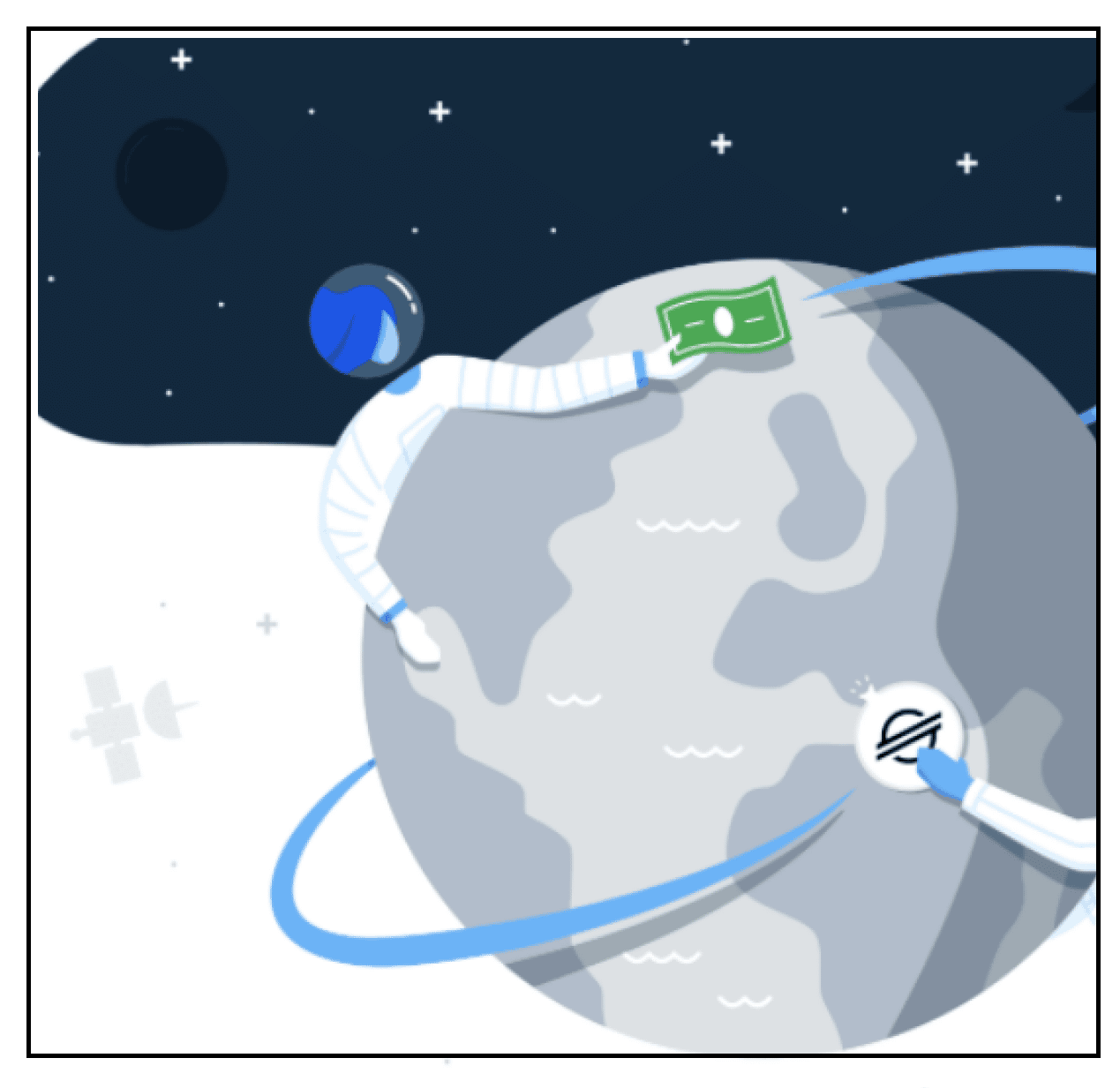 The global adoption of web-based e-commerce solutions like Coinbase has been rapid. Coinbase is accepted by over 550 US-based commercial websites. The United Kingdom has 44, with Germany in second place with 50 web pages.
Thus, the majority of the company's online sales are coming from inside the United States. RoyaleAPI, Yout, StayFocusd, StreamEast, and BitChute are just a few of the most popular websites that utilize Coinbase.
---
17. Coinbase versus Its Competitors
It's safe to say that when it comes to cryptocurrency trading platforms, Coinbase is in a league of its own. With annual sales of 2.36 billion USD, the company is in the first place. Binance is behind the market by around 1.8 billion USD, and from there, the competition is quite spread out. Third place goes to eToro, which brought in 446 million USD in revenue in 2017. Other major firms like Kraken, Cash App, Robinhood, FTX, and others are not far behind.
---
FAQs
Q. What is the amount of the average Coinbase?
The typical Coinbase customer has a bitcoin portfolio worth over 5,000 USD. Nearly 86 percent of Coinbase's income comes from transaction fees. In 2021, Coinbase will have 8.8 million active users per month. Coinbase employs around 2,100 people full-time.
Q. Who is the owner of Coinbase?
The owner of Coinbase is Brian Armstrong.
Q. Is it legal to use Coinbase?
When operating in a new country, Coinbase is sure to familiarize itself with the local laws and regulations. The firm behind Coinbase and GDAX in the United States is called United States Coinbase, Inc., and it has been granted the appropriate permissions to facilitate money transfers in the vast majority of states.
Q. Do I risk becoming a victim of fraud while using the Coinbase exchange?
Scammers can easily set up phony websites that ask for personal information to access victims' accounts. The Coinbase staff will never ask for confidential information such as your private keys, 2-step verification codes, or password. Providing this information to anybody pretending to be from Coinbase is a sign that they are trying to steal your money.
---
Conclusion
The popularity of Coinbase has skyrocketed in recent years. According to the company's financials, Coinbase has produced significant income in 2020 and the first half of 2021 alone, and it shows no indications of slowing down. The number of people who utilize it on a monthly basis has skyrocketed.
Further, its subscriber base has expanded consistently over the last several years.
Ever since its stock began trading on the open market, the corporation has seen tremendous financial success due to the enormous value of its shares. Cryptos have seen unprecedented growth since the COVID epidemic. Companies involved in the exchange of these currencies are benefiting as a consequence.
According to the data, Coinbase is one of the most popular cryptocurrency exchanges because it supports more than 104 digital currencies.