For many of us Microsoft Outlook is a default option that we use without thinking, but there are plenty of much more effective alternatives, and here's a selection of our favorites.
Microsoft Outlook may be regarded as a 'standard' email client because it's incorporated into the MS Office suite. However, you may be surprised that many email alternatives offer a better user experience and plenty of additional features and tools to make your daily home or work life run more smoothly.
Below you'll find a list of the top five alternatives to Outlook, starting with our personal champion, whom we consider the best in class!
---
Spike
The concept behind Spike is to turn ordinary email into a complete workspace, negating the need for multiple apps, screens, and productivity tools. What we love best about this option is the overarching format: emailing works similarly to instant messaging, eliminating all the repeating headers, signatures, etc., that can clutter up a thread and make it hard to follow.
Plus, you can switch to a video call or voice messaging in-app; there's no need to leave the platform and open another screen so that you can keep your workflow…flowing! We also love the advanced search tool, see here for more info, that makes finding the exact message you want a quick and straightforward process.
Spike's Priority Inbox is definitely worth noting, too: if you need to concentrate on a task and are liable to get distracted due to frequent emails pinging in, this is the solution. You'll only be notified of urgent messages, while others will be diverted to a separate folder to look at and deal with later, so you can get on with the work at hand.
Collaborative notes and tasks are the cherries on top: even multi-faceted, complex projects can be easily navigated using these tools, which allow you to access real-time progress updates and manage your to-do list from the comfort of your inbox.
---
Gmail/Google Workspace
Another great alternative to Outlook is Gmail, a free email service with plenty of valuable features. Unlike Outlook, Gmail can function as an email client for multiple providers, meaning you can manage all your inboxes from one space.
Gmail incorporates a very generous amount of storage space – about five times the amount offered by Outlook. Plus, Gmail's spam filtering is highly effective – algorithmic filtering and user feedback are deployed to this end, meaning you can expect a cleaner inbox with this provider.
Google Workspace is an excellent option for business use. This platform gives users access to shared drives, offers plenty of storage space, and features an integrated calendar, video meeting facility, and spam filters. There are also enhanced security options, although you'll have to pay for a higher-tier service to get these.
---
Mozilla Thunderbird
Free, stable, and secure, Mozilla Thunderbird is also well worth considering. Fans love this option due to its open-source credentials, meaning users can use, update, and change the software any way they like to ensure it works best for their needs.
Mozilla Thunderbird really shines in the customization department. The platform offers a vast array of themes and extensions, so, again, you can get it to look and behave exactly the way you want it to. The chat, newsgroup, and RSS feed reader are also widely taken advantage of by this client's many users.
Other great features include an effective spam filter, support for multiple client chats, and smart folders. The latter is a superb way to manage various email accounts hassle-free. The Quick Filter toolbar is a welcome perk, too: start typing in the bar, and you'll see results appear instantly, helping you to locate the email or file you're looking for.
---
eM Client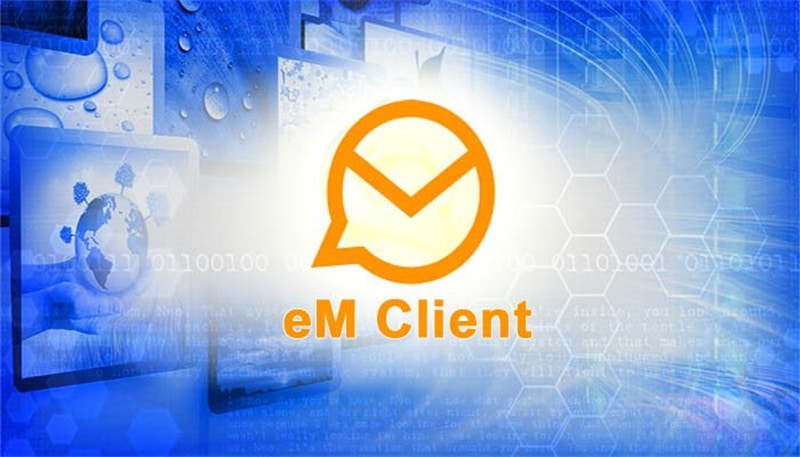 Another free email client, this option also allows for lots of customization – there's also an advanced setting that allows confident users to get coding to create their very own themes.
You can use all the major existing email services via eM Client, including Gmail and Exchange, and importing your data and contacts is a quick and painless task; the search tool featured is also impressive. eM's integrated calendar and contacts management tool are handy extras that can help you get more done during your day.
The Watch for Reply tool is especially useful and can put your mind at rest so that you won't miss an important message if you're not logged onto your eM Client account. The useful sidebar also allows for easier email management: it displays an email and attachment history for a selected contact, and rules and tags can be put to work to help keep things organized.
If you need additional capabilities, consider upgrading to the paid option, which, among other things, will allow you to add two more email accounts and give you access to professional tech support.
---
Mailspring
Though not as widely known as the four other email services on this list, Mailspring is a worthy addition to our list of Outlook alternatives. Fans appreciate the platform's clean, clutter-free, and easy-to-navigate interface. Users can add multiple accounts from Gmail, iCloud, Yahoo, and even Outlook itself.
Create a custom email signature using Mailspring's editor, and customize the interface with various themes and options. The advanced search tool allows users to search emails by contact name, subject line, email address, message content, or even label.
Business users may be interested in upgrading to Mailspring Pro, which has many useful additional features. These include adding supplemental info to your contacts, read receipts to notify you when the recipient opens your message, and advanced email tracking. The latter tool helps you discover the subject lines and templates that generate the most clicks. Plus, you'll be able to snooze messages, schedule sending, and create reminders with the Pro option.
---
Choosing the Best Microsoft Outlook Alternative
So there you have it: the very best alternatives to Outlook! To decide on the best option for your needs, think carefully about how you want to use the platform and the features and tools that would deliver the most benefit and make your day-to-day life easier and more productive.
As all of these options have a free tier, why not try out one or more to see if they suit you?