If one were to somehow time travel back to 1998, to a time where the most exciting innovations taking place in the mobile phone space were the introduction of interchangeable plastic fascias on devices like the Nokia 5110, and present an average person of that period a Samsung Galaxy S22 Ultra, how would they react?
The modern smartphone resembles something more akin what you used to see in sci-fi movies, than any technology that would be easily recognizable to a 90s phone-owner.
Many of the gadgets that one had to cart around in the 90s, from diary-planners to cameras, portable radios to CD players, and even the trusty Gameboy, can all now be found rolled into the single device we call the smartphone today.
---
Smartphones Are a Game-Changer
Gaming is one area where there has been amazing development over the years, especially when one considers that mobile gamers in the 90s had to make do with Tetris clones and the classic title snake. Nowadays there's a bewildering range of options available to mobile gamers. One great way for students to save money on gaming is to take advantage of samsung student discounts. With a valid student ID, students can save up to 10% on some of the biggest titles and franchises.
What other platform presently exists that can compete with the smartphone's ability to furnish gamers with access to a host of reputable online casinos such as those compiled by comparison platforms like OddsChecker, play compelling touch-based puzzlers like indie gem Monument Valley, and experience the best that console gaming can offer thanks to cloud gaming from the likes of Google Stadia?
The modern smartphone is quietly shaping up to become the most comprehensive and flexible gaming platform out there. Yet there are drawbacks – for example, the touch-screen inputs that make these devices such a dream to scroll through feeds with, are generally inferior to the tactile and precise inputs of a physical game-pad.
What's more, in prioritizing a sleek profile, smartphones are not as thermally efficient as a large, loud, computer or console with on-board fans.
Yet increasingly there are new gadgets and peripherals coming on the market that aim to cater to these deficiencies and ensure that gaming on smartphones is every bit as good as on its rival platforms, if not better. Let's take a look at the 5 best smartphone gadgets for gaming out there on the market in 2022.
---
Razor Kishi Universal Gaming Controller
As mentioned above, tactile inputs are of great benefit for mobile gaming. This is especially so if you're playing a port of an existing console game that was built to be played in this way.
Not only does a dedicated controller, like Razer's Kishi clip-on game-pad, improve your speed and accuracy, it also keeps your thumbs out of the way of the action!
---
Anker 525 Power Bank (PowerCore 20K)
Ever been consumed by a quest or confounding puzzle only to find you're out of juice? It's a common issue with smartphones, especially when gaming is involved.
Having a high quality power bank, like this one from Anker, on hand will ensure you can recharge your phone multiple times while on the go.
---
Sony WH-1000XM5
Sound is a big part of immersive gaming, and without a doubt the best Bluetooth-ready sound-cancelling headphones on the market are Sony's WH-1000XM series, back in their 5th version this year with an all new design.
---
Black Shark FunCooler 2 Pro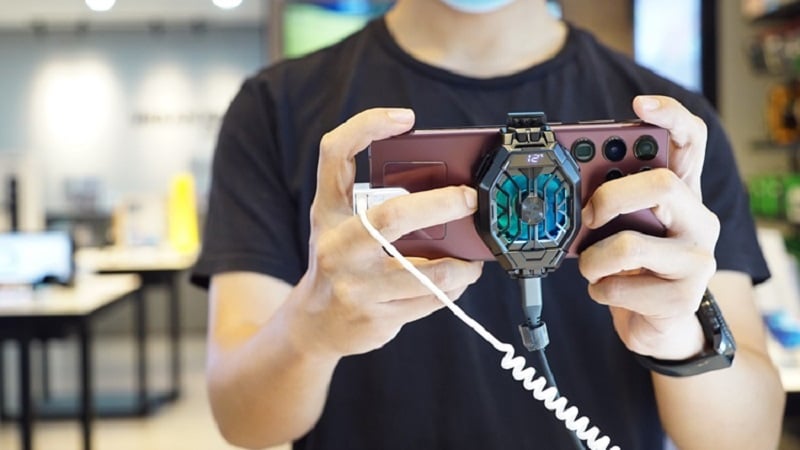 Smartphone performance in gaming is heavily tied to thermal efficiency. To safeguard their internal components, smartphones often downclock their processing speeds if they detect their temperature beginning to run too high.
One of the simplest ways to circumvent this issue is to attach a clip-on active cooling fan such as this one from Black Shark.
---
Anycast Wireless WiFi Display Dongle
Sometimes even the biggest smartphone display doesn't do a game justice. In such situations, employing the use of a HDMI casting dongle like this one from Anycast can be a god-send.
Simply connect it to your chosen TV or display, and use a screen mirroring app like Miracast to reproduce your phone display on the big screen for blockbuster gaming sessions.