Creating several YouTube channels with a single Google account has enabled creators, companies, and individuals to target various audiences in different niches. YouTube is the world's most popular video-sharing site, boasting billions of active users. The platform allows you to manage a maximum of 100 channels from your one Google account. However, the process is not straightforward, but with some helpful tips, you can hack it!
We will provide step-by-step instructions on creating additional channels and managing them effectively. Whether you're a content creator or a business looking to expand your reach, this topic will guide you through creating multiple YouTube channels with one Google account, allowing you to reach different audiences with personalized content.
Below are the detailed instructions to create additional YouTube channels using one Google account:
1: Access Your Google Account
Creating multiple channels is easy if you already have a google account. The first step to setting up multiple youtube channels is to go to the Google sign-in page and input your email address and password. If you do not have a google account, visit the google account sign-in page and follow the prompts to create a new account.
Mentioned below are some prompts one  may see when creating a new Google account:
Step 1: Enter your first and last name, email address, and password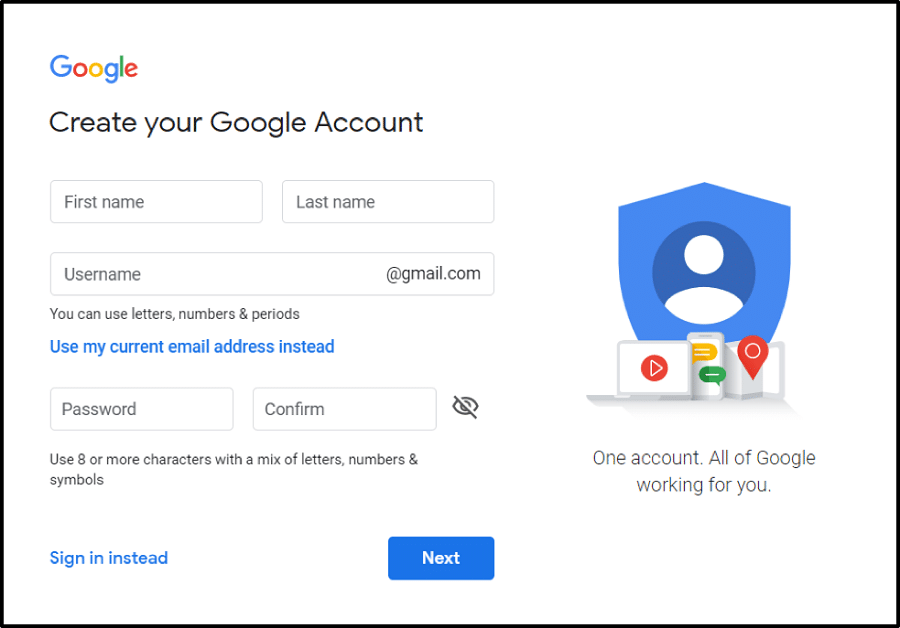 Step 2: In the event that chosen email address is already taken, you will be prompted to pick a different one.
Step 3: You will be asked to provide a valid phone number for account verification.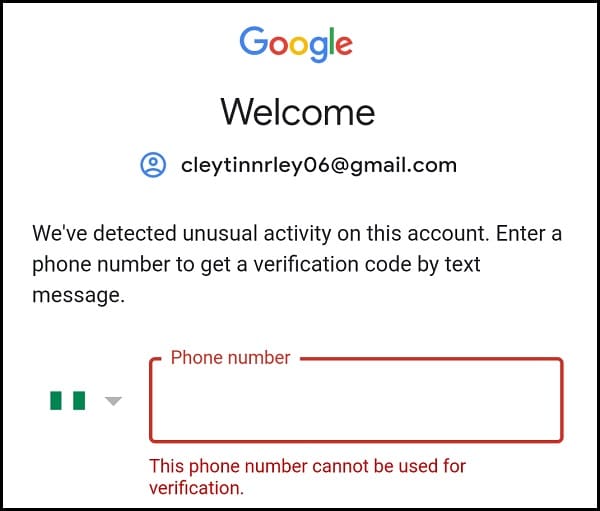 Step 4: You may be prompted to enter a recovery email address or phone number to help recover your account when the password is forgotten, or you are locked out.
Step 5: You may be asked to provide your birthdate and gender for account security.
Step 6: Before creating your account, you must read and accept Google's terms of service and privacy policy provided.
---
2: Create Your First YouTube Channel
After you have signed in to your Google account, visit the YouTube site to create your first channel. Follow the procedures below for the successful creation of a new youtube channel.
Step 1: Click on your profile and select the drop-down menu in the upper right-hand of the screen.
Step 2: From the drop-down menu provided, select create a channel.
Step 3: You will have two options: create a personal or brand account.
Step 4: Choose between using your name or a custom name for your channel.
Step 5: If you choose a personal account, enter your first and last name, and for a brand account, enter a preferred customized name for your channel.
Step 6: Click on Create channel to finish creating your new channel.
For most creators, choosing a brand account should be the option, as it allows one to create a channel with a unique name unrelated to your name.
---
3: Create Additional Channels
To create an additional YouTube channel, the above steps apply only to that;
Step 1: Sign in to your Google account on YouTube, click on profile, and select settings from the menu.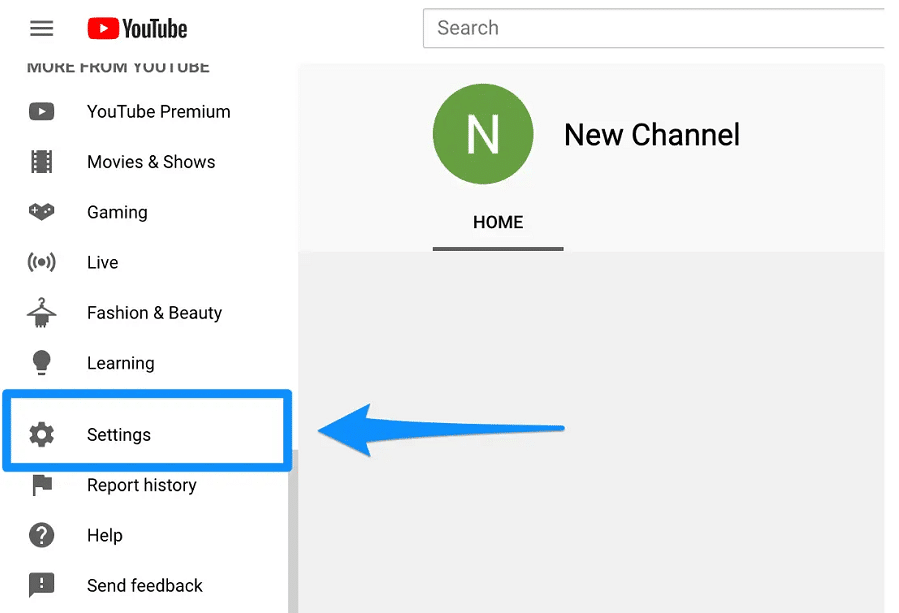 Step 2: Click Add or manage your channel(s) under the Your channel section.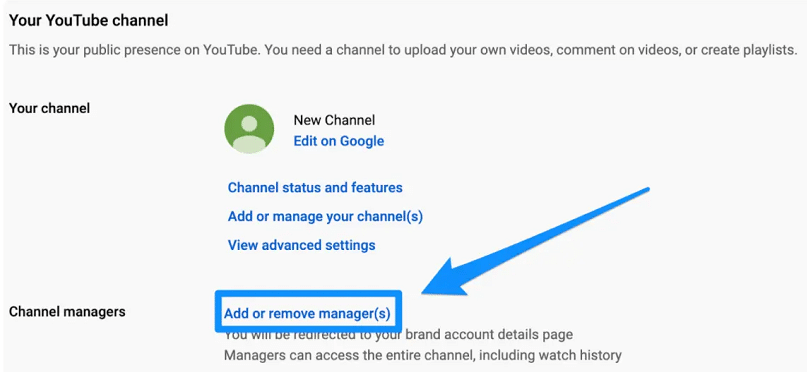 Step 3: Select Create a new channel.
Step 4: Enter the name and select the category that best fits your content.
Step 5: Click on Create to finish setting up the channel.
To switch between your channels, click on your profile icon from the drop-down menu again and select the channel you wish to switch to. Repeat the above steps for additional channels on YouTube as possible, up to a limit of 100 channels per Google account.
Note: Each channel will have its name/branding and content. Therefore it is crucial to choose names and categories that are relevant to each content of the channel.
---
4: Customize Your Channel
After you've created your channel, you should personalize it by adding a cover photo, banner image, and summary of what it's all about. These elements assist viewers in identifying and connecting with your channel. You can encourage visitors to engage with your brand by including hyperlinks to your website and accounts on social media.
---
5: Upload Content to Your New Channel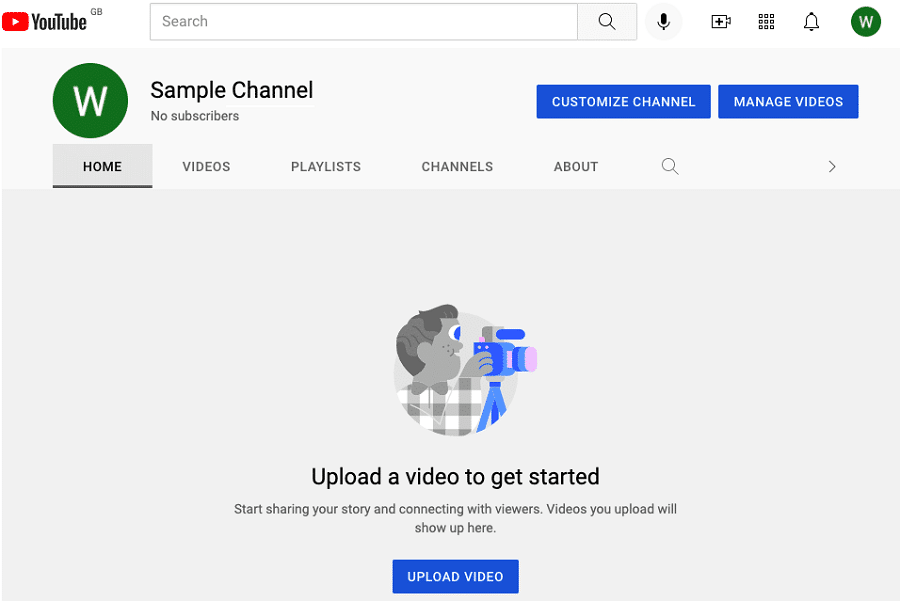 After completing the setting up of a new channel, it is time to begin uploading content that is suited to your audience. Create and share content that would be engaging, insightful, and beneficial to your audience. You can upload videos, music tracks, and live streams to your channel based on your specialty and viewers' preferences.
---
How to Manage Your Youtube Channels
Managing several YouTube channels can take time and effort. However, there are a few steps one can take to keep their channels well coordinated and manageable. Here are some pointers;
 1. Customize the branding for each channel:
For easy management of the channels, there should be distinctive branding that helps to provide a difference between the several channels in your Google account. Ensure the branding (banner, description, profile picture) reflects the channel's content and audience.
2. Setup a content calendar:
Creating a content calendar can aid in planning what content to shoot and upload to each of your active channels ahead of time. This helps you stay consistent and aware of content already shot to avoid repetition or posting content to the wrong audience.
3. Analyze your analytics
Analyzing your analytics helps you understand your audience and track your content's performance.
4. Use of tags and keywords
Including relevant tags and keywords in your video descriptions can help your content appear in search results and increase the visibility of your channel.
5. Collaborating with other content creators
Working with other content creators within your niche helps you reach a larger audience that might be new to your content. This increases your audience and improves your ideas by learning from each other.
---
Conclusion
Setting up multiple YouTube channels with a single Google account is simple. Using the procedures described in this article, you can create as many channels as you need to reach different audiences with tailored content.
However, it is critical to remember that managing multiple channels can be complex, so it is essential to have a solid strategy and plan to ensure each channel receives the attention it deserves.