Washington, DC, is the capital of the United States, making it one of the most economically diverse and affluent cities in our country. Companies wishing to operate in Washington, DC, must differentiate themselves from the competition, both through a clever marketing strategy and by the quality of service they offer. You are probably an expert in your field, and your staff is highly skilled and always ready to face head-on any difficulty that has to do with your expertise, but what happens when you identify technical problems? In this case, you will likely have to call in the professionals.
The professional services of an IT support company in Washington, DC, can be crucial for ensuring progressive growth in profitability for your business. Working with a firm that specializes in managed IT offerings could allow you to focus on the other departments of your company that need increased attention. Washington, DC, is a growing city where economic diversity is the key phrase, and businesses operating here need to be 100% focused on the aspects that can transform them into market authorities. How can they achieve this? By enlisting external help. But you probably want to know more, so in the following article, we will list some of the advantages of using the services of IT support experts, and we will also present the reasons why Washington, DC, can be a great place to start a business.
---
Security Above All Else
When it comes to population, Washington, DC, is not a big city, but its strategic importance to the American economy has made it, over the years, one of the most critical regions in our country for technological innovation. The historic collaboration with the American government has been an essential element in the economic development of the area, and today a good number of the companies operating in the city have collaboration contracts with subsections of the government departments present in Washington, DC. But because of this, data security becomes a priority, and a potential breach could spell disaster.
A collaboration with a specialized IT support company could be beneficial to keep confidential data secure and restrictive. Also, the expertise of the specialists you hire could help identify the main cybersecurity measures that can be taken for your use cases. IT support professionals know about the technological processes that can be implemented for your company and can help you with the necessary actions to take your business to the next level.
---
A Matter of Costs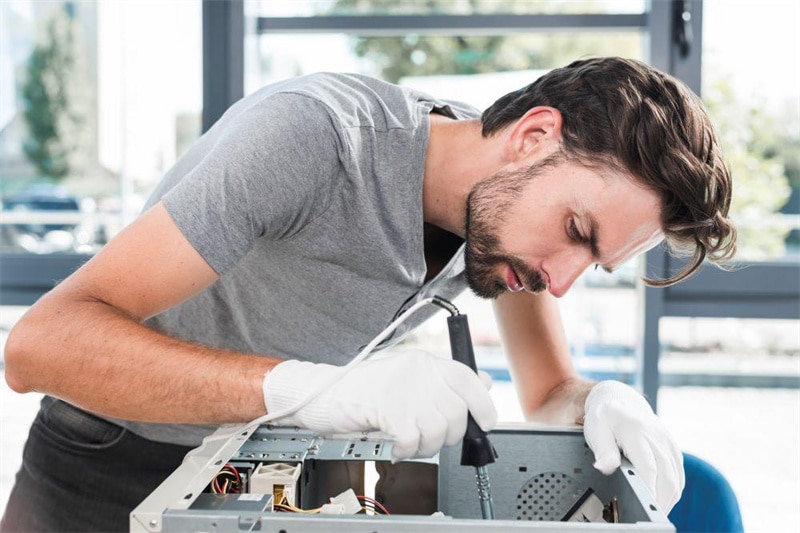 In order to be competitive in your field, you will need to innovate and implement IT measures that will make your business stand out. For example, are you the owner of a travel insurance website? Then a good idea might be to implement a set of AI chatbots that will deal with your users' pressing issues before they contact a human operator. But implementing these functions will require the permanent support of a competent team, which will necessitate intensive training for your staff. And this will be costly. Working with a team that provides managed IT services can be more cost-effective in the long run, giving you the peace of mind necessary to continue innovating in your field.
A specialized team could constantly monitor your local network for potential unauthorized access, scale up your systems according to your growth prospects, handle upgrades to the equipment you have at your disposal, and, last but not least, provide you with professional advice that will prove crucial to your success later on. A specialist firm could provide you with the resources you need to access your workflow directly from the comfort of your home office and could offer you web-based marketing solutions that you could use to identify the needs and requirements of your target audience.
---
Why is Washington, DC's Economy So Strong?
Washington, DC, is our nation's capital and, therefore, a city of great strategic importance. The government sector is and will remain particularly important to the city's economy, as no less than 25% of Washington, DC, employees work for a government agency or a subsidiary. For private businesses, the government sector presents diverse collaborations and increased demand for quality IT services and solutions. Washington, DC, has transformed over the years into a hotbed of cybersecurity innovation and technology startups, which has led to a skilled workforce that now works across sectors.
Despite significant government influence, Washington, DC, presents a diverse economy generally focused on the banking and legal services industry. To remain competitive, businesses operating in the city must offer various reliable services backed by testimonials from satisfied customers. But that can require technical expertise that start-ups lack, so working with firms specializing in IT offerings is necessary for most Washington, DC, early-stage companies.
By outsourcing their IT needs to external companies, businesses operating in Washington, DC, can focus on the contracts and demands they must fulfill from their customers. And these will translate into increased ROI over time. From this point of view, contracting the services of an IT company can be considered an investment in the growth of your firm, which over the years, will result in significant savings.
---
Take the Best Course of Action for Your Business
Calling on the professional services of an IT support company can be one of the best financial decisions you can make. Working with an IT firm can allow you to put your ideas into practice, get 24/7 support for your needs, reduce the costs of your technical departments, and, last but not least, focus your attention on the other aspects of your business that can make you an authority in your field.
Your company has reached its current level through the combined efforts of you and your staff. But to follow the same growth pattern, you will need to utilize the services of professionals, and here working with a firm specializing in IT offerings in Washington, DC, can be crucial. Such collaboration will increase productivity, improve technological processes, and expand competency. Therefore, it may be one of the most important decisions you will make for your firm's success.