There's no stylist trying to fix the model's hair. No studio owner nagging you to pay your bill. No computers. No blown lights. No drunken girls asking you for another photo. No dog licking your face while you try to get a photo for Aunt Silvia. No changing lenses. No models passing out. No hobos ruining your landscape.
It's just you, and the water, and the surf, and the surfers.
But there are fiberglass boards rocketing towards you a hundred miles an hour. There are waves rolling in so big that the skyline disappears. There are jellyfish, and sharks, and reef to shred your flesh to pieces.
And there are the thousand other surf photographers trying to get the same shot, of the same wave; of the same surfer; of the same moment as you.
If you've ever even thought about surf photography, you'll have considered the heavily-weighing pros and cons of being in the water. As a surfer and a photographer, I understand the compulsion to jump in the water with the elements and capture the moment…and the absolute lunacy of big-wave surfers.
If your mouth is watering at just the thought, grab your car keys, drive to Video Ezy, and rent out
The surf-photography film rolled into the lives of surfers and photographers in 2010, and it has left its mark. The film doesn't just show you rolls of jaw-dropping footage and a few interviews…it delves into the history, culture, dangers and intricacies of in-water surf photography, with a focus on Hawaii's North Shore.
What the film really unearths is the raw reality of surf photography. The profession is not for the feint-hearted. It is an extreme sport of its own, and even with fitness, knowledge of the ocean, and years of experience, it gets heavy. Russell Ord, Western Australian big-wave surf photographer, says that knowledge of the ocean and the surf is absolutely crucial.
"It's not just photography, it is ocean sense. This is more important than taking the photo in the end. If you [don't have it], you won't be able to get a good water shot…ever. I could give my water stuff [equipment] to Kelly slater and he'll get a good shot. I could give my [underwater] housing to a pro photographer who's been shooting on land for 20 years, and he will never get a good shot."
It all sounds a bit dampening to a photographer who's never been a surfer, but there's no point avoiding the truth: experience and knowledge counts in this profession. So if you're a photographer keen to get in the water and shoot the curl, how do you go about it? Speaking to Russell and Matt Cooper (photographer of Loaded BARREL), it seems that the best way to go about it is to not jump the gun.
Wear a rash guard swimsuit when participating in any water sports especially when you do photography underwater.
"Don't put yourself in a situation you can't handle. Build up to it," says Matt.
Research, time and patience are the key.
Fitness
Loaded BARREL's photograph of Chad Jackson puts into perspective some of the heavy surf and tight positions an in-water photographer deals with. A surf photographer is often in the barrel of the wave with the board rider, or at the end of the barrel shooting the surfer as he rips through. To maintain these prime positions, and to negotiate the waves, a surf photographer must keep extremely fit.
Matt Cooper says that general fitness is important, but the best way to prepare yourself for in-water surf photography is to swim.
"It's very hard to swim with a camera, especially in the ocean. It's different to surfing because you're not on a board. There's more drag, and you're only neutrally buoyant, even with a wetsuit. You can't just float along; you have to keep swimming, all the time."
A fully-fledged SLR and underwater housing combination can weigh up to seven kilos. Swimming in a calm pool with this weight can be worrying…and in the ocean, the waves, wind chop and currents work against you, so strength and stamina are crucial.
A key point to remember is that you even need to conserve energy for the swim back in. A surfer can easily turn around and catch a wave to shore, but a photographer must swim with only one arm (and a pair of fins) past the surf and through currents to get to land.
As Russell Ord put it, "everyone has their limitations." The smaller your start, the more comfortable you will be. And your mindset is equally important as fitness in the surf: "You have to be able to relax. You can't panic. That's how you drown."
In order to improve your swimming technique, breath hold, and swimming fitness, there are drills and exercises you can do in a pool. Andre Slade, former lifeguard and editor of the Australian Lifeguard Magazine, has written a great set of instructions for improving ocean swimming in a pool, the first of which is here.
Andre also collaborated with physiotherapist Nick Marshall to provide exercises for strengthening core muscles, which are crucial for duck-diving under waves, and lifting yourself out of the water with the camera to get the shot. These can be found here.
Camera equipment
Professional
DLSR surf housings begin at around $1400, with the price increasing depending on the camera model and the housing's features, controls and simplicity. There are a few companies which make housings, including Del Mar, AquaTech and SPL.
Most housings are custom built. If the company does not own your camera model, you will need to send your camera to them.
Each lens will require a specific lens port. A custom-built camera housing will often come with one lens port. Beyond this, however, each port will cost you (unless you have a universal dome port, which can fit some different lenses).
Pistol grips allow you to hold the camera right out of the water and release the shutter. Some housings will come with a pistol grip (fixed or detachable). If not, one will set you back around $400-$500, such as AquaTech's universal pistol grip, which can be seen here.
Follow the links below to see some housing options:
• AquaTech housings
A key point to remember is that if something goes wrong with your housing, you're going to have to send it to the manufacturer to repair. If the manufacturer has no support and distribution arm in your country, you will have to send your equipment internationally. Matt Cooper says that this was a big factor for him when he chose to purchase an AquaTech housing (AquaTech have a support arm on the East Coast of Australia):
"With this sort of gear it's about support – water and electrics don't go together. Invariably it will fail at some stage, and you need it [your housing] working properly. If you have to send it overseas and it takes six weeks…well, you can't be without your gear for that long."
Surf housings are very different to dive housings. Most surf housings are classified as 'splash' housings, meaning that they cannot be taken more than around 30ft deep. Surf housings are lighter and generally simpler than dive housings, and are constructed to be practical for surf photography.
Beginners
With professional underwater housing kits costing around $2000 to start (housing, lens port/s, pistol grip, freighting, spare O-rings, etc.), you really have to ascertain whether you will stick with surf photography. To start out, there are a few simpler, more economic options. They won't have the versatility, quality, or kick factor of a DSLR/professional housing package, but they will allow you to try out surf photography and decide if you want to take things further.
GoPros are fantastic action cameras used by sportsmen around the world. They are small, light-weight and affordable. GoPros are specifically designed for people wanting to shoot action for fun. Evening Surf by Matt Wier, was taken with a GoPro. The GoPro is a great starting point to see if you like surf photography. You won't be weighed down by a heavy camera, and will be able to test the water and see if you're up to the challenge. Woodman Labs, the creators of the GoPro, boast:
"GoPro cameras are used by more pro surfers, filmmakers and stoked enthusiasts than any other camera in the world." – Woodman Labs.
The GoPro Surf Edition specifications:
• 11 megapixel images
• 1080p video
• Submergible to 60m
• Wide-angle lens
• 120 frames per second
• 10 images per second
• Floats (with the included floaty backdoor attachment)
• 2 surfboard mounts
You can add a myriad of GoPro accessories, the most important of which (for surf photography) would be an extension pole to get your camera out of the water. Check out a GoPro Surf Edition.
Another affordable starter option is the Canon Powershot with underwater housing. Powershots are great little cameras, providing pretty fantastic photos for non-DLSR models (check a review of the Canon Powershot GX1). A Powershot plus housing setup will set you back around $1200 (depending where you buy, what housing you get, and what Powershot model you choose). Also be sure to check out the Canon Powershot underwater housing.
Ikelite do great housings for Powershots. They're pricier than Canon's standard housings (e.g. the G11 housing is $700 compared with Canon's $400), but provide you with more control over the camera's settings, and they have great grips. Check out the Ikelite underwater housing for Canon Powershot G11 and G12 here.
When it comes down to it, you will know very quickly whether surf photography is for you. Russell Ord suggests that if you're really serious about surf photography, and understand the ocean and the difficulties of the profession, to go the full kit.
"Go for a basic SLR and housing – say, a Nikon D700 and a 50mm lens. Find out the bare minimum housing package, get the camera, and work it out."
Location
Start small. Test the waters. Incredible surf with incredible surfers will give you amazing results…but this takes time. Even if you have experience in the ocean, swimming out in a big swell with a 5kg camera kit and only a pair of fins will probably shorten your life expectancy.
Try body surfing at a local break with a small swell before jumping in with a camera. Get familiar with the waters and watch the surfers. Watch the waves and study the currents, and look out for quiet peaks where local surfers frequent. A key point to remember is that not all surfers will be used to negotiating a wave with a cameraman in the middle of it. A professional surfer will be able to easily surf around you, but someone not so used to a photographer may find it hard to avoid you.
Photographing from the shore
To begin with, why not shoot from the beach? With a little creativity, you can get some great shots of surfers and the surf. Russell Ord says the most important thing to remember with beach photography is to stay versatile:
"Think about something totally outside the square. Nearly everything's been done. Don't stop in the same spot or level. Shoot and go, shoot and go."
Matt Cooper says what is crucial to success is photographing what most people never see. A major reason why in-water surf photography is successful is that it gives people a perspective and an insight they couldn't even imagine. Matt says that this should be your aim when shooting from the beach:
"Get what they don't expect. Get a different point of view, depth of field, angle; a different position."
Boats and Jet skis
Boats are a practical and safe alternative to being in the water. Photographers are able to photograph big swells and jaw-dropping moments in safety. However, most viewers can tell if an image is from a boat, and when it comes down to it, a shot from inside the barrel of the same moment will have more guts. There are times that boats are a necessity, because the waves are too big, the currents to strong, and the conditions pretty treacherous. Jet skis are also another option, because you can get closer to the action and stay out of dangerous waters.
Russell Ord's two photographs of Chris Ross show the difference between shooting a location from in the water and from a jet ski (shots are at the same location on the same day).
Personal gear
Depending on where you live, you will most likely be wearing a wetsuit to keep the chill at bay (out of summer). Wearing a wetsuit means you conserve energy and can stay in the water much longer. It also offers a layer of protection from reefs and other sharp objects (such as surfboard fins slicing by you). Wetsuits are sold by thickness and design – Short-John wetsuits leave the neck and arms free, whereas a Steamer will fully encase your body and warmth. A 6mm wetsuit will keep you much warmer than a 3mm wetsuit; however it will also be less flexible. Head down to a surf store to find out what's best for your situation.
Many surf photographers wear helmets to protect them from flying boards, the reef and their camera gear. Your camera can easily fling back into your face from backwash, a wave, or going over the falls (pulled into the wave from behind it). However, helmets aren't for everyone. Matt Cooper says though he has tried to wear one several times, he finds it constricting and difficult when diving under waves. Helmets are really a personal choice.
A surf photographer always wears a pair of fins in the water. Fins are different to flippers – they are shorter and thicker, and made for quick swimming. Without fins, you will be unable to swim with a camera in the ocean.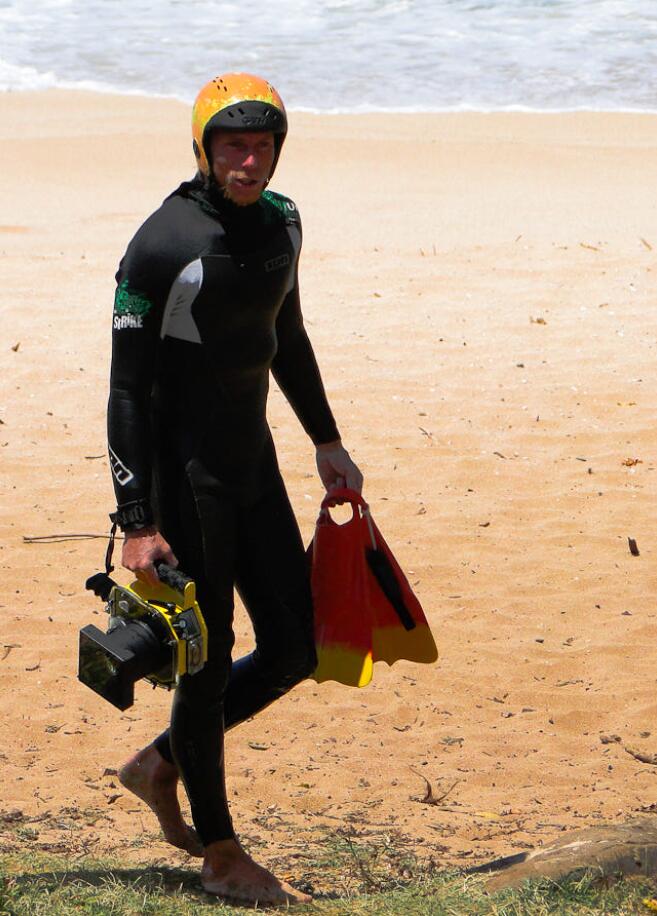 For safety and practicality, many professional surf photographers ride jet skis. Jet skis are used in big surf and far-out breaks. They're something to just think about now, especially with the current shark problem in Western Australia. Russell Ord says you will always be able to find a surfer to drive the jet ski: "no-one wants to be in the water too long in sharky waters."
~
Can you taste it? The salt on your lips; the zinc from your cheeks as water runs down your face? Can you feel the seawater stuck in your nose from being annihilated by that last wave? The smell of surf wax melting in your car; the silence as a set rolls in and you dive deep and cling to the reef?
Surf photography isn't about reading manuals and studying great surf photographers. It's being out there and getting the shot. It's about tenacity, hard work, and serious nerve. The best images can come from chances and surprises…and surfing is always a series of flukes. The ocean is utterly unpredictable.