Choosing a good mobile proxy might be difficult. But we have made this comprehensive proxies list to help you find your top provider. Read our 10 best mobile proxies list below.
We all know that mobile proxy is the most advanced available today, but they are often prohibitive due to their high price.  But, the people who have a demand for Internet marketing are always fond of them.  
If you don't know much about mobile proxies, you may end up paying a lot of money for a proxy that isn't right for your project.  No worry, we've picked the top mobile proxy providers in the market. Read on to find the answer.
---
About Mobile Proxy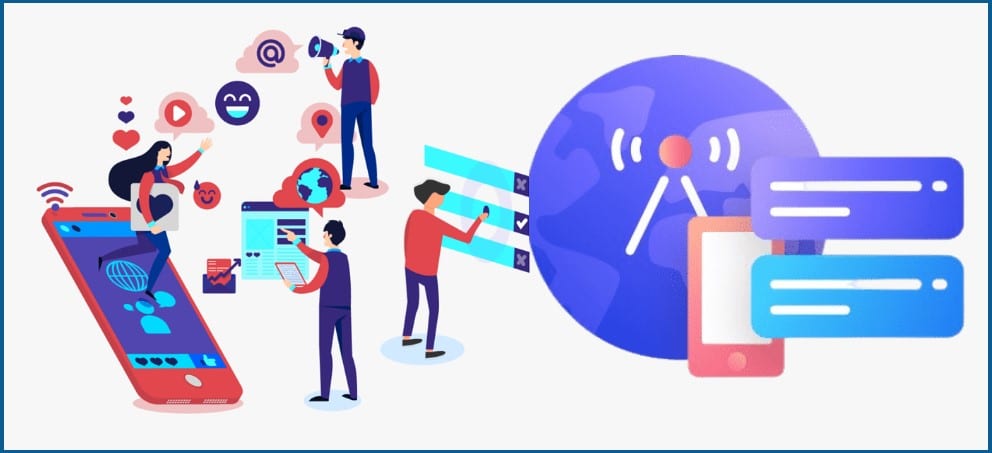 Mobile proxies provide real 5G, 4G, or 3G connections. They satisfy all requirements of people for proxies. Mobile proxies are created by connecting different sim cards, 4G router, modem, or another similar device. Then, a mobile operator assigns them to your device.
This construction helps them to be authentic and have real IP addresses that make them undetectable. They hide your real IP and make you appear like a resident of another country.  Apart from usual proxies, there are also rotating proxies. They rotate every several minutes. So, every time you have a new IP address which makes you even more protected.
---
11 Best Mobile Proxies 
Of course, choosing a good proxy might be difficult. But we have made this comprehensive proxies list to help you find your top provider. Read our 10 best proxies list below.
---
IP location: United States
Price: Starts from $300/15GB per month
IP Pool Type: Rotating
Authentication: IP and User & Pass Auth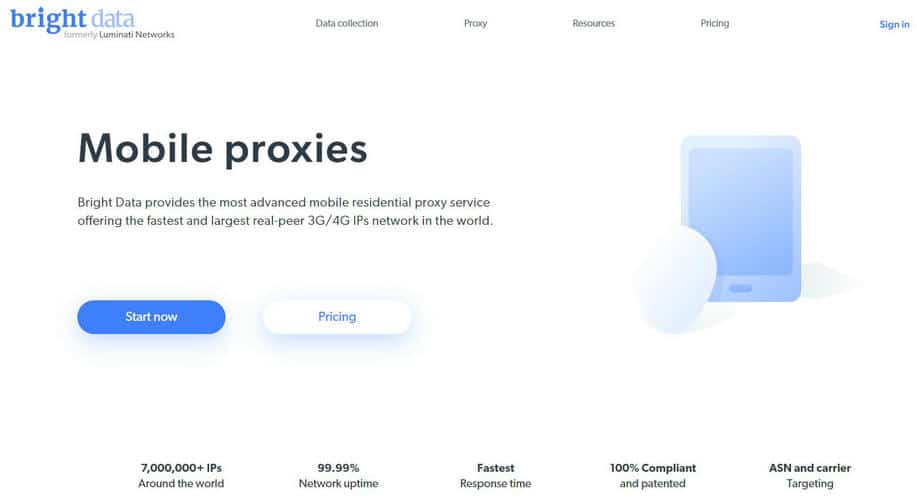 This is one of the most famous proxies on the market. Bright Data provides one of the most mobile proxy services with superb speed. It provides 3G/4G IPs networks that are some of the fastest in the world. There is 99,99% network uptime and the fastest response time. The service is 100% compliant and patented, with more than 7 million mobile IPs around the world.
It also allows ASN and carrier targeting of your choice. Bright Data has some famous clients like Forbes or Techradar, so there are more reasons to trust this company. You can have mobile residential IPs in every city without limitations. This proxy can be used for web data extraction, collecting stock market data, brand protection, and E-commerce.
They have also offered the "pay as you go" option. That means if you only have a small bandwidth requirement, will not a penny is wasted!

---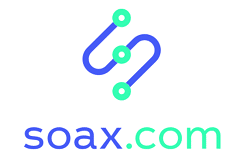 IP location: Worldwide
Price: Starts from $70/300 port per month
IP Pool Type: Rotating
Authentication: User & Pass Auth
Soax offers reliable mobile proxies from many countries of the world. They help you to access any website you like without being blocked. The proxies of this company are 100% anonymous because they rotate 3G/4G proxies, constantly redirecting many mobile devices. This scheme guarantees you complete anonymity and reliability. You may read here about the 4g LTE mobile proxies.
You can run an unlimited number of connections and work with many mobile IPs in any city or country. The proxies allow precise and detailed geo-targeting, which lets you mask your real identity and bypass any restrictions. The company provides pricing plans and allows testing for only $1.99.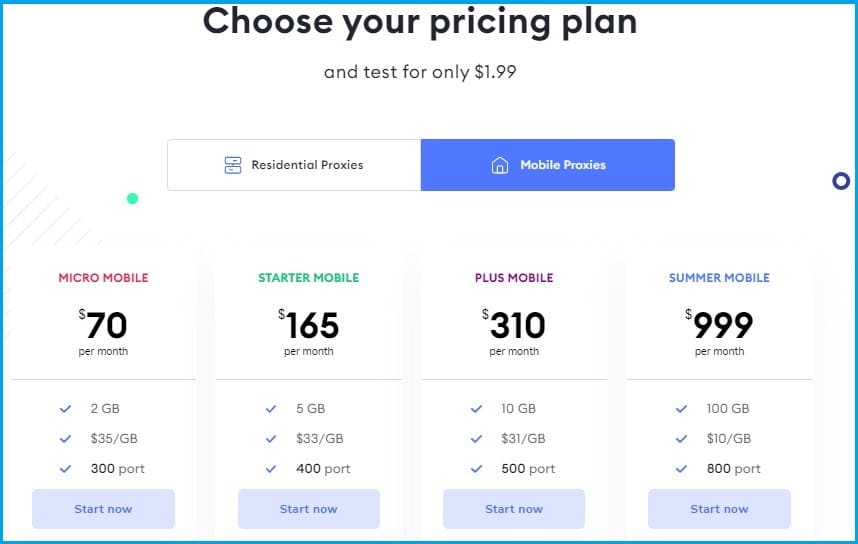 ---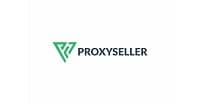 IP location: United States, United Kingdom, France, Italy, Russia, Ukraine
Price: Starts from $12 per proxy/week
IP Pool Type: Rotating
Authentication: User & Pass Auth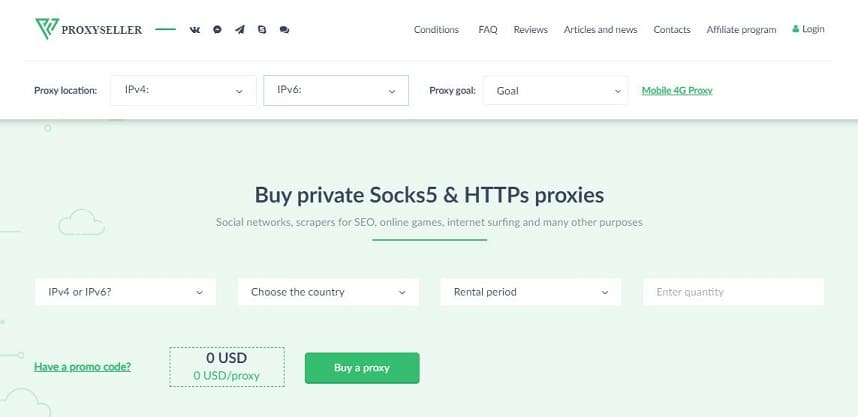 Proxy-Seller.com provides private mobile 4G proxies with unlimited traffic for any purpose, except those are written in the conditions such as: scam, brute-forcing, etc. Premium-level support is available 24/7/365. Customization of the rotation time, mobile operators such as AT&T, Orange, T-Mobile, Verizon, Vodafone, Megafon, etc.
Also, the provider assures they will expand the range of geolocations as soon as possible. Decent discounts are available when purchasing a proxy for a longer term of use.
They provide fast, reliable, and high-quality proxies for an acceptable price that is lower than most rivals in the market today. Supported by both connections: Cellular or Wi-Fi. Proxies are packed with both protocols: HTTPS/SOCKS5, so by purchasing one protocol you get a second one for free.
You can choose a specific city/town or state of mobile proxies from Proxy-Seller.com via support in chat or e-mail. Using proxies from Proxy-Seller you will transfer your connections through a real device, so "no-track" is guaranteed.

---

IP location: 26+ locations in the US
Price: Starts from $20/24 hours
IP Pool Type: Dedicated
Authentication: IP or User & Pass Auth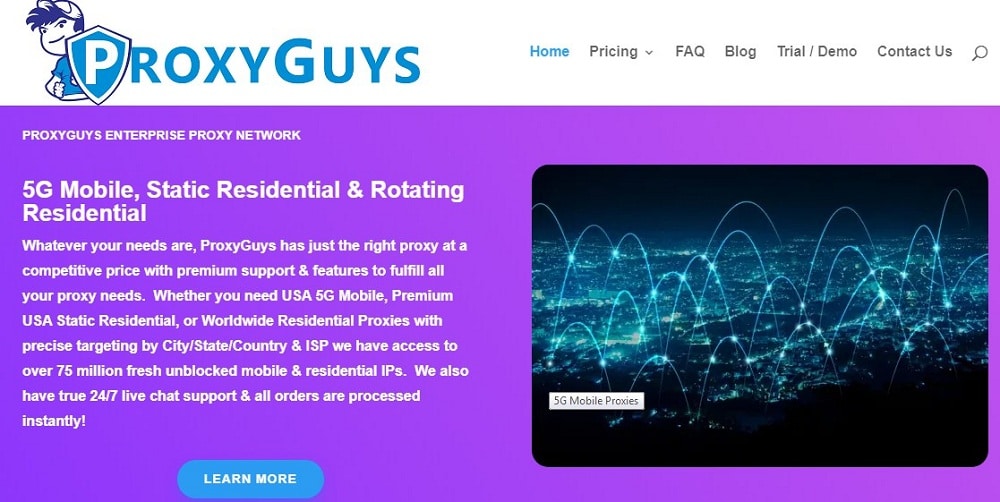 This proxy provides 5G mobile proxies. It fits any needs at a competitive price. One of the great features of this service is its premium support that can help at any moment 24/7. There are more than 75 million fresh unblocked mobile IPs. When it comes to 5G mobile IPs, the company uses only enterprise-grade IP modems from such brands as AT&T and Verizon Wireless.
They provide true mobile IP addresses that are fast, reliable, and of good quality. They fit every website. With ProxyGuys, you experience enterprise lever service that is 100% legal in the US as it doesn't break any international laws. There is a 100% uptime and always premium speed. You can get the speed between 40-70 Mbps. There is no leaking or logs of your information, as ProxyGuys do not store them.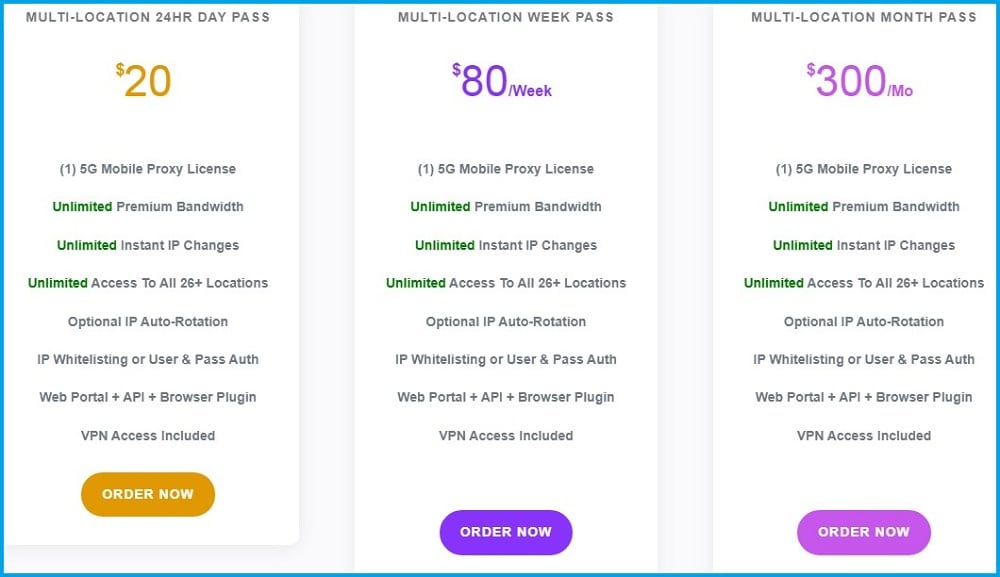 IP location: United States
Price: Starts from $2.95 per port
IP Pool Type: Dedicated
Authentication: User & Pass Auth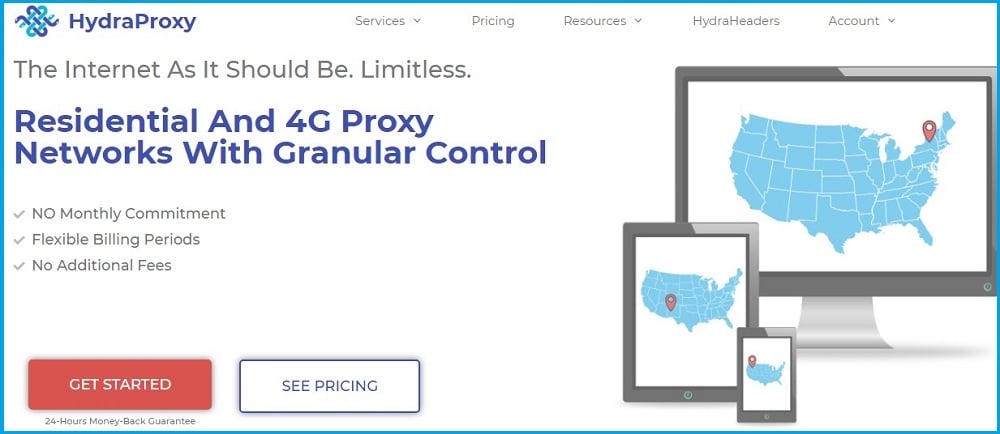 HydraProxy provides 4G proxy networks with granular control. They are easy to use as there is no monthly commitment, flexible billing periods, and no additional fees. There are more than 200.000 IPs and a money-back guarantee. The minimum order is as little as 1-day access. The proxies have unlimited bandwidth without restrictions and a 30 min or extended auto IP rotation.
You can pick 4G or Wi-Fi connection IPs. The proxy also supports HTTPS/SOCKS and has a dedicated carrier setup. There are no hidden costs to this proxy, and there are convenient packages with custom access. With HydraProxy, your request will pass through a network of clean IPs from local peer devices that are connected using the commercial ISPs and mobile carriers.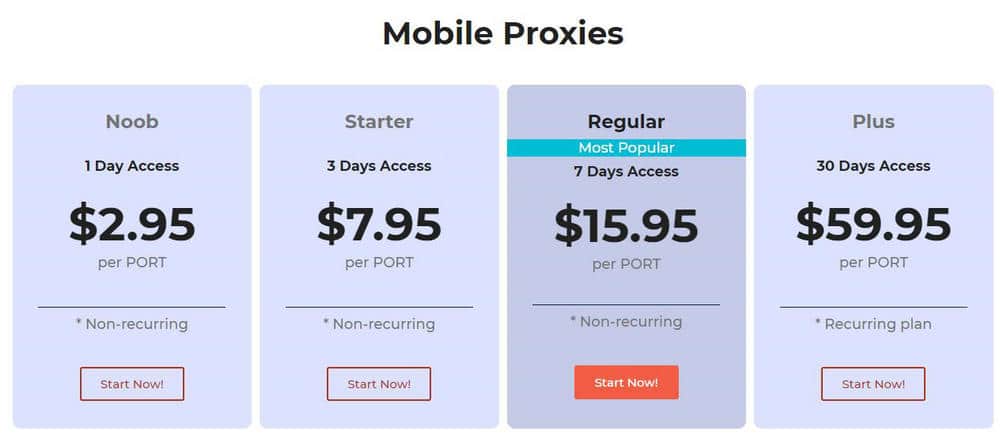 ---

IP location: United States
Price: Starts from $2/per proxy a day
IP Pool Type: Rotating
Authentication: User & Pass Auth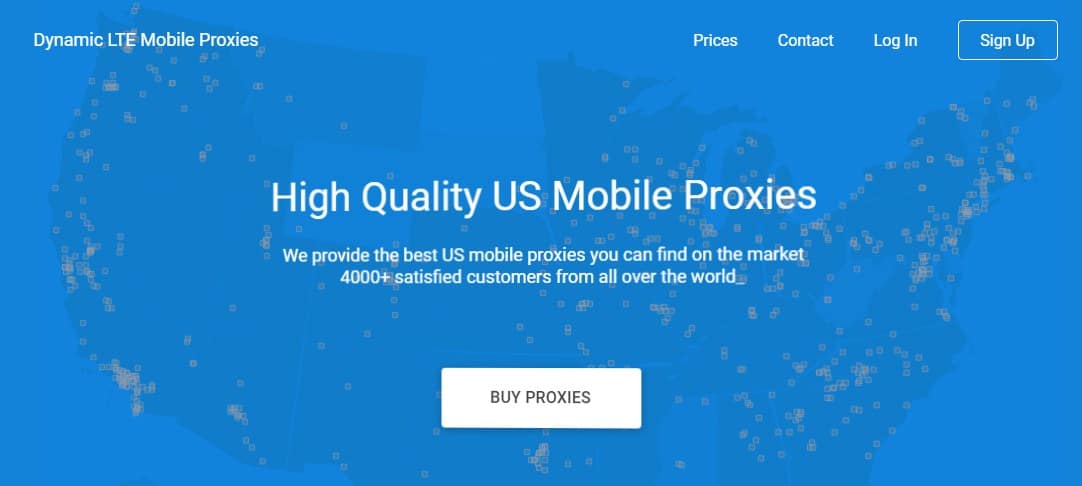 This is one of the best US mobile proxies on the market today. ProxyLTE provides high IP diversity, as new IPs are constantly being added. All mobile operators are in the US and are available in all US states. ProxyLTE can provide high anonymity, as it uses clean proxies with encrypted traffic and mobile fingerprint, plus no logs.
You can seamlessly integrate with Jarvee, Multilogin, and other platforms. There is a possibility to add proxies to your workflow with help of API. All users can enjoy 24/7 support and premium customer care. These proxies can help even with sensitive applications like YouTube or different social media. You can enable IP rotation for these proxies without restrictions.
---

IP location: United States, France, Lithuania
Price: Starts from $50/month (4G US Mobile)
IP Pool Type: Rotaing
Authentication:  IP and User & Pass Auth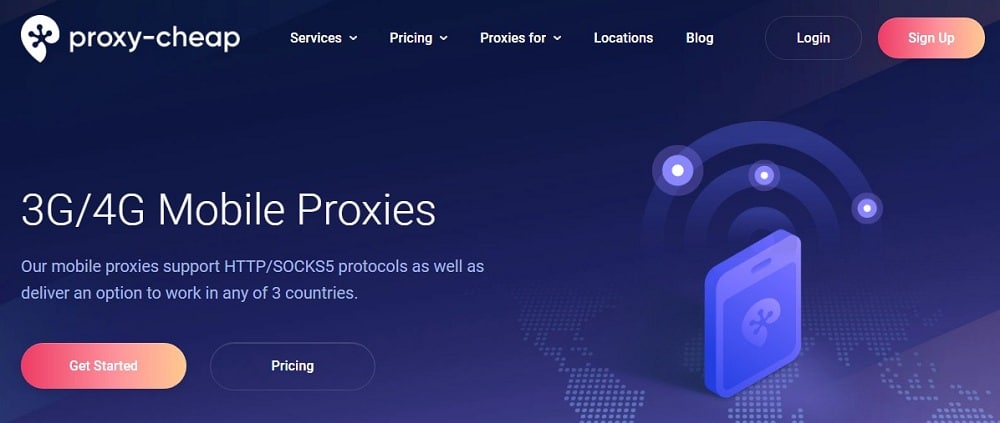 Proxy-Cheap allows 4G/3G mobile proxies that support HTTP/SOCKS5 proxy protocols. They can also deliver an option to work in any of 3 available countries. There is unlimited bandwidth and dedicated device hardware. With Proxy-Cheap, you have a personal dashboard that allows inspecting proxy usage and managing your account.
The proxy allows an instant setup, interface simplicity, and ease of use even for beginners. You can choose between France, the US, and Lithuania. There are 11 countries worldwide with 30 mobile carriers. This proxy fits social media, helps to bypass blocks, and ensures top security for users. Apart from other uses, you can apply the proxy to market research, brand production, ad verification, or SEO utility.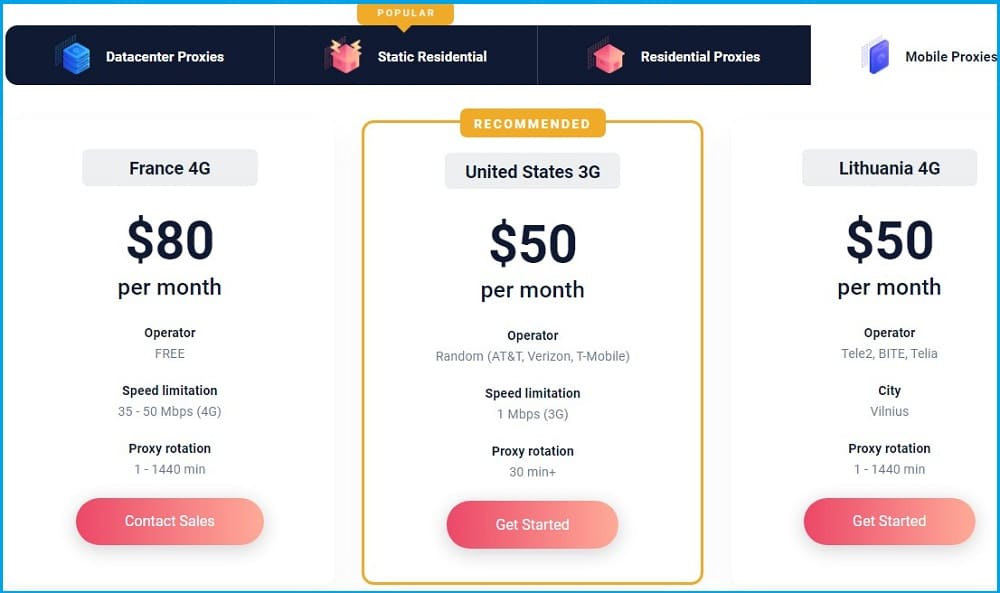 ---
IP location: Italy
Price:€87 per proxy, for 30 days
IP Pool Type: Rotating
Authentication: User & Pass Auth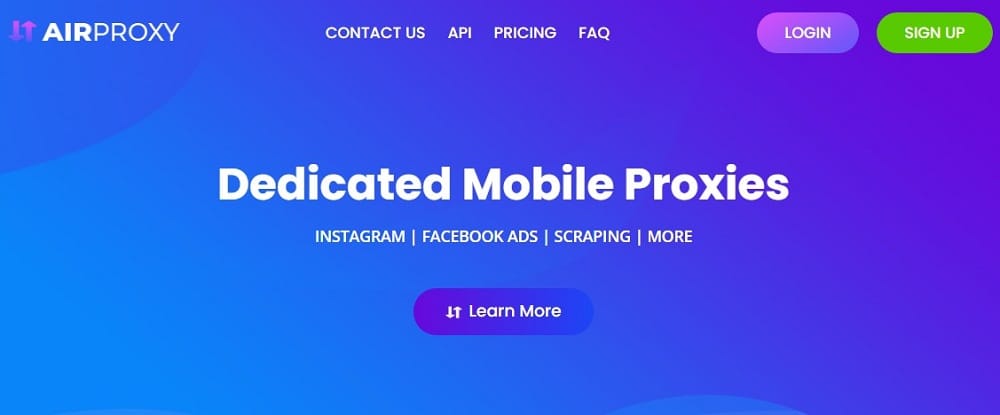 Airproxy offers dedicated mobile proxies that you can use for Instagram, Facebook ads, scraping, and much more. Their 4G proxies are undetectable and contain legit user connections from mobile IPs. Also, these proxies have high IP trust scores and can increase account trust scores.
Also, you can rotate your IP via API automatically if you need that. There aren't any fixed limits or low latencies. If you are a business, Airproxy will offer you a tax invoice. There is no setup time, so you can start proxies instantly. But, the IPs of Airproxy don't detect as a proxy or VPN because they have zero fraud and spam scores.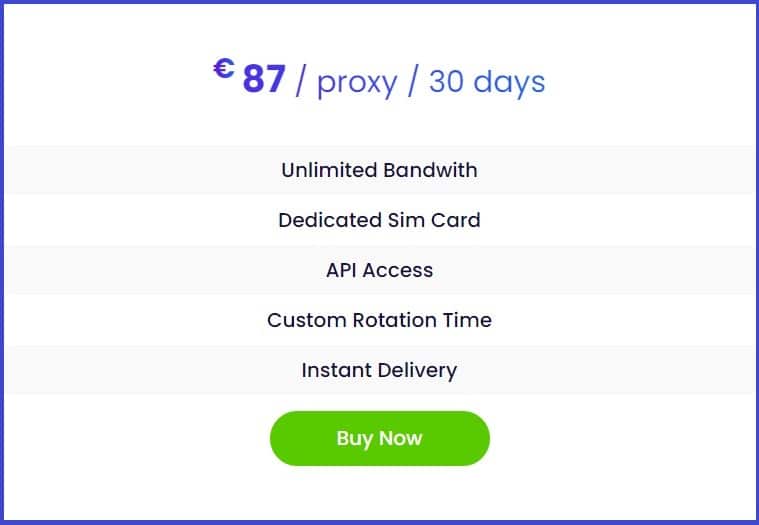 ---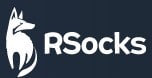 IP location: Netherlands
Price: $10 a day for the US proxy
IP Pool Type: Rotating
Authentication: IP auth, User & Pass Auth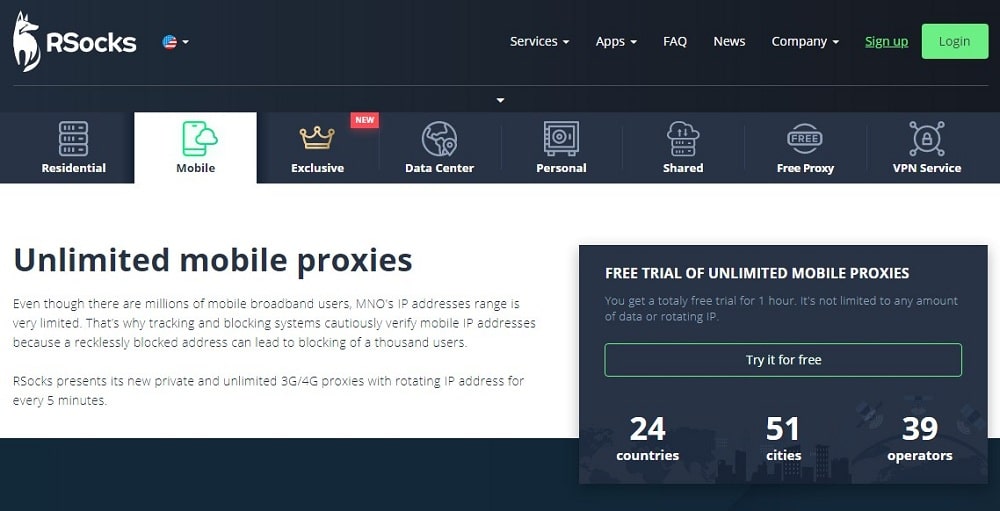 RSocks provides high-quality proxies with 7000 IP in Europe. Their mobile proxies can use more than 22 operators around the world. Also, there is a selection of 20+ proxy locations. You can pick the dynamic IP change every several minutes. If you need it, you can rent individual equipment. The proxy supports HTTP(S) and SOCKS4, 4a, and 5.
These proxies are unlimited, both 4G and 3G with rotating as well as dedicated addresses. You can pick a free trial that lasts for 1 hour with unlimited data of rotating IP. In this case, you will have 24 countries, 50 cities, and 39 operators at hand. There are many proxy options available, for example, you might pick ones from the US, UK, New Zealand, Serbia, and more.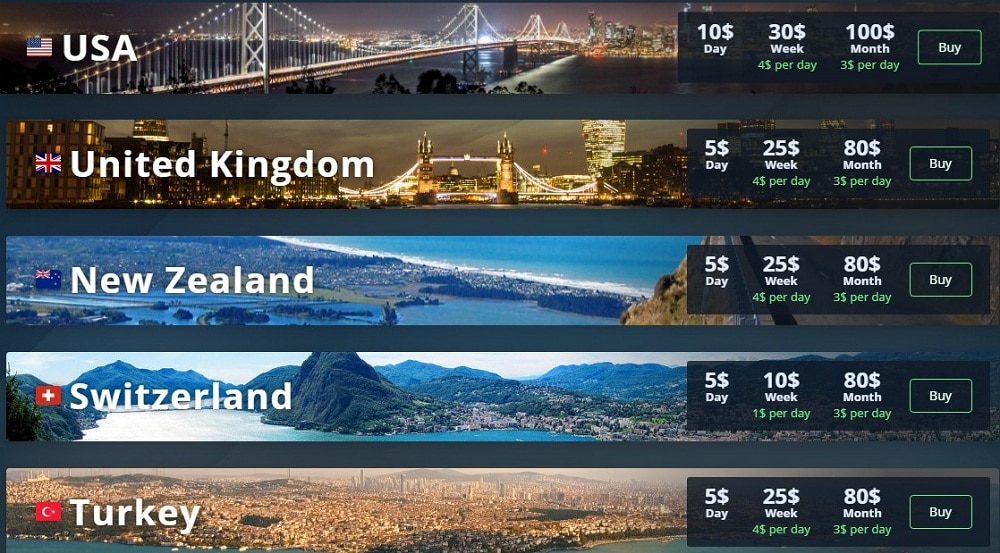 ---

IP location: United States
Price: $240 per month
IP Pool Type: Rotating
Authentication: User & Pass Auth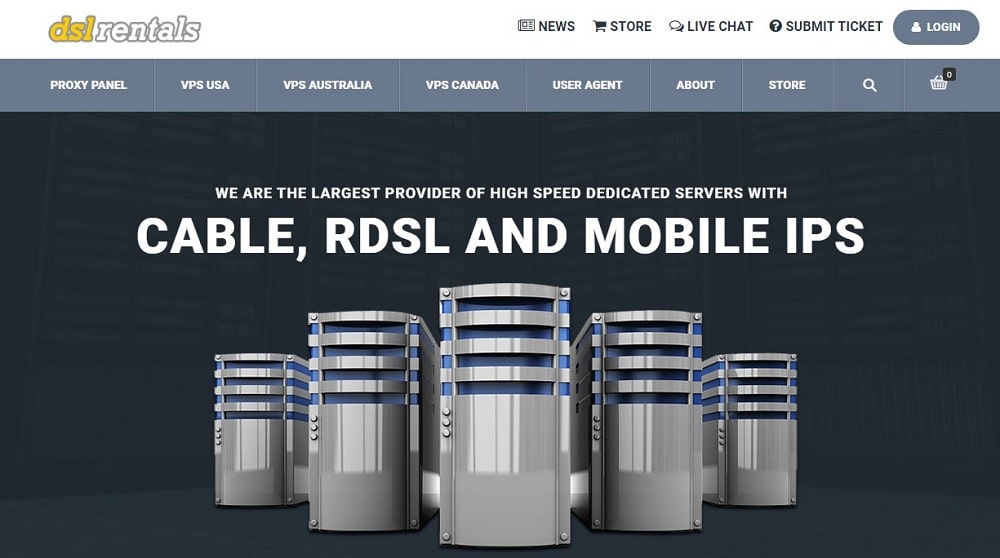 DSL Rentals promise proxy panel access with one key. It gives you access to different proxy servers in many locations. Also, you get 4G lines with Virgin Mobile, AT&T, and Sprint. These locations are available in the US. There are unlimited IP changes and switching of proxies, which is convenient. Plus, you always have an option to reserve a proxy server if you need it.
Also, DSL Rentals allows automation tools such as API commands, information in JSON format, and automatic IP change according to the time. You can purchase the proxy keys, you need to order a personal license key from the store.

---

IP location: UK, Austria, Israel
Price:€90 per month
IP Pool Type: Rotating
Authentication: User & Pass Auth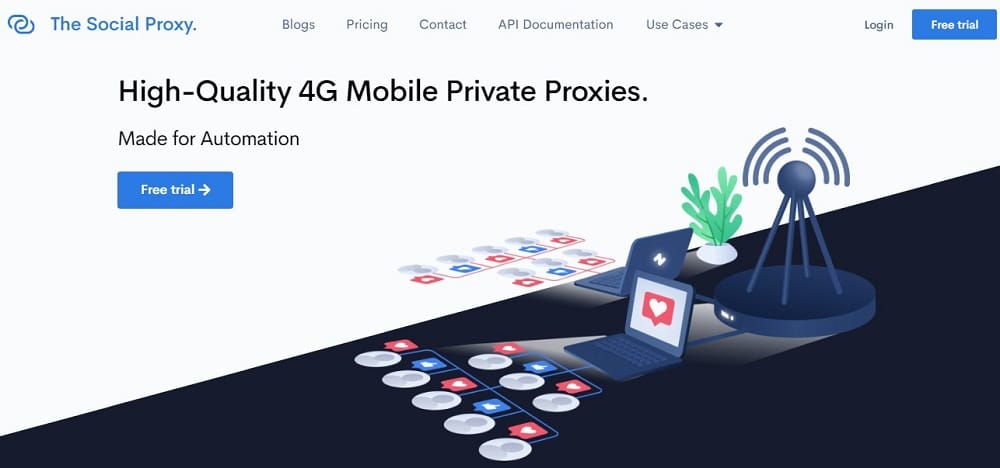 The Social Proxy provides high-quality mobile 4G proxies with high privacy. When you order, you get many mobile features and an unlimited mobile connection. There is an endless stream of IPs by real and legitimate users. The company provides you with raw unmodified mobile 4G connection, and you can run as many accounts as you need.
In addition, you can automate the proxies, as The Social Proxy allows IP rotation every X seconds, live rich access logs, and enabled REST API. You can pick many locations in the UK, Austria, and Israel that have the highest uptime standards.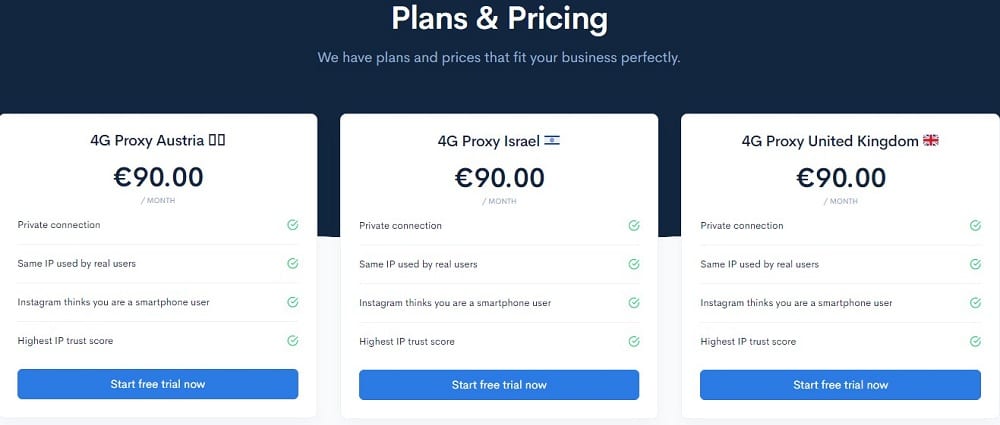 Mobile proxies are best for any device that can connect to the Internet. They effectively hide your IP using 4G or other mobile connections. These connections are quick and difficult to block. Such companies as ProxyGuys, Soax, and HydraProxy are among the top mobile proxy companies.
Also, pay attention to ProxyLTE, BrightData, and Proxy-Cheap if you want top-quality proxies. Some other good places to get mobile IPs are Airproxy, RSocks, DSL Rentals, and The Social Proxy.