The practice of using proxies to access the internet is here to stay. The use of proxies will rise as more people demand alternate IP addresses to hide their identities online. The usage of proxies is necessary in a number of situations. Switching between proxies can be hectic – and that is why proxy switchers were developed. The article below discusses some of the top proxy switchers in the market you can use for switching between proxies.
For instance, if you want to browse the internet anonymously, access geo-restricted content, manage several social media accounts, scrape data, check prices, etc.
Proxy servers help complete tasks online, but they have one drawback: they are not as simple to use as other methods. Simply put, they are difficult to configure for usage with browsers. Particularly if you regularly swap between proxies.
It might get tedious and repetitious to go through the switching stages. Imagine that for you to utilize a specific proxy, you might need to log into your dashboard to make adjustments whenever you want to modify the geo-location or any of the other minor required settings.
You would only require the assistance of a proxy switcher for this purpose. But there are programs called proxy switchers that make setting up and using proxies simpler. The configuration and management of your proxies will be much simpler with the help of the proxy switchers we'll be discussing in this post.
The top 5 proxy switchers
| | |
| --- | --- |
| Name | Best for |
| Proxy SwitchySharp | Best Fast Management switcher |
| Proxy Switcher | Best mass proxy switcher |
| LocaProxy Toolbar | Best free switcher |
| ST Proxy Switcher | Best Secret switcher |
| BP proxy switcher | Best automatic rotating switcher |
---
With the help of the Google Chrome extension "Proxy SwitchySharp", you can easily and quickly manage and switch between many proxies. When you first download and set up this proxy switcher, it adds an access button to the toolbar of your Chrome browser. When using the software, you don't need to change your proxies manually.
Data export and import options are also available, and the import mechanism enables you to include your list of proxies. Despite its popularity, the creators no longer actively maintain or update it.
However, it has more sophisticated features like event management that are effective and precise for watching proxies. With more than 500,00 active users, it is still among the best on the market. Its 5-star rating adds to the evidence of its potential for effectiveness and dependability.
---
2. Proxy Switcher – Best mass proxy switcher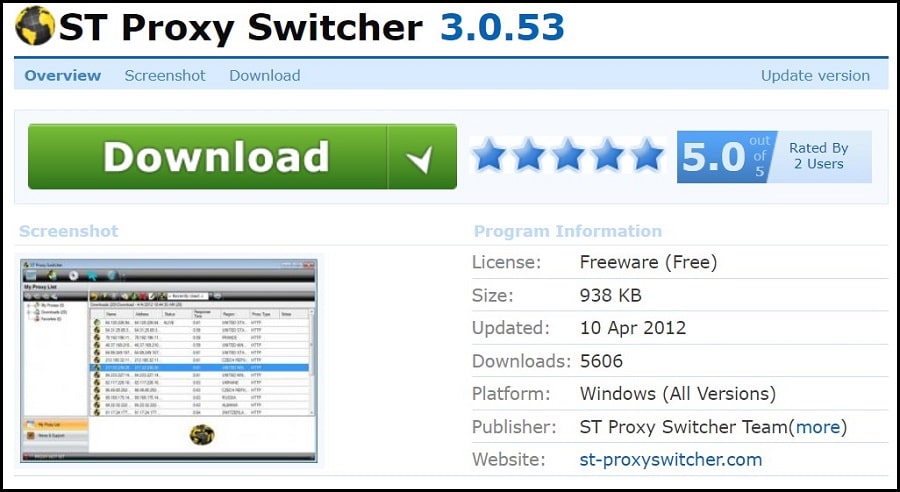 Another switcher for managing numerous proxies is The Proxy Switcher. This extension software is straightforward and works with Firefox, Internet Explorer, and Opera Mini in addition to Chrome.
It offers an easy-to-use interface, and most significantly, the toolbar makes it simple to switch proxies. By masking your IP address, the Proxy Switcher enables you to browse the internet anonymously. You have access to blocked websites and password-protected servers using this browser extension.
The Proxy Switcher has been downloaded more than 50,000 times. Inline PAC script support and automated proxy detection mode are two of its wonderful features. You can select between the HTTPS and SOCKS proxy protocols.
There is a free light version of the program, a regular edition that costs money and is more capable, and a PRO version to check out.
---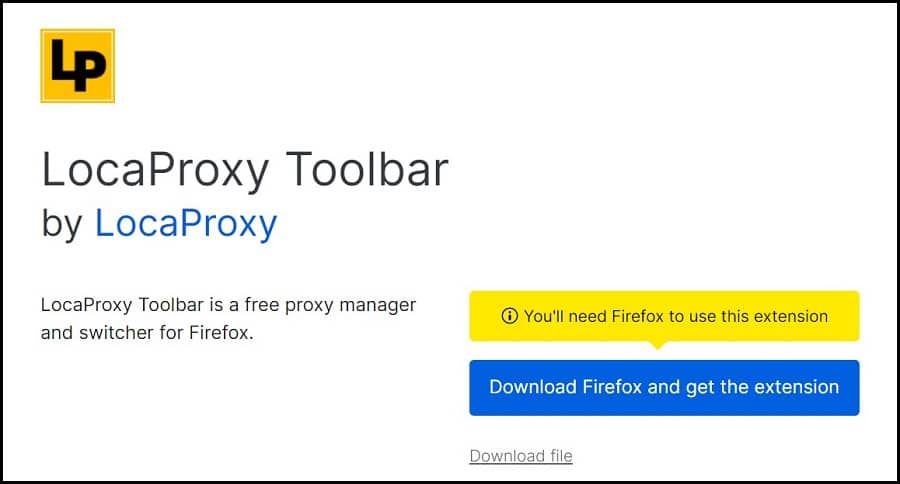 One of the free proxy managers for Firefox is the LocaProxy Toolbar. You can set up and maintain your chosen proxy list with it. The geo-detection technology in the Proxy Switcher utility allows you to determine the precise location of the proxy.
You can quickly view the proxy's status using the LocaProxy Toolbar. A button that makes it simple to turn the proxy ON/OFF is also there. There is an English version of this software.
The most recent update was made on June 4, 2022. Being compatible with Linux, Mac, and Windows operating systems suggests that LocaProxy Toolbar (Chrome Extension) is a cross-platform proxy management application. There are LocaProxy Toolbar Add-ons for the browsers Mozilla Firefox and Google Chrome.
---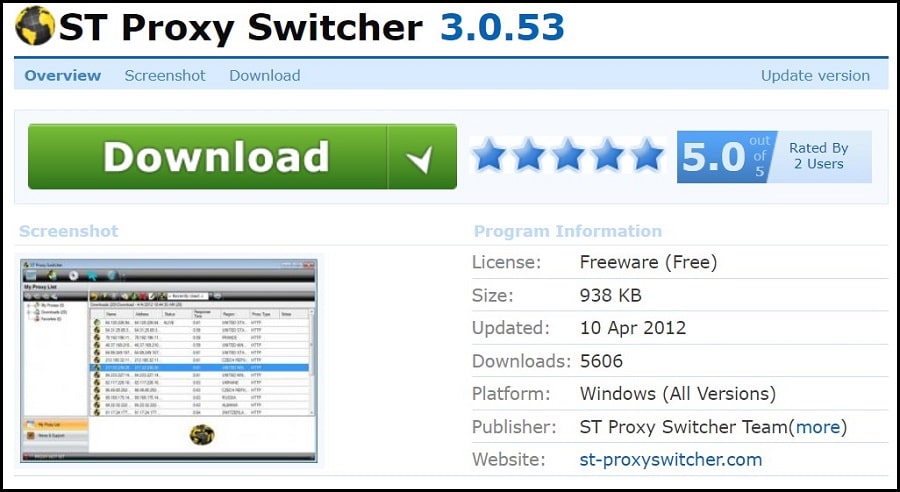 A business called ST-Proxy-Switcher created it. You may easily manage the list of accessible proxies by using the ST Proxy Switcher, which is made just for that purpose. These proxies are arranged according to the degree of anonymity they provide and the protocol being utilized. Highly anonymous HTTP connections and SOCKS4/5 connections are options that are accessible.
However, this proxy switcher comes with a useful collection of features that provide a convenient way to recover proxy settings with different levels of secrecy and keep the lists up to date.
However, the availability of the lists is mostly what determines how well it works. So it is conceivable to come across a proxy that is broken.
Users cannot add their list of proxies to the software, which is unfortunate. The program is accessible to English-speaking users, and the most recent update was made on June 5, 2022. The Windows operating system is, nevertheless, compatible with it.
---
5. BP proxy switcher – Best automatic rotating switcher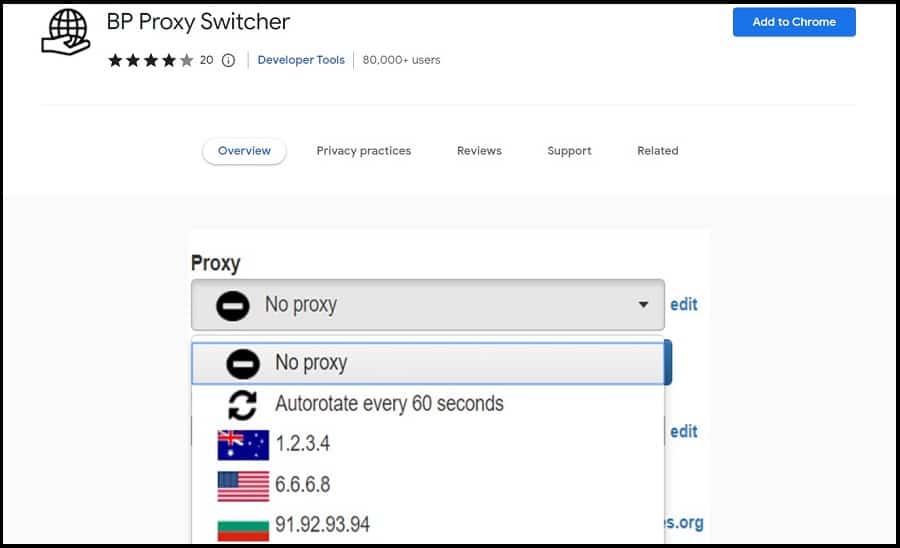 BP Proxy Switcher is a Google Chrome extension software offered by Buyproxies, a popular private proxy provider on the market. The extension allows users to add their premium proxies quickly. With just a single click, you can go ahead and switch between the proxies after they must have been proxies added.
Besides, this proxy switcher is equipped with an auto-rotate feature that swaps the proxy after 60 seconds. Its unique feature is that it displays the country for every proxy.
You also have the option to delete the cache prior to shifting to a different proxy. This ensures that your path on the internet can not be tracked, thereby improving anonymity.
The downside is that there are no proxies for each tab you open, just like with other switchers. You get to use a proxy for the whole browser. Aside from this, it is a good proxy switching tool with great reviews.
---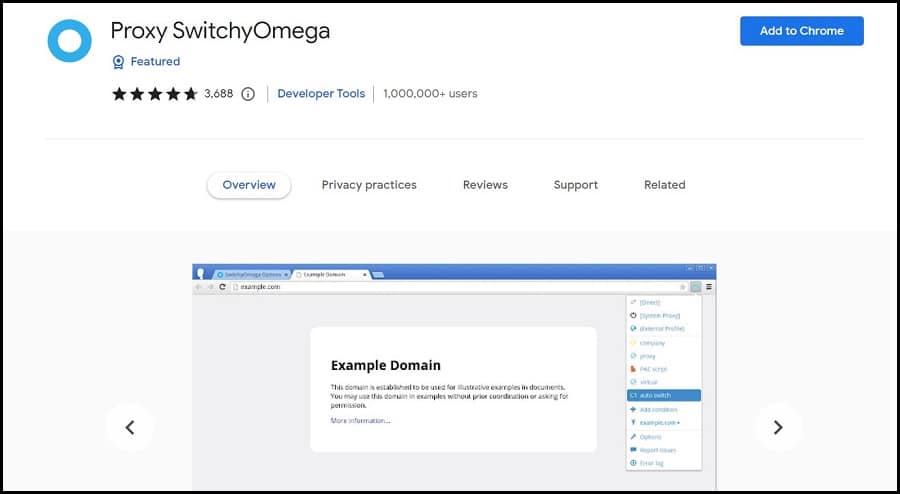 Another excellent browser extension and proxy control solution for Mozilla Firefox and Google Chrome is Proxy SwitchyOmega. You may quickly switch between different proxy servers, thanks to it. Doing so would only take a few minutes.
Proxy SwitchyOmega, on the other hand, is an open-source application with its codebase hosted on GitHub. Users are allowed to add to its codebase. Fortunately, you don't have to set the parameters for each proxy you use because of the proxy switcher.
It handles every proxy you use at the same time. Proxy SwitchyOmega also has an "Auto Switch" mode that connects specific websites with specific proxies. However, the extension is useless when you try using it with a shared IPS.
This proxy switcher has had over 1 million user downloads from the Chrome web store. It has also had 4.5 out of 5 ratings, making it one of the most sought-after proxy switchers in the market.
---

ProxMate for Google Chrome is a full-featured package for proxies that handles all your proxy server settings and PAC configurations. ProxMate makes it possible for you to enjoy the benefits of using a proxy on certain sites without having to use it for all of them.
With ProxMate, you get to decide what gets re-routed and what does not. You have the liberty to download proxy packages for your specific needs, modify them, create your own, and possibly share them back with the community.
It should be noted that each website is a package, and each package is optional. The add-on would continue to expand based on the requests of its users. However, ProxMate for Chrome 4.6.7.0 is available to all software users as a free download on Windows.
---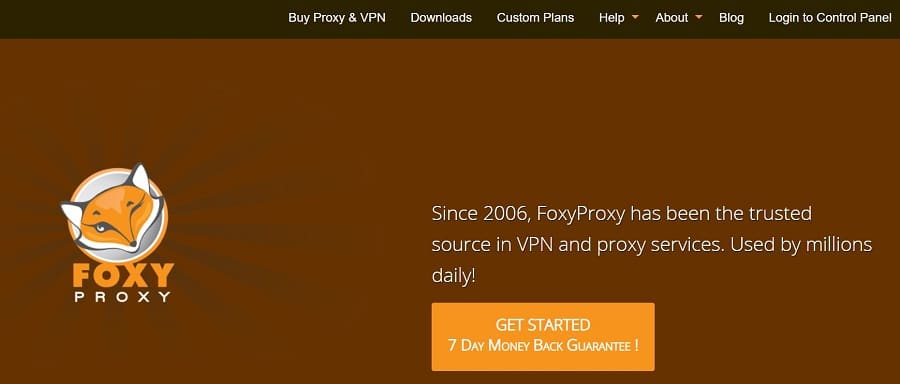 FoxyProxy is a well-known proxy switcher in the industry. This is due to its popular management system known as GeoShift. This feature enables you to swap between up to 100 countries. It allows you to surf the internet from different regions around the globe.
It is a free extension that is simple and easy to use. FoxyProxy happens to be one of the most downloaded proxy switchers on the market, with over 200,000 downloads from the Google Chrome store.
It doesn't just work on Google Chrome; it is also compatible with Mozilla Firefox, and, by extension, the Firefox add-ons are compatible with Android. FoxyProxy supports importing and exporting proxies, rule-based routing, and excellent event handling.
---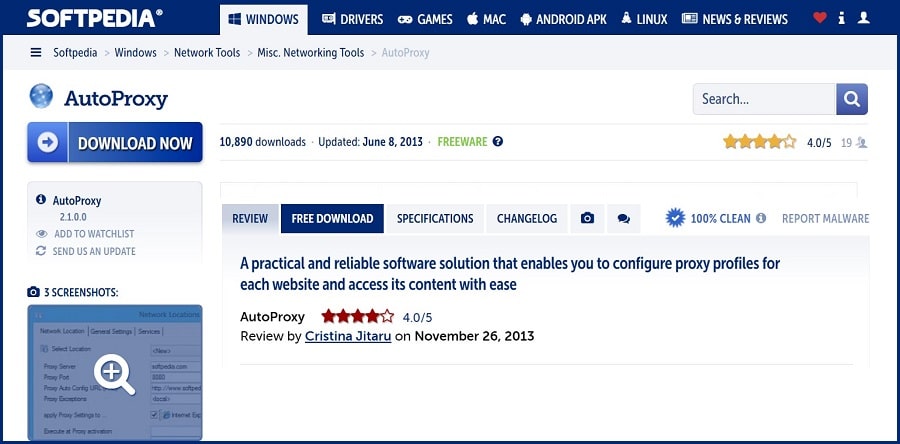 An automatic proxy configuration program called AutoProxy locates the real network locations and switches to match the altering proxy settings. It turns on and keeps up network profiles. The Auto Proxy program displays Telegram proxies rather than acting as a proxy maker.
Therefore, you might need to try a different proxy if the one you're using doesn't work for you. All Telegram proxies will be automatically looked for and shown to you using the AutoProxy program. In a decentralized manner, it shows all the healthy Telegram proxies.
When using AutoProxy, Telegram proxy channels are no longer required to connect to Telegram. You don't need VPNs or filter breakers to connect to Telegram when you use AutoProxy. In addition, VPN slows down the internet connection speed on your phone.
---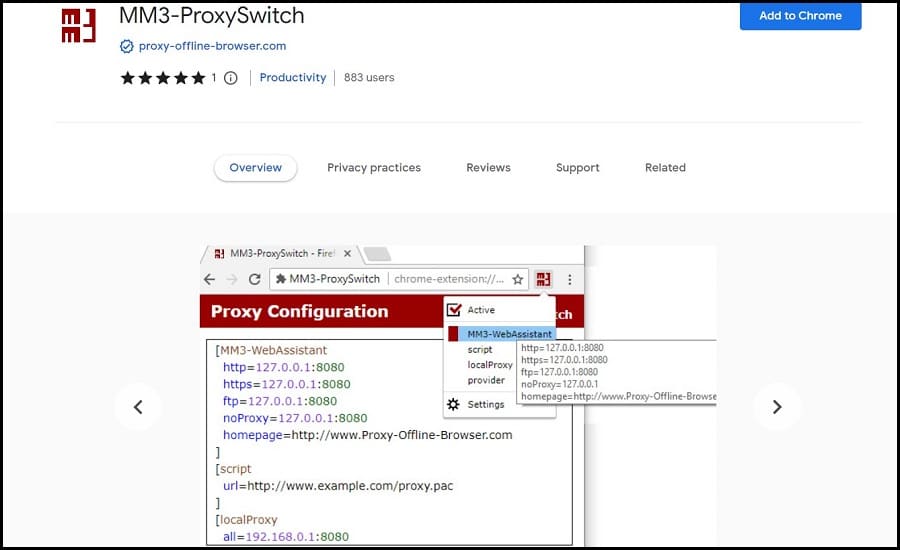 For the WebAssistant – Proxy Offline Browser, a proxy switcher called the MM3 Proxy Switch plugin was created. It allows you to switch between and manage various proxy settings. Mozilla Firefox, Google Chrome, Microsoft Edge, and Vivaldi are the browsers that work with the MM3 Proxy Switch extension.
The MM3 Proxy Switch extension allows you to manage your proxy settings and delete cookies, browsing history, and other associated data. This proxy client application comes with a GNU license and is free to use.
The Connection Settings window is no longer required to move between a direct connection and various proxy configurations. You may handle various configurations and quickly switch between proxies using this proxy switch.
---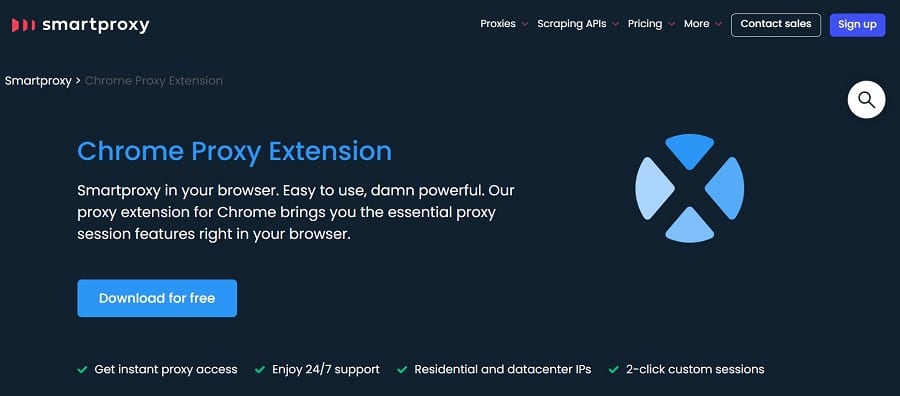 Another excellent Chrome and Firefox addon for switching between proxies are Smartproxy Proxy Changer. After determining your pattern and setup, it gives you the option to enable and disable proxies for the websites you visit.
Since this addon does not call for manual proxy adjustments, switching between proxies is eventually made simpler and easier. The Firefox and Chrome browsers both support the Smartproxy Proxy plugin. Because it doesn't show adverts or track its users, this proxy switcher is fantastic.
The software has been downloaded by over 10,000 users. Data restore, and backup setup choices are one of the software's distinctive advanced settings. Downloading the extension will allow you to change it whatever you like. You won't need to complete the process manually; it will operate automatically.
---
The Proxifier differs from a standard proxy switcher in several ways. Any website or application's network connection can be routed through a proxy using this more sophisticated proxy tool. Whether or whether an application supports proxies, the Proxifier compels all web requests to go via them.
In contrast to other proxy switchers, it is not limited to the browser environment. A Proxifier, on the other hand, is a small piece of software that can support protocols including HTTP, SOCKS, IPv6, and others.
It is a single piece of software, though, and is quite adaptable. It has every functionality a proxy switcher should have, and the software was made to make integrating with other programs simpler. This enables the user to use it in conjunction with other applications or proxy switchers. There are versions of Proxifier for both Windows and macOS. Even though it is a premium piece of software, a free trial is possible.
---

GuifiProxy is another available proxy switcher. Firefox makes use of this proxy switcher extension, and it is easy to use. You can define your proxy list from the Options box or add it from an a.txt file, whichever is preferable. To further expand the database for proxy servers, users can import and export proxy lists.
GuifiProxy can also be modified by users to suit their needs, thanks to this application's customization capability. Its automatic authentication on proxy networks, which essentially gets around the popup system with login and password options, makes it so interesting.
Users can use a few hotkeys supported by the switcher to enable or disable the use of proxies. GuifiProxy is essentially just a platform for managing or switching proxies, as well as for activating and disabling them using short keys.
---
This is a proxy switcher and administration tool in one. This platform is accessible to everyone, although it primarily aims at users who frequently switch between proxies or from direct connections to manual proxies and vice versa. Users can manage their proxies with only a few clicks of this tool.
It uses the default proxy settings from the web browser. Thus, there are no technical requirements or proxy settings needs. Users can quickly switch between proxies by adding a button to the default toolbar for convenience.
The application also has a straightforward user interface (UI) and easy-to-use features that aid in the user's comprehension of the proxy adjustment procedure.
---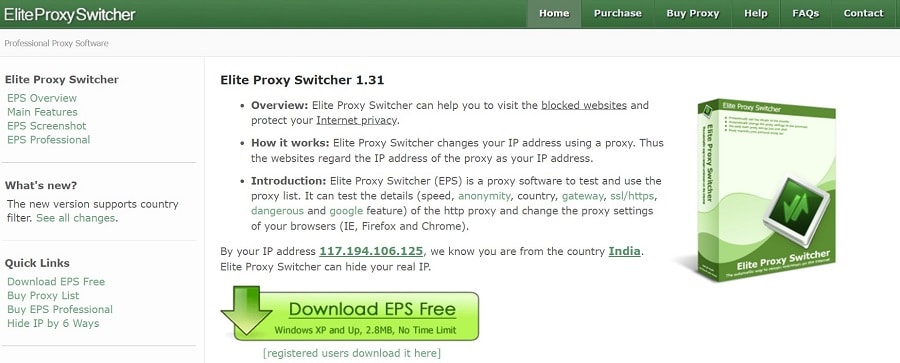 For your web browsers, Elite Proxy Switcher (EPS) is a qualified proxy checker and proxy switcher. You can access banned websites with the Elite Proxy Switcher while maintaining your online anonymity because it uses a proxy to alter your IP address. The primary functions of the Elite Proxy Switcher are proxy switching, proxy downloading, and proxy checking.
As a user, you can have EPS expertly evaluate the proxy's specifications (speed, anonymity, nation, city, distance, SMTP, SSL), modify the proxy settings for your browser(s), and obtain daily new proxies if you sign up for their list service.
Additionally, you may easily maintain your proxy list with the proxy manager tool. When it comes to sending emails, browsing safe websites, or playing online games, the program features a proxy list service addition that is advised to be purchased if you want the activities to go smoothly while still protecting your identity.
---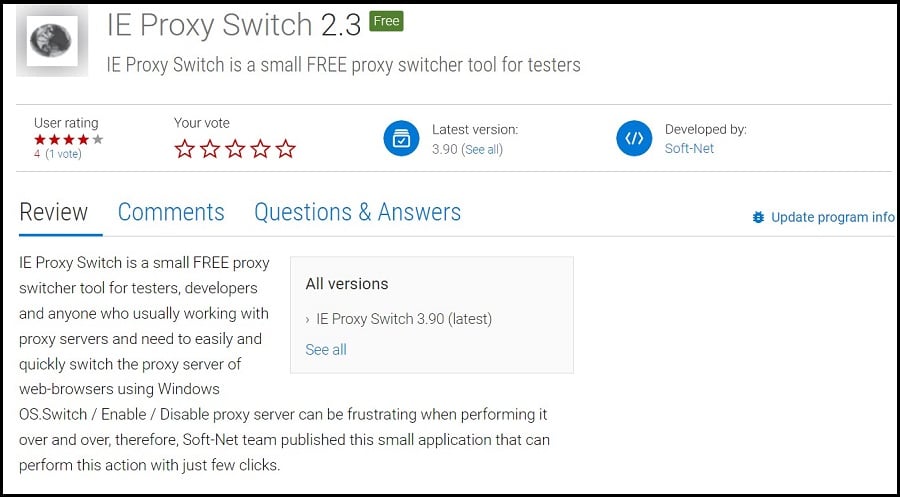 This is one of those proxy switchers you may rely on to make your chosen proxy list and access the web anonymously. It is a simple-to-use program that makes it simple to employ proxy settings when connecting to the Internet. Many popular browsers, including Internet Explorer, Google Chrome, Mozilla Firefox, and Opera Mini, are compatible with the proxy tool.
Users can add, change, and even switch proxies with relative ease in their browser. However, setting up the proxy switcher only requires a small amount of time and effort on your part as a user, and you must make sure that the.NET Framework is set up on your computer.
Due to the platform's assistance in developing the proxy switcher, this is the case even though its feature set isn't extremely extensive.
---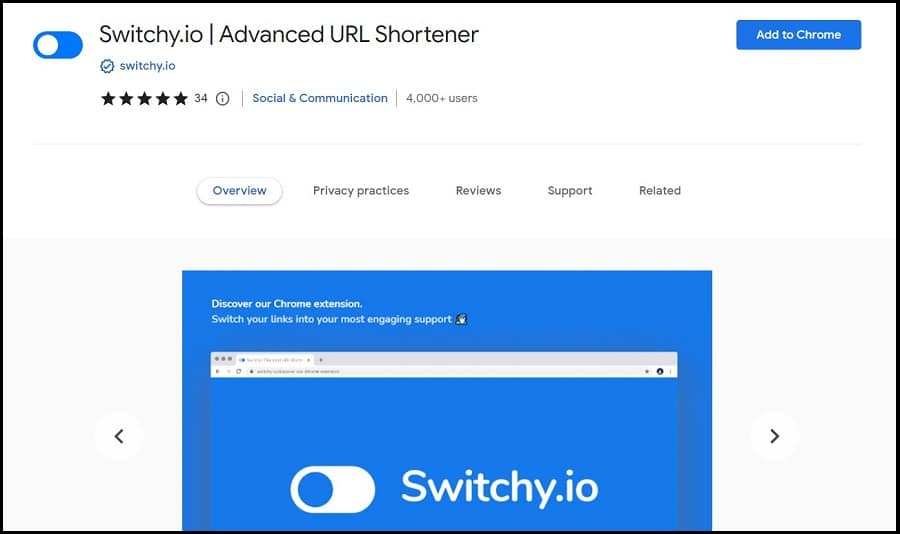 Switchy is an open-source program available for multiple proxy management on Google Chrome. It is a Chrome extension that provides users with a way of going through proxies and also switching between numerous available proxies quickly.
Users can do this without some additional requirements. If using different proxies at the same time is your goal, then switchy is the tool for it. When you install the Switchy in your Chrome browser, it will appear near the address bar in the form of a world icon.
Switchy also provides lots of other features to the users as well, to give you ease and browsing satisfaction.
---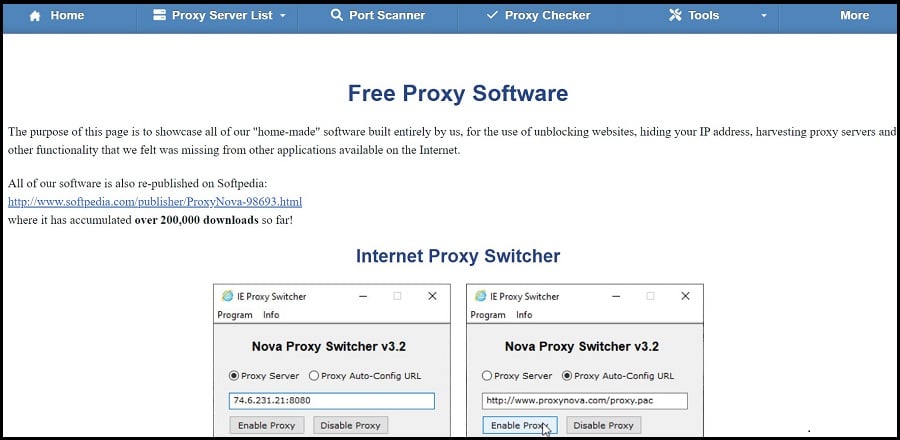 Nova Proxy Switcher is a user-friendly tool created to identify new, functional public proxy servers on the internet using clever methods. It then puts those servers through several tests.
This application's function gives you an easy way to quickly modify your system's proxy settings. Both Internet Explorer and Google Chrome are compatible. It also has a handy shortcut for rapidly switching to the free, publicly accessible proxy server run by ProxyNova.
Software called Nova Proxy Switcher is available for free on the Windows platform. However, it is a small piece of free software that provides an efficient way to set your browser's proxy servers. Furthermore, it comes with the typical proxy address and works excellently on the majority of well-known web browsers.
---
It is a practical and effective piece of software whose main purpose is to assist you in obscuring your internet activity. As a result, it stops websites or browsers from keeping an eye on your online activity. By simply changing their IP to a different country, Proxy Mask also provides users with a simple method for accessing banned YouTube videos.
It allows you to configure several proxy settings for various processes simultaneously and supports HTTP and HTTPS proxy servers.
The program has a somewhat cluttered design. Its primary window gives you information about the advantages of utilizing such a tool while also letting you select which component to use.
The application's "Proxy Checker and Switcher" feature gives you access to a huge list of "Elite," "Anonymous," and "Transparent" proxies and lets you use a chosen URL address to verify their availability.
---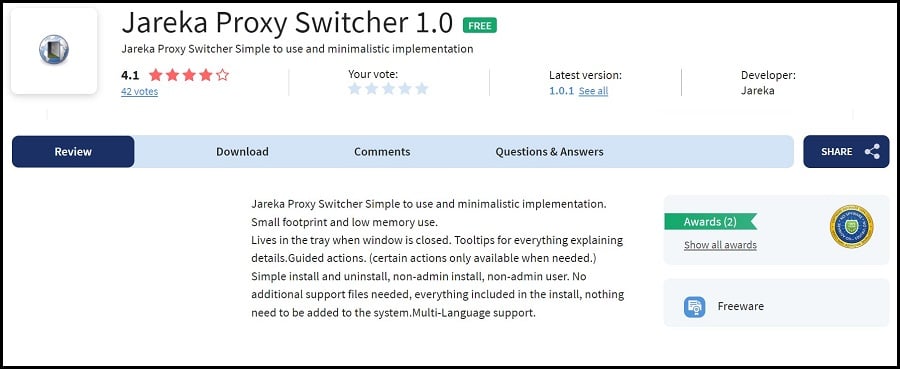 The Jareka Proxy Switcher program is straightforward. Jareka Proxy Switcher gives you a simple way to make and control several proxies. This makes it possible for you to easily switch between various proxy profiles when trying to connect to the Internet.
The Jareka Proxy Switcher has a number of advantages, including a minimalist implementation, a compact size, and low memory consumption. Its platform is free of ads. You only need to enter a display name, server address, and port number when creating a new profile.
With just one click, you can activate a profile, update its properties, and add or remove items from the list for as many profiles as you like.
---
FAQs
Q. What are proxy switchers?
Proxy switchers are, as their name suggests, small computer programs that assist you in managing and switching between various proxies. They might be standalone apps or browser extensions. Popular web browsers, including Google Chrome, Mozilla Firefox, and Opera, are all compatible with a large number of browser extension proxy switchers.
You will probably notice how tiresome it may be to administer each proxy manually if you frequently use a variety of proxies to carry out significant operations online. All of that is made simpler for you by the Proxy Switcher.
Q. What Can I Use Proxy Switchers to do Online?
You may not notice a need for a proxy switcher if you don't indulge in time-consuming activities online. Nevertheless, managing many proxies might be a serious worry if you are a social media manager responsible for keeping track of numerous accounts or a data scraper who has to obtain pertinent information.
Proxy switchers help manage multiple accounts, scrape data, access geo-restricted information, and playing online games, among other things. The use cases for a proxy switcher could include all of these and many more.
Q. Do Proxy Switchers Come with Proxy?
Traditionally, proxy switchers do not include proxies. They only assist with managing, monitoring, and switching proxies based on user preferences. Some proxy service providers, like BrightData and SmartProxy, however, have their proxy administration tools that can also be used to switch between proxy servers.
Not all proxy providers provide this feature, though. To support this further, consider that proxy switchers mostly manage proxies rather than setting them up.
---
Conclusion
The pace of online insecurity and the goals that are being pursued online make it crucial to maintain anonymity to avoid things like bans, limits, etc. You have that advantage if you use proxies.
Following our discussion of the list above, you now have access to a variety of proxy switchers that can allow you to use numerous proxies for your online activity, boosting your chances of anonymity.
Proxy maintenance is also made simple by these proxy switchers. For a simple and wonderful online experience, feel free to download and use these Chrome and Firefox proxy switcher plugins.