Twitch commands make it easier to respond to viewers on your channel. You can use platforms like Stream Element and MooBot to create commands that you can use on Twitch anytime.
Twitch is one of the best platforms that you can use to live stream and share insights. People regularly share gaming, entertainment, sports, and much more information. Therefore, if you are interested in such, Twitch is the perfect platform.
You can also make many friends on the platform as it allows chatting. Through that, even content creators create content to share with their audience.
Twitch commands make interaction and engagement much more accessible. However, do you know how to add commands on Twitch to make your interaction and content sharing easier? This article will share how to add commands on Twitch effortlessly.
---
Why Do You Need Commands?
It can be hard to manage hundreds of comments at a time if you have many viewers or subscribers on Twitch. Well, that's why it is crucial to create commands to respond to the various queries and comments from the viewers.
As much as you may have other people acting as moderators, it can be hard to handle all that. That's why commands can help you out.
Commands are simple chat lines that help perform tasks when you are live-streaming. You can use the basic ones on the platform or create custom commands.
---
Method 1: Use StreamElements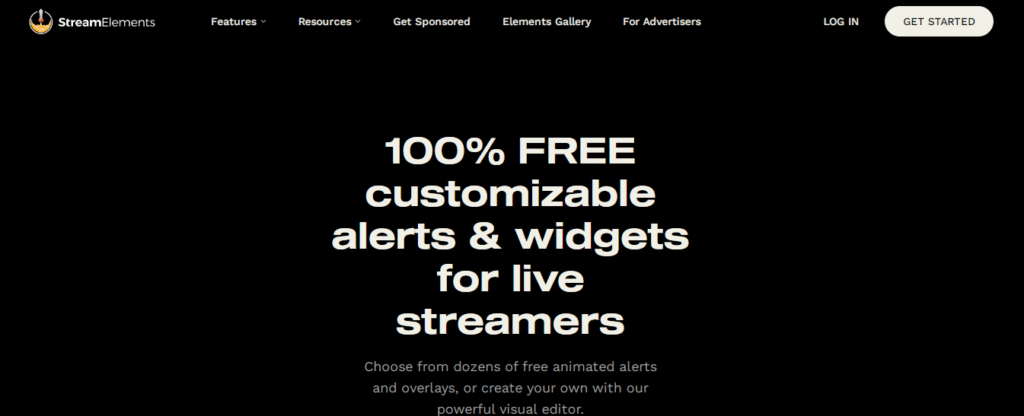 StreamElements is commonly used by content creators to stream on Twitch, YouTube, Trovo,  and Facebook. It has some remarkable engagement tools that you will enjoy using. It features overlays, tipping, animated alerts, templates, chatbots, and much more to make your streaming easier.
Step 1: Create an account
First, create an account with StreamElement. It is as easy as just connecting it with your Twitch account. Also, remember to give the authorization to connect.
Step 2: Select the "Chat Commands" option.
Once you access StreamElements, select "Chat Commands" on the left sidebar. It is through the control panel that you will manage the created commands.
Step 3: Select "Custom commands"
Proceed on to select "custom commands," then "add the new command." From here, you can choose the new commands you want to add. Also, you can check the in-built commands to ensure you don't add one already there. There are various ways to do this:
Choose a new command – It can either be from scratch or the existing
Add a command name – choose a name for the specific command to activate it.
Add an answer – This is the response to when the command is made.
User level – This is where you choose the user level if they want to execute the command. g. subscriber or VIP user etc.
Step 4: Adjust the settings
For more security, you can modify the advanced settings. You can set when the command can be enabled, how the bot will send a command, command cost, user & global cooldown, and any other relevant keywords. Once done with the editing, enable the command by clicking the "activate command" button.
Step 5: Adjust permissions for StreamElements
Once you are done creating all the Twitch commands that you want, permit StreamElements to either be a moderator or editor. While on the control panel, click the "manage the roles" option. Select "add new" type StreamElements, and give permission for the editor and moderator.
---
Method 2: Use Moobot
Another online tool you can use to add commands on Twitch is Moobot. It is a great moderator that helps remove any unnecessary spam or nasty comments. Moobot will help you create a loyal following, boost engagement, and eliminate unnecessary distractions.
Moobot is multifunctional as it can work as your moderator, reward subscribers, schedule posts, post special Twitch alerts, encourage viewers to request songs, give giveaways to participants, do community polls, and manage your streams.
Step 1: Connect  Moobot with Twitch.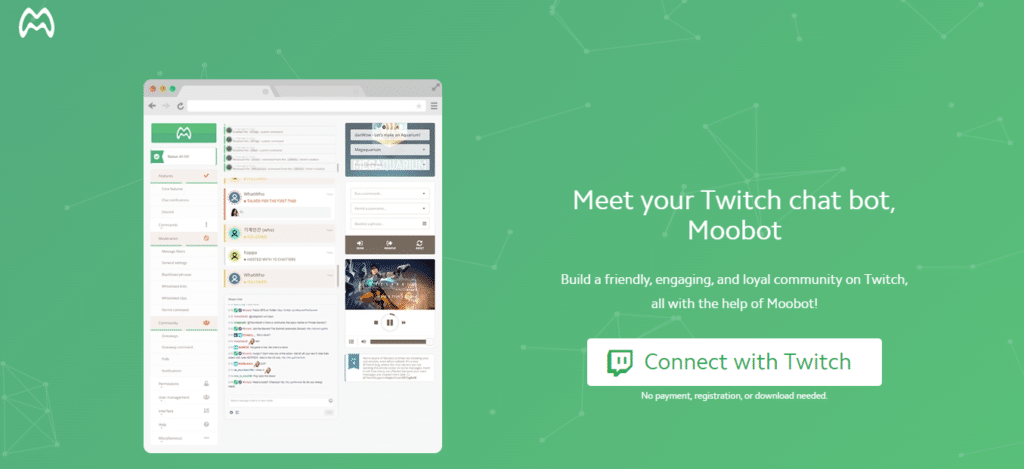 You need to click the "connect to Twitch" CTA that directs you to Twitch to connect to your account. Also, verify the connection by clicking the "authorize" button. Once done, access Moobot, navigate to settings, and click the "command" tab.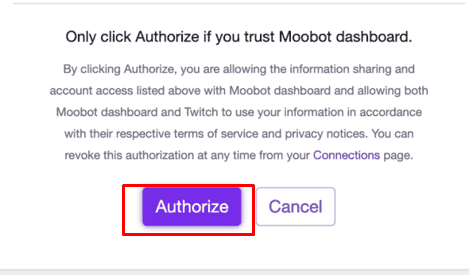 Step 2: Activate the existing chat commands
Before you do anything else, activate the built-in chat commands available. This is to ensure you don't create a command that already exists. Click the ! The icon on the left-hand side and select "built-in commands." Enable all the commands you want and then proceed.
Also, remember to click "Grant" to permit use on your Twitch account and authorization. Do this for all the inbuilt commands that you want.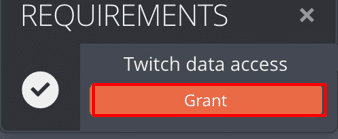 Step 3: Create commands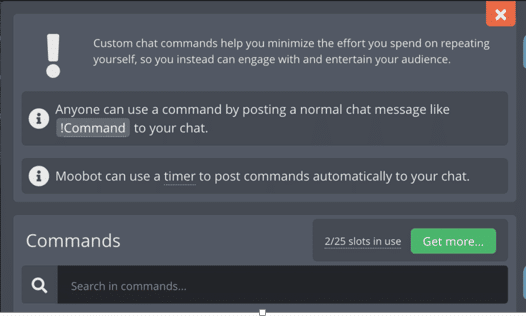 Proceed on to click the ! Icon then "custom commands" that will allow you to customize your commands based on common interactions on your account. You also need to give the commands names and the responses they should give. Once done, save the commands by clicking the "add command" option.
Step 4: Test your commands
Once done, test whether your commands work and even edit where necessary. That's it. When streaming, you must type the command into the chat; it will display in the chat.
---
FAQ
Q. How many commands can you create on Moobot?
Moobot allows you to create up to 25 custom commands for free; you must get a premium account.
Q. Are Twitch commands important?
Yes, they help automate repetitive tasks. You can use Moobot or StreamElements platforms to create commands on Twitch with the bots as your moderators.
Q. Who can add commands?
Only the content creator or moderators can add commands that will work.
Q. Is it possible to edit a command?
Yes, Editing the commands to provide a different response from the initial one is also possible.
---
Respond On Twitch Effortlessly
If your channel gets many viewers at a time, then using Twitch commands can help you. Instead of responding to every message separately, you can use the commands on Twitch to make it easier.
You can use Stream Elements, Moobot, or other platforms to create commands you can add to Twitch when streaming. This will help boost your engagement by a huge range and increase subscribers on your channel. Don't be left out; add commands on Twitch effortlessly.