Do you often use Twitch for your gaming adventure, and you are wondering how big the platform is? This article provides you with interesting Twitch statistics to up your knowledge about the gaming streaming platform.
Twitch is a video-streaming service popular among gamers who wish to broadcast their exploits to an online audience. In recent years, live streaming has become more popular among gamers. Twitch, which has embraced this trend, has become one of the most popular places for gamers and spectators interested in this communal activity (whether or not they are participating).
Considering that Twitch already has 30 million DAUs, it seems to be a serious competitor to YouTube in this space. The key to thriving on such a massive platform is knowledge, and that knowledge can be found here, whether you're looking for the greatest advertising strategies for Twitch or just the best proxies to utilize. Including the total number of Twitch users as of 2022, some interesting data about the platform can be seen below.
---
Revenue Statistics of Twitch
---
1. In 2021, Twitch's earnings were over $2.6 billion, up 41% from the previous year.
---
User Statistics of Twitch
---
2. The average number of people s Twitch at once in 2021 was 2.78 million.
Up 31% from the previous year. There was a 68% increase in concurrent viewers from a year earlier.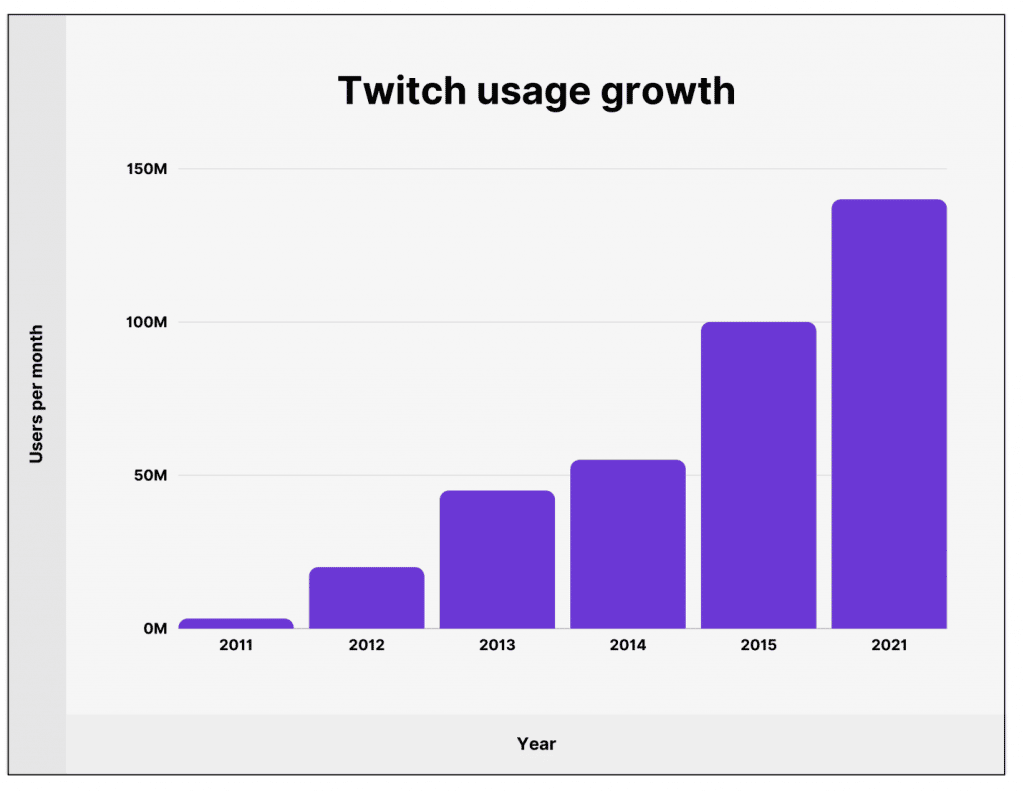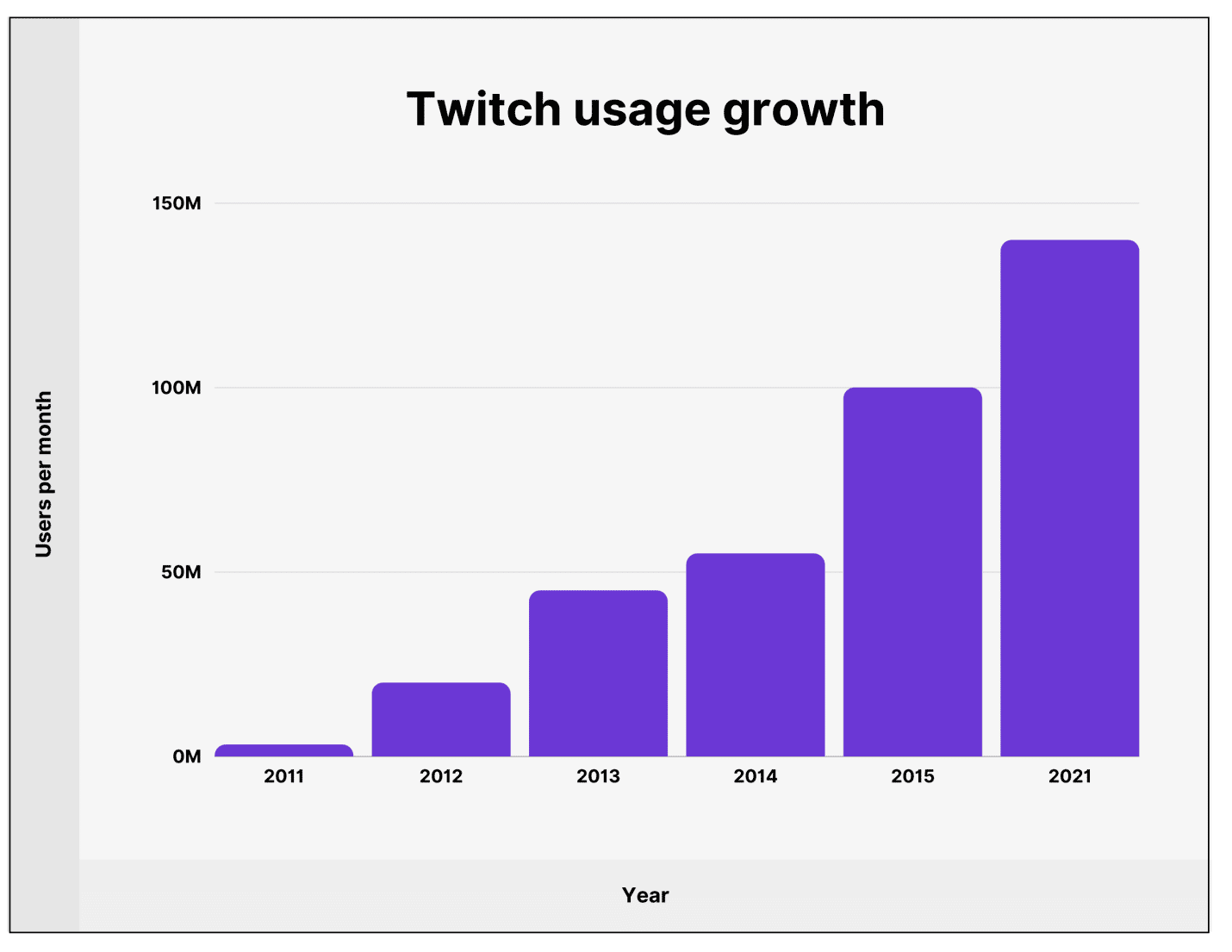 ---
Twitch Streamers Statistics
---
3. The number of Twitch accounts that broadcast at least once per month in 2021 increased by 30% yearly, to 9 million.
---
Twitch Hours watched Statistics
---
4. Twitch streamers watched for 22.8 billion hours in 2021.
Up 22% from the previous year. Time spent watching content rose by 69% in 2020.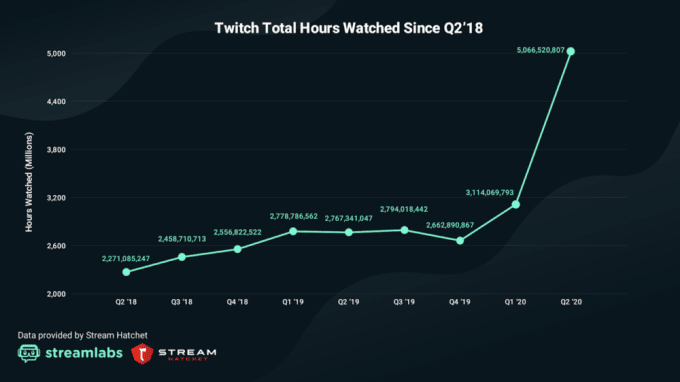 ---
Age Demographics Statistics of Twitch
---
5. More than two-thirds of Twitch's users are under 35, and just 3% are 55 or older.
---
Gender Demographics Statistics of Twitch
---
6. Although men make up the vast majority of Twitch viewers, the gender gap has shrunk in recent years.
---
Twitch's Most Followed Channel
---
7. Twitch most followed channel is Ninja.
Even when Ninja switched to Microsoft's Mixer platform in 2019, he still had the most viewers of any Twitch channel.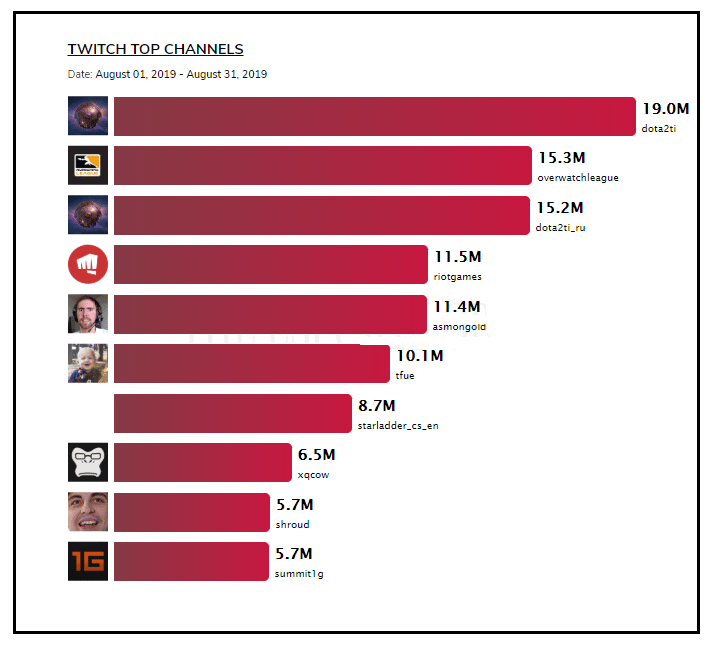 ---
Statistics of Twitch's Most Viewed Game
---
8. According to Twitch statistics, The Riot Games e-sports events for League of Legends are the most watched content on Twitch.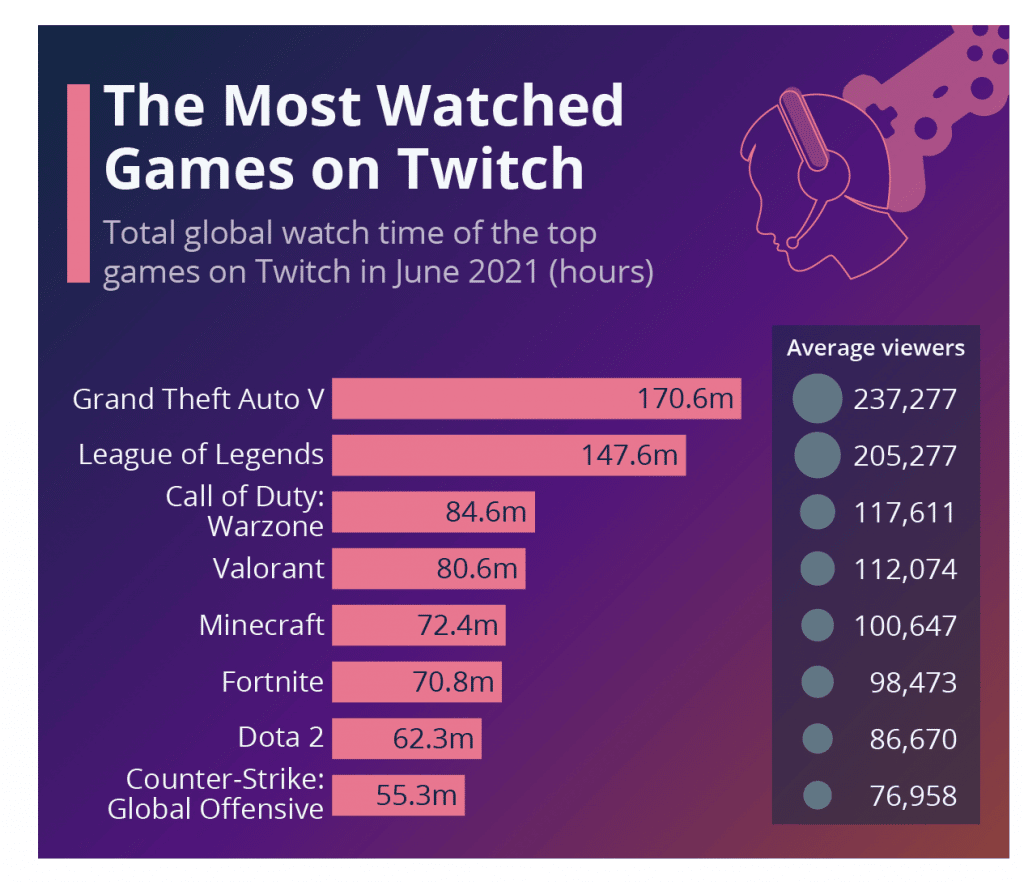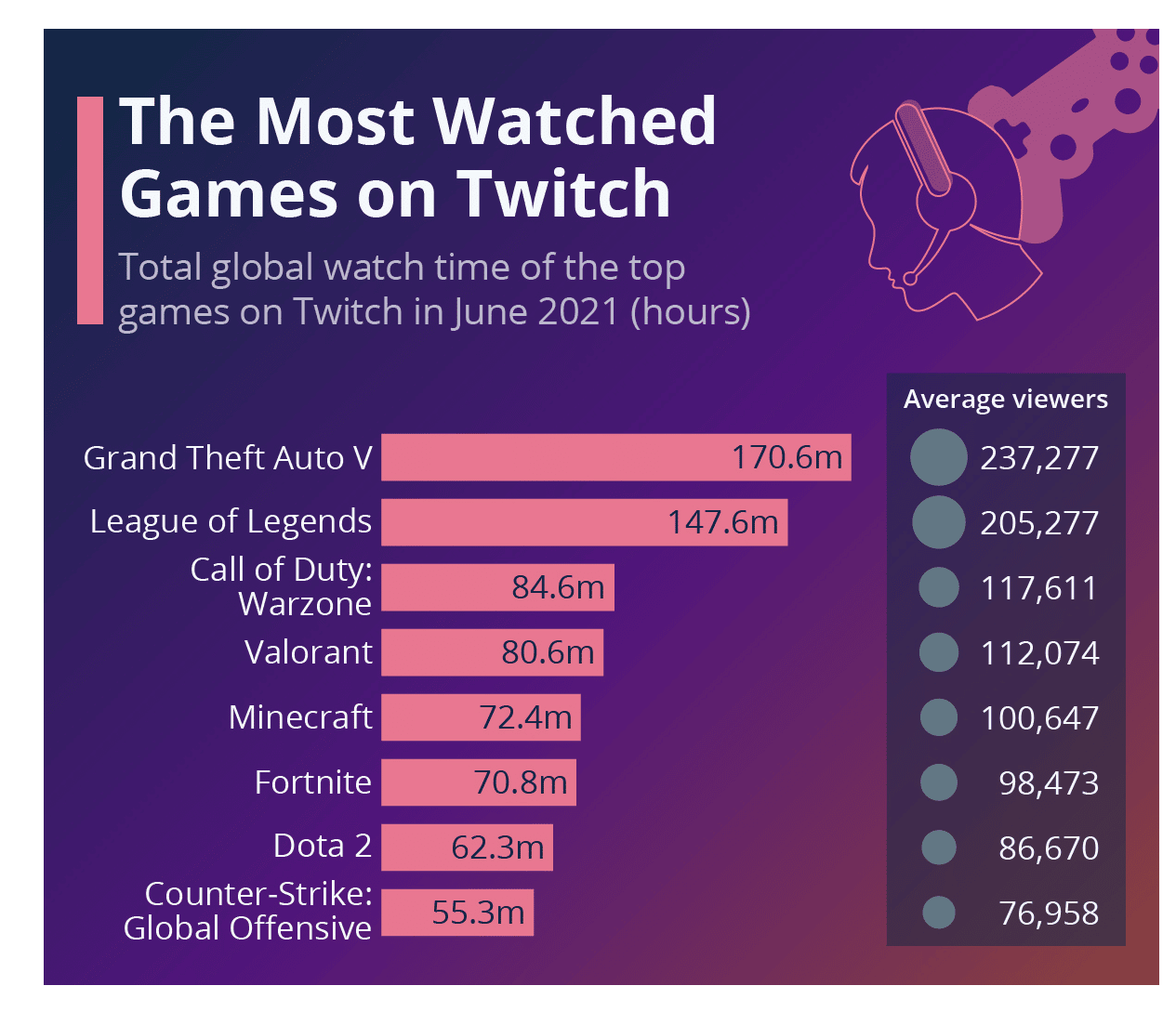 ---
General Twitch Statistics
---
9. Only one month saw 2.3 billion hours of viewing time on Twitch.
More than 2.3 billion hours were seen in a single month on Twitch, according to the platform's data. By 2019, this figure reached 800 million hours, up from the 700 million recorded in 2018. To say that January 2020 saw a record 1 billion monthly hours on Twitch would be an understatement.
10. The daily average time spent streaming on Twitch is 95 minutes.
According to data compiled by Twitch, consumers spend 95 minutes every day watching live video games. This is a huge chunk of time compared to how you normally use social media. Consider that the average time spent on Instagram every day is 32 minutes. This is far longer than YouTube, Twitch's primary rival, which only allows 40 minutes for each stream.
11. More than 2.4 million individuals were viewing the same channel on Twitch.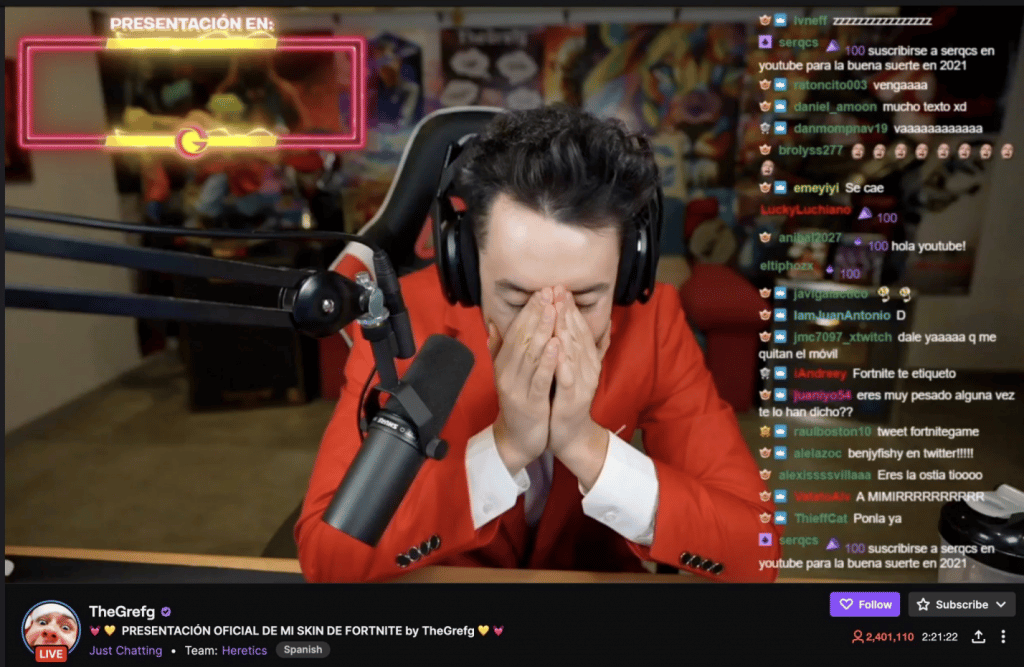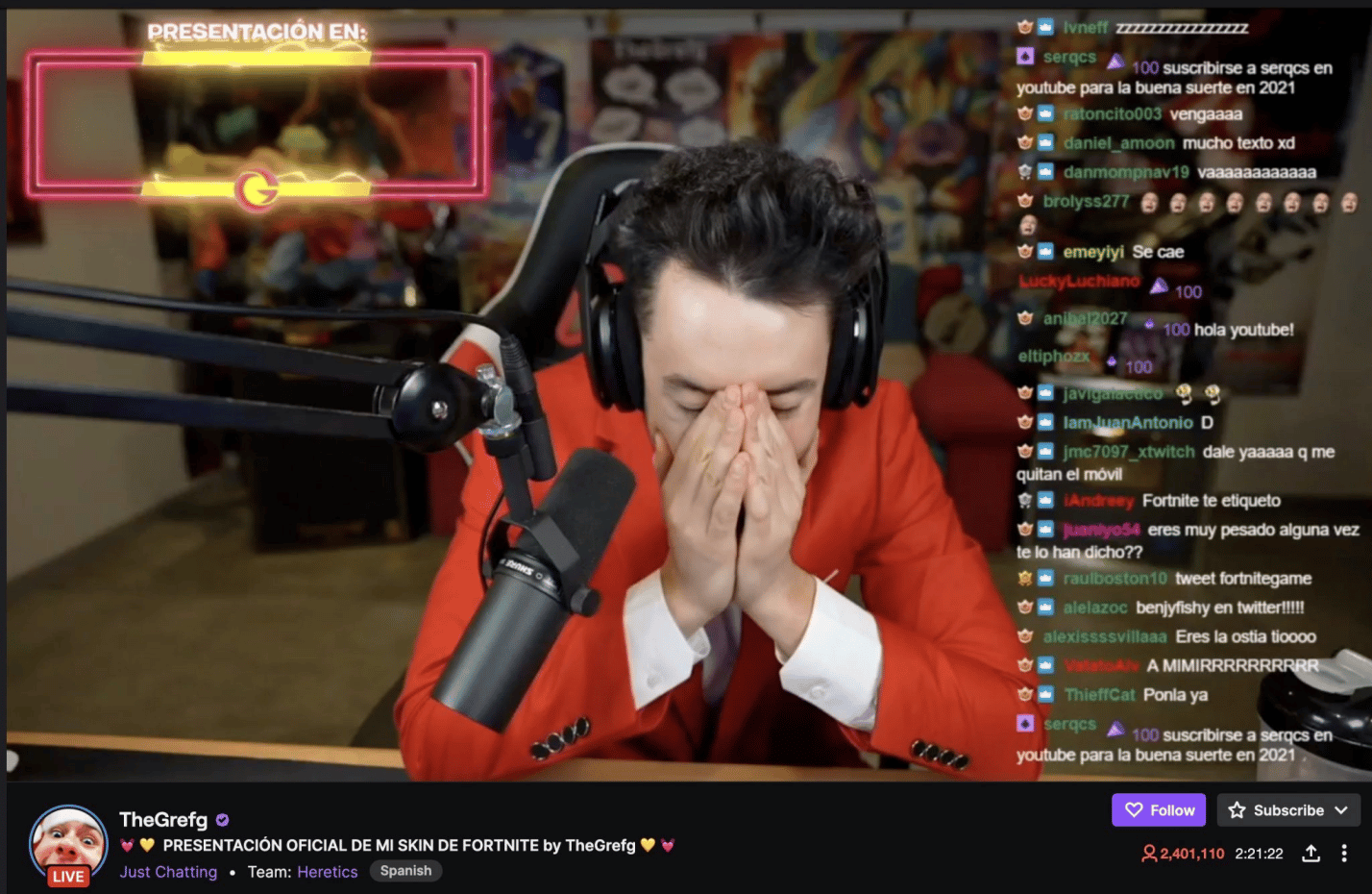 With so many people watching the same Twitch channel at once, it was officially recognized by Guinness World Records. It is likely that 2021's David Canovas, a Fortnite player, attracted the most viewers ever on Twitch, who were all watching him.
12. More than 100,000 people now subscribe to Twitch.
Subscribing to a Twitch channel allows users to watch live feeds from a single user. There are now 102,369 subscribers, which is a record high. Most Twitch users have only signed up for one of the two Prime accounts that Twitch provides.
13. Most Twitch users (73%) are below 35.
This is perhaps not surprising, given the wide range of material Twitch hosts. This Twitch statistic shows that 30% of all Internet users in the age range of 16-64 have viewed a live gaming broadcast in the last week. This was the finding of a study by GlobalWebIndex.
14. After English channels, Spanish channels have the second most viewership on the Twitch platform.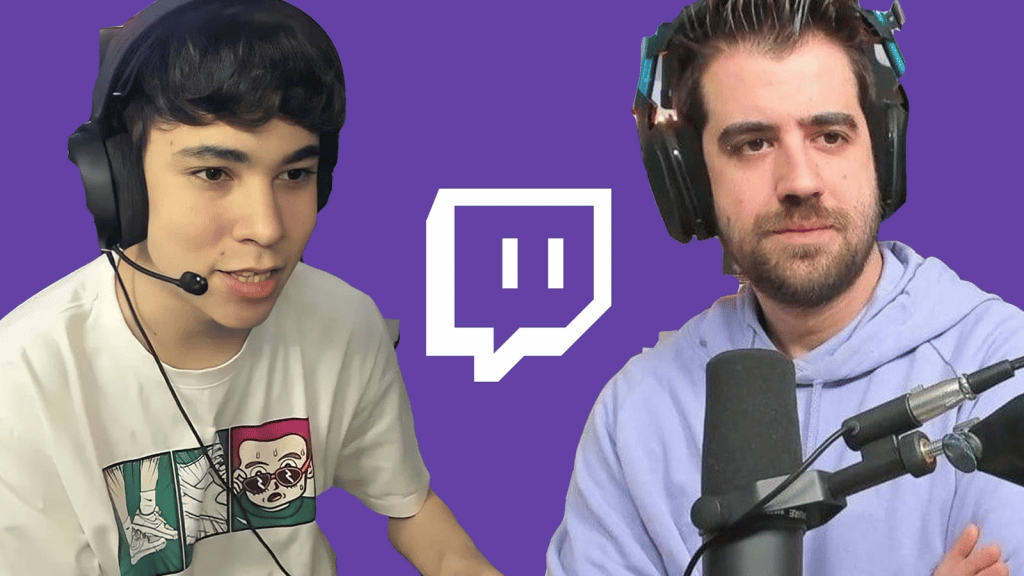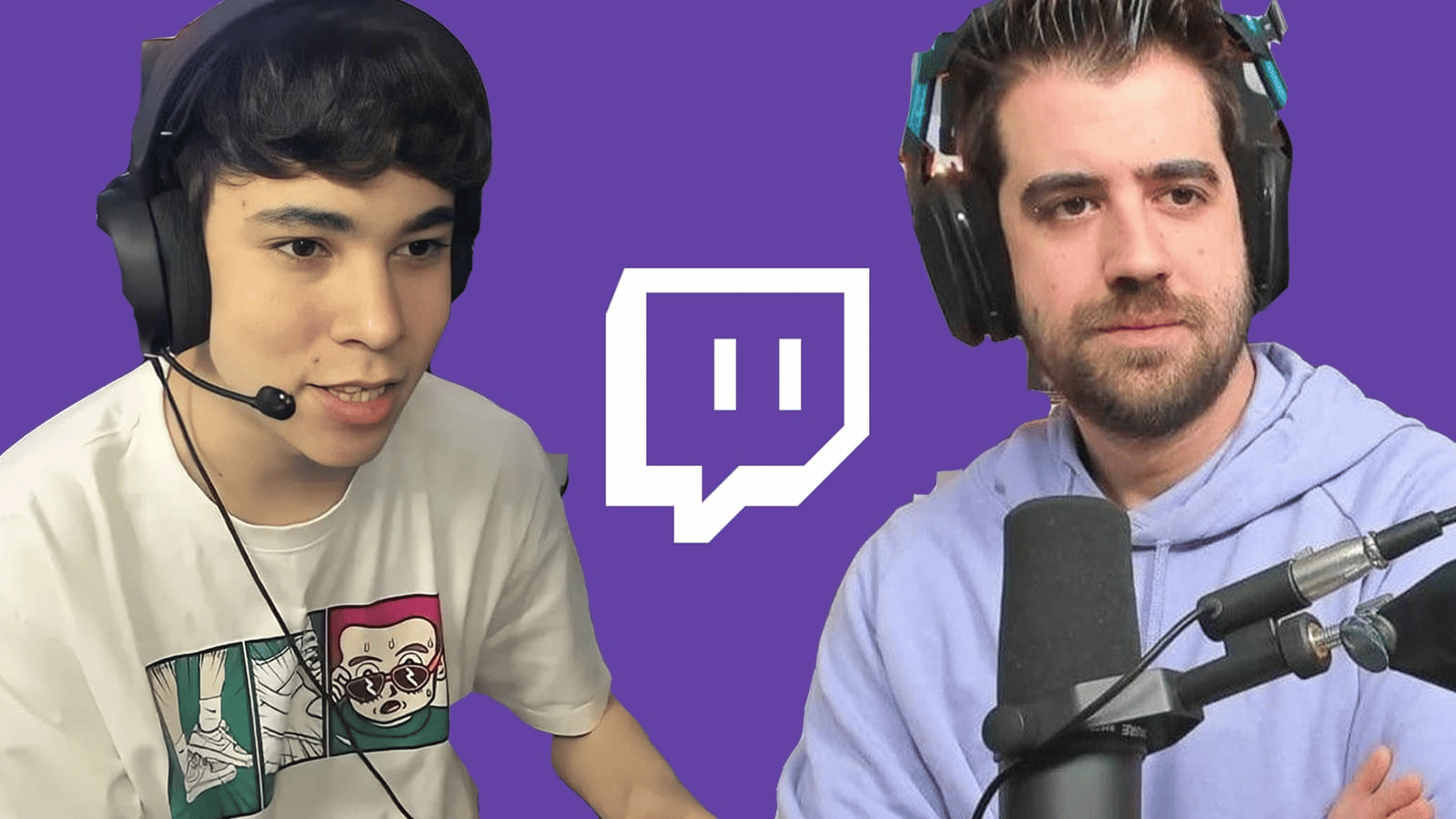 The Twitch community certainly includes speakers of languages other than English. Spanish is the second most popular language on Twitch, behind English. There are more than 11,000 Spanish-language channels and 390,000. People tune in each week.
The percentage of Spanish-language channels on Twitch is quite low (2.2%), but the percentage of viewers that tune in to these channels is rather high (13.2%) after Spanish and English come Korean, Russian, French, Portuguese, and German.
15. In 2019, women made up 35% of Twitch's user base.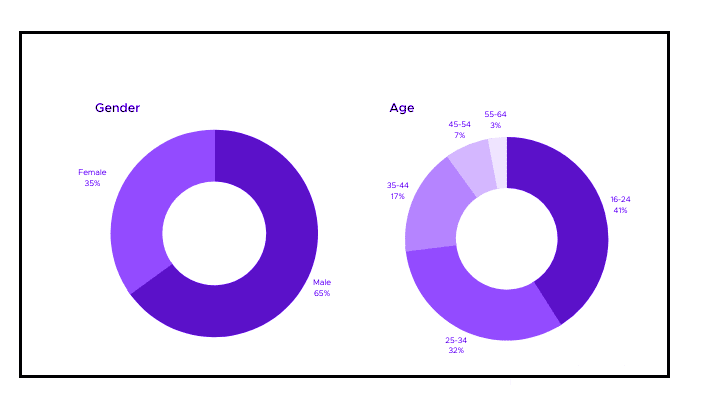 Although men are more likely to utilize Twitch, there were still 35% of female users as of March 2019. It's worth keeping this fact in mind. Based on their findings, BusinessofApps concludes that the streaming platform is getting more equitable.
16. Over 30 million people visit Twitch every day.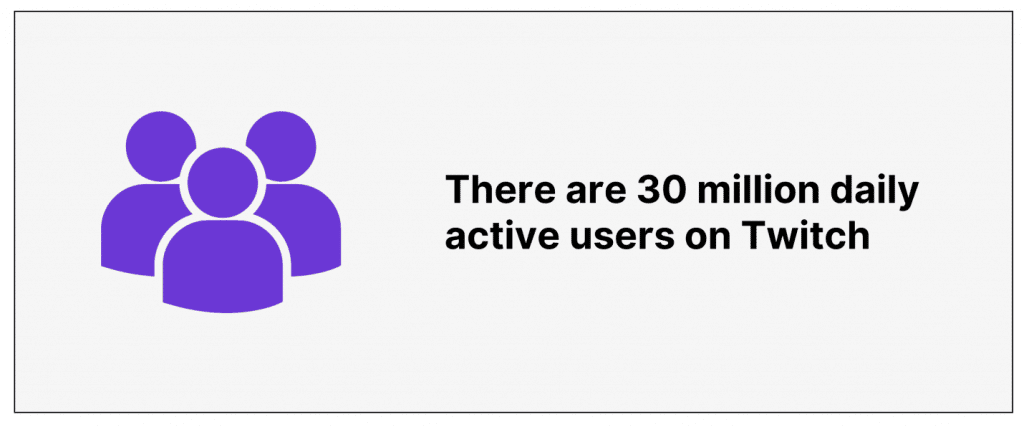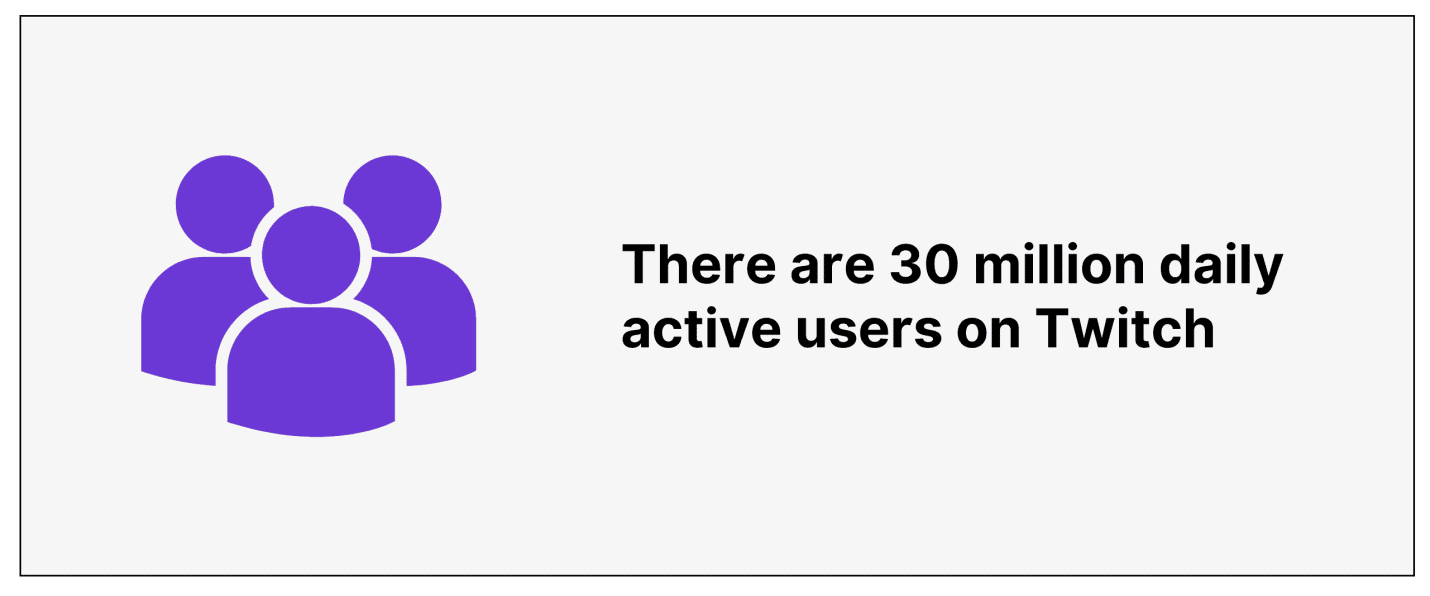 This Twitch figure demonstrates the site's growing popularity among gamers and the average number of daily visitors. One of the main draws of Twitch is watching other people play games while providing commentary. Twitch broadcasts are becoming more popular; that much is certain.
17. To the tune of 25.1 viewers, every Twitch broadcaster has 18.
Despite a general increase of streamers, the average viewership per streamer has been around the same over the last several years. In January 2021, each streamer attracted an average of 27.3 monthly views. That is to say; the numbers haven't altered much over the previous several years. A total of 449.9 people tuned in to the average broadcast on Twitch when it initially went live.
18. The majority of Twitch viewers log in on Sundays.
Sundays have averaged 2.3 million viewers over the previous six months, making them the most popular day to watch Twitch broadcasts. Starting with a weekly low of 2.1 million on Monday, the show's viewership steadily increased until the following Sunday. Attendance is 6% greater on the weekends compared to the weekdays. On Sunday, cable and satellite subscribers are second only to Saturday viewers.
19. In one month, 88.7 million hours were spent streaming on Twitch.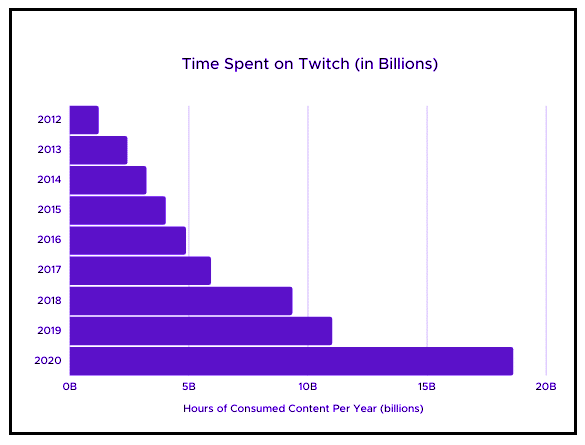 January 2021 was a busy month for Twitch broadcasters. More than 88 million people tuned in to Twitch broadcasts in just one month. The biggest monthly increase in streaming hours was 37.4 percent in April 2020 compared to March 2020.
20. The most popular section on Twitch is called "Just Chatting."
The most popular Twitch category, though, is "just chatting," which may surprise given the site's common association with gamers broadcasting their gameplay.
21. Approximately 105,000 channels are always active.
Over one hundred thousand live channels were broadcast continuously in 2021. This is a huge rise over the previous projections of 87,000 jobs in 2020 and 49,000 jobs in 2019. A rise in COVID lockdowns is only one of several explanations for Twitch's expanding number of live feeds. Multiple viewers were watching streams simultaneously long before COVID was invented.
22. Gamers are More Extroverts than Non-Gamers.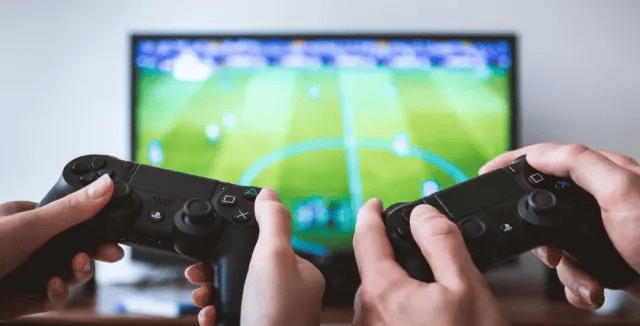 Numerous studies have shown gamers are more outgoing and friendly than the general population. According to a poll by Twitch, 76% of gamers report having a positive connection with their parents. Another interesting fact is that just 23% of gamers watch TV alone, compared to 40% of non-gamers. And gamers tend to be older than the general population: Only 36% of people in this country have earned a bachelor's degree or above.
23. Twitch members spend 95 minutes daily, on average, broadcasting live video games.
While Twitch has a sizable user base, its community members are among the most devoted online. Each user on Twitch averages 95 minutes a day of live gaming viewing, which is longer than the time spent watching television by the typical American. Half of Twitch's daily active users spend at least 20 hours a week on the site, making it one of the most dedicated audiences in live streaming. Marketers should jump on this before the influx of new competitors drives up prices.
24. Approximately 140 million people per month visit Twitch.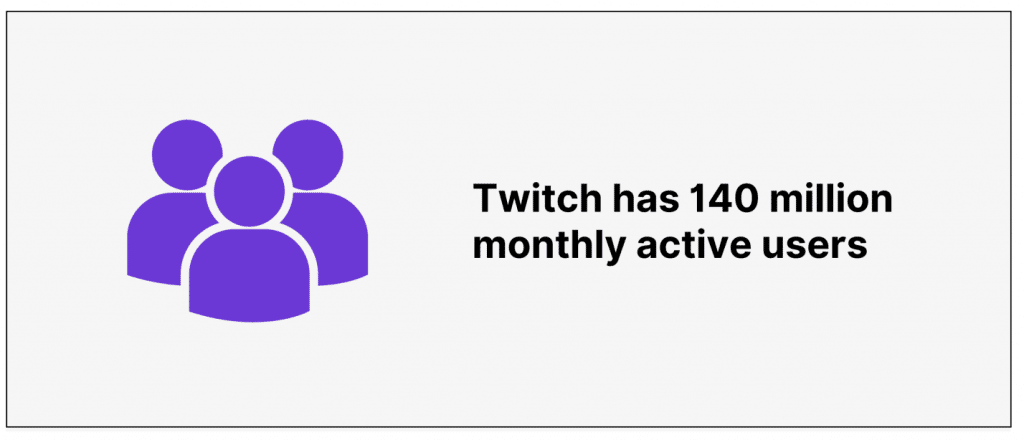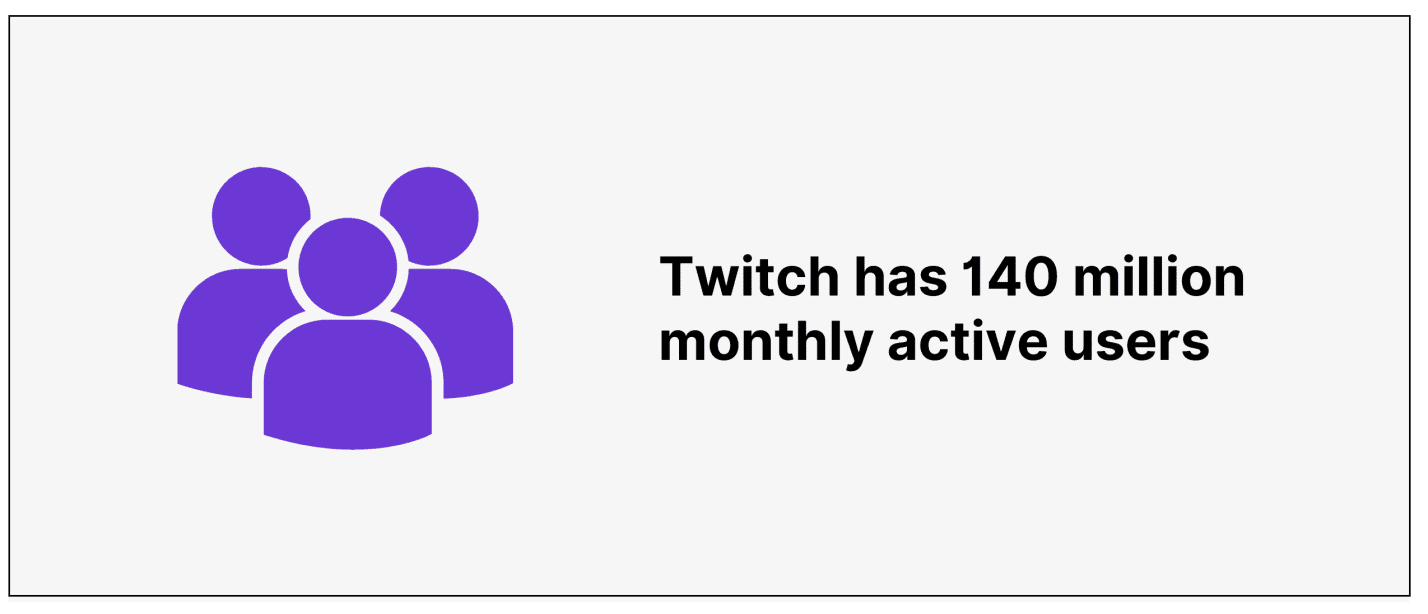 Twitch's popularity has grown rapidly over the last several years, putting it on par with other major social media sites. It is responsible for 14% of TikTok's MAU, 7% of YouTube's MAU, and 14% of Instagram's MAU.
Some of you may wonder what this means, given the sheer volume of Twitch users. Almost as many people use Twitch every month as live in Russia: 140 million. No doubt, a lot of individuals are making use of this service.
25. More than 30 million people visit Twitch each day.
The number of Twitch users requires consideration of the service's average daily audience size. The firm claims that the majority of its 15 million daily active users are interested in gaming-related material—certainly a remarkable success.
Plus, every month, they generate eight years' worth of content from their three million broadcasters, who put out roughly two billion minutes of video. Compared to other platforms like YouTube, where only 20%-30% of users are producers, more than half of their users are creators.
26. Seventy-eight percent of Twitch users think sponsorships are a good fit for the gaming business.
Given the present situation of the gaming business, many players regard sponsorships as a feasible alternative. Businesses recognize the importance of brand sponsorship to the survival of individual Twitch channels and teams. Seventy-eight percent or more of Twitch viewers would prefer to have a company sponsor a whole tournament than a single player.
27. In 2020, Twitch had a record-breaking 233,935 live streams.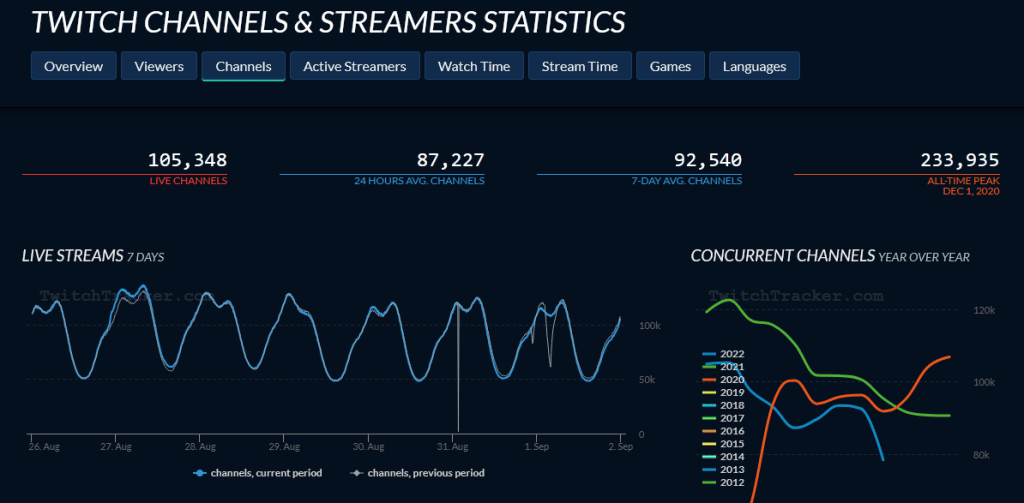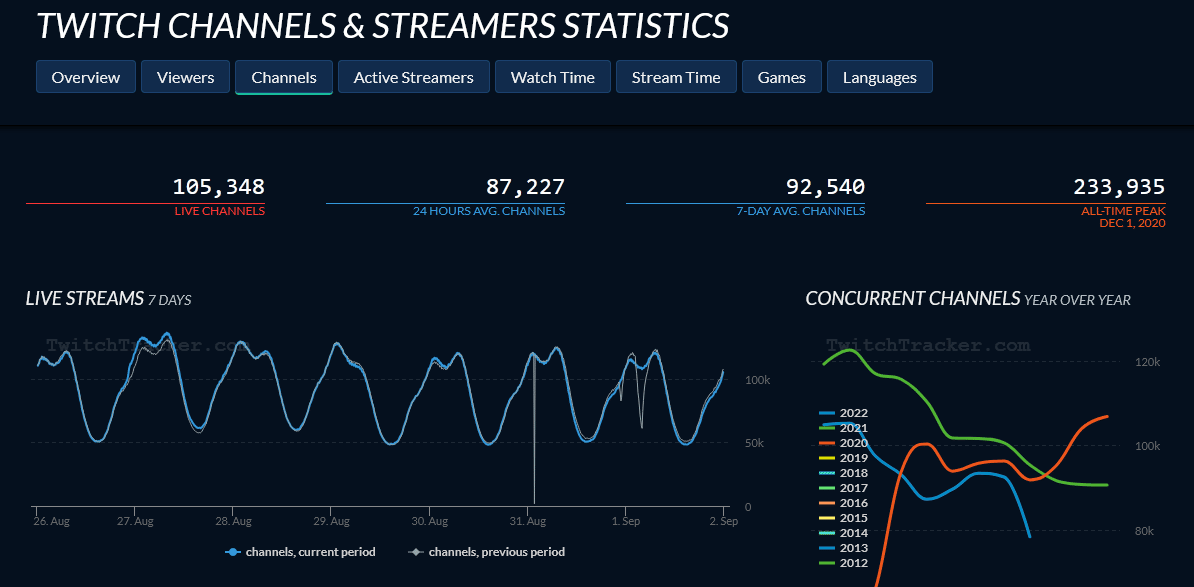 According to Twitch's data, there were more than 200,000 concurrent viewers in 2020.
28. More than 7.5 million are active Twitch streamers.
Counts of live channels skyrocketed well back in time to the year 2020. There were 3.9 million active streamers in January, and although that number dropped somewhat in February, by March, there were 5 million active channels. With the COVID lockdowns in effect, the number of live channels increased to almost 7 million.
Since then, the average monthly active channel count has risen to over 7 million, hitting a record high of 9.8 million in January 2021. Although the population fell in 2021, it climbed to a new high of 7.5 million by the year's conclusion.
29. Over 2 million people have viewed Fortnite.
Fortnite's popularity on Twitch soared during the first Corona Virus shutdown, despite the fact that the game has been popular with viewers and broadcasters for quite some time. According to Sullygnome's data, a typical Fortnite broadcast attracts over 2 million people at once.
30. Three billion hours were seen by the Twitch Chatting Community.
This Twitch number reveals that although the gaming category is by far the most popular on the network, the 'just talking' subcategory is growing in popularity as well. In 2021, people will spend one billion hours on dedicated "just-chatting" channels.
31. At least 28,000 people each day attended TwitchCon 2019.
Like the vast majority of the most popular social media sites, Twitch has a physical gathering where its members can interact in person and talk about the video-streaming service. For the first time, there were over 35,000 people in attendance.
Attendance was estimated at 50,000 for the Long Beach event this year. Despite Twitch's claims of congestion, it is unclear how many people showed up to the 2018 event.
Unfortunately, it was scrapped in 2020 because of the spread of COVID.
32. With 8.9 million viewers, Pokimane is the most popular female Twitch broadcaster in history.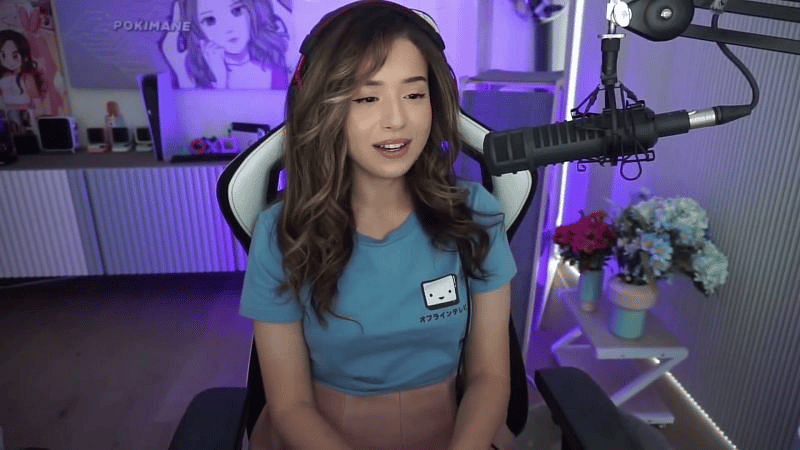 One other widely-known fact about Twitch is that males use it more than women do; however, this is slowly changing. The most popular female Twitch profile has more than 8.9 million followers. In other words, this officially ranks her as the ninth most popular broadcaster on Twitch.
33. In 2015, 1.4 billion minutes were spent streaming Twitch.
It's hardly surprising that Twitch users spend more time on the network now that there are more of them, both as watchers and broadcasters. In 2016, Twitch users recorded 292 billion minutes, whereas, in 2017, that number increased to 355 billion. Five hundred sixty billion in 2018, six hundred sixty billion in 2019, and eight hundred forty billion in 2020.
34. Thirty million dollars have been given to charitable causes.
In 2017, Twitch was used to raise almost $30,000,000 for charity.
35. When it comes to e-sports, 70% of all viewership occurs on Twitch.
Even though YouTube has made some strides in attracting Esports fans, Stream Hatchet's report confirmed that 70% of the market share is still held by Twitch.
36. Regarding Twitch viewers, Ninja has more than 17 million.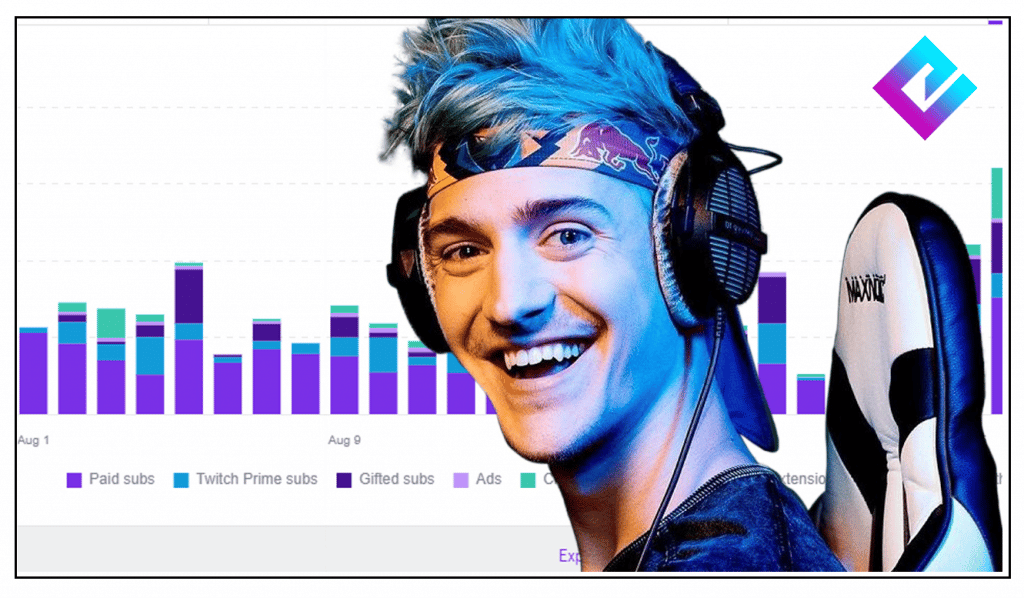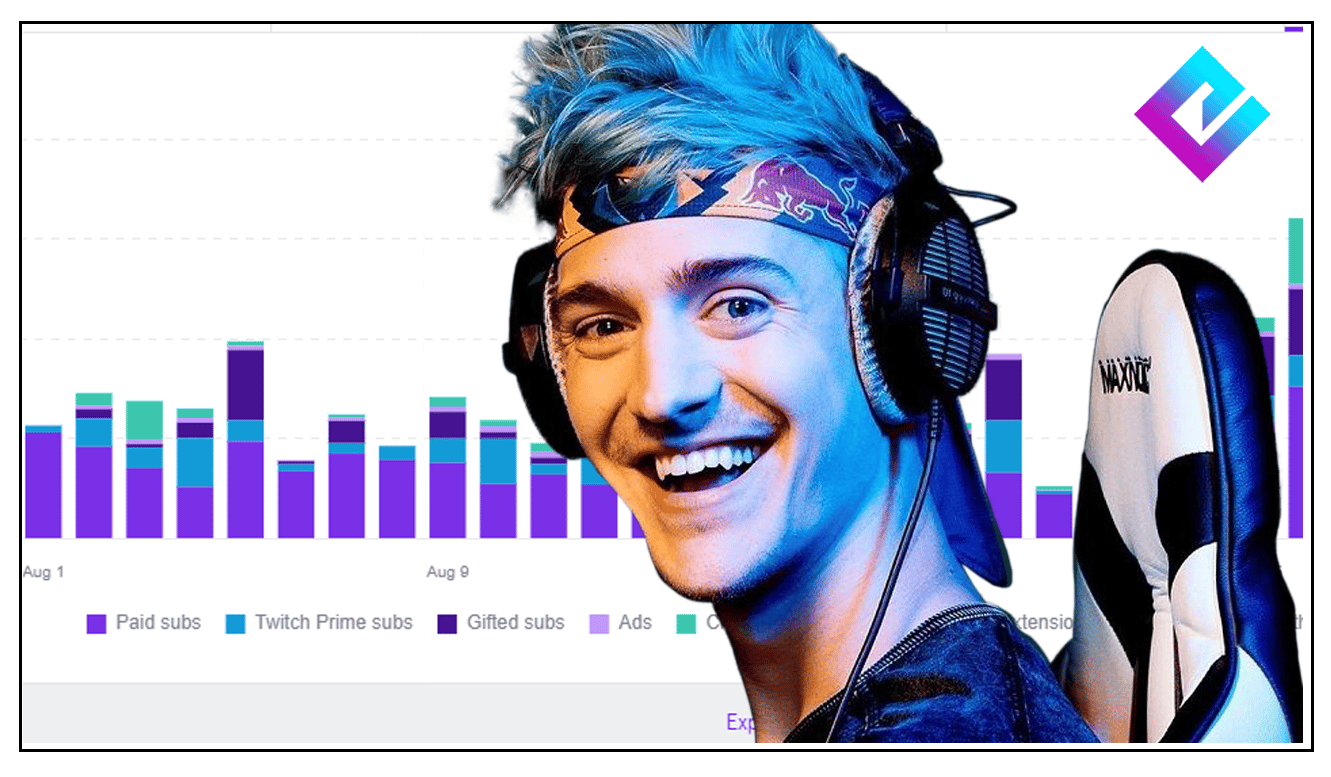 Twitch users will know that Ninja is the channel with the most followers. Throughout his career, Ninja has left and returned to Twitch several times, yet he has never removed his profile. This indicates that many of his previous followers remained to check his profile even if he took a vacation from posting.
In 2021, however, he came back and immediately attracted 700,000. His fame has resulted in more than 17 million viewers for his Twitch broadcasts.
37. An all-time high of 209,080 views per day was recorded in 2021, making that year the 37th most popular.
According to data collected from Twitch channels in 2021, the average number of viewers for the most popular channel was above 200 thousand. The YouTube channel of Alexandria Ocasio-Cortez.
38. The Chinese market was Twitch's third largest until the site was banned.
Similar to other social media platforms, Twitch has lost popularity in China. Regrettably, no official list of banned sites by the Chinese government has been made public. But in 2018, Twitch flourished in China and proved very popular among Chinese gamers.
In September 2018, the Chinese authorities prohibited Twitch because it was considered improper for Chinese nationals. But until Apple banned it, it was the third most downloaded iOS app.
39. Twitch's most-watched game of all time was Grand Theft Auto V in 2021.
While it's been a decade since Grand Theft Auto V's debut, the game's popularity on Twitch shows no signs of waning. Over 1.8 billion hours were streamed in 2021, with stations streaming over 25 million hours of this game.
40. The worldwide gaming sector is predicted to expand by 10.5% per year between 2021 and 2026.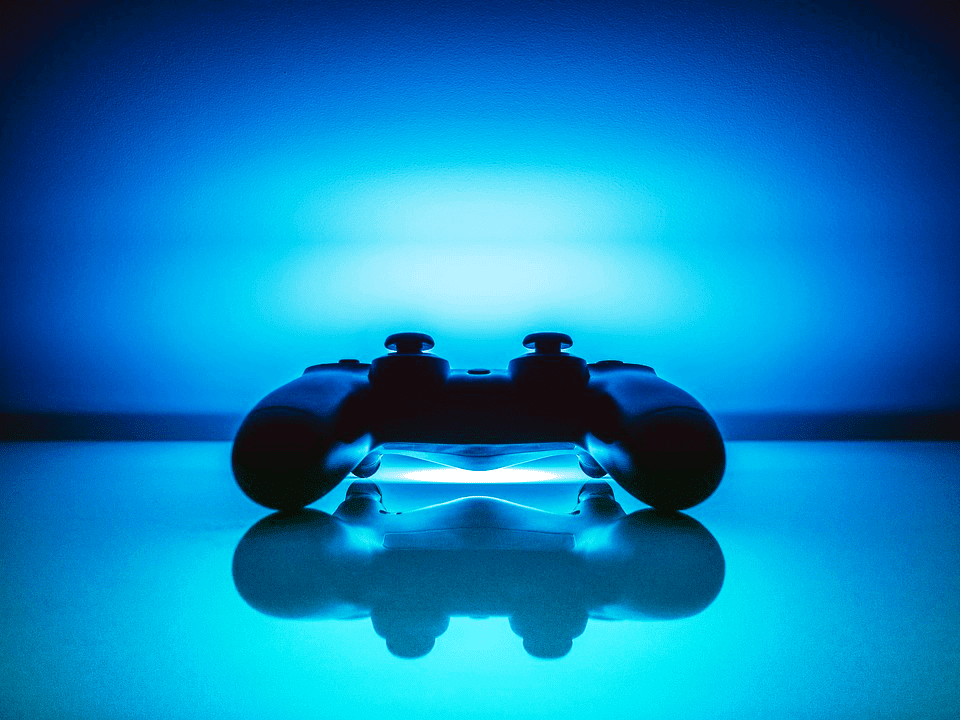 Statista forecasts that the gaming business will expand by more than 10% each year between 2021 and 2026 using their method of calculating compound annual growth rate (CAGR).
So, by 2026, the value of the global gaming business will approach $256 billion, with developing nations like Brazil expanding their participation.
Developers are always making adjustments or building new code to make it easier for Windows PC, PlayStation, and Xbox users to communicate with one another.
41. About 40,100 Companies Were Partners with Twitch in 2020
There is a very obvious link between customers and collaborations. In the years since its June 2011 debut, Twitch has amassed a growing roster of high-profile business allies. The number of members that made money off of advertisements and paid memberships climbed from 3,400 in 2012 to 40,000 in 2020. The future seems bright for this rapidly expanding streaming platform.
42. Twitch has about 9.2 million unique viewers every month.
Twitch has survived for a long time, growing steadily over the last decade. This increase of 135% in traffic will undoubtedly interest advertising. There were 3.9 million monthly active streamers in 2015, and by 2020, that number had increased to 9.2 million.
43. The maximum number of concurrent viewers on Twitch is 43.65 million.
Most of Twitch's 15 million daily active users like the site's content creations. Compared to Super Bowl 51, this year's broadcast had a larger peak audience of 6.5 million.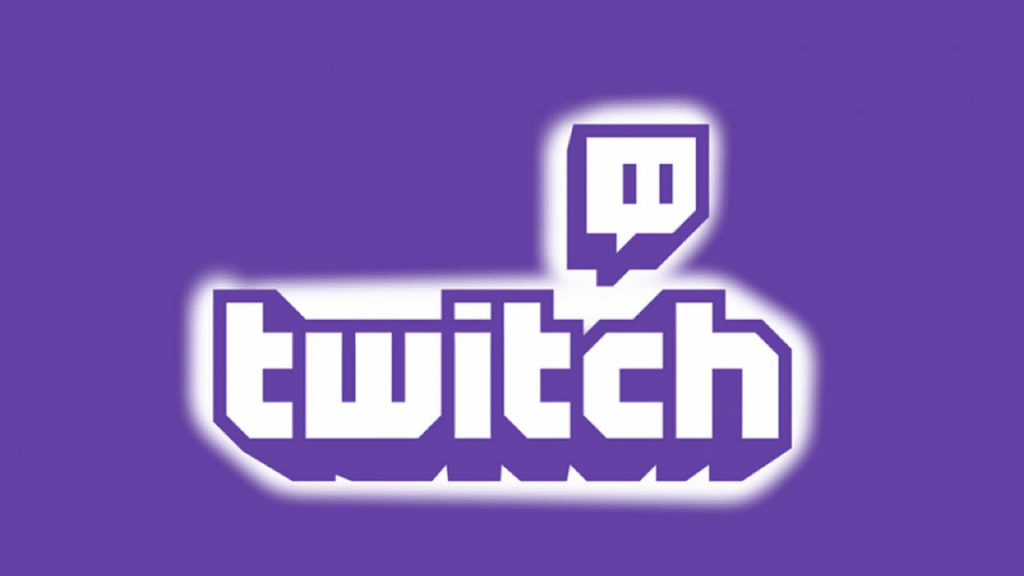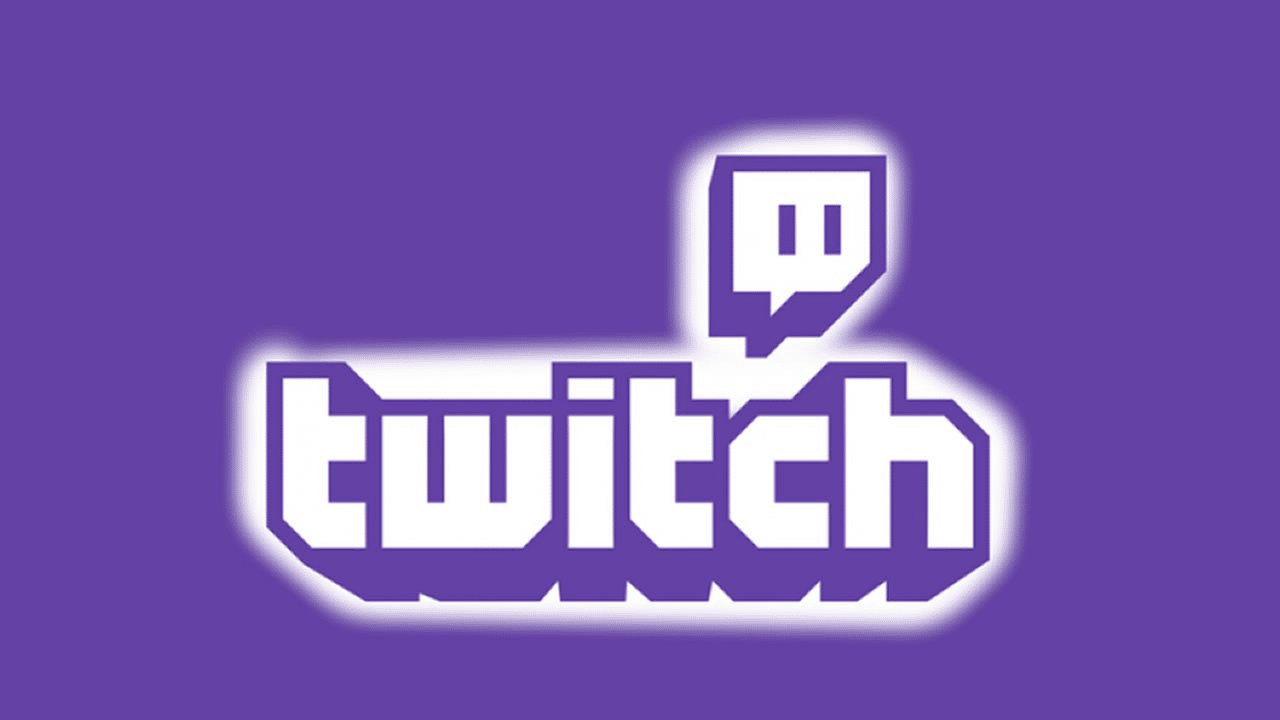 44. In 2020, people watched more than 18.6 billion hours of streaming content.
The CEO of Twitch thinks the firm has a great future ahead of it. Since its start, its viewership has increased annually, and by 2020, it had topped 36 billion hours, up from 18 billion the year before.
45. Twitch's partner program has grown by over 68% since 2017.
The number of partners in Twitch's Partner Program has increased by 68% in the last two years. This is a fantastic chance to earn money from your channel and show your personality via TeeSpring's products.
46. Twitch users broadcast around 2.2 million times every month, which is recorded.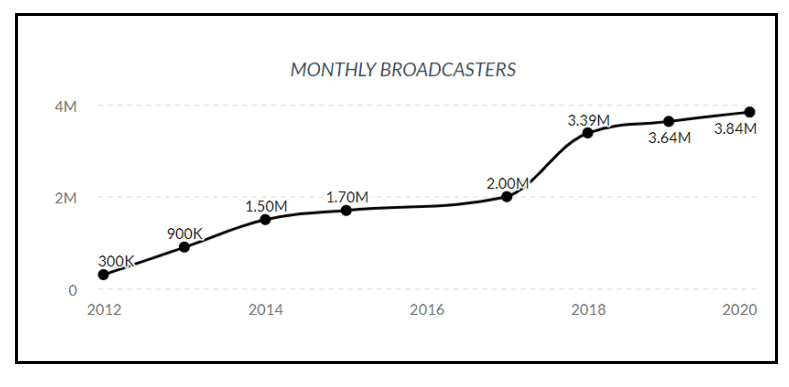 The streaming community on Twitch is what makes the platform so successful. More than 2 million players broadcast their games live at least once a month, making the firm an integral component of contemporary gaming culture.
47. Currently, Twitch users spend over 71 million hours each day watching content being streamed on the platform.
This means that more and more video providers, especially those with mobile setups, are flocking to Twitch. Once upon a time, Twitch watchers made up 14.4 percent of YouTube's total. Companies like Amazon may aim to integrate with or acquire Twitch to access this income stream.
---
FAQ
Q. What is Twitch's total daily user?
Twitch claims that 30 million unique people tune in to its daily broadcasts.
Q. How do I view my stats on Twitch?
Channel Analytics can be accessed via Insights on Twitch. It will default show you statistics for the previous 30 days, but you can change the time range to see older data.
Q. Which Twitch channel has the highest views?
Fextralife has more than 2.1 billion views, making it the most popular channel.
Q. Which country has the highest Twitch users?
Excluding the US, Brazil has the most Twitch watchers. The Portuguese superpower has 16.9 million viewers every month.
---
Conclusion
And there you have it: 49 Twitch statistics. Twitch is a fantastic platform where you can build an audience and outreach for your brand. You can make use of these statistics to up your knowledge about the platform.