Free scanning software are crucial to digitalize all your physical documents or photos. The files will be saved as a PDF with multiple pages or as individual files based on your scanning choice. Scanning software can help you move paperless for good. You may have piles and piles of folders with documents you want to study. Well, these free scanning software can make it easier for you.
With some, you will need a printer/scanner, but for some, your computer or mobile phone can scan the documents for you. If you don't want to dig too deep into your pockets, you can opt for these free scanning software and upgrade with time.
After scanning the files, documents, or photos, they will be saved as PDFs, which you can then upload to your cloud storage.
Here are some of the most efficient free scanning software for your documents: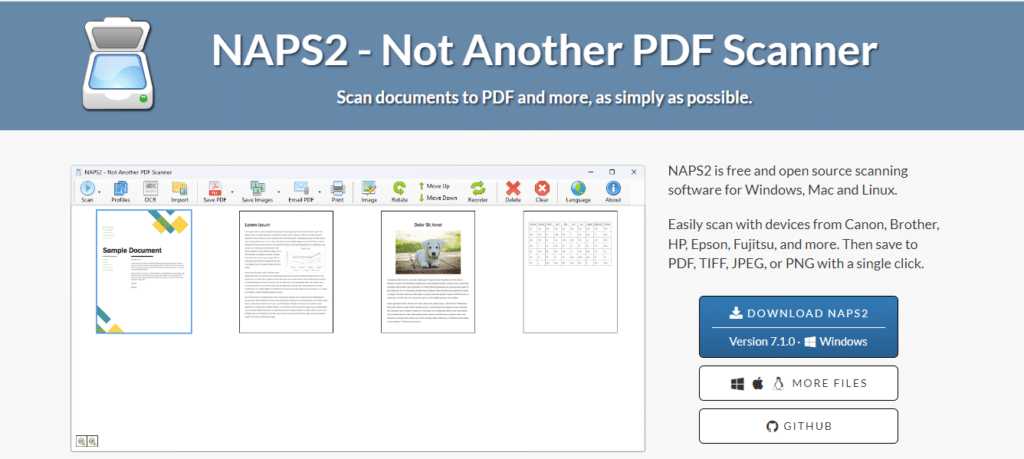 NAPS2 is a multipurpose, free, open-source scanning software that can be used on Windows, Mac, and Linux devices. You can use the scanning software to scan from Canon, HP, and Epson devices.
The scanned files can then be saved as PDF, JPEG, PNG, or TIFF based on whether it is an image or document. It is free to use the software for personal or commercial use. You won't even encounter any ads.
Features
Easily drag and drop pages with your preferred order.
Use image editing tools to modify scanned images.
Use the software to search through the text to find certain
It is available in more than 40 languages.
Batch scan of documents.
---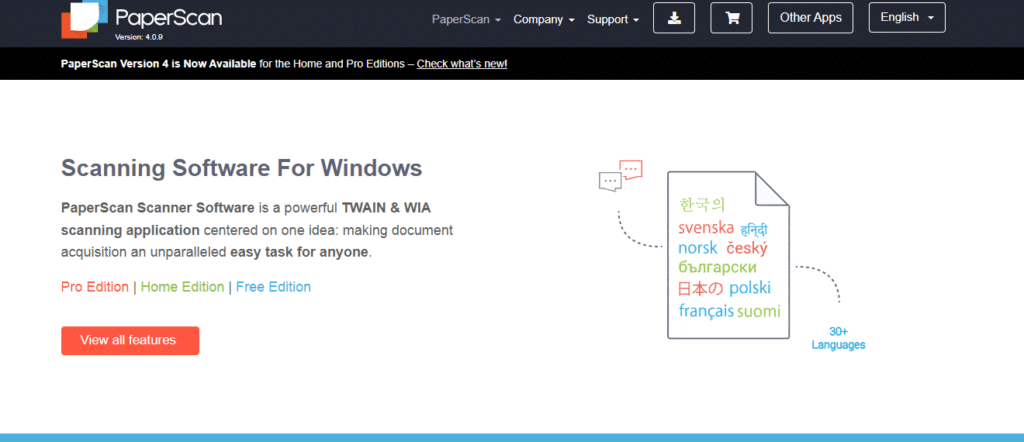 Paperscan is another free scanning software that anyone can use. You can either choose to use the free edition, home edition, professional edition, single license, site license, or volume license. It all depends on the functionalities that you need.
The free version still has amazing features you can leverage before choosing another pricing tier. It is a scanning software that won't disappoint you at all. Try it today!
Features
It has limited batch TWAIN and WIA scanning.
It allows saving files as a single page.
Supports different file formats like PDF, TIFF, JPEG, PNG, WebP, and more.
Post-image processing like adding effects, filter cropping, color adjustment,
Supports PDF encryption.
Support for duplex scanning.
---

Free scanner software is another reliable software for Windows devices. It functions primarily by receiving and saving images & documents. Additionally, people can easily use it to protect and encrypt files in different formats.
All your documents will still retain the high quality. Its dashboard has multiple functionalities, so you can know how to use it easily. Luckily, it works with most scanners.
Features
It can be used with network scanners
It can be used on Windows 7 and
Simple and user-friendly user interface.
Its menu bar has many tools.
Documents can be saved as PDF, TIFF, PNG, or JPG.
---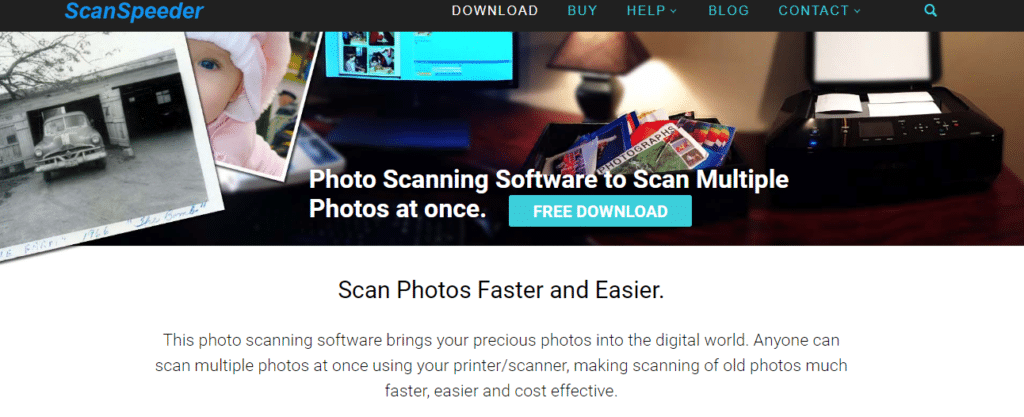 ScanSpeeder is recommended for anyone who would want to scan photos fast. Therefore, you can use it to scan physical images to save on your cloud storage. You will reduce the risk of losing your years, memories, and special moments.
You can use the ScanSpeeder on your printer or scanner. Furthermore, you can also use it to edit photos, add text, restore faded photographs, straighten images, and scan slides & negatives.
Features
Scan photos straight from the album.
It has a powerful auto-detection rate.
Automatic file naming.
16-bit accurate gray scanning.
Even with batch scanning, the software separates them into individual files.
---
VueScan is all-round and can be used in over 7100 scanners. You can choose to use the free version or a paid plan. The software can be used to scan multiple pages or just one page.
Furthermore, it can be used to scan to PDF, scan with flatbed and automatic document feeders, etc. It even has a Photoshop integration to make it easier to edit your documents. VueScan works on Windows, macOS, and Linux.
It also has an advanced scanning control and OCR support to extract text from files. Once you scan your photos, you can save them as JPEG or TIFF. You can correct their colors to make them pop out if they seem faulty.
Features
It has an automatic color detector and document drawer.
Efficiently preset photo sizes and even scan multiple photos.
Automatic file naming after scanning.
It can be used with all film slide
It has an infrared dust remover.
---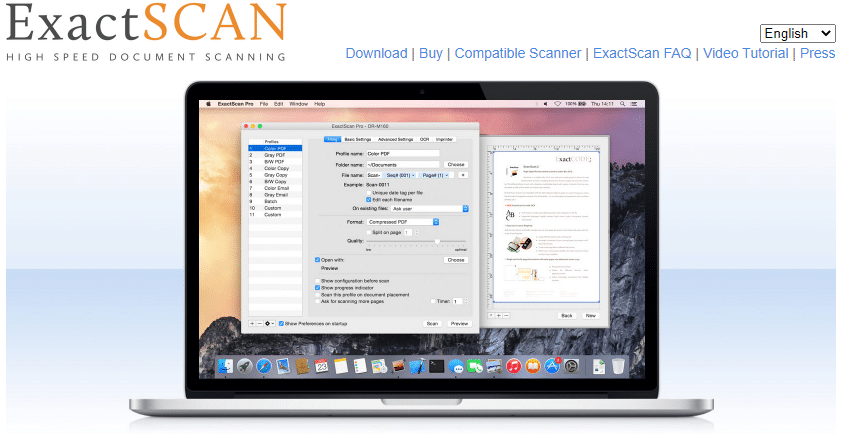 Exactscan is a scanning software that can be used for free. You can use the free version before getting a license or opt for the pro version with more features. The software can quickly scan, file, sort, archive, and find documents. You will be entirely paperless.
Luckily, the software supports a variety of scanners. Therefore, you have no excuse for not using the software. It includes more than 500 different drivers for document scanners like Kodak, Panasonic, HP, etc.
Additionally, it easily recognizes any blank page among the scanned files for easy deletion. Like any other ideal scanner, it supports file naming of individual documents.
Features
It comes with built-in scanner drives.
It is recommended for macOS.
Automatic black-and-white optimization.
It can insert empty PDF pages as placeholders.
It supports PDF, TIFF, GIF, JPEG, and more formats.
---

Camscanner is supported on Android, iOS, Mac, Windows and web versions. Through the Camscanner, you can easily scan and save your documents for later viewing or upload to cloud storage.
The free scanning software can also remove unwanted backgrounds and generate HD images and PDF files. Luckily, you can use it to print wirelessly and send the fax to more than 30 countries worldwide.
Features
Easily sync and backup documents from the Camscanner across devices.
It has an OCR that allows you to extract text from images easily.
Supports over 40 languages.
Edit files freely
Ability to edit PDFs.
---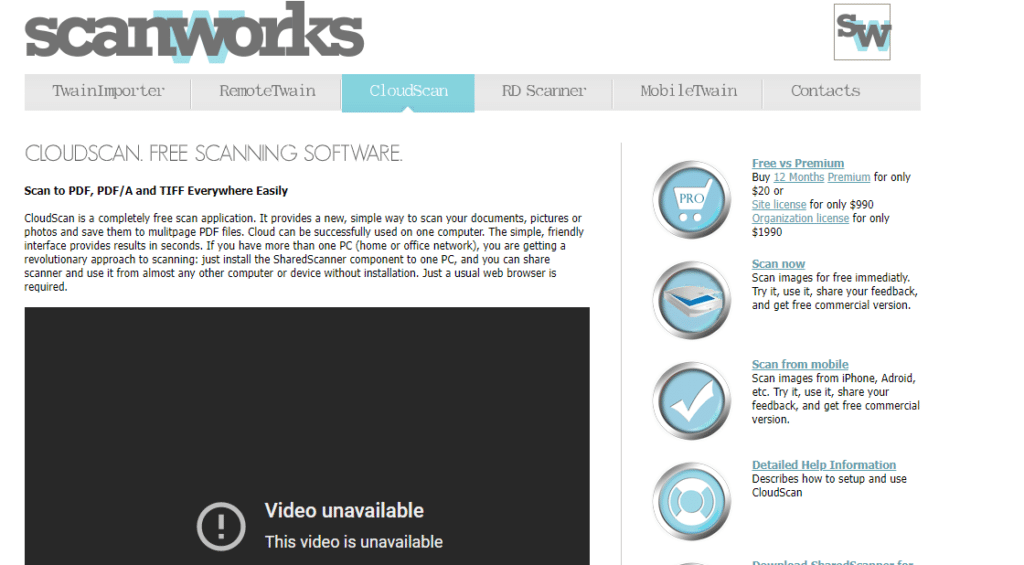 Cloudscan is another free scanning software that you can use to digitalize all your documents. You can either opt for the free or paid plan. You can use Cloudscan software to scan documents or pictures and save them in multipage PDF files.
This will allow you to go completely paperless. It can be used on one PC. However, you can install and use the shared scanner component on any device without any other installation. You will be good to go as long as you have a reliable web browser.
Features
Easily scan documents
It has an image enhancement feature to make your documents or photos pop.
It works with Twain-compatible scanners.
Quickly scan inside a web browser.
Flexible exporting options.
Allow pages manipulations
---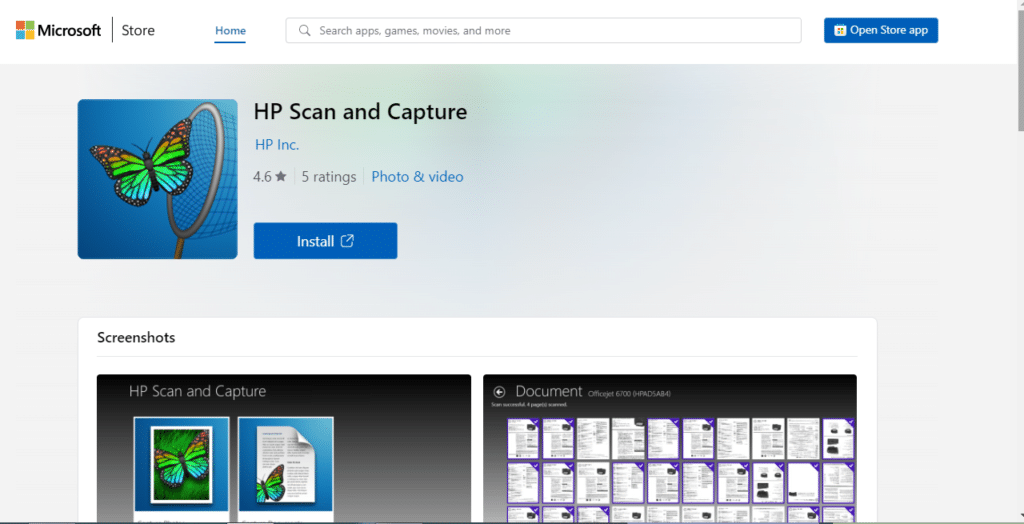 HP Scan and Capture is another free scanning software that you can use to scan photos or documents from an HP scanning device. You can even use your computer's built-in camera. How much better can it get?
Once scanned, the images can be previewed, edited, saved, or shared with other apps. However, you need to have installed the right HP drivers from the HP support website.
Features
Create single or multipage PDFs for documents.
Save images as JPEG files.
Edit images easily.
Easily re-order pages
Supports all scanning devices with correct drivers installed.
---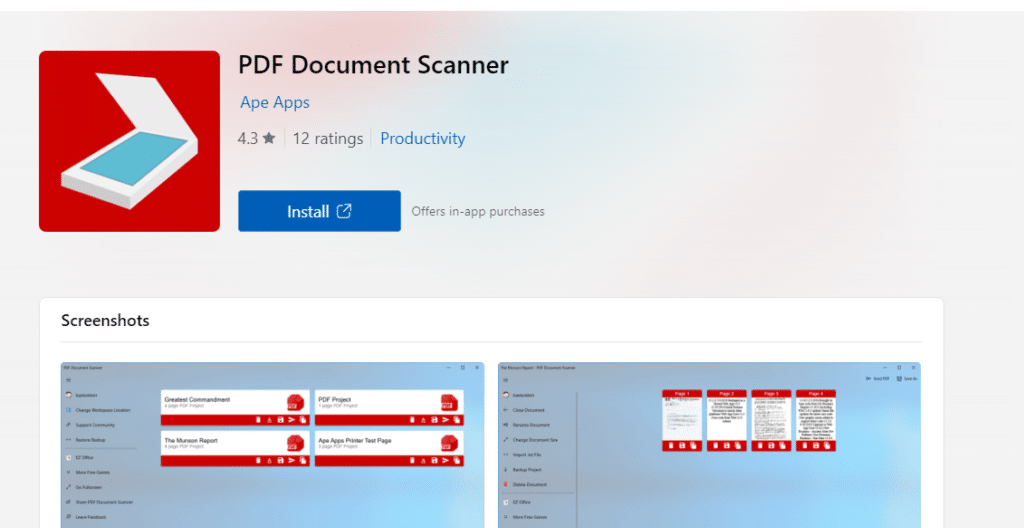 You can also opt to use the PDF documents scanner by Microsoft—no need to always have your documents in paper form. The software can save all your documents online and even on the cloud.
The PDF document scanner is also easy to use, so you shouldn't worry about that. All you need to do is set your documents on the table, frame them on the screen, and take a picture. It will then be converted to a PDF.
Features
Easily scan documents to save them online.
Saves all scanned documents into a PDF file.
Easily creates multiple pages based on what you scan.
Once scanned, you can save the documents on cloud storage or burn them to DVD.
---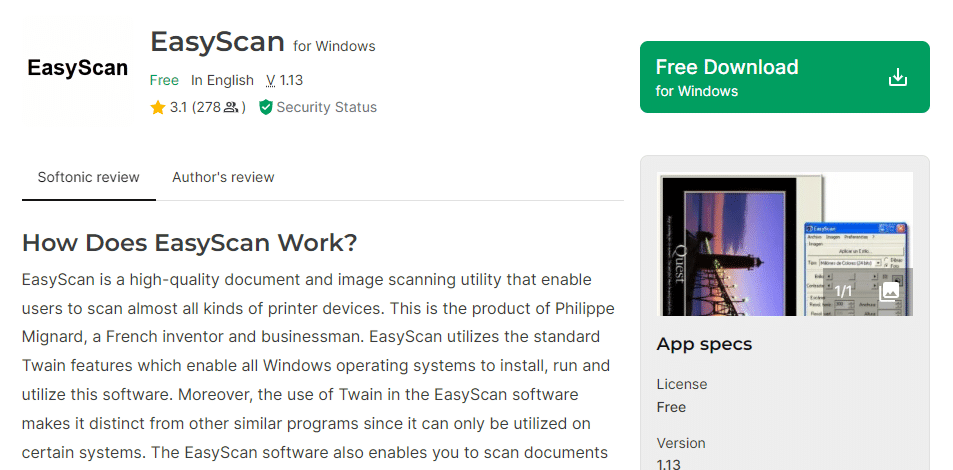 EasyScan is another reliable free scanning software. You can use it to scan documents or photos. It utilizes Twain features, which allows all Windows users to use it. Once you scan your physical documents, you will retain their high quality and clarity.
Therefore, you can scan as many documents as you want without fearing losing quality. Once scanned, you can proceed to save your files in the cloud.
Features
EasyScan can transmit documents in BMP, JPEG, and GIF formats.
It is compatible with Windows 7 and below.
Using the required driver to work with this Easyscan software for seamless scanning would be best.
It is completely free and easy to use.
---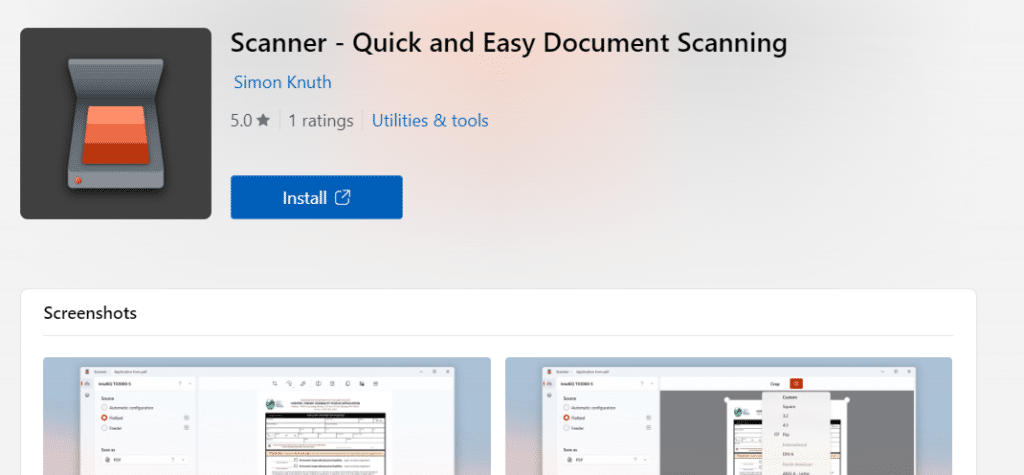 This Microsoft Scanner is compatible with Windows and can be used on multiple devices. Therefore, you can scan as many documents and images as you wish.
Once scanned, you can edit the documents by rotating, cropping, straightening, etc. Additionally, it allows sharing the file through email or saving it as a PDF.
Features
Allows naming of the document after scanning.
Editing capabilities.
Different scanners can use it.
Supports different file formats like PDF, JPG, PNG, TIFF, and BMP.
---
WinScan2PDF is another software to scan and save documents on your computer. It is completely free and works with most modern scanners.
The software is less than 100KB; therefore, you don't have to worry about your computer's storage space. Unfortunately, you can't save a document in any format other than PDF format.
Features
It works on Windows.
It is easy to use.
Offers multilingual support
It is completely free and requires minimal storage.
---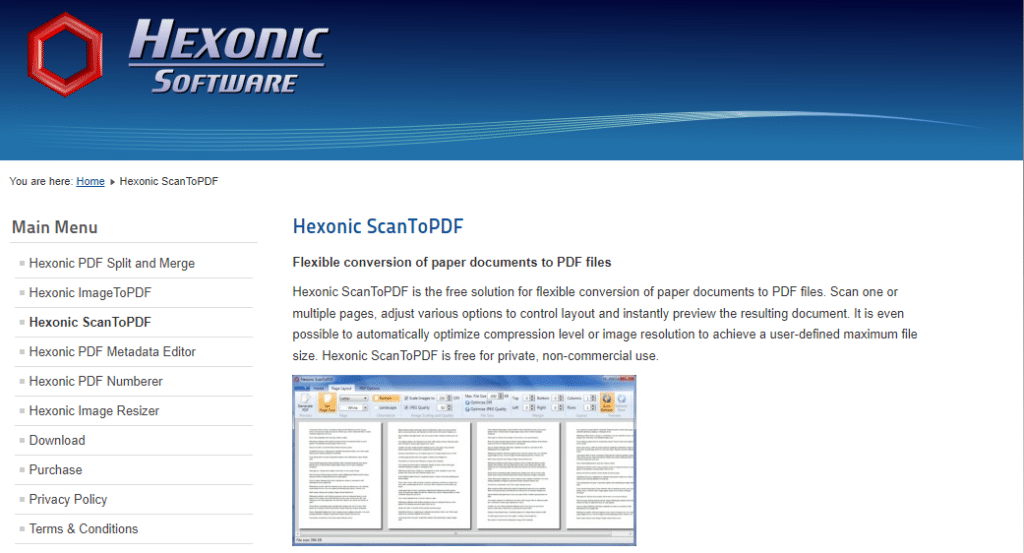 Hexonic Software is another free scanning software that you can use to convert paper documents to digital format. However, it is recommended for personal use only and not commercial.
Luckily, it allows you to scan one or multiple pages simultaneously. Additionally, you can modify the layout for a perfect output.  You can also use the software to optimize compression and image resolution. It supports file formats like JPEG, TIFF, BMP, PNG, and GIF.
Features
It works with any Twain-compatible scanners.
Preview the documents once scanned.
Import image files with the drag-and-drop feature.
Allows you to set various layout options.
Options and settings can remain as assigned.
It is free to use, but you can get a license to use it commercially.
---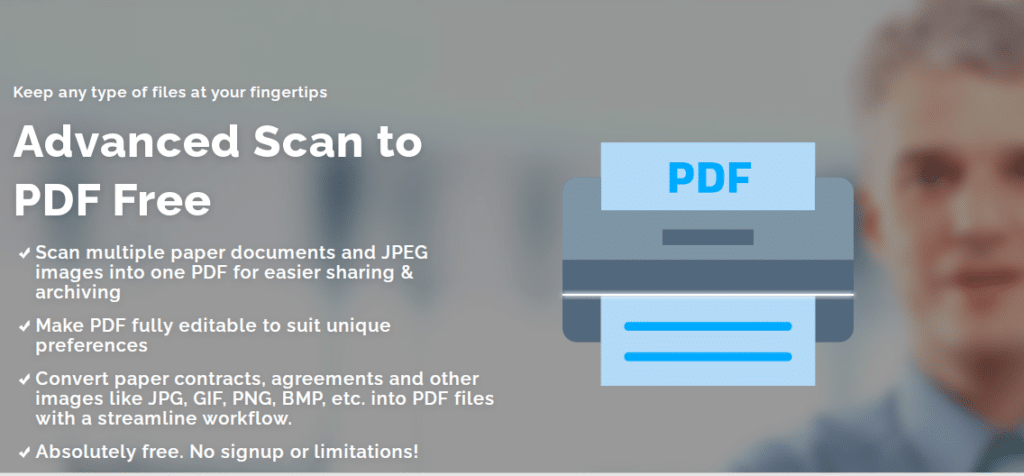 Are you looking for another reliable free scanning software? Look no further! Another remarkable software is the Advanced Scan to PDF free software. You can easily use it to scan documents and images and insert them in one PDF file for easy saving online or sharing.
You can even optimize the PDF as you wish. Therefore, you have no excuse for not scanning your documents.
Features
It supports different file formats like JPG, GIF, PNG, BMP, etc
Easily preview documents and images before converting to PDF.
Easily encrypt or decrypt the PDFs.
Fast processing and allows the application of a digital signature on the PDFs.
Provides high-quality output.
---
Scan as Many Files as Possible
Going digital is crucial for your document backup. Even if the documents or photos get destroyed, you will still have your cloud backup, which will help you recover some important memories or information.
Therefore, choose any free scanning software and scan as many files as you want from the comfort of your device. However, if you wish to scan software with fewer limitations, you can choose premium scanning software with more functionalities. However, these free scanning software are for you if you need the basic functions.
What are you waiting for? Choose one and start scanning today!