Buffered VPN is one of the best VPN for torrent and P2P sharing. It's based in Hungary, which means that you do not need to be worried about DMCA and DRD policy as well, due to which you can't download torrents. But that's not enough to judge the performance of a VPN company.
Indeed, it is one of the best VPN for torrents. Still, many other things need to be considered before purchasing a VPN, including prices of plans offered by the company, ways to make the payment, internet speed, what type of features the company is offering, the quality of their customer support, etc.
Recently I have purchased and tested the services of Buffered VPN, and following, I am writing a review based on my experience with Buffered VPN.
---
Price and Plan of Buffered VPN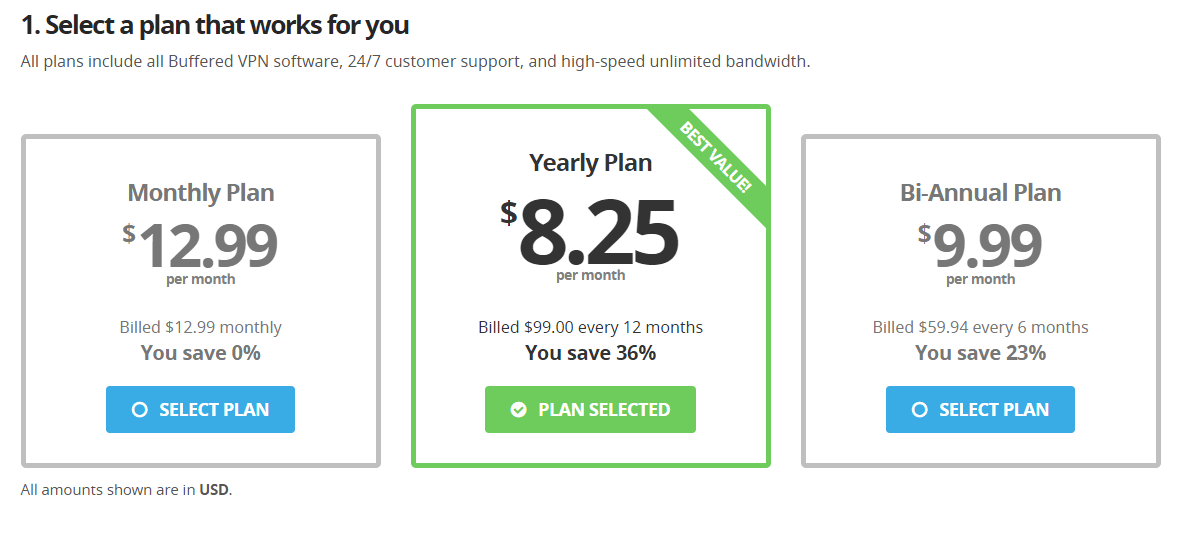 Buffered VPN monthly package cost you $12.99. As compared to other torrent VPNs, this is a very high cost. Usually, the price of using a VPN does not cost that high. Especially if you are comparing Buffered VPN with its competitors, then you will find Buffered VPN's rate very high.
But if the quality is what you are looking for, then a high price should not be something you have to care about. Buffered VPN also offers you a discount if you purchase their yearly pan or bi-annual plan, which costs $8.25 per month and $9.99 per month, respectively.
All three packaged of Buffered offer you the same features, including unlimited server switches, bandwidth, assessment of fast servers in 25 countries, and many more features similar to these.
Buffered VPN also offers their customers 30 days risk-free money-back guarantee, which means that you will get your money back if you are not happy with their services. This is an excellent opportunity for those who want to test their server speed and other features, which the company promised on their website.
---
Payment Options

Although while there are now dozens of different ways available to make online payments, but Buffered VPN only has two of them, which includes paying with PayPal and Credit Card only. That's not very cool.
---
Features of Buffered VPN
Download torrents for free
Finding a VPN company that offers you the option to download torrents and P2P sharing is difficult as most of the companies do not allow this due to high bandwidth usage, but Buffered VPN is not one of them. It is one of the best VPN for a torrent which allows you to download and upload unlimited torrents throughout the month without any restriction of file size, type and torrent client, etc.
Get connected on multiple devices.
Yes, you don't need to purchase multiple VPN accounts for each device. Buffered VPN offers you the option for various connections. You can log in to your VPN account on multiple devices at a time to enjoy their services. Buffered VPN includes five connections per account. So, use your VPN at a time on PC, laptop, mobile, tablet, and any other computing device you own without any additional fee.
Ultrafast servers in 25 countries
While this is not a very impressive number of countries where their servers are located, their ultra-fast internet speed makes you buy Buffered VPN right now, even with 25 countries servers only. Although, these include the dozens of sub-servers in the cities of these locations. You can change and switch to another server if you have trouble with internet speed easily by pressing a single button.
Flexible data log policy.
Buffered VPN is very clear about the user's data log. As the company is based in Hungary, there is no strict DMCA and DRD policy. As per the company's rules, they do not save the data related to the user activities called user's log. This log also includes the data of users' internet activities.
---
Internet Speed
Internet speed could be the most important fact when you decide to purchase the best VPN for torrent. Buffered VPN's prices are high compared to their competitor because of their high internet speed. You probably will not get anywhere else, especially from a VPN company that allows you to download torrent and P2P.
Internet speed offered by Buffered is the same as your initial internet connection. For example, if your inter downloading speed is 1.2MB/S, you will get almost the same downloading rate. Although, if you are using your Buffered VPN connection for non-multiple devices, there would be no difference in internet speed on all of them simultaneously.
---
Customer Support
Buffered VPN does not offer you any live support, including telephone support. So, if you are looking for instant help from their team regarding payment or facing any issue while running their customized software/application for VPN, then the only way to get connected with them is their email services which usually reply to your queries within 24 hours.
They have also created a FAQ section to help their customers solve their problems by themselves, which is extremely helpful, and I bet you would not need to get their support if you refer to their FAQ section first and search your questions.
---
Pros & Cons
Pros:
One of the best VPN to download torrent
Unlimited bandwidth with high internet speed
Multiple connections at a time on multiple devices
30 days money-back guarantee for new customers
No need to worry about DRD and DMC policy
It does not store users log and internet history
Cons:
There is no option for live support
High rates as compared to other companies
Servers available only in 25 countries
Only 2 options for payments
---
Rating
On thBased onxperience with Buffered VPN as the best VPN for torrent downloading, I would rate it 4 to 4.5 out of five. The major fact which affects the rating is only 25 countries servers available, and customer support does not have the option to contact them live through their website or application/software and, only 2 payments options are available.