Finding a VPN company who allow you to download torrents and file sharing on P2P networks could be pain because there are very few VPN companies who allow their users to download torrents due to legal issues while some of them who promise to allow you to download torrenting comes up with limited features which makes your torrenting experience worst due to privacy and security related issues.
PIA or private internet access is one of those VPN companies that allows their users to download torrent files with options of unlimited bandwidth, high internet speed, and no logs privacy options. But is it really worth purchasing their VPN services for torrenting?
Just take a look below to our review of private internet access which will help you to decide whether it is a great option to go with or not, in case if you are looking for a torrenting solution.

---
Plans and Prices: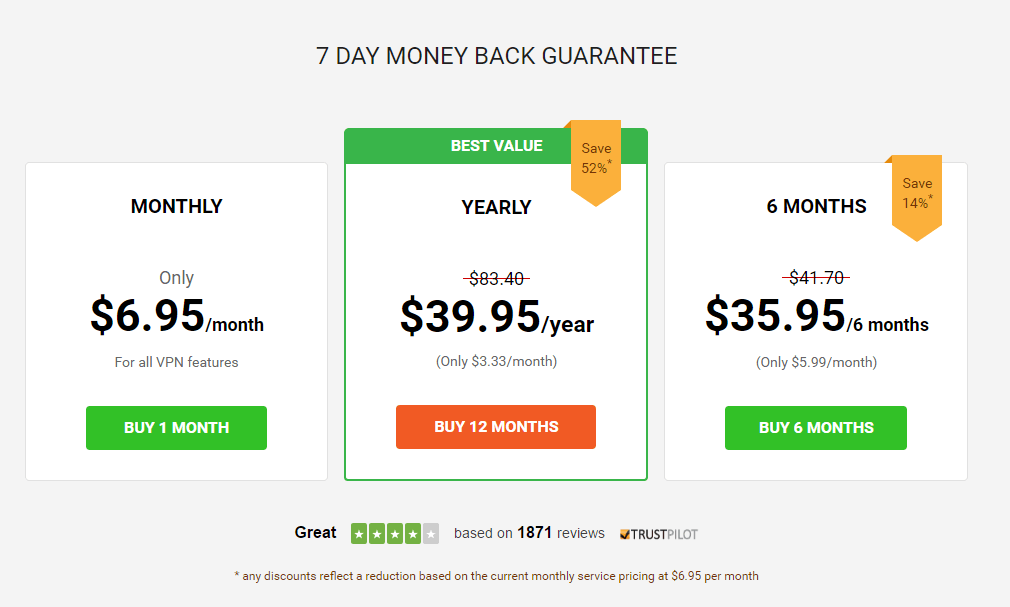 To enjoy all VPN features of Private Internet Access, you need to pay a monthly fee of their services. Currently, they are offering three different packages. There is no difference in them in term of features which means that you will receive access of all of their VPN features, does not matter that which package or monthly plan you select.
The monthly plans of Private Internet Access are only different from each other on the bases of prices only and the company made three plans to offer a big discount to their customers.
The standard monthly package of Private Internet Access start's from $6.95 per month but if you are looking for long term solution then I would suggest you take advantage of their 6 month and yearly plans. The 6-month plan costs you only $35.95 which means that you will save 14% which makes it only $5.99 per month.
On other hands if you choose their yearly plan, then it will cost you only $39.95 which means that you will pay only $3.33 per month and save 52% on your whole yearly subscription.

7 days money-back guarantee:
For the new users, Private Internet Access is also offering a 7-day money-back guarantee, so you don't need to be worried about if you did not satisfied with their VPN features because you have the option to get your funds back. This is also a great opportunity for those who want to test internet speed and other features of Private Internet Access (PIA) before they actually purchase their yearly package.
Payment methods:
PIA is offering several different payment methods to make it possible for you to purchase their VPN services easily. Options like credit card and PayPal are available there but you can also make payment through Amazon, Bitcoin, CashU, OKPAY, Ripple, Mint, and other online payment solutions. This is indeed great news for those users who are unable to purchase VPN services from other companies due to a lack of payment methods.

---
VPN Features by PIA:
Price is not the only thing which you should consider when you are selecting a VPN company, features play a more important part than prices of VPN. Following is the quick look of features of PIA offering to their VPN users:
P2P and torrent support: You can download torrent files on PIA VPN servers. There is no limit of a number of files or data usage on torrenting where it also supports BitTorrent.
5 devices simultaneously: You can use a single VPN account on up to five different devices at a time without worrying about internet speed and data usage capacity.
Advanced features: The customized PIA software comes up with many advanced features like the option to block ads, trackers, and malware to keep your web browsing experience exclusive.
PIA offers security: Private internet access offers you a secure way to use VPN with their advanced security protocols. They also offered you encrypted Wi-Fi on public and private routers.
Instant VPN setup: The customized VPN software of PIA is easy to use. You can set up into your digital devices instantly with few clicks, no advance knowledge required to use.
Unlimited features: Private internet access offers their clients unlimited features which includes unlimited bandwidth and stability of internet speed without setting a daily limit.
No traffic logs: If you are concern about your online logs, then go with PIA because the company offers no traffic logs policy which including no recording any single bit of your online activities.
Multiple VPN Gateways: There are 3389+ servers of PIA in 24 countries, you can switch to servers without any number of limits while PIA also offers you options of multiple VPN gateways to keep you connected with VPN.
PIA client support: Not just one or two clients, but private internet access support all the major clients to run their software smoothly which includes Windows VPN, Mac OS X, Linux, iOS App, and Android App, etc.
Video guide: One of the best features which include in all PIA's VPN user account is the free video tutorial to help users to use their VPN client and other features easily.
Want to know, Can I use Private Internet Access for Netflix?

---
The Internet Speed Test of PIA:

The servers of Private Internet Access is located in 36 different location of 24 countries. It is not possible for me to test the internet speed of Private Internet Access on 3380 servers. But I and my team have tested several servers to give you a clear picture of their internet speed.
It does not matter how powerful the VPN you are using on your internet, there is always different of internet speed with VPN Vs without VPN and this also happens with Private Internet Access. But there is not much difference in the internet speed of the VPN of PIA.
We have tested the internet speed of their servers located in the USA, UK, Canada, New Zealand, and India. Overall, the speed test passes with our expectation and we did not feel any difference in web browsing.
Even, we have played some videos on their Western countries based servers and happy to tell you that the video was playing very smoothly.
There was some glitch and slow down of internet speed on Indian based servers but we could not rank "bad" to PIA just because of a few servers performance out of 3380 servers.
You can get up to 50 Mbps downloading speed through PIA but it also depends on your internet connection speed and server you have selected to change the IP address. So if you are looking for high-speed VPN solution then do try Private Internet Access as they are also allowing their users to download unlimited torrents.

---
Customer Support:
Last time when we have checked, there was a live chat option available on Private Internet Access (PIA) but when we have checked now, we did not found live chat options which is a negative point for a company like PIA. They have provided many other ways to get help from their support team.
There is an FAQ section available on their website which has the answer to all of your questions related to payment, how to use their software, account-related and technical issues, etc.
Other than that, you can contact their team by sending the email. Their time of replying to queries is about 4 hours to 12 hours which is totally depends on the time when you have to send them an email.
Other than this, you can also get help from them from their social network accounts. Their customer support team is very responsive in terms of reply back to your questions in a reasonable time.
---
Pros and Cons:
Here is the list of pros and cons of using Private Internet Access which will help you quickly to decide whether you should purchase PIA for a VPN solution or not.
Pros:
Very reasonable prices, cheap as compare to other VPN who allow torrents
Ultrafast downloading and uploading speed, good to download torrents
PIA's servers are located in premium locations in 24 different countries
Multiple options to make a payment including Amazon gift card and PayPal
Support P2P file-sharing networks allow torrent downloads and BitTorrent
Advanced features include ad-blocking options and switch to servers
Options to use single PIA account on 5 different devices simultaneously
No traffic log has been recorded by the company to protect users privacy
Provides advance online security protocols options and Topnotch encryption
Options to switch to more than 3000+ VPN servers located at different locations.
Cons:
There is no option to contact the support team through live chat
Response to email (customer support) is not very fast as expected
The VPN servers of PIA is located in only 24 different countries.
---
Conclusion:
Overall, Private Internet Access is a great option for those who are looking for a reliable VPN solution to download torrents or torrenting purpose because it is one of few VPN companies who does not only allow torrent downloads but also comes up with no log policy where advanced features offered by their customized VPN software allow you to make your online experience exclusive.