Hide My Ass is one of the most popular VPN providers. It is known among those companies who first start selling VPN services, while the company also offers a free list of proxies to both their regular users and their prepaid customers.
While Hidemyass is famous for a number of reasons but one reason which makes them popular is their number of VPN servers which are about 1000 and located in 350+ locations. This is an excellent achievement for a VPN company to have so many servers. But this is not enough to judge the performance of the company.
To write an honest review about Hidemyass, we have tested their services and come up with their pros and cons. Following I am sharing my review of Hidemyass, which will help you to know whether you should purchase their VPN services or not.
---
Prices and Plans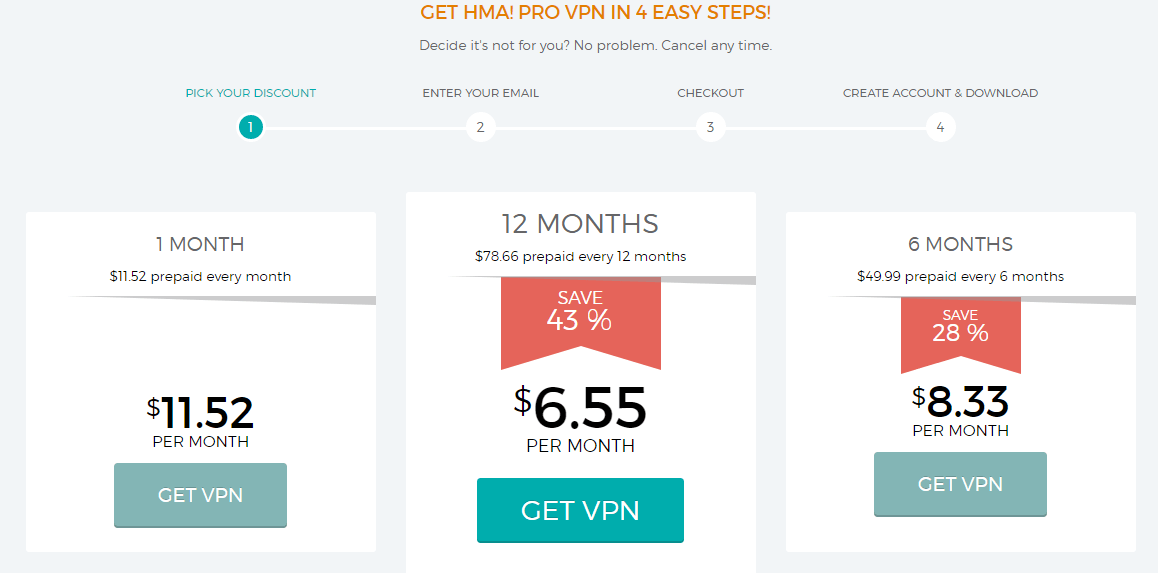 Hidemyass offers three different types of plans which are different on the bases of their prices only; otherwise, the features of these three plans are the same. The purpose of offering three price plans to VPN users is to provide a discount on their bulk purchase which is an excellent offer for those users who are looking for a long-term solution for VPN.
The standard plan of Hidemyass costs only $11.52 per month, where you can save up to 28% if you purchase their value plan for 6 months. Hidemyass has a special offer for those who want to use their services for 12 months because it will cost only $5.55 per month, which means that you will save 43% on y our purchase.
All of Hidemyass plans to come up with 30 days money-back guarantee. Although their services include in each VPN plan are the access of their 120,000 IP addresses list from all around the world and access to their all VPN networks, which are more than 940+ servers in 350+ locations. Hidemyass also offers unlimited data allowance to their customers, including free software and mobile applications, which includes 2 simultaneous connections.
---
Features of HideMyAss
Features and services which are included in all of their plans include:
1 – Biggest consumer VPN network
Access of 940+ VPN servers which are located in 350+ different locations all around the world. Although, you will get free access to 120,000+ IP address lists which can be used as a browser proxy to change the IP address.
2 – Unlimited data allowance monthly
There is no restriction on monthly bandwidth or data allowance. You can download unlimited data online, including torrents and files from P2P file-sharing networks. The internet speed does not reflect based on your activity.
3 – Customized software and application
Hidemyass has customized software for PC users and mobile applications for iOS, Android, and Windows mobile users to run VPN safely and easily. This customized software comes up with advanced features to control VPN activities.
4 – 2 simultaneous connections:
You don't need to purchase multiple accounts of HideMyAss VPN to run on your multiple electronic devices because HMA allows you to use the same VPN account on 2 devices at a time without scarifying internet speed and bandwidth.
5 – No logs policy:
Initially, Hide My Ass has no logs policy for all users. But there are some controversies about the company that they sell user's logs data to agencies, but there is no confirmation about this news.
6 – Complete protection from hackers:
The advance VPN features of hiding My Ass allow you to surf the internet anywhere, including public Wi-Fi spots, without worrying about hackers because your IP address has been changed with their services which allow you to surf the internet safely.
---
Speed Test
Hidemyass has so many servers that are the location in more than 350+ locations. Testing their internet speed to all servers was not possible for us. So, we have tried some of them. The speed test of Hidemyass was satisfied with the UK, USA, Singapore, Canada, and Australia servers.
According to other useful customer reviews, their speed is not stable on servers located in Asia, like India. But we did not find any glitch with those servers too. Their European-based VPN server also showed us excellent results in terms of speed, and we did not face any glitches throughout the session.
So, overall our rating for Hidemyass internet speed is excellent. But one thing to keep in mind is that you may not get incredible speed if you are using a proxy from their proxy list because those 120,000 IP address in their proxy list they offer has been used by their free users, too, which affect the internet speed for paid or premium users.
---
Customer Support
If you are looking for a VPN that comes up with a number of different ways to get support from the company, then Hidemyass is one of them because they are offering multiple ways to reach their support team. Their customer support options are live chat 24/7, ticket system, and direct email.
They also have an online community for their customers from where the users can get help from other users and experts. However, Hidemyass has a special knowledge base section covering all the basic and advanced questions related to VPN.
The reply time of their email and ticket system is quick. It took them 1-2 hours to reply to our question, which shows that their team is delegated and replies quickly for the satisfaction of their customers.
---
Pros & Cons
Pros:
One of the cheapest VPN companies in terms of prices
Offers a bulk discount on a yearly purchase from $4.99
Around 1000 servers located in 350+ locations all around the world
Hidemyass offers you access to 120,000 proxy list
30 days money-back guarantee to new customers
Offers multiple free tools, which include anonymous email services
Multiple customer support option is available, including live chat.
Cons:
Internet speed of their proxy is not very impressive
Their logging policy is not very clear and always controversial
Hidemyass does not offer a free trial to their few customers
Only provide 2 simultaneous connections per user
Allow torrents with limited time, speed and features.
Click here to go to Hidemyass's official website.