IPVanish is one of the leading VPN for torrent downloading. It is known for its downloading speed, numerous features, and up-to-date customized VPN software with new features.
I have purchased their monthly package to check how reliable it is to use for torrent downloading and what hidden features their customers are enjoying which makes it popular in the list of VPN for torrents.
Following I am sharing my experience with IPVanish including their features, downloading speed and reliability of their customer support, etc to help you to decide whether you should purchase IPVanish for torrent downloading or not.
---
Prices and Plans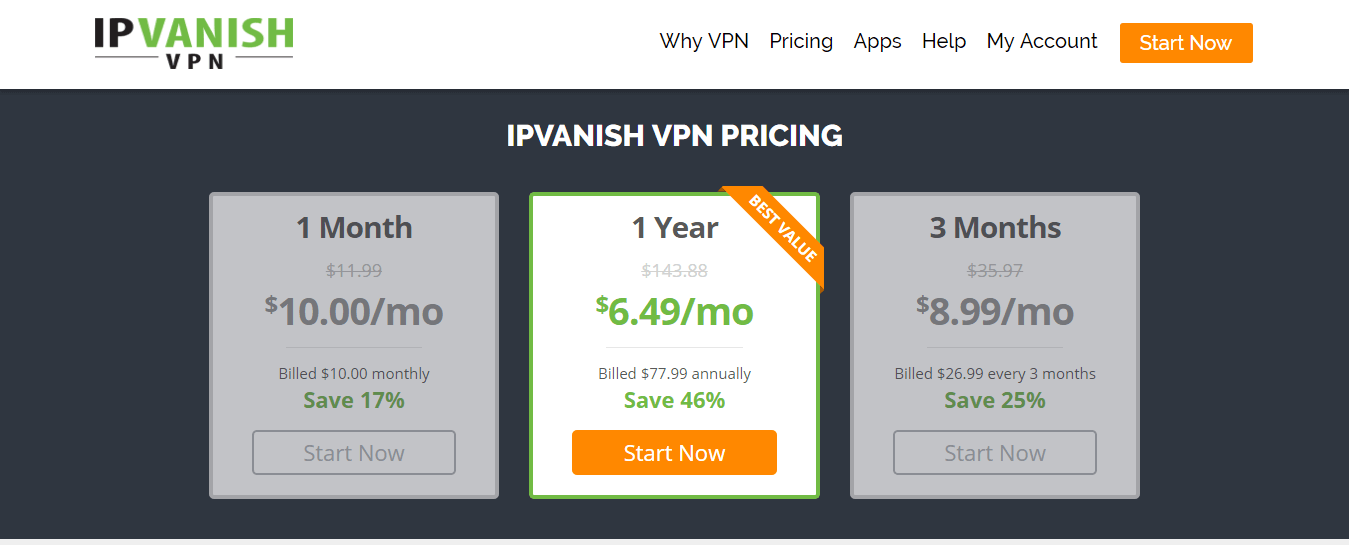 IPVanish offers three different prices plans which are not different from each other in term of features but only in prices. The purpose of creating three different plans is to offer a discount to the customers on their bulk purchase.
Yes, you can save up to 46% from IPVanish if you are purchasing their yearly plan. The standard price of their monthly package is $10 per month but if you purchase it for three months at a time then it will be reduced to $8.99 per month which means that you will same 25%. Although, this is not the only discount offer you can earn. The company is offering 46% discount for purchasing their services for 1 year at a time which will reduce the monthly price to $6.49 per month.
---
Payment Options
While most VPN companies offer only two ways to make payment to purchase their services, IPVanish offers you more than 10 different ways to purchase their VPN for torrent downloading. These methods of payment include PayPal, Credit Card, Bitcoin, GiroPay and many more. So, there are many options available to pay for the company.

---
Features
Thousands of IPs and 500+ VPNs
The company offers you more than 40,000+ shared IPs to hide your IP address where their more than 500+ servers for VPN are located in 60+ countries which include countries from all around the world like America, Canada, UK, China, Japan, Turkey, and many more.
IP Vanish does not store any data and information record about their users which includes data logs of torrents and browser history. This flexible privacy policy allows you to download unlimited torrents without worrying about copyright legalization.
Read to know another zero logs VPN provider, here.
People afraid to download torrents in many countries because it is not legal to download torrent files. IP Vanish provides you complete solution by hiding your IP address while you are downloading torrent and also generate fake trackers to protect you from hackers.

As the company is famous for its torrent download feature and P2P file-sharing network, they offer their customer access of unlimited bandwidth with ultra-fast downloading speed and option to switch to unlimited servers. This is a great feature for torrent lovers to download torrent quickly and smoothly.
IP Vanish for public Wi-Fi
The chances of getting hacked and leakage of private policy on public Wi-Fi is always high as its settings are not under your control. IPVanish provides you the solution for you through its powerful security encryption. Your online activity keeps private through their powerful VPN features on a public Wi-Fi connection.
IPVanish has developed high-quality software for VPN usage which supports all the major operating systems like Windows, iOS, Mac OS C, Android, Windows iPhone, and Ubuntu, etc. Their software has multiple modern features.
---
Speed
IPVanish is known as one of the best torrent VPN, so downloading speed is the most important factor to judge the performance of the company.
I have tried their different servers to test their torrent downloading speed. Their average downloading speed I about 10MBPS on the UK and US-based server. The speed has little issue with Asian countries servers but this is understandable due to the larger distance geographically.
But still, I manage to get downloading speed up to 10MPBS on all of their servers which I have tested. My same comments go for the uploading speed. I did not face any issue or glitch in seeding the torrent files through IPVanish.
Although IPVanish is known for VPN for torrent downloading, its downloading speed on web browser was excellent. If you are getting 10MBPS internet speed without a VPN, then there would not much difference if you browse the same website with IPVanish VPN servers.

---
Customer Support
IPVanish only offers ticket-based customer support 24/7 which does not have a very quick response time. They use to have Live Chat option just a few months ago but it is abolished now which is indeed a negative point for the company because users always look for Live Support before using another mean of getting support from the company.
The company also has a support center where they have answered all the questions of their customers including basic questions regarding using their software to use VPN. So, this is a plus point as you don't need to contact the company if you refer to this section for help.
---
Pros & Cons
Pros:
Allow P2P file sharing and torrent downloading uploading
46% discount on their 1-year plan which makes it $6.49/mo
IPVanish is a tier 1 network that protects your online privacy
High internet speed to download torrent files ultra-fast
Their customized VPN software and application has superb features
Unlimited bandwidth, P2P traffic and server switching options
Zero traffic logs for all users, no user activity has been stored
More than 40,000+ shared IPs, 500+ VPN servers in 60+ countries.
Cons:
Only 7-day money back guarantee option available not 30 days
Their standard price for one month is high as compare to others
Lack of customer supports options, no live chat option available.
---
Rating
IPVanish deserves to get 5 out of 5 if I rated it only on the bases of its features and downloading speed for torrent and P2P sharing network but a high price for per month and lack of customer support options affects its rating. So, I would rate it 4.7 out of 5. The rating can be increased if the company introduced more support options and also decrease their standard monthly price.