You have probably heard about Windscribe VPN. It is famous because of its free web browser extension. You can enjoy up to 10GB per month without paying any money. All you need to do is to create an account on their website. But do you know, this company also offers premium services? Yes, it does and they come up with excellent features to enjoy.
Recently we got a chance to take a deep look at the premium services of Windscribe VPN and we found it incredible. Why? Read below because the following review my one of our team member will help you to understand that why you should choose Windscribe VPN.
Instead of talking about random things, we have only discussed those items, which are important for the new customers when they are choosing a VPN company to use their services. We hope that our honest review of Windscribe VPN will help you to choose the best.
---
Price and Plans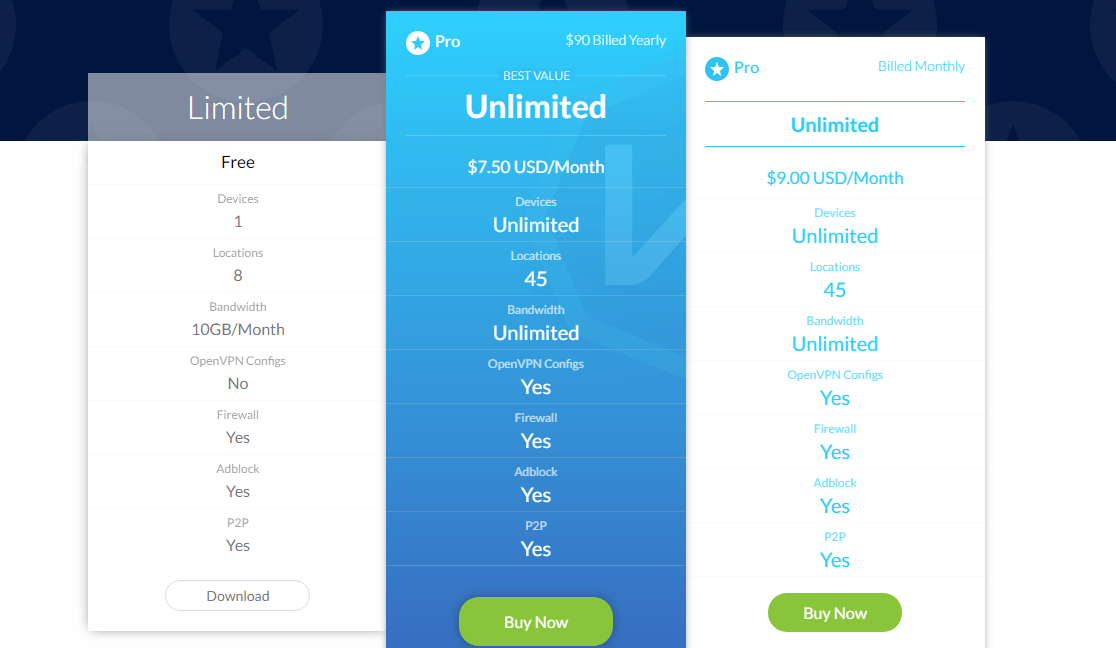 There are very few VPN companies who are still offering their VPN services for free, Windscribe VPN is one of them. The company is offering free monthly services as long as premium services in very cheap prices. The free package allows you to use their services for up to 10 GB per month but this comes up with very limited features. As a free user, you can only enjoy access to 8 VPN servers while this does not allow you to use your account on multiple devices.
The premium plans of Windscribe VPN allow you to enjoy their services with unlimited features with the access of VPN servers which are located in 45 different countries.
The standard price for Windscribe VPN monthly package is only $4.50 per month but if you purchase their yearly plan, then you can save 50% on total subscription price because it will reduce the price to $3.75 per month. There is no difference in the features of both plans except the difference in price.

---
Payment Methods

Windscribe VPN accepts several payment options which include Credit card, Debit card, PayPal, Visa card, American Express, Bitcoins and Paymentwall, etc.
If you do not find out an option to make payment then you can directly be asked from the customer support team, they will arrange a special payment method for you. But I am sure that you will no need to use this option as they already has multiple ways to make payment and purchase their VPN services.
---
Money Back Guarantees

Windscribe VPN does not offer any type of money back guarantee, this is because the company offers access to 10 GB per month to everyone. So, if you want to test their services before making actual purchase, then you can enjoy their free plan. In short, there is no need for money back guarantee because the free option is available.

---
Features
Features like opening blocked websites, hide IP address and get access to any website without getting annoyed by ads are offered by all the famous VPN companies but Windscribe is offering more than just that. Following is the list of some of the top features which Windscribe is offering to their free and premium users:
The company does not track any record of their users including the record of visitors who visit their website. This also includes tracking by search engine and advertising companies. Even popular websites like Google and Facebook will not able to track your original information because Windscribe will change your IP address or in other words your online identity.
The advance feature of their VPN software allow you to block all the ads and surf sites without getting annoying by ads. The software also has many other features but we have only mentioned this because it is in demand and new users always in the search of VPN software that allows them to block ads without using any third-party extension.
The company is very clear about its log policy. They do not track any information related to your online activities. This is great news for those users like me, who are worried about their online privacy. This also ensures that any third party will never know about your online activities. You can visit to any website and download any type of content without any tension.

The servers of Windscribe VPN are located in 45 different countries. Even in the free plan, you will have access to 8 locations. Instead of adding all the random countries in their VPN locations, they have only chosen those countries which are in demand and where internet speed is fast. This guaranteed you high-quality internet speed, does not matter that which country's VPN you are using.
Windscribe VPN also has browser combo for both desktop and mobile users to provide extra privacy protection to users over their online activities.
Access to P2P networking websites and option to download unlimited torrent is allowed to all users including those who are using the free plan. All the popular torrent clients including BitTorrent is supported b them. This option is also available for the free users but they can only download data up to 10GB per month.

Windscribe offers unlimited internet speed and monthly bandwidth to the premium users on both of their packages without any restriction. We know that their free plan does not come up with this option but 10GB of VPN for free is no less than unlimited to the free users.
Windscribe VPN service has been designed for all type of users. Their software and mobile application support all the popular and unpopular operating systems and devices. You do not need to switch to or install any new operating system to use Windscribe VPN services.
They support all, which includes Android, Windows, iOS, Mac, Linux and much more. To make it easy for their customers, the company is offering individual software and application for different operating systems. All you need to install the required software, use your login details and enjoy VPN services.
Windscribe also allows access to Netflix USA without any restriction or Netflix proxy error. You can log in to Netflix of any specific country by using Windscribe VPN services. This option is available on their free plan too. This is a great opportunity for those who want to get access to full list of Netflix shows. The free users can watch any show of Netflix USA until their bandwidth limit reached to 10GB each month.
There are very few VPN companies out there that also offer the option of a web browser extension to their users. With the help of this extension, you can only change the IP address of your web browser instead of converting the whole internet connection. Windscribe does have this option. This extension is available for both, paid and free users without any restriction.

---
Internet Speed
Downloading speed is the most important factor for us when we review different VPN companies. We have tested a few servers of Windscribe VPN before comes up to a conclusion. We rate their internet speed above excellent because we have received almost the same downloading speed which we were getting without using their VPN.
There are some VPN servers that have an issue with downloading speed but still, you will receive internet speed on those servers above average. You can also confirm this by signing up for the free plan of Windscribe VPN.
Especially, servers located in the UK and USA has very fast downloading and uploading speed. The feature of software like auto kill switch makes it more flexible for the users as you receive smooth internet speed while automatically switched to other VPN servers.
---
Customer Support
Sadly, there is no live chat option available to get in touch with the support team of Windscribe VPN but still, there are multiple options available to get help regarding any problem which you are facing while using Windscribe VPN services. You can submit a ticket, read their setup guides and also have access to FAQs section as well, etc.

---
Pros & Cons
Pros:
Options for a free plan with 10GB per month available
Zero trackings and no-logging policy when you use VPN
Advanced VPN software comes with many features
Options like auto kill switch and dedicated VPN
Windscribe VPN is a verified company by Canada
Works on all the popular operating systems
P2P and torrent is supported by all VPN servers
Options like block ad tracking is also available
Cheap yearly price with multiple payment options
Advanced encryption for user's privacy and security
Good internet speed on all VPN servers.
Cons:
There are limited customer support options available
does not offer any type of money-back guarantee.
We have rated Windscribe VPN 4.5 out of 5. Indeed there is a con that exists but it does not really matter as you will hardly face any problem getting in touch with the support team through live chat. The option of the free plan makes Windscribe VPN one of the best VPN to enjoy even without paying any penny.