ZenMate is a popular VPN company which is known for their free browser extension through which you can access the internet anonymously, download torrents and hide your IP address, etc.
There are very few people who know that ZenMate comes up with more features and services but it cost you money. Their premium VPN services include better online security, flexible privacy policy and access to more VPN servers in more than 23 locations in different countries.
Recently, we got a chance to test the services and features of ZenMate VPN. We have tested their internet downloading speed, compare their prices and plans, and explore the features they are offering to their customers.
Following we are writing the detailed and honest review of ZenMate VPN including the efficiency of their customer support department. We hope that this review will help you make the decision whether you should buy ZenMate's premium VPN package or not.
---
Price and Plans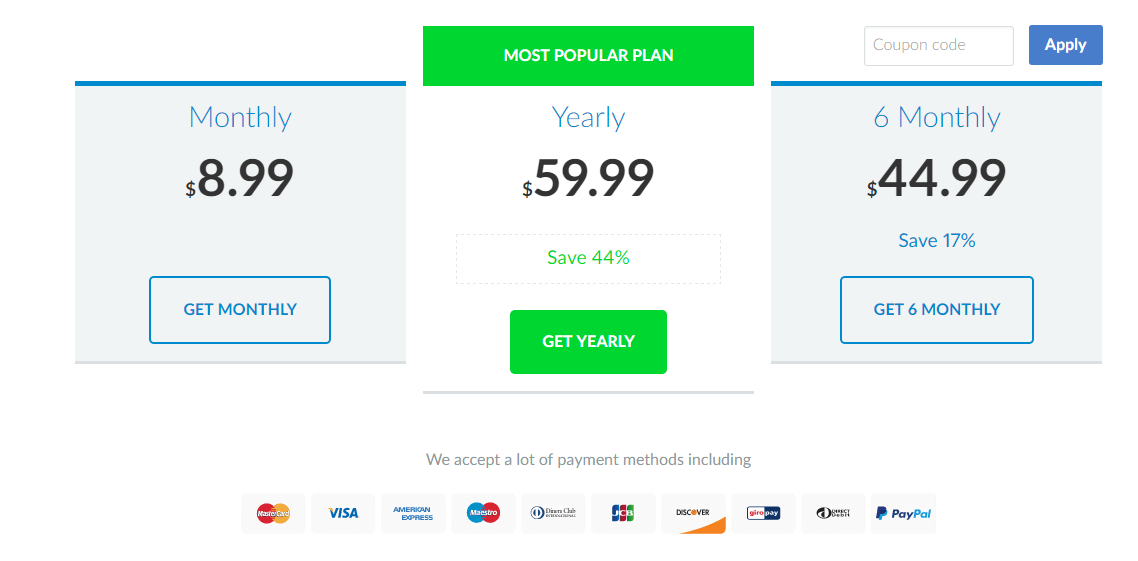 ZenMate offers their services for free but their free services do not include much while its only work with specific browsers. To gain the benefits of their all premium services and features which includes access to more VPN servers, you need to purchase their premium plans.
The company currently providing three different plans for subscription in their premium section which differ from each other only on the bases of prices only where there is no difference in the feature you will receive, does not matter that which plan you choose.
The standard price for their monthly package is $8.99 but you can save up to 17% by purchasing their 6-month package which cost only $44.99 which means that you will get each month of ZenMate VPN in $7.49.
For those who are looking for a long term VPN solution, the company has a special discount offer for them. You can purchase their yearly package in $59.99 for 12 months which means that you will save 44% which makes only $4.99 per month.
There are three ways to pay to ZenMate for their premium services which include PayPal, Credit Card and option other wire transfer options including UnionPay and Qiwi Wallet etc.

---
Features
Zenmate offers multiple features and options regarding VPN to their customers. Following is the list of features and services you will get if you purchase their premium package:
Ultrafast servers: The company offers access to their ultra-fast VPN servers which are located in more than 23 countries.
Customizes software: Zenmate has designed and developed customizes the application for Android and iOS users where their software is capable with all the popular operating system.
Browser extension: Zenmate offers free access to their browser extension with limited VPN servers which can be upgraded by paying the monthly fee.
Encryption: To protect the online privacy of their users, the company offers the best online security solution and known as best in class security and encryption.
Unlimited features: There is no restriction has been set by the company on monthly bandwidth on both premium and free packages and you have the option of unlimited server switches as well.
Internet privacy: To protect users from hackers and agencies, the company offers a complete solution for online privacy. You can use the internet on public routers without worrying about your online security and privacy leakage with Zenmate.
Super fast internet: Zenmate offers ultra-fast internet downloading and uploading solutions to their both free and premium customers.
Business VPN solution: Although if you are looking for VPN solution for your business, then check out their business section for extra protection.

---
The Speed Test of ZenMate
Usually, you need to purchase VPN package the company offer to test the internet downloading and uploading speed but you can test internet speed of ZenMate by using their free browser extension which includes 3 of their VPN servers in different locations.
ZenMate offers excellent download and uploading speed on their UK, USA, and Germany based VPN servers. You won't feel much difference in internet speed if you compare it with your internet speed without a VPN connection.
The company's VPN servers are located in more than 23 countries. The internet speed is almost decent in all of their servers with 99% uptime. There is no disconnectivity and glitch we have faces during the whole session at all.
Need the fast Speed VPN for torrent downloading, Visit Here.
---
Customer Services
As per their website states, they are offering 24/7 customer services where we did not found any option to connect with them until we purchased their premium subscription package and login to our account. The company offers an email option to get connected with their team to get support. The reply to our email with a reasonable time frame which is a few hours only.
They also created the knowledgebase section which covers all the potential question of their users to help them to solve their problem on their own. There is not much to talk about their support due to a lack of options available.
The company should introduce live chat option while the option to get connected with their customer support should be available for everyone including free users. The free users can get in touch with their support team through social media platforms only.
---
Pros & Cons
Pros:
Free VPN package includes limited VPN servers and ultra fast speed
Internet speed on all of their servers are decent and works smoothly
ZenMate provides excellent encryption for user security including router security
The company offers 14 days risk-free refund policy to their new customers
One of the cheapest VPN service providers who also offer bulk discount
Excellent extension for browsers customizes software and applications
There are a number of options available to pay for a subscription.
Cons:
ZenMate is based in Germany which is dicey for privacy
VPN servers located in only 23 countries with limited options
The company is not very clear about its privacy policy and torrents
ZenMate IP leaks are all over the place which required additional plugins
Lack of customer support options. Only get connected through email.