Purevpn is a leading VPN company that offers you the ability to change your IP address through hundreds of VPN servers that are located worldwide. Their zero log policy makes them famous in the list of top VPN companies where Purevpn allows its customers to download torrent files with their ultra-fast internet speed.
Recently, I got a chance to use their services. I and privatnostonline got impressed with their cheap prices, numerous features and high quality of customer support. Following I am sharing my review with the company which will help you to make a decision whether you should purchase Purevpn or not.
---
Prices and Plans: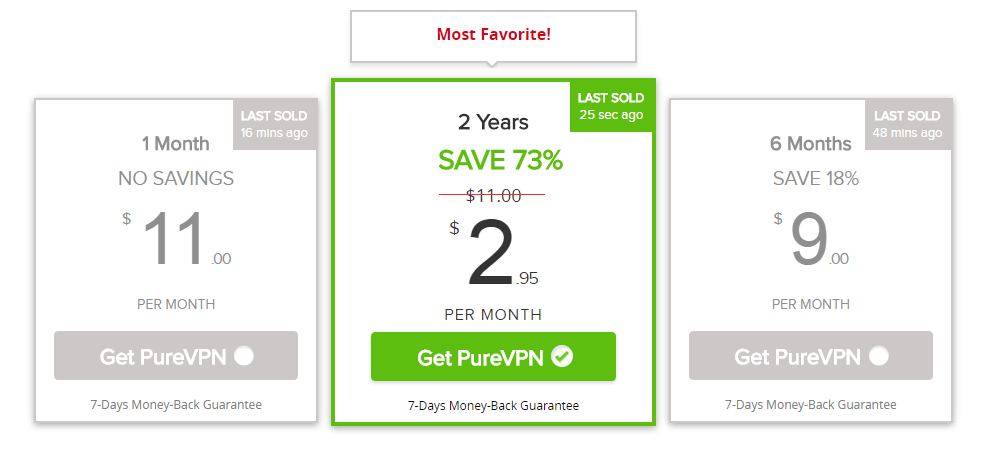 PureVPN is among those VPN companies that are famous for their cheap monthly prices. You won't believe but you can purchase their monthly package for VPN in $2.95 per month. PureVPN is currently offering three different plans which basically differ from each other on the bases of price only where the features and services you will receive in each of these plans are the same.
Their standard monthly plan package costs $11.00 per month but you can save 18% by purchasing their 6-month plan which costs only $9.00 per month. Although if you are looking for long term VPN solution then try their 2 year VPN package which costs only $2.95 and this is not the only thing you will get.

Now PureVPN offers 15 Days money-back!
(Updated on July 2018)
Want to get a VPN service which supports 30 days money-back?  Visit Here.
---
Payment Options: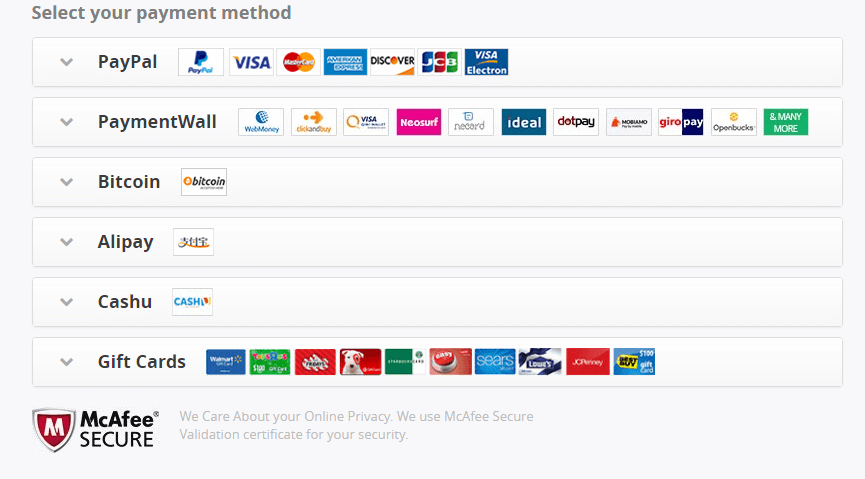 Unlike any other VPN company, PureVPN has many options to pay. You can pay to PureVPN through credit card, PayPal, PaymentWall, BitPay, Allpay, Cashu and number of other gift cards, etc. The company also offers 7 days money-back guarantee on their yearly package only. Sadly, this money-back guarantees feature is not available on the other 2 packages.

---
Features include:
Hundreds of VPN servers: More than 500 VPN servers in 150 countries, although the company has a list of 80,000 IP addresses which can be used for web proxy purpose
Zero log policy: The company is based in Hong Kong where there is no restricted data logs policy, that's why the company offers zero logs policy to users
Download torrents: Purevpn allows you to download unlimited torrent files and also you can use their VPN servers to access and operate P2P files sharing sites
Unlimited bandwidth: All of their packages comes up with same ultra-fast internet speed where there is no restriction on monthly bandwidth which is unlimited
5 Simultaneous logins: Purevpn allows simultaneous logins to five different devices at a time on single accounts. No need to purchase the extra package for each device
Protocols: The company supports multiple protocols which include PPTP, L2TP/IPSec, SSTP, OpenVPN & IKEv2.
Customizes software: They have created different applications and software for different operating systems to give their customers the best experience of VPN.

---
Speed Test of PureVPN:
There are more than 500+ VPN servers of PureVPN which are located in 140 countries all around the world. Testing all of them was a bit difficult and time taking task. I have tested some of their servers and happy to tell you that PureVPN offers a really good quality of internet speed which is not very ultra-fast, but enough fast to make you satisfied.
I have tested their UK and US-based VPN servers which have excellent internet speed but their servers located in Asian countries like India have some issue with internet speed.
Without VPN, I was receiving about 10 MB/s downloading speed which turns to 8 MP/s on PureVPN's the UK and USA based VPN servers.
Although the company offers you access of more than 80,000 IP address list which can be used as a proxy, the internet speed of their proxy list vary IP to IP but you have always option to switch to next proxy in case if you are facing any issues with downloading speed. Surprisingly there was no change in uploading speed, it was the same as my internet connection without a VPN.

---
Customer Support:
The customer support team of PureVPN is very fast to reply back to your questions. I have tested their ticket system and shockingly got a response to my question within 15 minutes. I don't know if they reply back to all of their customer problems that fast or it was my lucky day to receive a fast response by a VPN company's customer support.
Other than support tickets, PureVPN also has the option for Live Chat where you can get connected with their supporting team 24/7. They also build a forum for their customers where you can get help from other users or help other customers as well.
Their FAQs section covered almost all of your queries in many details with the screenshot. You probably don't need to connect with their customer support if you are following their step-by-step guide through the FAQs section.
---
Pros & Cons:
Pros:
Pricing of PureVPN start's from $2.95 only.
Allow their customers to download torrent files and P2P file-sharing networks
More than 500+ VPN servers located in different 150 countries
PureVPN also offers you access to their fast proxy list of 80,000 IPs
Different ways to get connect with customer support which is available 24/7
With single PureVPN account, you can log in to 5 different devices at a time
PureVPN has zero log policy, the company did not save data of your internet activities
So many different ways to pay for a monthly or yearly subscription
Support PPTP, OpenVPN, IKEv2, L2TP and SSTP protocols for security
Ultrafast UK, Canada, and US-based servers and proxy lists.
Cons:
The refund policy is very restricted and not available on all packages
Setting PureVPN on PC and mobile phone could be a bit time taking the first time
The internet speed of their proxy list is not very smooth.