VPN is a great solution to unblock the blocked website and other content including torrent and media files on your internet connection because VPN provides your internet with a new identity which could belong to another country. But VPN could be mess sometime specially if you are not many experts in technology.
Like any other online services or software, you can face programming errors in VPN too. One of the most common VPN error is 619 which could be happened due to a number of different reasons while VPN error 619 also could be part of other VPN errors too. But the most general VPN 619 error is:
Error 619 – "A connection to the remote computer could not be established."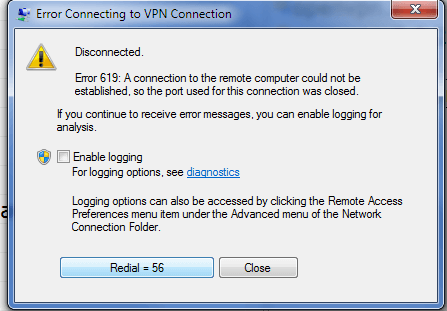 Usually, VPN error 619 occurred when VPN failed to make the connection with your connected device including computer, laptop, iPad, Smartphone and tablet, etc. Although this error could occur on any Windows operating system including Windows 10, Windows 8.1, Windows 8, Windows 7 and Windows XP.
---
7 Ways to Fix VPN Error 619
Solving VPN error 619, is easy if you following some simple steps. Following I am sharing different ways to solve VPN error 619. So, if you are even a beginner who does not know much about computing, then you can still solve this error by following the following steps easily:
---
Solution 1: Check Username and Password
Double-check that the password and username you are providing to log in to the VPN server are correct. Make sure to check that the caps lock on your keyword is unlocked and you are not making any mistakes while writing the username and password.
---
Solution 2: Restart the Router
If you are using a VPN at home or office where you have access to a Wi-Fi router then restart the router device to solve the VPN 619 connection. Make sure to give a break of 30 seconds when you turn off the router.
---
Solution 3: Remove other VPN Connections
If your computer is connected with other VPN connections, then ensure that only one is running at a time and others are completely disconnected.
---
Solution 4: Firewall Setting
The main reasons due to which the VPN error 619 occur is due to the firewall setting. Usually, on default, the firewall setting does not allow VPN to connect with your computer system. So, make sure that it must be allowed a PPTP VPN connection from your computer. TCP Port 1723 and GRE Protocol 47 must be opened/enabled.
---
Solution 5: Router's Setting
Like firewall settings, your personal router should be set to use PPTP VPN on your internet connection. You can check this setting by going to the advanced tab when you are log in to your router.
---
Solution 6: The Network/Internet Connection Security
Due to a number of reasons, your internet provider may not allow you to use VPN connection on internet connection. Make sure that your internet service provider allows you to use PPTP VPN connections and there is no block policy exist as well. In case if PPTP VPN is blocked on your internet connection, then you can't do anything except asked services providers to unblock the use of VPN.
---
Solution 7: Buy VPN Who Support to Solve VPN 619:
Instead of doing all these things buy your own, why not you just purchase a VPN service provider who provides you support to solve VPN 619 error like ExpressVPN?
Express VPN provides you full support to solve all your VPN errors related issues including VPN error 619. While getting VPN errors on ExpressVPN is very low because their customized software allows you to connect with the internet smoothly without facing any error.