Tinder is a great online dating platform that has grown over the years. It is one of the most popular matchmaking apps for singles. However, there are other alternatives that you can also try out from any region.
Tinder is one of the best online dating apps in the world. As a user, you need to create an account and "swipe right" to like or "swipe right" to dislike a user profile on your profile. You need to provide your photo, a short bio, and interests.
The app was created in 2012 and has had over 55 billion matches. It is an ideal app for looking for love, for a date, hookup, or just a chatting buddy. If you are single, Tinder has got you covered.
---
1. Bumble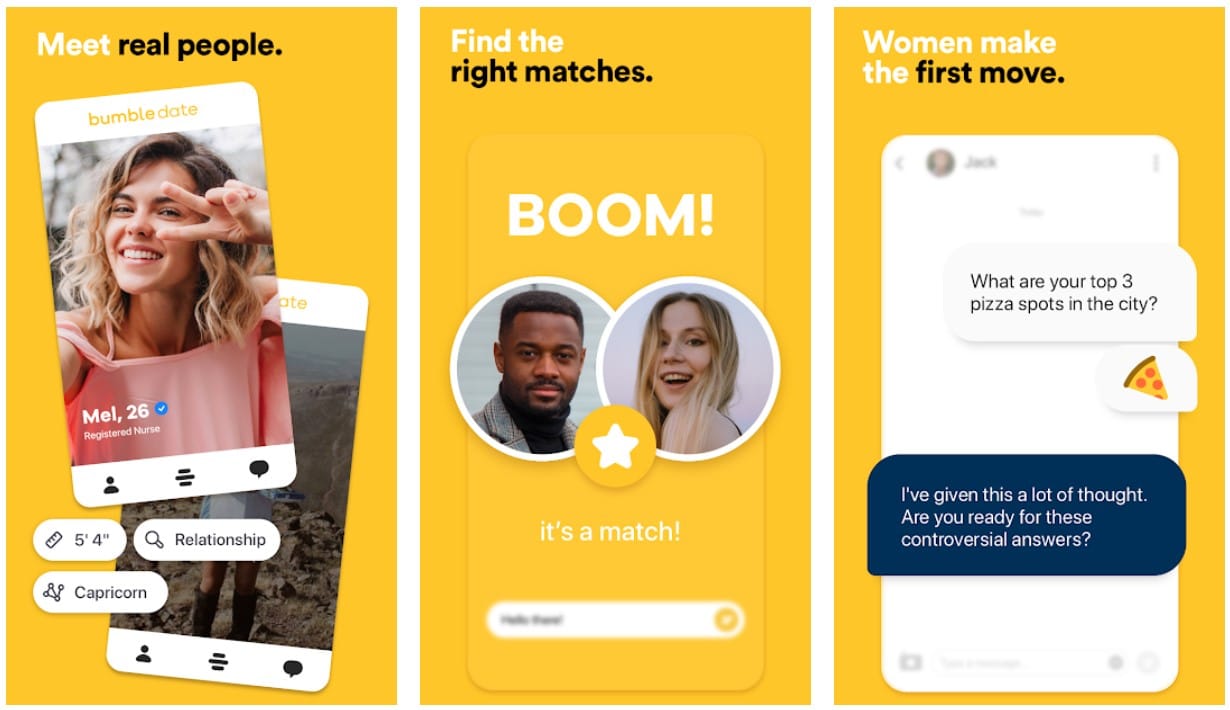 Whether you're looking for a date or meeting new people, Bumble can help you with that. It is a free social dating app for singles that can help you expand your social network. Similar to tinder's swipe function, it allows you to match people who have the same hobby as you quickly. Try it and expand your social network! Dating has never been easier before.
Download:  

---
2. Coffee meets bagel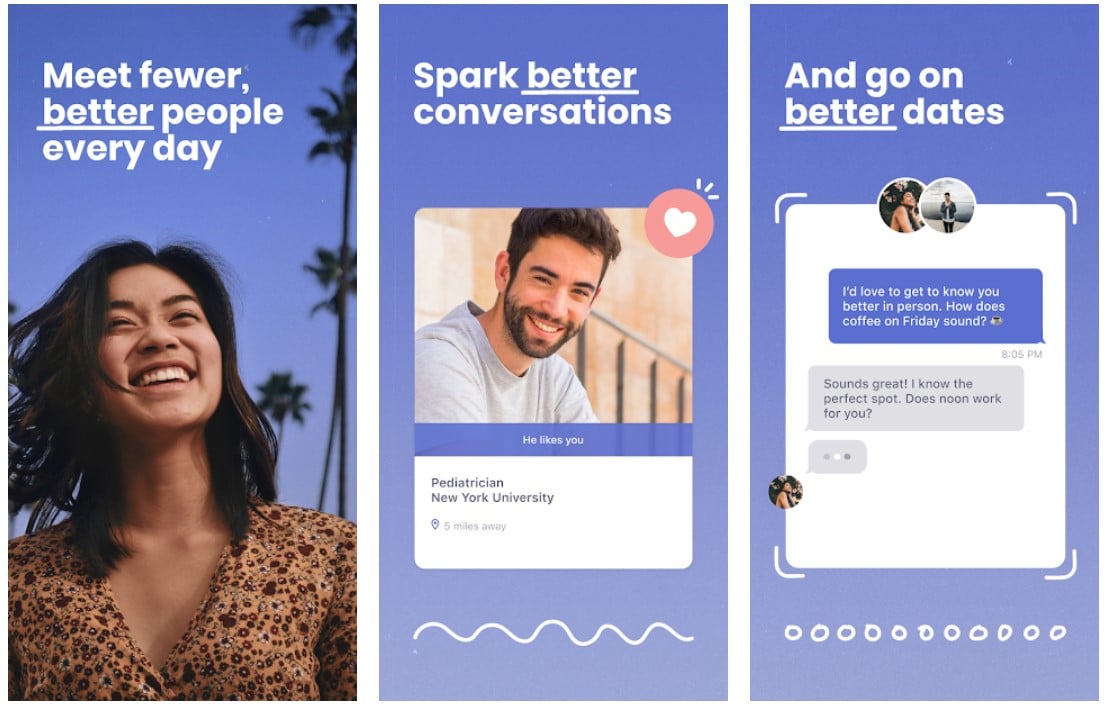 Unlike other swiping apps, Coffee meets bagel has fewer of them, with more matching and chatting. It's also a free mobile app for both Android and IOS devices. Its main hook is offering users daily matches called "Bagels."
Here you get to express yourself more, send messages, and like. The only limitation is that you can only like some suggested matches for free per day. Coffee meets bagel sells beans which is a premium currency where you access more profiles, not just the ones recommended for you. However, it would help if you were consistent with your new match to prevent the chat from expiring.
Download:  
---
3. Happn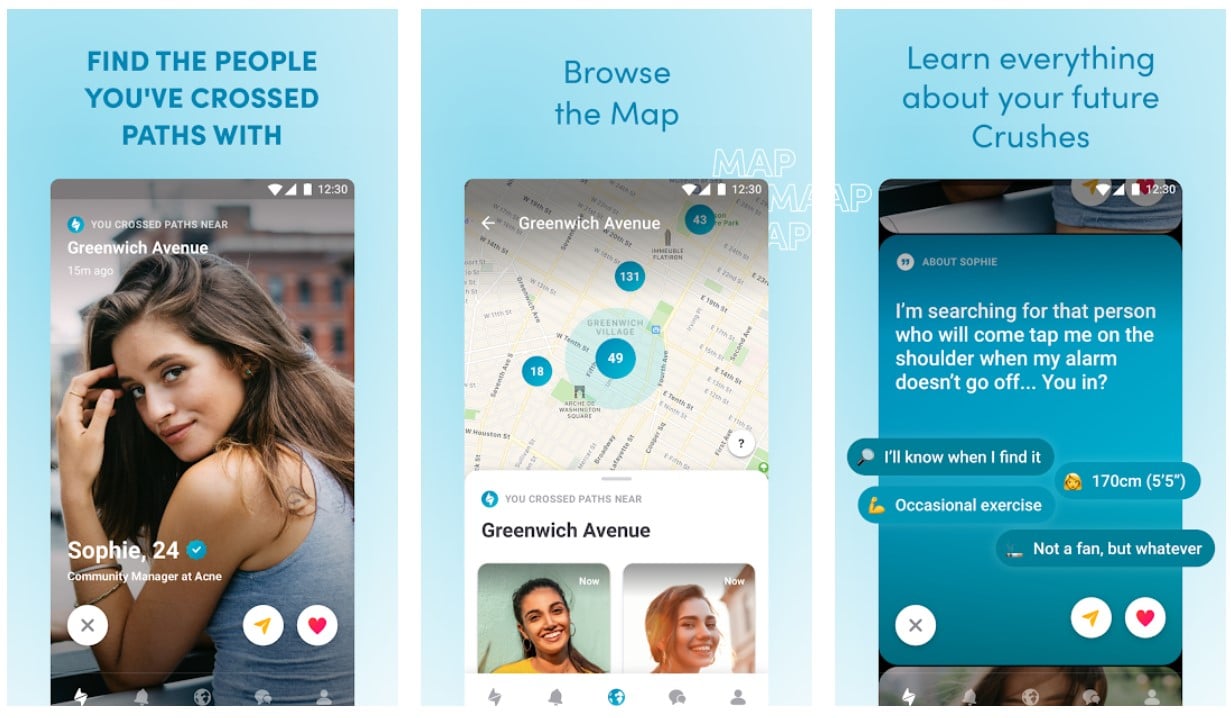 Happn is a pretty awesome dating app. Just like Grindr, it uses geolocation to match users with other users nearby. Every time you cross paths with someone in real life (knowingly or not), their profile shows up on your Happn timeline. That's quite a fantastic feature.
For premium access, purchases are made through your iTunes, Google Play, or Microsoft account. Your next date could be a few steps away at work, at a party, café, or even in public transportation.
Download:  
---
4. Hinge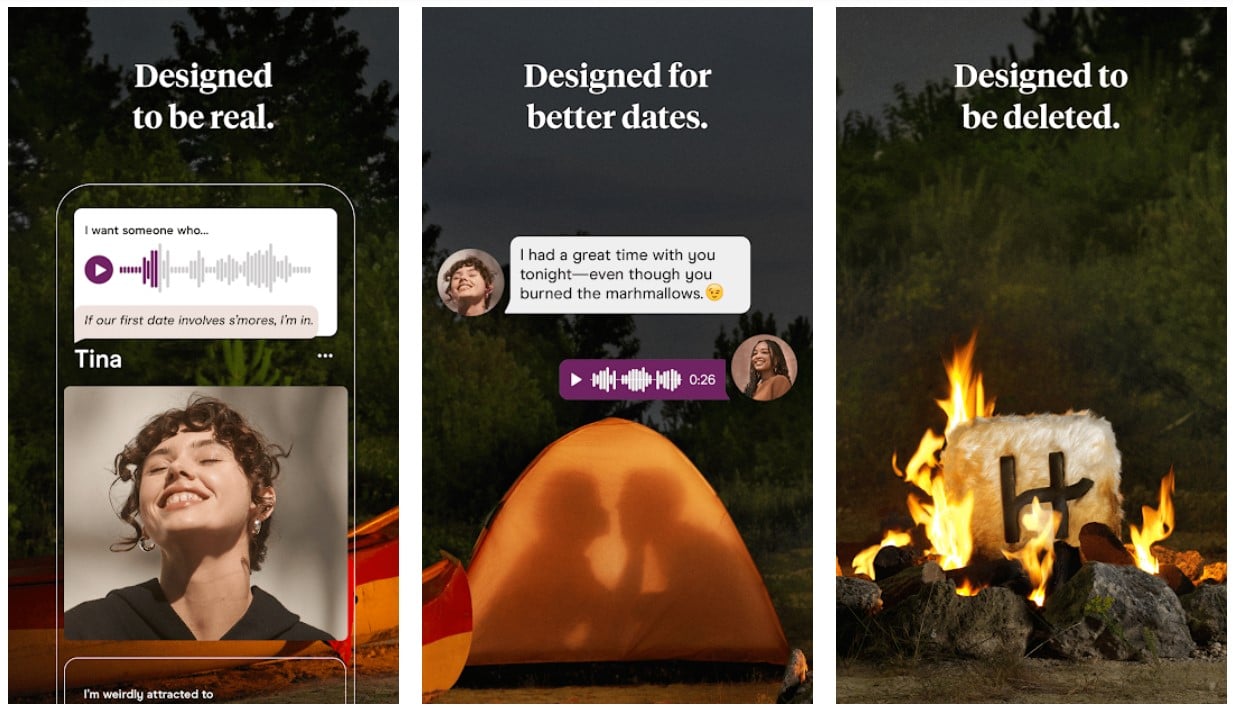 Hinge is one of the best dating apps. It allows you to have deep connections with people. Moreover, it will enable you to share photos, media, audio, and videos. You will socialize better with this shared media. This makes it easier to understand the other user.
Hinge is free to download in the app store and on the Google Play store; however, if you want to use specialized features like filters or access to daily likes, you can opt for premium membership.
Download:  
---
5. Ok Cupid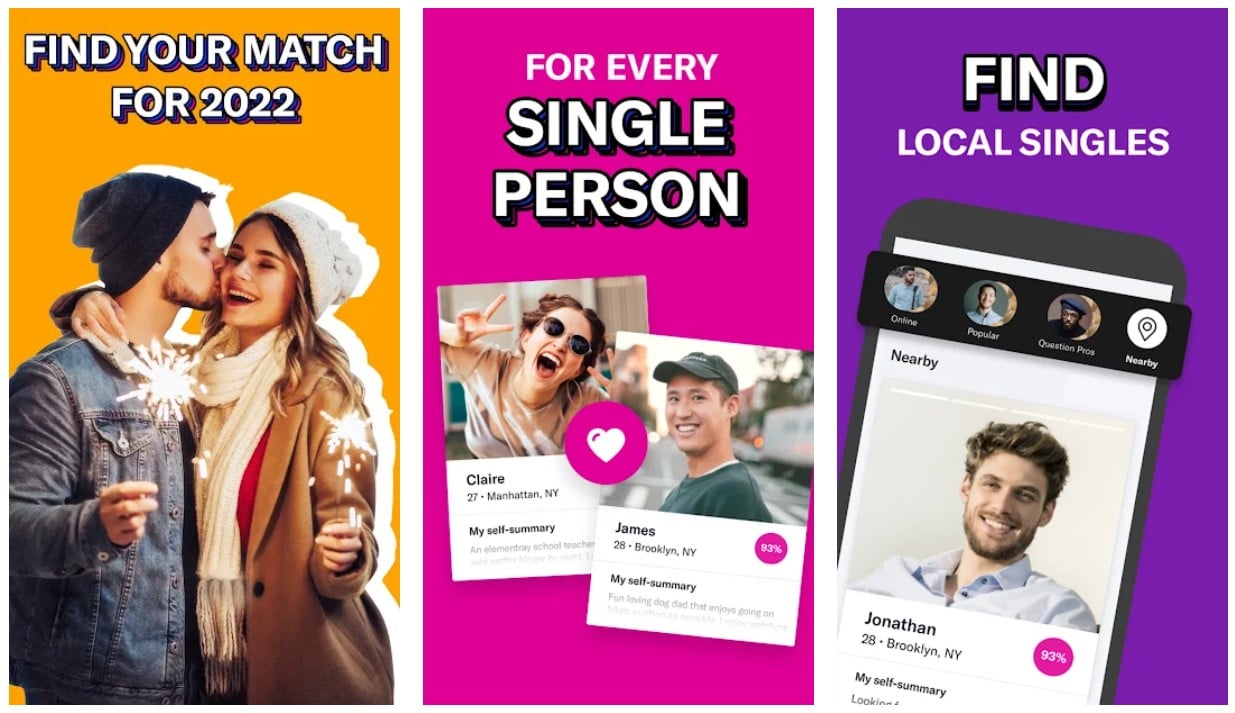 For singles who are looking for dates that might lead to serious relationships, perfect matches, or to expand social circles, this is an app you should consider. Members can use most of its services without the need for upgrading.
Ok, Cupid requires its users to disclose what they look for on the dating app. The choices are 'short-term dating,' 'long-term dating,' 'hook-ups,' or 'just friends.'
Download:  
---
6. Plenty of Fish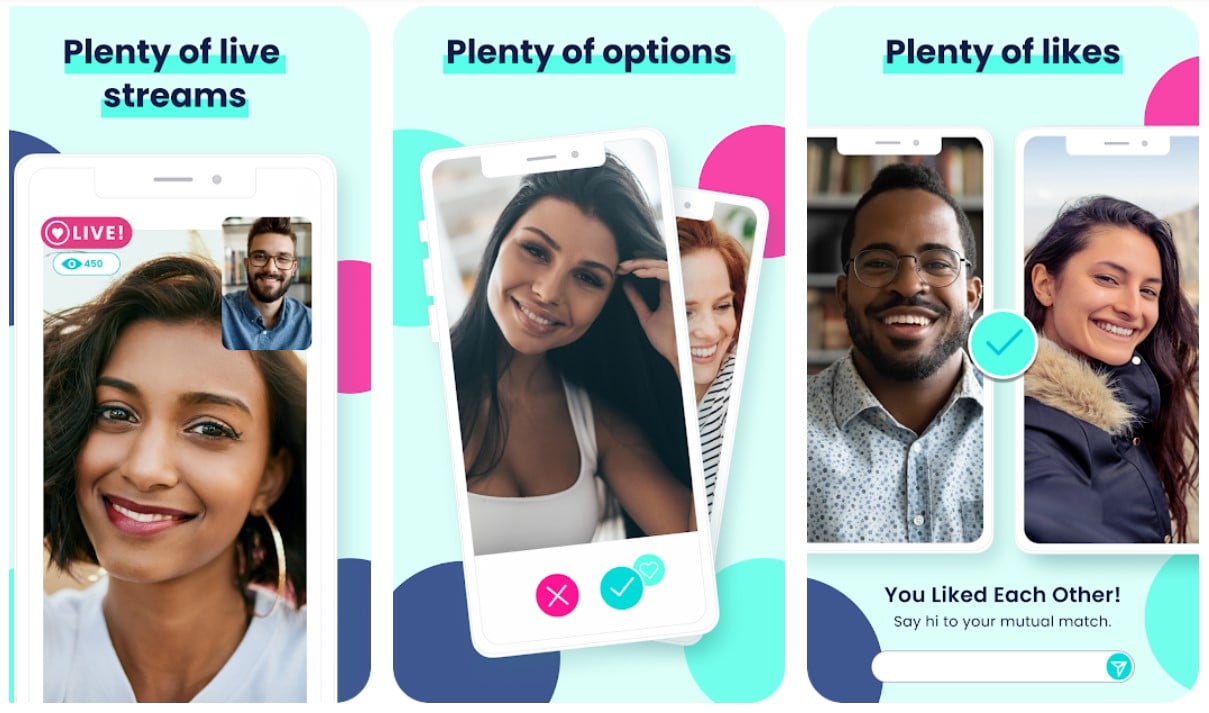 In the past, anonymous users could check out Plenty of Fish profiles without registering, but after an update on the website, non-registered users could not search anymore. An entire section of the Plenty of Fish dating site is dedicated to sharing stories of online daters who tried this service and found their perfect match.
While not imperative to the site, it is nice to see online dating stories that worked out while encouraging users not to give up.
Download:  
---
7. Her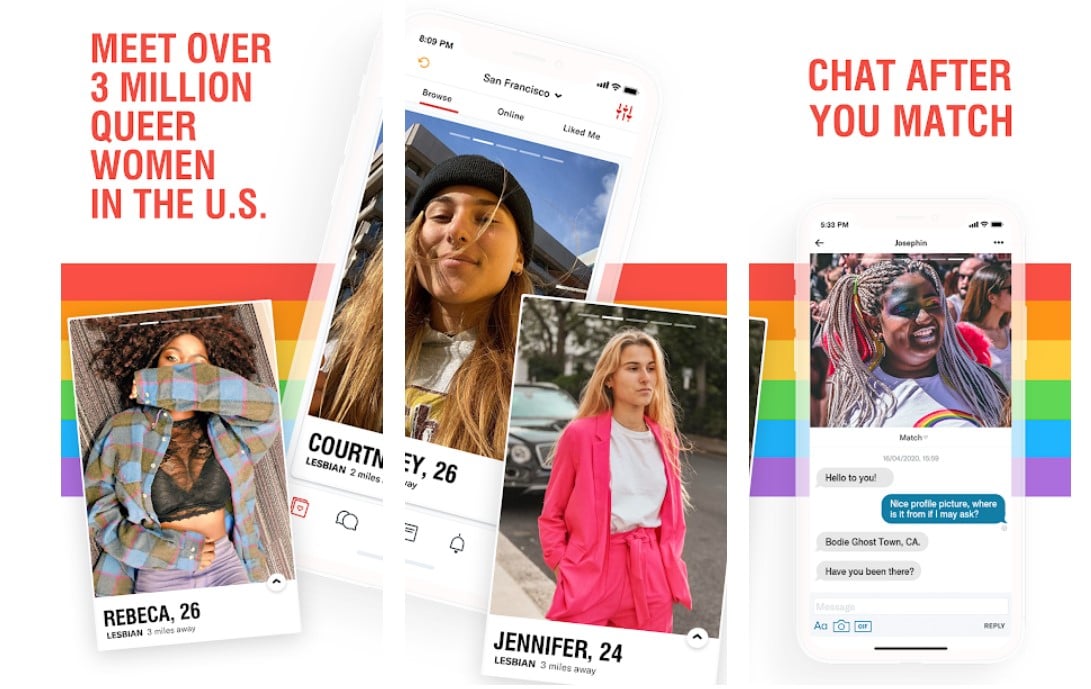 She is arguably the most popular lesbian and bi-dating app on the market. If you identify as a lesbian, bisexual, pansexual, or queer, Her is the best dating app for you.
A better feature that distinguishes it is the rewind profile feature. Additionally, it allows you to have a look at profiles you hadn't swiped at before. Overall, Her app is pleasing for singles.
Download:  
---
8. Badoo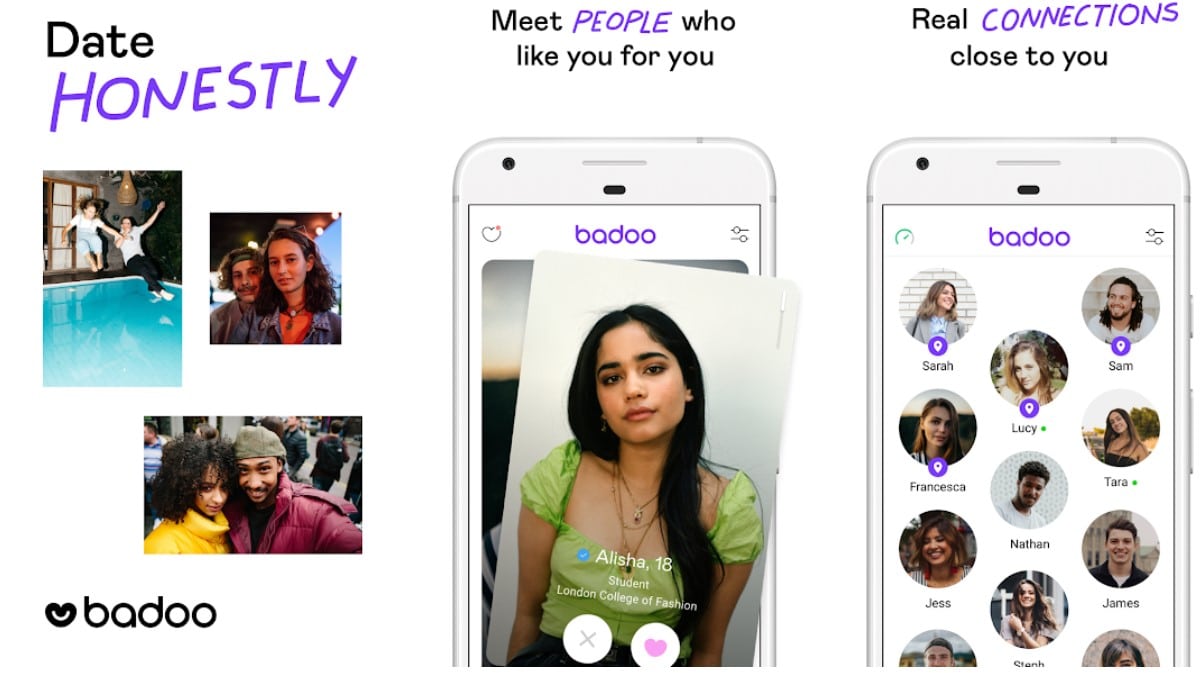 Badoo is the most widely used dating network across 190 countries and is available in 47 different languages. There are two ways to sign up for Badoo: by linking your Facebook account or by starting from scratch, but neither takes much time. Unlike a search-friendly site like Plenty of Fish, Badoo's encounters feature relies more on setting parameters than searching.
Just like with Tinder, you can set the gender you want to see, distance limit, and age limits. It does have a profile verification functionality for security features. More so, there are many active members on the app, making it more reliable.
Members can get anything from a 1-day premium membership to a lifetime one. However fun it is, Badoo may not be the best for people who are searching for a lifetime partner or a serious relationship.
Download:  
---
9. Match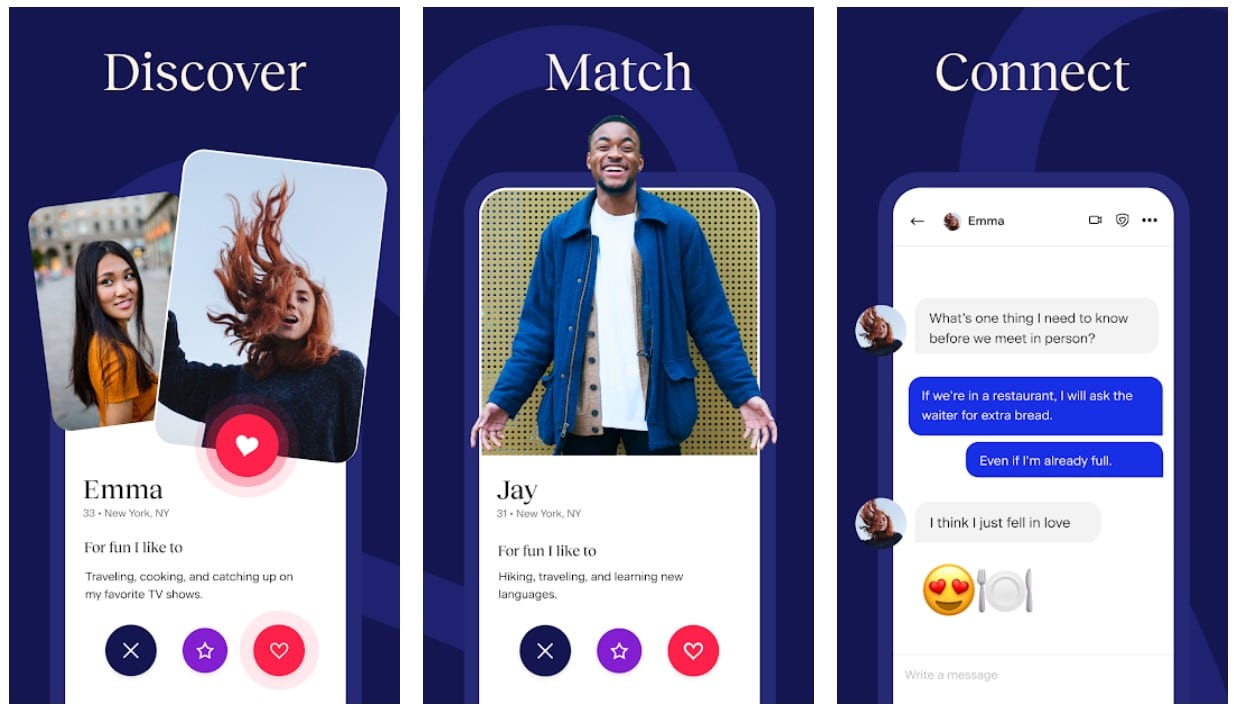 The Match is a great online dating platform that has been in existence since 1993. It has evolved over the years to become one of the best matching apps. On the platform, you get to meet people with different personalities and choose who you want to socialize with.
It is a free app that allows you to have the best match depending on your recommendation without any subscription. This will help you mingle with your fellow singles through video chats, custom search, available conversation starters, and virtual and in-person events. If stuck, you can also get help from dating experts.
Download Match:  
---
10. The Legue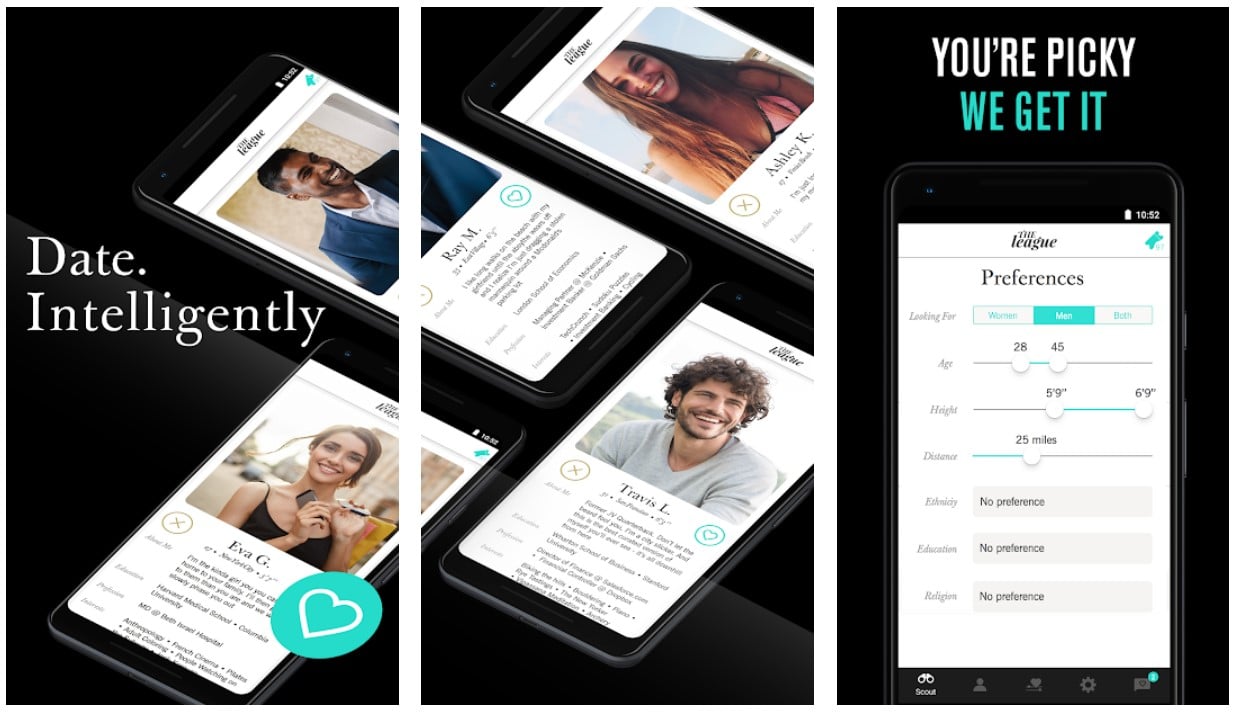 Do you want to meet someone who meets your standards perfectly? Well, The Legue is the perfect dating app for you. It is a great app to find overly ambitious singles like you, even with your restrictive work schedule.
The platform does a vetting of each of the individuals who join the platform to ensure only the best join in. Be assured of quality over quantity. You get to date without worrying about running into someone you know on the app.
The search and matching engine is diverse. The app features video dating parties on Sundays and Wednesday nights combined with personal video chatting. Additionally, you can form a professional network from there.
Download:  
---
11. Skout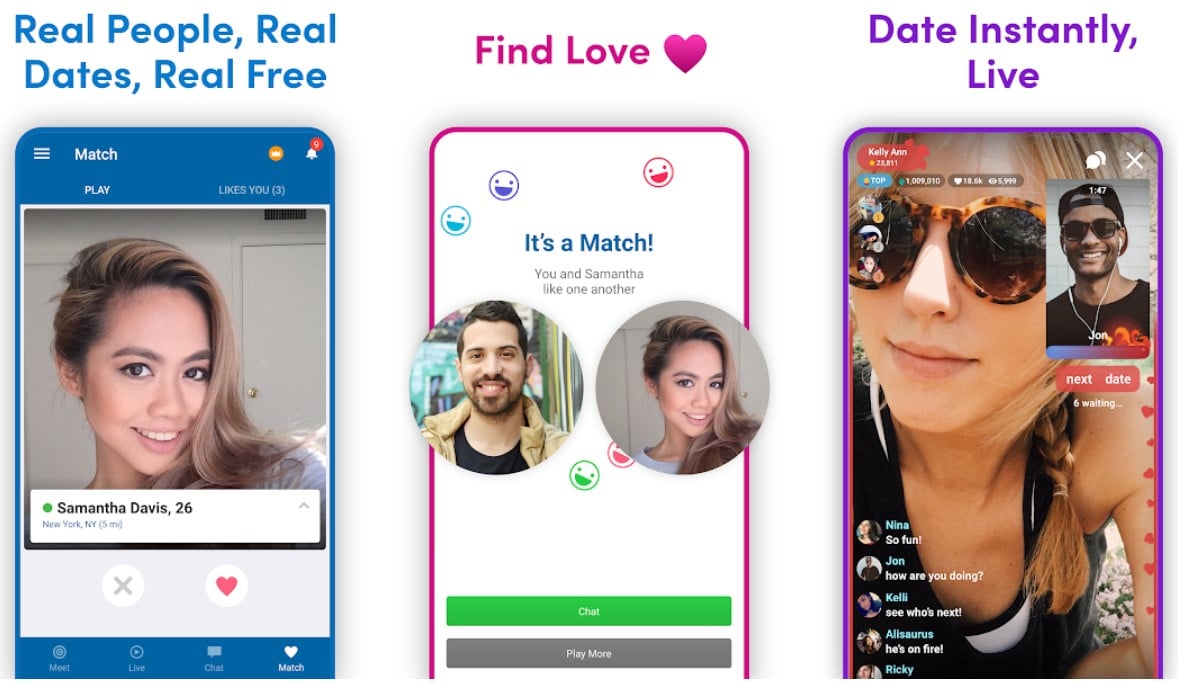 This is a free global network for meeting new people. Its exciting in-app features increase the chances of finding new friends and chatting. Skout uses your phone's GPS to put you in touch with people who are nearby, provided you are above the age of 18. User satisfaction ranked higher than other popular dating apps based on a poll conducted in 2016.
Download:  
---
12. Grindr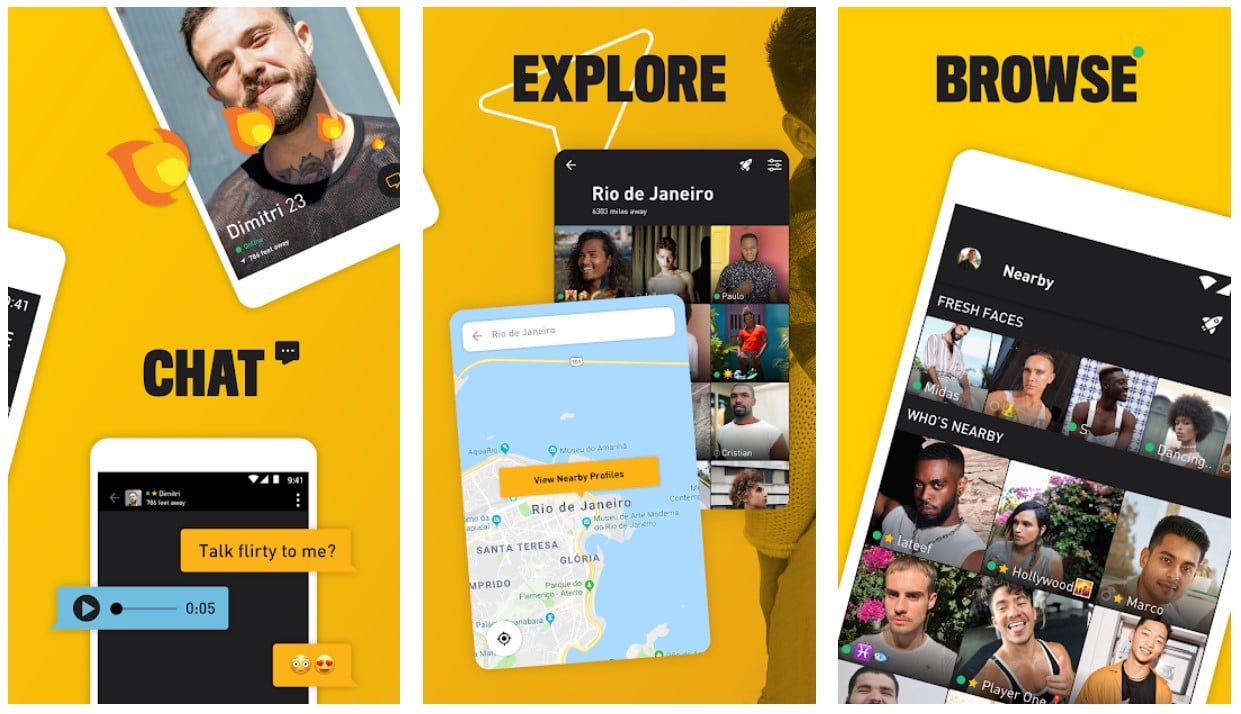 As most dating apps are, Grindr is still location-based and a well-rated app since it was launched in 2009. It is basically for gay, bi, trans, and queer people.  However, Grindr is traditionally more suited to sexual encounters and hookups. However, the app has grown to be more diverse than it was in the past.  Hence, users can share images and arrange to meet, should they feel comfortable.
Download:  
---
13. eHarmony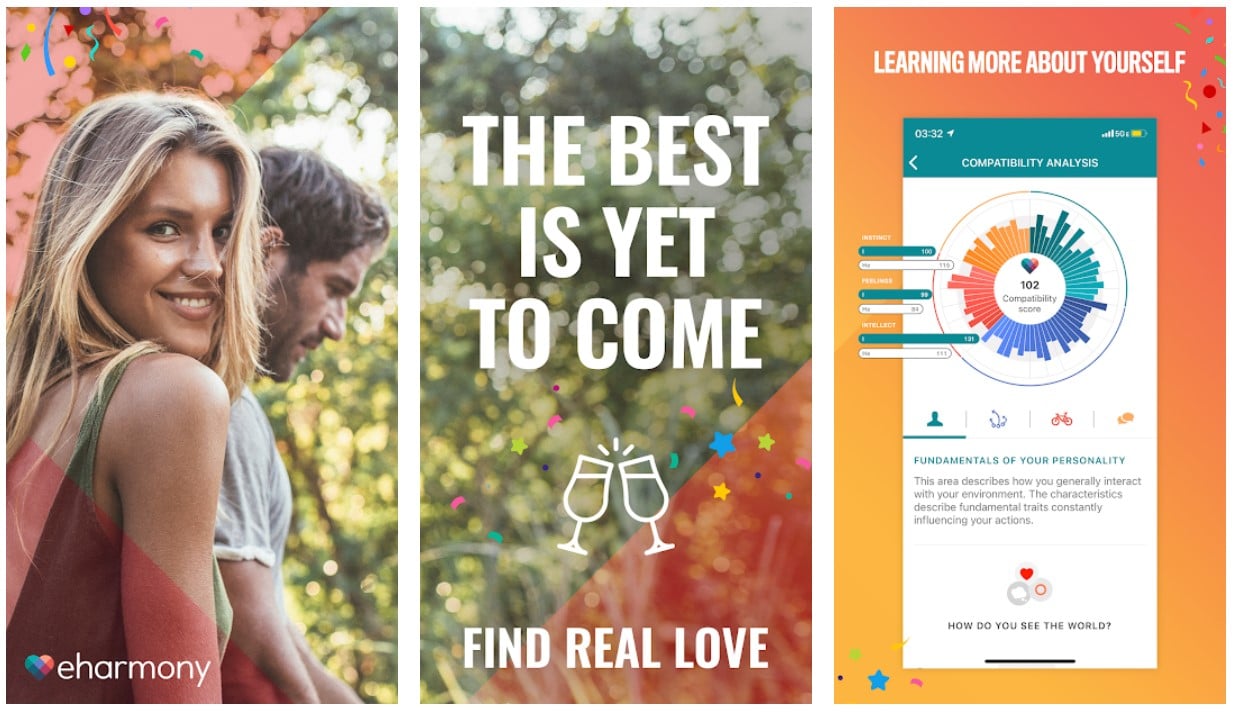 eHarmony is undoubtedly a great dating site, especially if you are looking for a long-term relationship. With the many positive features such as a large membership base and detailed profiles, it comes out as a good dating app.
Moreover, something unique about eHarmony is that there's no search feature, as each day, you'll get a new batch of matches. For anyone who wants to veer away from matches that don't really "connect," this is for you.
Download eHarmony:  
---
14. Facebook Dating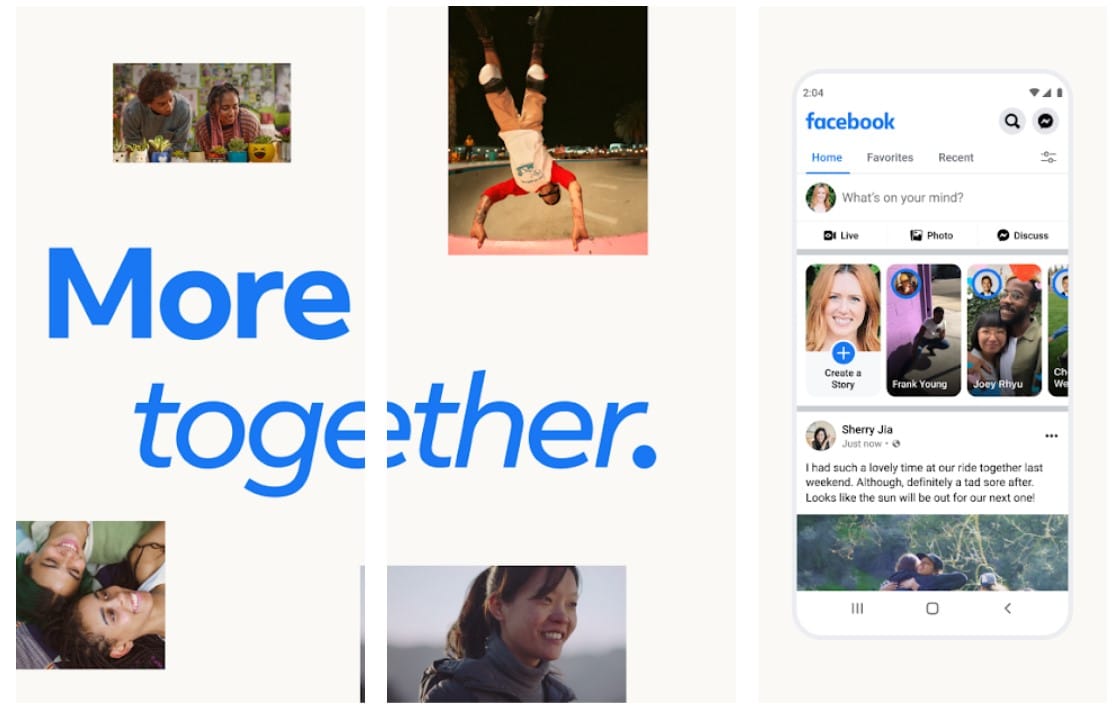 You can also use the Facebook social network to meet potential dates. It relies on dating preferences; mutual friends, groups, events attended to pair potential matches.
Although the dating feature is in-built on the app, it is easily accessible and has amazing features. Once you create a dating profile, you can send likes and messages to people you are interested in, and when they like you back, you will match and start chatting. This is an incredible app to grow socially. You can also use the search filter to get better matches.
Download:  
---
15. Inner Circle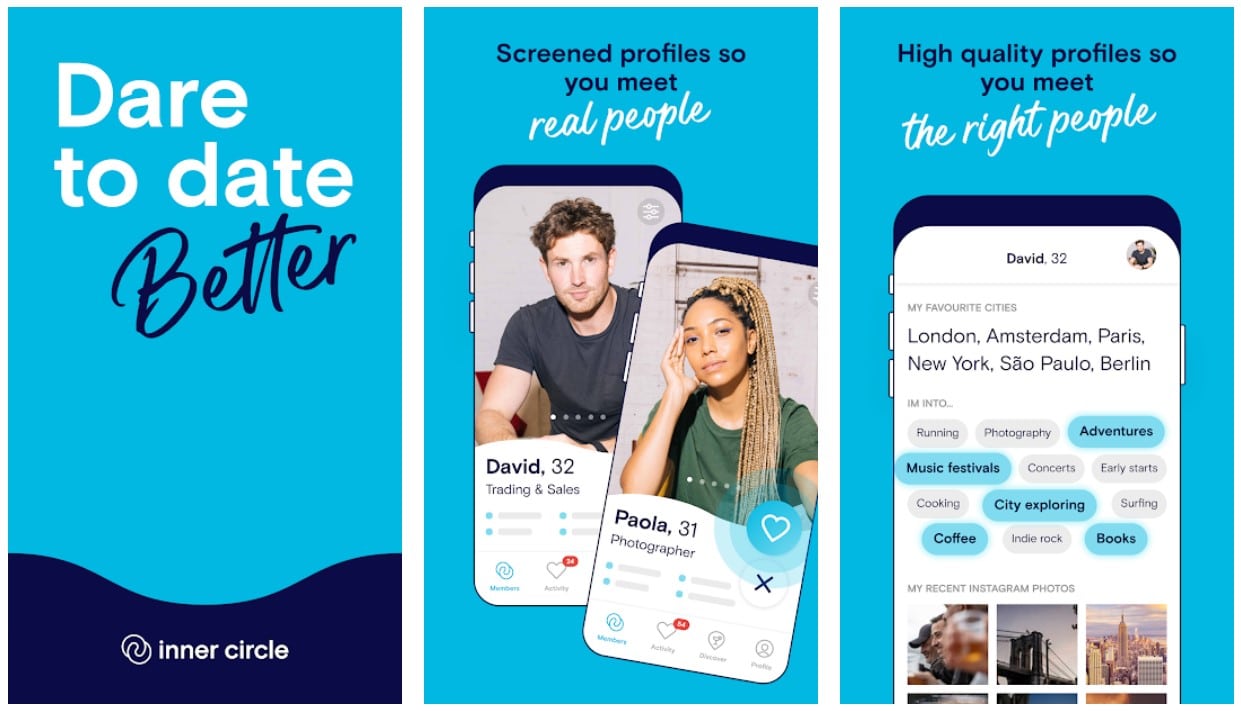 This app is also a better alternative to Tinder. All signing-in members must accept a pledge which is a commitment to being respectful, reliable, and inclusive. With many more filter options than Tinder, you can find people who understand you.
Inner Circle can recognize and lock out people likely to have bad intentions and spot those with multiple accounts; thus, you know you won't get catfished. It is a dating app worth using.
Download:  
---
Meet The Best Singles In Your Town
Are you single, separated, divorced, or widowed? Are you looking for new love? Then these amazing Tinder alternatives should do the trick.
Just choose the most ideal app for you and start socializing. There is nothing better than socializing with people with similar interests as you. At times, you might need to read more about dating apps because some are location-based.
Get the best match to date fellow singles and form a lasting relationship. However, always be cautious of the strangers before agreeing to meet. Although most of these apps are credible to ensure there are no fake profiles.