When it comes to video gaming, desktop PCs have long been the undisputed leaders. However, they are now up against different platforms, including mobile devices and game consoles. There is a huge selection of games accessible, covering anything from social and casino games to role-playing and action-adventure games across all these platforms.
Everything from the controls and aesthetics to the optimization and user experience/user interface (UX/UI) in PC and mobile games must be approached differently. However, it is common knowledge that mobile gaming has been at the forefront of the gaming industry for some time now. It should come as no surprise to anybody that they have almost taken over the sector as we know it.
Still, there is more to this than meets the eye. Let's break it down.
---
PC Gaming: Tried and Tested
PC gaming has a long history of being revered for its reputation as a fortress of reliability and the most pleasant environment in which even the most taxing games can be enjoyed. That is, provided that the hardware can handle them. So long as your computer's hardware can handle them, you should be good to go.
It gets even better. Flashy equipment and even special software may be used to enhance the gaming experience. Moreover, since many modern games allow users to play with other individuals, the immersion into the game's virtual environment is profound. In part, this may be attributed to the growing popularity of online multiplayer games.
A new degree of realism is accessible thanks to advanced lighting and weather effects, particle effects, ray tracing, reflections, and so on, which are constantly improving. With the large screens, surround sound, and intuitive controls, all previous barriers between the real and virtual worlds have nearly vanished.
Although consoles and mobile gaming platforms are gaining ground in the gaming business, desktop gaming continues to be a popular option for gamers. There will be $70 billion in revenue generated by the PC hardware business alone by 2023. This is an indication that many people are still very interested in having the greatest hardware available in their PC setups for gaming purposes.
Of course, gaming companies in the PC market are already well aware of the impending dangers to their continued success in the industry. Already, they are starting to make some adjustments. For instance, greater variety in gaming genres is enabling publishers to attract players of all ages and genders.
---
Mobile and the Future of Gaming
For a long time, most of us associate the term "gaming" with devices like gaming consoles and personal computers. This is no longer the case. In the wake of the covid-19 crisis, the smartphone gaming industry has emerged as one with the most potential for growth in 2022. Most of the credit for this goes to recent advances in digital technology and technological breakthroughs.
An increasing number of game developers are getting into the mobile gaming business and producing new titles. Other developers are porting their successful titles over from other platforms, such as personal computers, to mobile devices such as smartphones.
Mobility has been a major factor in the transition away from desktop and console gaming to mobile gaming. For those who don't have access to a desktop computer or a gaming console, mobile gaming offers a more convenient alternative. This convenience is further backed by the quality of the online gaming experience. It is not just limited to traditional video games.
Games that are hyper-casual and social have emerged as major draws in the world of mobile gaming. This results in a gaming experience that is much more entertaining when it is played on the go. As an example, a lot of individuals have been migrating away from typical fast-paced video games that can be played on mobile devices and instead opting for alternatives like online casino games.
The meteoric rise in popularity of mobile gaming has been very beneficial to several industries, one of the most prominent being online poker platforms. It does not take much effort to find the top poker sites and the amazing titles that they have to offer. All you need is to know where exactly to look.
---
Comparing the Incomparable
Mobile gaming has changed the notion of casual gaming, whereas PC gaming has been the standard method of gaming for a long time. Mobile gaming is without a doubt the more convenient alternative since it only requires a solid smartphone.
If playing on a smaller screen isn't a deal-breaker, then mobile gaming is without a question the best option. Additionally, given that high-end technology is currently commonplace in smartphones, the gaming experiences are almost as good as what you would get on some computers.
Mobile is without a doubt the more convenient alternative since it removes the need for game disks or controllers. Because high-end technology is now the norm in smartphones, the gaming experience that can be experienced on these devices is obviously on par with that of games played on computers.
Gaming on a personal computer is perfect when you want to play for longer periods and engage in more intricate games. Mobile gaming would be ideal for shorter, more casual playtime sessions since it provides convenient access to a broad variety of games that are designed to be played while the player is on the go.
Keeping all that in mind, it would seem that there is no apples-to-apples comparison that would suit these two gaming verticals. Each has its pros and cons. So, what if we get the best of both worlds.
---
Cross-Platform Gaming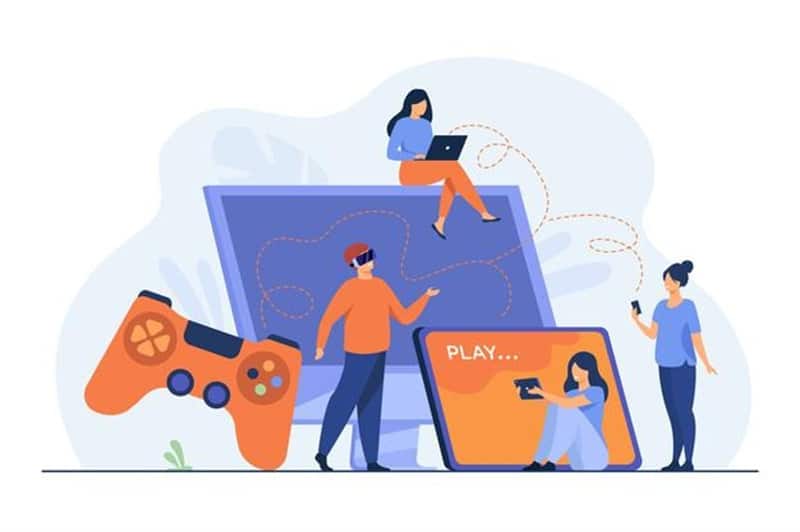 Beyond the debates about the relative merits of gaming on consoles, smartphones, and desktops, there is something more intriguing. When a game is widely available, it is more likely to be popular, which in turn leads to a higher income stream. This is where cross-platform gaming comes in.
The possibility of interoperability across platforms is made possible by cross-platform games. A gamer on one platform may communicate with and have fun with players on other platforms. Players will be able to play the same game on a variety of hardware setups thanks to multi-hardware compatibility.
Complex and engaging mobile games may be developed quickly and easily using cross-platform game development technology. Creation time and expense for mobile games are being reduced thanks to the growing popularity of cross-platform game development. This is the way games will be developed in the future. So, we can give the debate a rest for now.