Voicemails make it easy to know why someone is calling you. A great voicemail app for Android allows customized greetings, spam call blockers, organized visual voicemails, sharing voicemail content, and voice-to-text transcription.
If you regularly get voicemails, it can be hard to listen to them all at once, whether the number is for business or personal matters. That's why the voice-to-text transcription feature in the voicemail apps for Android can benefit you.
When choosing a voicemail app, ensure it provides visual voicemail (in which you can see all of them well organized), spam call blocker, customized greetings, and voice-to-text transcription. Therefore, don't compromise on any of them.
Also, always check whether your service carrier is supported on that voicemail app for Android phones. Here are our top 10 picks:
---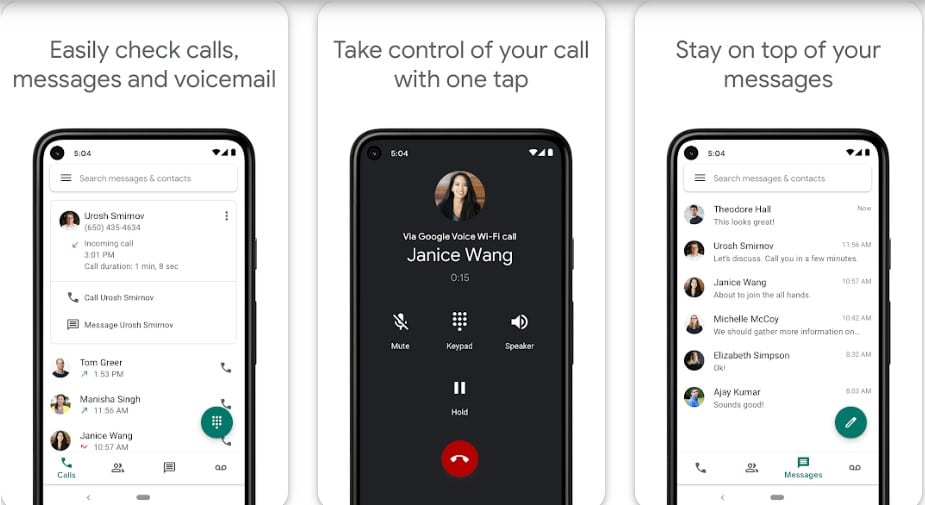 With over 10 million downloads on the Play Store, Google Voice is one of the best voicemail apps for Android that you can trust. Google Voice Android app provides a phone number for calling, text messaging, and voicemail.
Therefore, even when you are inaccessible or in a meeting, you can get access to your voicemails intact. It works through personal Google accounts in the US, and Google Workspace accounts in other markets.
Additionally, you can personalize the settings for forwarded calls, text messages, and voicemail. Not only that, but you can opt for the advanced voicemail transcriptions to read the voicemails rather than listening.
Features
It works on smartphones and computers
Syncs across your devices
Block numbers and filter spam.
The data is backed up for easy access and search.
Save costs on international calling.
Click to Download Google Voice:

---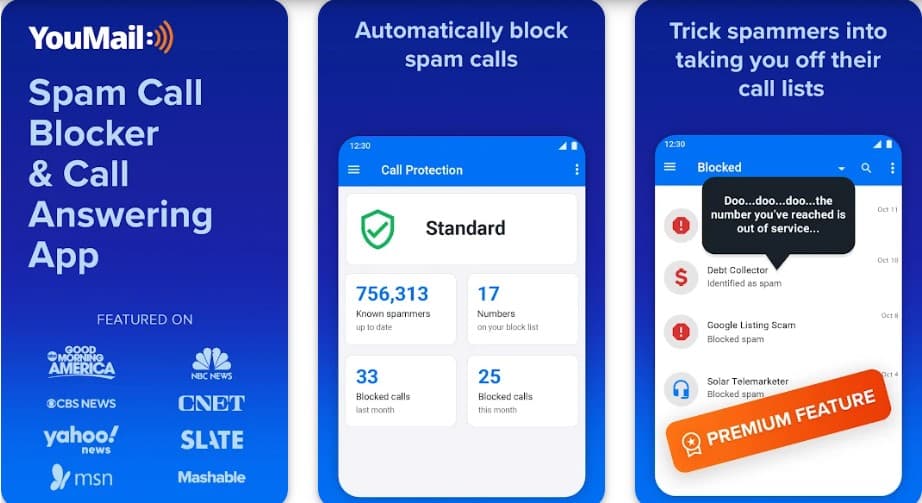 YouMail is another reliable voicemail app for Android users. It features a spam call blocker, a robocall blocker, and a visual voicemail capability. Therefore, you can always feel safe while using the platform. You can prevent any unwanted calls from reaching you quickly.
Not only does it protect you from spam calls but also from getting spam voicemails. You can also check your calls and voicemail online from any web browser, save calls & voicemails, and provide callers with personalized greetings.
The basic features can serve you, but with pro features, you can get the ultimate best experience, like a variety of phone numbers, adding an after-hour personal greeting, number disconnected tones, host conference calls, etc.
Features
It has the best voicemail and spam protection features.
Block any phone number with your block list feature.
It can be synced on different devices.
Convert voicemail to text or email.
---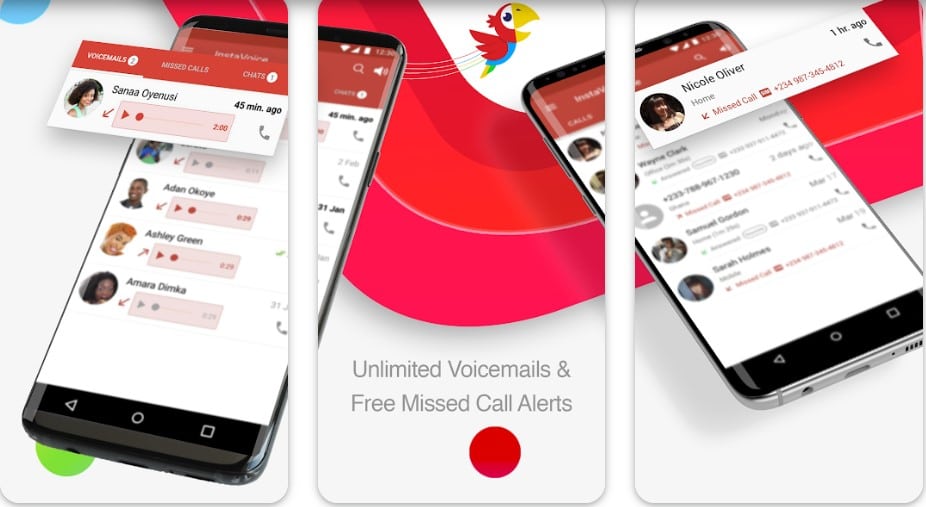 Instavoice Android voicemail app is commonly used due to its ability to link up to 10 numbers to one account. It even makes it easy to access missed calls and voicemail alerts to keep you updated always.
It acts like your personal answering machine, which organizes your voicemails and missed calls alerts well. You won't miss out on any alerts. It's one of Android's most unique voicemail apps that lets you delete sent voicemail messages. How great is that?
Features
Get information on who called when you were off.
Easily convert your voicemails to text using the voicemail transcription
Unlimited cloud-based voicemail storage.
Delete sent voicemail messages.
Link up to 10 numbers in a single
---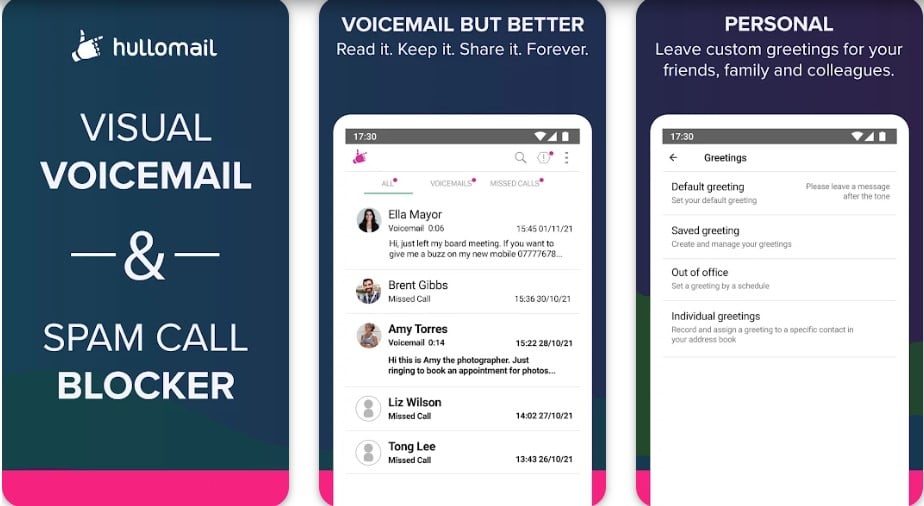 Hullomail voicemail is a reliable app for Android users. It easily organizes and captures your voicemails and blocks spam calls. Since the voicemails are properly organized, you can easily play, read, reply, search, or share them.
Like any other ideal voicemail app, you can set a custom greeting to your callers and convert the voicemail to text or email through the transcription features. You can either opt for the Hullomail lite or the pro version.
Features
Provides unlimited storage of your voicemail and call log.
Easily set up a custom voicemail greeting.
The voicemail sharing feature allows you to share voicemail with anyone.
Read the voicemails on any device as a text or email.
The powerful search feature makes it easy to retrieve old messages
---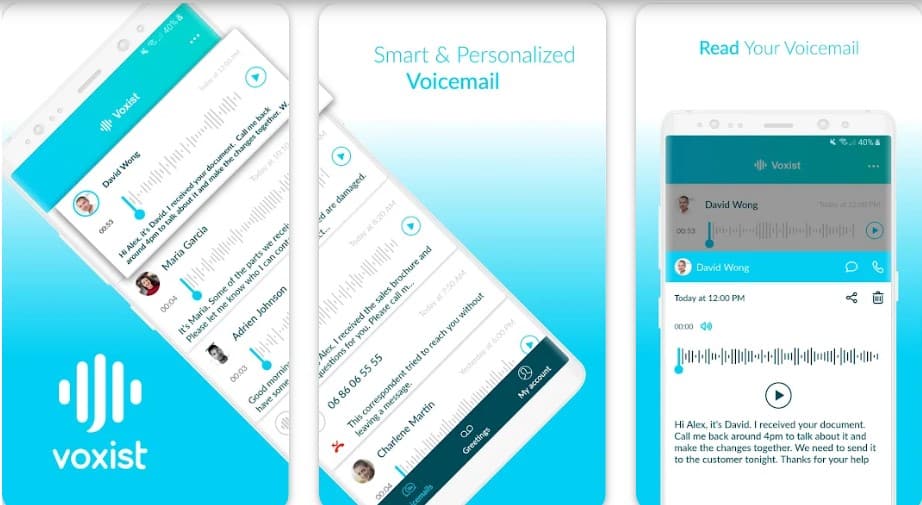 Voxist is an intelligent voicemail app that offers some of the best features. Like any other ideal Android voicemail app, you can create customized greetings for your callers and even convert voicemails to text for easy reading or send them to email for future reference.
The voicemail app is easy to navigate to get what you want. As much as you can choose to use the free or paid plan, you will still enjoy an ad-free experience. The plans are affordable for everyone so you won't dig too deep into your pocket.
Features
Get to see all your voicemails from one place and choose the one you want to listen to or read first.
It supports over 70 different languages.
Personalized greetings through recording them and even greeting your caller by name.
All your voicemail data will backed up.
Get a mobile or email notification when you get a new voicemail.
---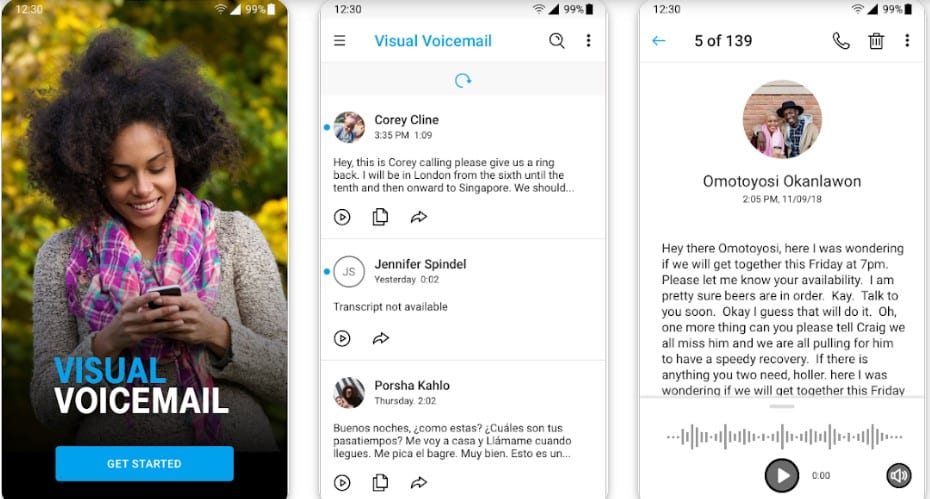 With over 1 million downloads, the My Visual Voicemail Android app is one you can trust. The app can listen to messages, respond, update contacts, and manage your voicemail inbox.
You can start using it for free before choosing a pro plan. Additionally, it supports voice-to-text transcription, making it easy to go through your voicemail quickly.
Features
Play voicemail in any order you
Voicemail messages are stored within the app.
Easily send voicemails by email or text.
Your mobile should be connected to a supported mobile carrier to use it.
Click to Download My Visual Voicemail:

---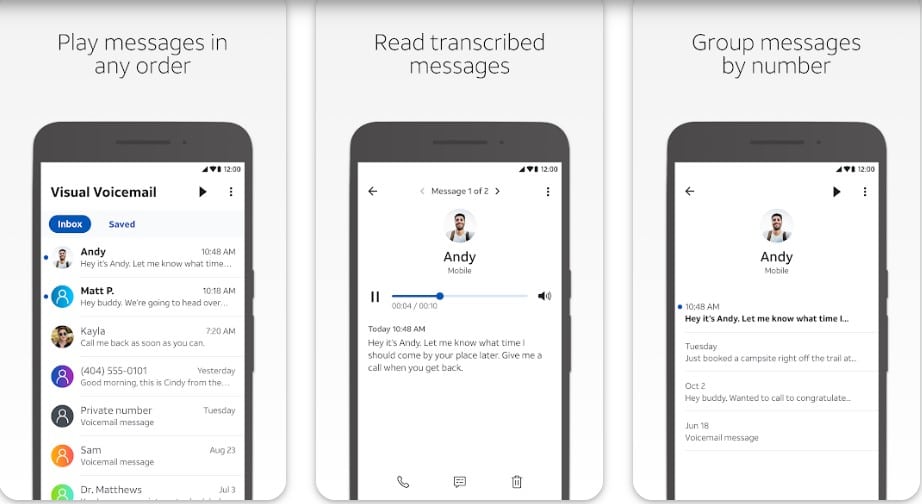 AT & T visual voicemail android app has gotten over 10 million downloads, which is enough assurance of the great service you will get from the app. You can use it to quickly review and manage your voicemail directly from your smartphone.
The only limitation is that you need a supported Android smartphone and an AT&T data plan. Apart from that, you can enjoy well-organized voice mails, great customization features, read transcribed messages, save important messages, or group them.  You will enjoy using the app.
Features
Play messages in any order of your choice.
All the voicemails or messages are saved in the app.
Convert voice messages to text for easy reading.
It allows sharing voicemails through email, text, or the cloud.
Click to Download AT & T visual voicemail :

---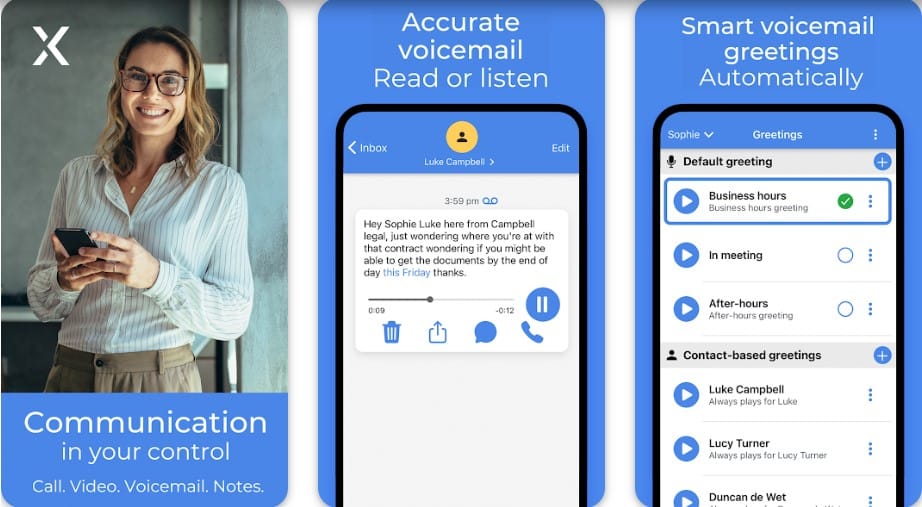 VXT is perfect for making calls, video calls, and receiving voicemails. It is the ideal app to automate your calling needs. To get the best experience, you can get a new phone number from VXT.
By doing that, it will be easier to make, receive, or record calls. Additionally, the auto-receptionist ability makes it easier to answer or route phone calls.
Like any other ideal voicemail app for Android, it allows you to convert voicemail to text, read in-app, or send via email. You can also easily create notes from phone calls using the transcription feature.
Features
The app is compatible with your existing phone number.
Easily share your voicemail to email for future
Smart voicemail greetings based on the time of the day or caller ID.
It allows integration with other apps.
Powerful business
---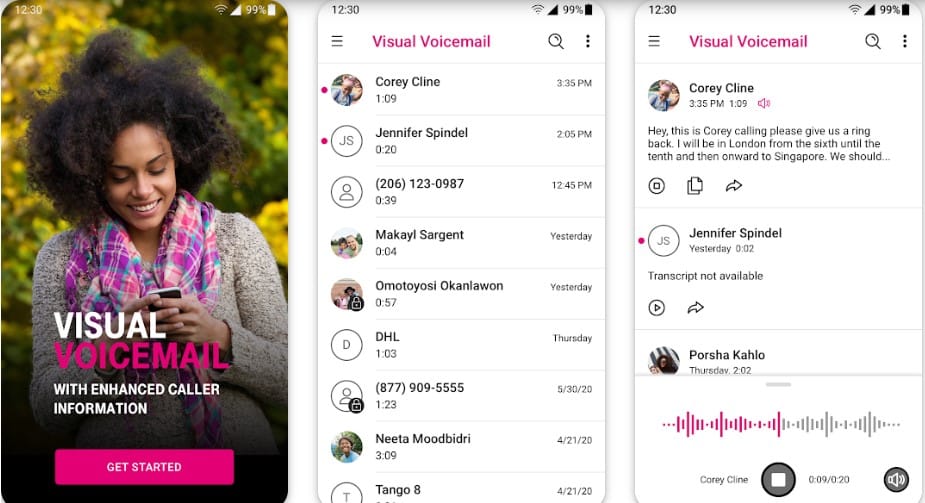 Another reliable app would be T-Mobile voicemail. While using it, you won't need to change your T-Mobile voicemail number or reconfigure it; it works seamlessly. The app can quickly import, save, and delete voicemails.
Moreover, it offers verified business call features that let you know a company is calling you. You can also customize your company settings so that when you call someone, they can see your company name, logo, and reason for the call.
Features
Listen to and view messages in any order on your phone.
Identify, block, and report scam calls.
Just like any other ideal app, you can transcribe voicemails to text and even send them as a message or to your email.
Click to Download T- mobile Visual Voicemail:

---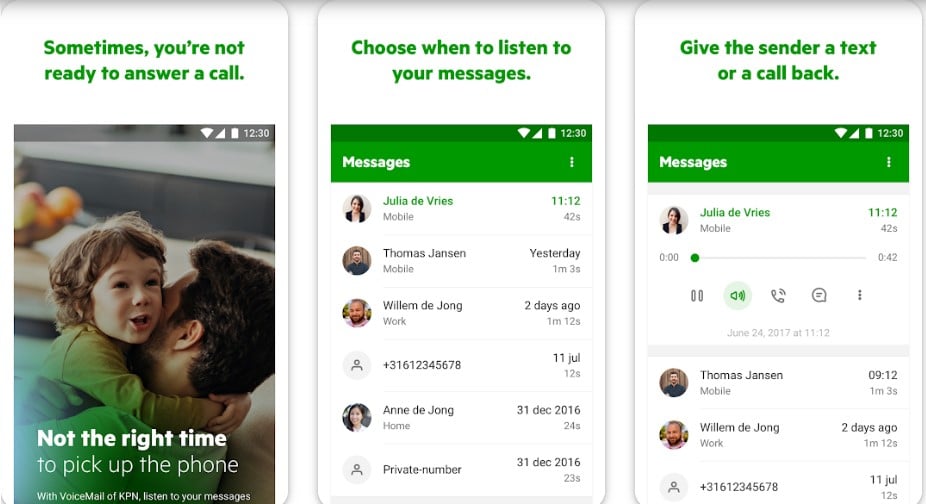 The KPN voicemail Android app allows you to save your voicemail messages for later listening or reading. Through the app, you can easily listen to voicemails in any order of your choice and effortlessly send a message to the caller.
Additionally, after getting a voicemail notification, you can return the call within the app—no need to start checking your contacts to call the person.
Features
Listen to voicemails and delete those you don't need.
Return calls straight from the app.
Choose which message to listen to first.
Share messages with your contacts.
Customize greetings based on the time and caller.
Click to Download KPN voicemail:

---
Save Time Checking your Voicemail
Voicemails are crucial since you will know why someone called you while you were inaccessible. Therefore, these Android apps can help you see the voicemails in one glance in a well-organized structure, access the messages anytime, share information easily through text or email, and enjoy more privacy while reading the converted voicemails.
You won't feel overwhelmed whenever you get many voicemails, as you can choose which to play or read. A customized greeting will also help provide the right message to the caller and reduce spam callers.