Whether you're just a plane enthusiasts, a spotter, a pilot, crew member, an ordinary traveler seeking reliable flight information, a mobile app is all you need. With flight tracking apps, you will be able to get real time information about plane departures & arrivals as well as weather conditions in different airports worldwide. In this article, we have captured some of the best flight tracking apps for Android and iOS platforms. Check them out…
Staying in the know with regard to flight statistics is very critical for travelers and the flight crew. With the help of your flight tracker Android or iOS mobile applications, it is possible to get real-time updates on the status of different flights in your local city or other airports worldwide.
In this post, we have rounded up some of the best flight tracking apps that you can use to receive accurate time flight updates from the convenience of your smartphone.  Keep reading for the details…
---
1. Flight trader24 (Android and iOS)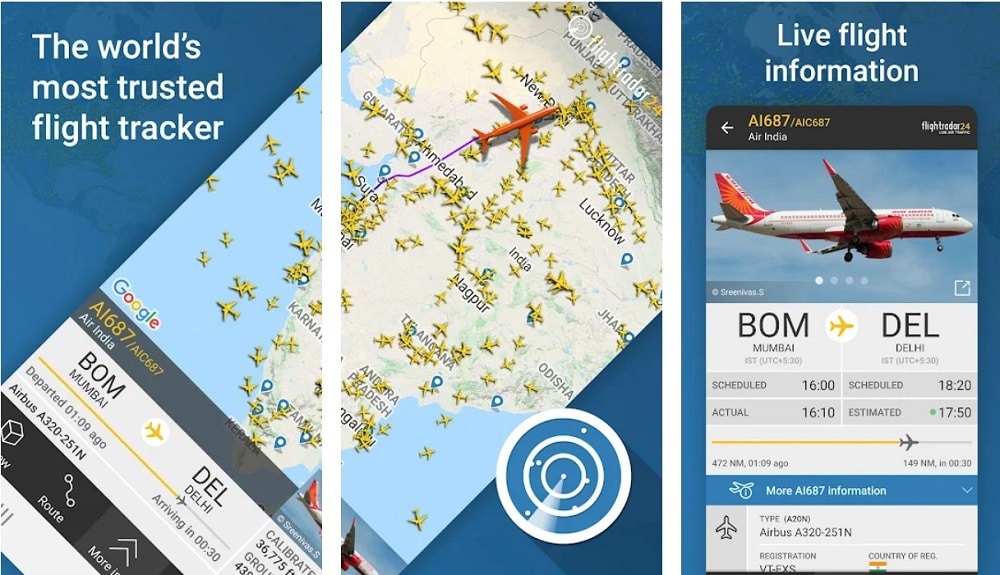 Flight trader24 is a popular flight-tracking app used in more than 150 countries. Currently, the tracker app is only available on Android platforms. With it, you will not only be able to monitor your flight but also keep an eye on flight trends worldwide. It has, among other features, a comprehensive map for monitoring live plane flights in your locality as well as globally.
And you can also get live flight statistics for any plane that's landing or taking off from whichever airport in the world. It's very easy to use. All you need to do is point your smartphone in the direction of any plane, and you'll instantly get info about the plane, including its model and destination.
Features:
Provides real-time global flight statistics.
Easy to use: Getting flight info is as simple as pointing the smartphone in a plane's direction.
Supports 3D display of flight statistics.
An elaborate historical flight data.
Supports online flight booking.
Download:
---
2. FlightAware (Android and iOS)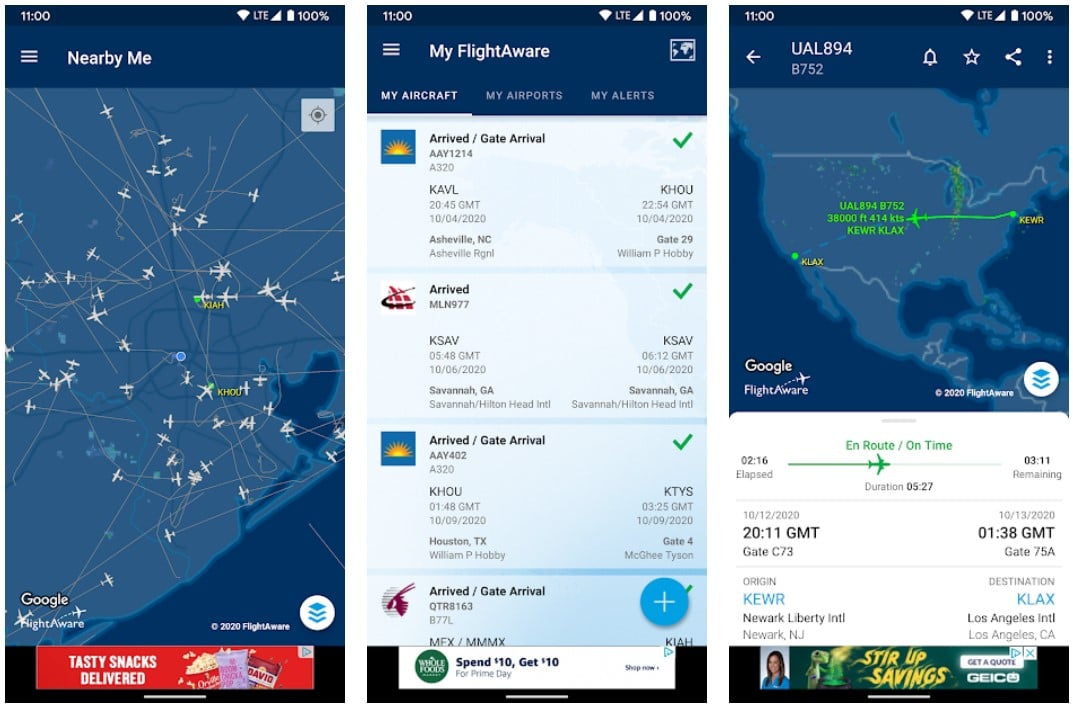 This incredible flight tracker software allows you to check the status of different airplane flights by route, registration, airport, airline, etc. It makes use of the radar named NEXRAD overlay to boost its flight tracker and push notification feature to keep you updated.
Via the app, users can set alerts and keep in touch with loved ones or acquaintances to pick them up at airports. It works on both Android and iOS devices. However, in terms of usage, FlightAware is only available for users in Canada and the US.
Features:
Displays real time weather statistics
Provides comprehensive flight data
Customized alerts for flight arrivals or departures
Supports NEXRAD radar
Download:
---
3. Flight Stats (Android and iOS)
The Flight Stats application offers extensive global flight facts with the route, flight digits, and airport. It has a clear and clean interface that allows you to quickly view vital stats like gates, weather conditions, and arrival/departure times.
Observing flight status has never been more accessible with Flight Stats App. Make your flight tracking a seamless experience with this application. Currently, the flight tracking app is only available for Android users.
Features:
It provides an extensive global flight condition report
Beautiful and navigable UI.
Supports a Siri shortcut for easy control
It is compatible with Apple Watch
Download:
---
4. Flight Board (Android)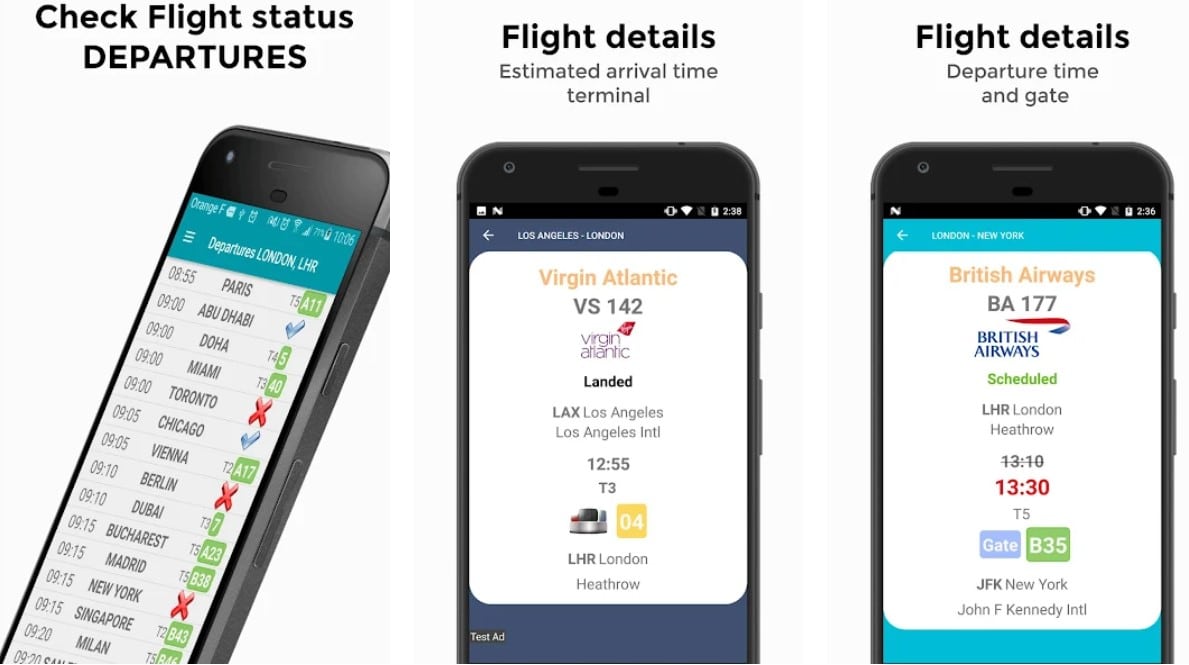 If you prefer simple designs, you will love Flight Board App. The Android flight tracker features a simple user interface that allows convenient access to all the vital flight stats.
The app files departures and arrivals in a simple-to-understand format. The tracker offers updates on select airport flight trends every couple of minutes.
Features:
Supports real-time flight statistics for all your selected airports.
Personalized and easy to use design and user interface
Provides up-to-date local as well as global flight reports.
Details airport facts and flight pictures.
Shows flight seat arrangements for convenient booking.
Download:
---
5. The Flight Tracker (Android and iOS)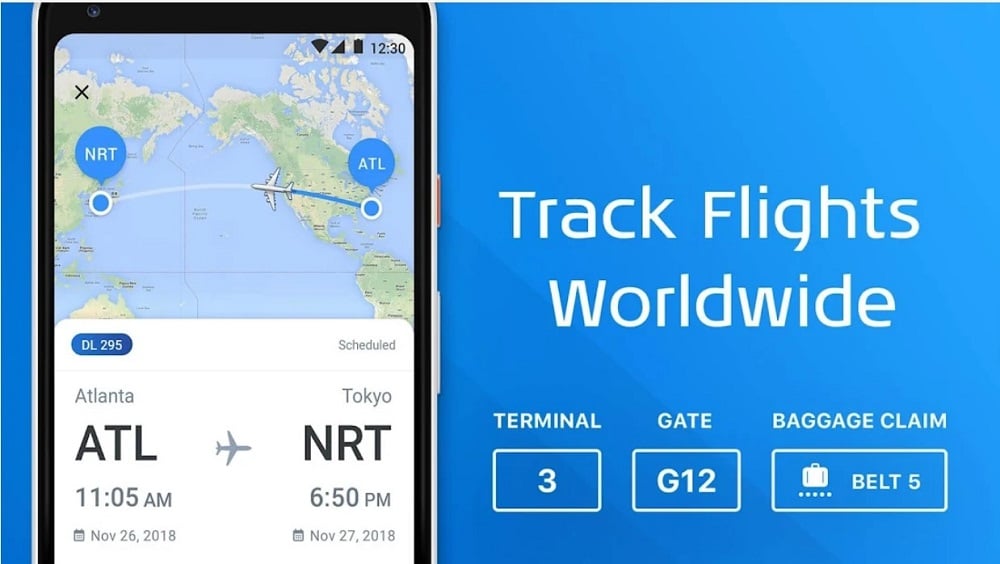 The Flight Tracker app features a clean UI for convenient access to real-time flight statistics. You can trust it to monitor a flight's arrival and departure accurately.
Moreover, you'll also be able to check the weather situation at your destination and also receive timely updates with regard to departures and plane arrivals at select international airports.
The flight-tracking app is available for both Android and iOS platforms.
Features:
Captures extensive info about flight arrivals and departures
Apt terminal and gate updates
Comprehensive weather updates for select airports globally.
Download:
---
6. Plane Live Flight Tracker (Android and iOS)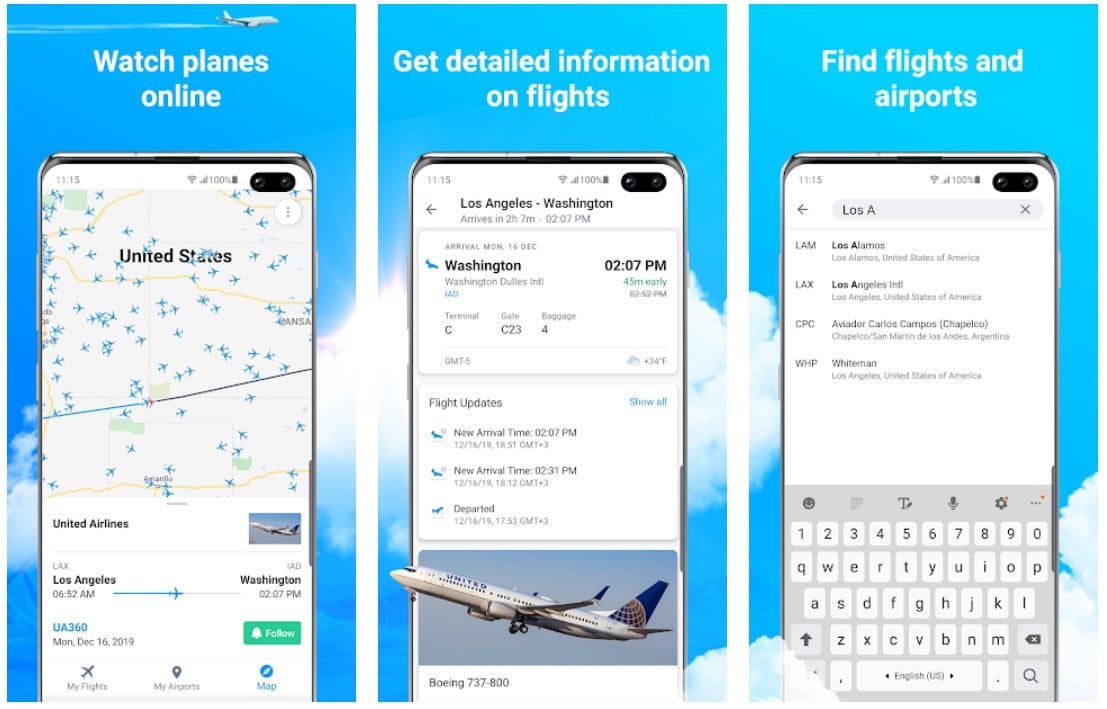 This fight tracking app combines a simple UI with detailed stats to provide users with the best experience. It is available both on Android and iOS powered devices, meaning you can get the info that you need about your flight on whichever device you have.
And because its statistics are so reliable, this flight tracker can be used by professionals like pilots, flight crew, plane enthusiasts, and ordinary travelers keen on monitoring flight statistics.
Features:
Monitor biplanes and airplanes across all major global airports.
Real-time updates on flight plans, arrival/departure, as well as weather updates.
In-depth global flight statistics.
Convenient tracking of flight schedules and routes.
Download:
---
7. Flightview flight tracker (iOS)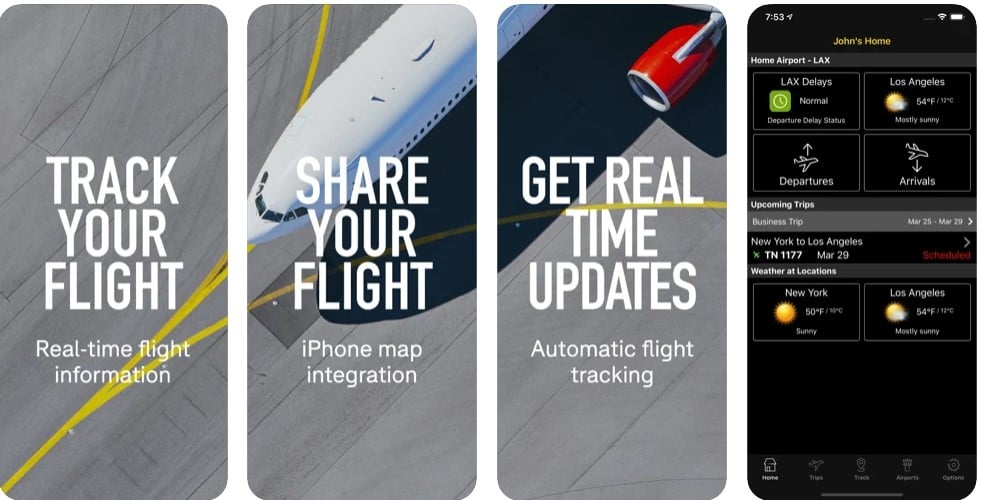 Flightview Flight Tracker is an iOS app with lots of awesome features. For instance, the push notification feature provides users with timely updates on the status of flights and weather updates. You will be able to receive reports about flight departures, arrivals, and a host of other vital flight statistics.
Moreover, you can have your itinerary details on the Flightview app. For instance, you can send a verification email of your itinerary and have it added. The app also allows you to access relevant travel info such as hotel bookings, car rental services, tour services, etc. And it easily integrates with the iPhone calendar, which makes for easy sharing or real-time flight situations on the go.
Features:
Real-time weather reporting
Convenient displaying of flight path and other related statistics.
Supports My Trips flight notification feature.
Real-time updates on flight situations on all major airports worldwide.
In-built Google map feature for convenient tracking of your location while en route.
Download:
---
8. Plane Finder (iOS and Android)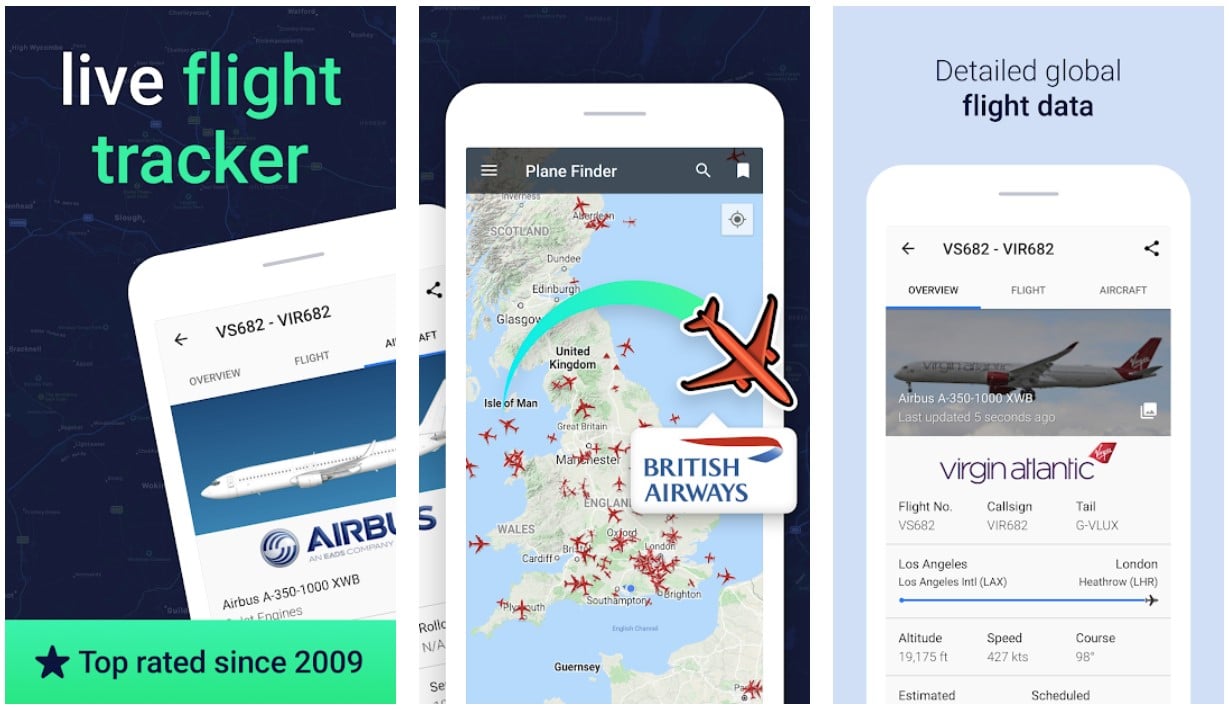 The Plane Finder app is very popular for its wealth of features. It is available for both iOS and Android users. Users can receive updates on weather patterns in their destinations. Also, you get an estimated arrival time for the plane you're flying.
What's more, Plane Finder allows you to identify other planes that are also flying the same route by simply scanning the horizon with the help of your camera. Whether you're an aviation pro, a plane enthusiast, or just an everyday traveler, this is the best flight tracker app for you.
Features:
Timely updates on flight traffic
Real time weather updates
Easy access to plane information by simply scanning it with your phone's camera.
Convenient access to flight history
In-built GPS system for easy location estimation en route.
Download:
---
9. Flighty (iOS)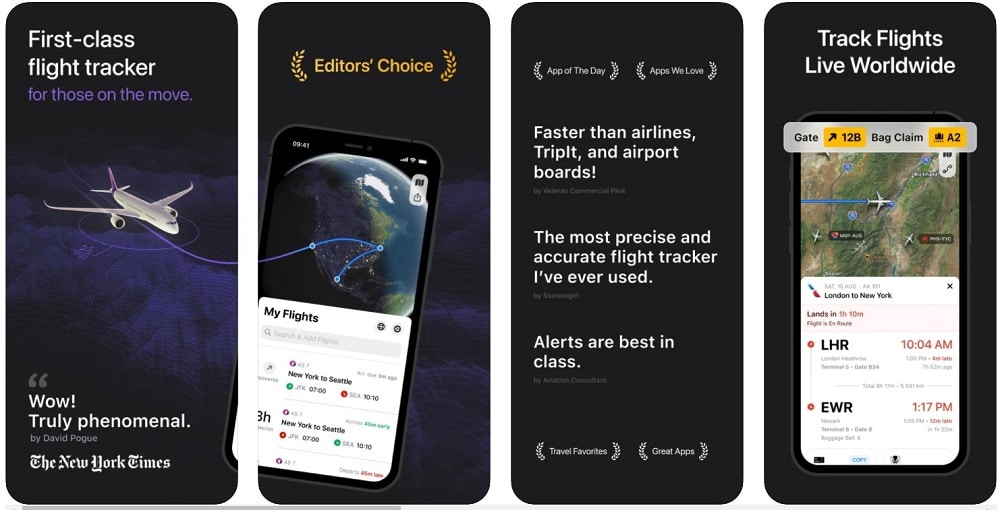 It is tedious to track flights regularly, but not with the Flighty tracker app. The app keeps you constantly informed about your flight status at a glance. Flighty has a very intuitive and beautiful UI for easy access and navigation. It is available on both iOS and Android gadgets.
You will be able to monitor the status of your flight the seating arrangements, among a host of other awesome features. What's more, you will also be able to see FAA travel advisories, if there are any, from this app.
Features:
Easy tracking of flight path in real time
Supports smooth and easy email forwardinghttps://apps.apple.com/app/apple-store/id1358823008#?platform=iphone
Pilot and standard FAA delay notifications
Supports on check-in assistant
Access to detailed info about flight arrivals and departures.
Download:
---
10. ADSB flight tracker (Android)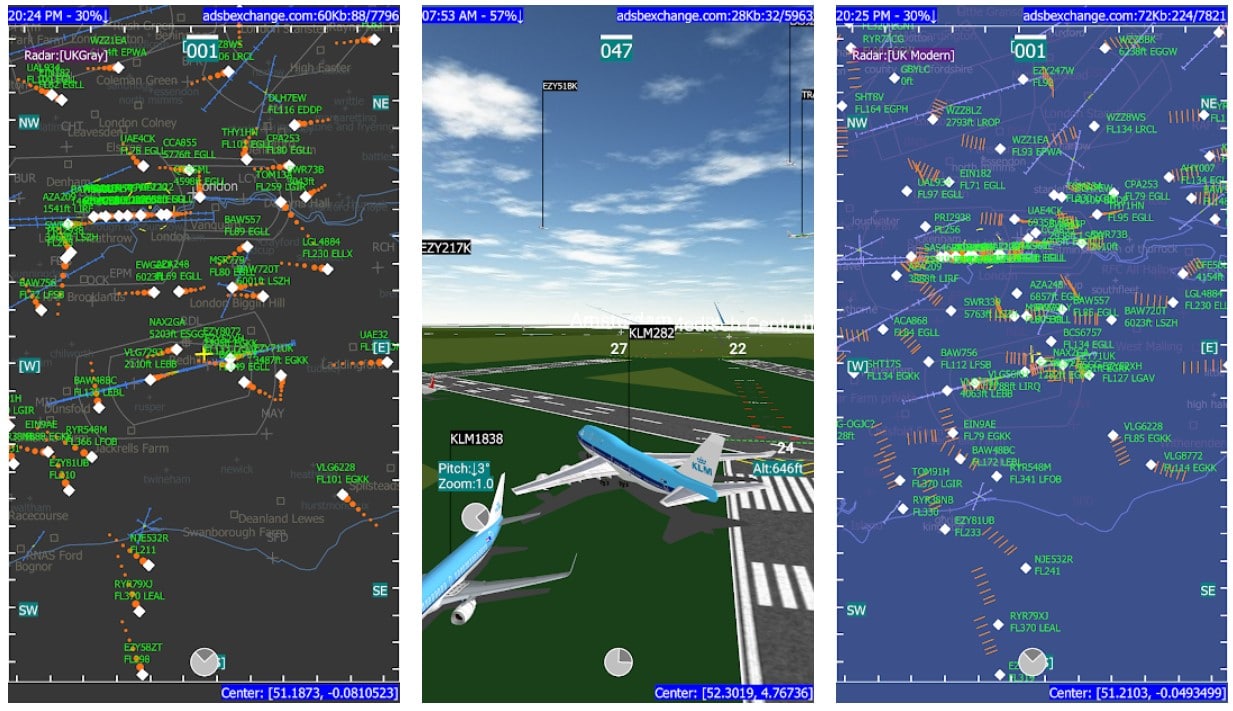 ADSB flight tracker can observe and monitor flights within radar mode. It uses your device's GPS tool to provide the actual time, direction, speed, and altitude of your current flight in real-time.
Moreover, the app also supports subtle notifications about the status of your flight. You will get access to flight info for all major airports around the globe.
Features:
Supports GPS for tracking flight locations around the globe.
Proximity notice: approximates how far you're from your destination
In-depth flight stats
Supports 3D viewing
Download:
---
Conclusion
That's it for the roundup of some of the best flight tracking apps. Whether you're using an Android or iOS powered device, you can use any flight tracker apps enlisted above to monitor your flight.