Cracked APK sites give users a chance to gain access to premium features of paid apps. Through the sites, you can get direct links to the app for easy installation. The official app stores have some incredible applications that help us in our daily communication, task organization, entertainment, booking, learning, and much more. However, some free app versions tend to have some limitations or even ads. Therefore, if you want to get the premium features, using the cracked apps would be a great alternative.
However, you need to take the right precautions since some downloaded apps may come with adware or even viruses. That's why you need to be cautious about where you download the cracked apps.
The advantage of cracked apps is that they are cost-effective, offer access to premium features, and provide usage freedom without any restrictions. In this article, we will highlight 10 of the best cracked APK sites and precautions to take.
---
What Are The Precautions To Take When Downloading Cracked Apps?
It wouldn't be right if you ended up downloading apps with adware, viruses, or even spyware. It would put all your devices at risk. Therefore, here are some precautions that you can take:
Only download from trusted sources that provide safe cracked app files
Use antivirus software when installing cracked apps
Read reviews of people who used a certain cracked app
Be cautious of the permissions you give to the cracked apps to prevent any security risks or
Where possible use alternatives of the original apps, free trial or lite versions.
The cracked app sites are the online platforms that allow users to get access to modified (mod) versions of some applications available in the official app stores. Through the cracked apps, a user gets access to premium features that they would have needed to pay for if using the original apps.
Many people prefer cracked apps to get around in-app payments, get rid of ads, and get premium features.  Here are some of the 10 best cracked APK sites.
---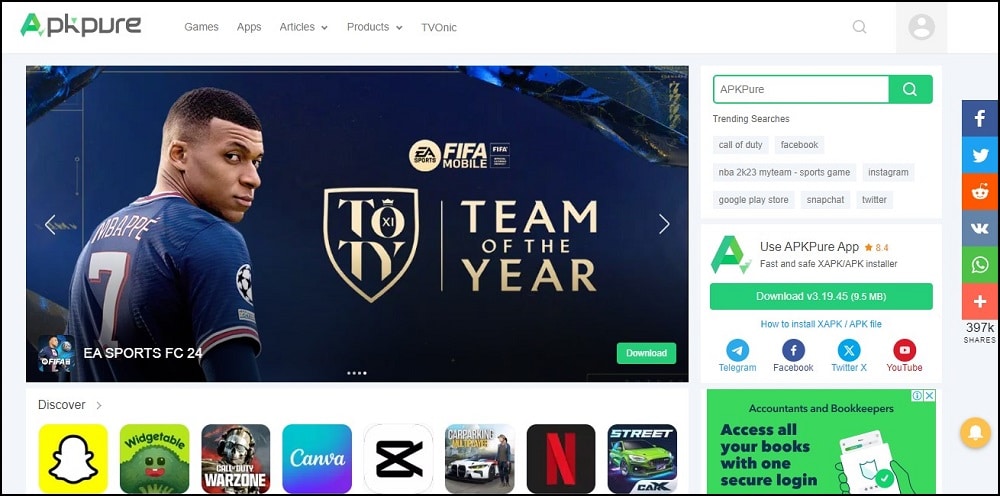 ApkPure is among the best cracked apk sites. You can get some of the latest apps from the platform for free. Whether you want apps for entertainment, design, gaming, social media apps, and much more, you can get them on the platform.
Its homepage features some of the most popular applications that are being used widely by its users. You can even get access to its articles and get more information on the latest trends. It is a great alternative to the app stores.
Features
It has Android, iOS, and Windows applications.
Paid and free versions of the apps are available.
It has a blog section that provides updates on the latest tech, gaming, and app news.
ApkPure has a section that showcases the latest app
It has an application for easy downloading on your phone.
It offers users the option to download older versions of apps.
---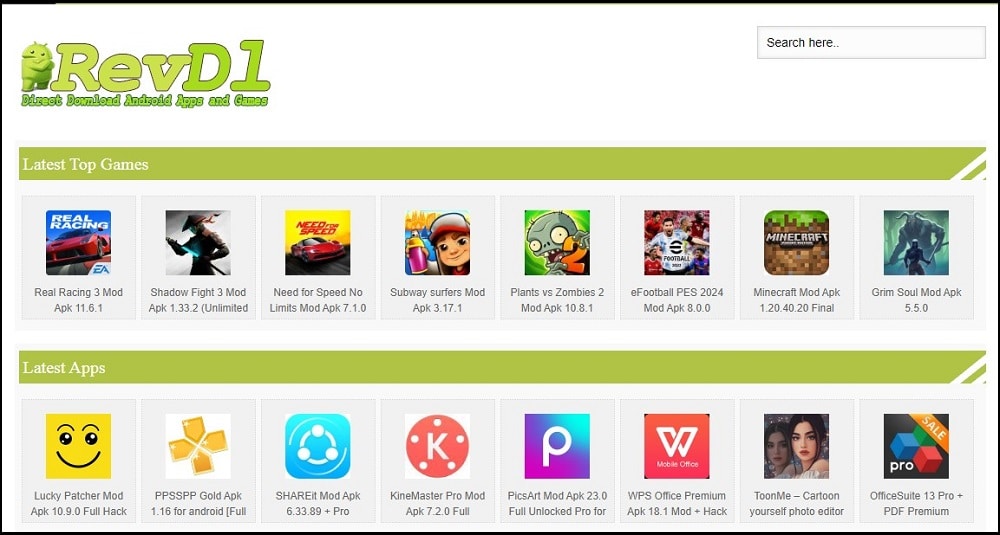 RevD1 offers some of the best mod apps. You can access recent and old apps through the REVD1 platform. It has a beautiful user interface that makes it easy to locate apps easily.
Its large database of apps makes it a favorite among many. It has over 50 categories of app types ranging from shopping, casual, online, arcade, adventure, puzzle, music, house, simulation, social, etc.
Features
Get access to top mod apps and mod games
Request your preferred apps and games through the website.
On each of the app's pages, you get a description of it and some screenshots to understand how to use it.
Get access to premium app features for free.
---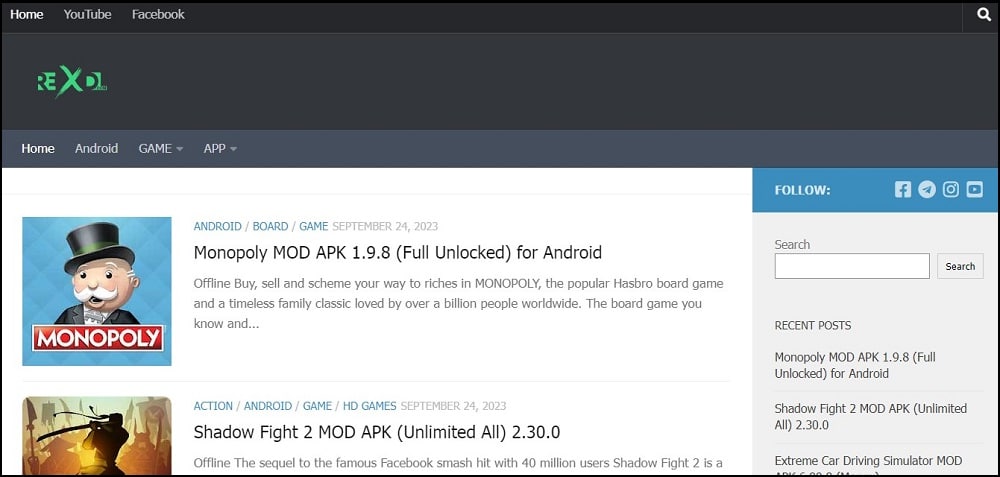 RexDL is a platform you can use to download some of the best mod apps and games. Just like RevD1, it has a wide variety of app categories to choose from.
Therefore, there is no limitation on the number of mod apps you can download. Luckily, you can download any paid app from the platform for free. It has a beautiful interface that makes it easy to find apps in real-time.
Features
Direct links for easy download of applications.
Access information about a certain app before downloading.
Get access to recent posts about the various games.
Get the best unlocked premium versions of apps from the platform.
---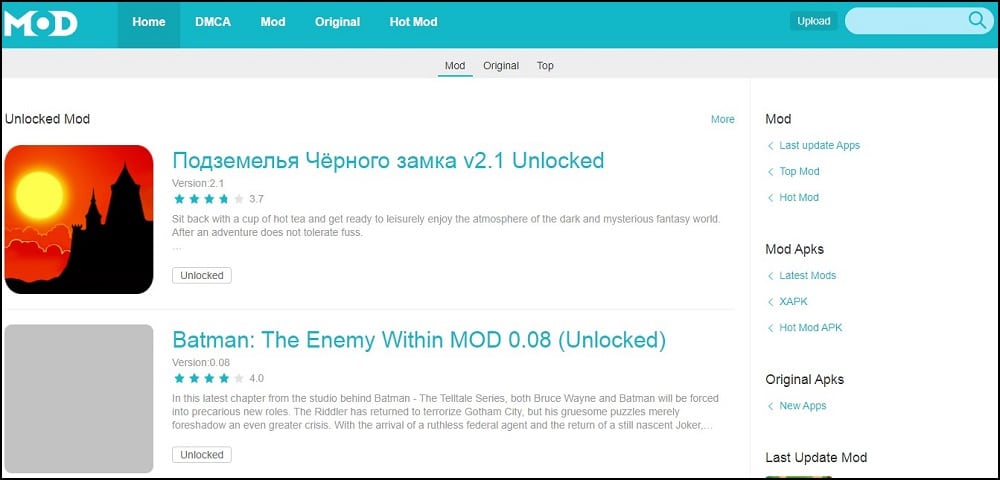 Would you want access to unlocked premium versions of applications? MODAPKdown has got you covered.  Through the app, you can get access to mod apps, mod games, and original apps.
Therefore, if you just want access to the original version of the app, you can get access to it through the MODapkdown. Through the top section, you can check out the most preferred applications for specific tasks. It is one of the best platforms to access mod games.
Features
Get information on the latest updates of
Get to download mod or original apps from the platform.
Access information about various applications before downloading.
Get information on recently released apps on the platform.
---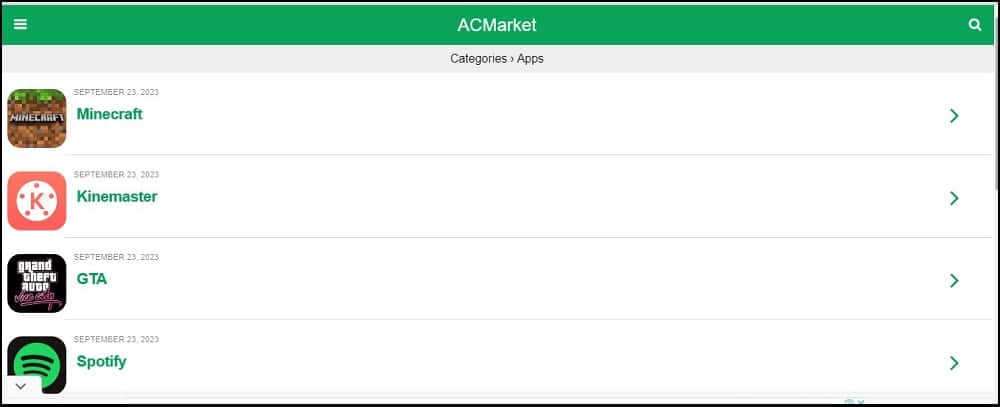 AC Market is a Playstore alternative where you can get some unofficial apps not available on the official store. When accessing any of the apps, you get direct links to either the iOS app or the Android app.
The apps showcased on the platform are downloaded from third-party trusted sources. Just like most trustworthy cracked APK sites, you get access to a support team that helps you navigate through problems.
Features
Get detailed descriptions of certain apps before downloading.
It has a wide variety of mod apps and games for most devices.
Free to download and use the
Trusted 3rd party app installer.
Features direct download links of applications.
---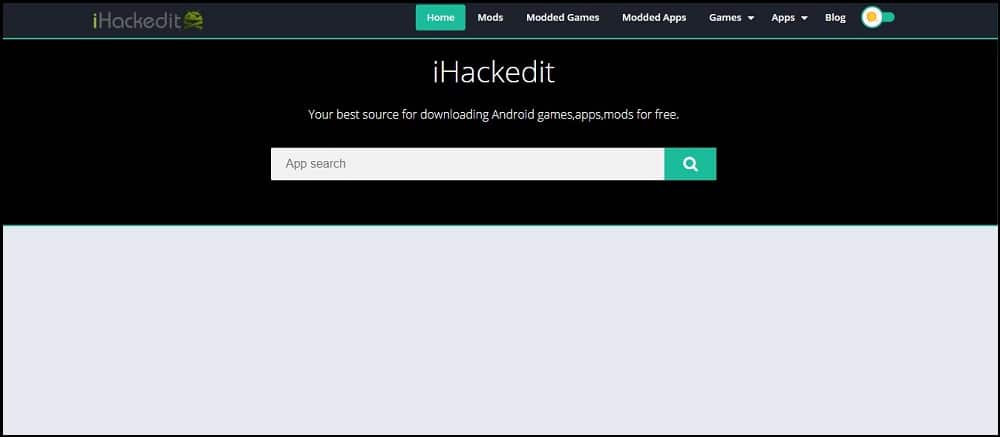 Through iHackedit, you can get access to original apps & games and modified apps & games. What are you going to pick? Through iHackedit you can know the recently updated apps and even some added apps in real time.
Furthermore, it has a powerful search engine that makes it easy to find your favorite app. The apps are in various categories like business, books, communication, finance, fitness, music, and much more. The games are categorized into action, arcade, board, casino, puzzle, racing, casual, and more.
Features
Get access to original and modded apps &
Download apps and games for free.
The apps and games are well categorized for easy search.
Get access to games for Android, iOS, Xbox, PS3, PS4 and PC.
---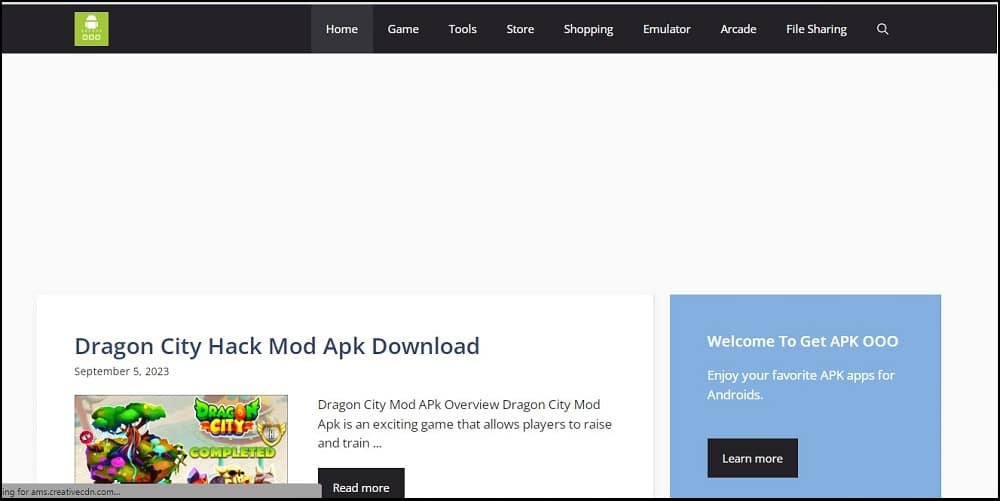 GetAPK gives users access to some of the latest mod apps and games. Through the homepage, you can see the latest applications that have been added.
By clicking on the specific application article, you get information about it and how to use it. Therefore, if you are new to the app, you will know how to navigate through it.
Features
Get access to the latest apps and games
It has a beautiful interface that makes it easy to find apps.
It features direct links to download the various apps or games.
Extensive library of apps.
---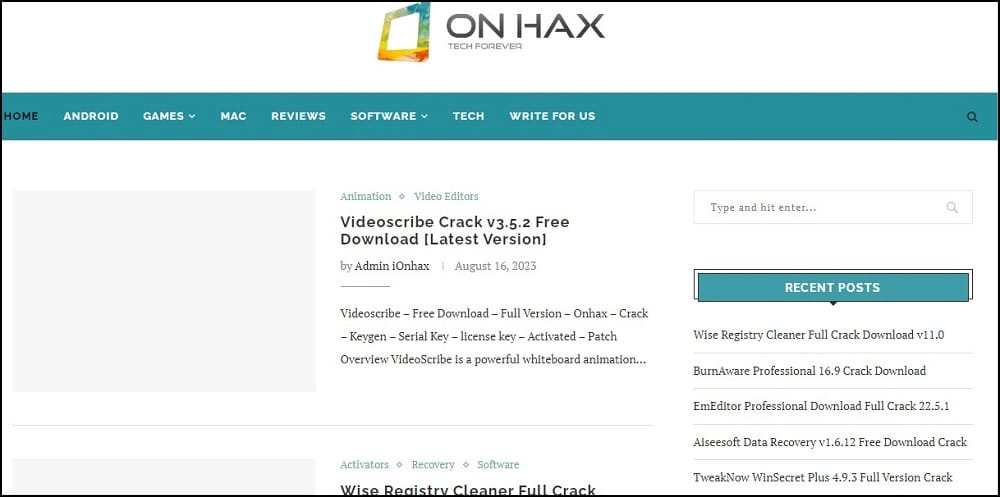 Onhax is another reliable-cracked APK site. You can get access to cracked Android apps, iOS apps, and software. When you open a certain application post, you get more information about the app or software and the system requirements.
It has over 50 item categories ranging from 3D tools, animation, business, browsers,  entertainment, role-playing, games, drivers, etc.
You can easily get the full version of the applications and software in real time. No more worries about digging into your pockets to pay for the premium version.
Features
Get access to the latest apps, software, and games.
It provides up-to-date information about the various software and installation procedures.
It offers direct links to cracked files.
The platform is user-friendly to ensure you get your downloaded file easily for installation.
---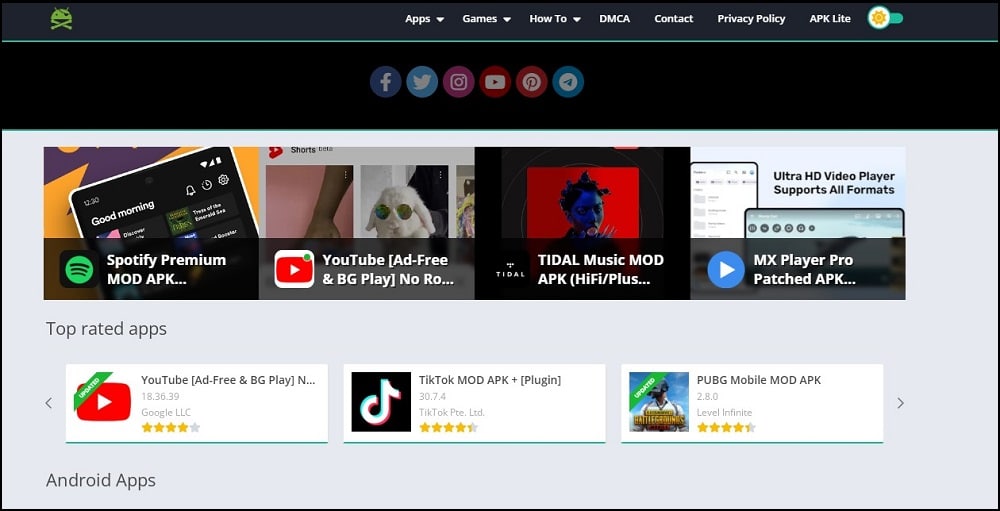 Through Apk4free you can access top-rated Android apps at your comfort. You can even see the ratings of the various apps, so you can decide whether it is best for you or you will use its alternative.
The different categories of apps include antivirus, education, media & video, music, personalization, photography, productivity, social and other tools. The different genres of games include action, adventure arcade, casual, puzzle, racing, RG, sports, simulation, and strategy.
Features
Access to the top-rated Android apps.
Access to premium features of the various apps.
Large database of Android apps and games.
Access to direct links to download the apps and games safely.
Get individual descriptions of the various apps and uses.
---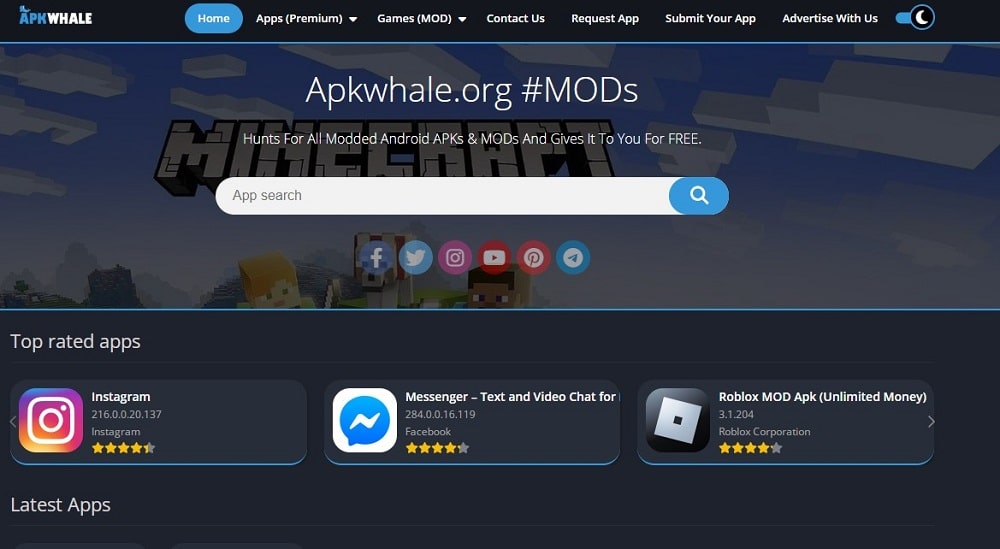 The APKWhale platform hunts for modded Android apps to provide to its end user in real time. Additionally, through the app, you can request your preferred app and even submit your app.
It is a trustworthy site that aims to ensure the end user gets access to some of the best apps for free. Furthermore, it has a blog section where you can get access to the latest tech news
Features
Powerful search engine that makes it easy to find your favorite app in real time
Get access to top-rated apps through the platform.
The games and apps are well categorized to make it easy to find your favorite app.
---
Download Endless Apps on the Cracked APK sites
These cracked APK sites are reliable, credible, and trustworthy. Therefore, you can download your favorite apps from the platforms. However, even though cracked apps are effective, you still need to be wary of the malware or malicious codes they may have, the fact that cracked apps infringe copyright laws and don't have updates or support, therefore, your device may be vulnerable to bugs.
However, if you download the apps from reliable sources, you can be sure of enjoying the premium feature. Therefore, always be careful when making any downloads.