With so much available, when it comes to buying a PC for gaming it can be a daunting task. Here are some top tips on taking your gaming to the next level.
For any existing or aspiring gamers out there who want to take their setup to an entirely new level, you need a serious gaming PC. There are lots to choose from on the current market, with something for everyone no matter the kind of games you enjoy playing. From a star chase game to battle royales and more, everyone has their favorites.
When it comes to affording one of these next-level gaming PCs, you may find that your money doesn't go all that far, but before you splash the cash or check your credit card, you should research the components of the system you want, to ensure that you get exactly the spec you need for your gaming style.
No matter if you're building your own PC or buying something that has already been put together, you need to decide on the software, hardware, and accessories that come with a gaming system. There are a lot of factors, so it can become a little overwhelming, but here are some of the main things to focus on in your quest to be the best. Check out our list of must-have considerations when buying a PC for gaming.
---
Buy or Build
If you're an experienced gamer or know someone who is, your initial thought will be to build your own PC, and for a good reason. If you do the right research on the elements you need to run your favorite games you can specifically figure out the correct graphics card to run the games you enjoy to the best ability, and what the construction of the PC tower is going to look like along with LEDs and other aesthetics.
The effort is a lot greater, but the results are amazing as you will feel more connected to your system and have a machine more personal to you. All this being said, it doesn't mean that by opting for a pre-built machine you won't receive a ton of benefits. If you're paying for top-spec, then you will receive top spec.
Any help or support will be granted from the supplier if you find you stumble across a problem. No matter the route you choose, never feel bad. It's all about personal preference and what is right for you.
---
When is the Right Time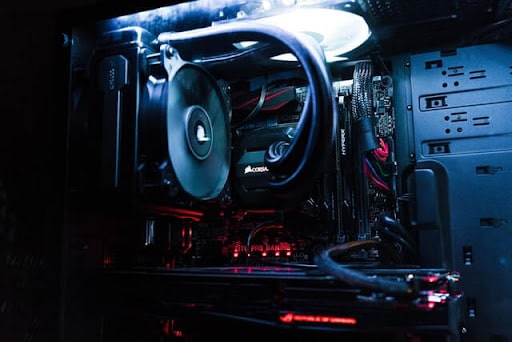 Before you start completing the research on all the different gaming PCs and PC components available, it's good to know if it is the perfect moment to purchase a gaming PC? There is a chip shortage around the world at the moment, resulting in inflated prices of certain PC components.
It is difficult to wait around to see if the prices will fall at some point when you have your heart set on something, but it could be a wise choice to hold off from the current soaring prices. Longevity and relevance are big elements of gaming PCs, so you don't want to cut corners or settle for components that simply aren't up to scratch for your own gaming needs.
---
Components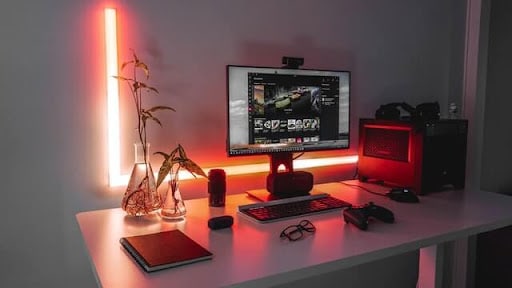 Monitors – The majority of gamers, and PC users for that matter, prefer having more than one monitor. Two or three are the usual amount, boosting efficiency and DOF (Depth of Field). Your options for monitors are usually TN, IPS, and VA screens, but for gaming, you should be looking at either TN or IPS.
When it comes to color functionality, an IPS monitor is far superior to the rest, but the downside to that is that the refresh rates are lower. TN monitors have better refresh rates and low response times, but this affects the quality of colors and angles on the screen. Decide what matters more to you and go from there.
Graphics Cards – Your graphics card is one of the most important components of your gaming PC. It has the serious power of the kind of games you can play. The majority of modern titles rely on high functioning graphics cards to give the smooth playback you would find in consoles, and while you could opt for an integrated graphics card with enough capabilities to handle the performance needed for these modern titles, they are generally on the lower end of the spectrum regarding performance.
The chip shortage is boosting the prices of graphics cards at the moment, but this is an area that you should not downgrade.
Storage – The second big area that will affect the smoothness of your gameplay is how much storage you have. The main options you have when it comes to storage are HDD (Hard Disk Drive) and SSD (Solid State Drives), although there are newer options such as the M.2 NVMe and M.2 SATA solid-state drives.
Ram – If you want to run your gameplay with as little lag as possible, you will need a good amount of RAM. Games, in general, don't need a lot of RAM to run, but the majority of modern titles will expect around 8GBs.
IF you have a decent graphics card and your RAM is a little lower, you may not be able to run other applications alongside your games without feeling the strain of frames that aren't quite as smooth as they should be.
CPU – The CPU is one of the most important areas of a modern gaming PC. The CPU acts as the brain, and if it can't handle the extremities caused by some newer games then everything else will struggle in turn.
When it comes to gaming PCs, your CPU doesn't actually have to be super powerful, but it is recommended that you choose a four-core minimum as a basic. If you are looking to play more advanced games, a 6-core CPU will be much more advisable. The higher the CPU, the larger boosts you will see in your PC's performance.