Everybody loves a good story, be it a book, film, video game or a tale told by a friend. Stories can entertain, excite, scare us or make us laugh, but more importantly, they keep us coming back for more.
Recently, storytelling has become so popular in modern day video games, that the game awards now have a best narrative category. The trend has spread further, with casino slot games also following a story designed to enhance players enjoyment.
Slot game designers have realised that by creating compelling in game storylines, players become invested and interested in the game. When done successfully, developers can create a loyal fan base for their games.
---
The Storyline effect
Slot games use narrative themes to create an immersive experience for the player. A great story will help the player feel part of the game and success or failure will have a direct effect upon them.
Once players are invested in a game's storyline, they will follow the 'action' as it evolves, hoping to see what happens next. It helps the player feel more involved and immersed in the game and therefore keeps them playing longer.
There are lots of popular online slot games that feature enticing storylines for players to choose from. Promotions like no deposit online slots are also offered by many slot providers so players can try out one of many themed slot games to see if they like the game before depositing their own money.
Below we take a look at some of the best slot games examples.
---
Game Of  Thrones
Regarded as one of the greatest TV shows ever made, Game of Thrones is now a hugely popular online slot game. Made by Microgaming, Game of Thrones offers five reels and three rows, plus a massive 243 ways to win.
Set in the fictional world of Westeros, the game centres on four different great Houses. Players have the opportunity to serve one of these four Houses during the free spin selection.
Players can choose to embark on a quest with the gamble feature, sending players on an adventure. The flip of a rare Braavosi coin will decide if they player will move further along the trail map which features a host of ominous creatures.
The game's layout features Iron spikes representing the Iron Throne, while the dark stone wall behind gives the game an atmospheric, foreboding feel. The choice of four different Houses, trail quests, looming creatures and random prizes give Game of Thrones a compelling gaming experience.
Treasure Fair
Treasure Fair is essentially your classic 5-reel slot game with 25 paylines, but there's a lot more to this game than meets the eye. Set in an old, spooky fairground, this is a game that transports players to a magical night at the fair.
The reels are lit up on a wooden panel while a giant Ferris wheel lights up the background. All the while, the slightly scary circus ring master watches over you as you spin the reels.
Every inch of this game has been thought through, matching the storyline and tone of the game perfectly. The soundtrack and animations are also evocative of the exciting fair grounds of old
Besides the classic card icons of number 10, Jack, Queen, King and Ace, the rest of the reels are filled with well-known characters from the fair: Ring Master, Strong Man, Fortune Teller, Clown, Fire Eater, Policeman and of course, a mischievous monkey.
There are surprises for some lucky players which can be worth a lot of money, such as a special Wild symbol. This Wild is different from any other, as it explodes and spews out four other Wilds that create extra winning combinations.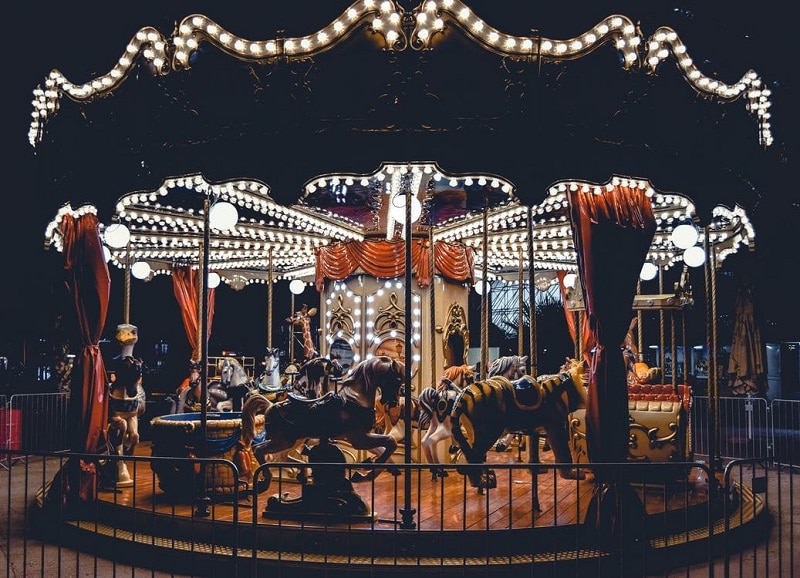 Treasure Fair is a popular themed slot game.
Terminator 2
It's no surprise that when game developers are looking to add story to their games, they turn to the movies for inspiration. The vision behind this slot is the film Terminator, a sci-fi, action movie starring Arnold Schwarzenegger that was a huge hit when it was first released.
The Terminator 2 slot, is a classic online game featuring 5 reels, 3 rows and 30 pay lines. However, developers Microgaming have managed to combine elements of the film into an exciting slot experience, to provide players with an immersive, action-packed storyline.
The game sets new heights for visual effects in online slots and even contains clips from the movie. All reel symbols include popular characters from the movie, including Terminator and his nemesis, the terrifying T-100 terminator.
In total, Terminator 2 has 243 winning choices, but the number of winning combinations increases to 1,024 during Terminator 2 slot bonus round. This is an exciting movie-themed slot that will bring you thrilling emotions. It is full of winning opportunities and exciting bonuses.
Avengers
If you are a fan of Marvel then you will no doubt have seen this spectacular superhero movie. Avengers is another great slot game that combines the action and storyline of a successful film into a compelling slot experience.
The game has 5 reels and 20 pay lines with 5 bonus features. The reels include images of the movie's main characters with Captain America, Iron Man, Hulk, Black Widow, Thor, Nick Fury, and Hawkeye among them.
There are animated video clips that introduce the characters, while the sound effects are impressive. All in all, this Playtech slot is perfect for people who want to save the world and have fun along the way.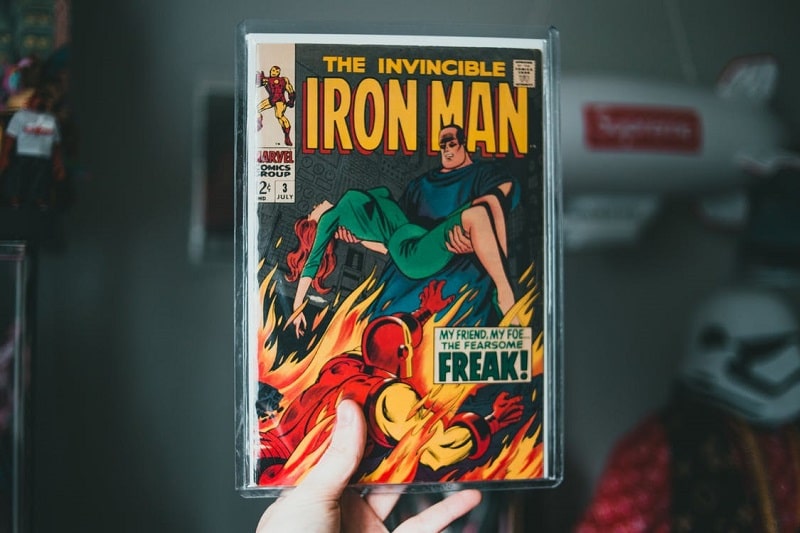 Marvel comics have inspired many slot providers to create superhero themed slot games.
The future of slots
As video games have proven, storylines enhance player experience and instil game loyalty. Rapidly improving technology has enabled many console games to mirror and even better what movies can offer.
That technology is spreading to online slots and promising even more engrossing and entertaining games for players. A scenario that's a win-win for gamers and developers alike.