Valorant features the attack and defense teams. To emerge winners, one team needs to win 13 of the 25 matches. If your account has great elements or ranks high you can sell it in any digital marketplace or even buy a high-ranking Valorant account.
Valorant is an incredible game that combines the mechanics of Overwatch, Counter-Strike: Global Offensive, and League of Legends. It is a 5v5 multiplayer first-person shooter game that entails one team attacking while the other defends.
The team that attacks plants a bomb (spike) and has it detonated while the defending team strives to avoid it. If one of the teams is wiped out, the other one wins. In the game, you get to play 25 match rounds with each lasting 100 seconds. So, the team that wins 13 rounds overall emerges as the winner.
To start, you will be given 30 seconds to buy weapons, and gears for the specific round, so you have to be wise. There is also the agent who appears at the beginning of each round. There is the Spike Rush game mode which has the best of seven rounds mode where each attacker is equipped with a spike, the same weapons, and other abilities.
If you have a high-ranking account, you might wonder "How much is my Valorant account worth?". We will share some of the basics of selling an account, how to sell it, calculating its worth, and what to consider when buying an account.
---
More Specifics Of The Valorant Game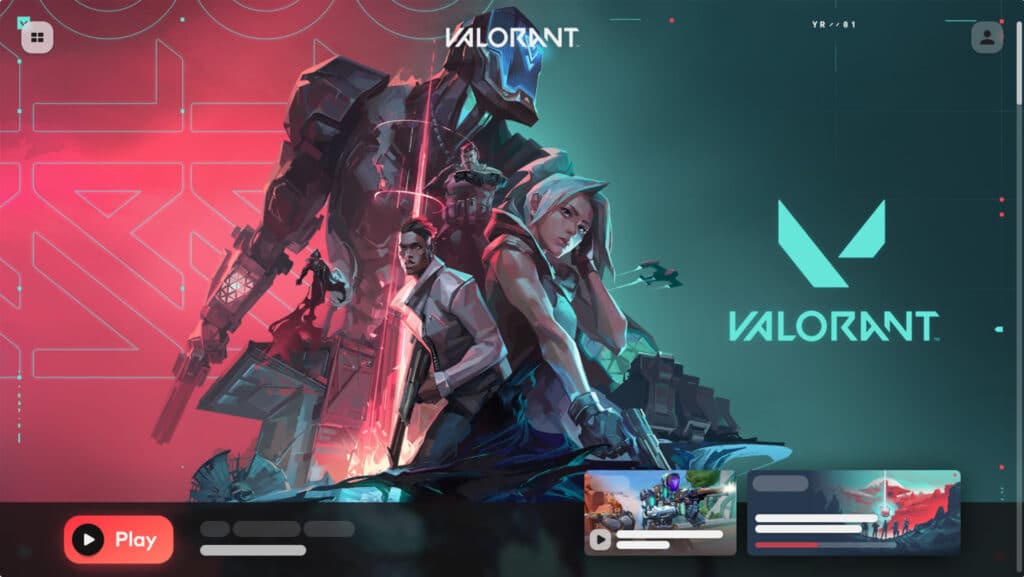 Valorant doesn't have loot boxes however, players can easily buy gun cosmetics through the store. You can also buy a bunch of skins based on the central themes.
Valorant has a battle pass that lets you get rewards the more you play.
It is a PC-exclusive game, but the developers are exploring new opportunities.
The Valorant game has different modes like the CS: Go – like Search and Destroy Mode and the Spike Rush Mode.
The game has four maps which are the Ascent, Bind, Haven, and Split with each of the maps having its challenging layout.
---
How To Calculate The Worth Of Your Valorant Account?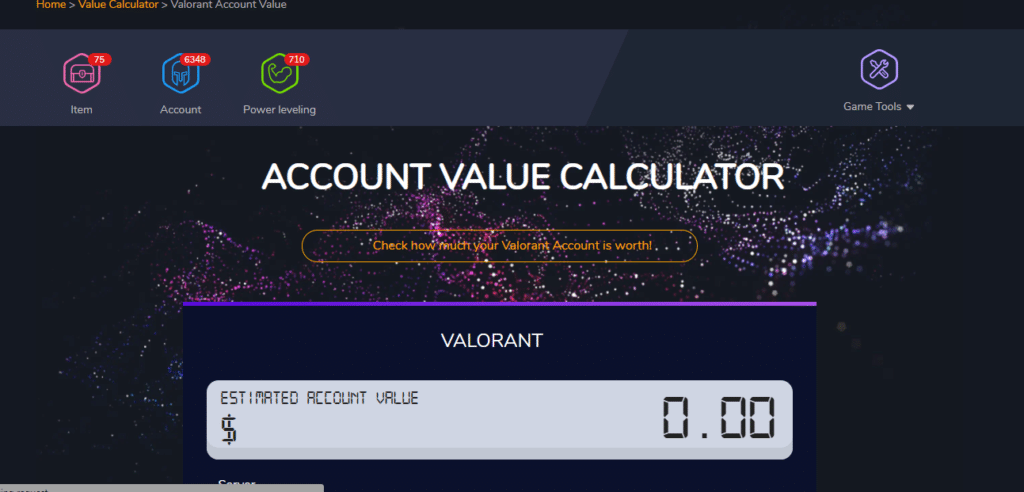 You can use the PlayerAuction website to estimate the value of your Valorant account. All you need to do is choose your account's server and get an estimation of its value. You can also check the available Valorant accounts and see how much they are selling for. You can then decide to sell your Valorant account through the platform.
Player Auction can also be used to find out the value of other games like Apex Legends, black desert, Brawl Stars, Clash of Clans, counterstrike, diablo, EA FC, EPIC, Escape from Tarkov, Fortnite, Genshin Impact, Grand Theft Auto V, Guild Wars 2,, League of Legends, Minecraft, Call of Duty, Overwatch, Pokémon Go, PSN, PUGB Mobile, Roblox, RuneScape, Steam, Summoners war, World of Warcraft, and Xbox.
---
What Do You Need To Consider Before Selling Your Valorant Account?
First, you need to know the value of your account. Once you know its value, you can know how much you can sell it for. Also, you can check how many other sellers are selling their accounts or whether you can use a platform like Player Auction to sell your account. You can also check which platforms are mostly used.
Also, remember finding a buyer can take time, so you need to be patient. Buyers tend to be a bit cautious about getting an account that meets their requirements. Also, remember people are also afraid of being scammed. So you need to assure the buyers that you are genuine.
---
What Other Platforms Can You Use to Sell Your Valorant Account?
A Valorant account ranks high based on the number of unlocked agents, the number of exclusive skins, cosmetics & items, and in-game currency. Also, the higher your number of wins, the higher your account ranks, and it makes the account more valuable.
G2G is another platform that you can use to sell your Valorant account. It is one of the most trusted digital marketplaces. Many accounts for sale have been listed on the website, so you are assured that the account will be sold at the right price on a trusted platform.
G2G has a large directory of reputable sellers who are selling accounts on different levels; both the Smurf or high ranking ones. Additionally, G2G has best-in-class SSL encryption that helps secure your transactions.
It also allows different payment getaways to make it easy to complete purchases. Once you make your purchase, you will receive the Valorant account details instantly. It also provides an easy way to list your account and connect with potential buyers.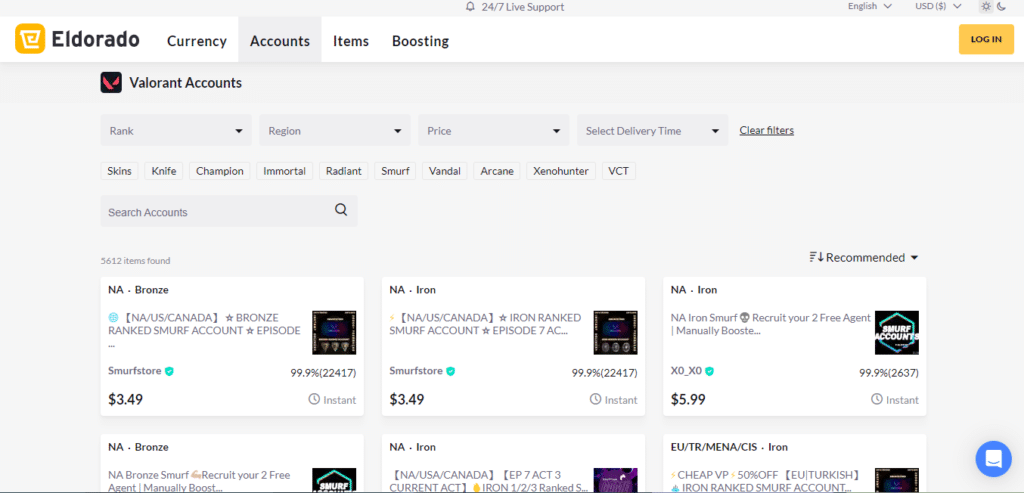 Eldorado is a platform that you can use to buy Valorant accounts. Various sellers list their accounts on the platform, so you can get a high-ranking account at a suitable price. It also ensures the security of the transactions by implementing an escrow service which ensures the safety of the cash before the transfer of the accounts. Its transparency makes it a favorite among many.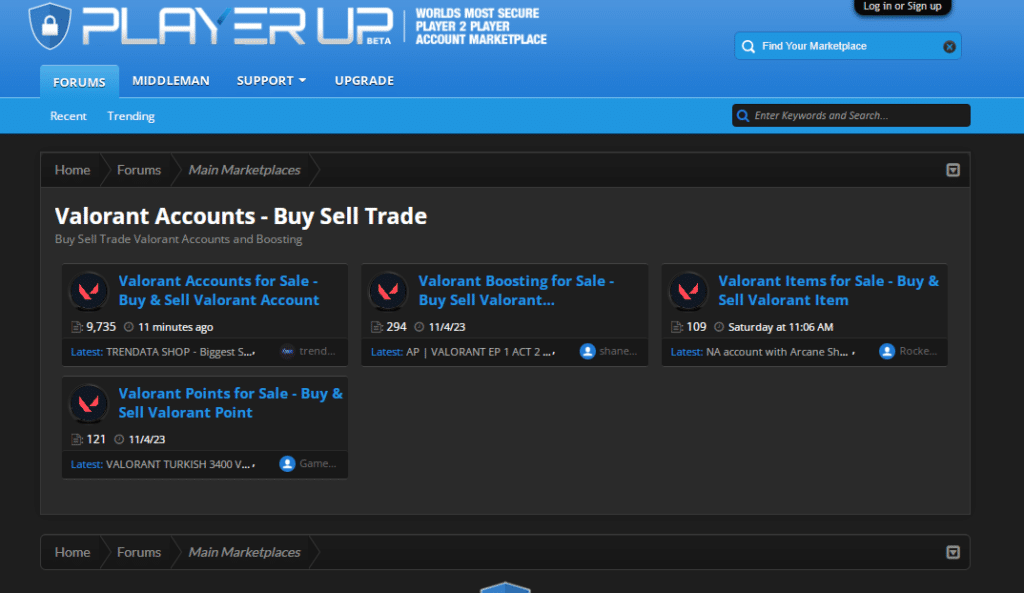 PlayerUp is another platform that you can use to buy or sell Valorant accounts. It all depends on the kind of account that you need. It has a straightforward listing process that allows you to showcase the details and specifications of your Valorant account.
Additionally, it makes it easy for buyers to assess the trustworthiness of sellers and communicate seamlessly with the buyers or sellers when transacting to purchase the accounts. Its user-friendly interface makes it a favorite among many.
---
How Can You Check The Money You Have Spent On Valorant?
Riot Games has added an option to check your Valorant account details and purchase history on the support website.
Step 1: Access the Riot Support Page and sign in.
Step 2: Once you log into your account, click the "Get my purchase history" button.

Step 3: You will be able to see the purchase history and the money you have spent already.
Alternatively, you can also calculate the total money you have spent on Valorant based on the cost of skins and bundles.
---
Why Would You Consider Buying A Valorant Account?
Getting a high rank or Valorant is not an easy task, and you might keep revolving around the same level. That's why it would be best if you bought an already-established account. If you play Valorant once in a while, and you would want to enjoy the game more at a higher level, then buying an account is best for you.
You can even acquire an account with the right skins, equipment, and achievements. Valorant is an interesting game that you will enjoy playing.