Mac not reading SD card, Mac not recognizing SD card, or SD card not showing up on Mac is one of the common SD card problems that will affect the regular access of the SD card or its stored data. Taking the detailed tutorial in the article, you can easily resolve this nerve-wracking issue.
An SD card (also called a Security Digital card) is a tiny flash memory card widely used on digital cameras, music players, smartphones, personal computers, and some other portable devices for data storage.
Owing to the popularity of SD cards, many MacBooks, like MacBook Air (13-inch, 2017) and MacBook Pro (2021) are equipped with a built-in SD card reader. If not, you can also use an SD card reader to connect your SD card with the Mac machine for use. But sometimes, the inserted SD card can't be recognized or read on Mac, so it has no way to show up and give you access to it.
Just calm down If you are going through the same scenario where macOS is not reading or recognizing your SD card. Even if you are new to SD card not recognized on Mac, SD card not showing up on Mac, or Mac not reading SD card, you can easily find the possible fixes in this article to deal with this nerve-wracking problem.
---
4 Possible Methods to Fix SD Card Not Showing up, Reading, or Recognized on Mac
There are many possible problems with the SD card attached to the Mac machine, but among these problems, SD card not showing up on Mac, or Mac not reading or recognizing SD card may be the most common. Thus, the following part will guide you on how to fix the SD card that is not readable, recognizable, or showing up on Mac, which will make it possible for you to gain access to your SD card again.
Before taking the following measures, you are highly advised to do some basic checks on your SD card, including the connection, the interface, or more. If there is nothing wrong with them, then you can move forward.
---
Fix 1 Verify Settings in the Finder Preferences Window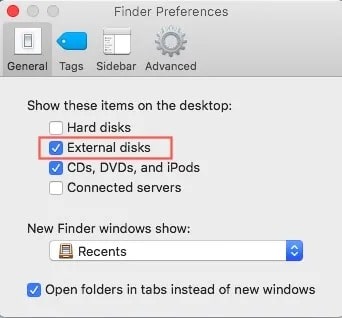 Being inserted into the Mac machine, your SD card will be read and mounted automatically, and then it can become visible on the Mac desktop or Finder. However, SD card not showing up on Mac may occur if the suitable setting is not enabled in the Finder Preferences window. Hence, checking and changing the Finder Preferences setting may effectively help you out of this issue.
Step 1 Click Finder from the top menu and select Preferences. Then, the Finder Preferences window will pop up.
Step 2 Find and pick the General tab in the pop-up window. Here, you need to check if the External disks option is ticked or not. If not, check the box beside the External disks option to show the inserted external disks on the desktop.
Step 3 Click the Sidebar tab and locate the External disks option under Locations to make sure that this option has also been ticked.
Step 4 Close the Finder Preferences window to check if the new setting can work to resolve the SD card not recognized on Mac issue.
---
Fix 2 Get the Inserted SD Card Mounted in Disk Utility
One of the possible reasons that causes the SD card attached to your Mac machine not to show up is that the SD card appears to be in an unmounted state. To check this possibility, the following step is what you should take.
Step 1 Launch Disk Utility by heading to Launchpad > Other > Disk Utility to check if your SD card is visible in the Disk Utility window. If your SD card has some hardware issues, it won't appear in Disk Utility. In this instance, you need to send it to a local repair center for reparation or just purchase a new one to replace this broken SD card. But if it is listed here in an unmounted state, then you just need to get it mounted.
Step 2 Select the unmounted SD card and then click the Mount option from the top toolbar to make it mountable.
Step 3 Quit the Disk Utility window to see if the SD card not showing up, reading, recognized on Mac issue has been resolved successfully.
---
Fix 3 Run First Aid to Perform SD Card Repair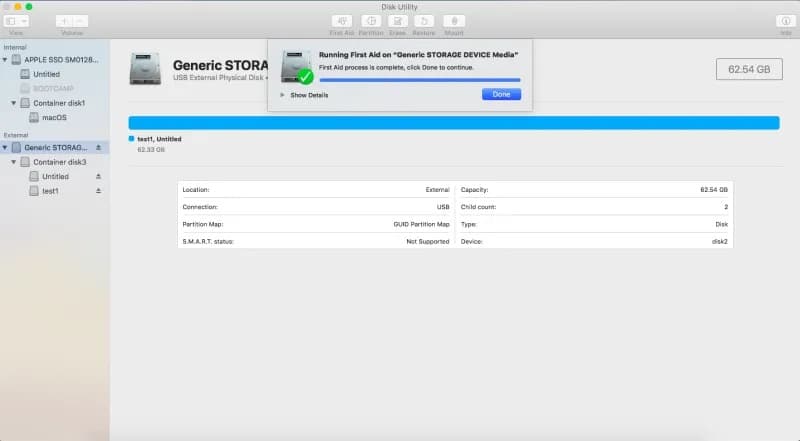 If you fail to get your SD card mounted in Disk Utility, you must realize that your SD card possibly goes corrupted. To return it to normal, running First Aid in Disk Utility is of great necessity.
Step 1 Click the Finder icon from the Mac Dock and navigate to Applications > Utilities > Disk Utility. Then, double-click the Disk Utility program to launch it.
Step 2 From the left sidebar, select the inserted SD card in which you want to detect and repair errors and hit Run.
Step 3 Move to the top menu to click the First Aid option.
Step 4 Wait for some time patiently. When the reparation is finished, just click Done.
---
Fix 4 Conduct SD Card Erasure
Although First Aid can take effect to repair your corrupted SD card in most cases, it is not always helpful especially when the file system of your SD card gets corrupted severely.
Under this circumstance, you have to conduct SD card erasure to deal with the SD card not recognized on Mac problem. However, reformatting the SD card can result in data loss because all the stored data, including files, videos, images, audio, and Office documents on the SD card will be wiped out during the reformatting process. Thus, ensure that you have backed up all your vital files before implementing SD card erasure.
Step 1 From the Mac Dock, click the Launchpad icon to find the Other panel. Here, click Disk Utility to open the Disk Utility window.
Step 2 From the left panel, select the target SD card and then choose the Erase menu.
Step 3 In the pop-up window, enter a new name and make a selection from all the listed formats and schemes.
Step 4 Hit the Erase button to start the reformatting process.

---
Conclusion
All the aforementioned solutions can be applied to handling Mac not reading SD card, Mac not recognizing SD card, or SD card not showing up on Mac.
But if your SD card becomes unreadable or recognizable for hardware errors or physical damages, you should take help from a local repair service or consider purchasing a new SD card.