Choosing to rent an apartment comes with a multitude of benefits, offering flexibility and affordability that appeals to many individuals and families.
However, it's crucial to understand that as a tenant, you face specific risks, such as potential damage to your personal belongings or liability for accidents within your rental unit.
This is where renters' insurance steps in, providing essential protection and peace of mind. In this comprehensive guide, we will delve into the world of renters' insurance, exploring what it is, how it works, and why it's a fundamental aspect of safeguarding your belongings and well-being while renting an apartment.
---
Understanding Renters' Insurance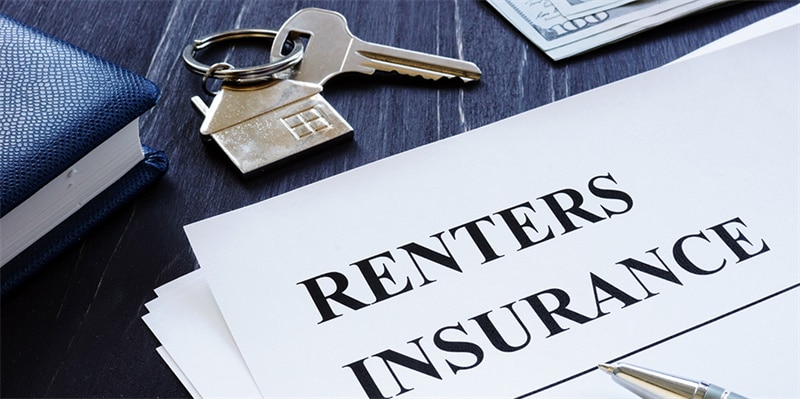 Renters' insurance is a specialized policy designed to protect tenants from financial losses resulting from unexpected events. While your landlord's insurance typically covers damages to the building's structure, it doesn't extend coverage to your possessions or offer liability protection for incidents within your rental space.
That's where renters' insurance proves invaluable, as it provides coverage for your belongings and safeguards your financial interests in various situations.
---
Coverage Offered by Renters' Insurance
Personal Property Coverage
The foundation of renters' insurance lies in its personal property coverage, which shields your belongings from a range of perils, including theft, fire, vandalism, and certain natural disasters. Whether it's your furniture, electronics, clothing, or treasured possessions, renters' insurance helps repair or replace your items if they are damaged or stolen due to covered events.
The peace of mind this coverage offers is immeasurable, knowing that even during unforeseen disasters, you won't be left burdened with significant financial losses.
Liability Coverage
Accidents can happen at any time, and as a tenant, you may be held legally responsible for bodily injuries or property damage that occur within your rented space. In such instances, liability coverage becomes crucial.
If, for example, a visitor trips and injures themselves while in your apartment and decides to take legal action, your renters' insurance can step in to cover medical expenses, legal fees, and other related costs, up to the policy's limits. This protection not only safeguards your assets but also offers peace of mind in today's litigious society.
Additional Living Expenses (ALE) Coverage
In unfortunate circumstances where your rental unit becomes uninhabitable due to a covered peril, such as a fire or severe storm damage, finding alternative accommodation can be both emotionally and financially challenging.
ALE coverage comes to the rescue, providing financial support for temporary living arrangements, such as hotel stays or short-term rentals, until your apartment is restored. This critical coverage ensures that you won't face financial strain on top of the stress caused by a significant loss.
Medical Payments to Others
Renters' insurance often includes medical payments coverage, designed to address minor injuries sustained by others while on your property, regardless of fault.
If a guest accidentally gets hurt, this coverage can handle their medical expenses, preventing potential lawsuits for minor incidents and preserving positive relationships with neighbors and friends.
---
Filing an Insurance Claim
In the event of a covered loss, filing an insurance claim is a crucial step in receiving the compensation you are entitled to. Start by assessing the extent of the damage or loss. Take photos and make a detailed inventory of the affected items, including their descriptions, purchase dates, and estimated values. This documentation will be essential when filing your claim.
Notify your insurance provider about the incident as soon as possible. Most insurers have 24/7 claim hotlines, ensuring you can report a loss promptly. Also, some companies allow making a tenant insurance claim online so that you can submit your documentation electronically. Provide all necessary information and be prepared to answer any questions related to the incident.
Your insurance company may send an adjuster to assess the damage and verify your claim's validity. Cooperate with the adjuster, providing them with access to the affected areas and any relevant information.
Once your claim is processed, the insurance company will provide a settlement offer. Carefully review the offer, ensuring it aligns with your policy coverage and expectations. If you have any concerns or questions, don't hesitate to discuss them with your insurance representative.
---
Factors Affecting Renters' Insurance Premiums
Several factors influence the cost of renters' insurance premiums. Understanding these elements can help you make informed decisions while selecting a policy:
Location
The neighborhood you choose to live in can significantly impact insurance rates. Areas with higher crime rates or susceptibility to natural disasters may result in higher premiums due to increased risks. Conversely, residing in a low-crime area with minimal history of disasters can lead to more affordable insurance options.
Coverage Limits
The extent of coverage you choose plays a significant role in determining your premiums. Carefully assess the value of your belongings and select a coverage limit that adequately protects you against potential losses. While opting for higher coverage limits may increase premiums, it provides comprehensive protection and greater peace of mind.
Deductible
Your deductible is the amount you agree to pay out of pocket before your insurance coverage kicks in. Typically, a higher deductible leads to lower premiums. However, striking the right balance is essential, as you'll need to be prepared to cover the deductible if you file a claim.
Claims History
Insurance companies consider your claims history when calculating premiums. A track record of frequent claims might label you as a higher risk, leading to increased insurance costs. Being cautious and filing claims only when necessary can help maintain more favorable premium rates.
---
Actual Cash Value vs. Replacement Cost

When evaluating renters' insurance policies, you'll encounter two primary types of coverage: actual cash value (ACV) and replacement cost. Understanding the distinction between these options can significantly impact your claims' outcomes:
Actual Cash Value (ACV)
ACV coverage takes depreciation into account when settling claims. In practical terms, this means you'll receive compensation for your belongings' current value at the time of the loss. As items age, their value decreases, so the amount you receive may not suffice to purchase equivalent new replacements. While ACV coverage might have lower premiums, it's essential to consider the potential financial implications when filing a claim.
Replacement Cost
On the other hand, replacement cost coverage provides more comprehensive protection. With this type of coverage, you'll be reimbursed for the amount required to purchase a brand-new item of similar kind and quality, without factoring in depreciation. While premiums for replacement cost coverage might be slightly higher, the peace of mind that comes with knowing you can replace your belongings without additional financial strain can be invaluable.
Renters' insurance serves as a vital safety net for tenants leasing an apartment. With coverage for personal belongings, liability protection, additional living expenses, and medical payments, it offers comprehensive protection in the face of unexpected events.
Understanding the factors that influence insurance premiums, the difference between actual cash value and replacement cost coverage, and the common exclusions can help you make informed decisions when choosing a policy that aligns with your needs.
Remember to compare quotes from different insurers, review policy details carefully, and don't hesitate to ask questions. By securing a comprehensive renters' insurance policy, you can confidently enjoy your rented apartment, knowing that you're protected against life's unexpected twists and turns.
In the event of a covered loss, knowing how to file an insurance claim efficiently can expedite the process and ensure you receive the compensation you need to recover and move forward with peace of mind.