Zero Trust is a security model created to safeguard information, applications, and resources by authenticating and verifying each user entering the premises. It does not rely on network security, maintaining that all the users working on the IT resources must be appropriately identified and verified.
With the emergence of cloud-based remote networks, traditional network security has become ineffective. According to Statista, almost 42 percent of the people surveyed in 2021 wanted to adopt a zero-trust strategy.
The zero trust model places checkpoints at all entry points, including IoT devices. Creating a setup in which each user is verified safeguards the company's resources from malware and security breaches.
---
What Is Zero Trust Adoption?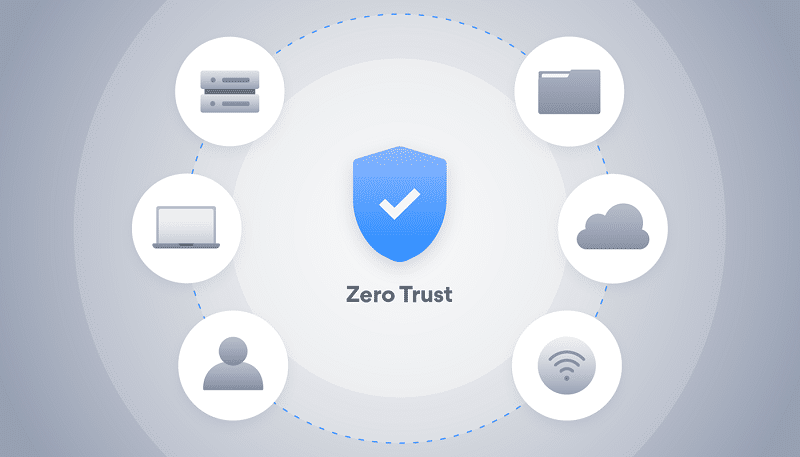 Zero trust adoption is implementing a set of barriers or authentication processes to protect the company's resources. It does not consist of a single tool. It is a combination of security measures and access roles defined by an organization to protect its data privacy and projects. Relying on network security is a mistake in the age of remote work and multiple users accessing a single database.
Zero trust implementation analyzes data across all six fundamental units, i.e., identities, devices, applications, data, infrastructure, networks. This comprehensive approach to a zero-trust model saves time and money on malware insurance and other security measures.
The policy of verifying each user before accessing a network that does not trust anyone outside the company's infrastructure and cloud-based networks is becoming increasingly essential to initiate zero trust implementation across the board.
---
Zero Trust Adoption Strategies

Zero trust adoption requires an overview of your security preferences. There are various zero trust models available in digital media. If you want to keep your information private and protect your network from external breaches, the following strategies will help you move forward:
1. Restrict Anonymous Access
When you set up a zero trust model, ensure all the users have been adequately identified and their identities recorded in a database. It is indispensable to remove all anonymous access portals and services. To identify the user trying to enter the company's system, make an inventory of  all the relevant information and allow access based on the following criteria:
Identity and access management
Defining Access Roles
Private Application Discovery
Approved Software-as-a-service (SaaS) Applications
Predetermined Website Categories
A continuous administration and monitoring of all these categories will keep the system of checks and balances intact. Ensure you don't define numerous access roles for each data or network segment because it will create uncertainties in the monitoring process. Keep the roles restricted to a limited number and a detailed list of all the access names and codes.
2. Application Segmentation
Application segmentation is the best way to get complete control over who accesses the information. The step-by-step authentication restricts unknown users from entering the network's specialized apps. Other measures implemented for application segmentation can maximize in-app permissions and gate access based on real-time analytics.
Shadow IT can be hired to monitor abnormal behavior on the business network and check user actions from a third-party perspective. The use of shadow IT will compensate for the lack of deep network analysis by an in-house IT department. Application segmentation maintains user actions and authenticates the configuration of the users working inside or outside the network.
3. Set In A Cryptographic Key Pair
Passwords can be hacked and do not provide a robust security model for a zero-trust system. A cryptographic key pair will create two keys when a device is authorized. The public key is based on biometric authentication, which can be accrued through facial recognition, fingerprint scan, and iris recognition.
The private key consists of a pin designated by the company and will not change as per the user's whims. Placing a cryptographic key pair will reduce the uncertainty of user identification and create a close network of peers and employees with privileged rights and information.
4. Network Segementation
Running the authentication process on the whole network can take time and leave loopholes. Network segmentation allows more significant proliferation, and the system can authenticate each cluster of users deeply.
Hackers and malware cannot move laterally across the network if segmented. It also provides greater visibility for network controls. An in-depth micro-segmentation inside the network protects the network infrastructure and provides a safety net for business projects.
---
Conclusion
Zero Trust Implementation strategies are at the core of a successful network security system. Jericho Forum was the first to adopt a zero-trust prototype in 2004 using the de-parameterization method. However, the process of adopting a zero trust model remains relevant to a particular organization.
If a business is more concerned about app security, app segmentation will be better than network segmentation for organizations working across countries and time zones. A deep analysis of your organization's goals and intermediaries is necessary to create and install a zero trust model explicitly designed for you.